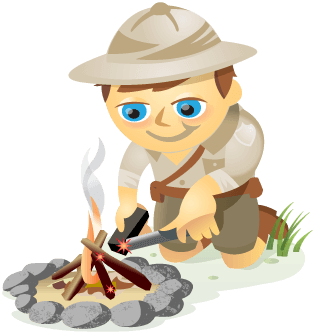 Do you use Twitter for business?
Looking for tools to optimize your Twitter experience?
Using browser extensions to enhance your Twitter marketing will save you time and streamline your workflow.
In this article, you'll discover five browser extensions to improve your Twitter marketing experience.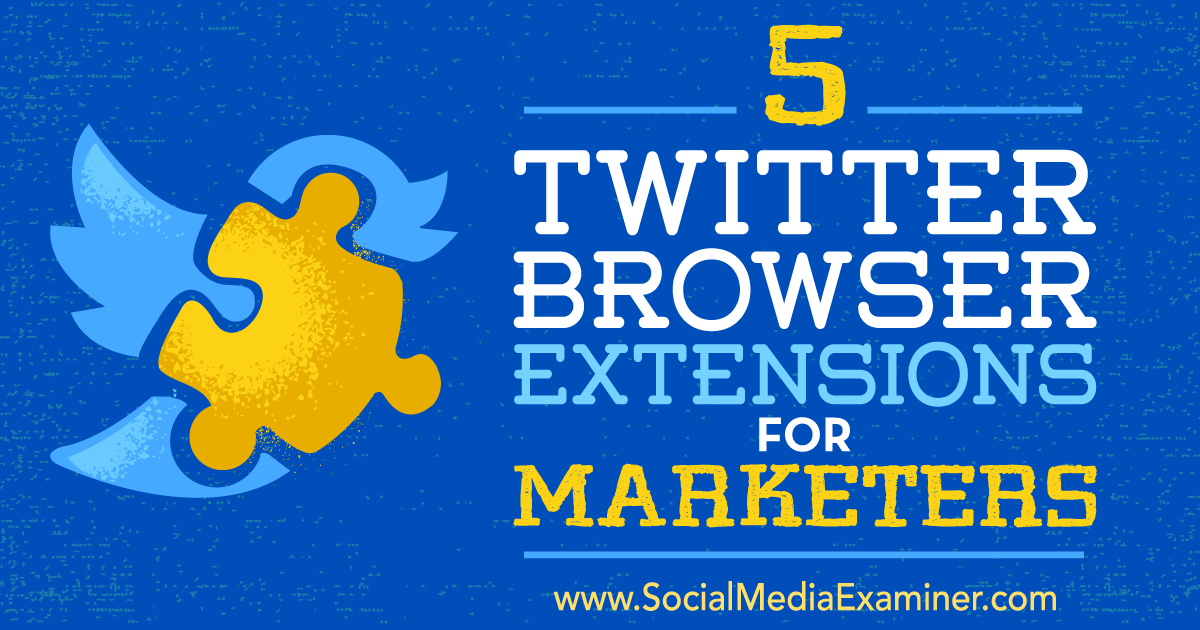 #1: Analyze Twitter Profiles With Riffle
Riffle by CrowdRiff is the first browser extension on this list because of the impressive volume of information it provides. It turns your browser into an analytics machine and tells you almost everything you could ever want to know about your Twitter performance.
Riffle presents data in a way that's easy to understand and put to use. It lets you research your followers, target audience, and competitors.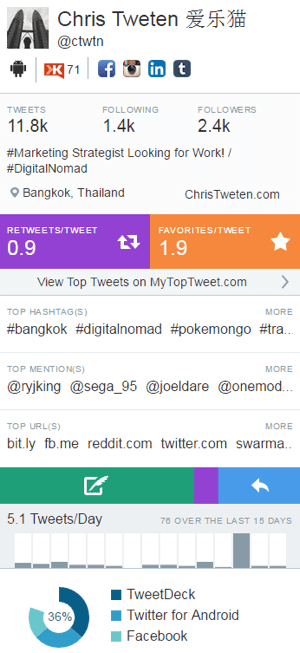 If users have connected their Twitter account to their Klout profile, it shows their Klout score, along with a link to that profile. This is handy because their Klout profile will list their other social handles (Instagram, Facebook, LinkedIn, etc.), making it easy to connect with relevant people on other platforms.
This tool also shows you where people are tweeting from and what operating system and tools (TweetDeck, third-party apps, etc.) they're using. If you're an app developer, for example, these insights will help you figure out who your most social users are by device. Are your talkative users on iOS or Android? Do they tweet from a mobile device or their desktop?
Riffle has an extensive list of integrations, which makes its addition to your Twitter experience feel very natural. It works with 16 different platforms, including TweetDeck, Hootsuite, Twilert, and Mention. No matter how you use Twitter from your Chrome browser, Riffle should fit well into your normal workflow.
Social Media Marketing Society (Ongoing Online Training)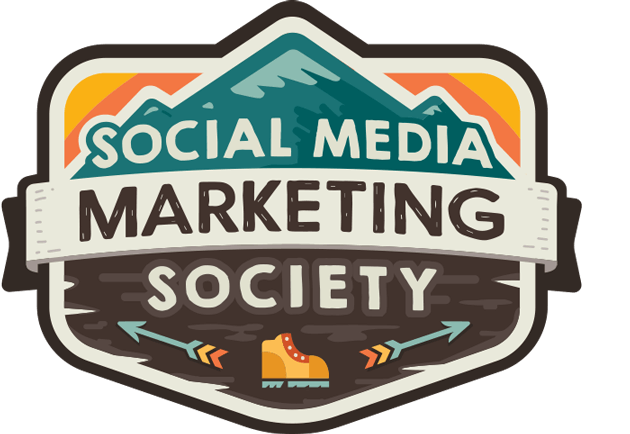 Want to gain marketing confidence and accelerate your career? Try the Society to discover new marketing ideas, improve your results, get support, and become indispensable. Join us for ongoing training, insight from pros, and a community of supportive marketers who understand you.
START YOUR TRIAL MEMBERSHIP
#2: Manage Twitter Notifications With Silver Bird
The Silver Bird browser extension gives you easy access to your Twitter feed, notifications, and direct messages (DMs). Click the toolbar icon to respond to tweets and DMs on the fly, from any page in your browser.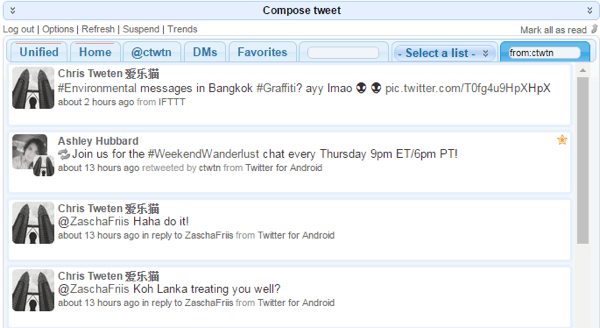 The extension's small pop-up box gives you easy access to a large number of powerful features, so you can manage your Twitter account while getting other work done. Much like TweetDeck, it lets you sort notifications by type into separate views, such as DMs, mentions, favorites, and lists.
Silver Bird is a great alternative to the recently lost desktop version of TweetDeck, earning its place on this list of essential browser extensions for Twitter.
#3: Enlarge Images and Videos With Hover Zoom
The Hover Zoom browser extension is a simple concept: Hover your mouse over media and it will load the full version without switching to a new tab or page. Many people don't properly format image resolutions for Twitter, so this extension lets you view their content without sacrificing speed from your browsing experience.
Put Google Analytics to Work for Your Business (Online Training)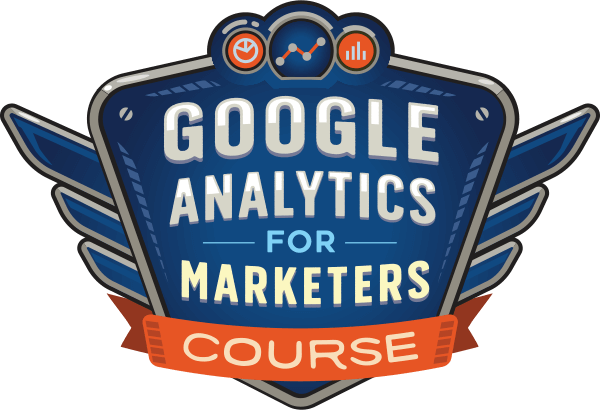 Ever thought, "there's got to be a better way" when it comes to tracking your marketing activities? Are you forced to make decisions based on limited data? With the right training, you can use Google Analytics to measure all of your marketing efforts with certainty.
You'll stop the leaks in your ad spending, justify your marketing spend, gain the confidence you need to make better marketing decisions, and know what's working at every step of the customer journey. Let the world's leading analytics pro show you the way. Check out our new Google Analytics for Marketers course from your friends at Social Media Examiner.
CLICK TO LEARN MORE: ANALYTICS TRAINING
Hover Zoom is available only for Chrome, but Thumbnail Zoom Plus for Firefox gets the job done as well.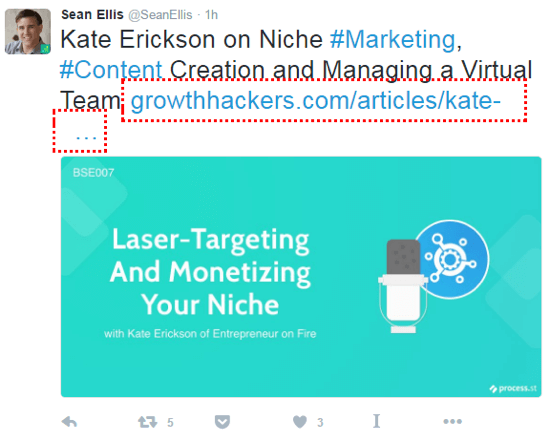 Hover Zoom not only works for images and GIFs, but for video as well. If you hover over a YouTube link or preview, it will fully load the video with audio.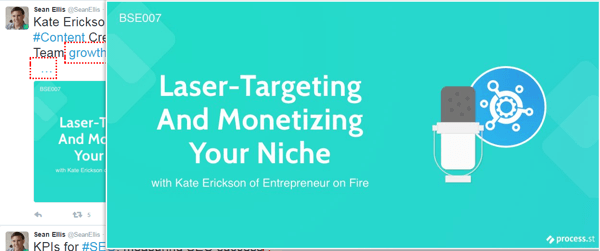 #4: Check Reddit for Tweeted Link Shares
The Reddit Check browser extension (available for Chrome) is self-explanatory: hover over a link in Twitter and it will check to see if it has been submitted to Reddit.
This extension is a great tool for monitoring conversations around very popular tweets, especially for politics and entertainment. The way Twitter records conversations can be confusing in comparison to the upvote/downvote system that Reddit has in place, so this extension is a great alternative.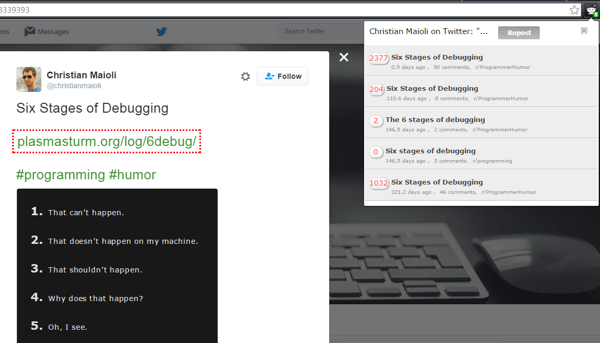 If you want to get the general public's response to a viral tweet, Reddit Check makes the process much easier. It also helps you see where Twitter profiles have been shared.
#5: Tweet From the URL Bar With Chromnitweet
Chromnitweet adds Twitter functionality to the Chrome address bar. Normally, when you type something in the address bar, Chrome will do a Google search for that phrase. If you install the Chromnitweet extension, you can use the address bar to send tweets directly from any page you're on.

Type "tw" followed by a space to change the address bar into a tweet bar. Press Enter when you're done and the extension will send a tweet from your account. Much like Silver Bird, the benefit is that you don't have to switch pages to tweet.
You're restricted to text-only tweets, but Chromnitweet is a great tool if you want to quickly share a link with your followers.
Conclusion
While mobile apps are great for working on the go, nothing beats the full functionality of a web browser. These five browser extensions will give you real-time analytics, let you tweet your fans from your browser, and track popular conversations on Twitter. Installing these tools will make your Twitter management experience much more robust, from quicker access to full-size images and video to on-the-spot analytics for each of your followers.
What do you think? Have you used any of these extensions for Twitter? Do you use any other extensions to enhance your Twitter management? Which is your favorite? Please leave your questions and thoughts in the comments below!