Want to get more out of your YouTube channel? Wondering how to turn viewers into customers?
In this article, you'll discover how to improve your leads or sales by taking advantage of YouTube tools and features.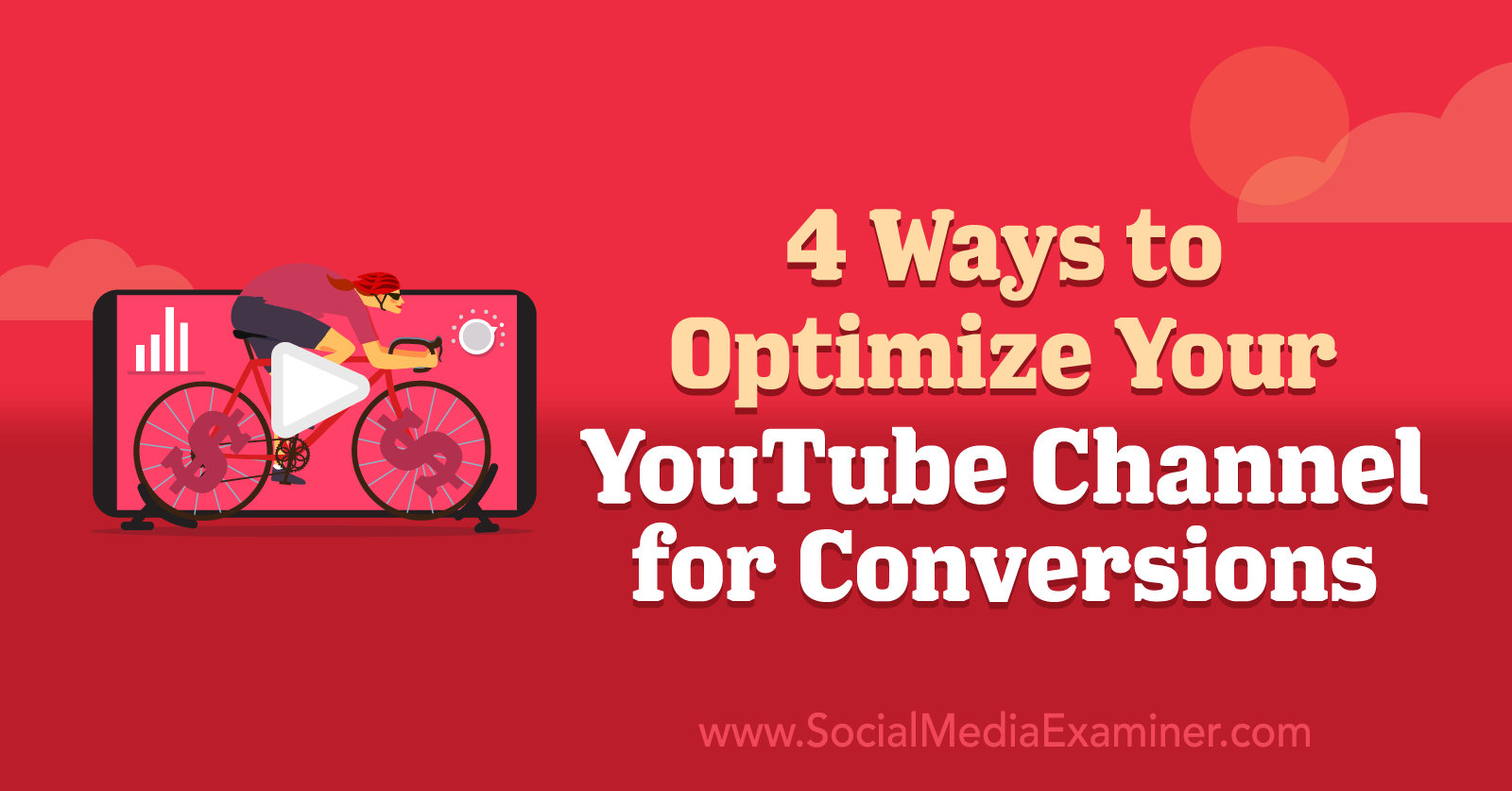 #1: Optimize Your YouTube Channel Page for First Impressions
Start by optimizing your YouTube profile. To get leads and conversions, you have to make sure prospects can easily find your channel in search and instantly form a positive opinion of your brand.
Update Your YouTube Profile
First, review the introduction that appears on your YouTube channel's About tab. YouTube gives you a 1,000-character limit but it's important to structure your channel intro strategically.
Only the first 150 characters or so appear in Google search and the first 100 characters or so appear in YouTube search. For best results, include your main keywords in the first sentence of your description. That way, prospects can quickly understand what your channel is about and decide whether your brand can meet their needs.
Then head to the Home tab of your channel to update the branding and make sure it's consistent across your logo and banner. In your banner, add a link to your home page or another branded landing page where prospects can go to contact your business, subscribe to your list, or make a purchase.

Design Eye-Catching Thumbnails
In addition to streamlining the branding in your profile, take time to create a consistent look for your video thumbnails. These graphics may be small but they can be a major factor in increasing your click-through rate (CTR).
To create eye-catching thumbnails, combine visuals from your video with simple text overlays. The text should act as a hook that draws in viewers right away. While your thumbnails don't have to look like carbon copies of each other, a consistent design can help prospects easily identify your brand in search or on their YouTube home page.
For example, Sendinblue's YouTube thumbnails feature a distinctive yellow and blue or pink design. Each thumbnail includes the email marketing service's logo and a text overlay that summarizes the content and hooks viewers.

Choose Trailers and Featured Videos
Next, add a channel trailer or featured video. Both are optional but each can help attract and convert prospects at different stages of the customer journey:
Channel trailers automatically play for new prospects who haven't subscribed to your channel yet. Short videos that introduce your brand or longer tutorials that show what your brand can do often work best for top-of-funnel prospects.
Featured videos automatically play for subscribers, as long as they haven't already viewed the content. Your latest video or content geared toward the consideration stage of the customer journey often works best in this spot.
For example, Slack's YouTube profile features consistent branding from the banner to the logo to the channel trailer. The trailer explores the messaging app's tagline, "Where the future works." This video also includes a simple call to action (CTA) with a link to learn more, designed for top-of-funnel prospects.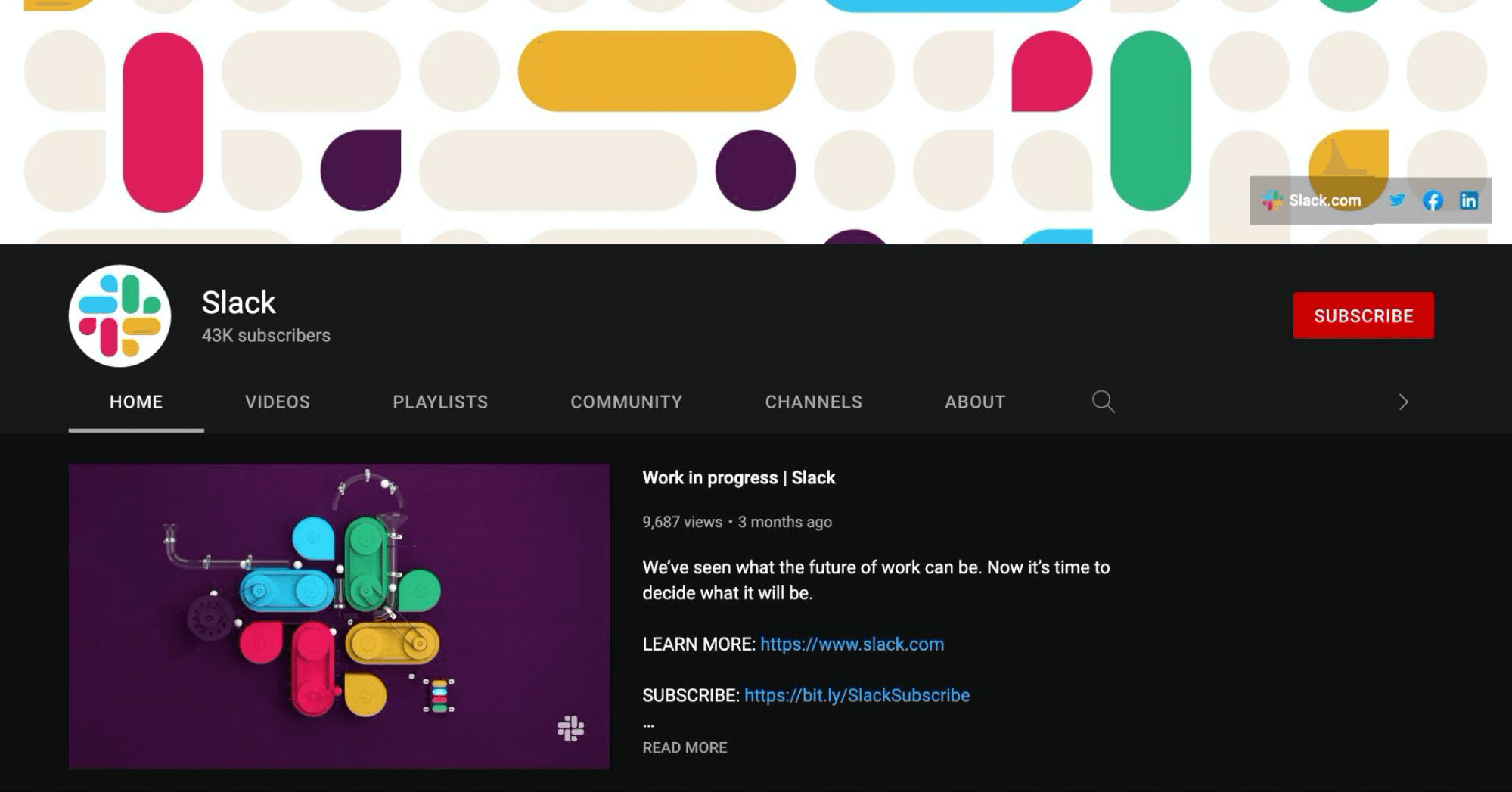 #2: Align YouTube Video Content With Your Marketing Funnel
Once you've optimized your YouTube channel, it's time to focus on creating great video content for your prospects. Use the tips below to produce high-value content that will turn casual viewers into loyal customers.
Create Content for Each Stage
Sure, you want to publish videos that appeal to a lot of people but producing one-size-fits-all content isn't a realistic goal for most brands. After all, your prospects are at various stages of the customer journey. That means they need different types of content to guide them toward a conversion.
So what's the right type of content for each group of prospects? The specifics depend on your business and what you offer but these ideas can point you in the right direction:
The Conference You've Been Waiting For
As a small business marketer, you can probably only pick one or two events to attend each year. Get back into the game with an unbeatable conference experience and expert training at Social Media Marketing World in sunny San Diego, California—from your friends at Social Media Examiner.
🔥🔥 As a valued reader, you can save $300 if you act now! Sale Ends Friday!
CLICK HERE TO LEARN MORE
Top-of-funnel prospects: Introductory videos that share your brand's story to build trust in your team and your products or services
Middle-funnel prospects: More in-depth videos that give an overview of how to use your products or services
Lower-funnel prospects: Tutorials and step-by-step guides that walk prospects through features that address specific pain points
Loyal customers: Advanced tutorials that show long-time customers how to do higher-level tasks or get more value from your products or services
The Blog With Ben video below is a helpful step-by-step tutorial that guides viewers through launching a blog. The description invites prospects to use an affiliate link to purchase hosting for their new blog. As prospects move through the creator's funnel, this micro-conversion may be the first in a series of bigger conversions.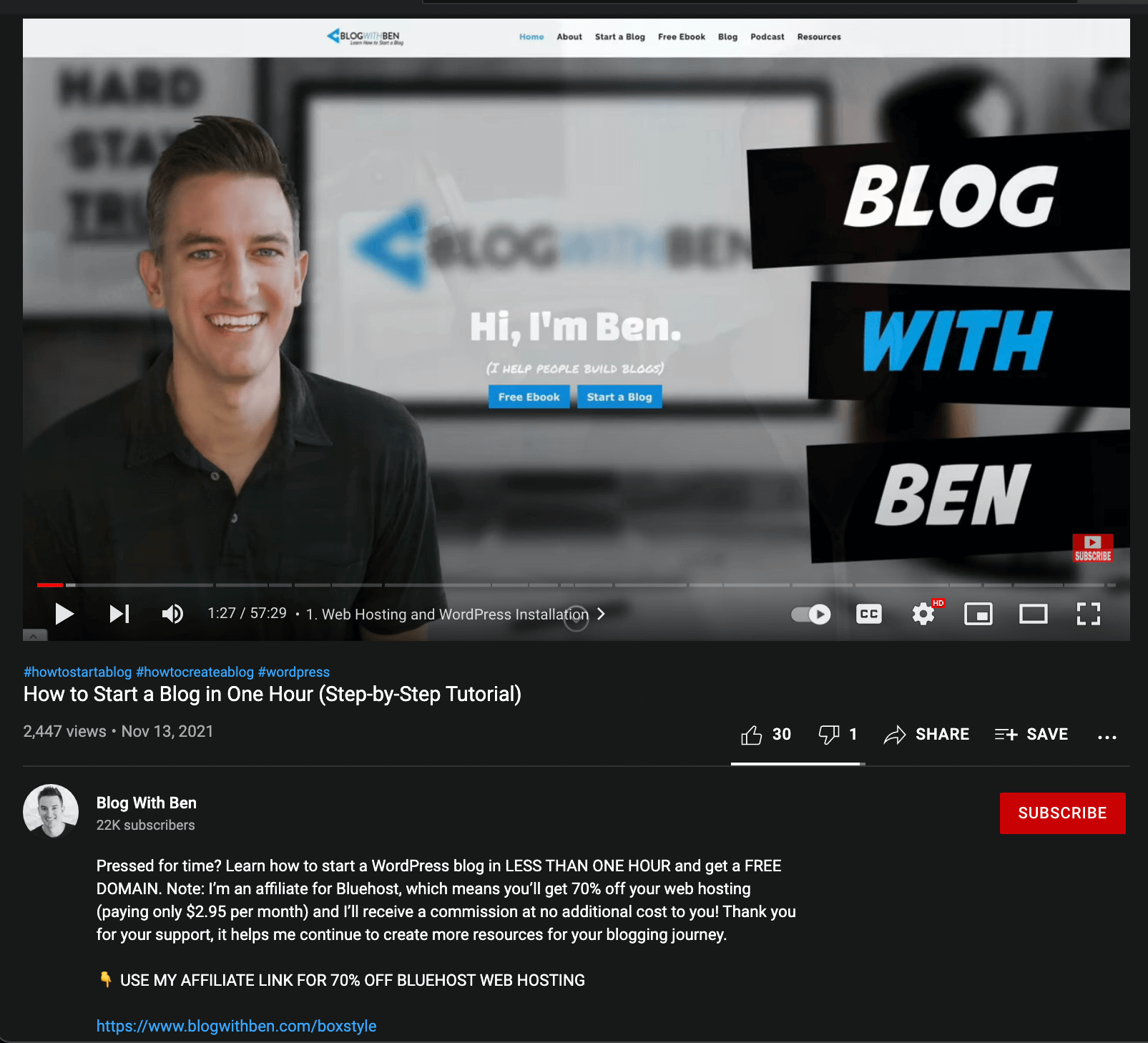 Engage With Viewers via Live Content
For most brands, publishing pre-recorded video on YouTube is the norm. Naturally, pre-recorded video lets you reshoot as many times as you like and use post-production tools for a professional-looking product. But you shouldn't rule out live video entirely.
Livestreaming can complement your pre-recorded content and give viewers more opportunities to engage and convert. Live video also tends to appear more authentic, which can help your brand build trust. If you plan ahead, you can even script live video and create professional sets, which can result in high-quality content.
For example, email marketing provider Mailchimp produces a live masterclass series that incorporates an interactive Q&A session. The example below is from the brand's advanced webinar series and walks viewers through creating a paid search strategy. Mailchimp also offers a beginner track for newer users and middle-funnel prospects.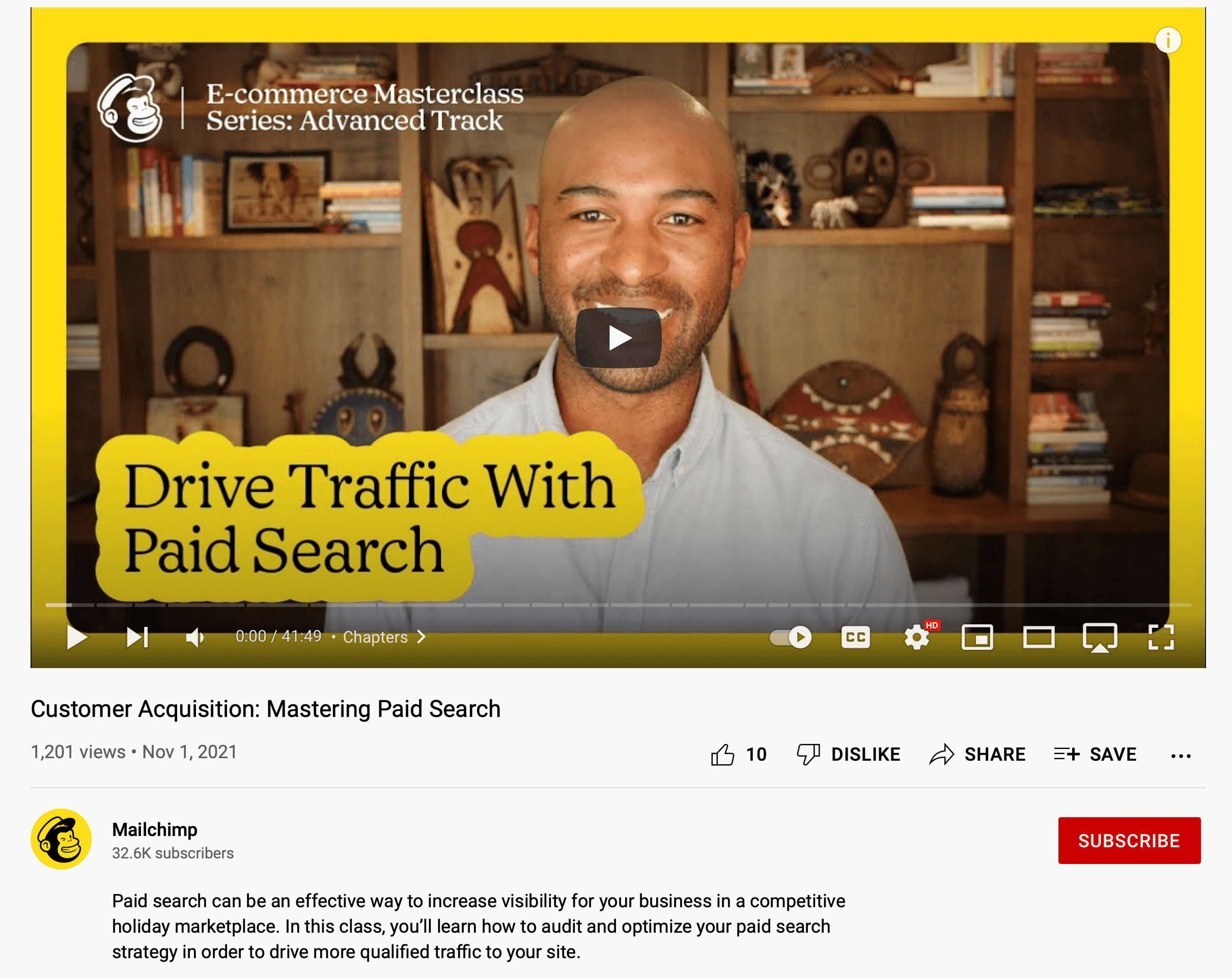 To go live with YouTube, enable livestreaming for your account at least 24 hours before you plan to create your first video. Then stream from your webcam or mobile device. You can save your video to your YouTube channel after livestreaming so it continues to provide value and generate leads.
Nurture Prospects With Playlists
In most cases, a single video won't be enough to lead viewers from the top of the funnel all the way to a conversion. Instead, they may need to watch several videos, either all at once or over the course of weeks or months.
To help prospects find the content they need to make a decision, organize your videos into playlists—which play each video automatically. You can group content by theme or customer journey stage. For example, you might put videos that highlight features in a playlist for prospects at the consideration stage. Likewise, you might group advanced tips for return customers.
For example, Income School has several themed playlists designed for different types of prospects. Some are geared toward viewers learning online business basics like writing blog posts. Others are designed for higher-level prospects who are curious about buying and selling businesses.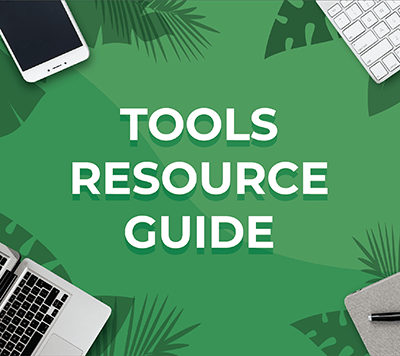 Looking for something to make your life easier?
Discover the tools we recommend to drive engagement, save you time, and boost sales across your entire marketing funnel or business.
Whether you need help planning content, organizing social posts, or developing your strategy, you'll find something for every situation.
FIND YOUR NEXT FAVORITE TOOL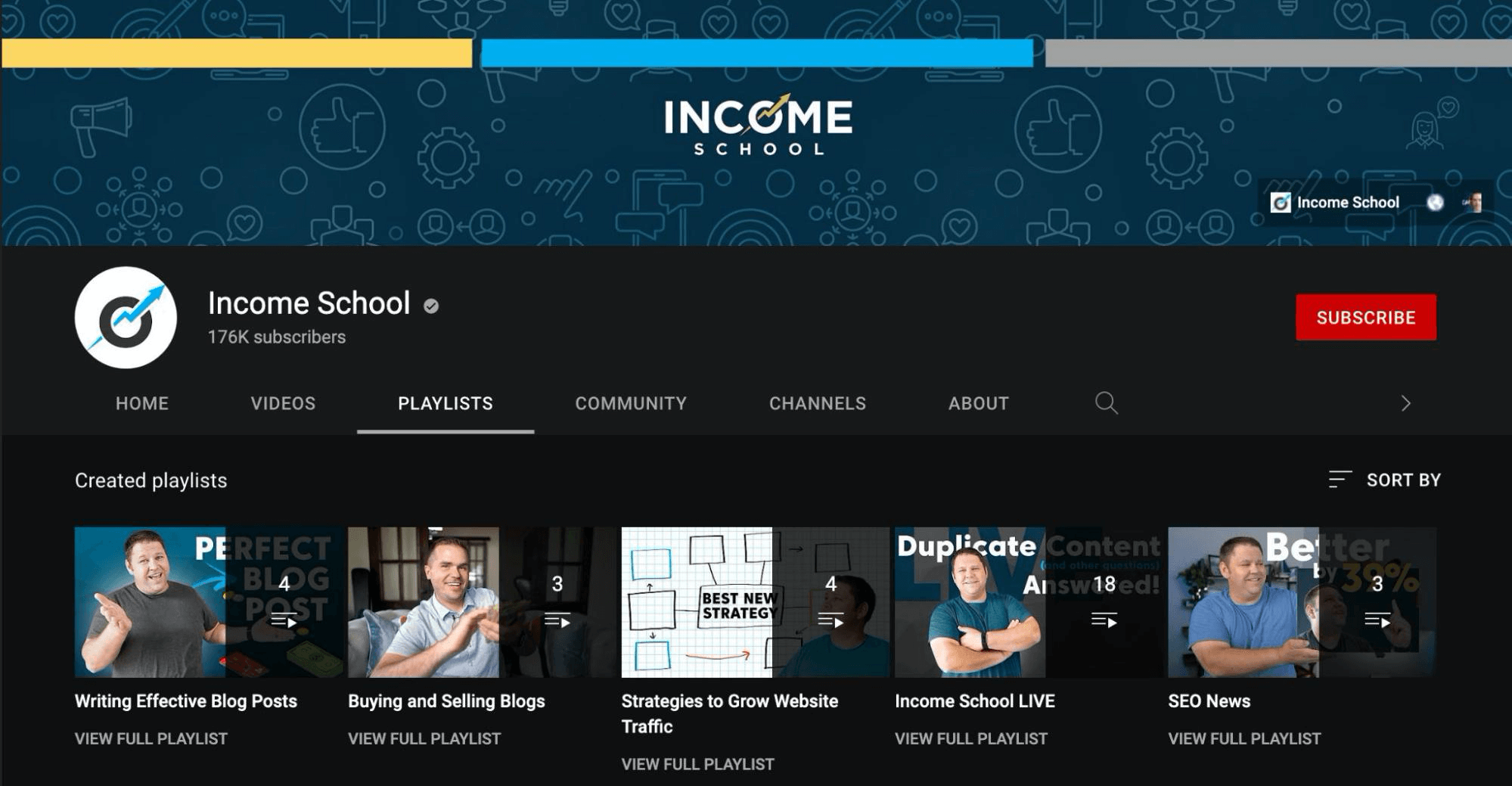 To create a playlist, navigate to your channel in YouTube Studio and select Playlists. Click the New Playlist link in the upper-right corner. Give your playlist a title and description and add relevant videos. You can add, remove, or reorder content at any time.

#3: Guide YouTube Viewers to Conversions With Calls to Action
Ideally, you want prospects to view and engage with a lot of your content. When viewers engage with your videos, the YouTube algorithm is likely to place your content on prospects' home pages. When those same viewers watch your videos regularly, your content can guide them through their customer journey organically.
But it's important to remember that the views themselves aren't conversions. So how do you turn viewers into warm leads and paying customers? Strong CTAs are critical for getting viewers to take the next step and you should incorporate them throughout your YouTube content.
Optimize Titles and Descriptions
Great captions can boost your videos' search engine optimization (SEO) and give you numerous linking opportunities. First, let's look at how to leverage the SEO potential of your video titles and descriptions.
Although you may know YouTube as a social media site, it's also a search engine. Optimizing your video titles and descriptions can increase the chances of your content appearing in your prospects' search results.
Start by identifying the right keywords for your video. Your channel's analytics can reveal some of the search terms people use to find your content, which may give you some good keyword ideas. But for more in-depth data, you typically need a third-party tool like TubeBuddy to find keywords, identify the most effective video tags, and even see what keywords and tags your competitors are using.
Once you find the right keywords to use, incorporate them naturally into your video title and description. For example, the WPBeginner video below seamlessly incorporates keywords related to "link in bio page." The video is a top search result for related keywords, making it easy for prospects to find and view the tutorial.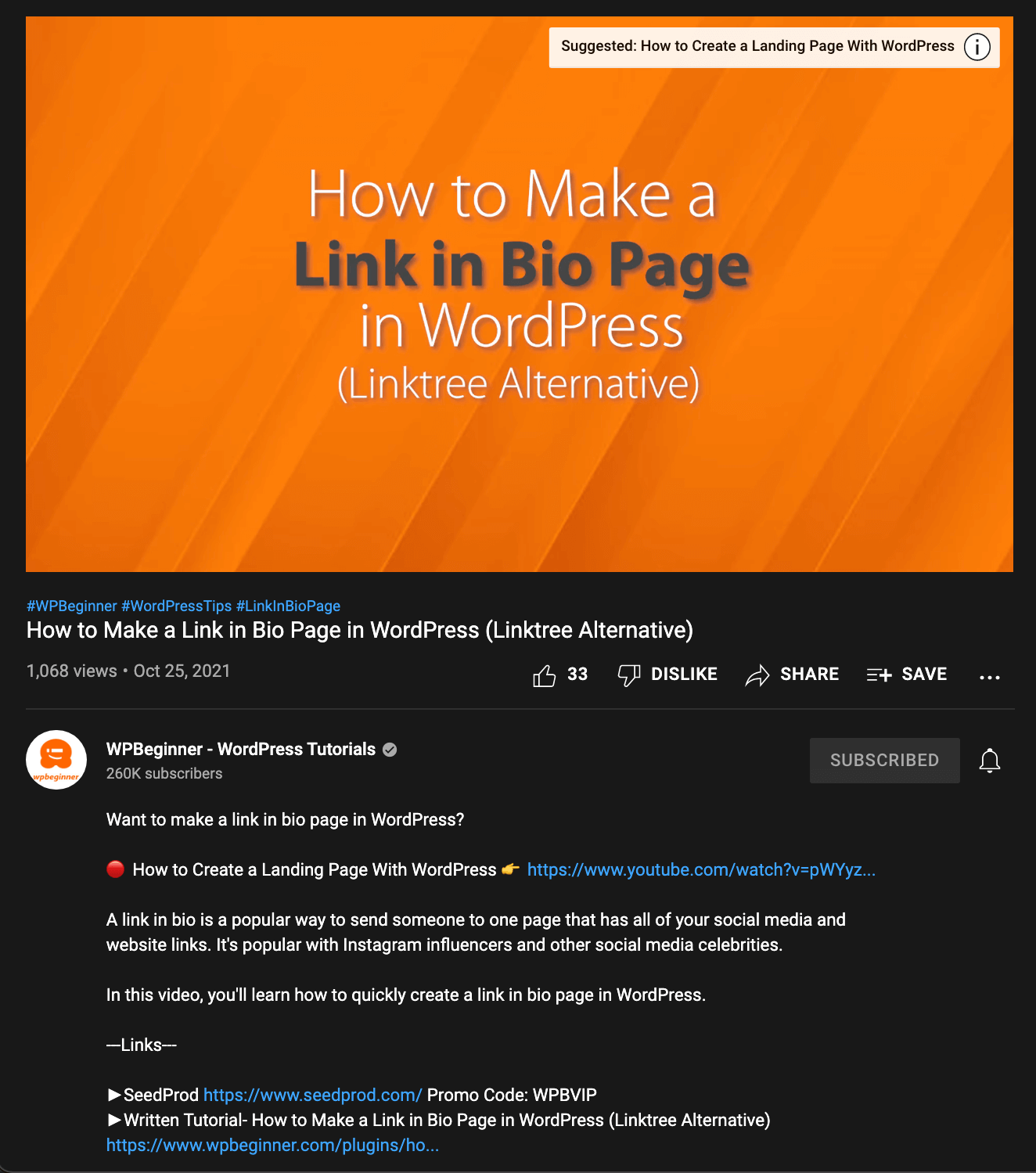 Next, let's look at adding links. In the video description, you can add links to as many sites as you like. With so many options to consider, where should you direct viewers? Think about what stage of the funnel you're targeting and what would best guide prospects toward a conversion.
In the WPBeginner video above, the description links viewers to supplementary YouTube videos, a written version of the tutorial, and recommended products. Each link offers an opportunity for a lead or a conversion.
In the Santrel Media video below, each link directs viewers to a different affiliate page, offering multiple conversion opportunities. The description also includes a subscription link for the agency's email list and product review links geared toward top-of-funnel viewers.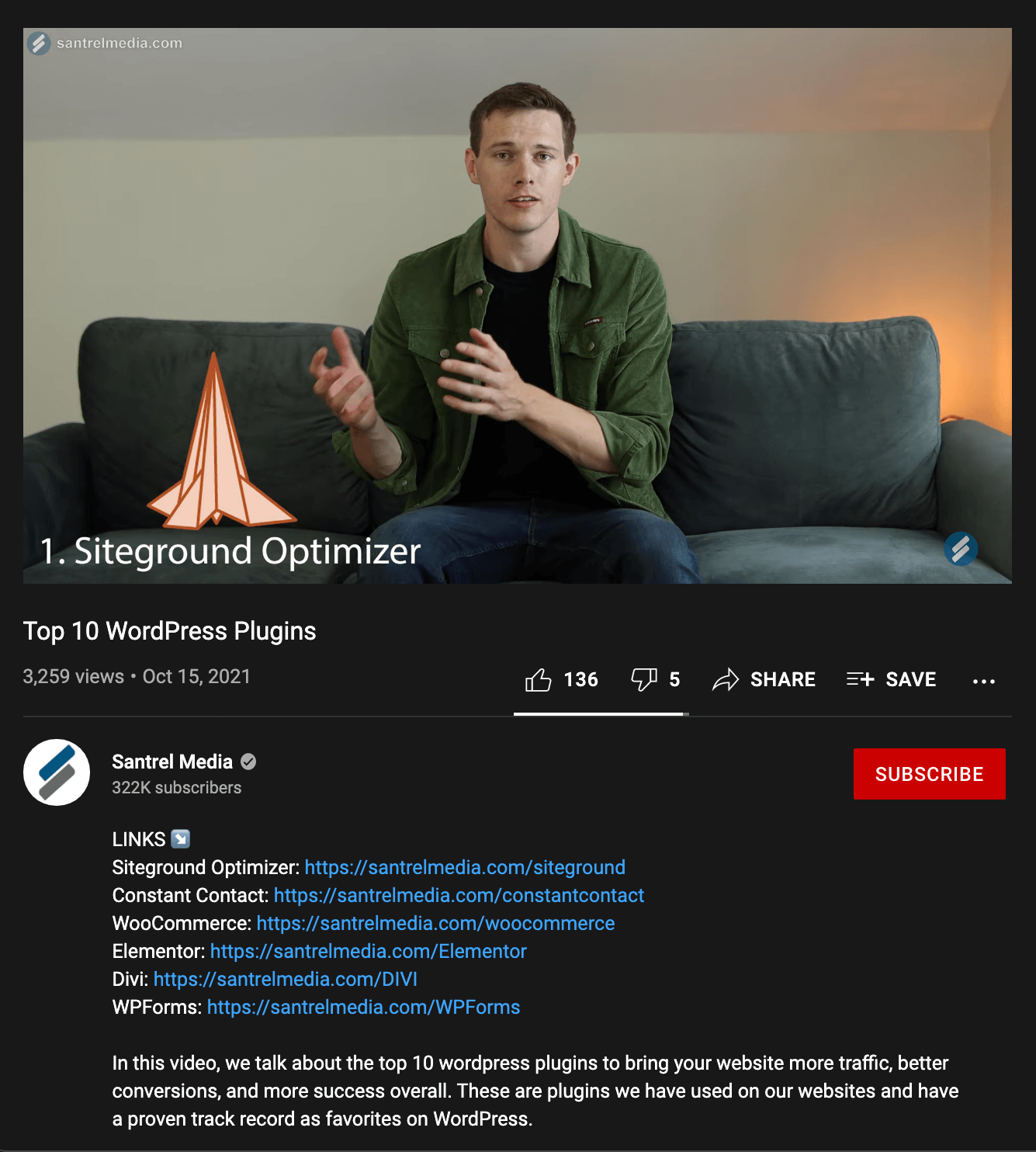 Add YouTube Cards
Adding links to your YouTube descriptions can certainly drive leads and conversions. But what if viewers focus on the video and don't always read the description? In that case, you can insert CTAs into videos with the help of YouTube cards.
YouTube allows several types of cards that can link to videos, playlists, and channels. You can add up to five cards throughout a video at specific times. That means you can direct viewers to other content that's likely to be useful and guide them toward a conversion.
For example, the Grow with Will video below features a card with a clickable link to one of the creator's related videos. The video card complements the lead magnet and related YouTube content linked in the description, all of which are designed to generate leads and move prospects further through the funnel.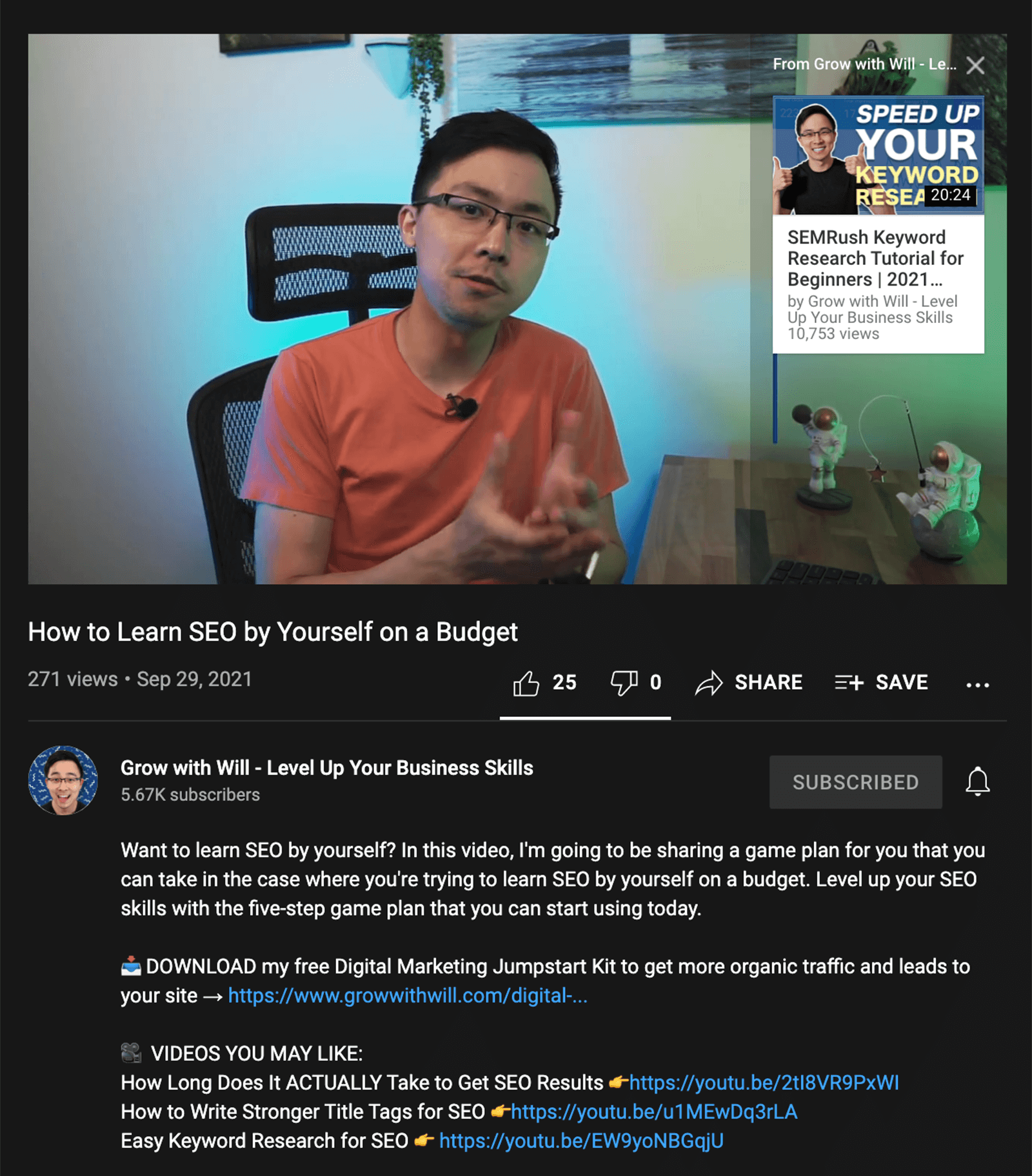 If you're part of the YouTube Partner Program, you can also add endscreens to your videos. Endscreens display for several seconds at the conclusion of your video. That's a critical opportunity to convert viewers who have watched all the way through and may be more likely to follow your CTA.
At the end of the Matt Diggity video below, the YouTube card prompts viewers to click through to other content. The endscreen's recommended videos are dynamic, meaning the creator can replace them with newer or more targeted content at any time. The YouTube card also features a clickable Subscribe card and a link to the Diggity Marketing website.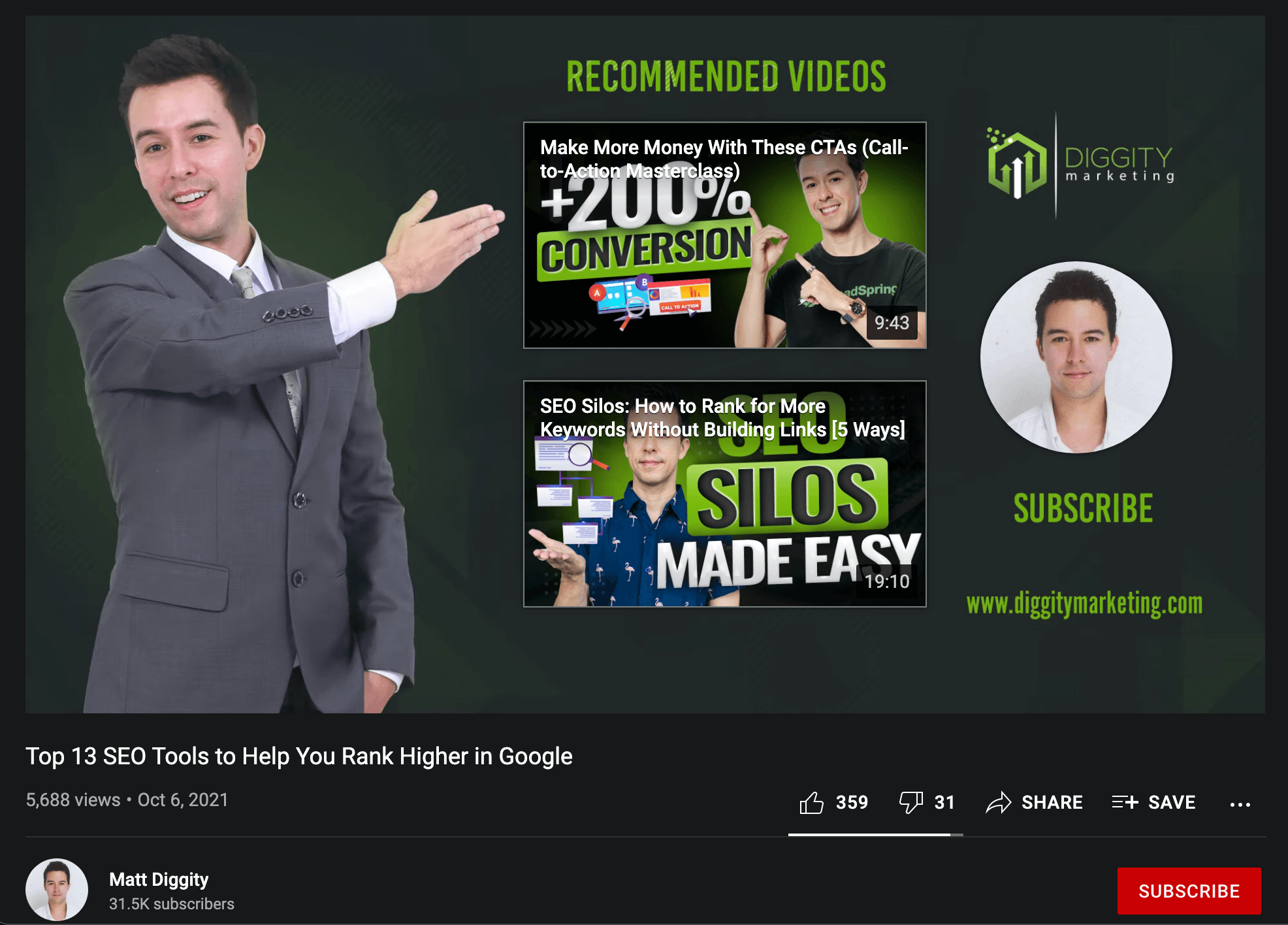 YouTube Analytics provides endscreen metrics to help you track what's best at getting your audience to take action. You can use this data to better understand what works best at converting prospects or when it's time to swap in a different piece of high-performing content to boost conversions.
Insert Clickable Links
As a member of the YouTube Partner Program, you can also link out to external websites. With external linking capabilities, it's even easier to drive conversions with YouTube.
These links appear behind an "i" icon in the upper-right corner of the video and can include a CTA. When viewers click the icon, a panel appears on the right side of the screen with clickable content. In the panel, you can recommend other videos or add links to content on your website.
#4: Leverage YouTube's eCommerce Features
If your business sells eCommerce products and your channel meets eligibility requirements, you can create a merch shelf for your YouTube channel. Merch appears on a Store tab on your channel, as well as in a scrollable panel below your video descriptions. Viewers can click through any merch item to browse and buy instantly.
freeCodeCamp's merch shelf includes T-shirts, hats, mugs, and other items featuring the non-profit organization's logo. The merch shelf also appears in select videos and the organization can customize the items that appear to optimize sales and conversions.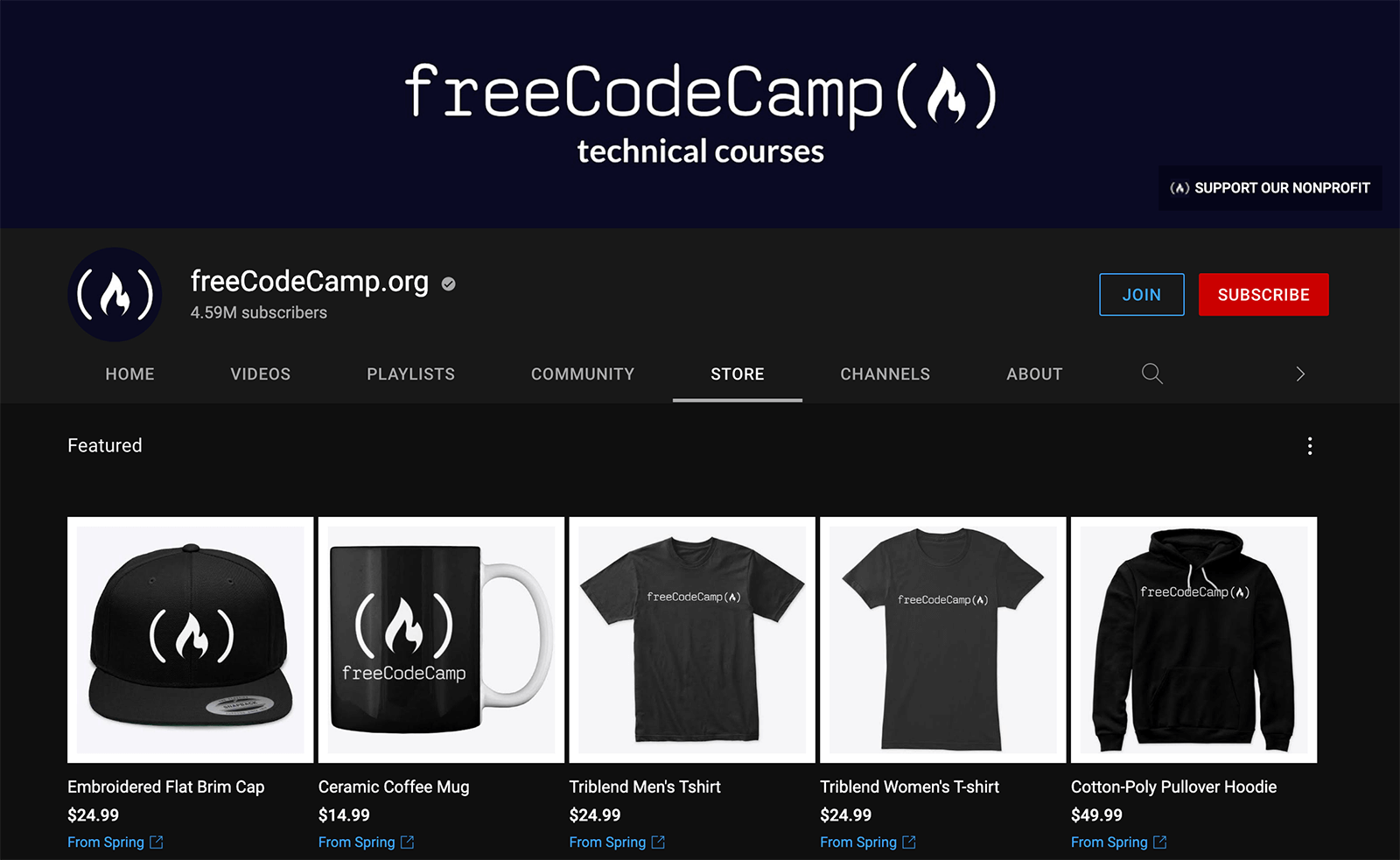 Once you set up a merch shelf, you can also promote it by pinning items during livestreams. But if you're interested in selling via livestream, you'll want to keep an eye on YouTube's live shopping events.
In November 2021, the social platform began testing a new live shopping experience, which allows viewers to interact with shoppable livestreams. YouTube has indicated that the channel intends to continue investing in shoppable features and personalized shopping, which could lead to even more conversion-focused tools in the near future.
Conclusion
By optimizing your channel, producing high-quality videos for every stage of the funnel, and using effective CTAs, you can create a successful YouTube lead generation strategy. When you add existing eCommerce features like merch and upcoming features like live shopping, you can start driving revenue directly from YouTube.
Get More Advice on YouTube Marketing
Get Your FREE Course: Web3 for Beginners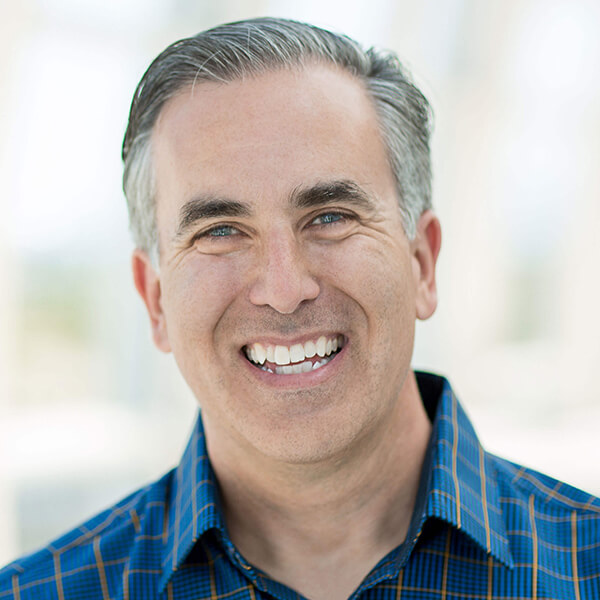 Curious about Web3, but don't know where to start or who to trust?

Introducing Web3 for Beginners, a course taught by Michael Stelzner, the founder of Social Media Examiner.

Learn the basics of Web3 and apply it to your business with this FREE comprehensive course.
CLICK HERE TO GET FREE ACCESS