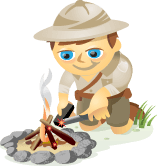 Do you want more leads from your social efforts?
Did you know there are great social media tools that make the sales process easier?
In this article, I'll review 3 tools to help you get the information you need to generate revenue from your social media activity.
#1: Nimble—Nurture Your Relationships and Get Sales
Nimble is a social relationship manager. Through social media you can build a large network of people whom you connect with, but there is likely to be a smaller group of key people who are potential advocates, influencers or customers for your product or service.
The development of relationships in social media is very important for your business.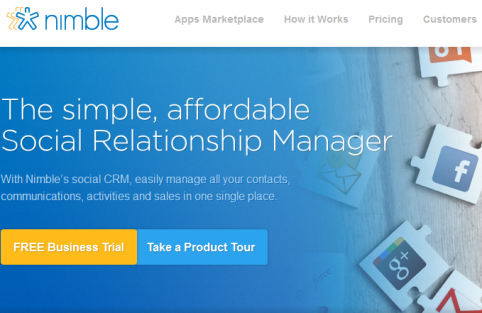 But you need to be proactive, organized and efficient and Nimble is a great tool to help you achieve this. Using it as part of an effective social media plan can result in more sales for your products and services.
By effectively managing the development of these relationships, you have a much better chance to grow your business through social media.
Features
Contact management—Manage the important contacts within your network directly from Nimble. Enter the contact information or import directly from a social network (e.g., a list within Twitter). You can also have company profiles with one or more contacts associated with the company.
Engage with your contacts through Nimble—A social profile is built for every contact. Nimble attempts to find other social networks your contacts are part of and adds them to their profile. You can then view and interact with all of their social media activity directly from Nimble. Nimble currently supports Facebook, LinkedIn, Foursquare and Twitter. There is also limited support for Google+ due to restrictions from Google.
Activity management—Sync up your calendar with Google and create appointments directly in Nimble that are synchronized with your Google calendar. Create tasks for you or your team in relation to your contacts.
Sales automation—Track all business opportunities generated through lead management functionality provided by Nimble. Add custom fields to the lead management section to reflect your particular business and use Nimble's third-party integrations to further enhance lead management capability.
Extend Nimble with apps—Nimble integrates with a large variety of other applications so you can leverage functionality provided by other companies. Nimble is also available in the HootSuite application store. This allows you to view a Nimble profile of a Twitter user within HootSuite and also add someone to Nimble who is not already there.
Social inbox—Instead of having separate inboxes for email, tweets and LinkedIn/Facebook updates, you can now view and interact with messages from all of these channels via your social inbox.

You can view and respond to your contacts' emails and social media activity directly within the social inbox.
Setup
The setup process is straightforward. Enter your personal details and an address for your installation. This will normally have your company name included in it (e.g., https://razorsocial.nimble.com) and cannot be changed later.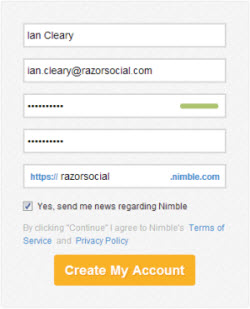 When you create your account, you are then asked if you want to import your contacts. You can select from LinkedIn, Gmail or Twitter.
You may not want to import all of your contacts. In the example below, we imported a list from Twitter called "Top People" and in Nimble we tag them as "Potential Customers."
When you tag a group of people you can find them easily by filtering your contacts based on this tag.
Here is an example of importing a Twitter list and how it appears after import.
The Conference You've Been Waiting For
As a small business marketer, you can probably only pick one or two events to attend each year. Get an unbeatable conference experience and expert training at Social Media Marketing World in sunny San Diego, California—from your friends at Social Media Examiner.
🔥 As a valued reader, you can save $650 on an All-Access ticket if you act now! Sale Ends Tuesday! 🔥
CLICK HERE TO LEARN MORE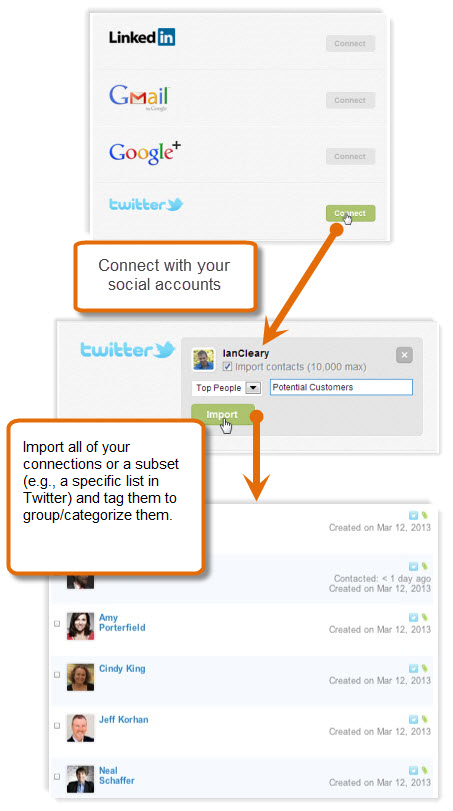 When you select a particular contact, Nimble tries to find other social networks that this contact is on and allows you to add these to the profile.
In the example below, we are looking at Marcus Sheridan's profile. Nimble has detected that Marcus has Google+, LinkedIn and Facebook accounts, so you can add all of these accounts to his profile.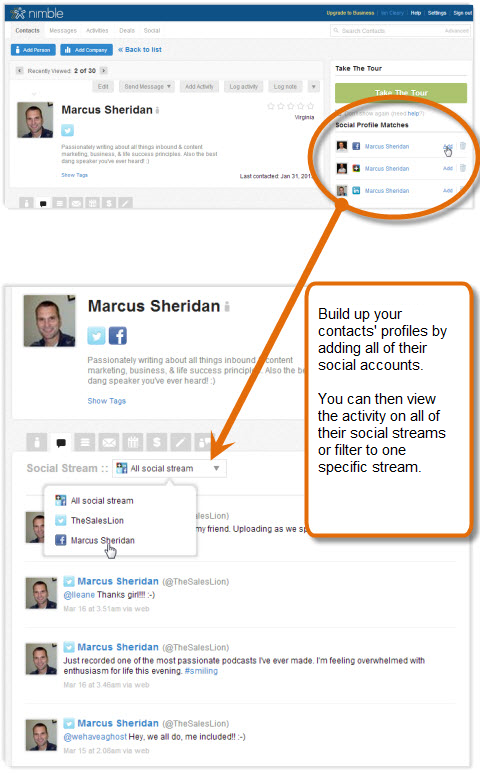 When these are added to your account, you can then view all activity from Marcus in each of the connected streams via the Social Stream tab on his profile.
This is a great time saver and you can now easily browse through activity from Marcus on any (or all) of his social channels and interact with these updates.
Within the profile, you can also view:
Detailed contact information taken from the social networks you have connected to. You can view this by hovering over the icons for the social networks.
Social stream—The latest status updates from the user across each of his or her streams.
Communication with that contact—A breakdown of communication you have had with this contact.
Activities—You can create activities directly related to the contact. These can be either tasks or events and you can even log activities that have already taken place so you can keep an accurate history of all your interactions.
Deals—If you believe there is potential to do business with this contact, you could create a deal using a standard form or a customized form based on your requirements. The sales pipeline allows you to track deals from initial creation right through to sale. Nimble also supports many integrations that will be helpful in this area; for example, integration with HubSpot.

Create a record of any potential opportunity to sell your product or service and track this opportunity.
Send message—Communicate directly with the contact over the social networks you have connected such as Twitter, LinkedIn, Facebook and Foursquare. You currently cannot send a message to the contact over Google+.
View shared connections—It is quite useful to know if there are other people in your network that you both know.
Nimble also records the "last-contacted" date so you know when you last interacted with a person. Being able to sort based on last-contacted date is really useful as it encourages you to initiate conversations if you haven't recently.
"With Nimble's automatic social profiling and integration of social communications streams, we know exactly who the customer is, what's on their mind and how best to connect." Charles Wilson, Director, RJT Compuquest
Benefits of Nimble:
Effectively managing and growing the relationships that are important to your business will lead to increased revenue.
Social media can be a real drain on time. By being more organized and efficient with your social media activity, you will save significant time. Reducing time on social media means more time for other areas of your business.
Traditional customer relationship management systems are not as integrated with social media. A system that is built as a social media platform has a huge advantage in managing social relationships.
As your connections through social media increase, it becomes very difficult to stay focused on the connections that really matter. Nimble is ideal for this.
The deals functionality helps you grow and develop opportunities and progress social media connections into sales.
Summary
As you grow your presence on social media, it becomes increasingly difficult to maintain relationships with all of your fans, followers and contacts.
Nimble is a social relationship management tool that helps you manage the most important relationships to you within social media.
It is a very effective tool that will help you nurture those important relationships and ultimately develop leads and sales.
#2: NeedTagger—Find Potential Business Opportunities Through Twitter
NeedTagger is a search engine for Twitter. Through its smart technology it searches through Twitter to find conversations worth engaging in.
Twitter can be a great source of potential business for your products or services, but it's hard to find the most relevant information.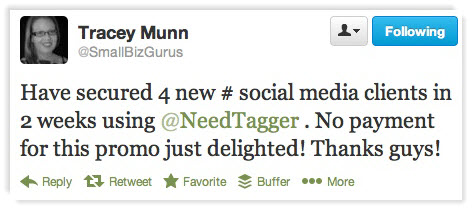 Through NeedTagger, you can find leads for your business, questions on competitors' products that may lead to sales, problems with your products that you could solve to ensure that the sale goes ahead and much more.
Features
Find opportunities on Twitter to sell your products or services.
Use pretested streams of content based on your target industry. This further helps filtering to make sure you get the most appropriate content.
Perform relevant actions based on useful content found. Follow or tweet the user, email the tweet to yourself and/or tag relevant content so you view filtered content later.
Setup
When you go to NeedTagger and want to create an account, you are brought straight to the NeedTagger configuration screen where you can enter in details of what you are searching for. This is referred to as a stream.
But before you can create your first stream, you need to connect your Twitter account to authenticate you as a user.

You then define the filter you want to create. The example below is based on a business that sells marketing automation software and that wants to identify potential customers looking for a solution.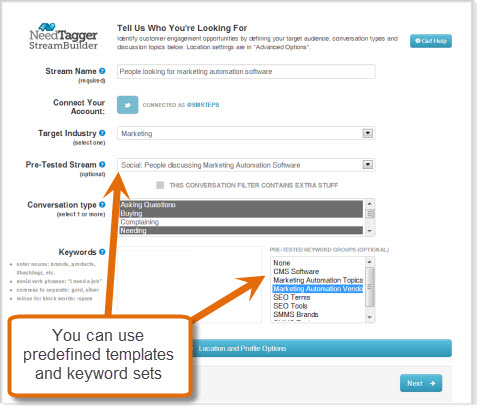 This would be set up as follows:
Stream Name—This is the name that identifies the filter you create.
Target Industry—Select the industry you want to target. If the industry is not available in the list, select Other. We selected Marketing as the target industry.
Pre-Tested Stream—Depending on the industry you select, there is a different set of pretested streams, which are basically commonly used searches. NeedTagger works best if you select an industry from the list and a pretested stream. For this example, we selected "People discussing marketing automation software."
Conversation type—Indicate what type of conversations you want to track. Because we want to find potential sales opportunities, we indicated that we were interested in conversations around "buying," "asking questions" and "needing."
Keywords—Enter in any specific keywords you want to use that are relevant to your search. For example, you could enter some of your competitors' names. If you don't want to use any keywords in the search, that's fine. In this example, we chose not to enter any keywords and instead used a set of the pretested keyword groups.
Pretested keyword groups—Depending on the stream selected, there are different pretested keywords that you may want to use. We selected the pretested group for "Marketing Automation Vendors."
When you click Next, you are asked to set up your account's login details, at which point your account is created and the search you just defined is run.
As a free user you can create one stream and are limited to view only 20% of the results of that filter/search. This allows you to test out NeedTagger for free before you buy. While 20% may not seem like a lot, if you cannot produce results for your business with 20% of the data, it is unlikely that you will produce results with higher amounts of data.
Viewing Results
Here are some of the results from the stream we just defined.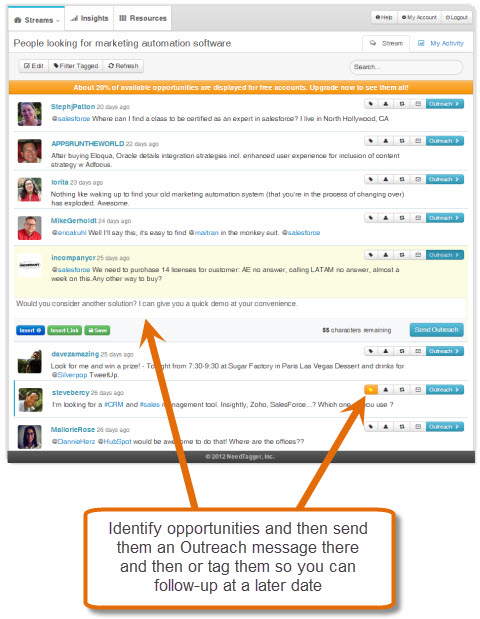 There are some results that are relevant and some that are not. For example, while they are all related to marketing automation software, some are not related to buying. As you can see here, the first item is not relevant but the second one is displayed because Eloqua provides marketing automation software and "buying" is mentioned.
While there is no sales opportunity here, this is a very relevant user to follow as they provide market research for IT products.
The fifth item is very relevant as the user is about to buy 14 licenses for Salesforce, so this is a sales opportunity if you provide competing software. You can choose to send him a message there and then via the Outreach button.
And the second-to-last item is about somebody looking to buy a CRM and sales management tool. As this may not be your core business, you may want to just flag them for follow-up at a later date as they may consider marketing automation at a future date.
For the second query, I changed my conversation type to "complaining" because I wanted to find people who were unhappy with their current product.

The results provided were very good. In this stream, there were lots of people complaining about issues they had with their current marketing automation software. This is an opportunity to engage with people to convince them to change their software.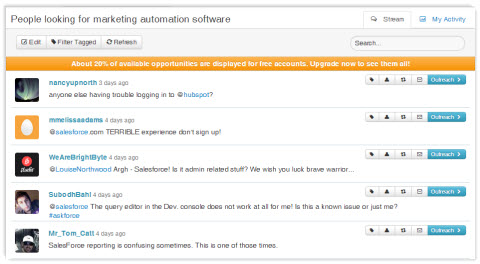 When you do want to engage with someone, you just click the Outreach button, which allows you to send him or her a tweet. The person's Twitter username is not automatically added, so remember to click the Insert@ button to include their username.
Attention Agency Owners, Brand Marketers, and Consultants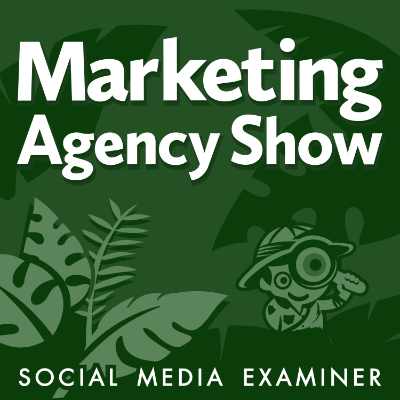 Introducing the Marketing Agency Show–our newest podcast designed to explore the struggles of agency marketers.

Join show host and agency owner, Brooke Sellas, as she interviews agency marketers and digs deep into their biggest challenges. Explore topics like navigating rough economic times, leveraging AI, service diversification, client acquisition, and much more.

Just pull up your favorite podcast app, search for Marketing Agency Show and start listening. Or click the button below for more information.
CLICK HERE FOR THE DETAILS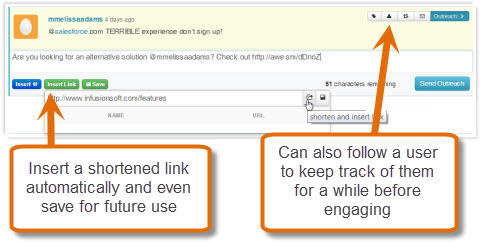 You can also insert links, which are automatically shortened for you. If you feel you want to monitor this user a bit longer before engaging, then you can choose to follow them or you can just tag them so you can follow up at a later date.
You can view your tagged tweets by clicking on the Filter Tagged option at the top of the results list.
Another handy feature is the ability to save your messages as templates so you can reuse them. All saved messages and links are stored in the Resources section. You can then easily insert them, as shown here.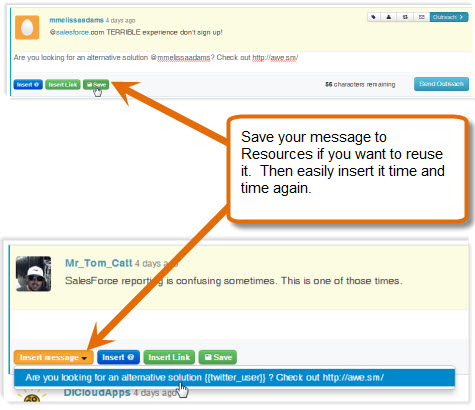 When you do some outreach, it is recorded in the My Activity section so you can keep track.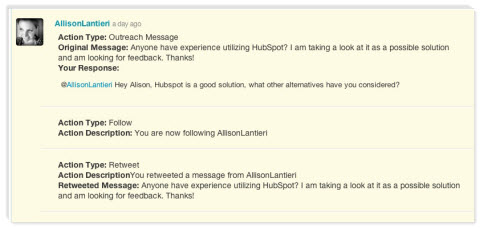 Insights
The Insights tab displays analytics on the opportunities available and the results of your outreach.
On a daily basis you can view the opportunities generated. If you respond to any of the opportunities you can also track how many people are clicking on the links or sharing the messages.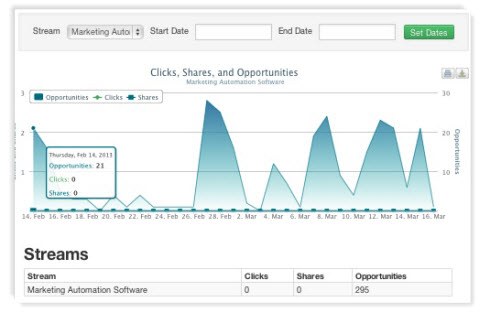 Benefits of NeedTagger:
A sophisticated search that helps identify relevant opportunities for your business.
Once you find opportunities to sell your products and services, you can immediately reach out to them to start engaging.
You can track the results of the outreach to see which messages are getting the most clicks and shares. This helps with formulating a plan for further outreach campaigns.
Summary
NeedTagger functionality is far more sophisticated than using a search facility such as Twitter Advanced Search.
To get the best use out of NeedTagger, you need to spend some time setting up your streams and keywords, and you can produce very good results.
There is plenty of room for NeedTagger to expand on current functionality; for example, the addition of more pretested streams, support for other social networks and integration with relevant third-party tools.
However, NeedTagger in its current form is still very useful and we were certainly able to find opportunities by using it.
#3: Virally App
When a visitor wants to access a special piece of content on your website, quite often you request an email address before you give them access; for example, before allowing them to download an eBook.
Virally allows you to restrict access to content until a user connects to their social network of choice.
With Virally, you set up a page that asks the user to click on a button to connect to LinkedIn, Facebook or Twitter. When they do this, they get access to the content.
The big advantage to you is that you now have a lot more information about the user. The contact can also automatically send out an update about the content they accessed through the social network they connected to.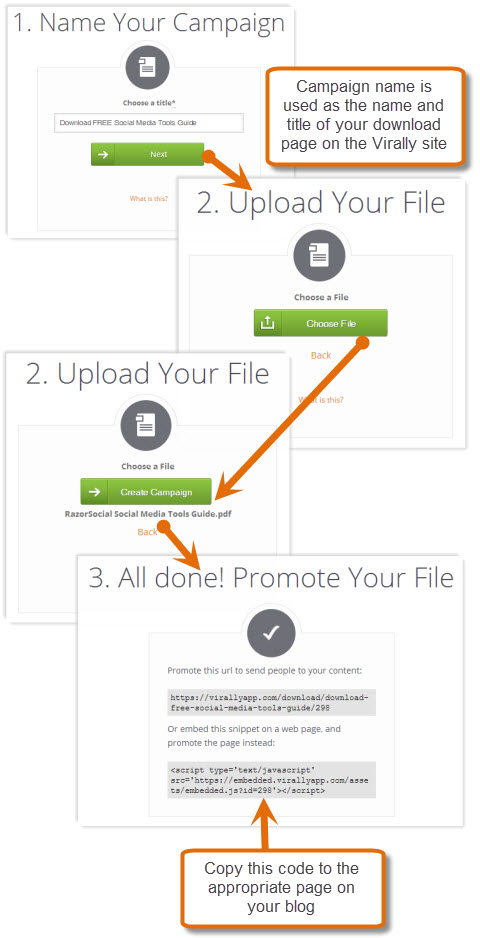 It is easy to connect and when they do, you have a much deeper profile of users.
Setup
Registration is quite straightforward. Enter your personal details and select the account type.
There are two account types: Lite—Free Forever is completely free but has some restrictions on functionality, while the Business 2-Week Free Trial allows you to try out all functionality before making a decision about purchasing.
Once you are registered, you are ready to create your first campaign. You are taken through a quick 3-step setup.
Enter the name that will identify what the campaign is about. This name is used as for the page name and title on the Virally website.
Upload the document that users will get to download as part of this campaign. With the free version of Virally, there is a size restriction of 1 Mb.
Create the campaign and promote it either using the link to your campaign on the Virally website or embed the campaign on your own website.
To display it on your own website, you need to take the embed code displayed above and copy that onto a page on your website.
This is how the campaign would appear when displayed within your website: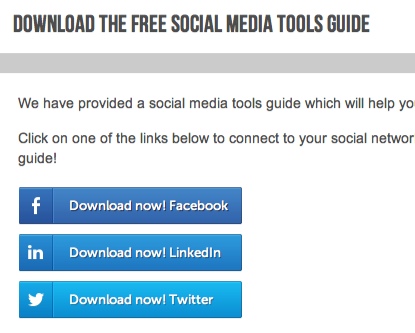 If a visitor to your website wants to download the guide, they select one of the options available and are then given an option to Download Only or Download and Share.
When they choose Download and Share, a message is automatically shared out on their behalf to their friends or followers on the social network they connected to.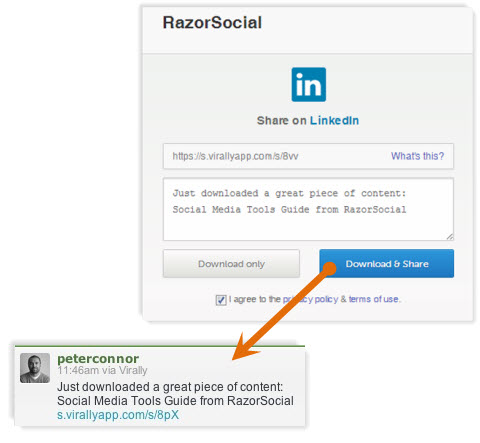 Virally collects information from the social network they connected to and builds a full profile of the user that also includes the email address. For example, the following profile was built based on connecting via LinkedIn.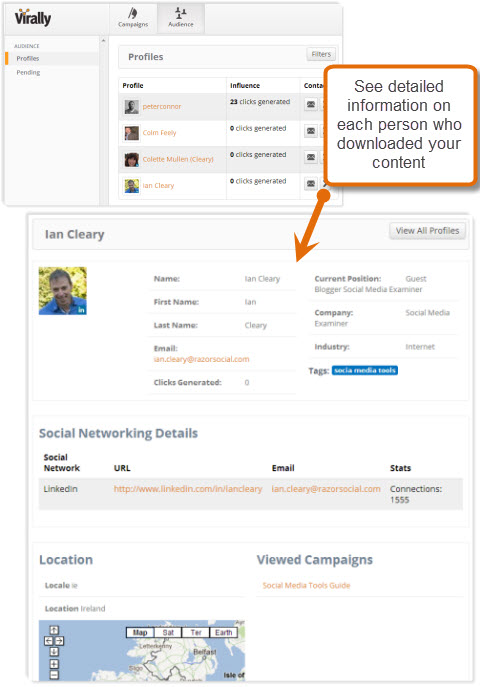 You can see that the email address, profile information and details of their social network have all been collected so you build up a much bigger profile than just email. Over time, the profiles will start to build and grow as the user starts sharing your content, which generates clicks or even connects with your content via other social networks.
Advanced Configuration
There are some additional configuration options available for the campaign. To further configure the campaign, select the Settings option for the appropriate campaign.
There are four different sections to the configuration for every campaign.
Refine Your Campaign
Some of the settings will already be configured based on what you entered when you initially created the campaign. But now you can further refine your campaign using these additional settings:
Pay with an update—Before users download a document, you can ask the user if they want to share out the fact that they downloaded this document on the social network they connected with.
Status update content—This is the content that you want to appear in the status update.
Update picture—If someone shares an update on Facebook, you can attach an image to this update.
Update description—If someone shares an update on Facebook, you can create your own description of this update.

If you want to further customize the campaign, there are additional settings you can change.
Download action text—This is the text that appears within the buttons to download.
Campaign tags—Enter some information that can be used to help you categorize future campaigns.
Draft status—If you want to disable the campaign without removing it, you can change it to draft status.

The download action text is the text that appears within the buttons to download.
Decide Which Social Channels to Share Through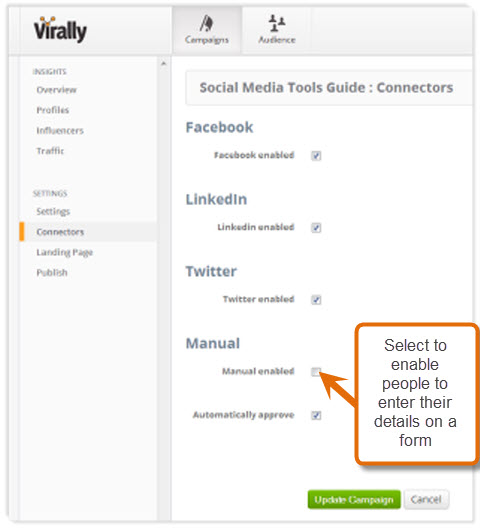 The Connectors are the social networks you want to make available to users to connect to if they want to access the content. By default Facebook, Twitter and LinkedIn are available.
There are also two additional settings on this screen:
Manual—By default this is not enabled. If you enable this setting, then users will have the option to enter their details (such as name and email address) on a form, rather than connecting via their social profiles. This form can be customized to suit your needs (see later in this article).
Automatically approve—By default, users will automatically be able to download the content. However, you can set this up so that their request for the content is added to a pending queue for you to approve. You can then view a list of the pending profiles and decide whether to approve them.

If the flag for Automatically Approve is not set, then users are put into a pending queue where you need to approve entries before they get your content.
Design Your Virally Landing Page
When you set up Virally, you can choose to either embed the download links within your own website or you can direct them to the landing page for your campaign within the Virally website.
If you do decide to use the Virally landing page, then you can add images, links and some additional text explaining to users what you want them to do and what benefit they will get from downloading your content.
You can also add some text to the page displayed after people connect via their social network of choice.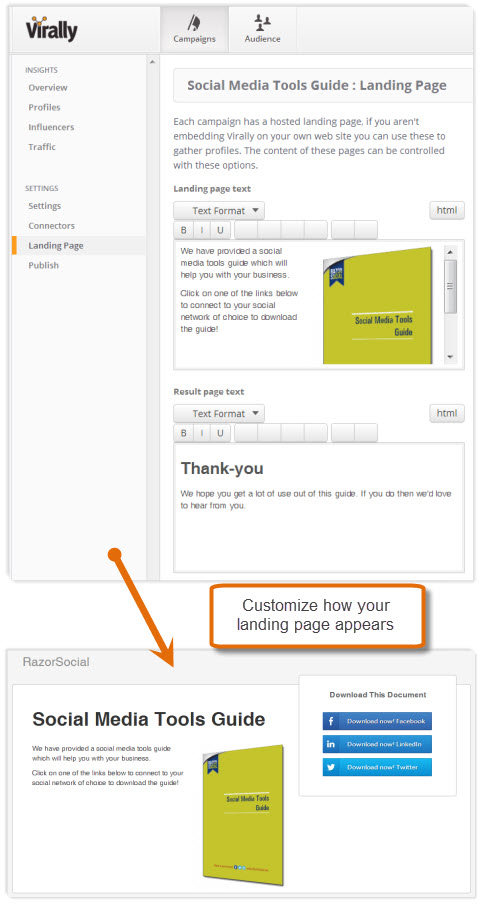 Publish Your Campaign
This page is where you get the web address for the form if hosted on Virally or the embed code to display it on your site.
You can also take the code from the Manual Form section and build your own form on your page.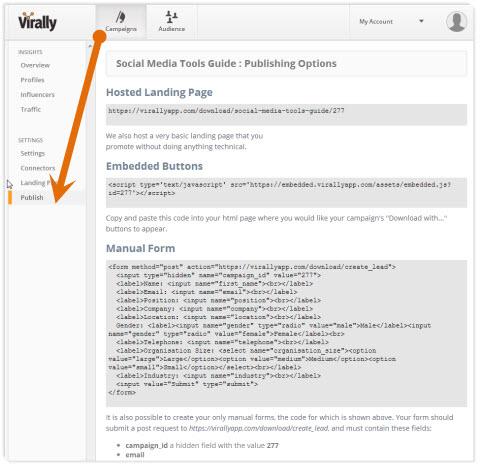 Integrations
Virally currently supports integration with MailChimp so you can automatically add your contact email addresses to MailChimp.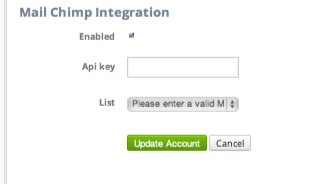 Viewing Results of a Campaign
When you make the campaign live and users start to register and download your content, information is collected in the Insights area.
Overview—This contains a selection of graphs that show the activity on the form, shares out on social networks, volume of users connecting, the conversion rate and so on. It also provides a summary of the performance of each of the channels so you can see which one is providing the most leads.
Profiles—This section shows the people who registered. You can see that although they connected via social media, their email address is automatically recorded.
Influencers—When a registered user shares out that they downloaded the guide on one of their social channels, the number of clicks they generated for the link they shared out is recorded. You can then identify your most influential users.

Virally tracks interaction with the campaign so you can monitor how well it's doing.

Influencers are tracked. Influencers are people who share out details of the campaign and get interaction from this sharing (e.g., clicks).
Traffic—The traffic section shows where the clicks back to the page are coming from when items are shared out.

When the campaign is shared out by users through social media, Virally tracks where the interaction is happening.
Benefits of Virally:
Instead of just collecting email addresses, you gather a full social profile. The more information you have about people signing up, the better chance you have of identifying potential business.
People sharing to their friends or followers that they downloaded your content will lead to more signups and the potential for more sales.
It's easier to connect via a social network than typing details into a form.
Identifying influencers can be very useful for follow-on campaigns. If you know the influential people who are signing up, they could be targeted in the future. A Peer Index Integration feature will be released as part of the user's profile, but it wasn't ready at time of writing.
Summary
Virally is an interesting application with potential. Encouraging users to use their social profiles instead of just providing an email address gives you the potential for getting to know a lot more detail. Virally is working at adding functionality to identify the influential users signing up and this will add further benefit to the product.
You may question if the email address provided through the social network would be as good as the email address provided by people keying it directly in. If you have concerns in this area, you could also request the email address as part of signup.
There is a lot of additional functionality that would further enhance the Virally offering. We would love to see further integrations with third-party systems and we know that Virally is currently doing work in this area.
Virally is very easy to set up and well worth trying out.
Final Thoughts
Increasingly we are going to need tools that will help us collect, manage and filter information from social media to build and nurture relationships and develop sales. So we are going to see more tools focused on getting that return on investment.
These three apps all have very good potential.
What is your opinion? We would love to hear your thoughts. Leave your questions and comments in the box below.
3 Days of World-Class Training—Zero Travel!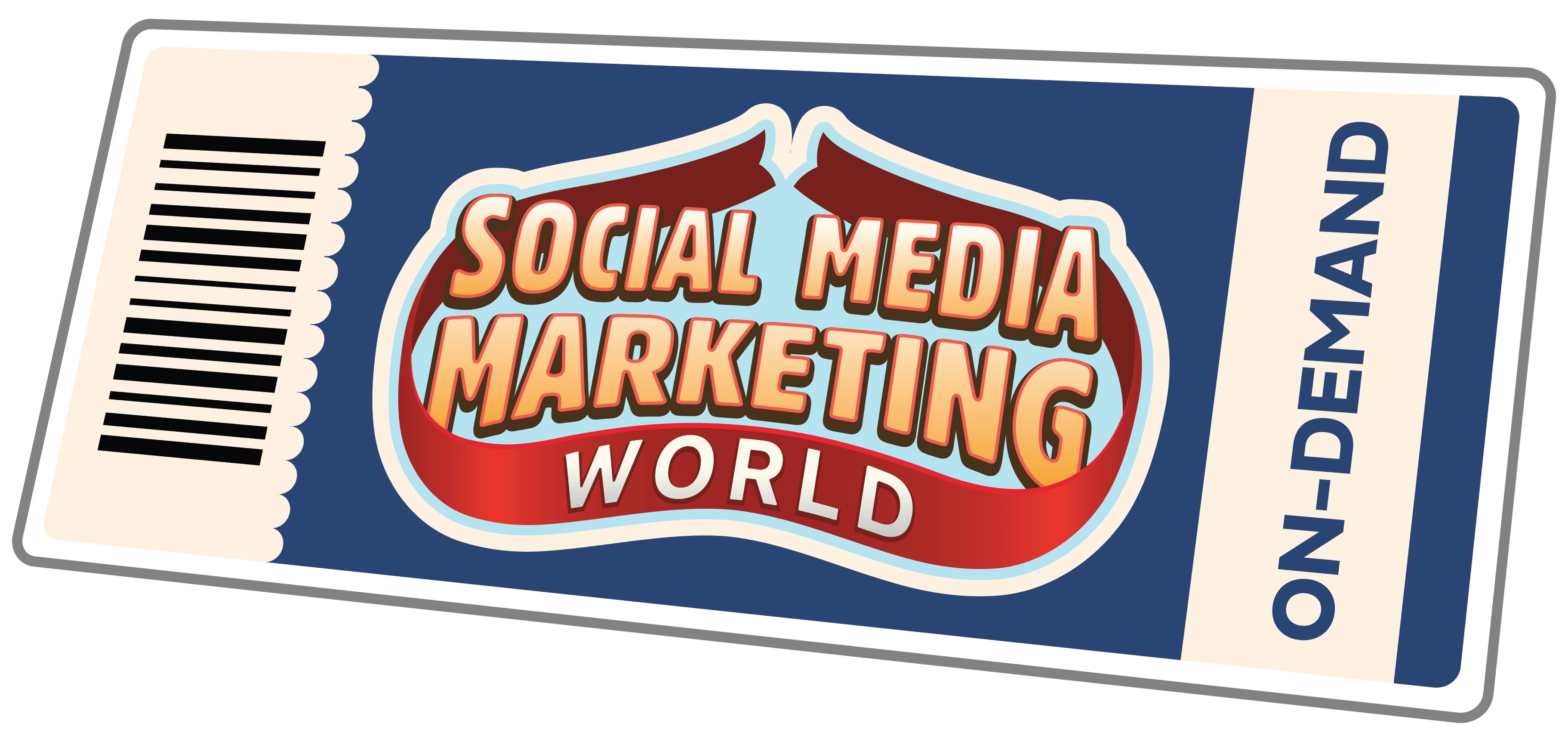 Travel to Social Media Marketing World off the table? Get all of the great content at a fraction of the price with an On-Demand ticket.

That's full access to recordings of every keynote, workshop, and session—the ones people travel thousands of miles to see. Don't wait. Get your On-Demand ticket and enjoy actionable content that you can watch anytime, anywhere.
GET YOUR ON-DEMAND TICKET NOW