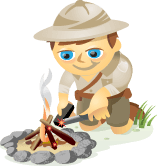 Do you need to streamline your daily social media tasks?
Looking for tools to increase visibility?
The right apps can make a world of difference in the life of a busy social media marketer.
In this article you'll discover 23 of the top tools and tips shared on the Social Media Marketing podcast.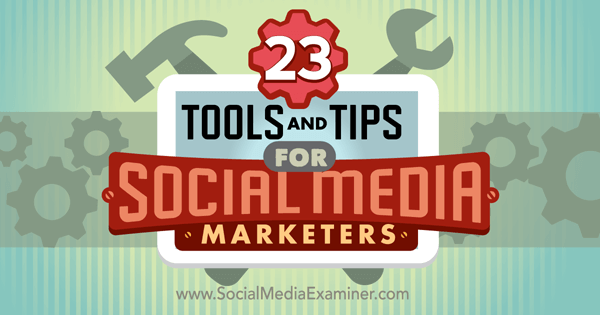 Listen to this article:
Where to subscribe: Apple Podcasts | Google Podcasts | Spotify | YouTube Music | YouTube | Amazon Music | RSS
#1: BuzzSumo Chrome Extension
The BuzzSumo Chrome extension shows you the share counts on any site you are on for all of the different social networks, including Twitter, which recently shut off the API that allowed third-party tools to collect Twitter counts on articles.
If you want to track the number of shares a piece of content gets on Twitter, this plugin will reveal that data for you.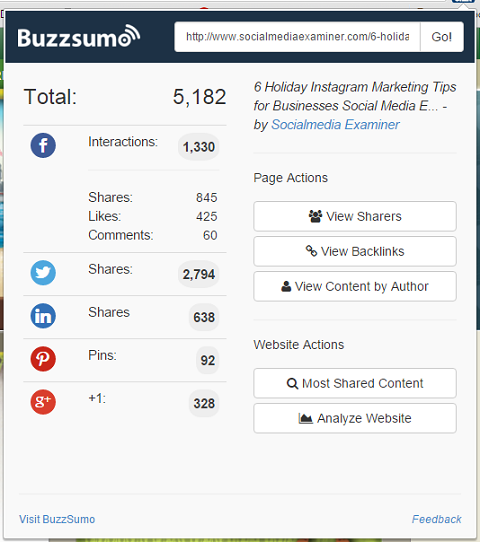 There are a couple of other cool features that let you view which Twitter users shared a page you're tracking, the backlinks pointing to that page and other content from the page's author. You can also see some of the most shared content on that site and even analyze the website.
The BuzzSumo Chrome extension is free but requires a free or paid BuzzSumo account.
#2: Scannable by Evernote
Scannable by Evernote lets you use your mobile device to take a picture of a document when you don't have a scanner. Pull up the app, hover the camera over anything (such as a piece of paper or a business card) and it automatically scans and crops it.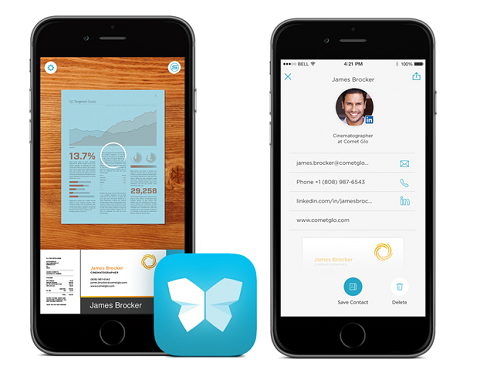 Hold it over a business card, and like magic it scans the card without pushing any buttons. Afterward, it asks if you want to add the person as a contact. If your Evernote is connected with LinkedIn, it will create a contact and pull in their data from LinkedIn.
Scannable is a free iOS app.
#3: SumoRank
SumoRank.com analyzes the rank and content of your Facebook page. For example, we tried it with the Social Media Examiner Facebook page. It told us our most popular post type, as well as our most popular day of the week and the most popular time to post.

SumoRank shows monthly interactions and the average engagement per post type to give you a feel for whether video, link or image posts get more engagement. It even analyzes the engagement based on the number of characters inside the post, so you can determine whether short posts have higher engagement than longer posts. Plus, review your top posts over a period of time.
SumoRank is a free tool.
#4: Reverse Image Search on Google
Have you ever seen an image on social media or on a blog and wonder where you've seen it before? Ever come across a saved image on your computer and want to know where you found it? Use Google's reverse image search to find out.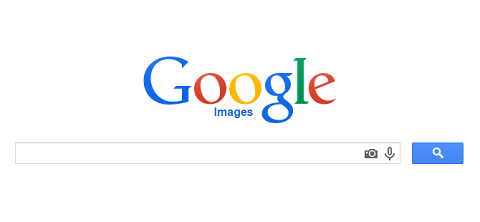 Go to Images.Google.com, drag an image into the search box or paste in a URL for an image, and Google will show you other images that are exactly like or similar to that image. Easily find the origin of any image.
Google reverse image search is a free resource.
#5: Trello
Trello is a project management system that integrates with Dropbox and Google Drive. The tool lets you create boards, cards with tasks on them to assign a deadline, lists and more. Plus, you can @tag people involved with the project. Each person assigned a particular task can leave comments, attach notes and drag in images.

When Trello is open in your web browser or if you have the app on your mobile device, you immediately get an alert whenever you're tagged on something. Act on it immediately and you won't even receive an email.
Trello is a free tool.
#6: Reader View and Reader
There are a few different ways to make it easier to read your favorite website on your desktop.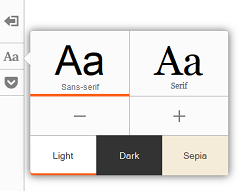 Open Firefox's Reader View and click on what looks like an open book in the URL bar to remove graphics from a page's sidebar, and change the font size and the background color.
Safari's Reader offers similar options.
Either feature lets you quickly consume a long article without being distracted by things like animated ads and other chaos that you often see on a website.
Reader View and Reader are free.
#7: World Clock for Mac
World Clock is a Mac app that is much more than just a clock. Select your favorite cities and change the time by clicking and dragging on the screen. The rest of the time zones change in sync, so you can see what time it is at any point on the map.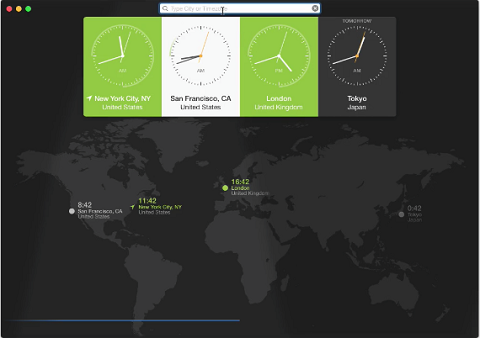 World Clock is useful for scheduling meetings and social updates, and you can use it across the board to get in front of different audiences as they come online.
The World Clock app is $4.99 and includes a widget for the sidebar of your Mac.
#8: Night Mode in Opera Mini Browser
The Opera Mini Browser has something called "night mode," which changes the way the light comes off of your screen to make reading at night easier.
Night Mode adds an overlay to the browser to filter out the blue light and display a subtle, dark sepia tone instead.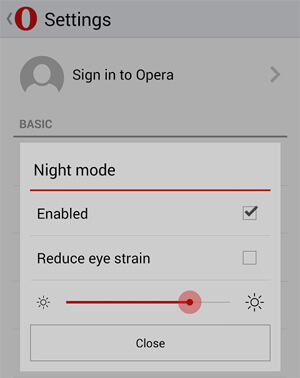 If you find yourself looking at screens, particularly your smartphone, late at night, you'll notice the light that comes off it is blue. It's scientifically proven that blue light stimulates your brain the same way sunlight does, which makes you think it's daytime and keeps you awake.
The Opera Mini Browser is a free app available for iOS and Android.
#9: Facebook Security Settings
Facebook lets you access a number of cool security features by logging into Facebook, going to Settings and clicking on Security.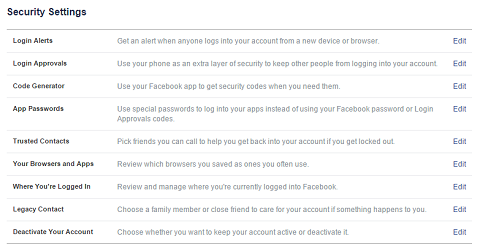 These are the top five features you should consider to keep your account more secure:
Turn on login alerts. This will alert you every time someone logs into your account from a new app or a new browser.
Turn on login approvals. According to Facebook, this adds an extra layer of security. It will text you on your phone and give you a code to verify new login attempts.
Use the code generator. Get to the code generator predominantly through your mobile device. Open up your Facebook mobile app and along the left, go to Code Generator. If you ever lose your phone, you can use the code generator. It provides a number you need to put into your Facebook account in a very short period of time to get in.
Trusted contacts. Pick three people whom you really trust. If you ever get locked out of your Facebook account, the Trusted Contacts can get you back in.
Legacy contact. Determine who will take over your account and carry on your legacy if you should pass away.
Facebook Security Settings are free.
#10: SumoMe
A lot of people have asked about the social sharing bar we use on Social Media Examiner and why we think it's special. There are lots of tools out there that do this, but the one we use is called SumoMe.
What's special about this particular plugin for WordPress is that it's mobile-optimized in a really cool way. On a desktop, the share bar floats at the side of the screen. On a mobile device, it appears at the bottom of the screen.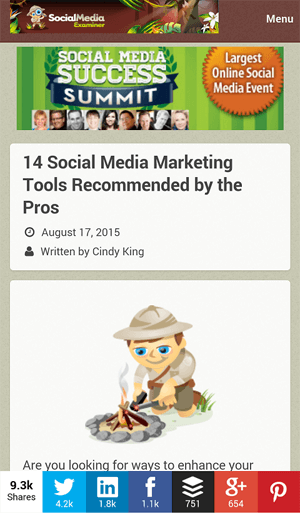 The paid version of SumoMe provides UTM tracking, as well as some mobile-only plugins, such as WhatsApp and SMS messaging. Plus, the pro version is set up to only appear if you're on a mobile device.
(Note: I don't pay for the pro package because I suggested many of its features. I am not compensated for recommending this app. I use it because I love it.)
SumoMe offers a free and $20 per month option.
#11: See First on Facebook
Are you familiar with the See First feature on Facebook? It lets Facebook users tell their feed to always see a particular person's or page's content first.
It's a marketer's dream, since you can train your Facebook fans to request that your content be seen at the top of their news feed.
Here's how to request that your content be seen first.
On the desktop, hover over the Liked button, scroll down and then click See First. On a mobile device, click to like the page. Then next to it, click where it says Following and then you can select See First.
Do that for all of your favorite pages. And feel free to share this video with your fans so they will check the See First box on your page.
Everybody wants his or her page to show up first in the news feed. Train your fans and help them understand the value of checking the See First box.
See First is a free Facebook feature.
#12: Raindrop
Raindrop, which functions as an archive and collection system, is a cloud–based web, desktop and mobile app that syncs across all of your devices. Use it as a collecting, organizing, sharing and collaborating tool.
Drop in content, organize it and share. There are also different visualization preferences, so view your content as images in a Pinterest-type format, as small tweets and more. Create collections, add descriptions and tags and even give a collection a screenshot so it stands out visually.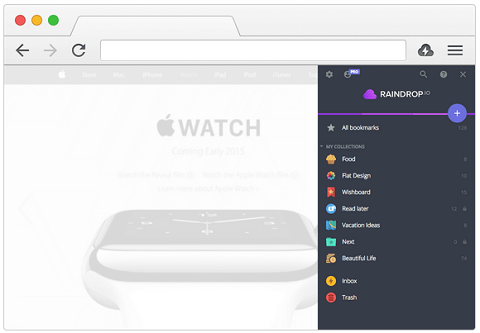 If you're browsing and find something you want to look at later, just hit the Share Sheet button (on your browser or in the app) and send it to Raindrop. You can either drop it into a general inbox or a specific location.
To use Raindrop for collaboration, sign up, log in and set up a shared folder or two. Then allow access just as you do with services like Dropbox.
Raindrop is a free service.
#13: Katch
Katch.me lets you collect your Meerkat and Periscope broadcasts in one place with cloud storage and instant replays.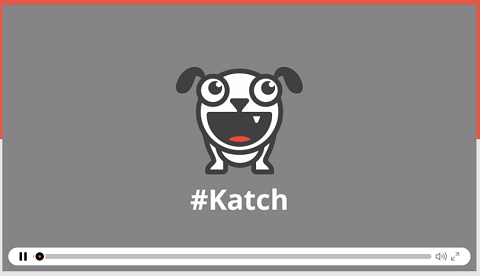 It works automatically, as long as the account is hooked up. Shortly after you finish your broadcast, Katch sends out a tweet to watch the replay.
Katch is a free platform.
#14: Save Links for Later With Pinterest
Did you know you can use the Pinterest app on your phone or desktop to save links to boards to read them later?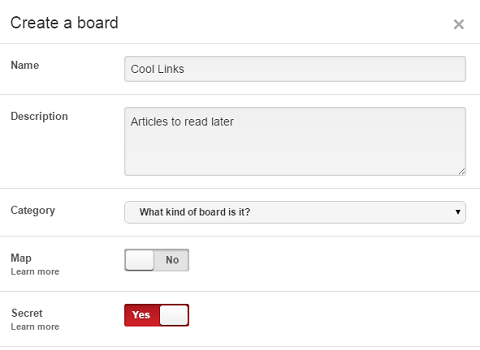 Set up your sharing. Hit the Share button, hit More and then flip the toggle for Pinterest. From that point forward, if you're on an article in your browser, you can send that link to Pinterest. Create a secret board and pin what you want to read later to it.
You can even create a secret board for links to share with someone such as your spouse. It doesn't even have to be a secret board; it can be a "what I am currently reading" or "articles I've found interesting" board.
Saving links to secret boards is a free Pinterest feature.
#15: Blab
Blab.im is a live-casting platform that lets you interview multiple people at the same time from your desktop or mobile device.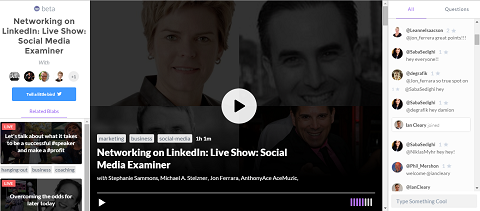 Blab is like a Google hangout, but better. The click of a button allows you to bring people from anywhere in the world into your conversation. As soon as you're done recording your blab, the video is available to watch. Plus, Blab sends you downloadable mp3 and mp4 files.
Unlike Meerkat and Periscope, where you're a solo broadcaster looking into your phone and trying to track a bunch of comments as they come by, Blab allows you to gather a panel of whomever you want. Bring along a sidekick, bring along a guest or just play roulette and allow people to come into the show and talk with you.
I've done a number of shows on Blab, including the Morning Social Media Marketing TALK show, and this podcast was recorded on Blab. At the end of the broadcast, some of the listeners came on and asked Stephanie Sammons their questions about LinkedIn. Visit Blab.im/Mike_Stelzner to see the shows and subscribe.
Blab is a free tool.
#16: Apple News
News brings the news you want to your iOS device.
To get started, open the app and indicate your interests (such as business), and then add any publication you want. For example, you can search "social media" and you'll find Social Media Examiner. After you add a publication, you can read the articles from the app just like you would with Flipboard or an RSS reader.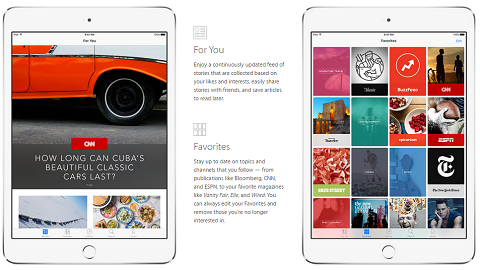 The really cool part is that once the News app is activated, when you're on the home screen of your iPhone and push your thumb to the right, a bunch of top news stories will show up. It's a great way to keep in touch with what's going on in the world.
News is a free feature in iOS9.
#17: Involve People of Influence
When we celebrated the 6th anniversary of Social Media Examiner with a live blab, one of the questions that came up was, "What's the most important thing necessary to grow today?"
Whether you have or plan to launch a blog, product or podcast, the most important thing for growth is influencers. You can have the best content or product in the world, but if you don't have a great relationship with someone who has access to your audience, it will take a lot more time to grow.
.
I touch on this in my second book, Launch. It's part of what I call "the elevation principle." Great Content + Other People – Marketing Messages = Growth. The idea is that the Other People component should consist of influencers you've built strong relationships with over the years; people you call friends.
This is really key to the growth of Social Media Examiner. In the early days, I went out of my way to help significant people in the world of social media marketing. I would get them on camera, interview them and promote the heck out of the video. I didn't just go after people who were superstars, I went after people who had amazing potential for success.
The idea is to strategically pick a small group of people to pour yourself into. Ultimately, down the road, when you want a bit of help, you can ask them. These people of influence will help you grow.
#18: MileIQ
MileIQ is a smart drive detection app that will help save you money if you deduct your driving miles from your taxes.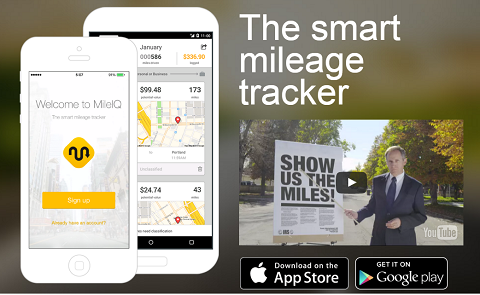 When you start driving, the app detects your drives and logs them automatically. It then calculates those drive distances, as well as their value, based on the deduction per mile that's already in the app.
You can wait a month and then go through your drives to categorize them into personal and business trips. The app even gives you the start and finish location of each drive and lets you add notes.
MileIQ offers 40 free drives per month, with paid upgrades to track more drives; it's available for iOS and Android.
#19: Overcast
Overcast has been revamped to improve the way you discover and listen to podcasts.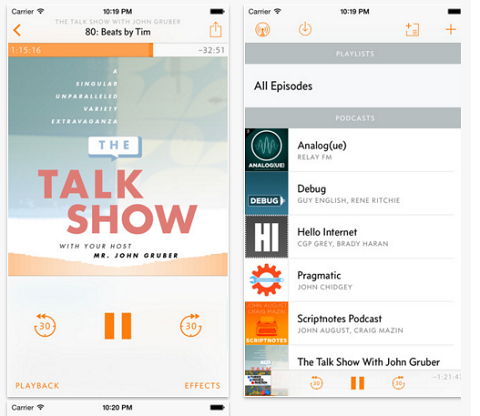 Want to discover new podcasts? Connect your Twitter feed to find shows your Twitter friends have been tweeting about. You can easily share an episode while you're listening to it, and episodes can get upvoted and then ranked and shown to people inside the app.
The biggest benefit is the voice boost, which will auto-normalize the audio levels in the show you're listening to.
Overcast's smart speed feature is cool because it shortens the length of the natural pauses in conversations so the show goes faster. This lets you finish listening minutes ahead of time without making the podcast sound like it's sped up.
And if a show has time codes in the notes, you simply press one and it automatically jumps to that place in the episode.
Overcast is a free iOS app.
#20: Countdown Monkey
After doing a lot of research, I found this cool website called CountdownMonkey.com, which allows you to create different kinds of timers for your website (scoreboard, rolling, etc.). You can even control the special effects, colors and font sizes.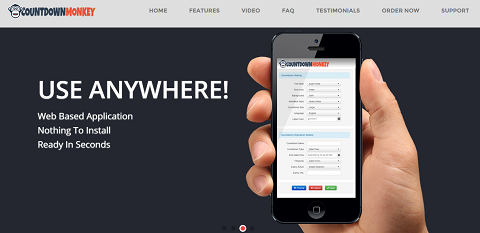 CountdownMonkey comes with a WordPress short code, so you can easily add it into your sidebar widgets and sales pages. Another cool feature lets you hide the counter once the sale or event time is up. For example, if you set a sale to end at midnight, the counter will automatically disappear from your page at that time.
The sense of urgency readers get from the countdown clock when a sale is coming to an end may lead to extra sales, so it may pay for itself. To see it in action, take a look at the Social Media Marketing World page.
Countdown Monkey is $79 per year.
#21: Facebook Business Manager
Facebook Business Manager is a tool that helps you manage your Facebook pages and advertising accounts more securely. Sign up and log in, and you'll see how much money you've spent on advertising, total impressions, your ad account and page account. You can also access Ads Manager, Power Editor and Business Settings.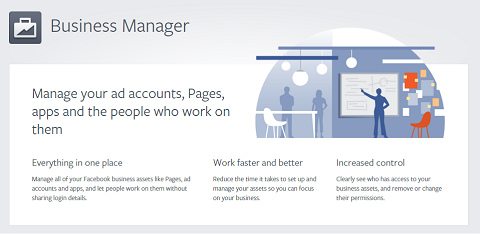 Under Business Settings, there are many different options such as People, Pages, Ad Accounts, Apps, Pixels, Product Catalogs, Instagram Account, Payment Methods, Projects, Partners and more. It's a simple interface for managing all aspects of your Facebook marketing.
An important feature of Business Manager is that you can assign anyone a role on your Facebook page, whether you're friends with them or not. Had we been using Facebook Business Manager when our page disappeared, we could have assigned someone who has a big ad account to our page and allowed them to escalate our issue with Facebook.
Facebook Business Manager is a free tool.
#22: Facebook Notify
Do you struggle to keep up with the latest news in your industry? Facebook Notify lets you know when important news items break.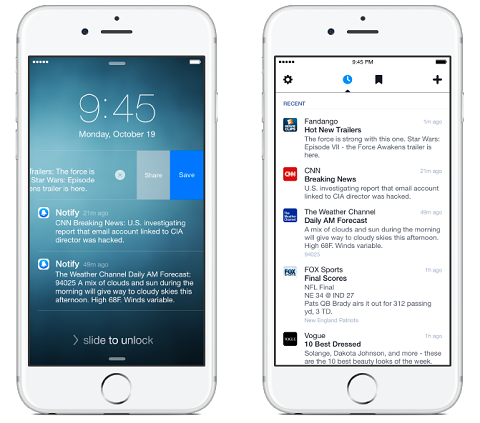 The app, currently available only for iPhone, is simple to use. Install it on your smartphone and log in with your Facebook account. Then you can select the different categories you're interested in, like news and tech, and choose the publications you most want to monitor.
Now, whenever a major news item comes out, you'll get a notification on your phone. When you click on the notification, you're taken directly to the article. It's important to remember that these notifications only stay in the app for about 24 hours but you can bookmark certain kinds of stories if you want to come back and read them later.
Notify is a neat way to keep up with breaking news in your industry so you can be one of the first to report it on your social networks.
Facebook Notify is a free iOS app.
#23: Squirt
Squirt is a bookmarklet you install in your Chrome, Firefox or Safari browser bookmark bar.
Go to a web page you want to read, click the Squirt bookmarklet and it will display the words of the article using an optimal recognition point (ORP).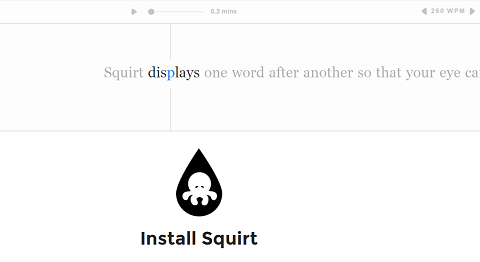 Basically, Squirt pulls up one word at a time in rapid succession, centered on the screen, and you train your eye to look at that one spot. Squirt allows you to read faster without losing comprehension.
Squirt is a free bookmarklet.
Over to You
The tools social media marketers use are constantly evolving to help us do our jobs more effectively and efficiently. Each of the tools, tips and apps above can help you save time and work smarter. Try a couple of them to see how they make a difference in your daily work.
Search Discovery to find more tools and apps featured in the Discovery of the Week segment on the Social Media Marketing podcast.
What do you think? Have you used any of these tools, apps or tips? Have you found other useful social media tools recently? Please share them in the comments below.