Are you looking for new ways to find customers on Instagram? Curious how to create videos that get people interested in your business?
In this article, you'll find 11 top-of-funnel video ideas for Instagram designed to bring you more qualified leads.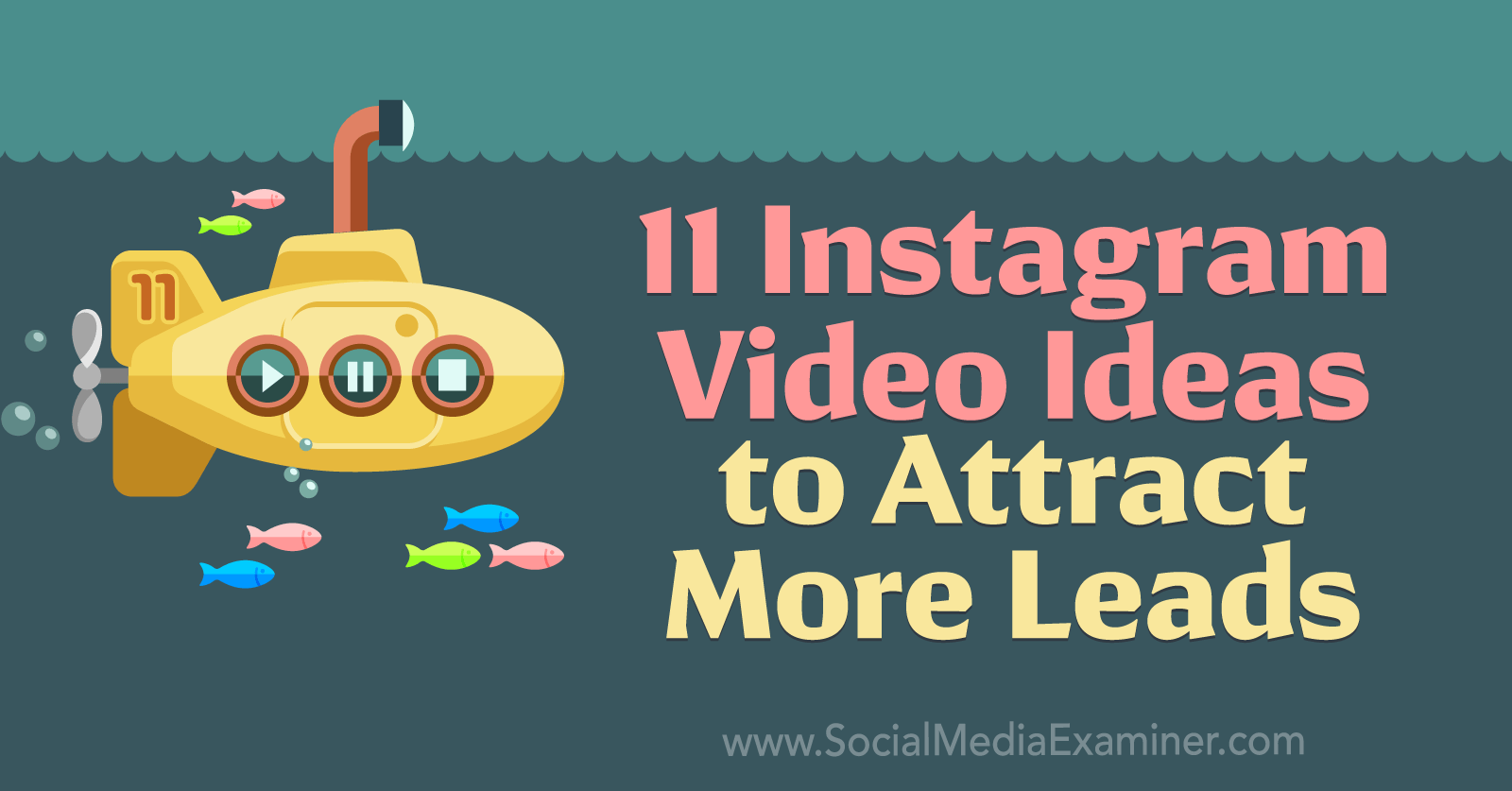 What to Keep in Mind for Top-of-Funnel Video Content on Instagram
If your main marketing goals for Instagram include customer acquisition and revenue generation, you may post a lot of bottom-of-funnel content. That means your feed may feature a ton of shoppable posts, strong calls to action (CTAs), and limited-time offers.
Sales-focused Instagram content can be incredibly helpful for reaching your marketing goals. But to keep converting customers, you need a steady stream of new prospects entering your funnel. And new prospects typically respond best to non-salesy content, especially if they're still in the researching or window-shopping phase.
For example, the @studioakiyo Instagram reel below takes viewers on a quick tour of the brand's selection of neutral-toned candles. The video alternates between panning across shelves to showing closeups of signature products, maintaining a fast pace that keeps viewers engaged.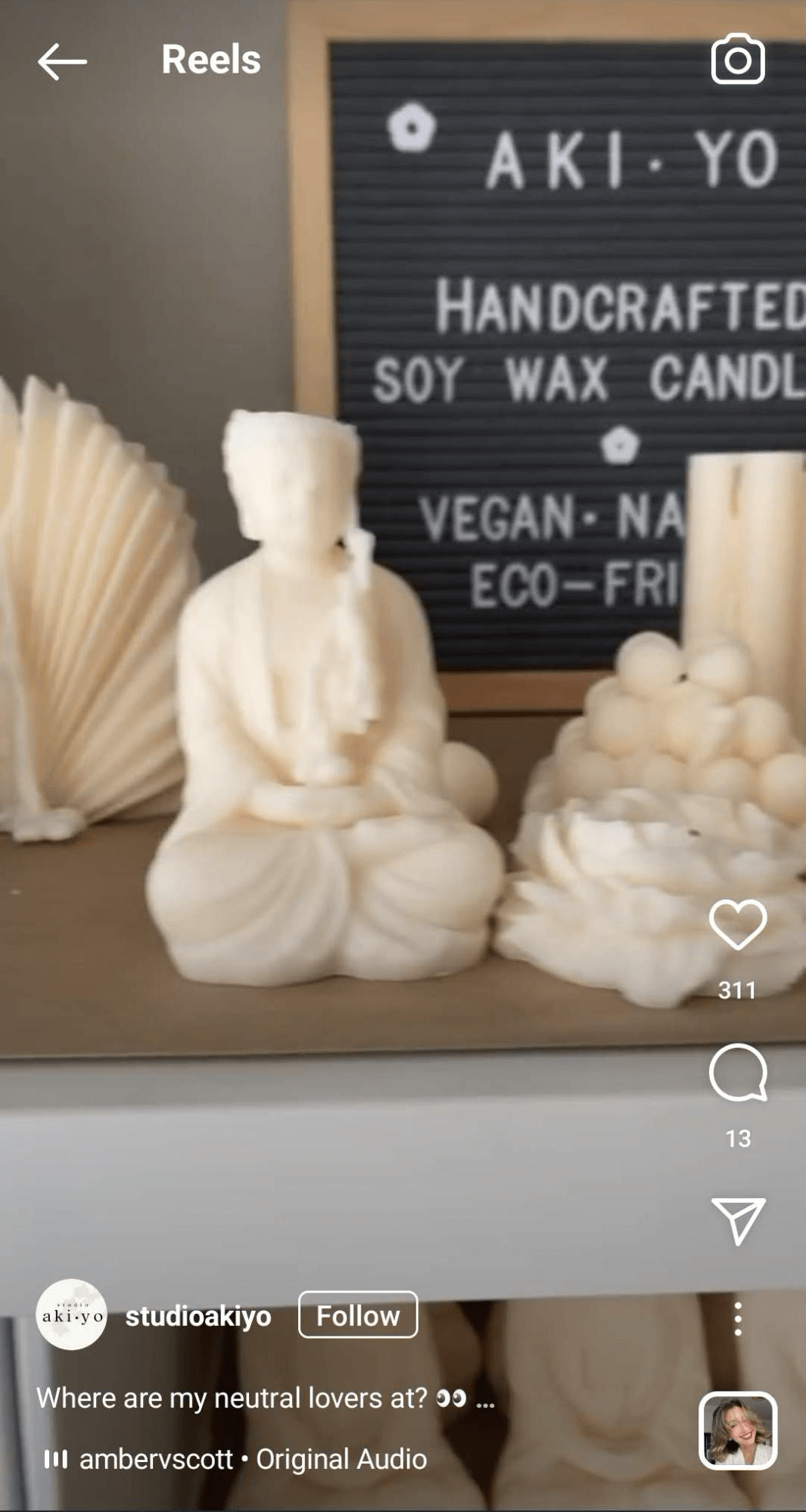 The caption doesn't include a CTA or a sales pitch. But it does encourage people to share their love of neutral tones—which generates plenty of positive engagement.
Here's what to keep in mind when creating TOFU videos on Instagram:
Be yourself. TOFU prospects are getting to know your business for the first time. Show them what your business is all about and give them a reason to follow your account.
Keep it simple. People at the top of the funnel aren't ready for a 20-step guide. Tease your offerings but save more in-depth content for the middle of the funnel.
Tell a story. When you want to get the attention of a new audience, a compelling story helps. Storytelling can also get people to return for more content—and eventual sales.
Make it short. In 2022, Instagram intends to consolidate the platform around short-form video. That means it's best to keep videos to 60 seconds or less.
As you brainstorm TOFU content, remember that Instagram has multiple video placements. To reach your target audience across the platform, plan to incorporate all types of Instagram video:
Feed: Best for square and landscape formats, feed videos typically look great without Instagram's native editing tools.
Reels: Short-form reels can include text overlays, music, and effects. Reels can also appear in the feed and their own tab, giving them more chances to offer value.
Stories: Ideal for sharing brief snippets or weaving together multiple clips, stories can include interactive stickers and links.
Lives: Great for connecting with your audience, Instagram lives can also appear on your profile after the event ends.
From feed posts to Instagram lives, you have plenty of options for generating awareness with video. Here are 11 ideas for TOFU video content on Instagram.
#1: Introduce Your Business
Video is an ideal format for introducing your business to potential customers. To help followers get to know your business, you can showcase what you sell, where your team works, or what you've accomplished.
The trick is keeping the video concise, especially if you have a large product line or a long backstory. To keep people engaged and watching, you can cut a longer video into multiple parts. Or you can experiment with condensing or speeding up footage.
The reel below by @thecrochetstories jumps on the "show your small business in 7 seconds" trend. It introduces the artist's business efficiently, showing split-second cuts of numerous crochet products. Although the reel captures the artist's range concisely, it creates a mesmerizing montage designed to keep viewers engaged.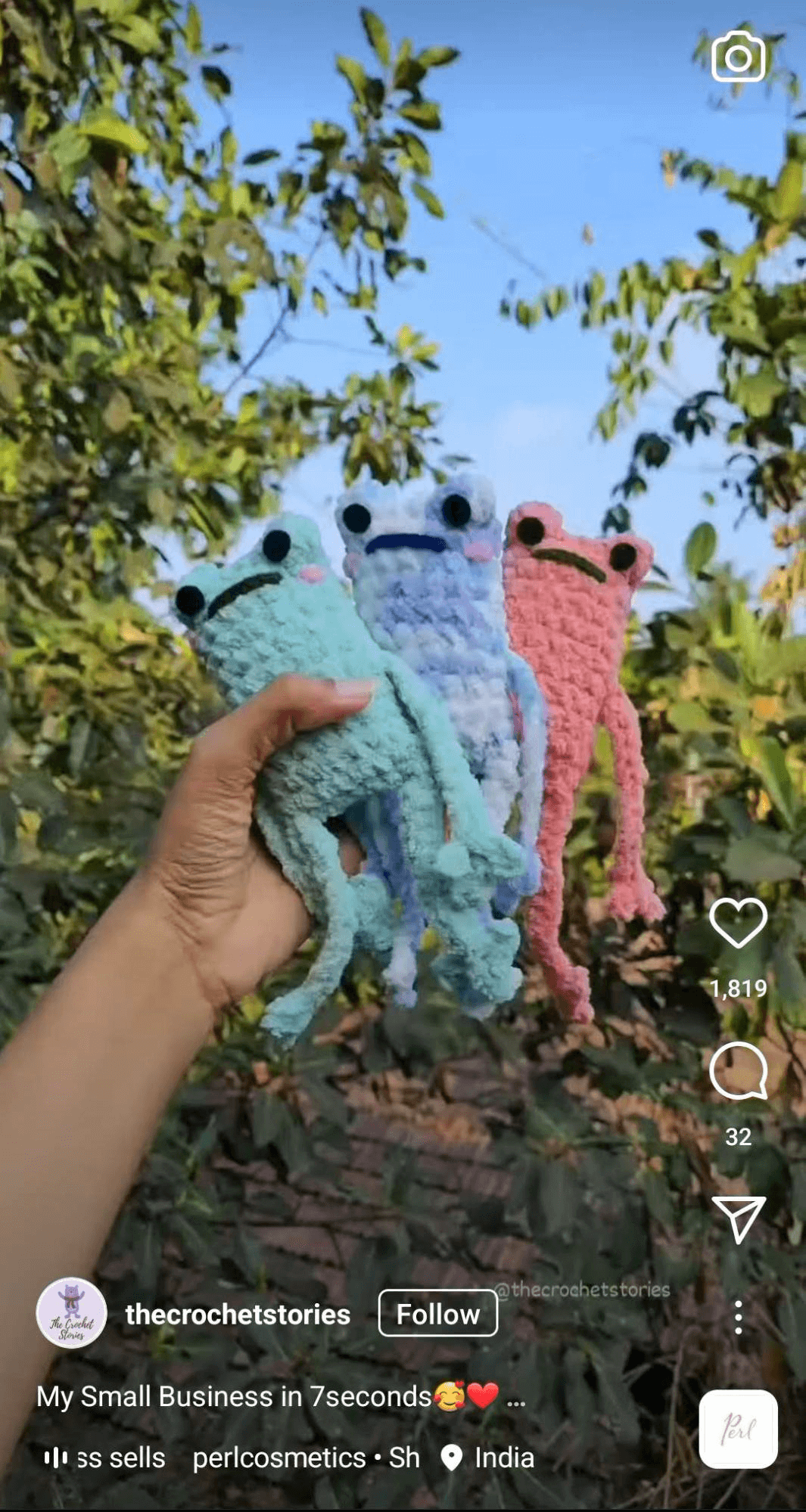 To appeal to TOFU viewers, the caption encourages viewers to save and share the reel. Since the Instagram algorithm takes engagement into account, this CTA can increase the chance that interested users see more of the artist's content, and eventually become customers.
#2: Showcase Your Brand Values
For many businesses, products and services are just a small part of what they're about. Fortunately, video also offers an unbeatable opportunity to show what your business stands for and communicate your values.
You can take a traditional approach to showcasing values via a mini-documentary–style film or a brief interview with the CEO. But you can also create a video that's short, sweet, and completely on-brand.
In just 10 seconds, the @kencko Instagram video below shares one of the brand's key values: transparency. To illustrate this concept, the brand uses a magnifying glass to offer a closer look at what's inside a typical package.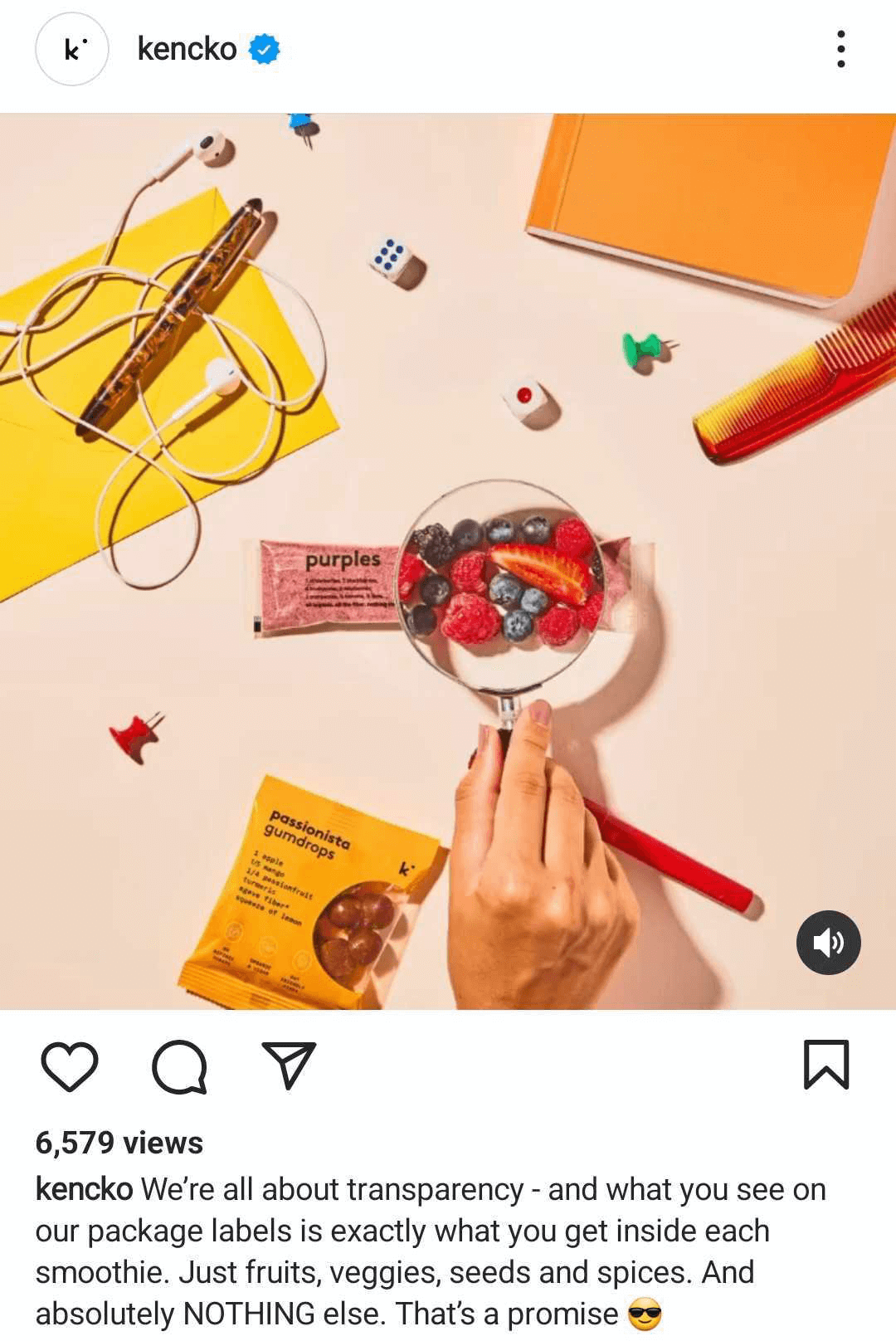 The magnifying glass reveals "fruits, veggies, seeds and spices," which the caption states are the only ingredients in the brand's smoothies. The caption reiterates the brand's commitment to transparency, signing off with "That's a promise."
#3: Inspire People to Use Your Product in a New Way
In many cases, your audience already knows how to use your products, especially if your products are widely used or your business is well known. So how can you capture people's attention and keep your business top of mind?
Showing people new ways to use your products is a great way to inspire creativity. This tactic is also helpful for showing followers how to get more value from your products and prompting them to try something new.
In the Instagram reel below, @mccormickspice highlights four innovative ways to use vanilla extract. The video cuts together short clips that show simple ways to incorporate the flavoring into everyday beverages, meals, and snacks.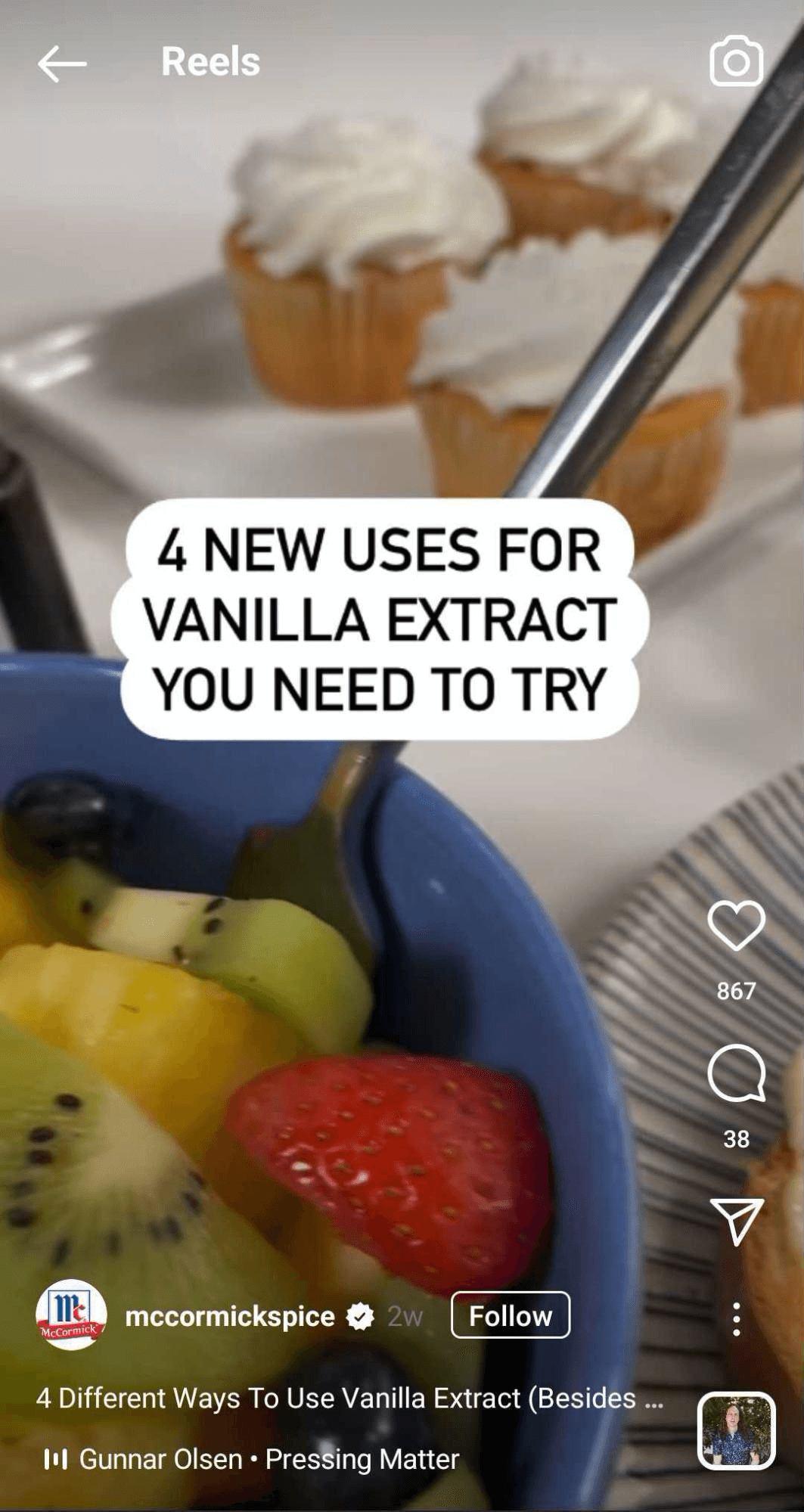 The reel ends by prompting viewers to engage and share how they like to use vanilla extract. Across dozens of comments, viewers offer their own tips for using the natural flavoring to enhance recipes.
#4: Give Viewers a Tutorial or DIY Tips
Inspiring people to get creative is a great way to get them to think about using your products. But you can take this idea a step further by demonstrating a step-by-step process. By showing prospects how to do something, you can take them a step closer to converting.
To appeal to TOFU viewers, keep your how-to content relatively simple. Rather than showing them how to complete a high-level task, demonstrate how to streamline a basic process. Time-saving hacks can work particularly well, especially if you make them short and sweet.
For instance, the @misfitsmarket Instagram reel below demonstrates two easy ways to prepare peppers for cooking. Instead of using long shots to capture the whole process, the reel keeps viewers engaged through the 45-second video by showing short clips of each step.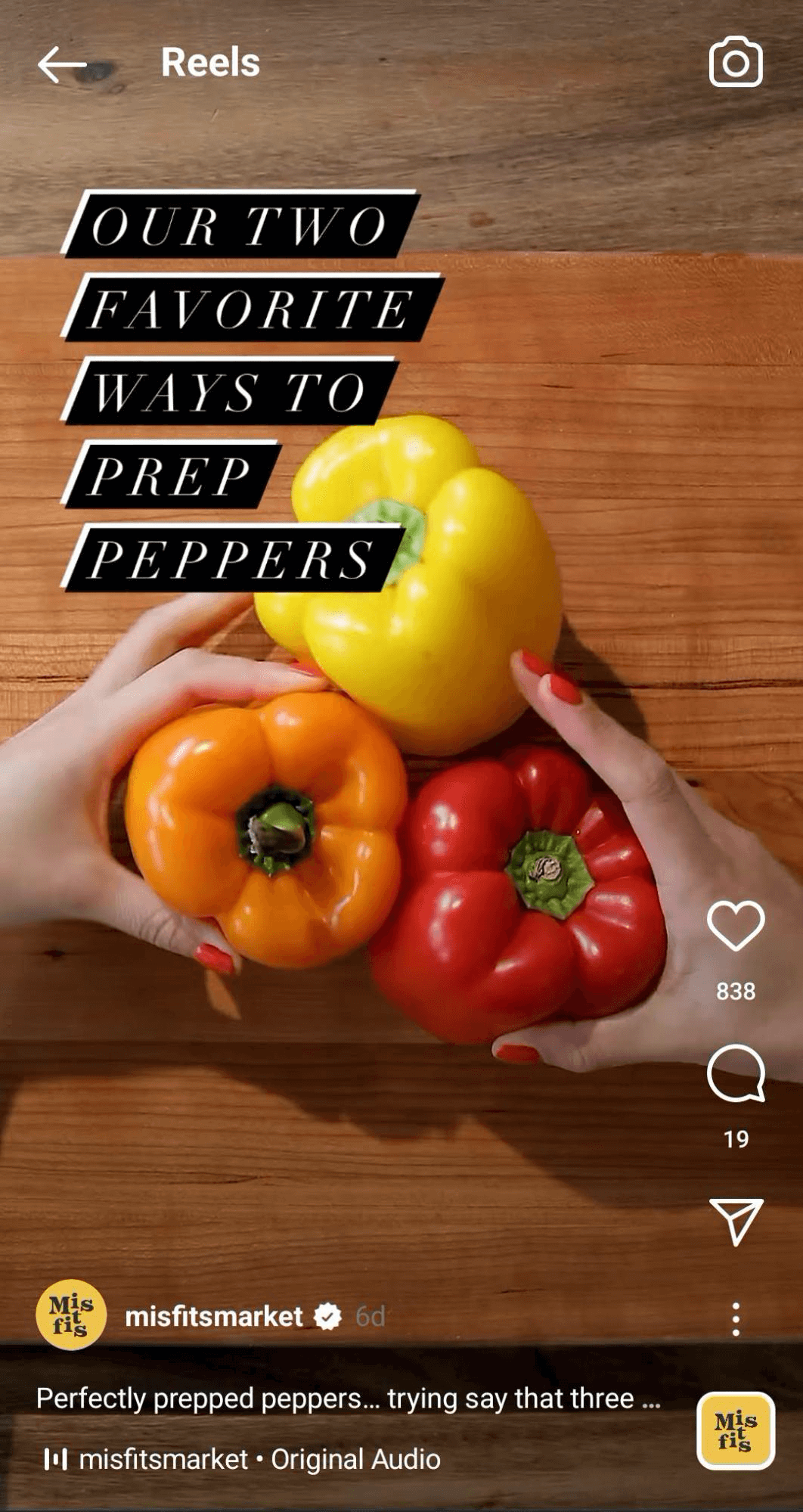 Like many TOFU videos, this reel doesn't include a CTA in the caption. But after watching the video, viewers have a better understanding of how to prepare the brand's produce, which may prompt them to consider a purchase more seriously.
#5: Tease a New Product
Are you planning to launch something new? Do you want to generate interest in a product or service? Instead of jumping right into sales-focused content, it's a good idea to tease what's coming by offering a sneak peek.
You can use any Instagram video format to share a peek. But thanks to their temporary nature, Instagram stories often work best. With stories, you can create behind-the-scenes glimpses that allow prospects to get to know you better and establish a more personal connection.
In the Instagram story below, @hellobonjournal teases the creator's bullet journal setup for the upcoming week. The short video clip shows the creator flipping the page, literally revealing the new design.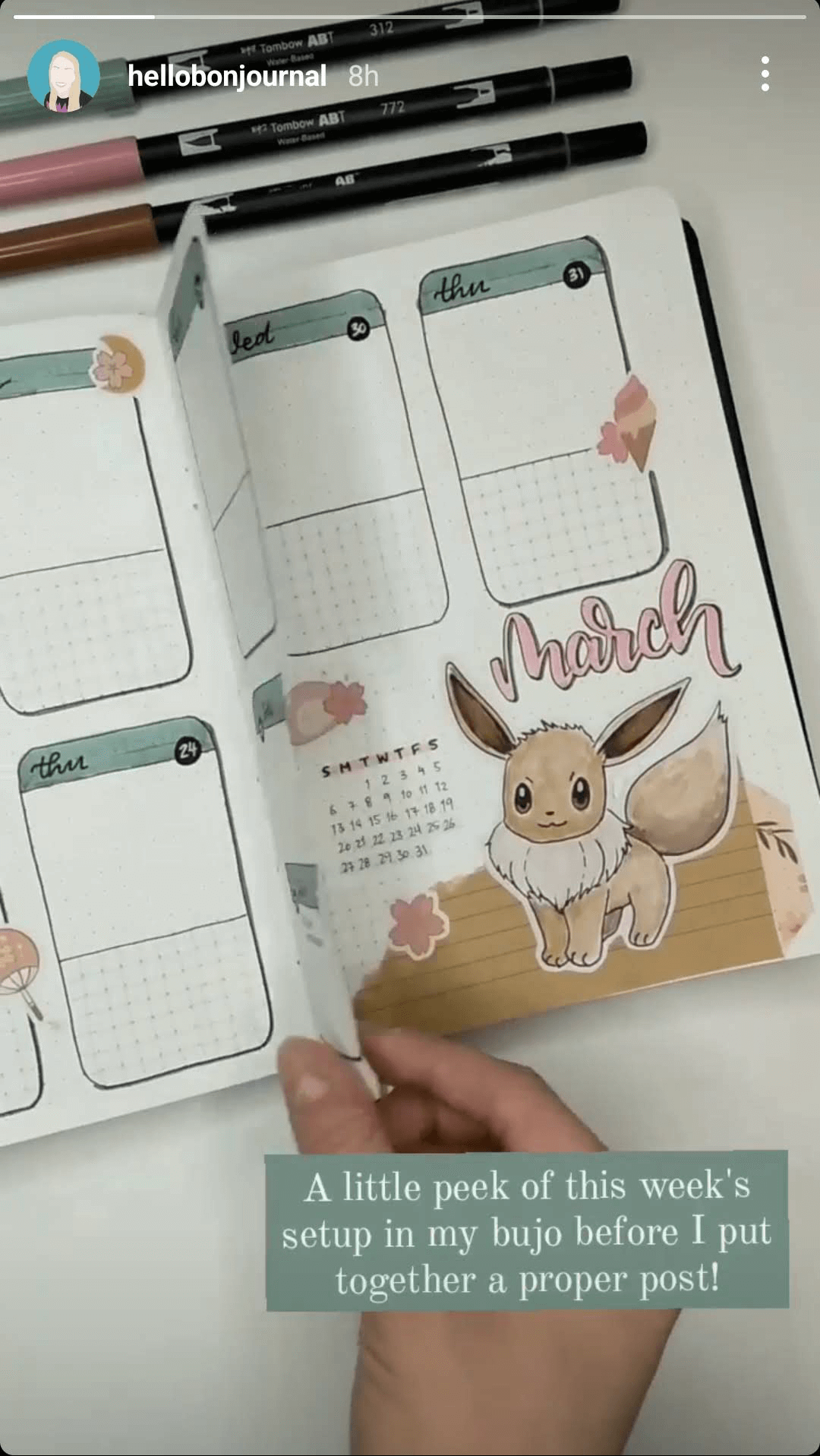 By showing just a quick glimpse of the design, the story gets people excited to see the full post that the creator suggests is coming soon. Interested TOFU prospects can watch for the post to see the details, read about the inspiration, and follow links to purchase supplies.
#6: Announce a Product Launch
Even if your business has already achieved brand recognition, a TOFU strategy is essential for driving awareness of new products. Instagram video is ideal for giving prospects a first look or showing your product in action.
With Instagram Reels, you can give potential customers a quick look at how your new product works or share styling ideas. By creating multiple short-form videos, you can increase reach, generate interest over time, and keep your new product top of mind.
For example, the @everlane Instagram reel below introduces a new denim style. In just 5 seconds, the video generates interest in the jeans by highlighting how they fit and showing them in motion.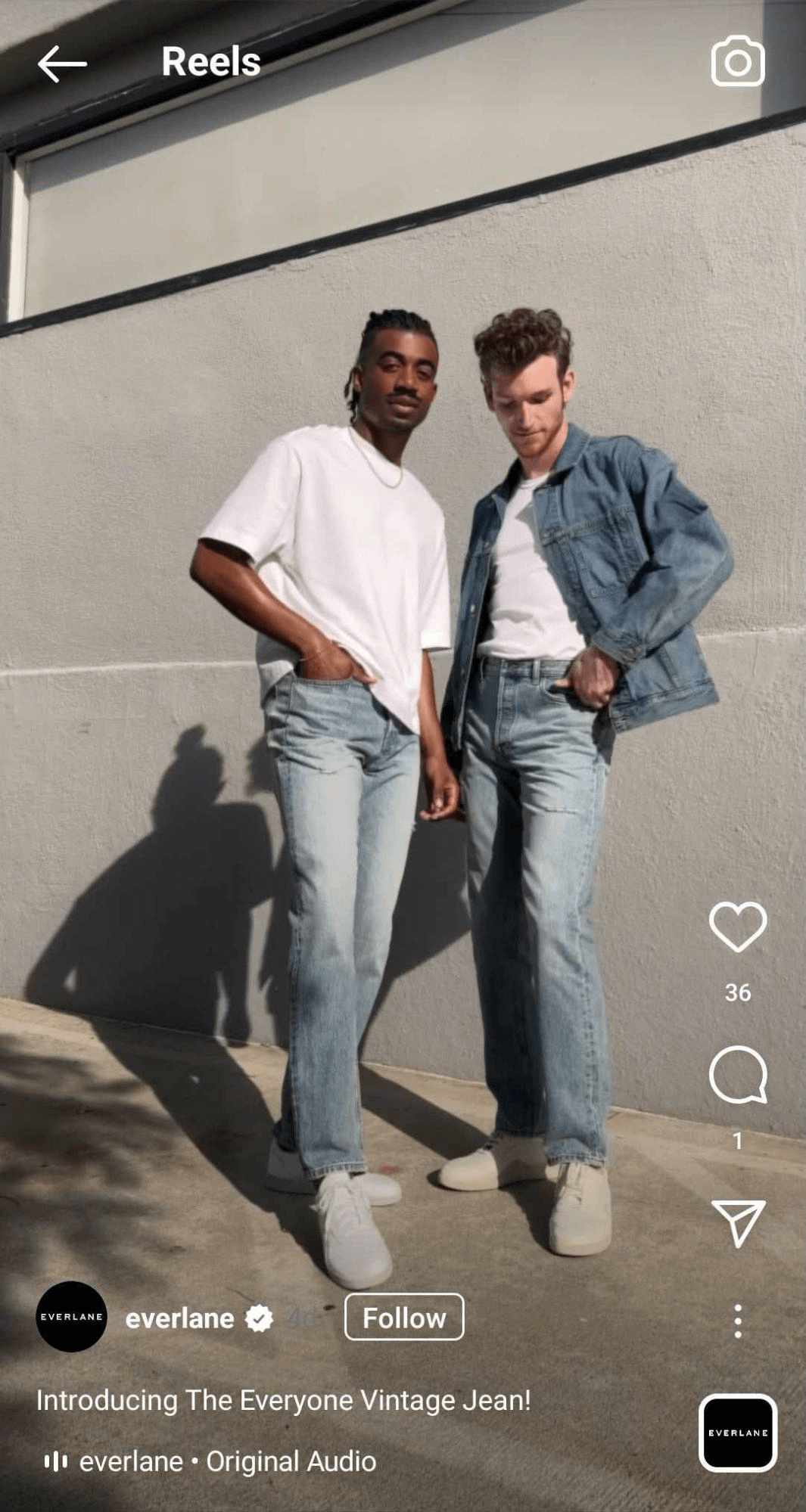 #7: Give a Mini-Tour of Your Full Product Line
If your business tends to introduce new items once per season, then announcing individual product launches is a reasonable approach for driving awareness. But if you're constantly bringing in new items, a product tour may be more engaging for your audience.
With a product tour, you can showcase multiple items in a single video and reveal themes. You can also show how items go together or demonstrate select products so customers can see how they work.
The @stickyricesisters Instagram video below highlights several new washi tape products, offering closeups of some items so viewers can see the details. The feed video incorporates product tags so people can tap to shop many of the featured items.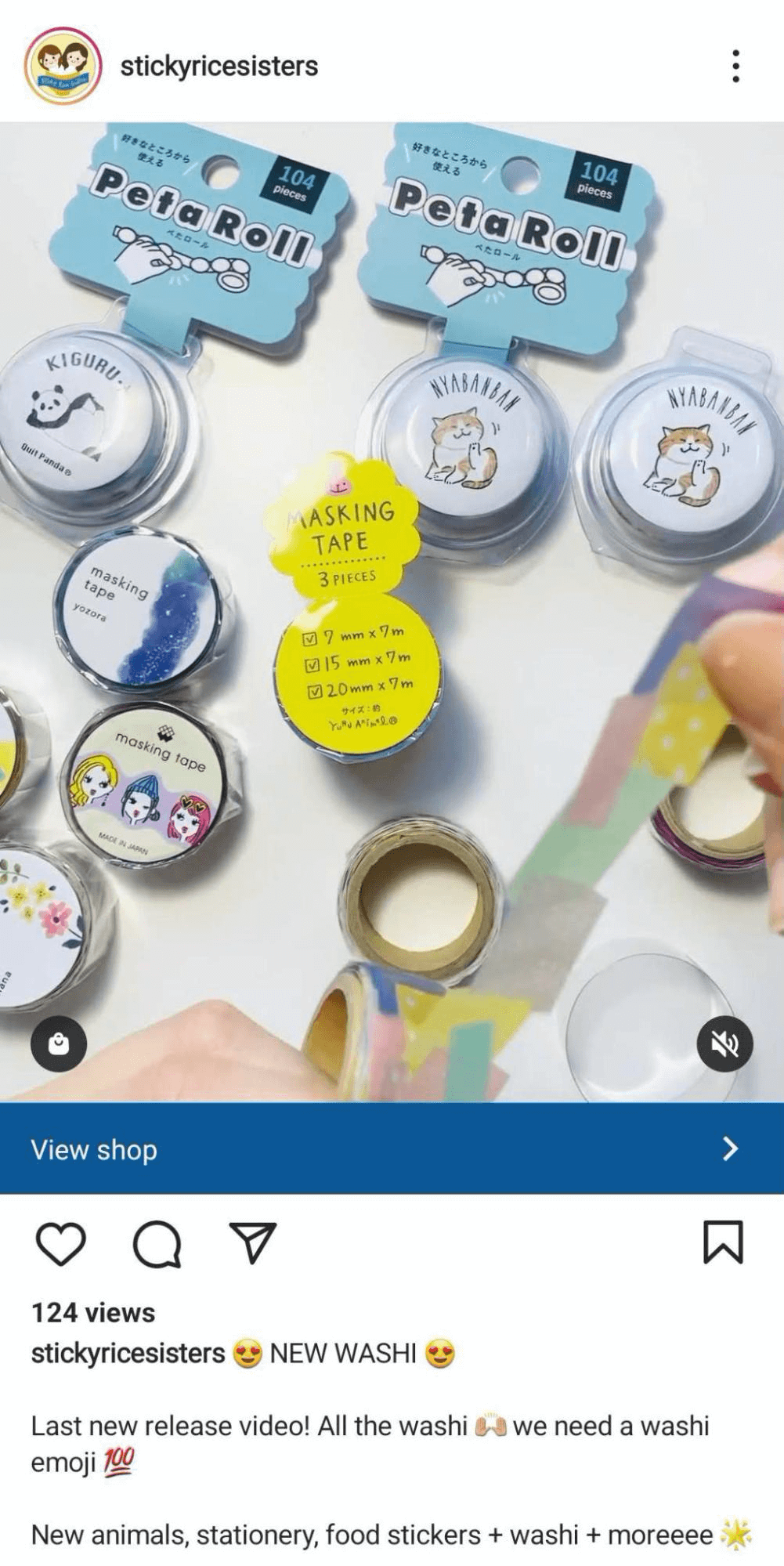 #8: Show Your Production Process
Whether you're launching a new item or want to draw attention to a longtime bestseller, spotlighting a product is a great way to increase awareness of a single item. But rather than demonstrating the finished product, think about creative ways you can take your audience behind the scenes.
By showing viewers how you make something, you can give them unique insight into your business. In many cases, your video content may give people a whole new appreciation of your process or what you've accomplished.
In the Instagram reel below, @madebyaprillynn invites viewers to "Make a glass cup with me." In less than 10 seconds, the video shows how the creator makes a popular product. Although the footage is sped up and the cuts are fast, it's easy to see how much work goes into each product.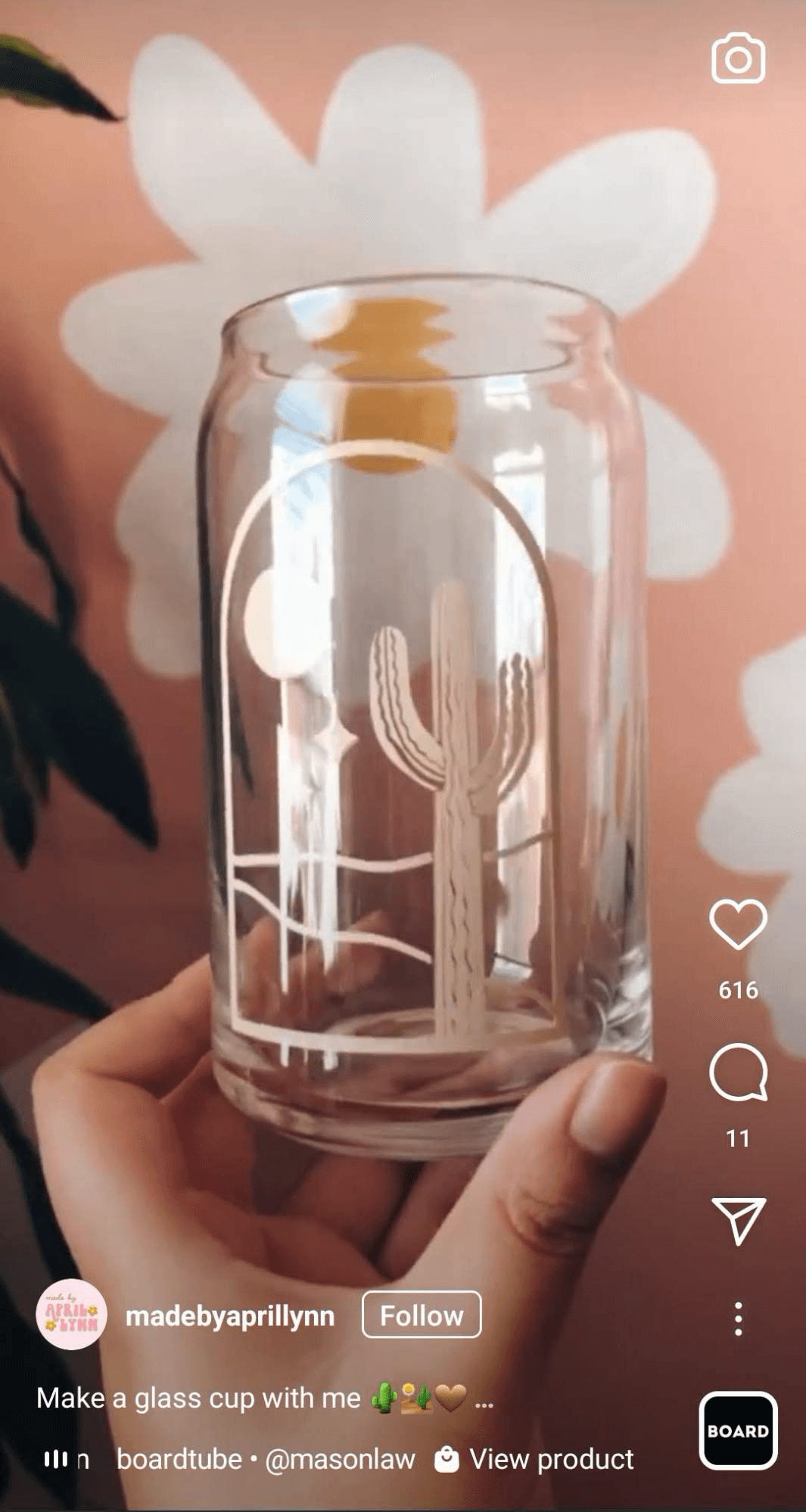 #9: Highlight a Product Feature
Instead of launching a completely new product, maybe you've rolled out a new feature. Or perhaps you want to drive awareness of some of your products' most valuable pre-existing features.
In either case, video is the ideal format for putting your feature on people's radar. But it's best not to get too in-depth, especially when your main goal is reaching people at the top of the funnel. To get TOFU prospects interested, aim for a short animated or explainer video.
The @asana Instagram video below features an animated version of the work management platform's visual workflow builder tool. Published right before the Big Game, the video uses a football theme and related puns to get prospects to think about the tool in a new way.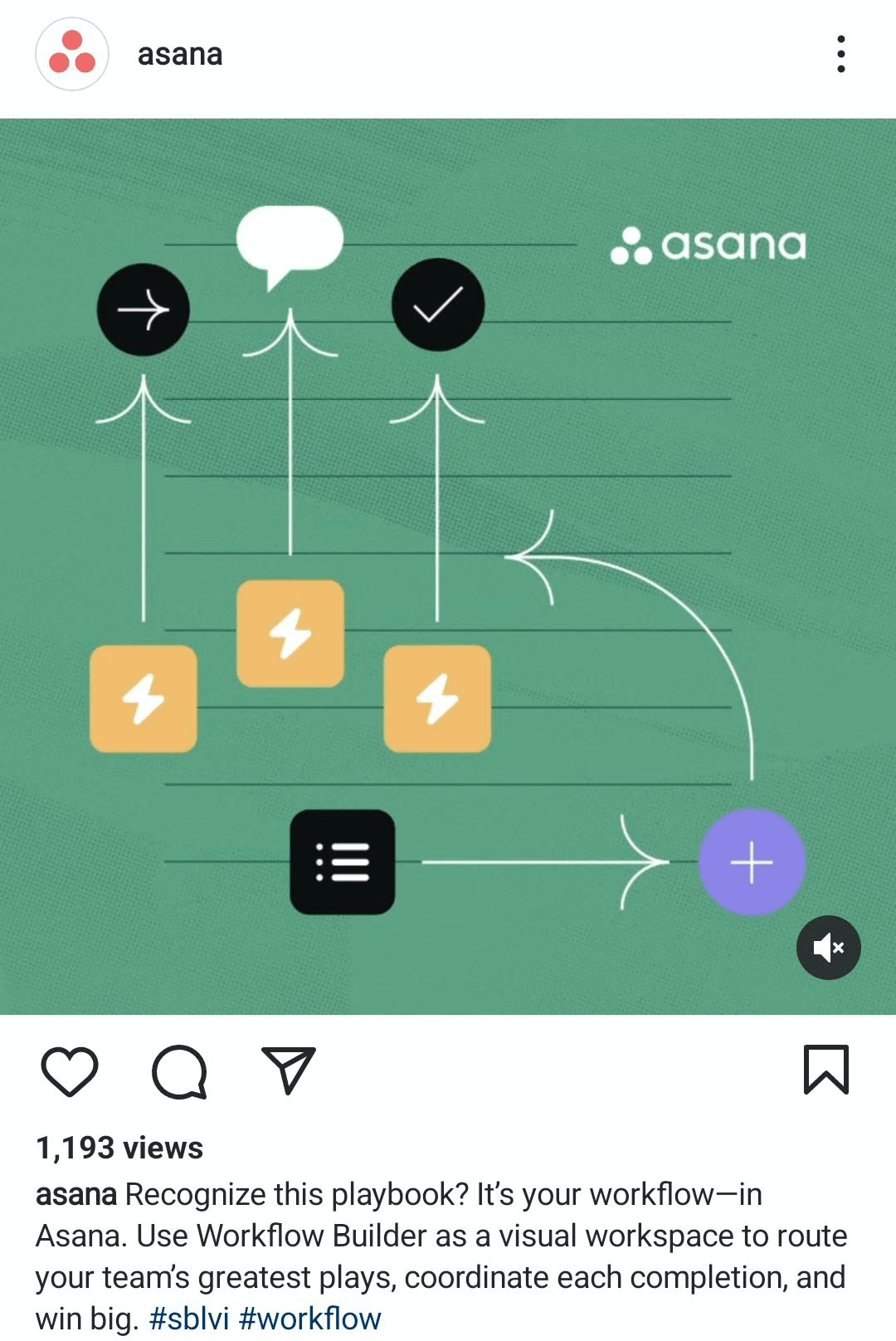 #10: Make People Laugh
Not every Instagram video has to offer a serious look at your business or products. In some cases, entertaining content can be just as effective for boosting brand awareness.
For example, the @zapier Instagram reel below shows a person closing their laptop, reclining their chair, and taking a nap. The text overlay states "When you automated all of your work and can get back to mid-day naps"—cleverly implying how much time the automation app can save you.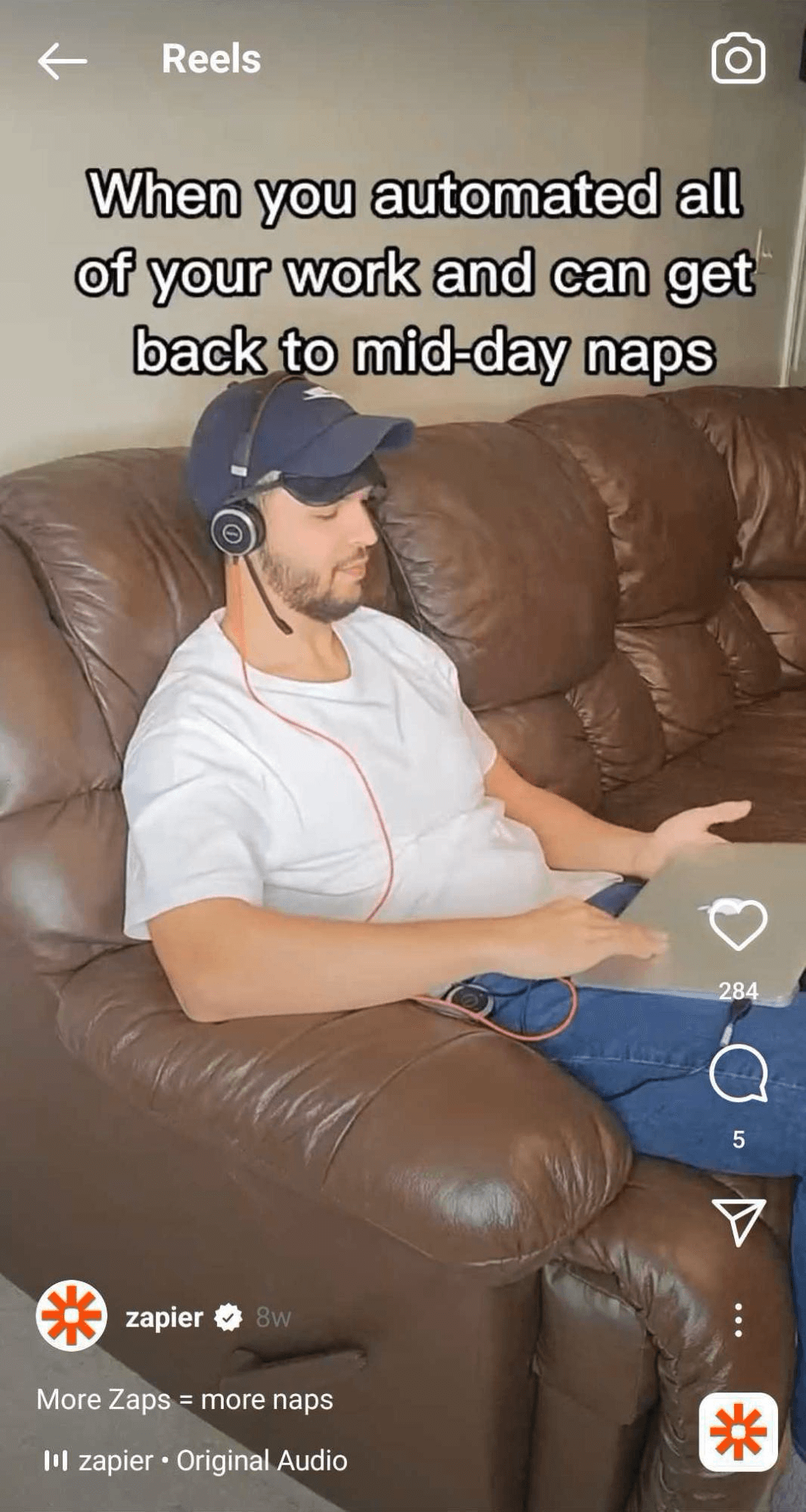 #11: Use Instagram Live Video to Connect With Followers in Real Time
Instagram Live is great for creating authentic content and connecting with followers in real time. But they're especially effective when you want to guide viewers from the top to the middle of the funnel.
That's because lives let you engage with potential customers much more directly. You can answer their questions, invite them to join the live, and convince them to take the next step.
In the @thechrisdo Instagram live pictured below, the business coach discusses an upcoming program launch. In addition to answering questions and talking with viewers, @thechrisdo prompts people to express interest by direct-messaging (DMing) a keyword. By prompting people to ask for more information, the business coach can gauge interest levels and guide qualified leads toward a conversion.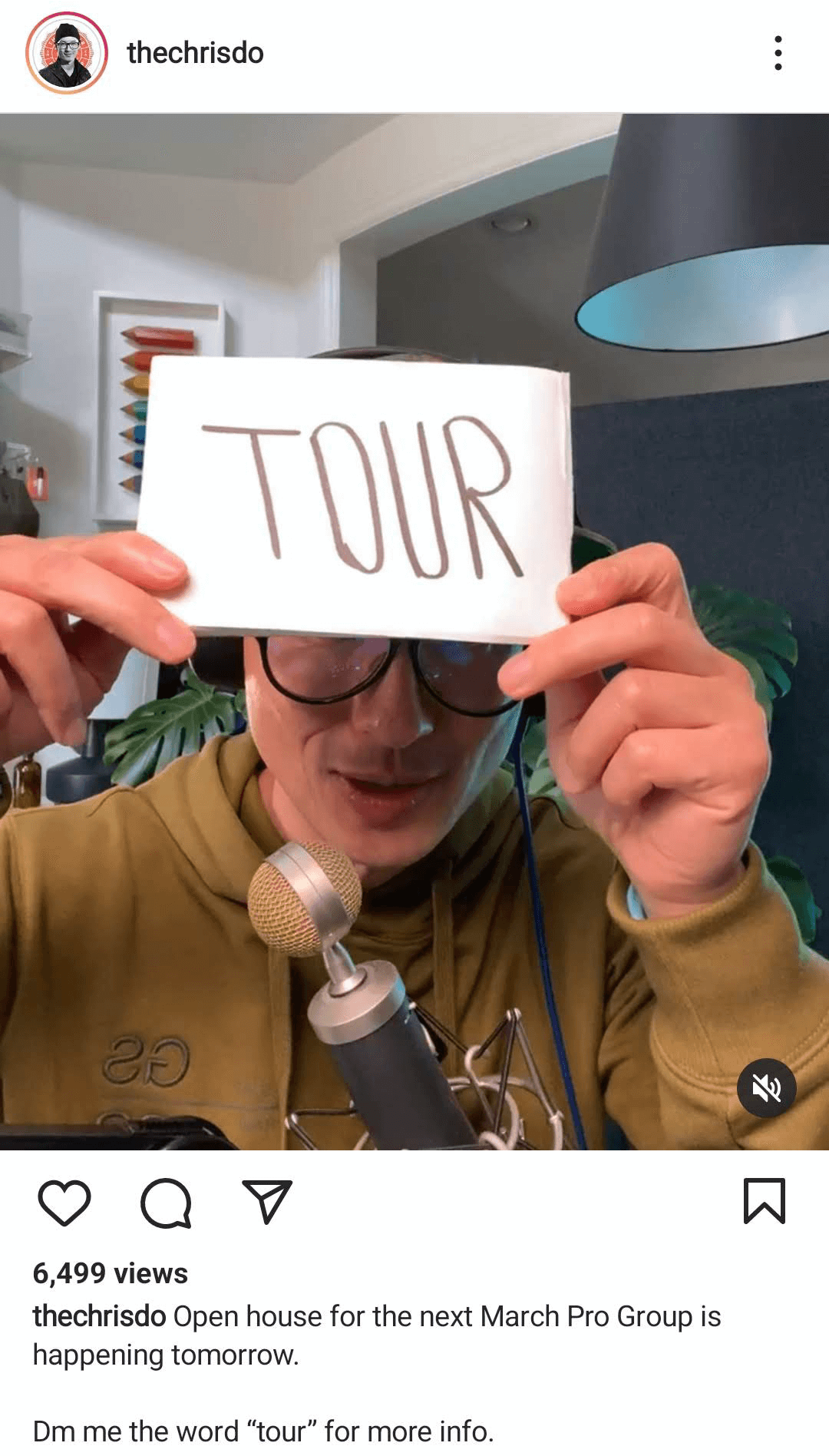 Conclusion
When you want to expand your customer base on Instagram, creating video content for the top of the funnel is essential. Using these ideas, you can entertain and inform new prospects while getting them increasingly interested in your business and guiding them through your sales funnel.
Get More Advice on Instagram Marketing
---
Stay Up-to-Date: Get New Marketing Articles Delivered to You!
Don't miss out on upcoming social media marketing insights and strategies! Sign up to receive notifications when we publish new articles on Social Media Examiner. Our expertly crafted content will help you stay ahead of the curve and drive results for your business. Click the link below to sign up now and receive our annual report!