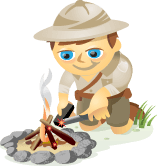 Do you want to streamline your social media marketing tasks?
Looking for tools that will improve content quality and boost productivity?
In this article, you'll discover 10 Chrome extensions to improve your social media marketing workflows.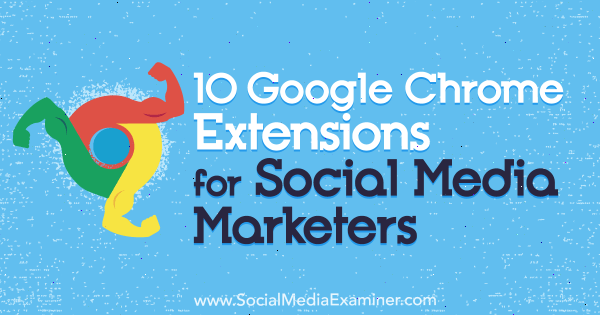 #1: Scan Your Blog Posts for Broken Links With Check My Links
The free Check My Links extension lets you check the integrity of the links you post (or plan to post) in your articles to ensure they work.
After you install the extension, open the page you want to check and click the Check My Links icon on the toolbar. The app will then start testing the links on the page and display the results in a box in the upper-right corner of the screen. Broken links are highlighted in red, problematic links in yellow, and good links in green.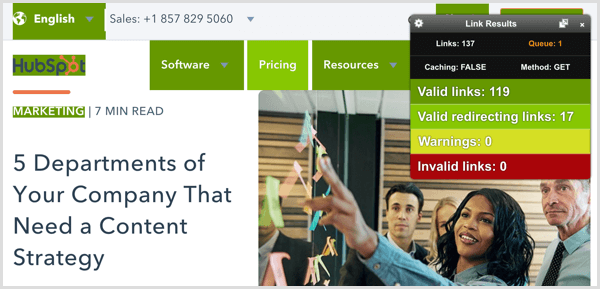 #2: Prioritize Daily Tasks With Momentum
Momentum is a personal dashboard that helps you eliminate distractions and stay focused on key tasks. After you install the free extension, it launches every time you open a new Chrome tab, reminding you of the tasks you need to accomplish that day.
At the start of each day, Momentum asks you, "What is your main focus for today?" This primary focus will be displayed prominently on your dashboard under the time. You can also add tasks to your to-do list on the right. As you finish tasks, check them off or delete them.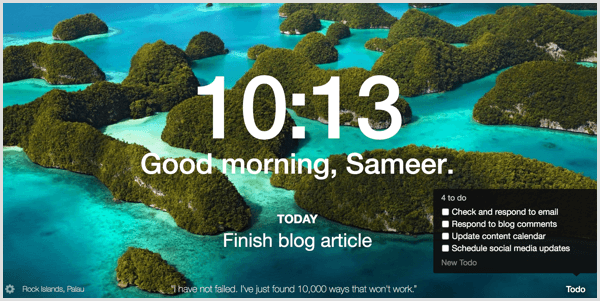 To customize your dashboard, click the gear icon in the bottom-left corner of the screen to open the tool's settings. If you upgrade to the Plus plan (starting at $2.50/month), you can integrate Momentum with to-do apps like Todoist, Google Tasks, and Trello on the Todo tab in your settings.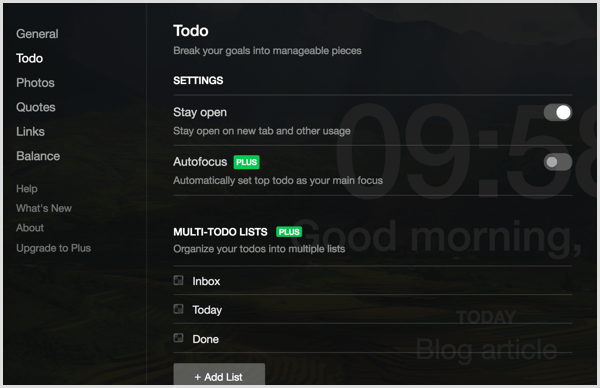 Bonus features include inspirational quotes, interesting background photographs from around the world, and the local weather.
#3: Proof Text With Grammarly
The free Grammarly extension helps you prevent typos and spelling errors when you post content to your social media accounts or blog.
🌟 Ready to Supercharge Your Social Marketing Strategy? 🌟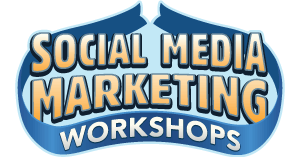 Struggling with your social marketing? You're not alone. The solution? The Social Media Marketing Workshops!

During these live 2 hour deep-dive workshops, you'll discover what's working now on Instagram, Facebook, TikTok, YouTube, and LinkedIn. Skyrocket your engagement, broaden your reach, and amplify your sales.

Become the marketing hero your company and clients need—without leaving your home!
🔥 Save $650 on an All-Access Ticket! Sale Ends Friday! 🔥
GET YOUR TICKETS NOW
After you install the extension, it will automatically check your spelling and grammar whenever you type in a text box in your browser. If it flags a potential error, hover your mouse over the underlined word and select an option from the pop-up menu to resolve it.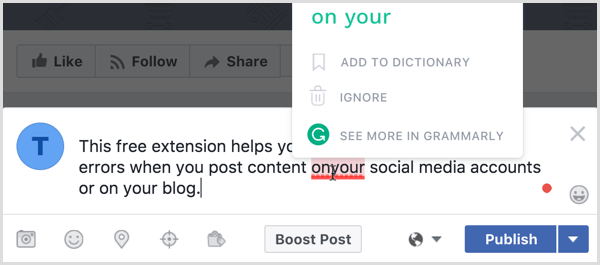 #4: Reveal Contacts' Social Profiles With Discoverly
The free Discoverly extension gives you the complete social media profile for people you're interested in connecting with. After you install the extension, look for the green icon when viewing a person's social media profile. Hover over the icon to see their social media profiles and mutual connections.
The app also integrates with Gmail so you can view social media information when you open a contact's email, as shown below. This background information makes it easier to reach out to prospects or identify a mutual connection who might give you an introduction.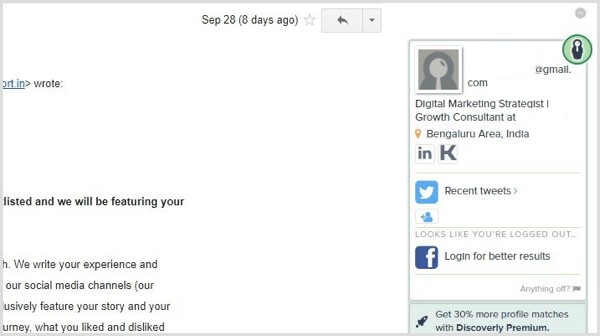 #5: Add GIFs to Your Social Posts With GIPHY
The free GIPHY extension allows you to share GIFs on Facebook, Twitter, Gmail, and more. After you install the extension, click the icon on the toolbar to open the GIPHY window. Search for the GIF you want to share and drag and drop it onto your social media post, as shown below.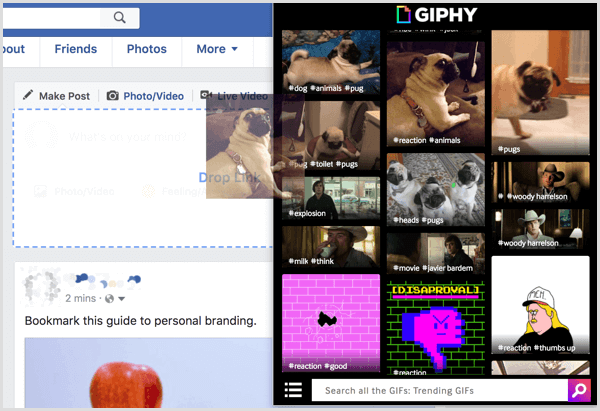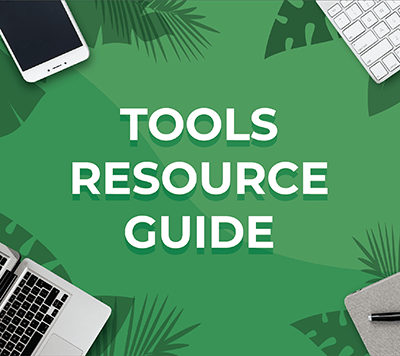 Looking for something to make your life easier?
Discover the tools we recommend to drive engagement, save you time, and boost sales across your entire marketing funnel or business.
Whether you need help planning content, organizing social posts, or developing your strategy, you'll find something for every situation.
FIND YOUR NEXT FAVORITE TOOL
#6 & #7: Save and Share Any Web Content to Facebook
Facebook has two free Chrome extensions that let you save and share content to the platform when you're browsing the web.
Share to Facebook
The Share to Facebook extension lets you quickly share interesting articles to your Facebook profile, page, or group, or via Messenger. When viewing an article, click the Share to Facebook icon on the toolbar to open the Facebook sharing window.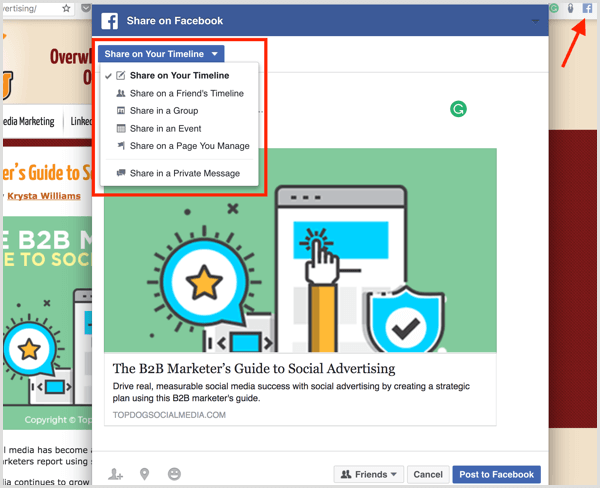 Save to Facebook
The counterpart to Share to Facebook, the Save to Facebook extension allows you to save articles to Facebook that you want to share or refer to later. To access your saved items, click the saved items link in the Saved pop-up, as shown below, or go directly to the Saved page on Facebook.

#8: Manage Time Spent on Social Media With StayFocusd
As a social media marketer, it's easy to get sidetracked when you spend time on your social networks. StayFocusd is a free Chrome extension that lets you place limits on the amount of time you can spend on websites. When the allotted time runs out, you can't access those pages for the rest of the day.
To use this extension, open the site you want to restrict and click the StayFocusd icon in the toolbar. In the pop-up window, you can either block the entire site or only certain pages. To block an individual page, click Advanced Options and enter a custom URL.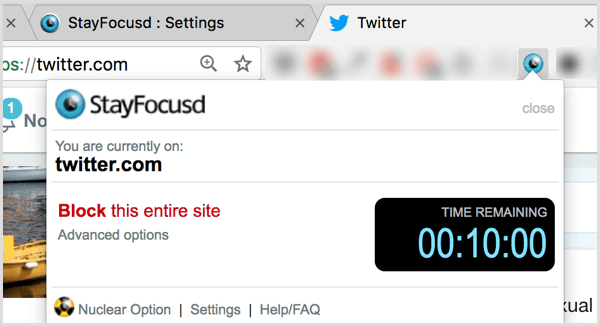 By default, StayFocusd will restrict your time on the site to 10 minutes per day. To change the default time frame, click Settings and change the maximum number of minutes allowed each day.
#9: Find Location-Related Content With Hootsuite Hootlet
Hootsuite's free Hootlet extension takes social sharing to a new level. When you find a page or article you want to share, click the tiny owlet icon in the toolbar. In the pop-up window, select your social channels and customize your message. You can also add media, choose a location, and set privacy options.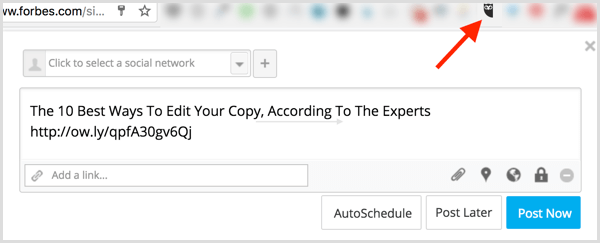 Hootlet also will show you the latest tweets related to your Google searches. When your search results appear, click the Hootlet tab on the right side of the screen to see the most recent Twitter results related to your search query.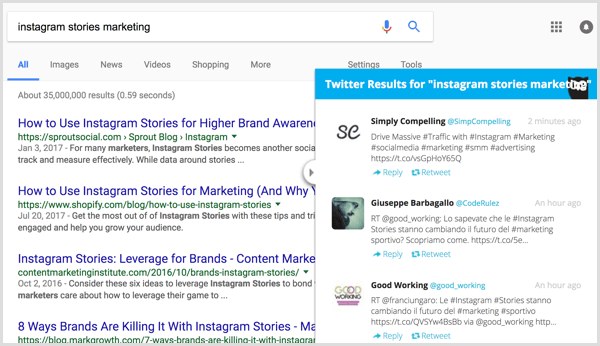 When you use Google Maps, Hootlet will search for content posted near a geographic area or business. After you type in a location in Google Maps, click Tweets Near Here to see recent tweets posted from that area. Click Add to Hootsuite to save the search stream to your Hootsuite dashboard for later reference.
Tip: Right-click on the Hootlet icon to make changes to the extension's settings and enable the features related to web and geographic searches.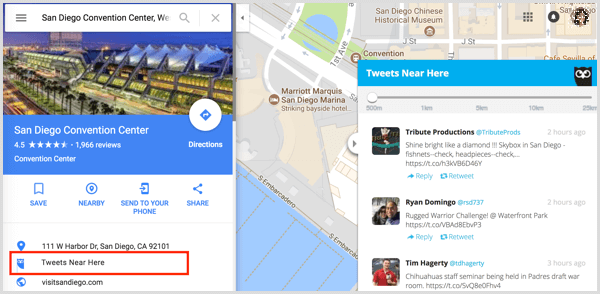 #10: Share Passwords Securely With LastPass
Security is an important concern for social media marketers. The LastPass extension gives you a secure way to share account access among team members without revealing the actual passwords. The system uses a master password that stores users' login details. For increased security, it will generate secure passwords and let you remove access if a team member no longer needs it.
To share passwords, you need a LastPass Premium account, which is $2/month.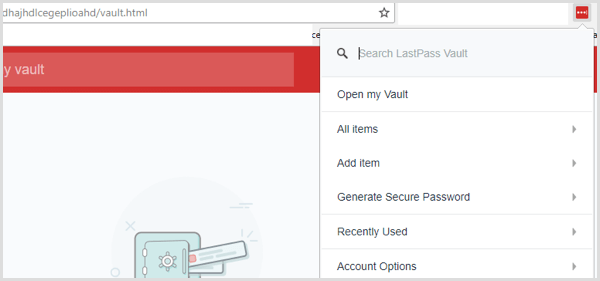 Conclusion
Whether you're a social media marketer or business owner, these 10 Google Chrome extensions will make a world of difference to your productivity, reach, and content.
What do you think? Which of these Chrome extensions do you already use in your social media marketing? Which ones would you add to the list? Please share your thoughts in the comments below.
Get Your FREE Course: Web3 for Beginners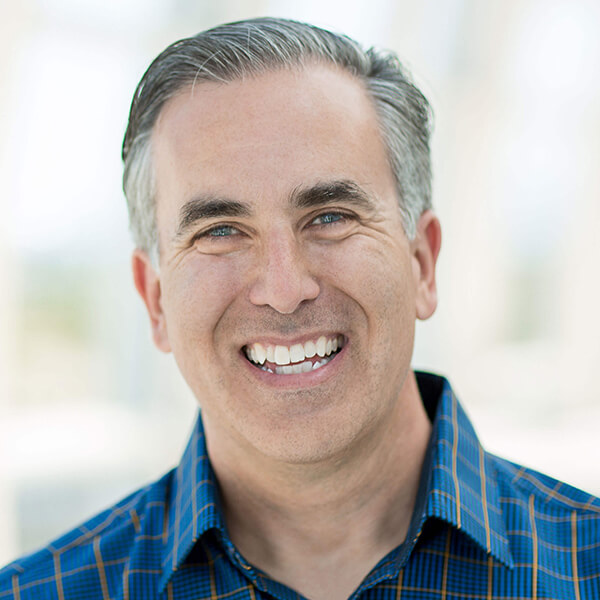 Curious about Web3, but don't know where to start or who to trust?

Introducing Web3 for Beginners, a course taught by Michael Stelzner, the founder of Social Media Examiner.

Learn the basics of Web3 and apply it to your business with this FREE comprehensive course.
CLICK HERE TO GET FREE ACCESS