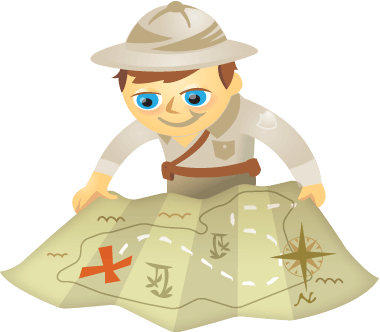 Have you noticed some big changes in your Facebook Page layout?
Do you know where to find everything?
Earlier this year, Facebook announced a new design for Facebook Pages. It took a while to roll out, but most Page admins had it by June.
In this article you'll discover 10 changes to your Facebook Page layout.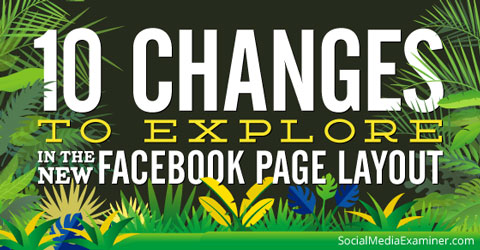 #1: Photos Have a New Size
One of the biggest layout changes is the wider, single-column view for posts. Directly related to that increased width is the size of images displayed in updates.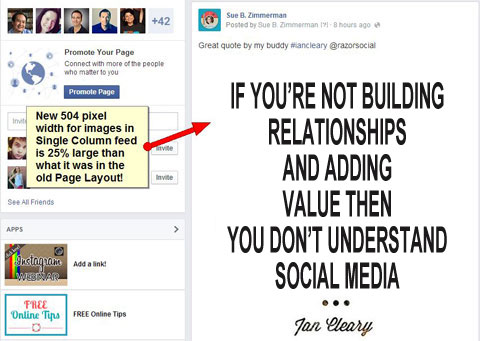 Before, in the two-column format, posts showed images at 403 pixels wide. Now images are shown at 504 pixels wide—a whopping 25% increase in visual media size! Facebook will show up to a full square, 504 x 504 pixels, so take advantage of that space.
Tip: Adjust the size of your blog post images. Make them at least 540 pixels wide so they will look good on Facebook when they're shared.
#2: Tab Apps Are Different, but the Same
Your Page tab apps used to be displayed as images beneath the cover image on the Page. Now, instead of images, there is a text link to your first tab and the rest are in the More drop-down menu.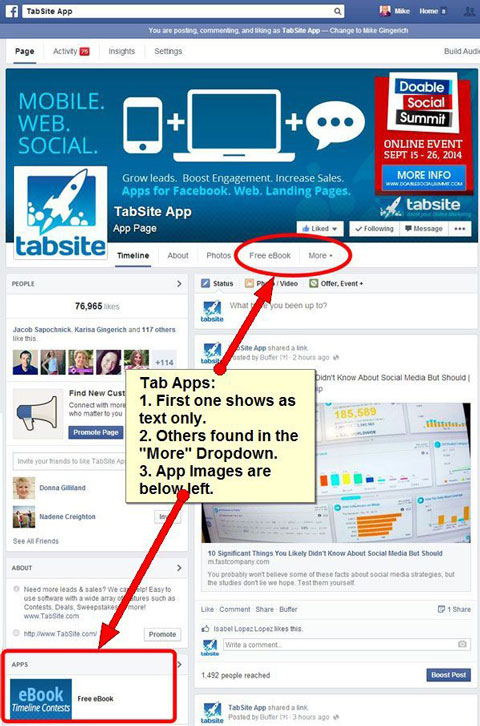 Pages didn't completely lose tab app images, they've just moved—you can find them in the left column. The app images are the same size as they had been (111 x 74 pixels), but the 16 x 16 icons are gone.
Social Media Marketing Society (Ongoing Online Training)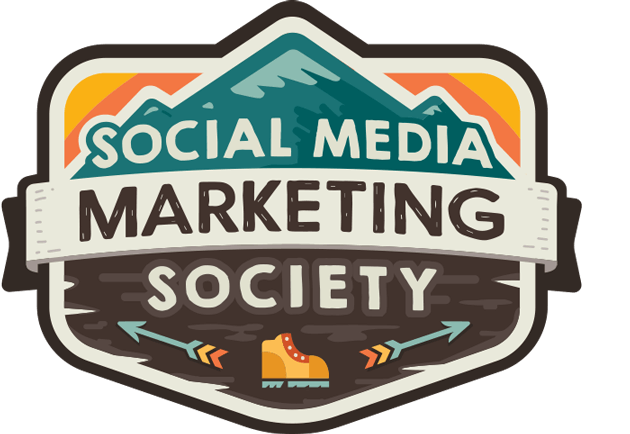 Want to gain marketing confidence and accelerate your career? Try the Society to discover new marketing ideas, improve your results, get support, and become indispensable. Join us for ongoing training, insight from pros, and a community of supportive marketers who understand you.
START YOUR TRIAL MEMBERSHIP
#3: Left Menu Sections Are Movable
Everything that isn't a Page post is now in the left sidebar. Scroll down to see where each section landed.
If you want to reorder the sidebar, you can easily move sections up or down:
1. Go to any box and click on the pencil icon.
2. Click Manage Sections and a pop-up box opens with a list of your sections.
3. Click and drag a section up or down until you're happy with the order.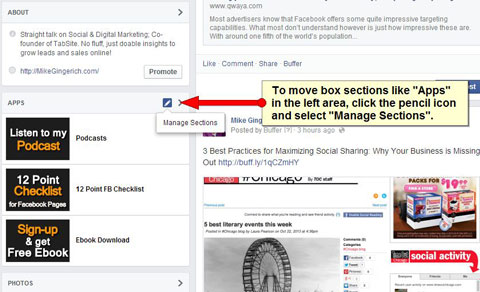 Note that the People and About sections are always at the top and cannot be moved. The highest you can move another section is under the About section.
#4: Activity Tab Houses Messages and Notifications
The Activity area is now much more of an Inbox where you can view, respond to and manage messages to your Page.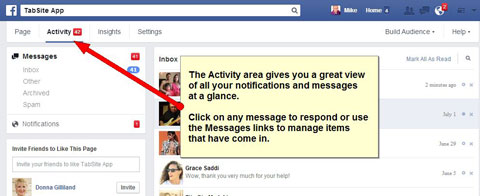 Click on the Notifications link to see a nice view of all page notifications.
#5: The Use Facebook as Your Page Option Has Moved
I know a lot of people like to use Facebook as their page, and formerly this option was easy to find in your page admin area.
Put Google Analytics to Work for Your Business (Online Training)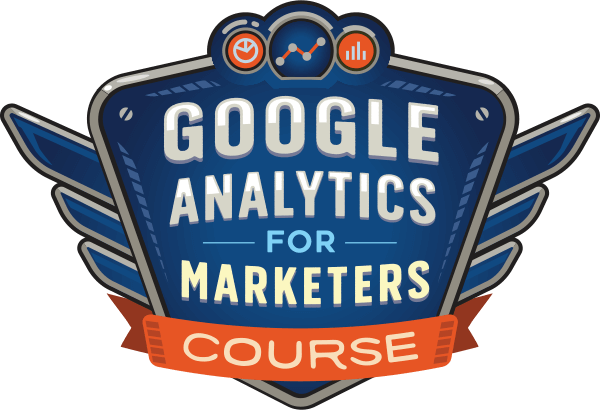 Ever thought, "there's got to be a better way" when it comes to tracking your marketing activities? Are you forced to make decisions based on limited data? With the right training, you can use Google Analytics to measure all of your marketing efforts with certainty.
You'll stop the leaks in your ad spending, justify your marketing spend, gain the confidence you need to make better marketing decisions, and know what's working at every step of the customer journey. Let the world's leading analytics pro show you the way. Check out our new Google Analytics for Marketers course from your friends at Social Media Examiner.
CLICK TO LEARN MORE: ANALYTICS TRAINING

Now, however, you need to click on the drop-down arrow at the top right of your Facebook Page. From there, choose Use Facebook As and select the Page you want to use.
#6: Website Links Show Automatically
With the new Page design, the About section automatically displays your website link if you've included the URL in the About setup.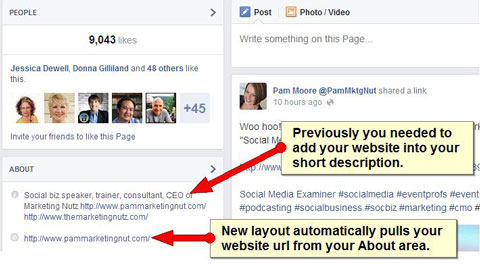 Previously, you had to use a hack in your Page's Short Description to get your website URL to display, and not all Page types could use the hack.
Now, however, all Page types I'm aware of can easily display their website URL, so be sure you've added your website link!
#7: Reviews Are Easier to Find
If you have a Page in the Local Business category and allow visitor check-in and reviews, you've probably noticed the Review section is quite prominent now. It's at the top left of the Page, right under the profile image (in the People box).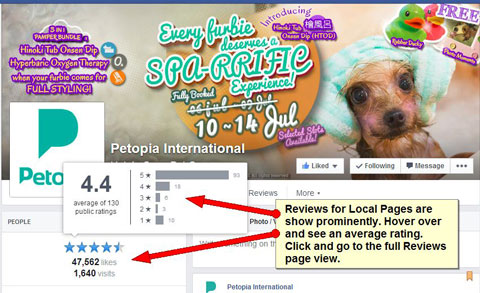 When anyone hovers over the review stars, they can see a breakdown of all of your ratings. If they click on the stars, they can read all of your customer reviews.
That means it's even more important for you to be proactive in responding to reviews. Show your visitors that you're engaged, active and caring.
#8: Posts to Page Are More Visible
Like everything else, the Posts to Page area has moved to the left column.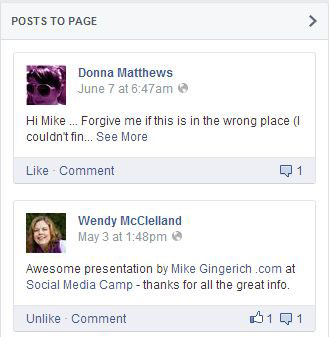 It was fairly easy to miss fan posts in the old layout. Having them in a larger box in a more visible place makes it much easier to spot new posts by others.
#9: Key Settings Are Bundled
The new design has all of the various Page settings in one area (that would be the Settings tab). This makes it easier to find important settings and update information for your Page.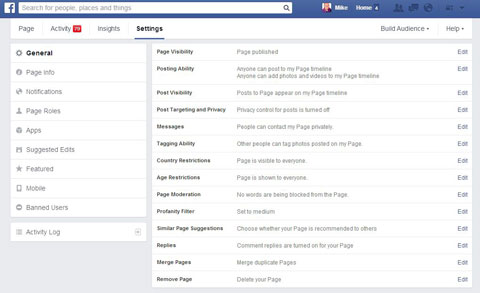 Be sure to go through the new Settings area and become familiar with the details, because there are some interesting surprises!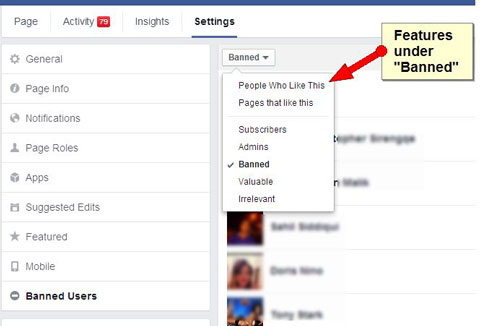 For example, under Banned Users, you'll find much more than those who have been banished! It's actually another way to see fans and even other Pages that have liked your Page.
#10: Snapshot of Page Action Available on Hover
A very handy new feature is the quick view snapshot of key Page stats from the past week. (Of course, you have to be the Page admin to see this.)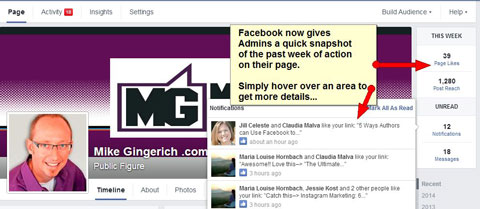 To see the information snapshot for each option, simply hover over an area and Facebook will open up more details on that particular statistic.
Conclusion
Those are just 10 of the changes you'll see with the new Facebook Page layout. By now, you should have the new layout and can begin exploring the new options and changes.
What do you think? What do you like about the new layout? What changes have impacted you the most? Please share!