Do you want to connect more often with your YouTube subscribers without releasing a full video? Are you taking advantage of YouTube's Stories and Community tab features?
To explore how to use YouTube Stories and the YouTube Community tab, I interview Evan Carmichael on the Social Media Marketing Podcast.
Evan is a successful YouTuber with more than 2 million subscribers and 300 million video views, and co-host of the Something to Prove podcast. His latest book is called Built to Serve.
Evan explains how to create, navigate, and use YouTube Stories to create content that engages your audience. You'll also discover a valuable way to use the YouTube Community tab to improve your YouTube videos.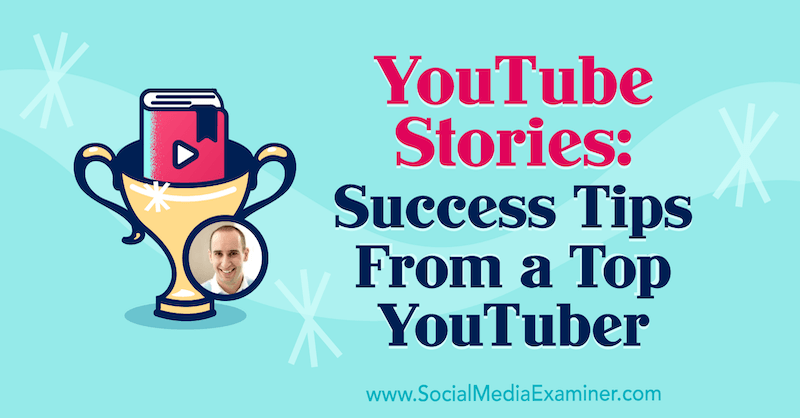 Built to Serve
Evan's drive to serve others comes from his own early struggles as an entrepreneur. He started his first business at age 19. He had no mentors or role models and was too ashamed to tell his friends that he wasn't succeeding so he turned inward. Once Evan got through this dark period in his own life, he vowed to help other entrepreneurs to avoid feeling so lonely and isolated.
Evan started his YouTube channel in April 2009 to share his story and what he had learned about entrepreneurship. In the 10 years he's been active on YouTube, Evan has seen the platform really grow and develop. The most popular videos on YouTube in 2009 tended toward the short and silly so nobody was watching Evan's 10-minute educational videos.
As the platform grew, YouTube became a place for people to come online and look for help, and thought leaders emerged. Evan's channel was inconsistent for a while but as YouTube became a better opportunity, and as he got better on-camera, Evan started taking the platform more seriously. He began posting daily about 5 years ago. Around 6,000 videos and 300 million views later, YouTube has become Evan's primary content hub.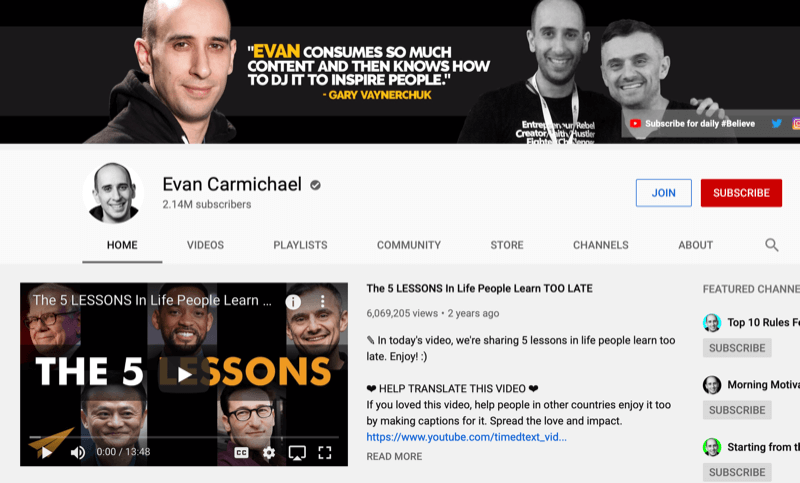 Evan's core value is #Believe because he wants people to believe in themselves more. The target audience for his YouTube channel is entrepreneurs and "wannabe" entrepreneurs, geared mostly toward those in the beginning stages. They know what they're doing right now is not a true reflection of what they're capable of, and they want some guidance on how to push forward.
The content Evan shares is a mix of his own advice, stories, and journey with his trademark "remixes" of content from other successful people. Many of his videos are master cuts of footage from other thought leaders like Gary Vaynerchuk.
Evan's YouTube channel has become one of the biggest parts of his business. He credits his YouTube channel with helping him land two book deals with major publishing houses, global speaking gigs, and awards from Forbes and Inc. as one of the greatest speakers in the world on social media and leadership. Evan has also had the opportunity to collaborate with people like Tony Robbins and Gary Vaynerchuk.
The Conference You've Been Waiting For
As a small business marketer, you can probably only pick one or two events to attend each year. Get an unbeatable conference experience and expert training at Social Media Marketing World in sunny San Diego, California—from your friends at Social Media Examiner.
🔥 As a valued reader, you can save $650 on an All-Access ticket if you act now! Sale Ends Friday! 🔥
CLICK HERE TO LEARN MORE
But the most important result of Evan's YouTube channel has been its impact. Evan loves knowing that the work he does matters and is meaningful to people. He's living his purpose and he wants to help others do this as well.
Why Consider YouTube?
Evan has several reasons YouTube should be your number-one place for content.
It's the only place your content lives forever. Nobody's going back a week on your Instagram, Facebook, or Twitter, but your YouTube content lives forever. The videos Evan made 10 years ago are still getting views, suggestions, comments, traffic, and subscribers so they're still building his brand. Whatever you make today will live forever on YouTube. It's the only platform right now where that's the case.
YouTube pays you to create content. They have advertising teams with thousands of people selling ads against your content. Twitter and Instagram aren't paying you to make content. Even with podcasts, you have to go out and get your own advertisers or have a business model that's tied to it. You can have all that and get paid by YouTube and Google by making YouTube videos.
YouTube should be the foundational content platform for anybody who has a message or is trying to spread awareness.
You can edit long-form YouTube videos into shorter content for other social platforms. YouTube's audience attention curve shows you where people are falling off in your videos. In the beginning, it will be at 100%, because anybody who starts the video at 0 seconds is watching the video. But then you'll start to see where people are falling off. You can see where people left the video, go back and watch that part, and then fix your process so you don't do it again.
But then there are those magical moments that are either a flatline (which means nobody left) or a spike (people rewound the video to watch that part again). That's the clip you can cut and then post on Twitter, Instagram, and LinkedIn. You can use YouTube as the base and then split up the content for all of the other social platforms.
YouTube will promote your better videos. Because it's purely a content platform, YouTube works to find an audience for you. You still have to post great videos and content and do a lot of work. You can't just upload a video and automatically expect to succeed. But then YouTube will recommend your content against other people's videos.
If you have a message that you know can impact people's lives and help solve problems, YouTube will help you gain a new audience that has never heard of you. It's the only platform that really does that well.
That's what makes YouTube unique. On Facebook, to illustrate, we all know that if you post something organically, it's only going to be seen by a tiny little fragment of your fan base. That's true with YouTube as well, but the difference is that YouTube knows a lot about what people like to watch. If your video is really good, they'll suggest your video or it will come up in YouTube search. So the discovery aspect of YouTube is a big upside for a lot of marketers if it's done right.
Evan has 2 million subscribers and 300 million views. He knows a lot of the views are from subscribers and they'll watch more than one video. But 83%–87% of his views every month are from non-subscribers. If your content is only being shown to your current subscribers on any platform, you're losing ground. Even at Evan's size, the fact that he still gets more than 80% of his views from non-subscribers means his channel is growing, which is a huge motivation to create more content.
YouTube Stories
YouTube Stories is a relatively new feature. It became widely available in November 2018 to accounts with 10,000 or more followers. Since it's so new, a lot of people aren't really using it yet. YouTube is working hard to help promote stories in addition to regular channel videos.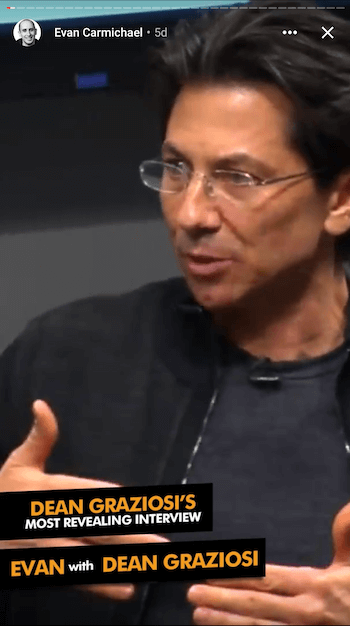 Stories are 15-second video clips, similar to Instagram stories. YouTube stories are visible for 7 days, unlike Instagram stories, which only stay up for 24 hours. YouTube will promote and feature your story for all 7 days, too. If somebody is coming to your channel, they can see your stories there but YouTube also promotes your stories to lookalike audiences. If they think you're like Evan Carmichael, for instance, they're going to show your stories underneath his videos.
YouTube Stories is a mobile-only feature. Stories have to be both created and viewed on mobile. If you go to a channel from the desktop or on your TV, you won't see stories. Just like with Instagram, you can create stories within the YouTube app or you can create a video separately and then upload it to your YouTube story. If you're creating a story natively through YouTube, some video editing tools are available on the app.
There are a few places to view stories, the most popular of which is the home page of the app. YouTube will show stories right there when you first log in, especially if you're subscribed to those channels. If you're not subscribed to any channel that has stories, suggested stories will pop up. YouTube's algorithm will keep checking to see how often you're looking at stories.
Stories are visible on the homepage, subscription feed, and individual videos. So if you're on an Evan Carmichael video, sometimes you'll see stories right underneath. If you go to somebody's channel and they have a story, their face will have a little circle around it, just like on Instagram, that you can click to watch their story. Basically anywhere you can see videos, you can see stories, too.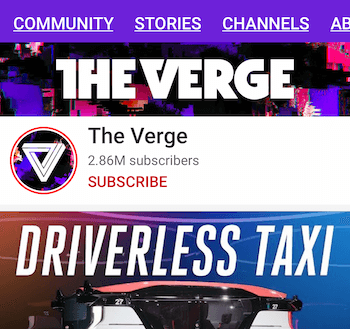 Differences From Instagram Stories
You can take a few story segments and put them together like you can on Instagram, but you can't record them continuously. You have to let go of the button with your thumb and then record again. If you're cutting an existing video, you can cut it into 15-second segments and then upload as many as you want. You can't yet select multiple segments to upload at once so you have to do them one by one.
YouTube doesn't have a hashtag feature. They have location information but it isn't really searchable. Evan lives in Toronto, Canada, but his stories won't show up in a search for Toronto. YouTube doesn't work like that for any of their content. The algorithm looks for lookalike audiences based on preferences and user behavior.
There's also no swipe-up link feature because YouTube is brilliant at keeping you on the platform. They've been talking about adding a swipe-up link internally for brand deals but they don't want it to be standard across everybody's posts because they don't want people leaving the platform.
You can link to as many other channels' videos as you want but you can only link to your own videos once a week. You still need to make a story segment about it but then you can put a little thumbnail on that story that people can click through to go watch the video. Some people only do one video a week anyway so it's easy to know which one they're going to promote on their story. People who are making much more content on their channels have to be a little more strategic.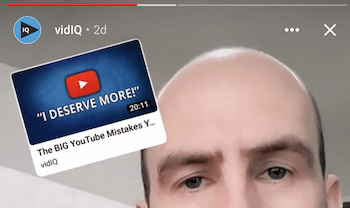 Just like on Instagram, YouTube remembers where you left off watching stories as long as you're logging in from the same account. You can also go back and re-watch story segments as long as they haven't expired. There are no story highlights so you can't save story segments for people to watch forever. You can download segments so you have a local copy on your phone but you can't highlight or save them so people can watch them later on your channel.
Analytics for YouTube Stories are still fairly weak. You have to go post by post to know how many views are happening on every post that comes in. But on the backend, they now show you how many subscribers you get from your stories. Right now, 4% of Evan's subscribers come from stories. He's at 60% mobile, which is on the lower end of average, so 40% of his traffic isn't even coming from mobile. Those people have no chance to even see his stories.
Attention Agency Owners, Brand Marketers, and Consultants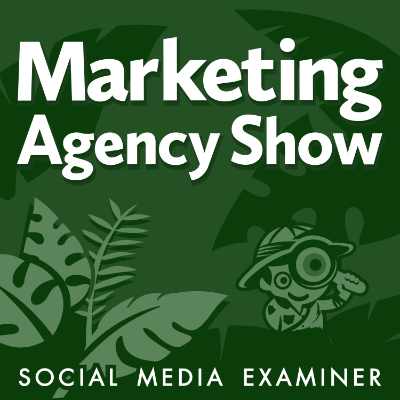 Introducing the Marketing Agency Show–our newest podcast designed to explore the struggles of agency marketers.

Join show host and agency owner, Brooke Sellas, as she interviews agency marketers and digs deep into their biggest challenges. Explore topics like navigating rough economic times, leveraging AI, service diversification, client acquisition, and much more.

Just pull up your favorite podcast app, search for Marketing Agency Show and start listening. Or click the button below for more information.
CLICK HERE FOR THE DETAILS
There are three ways to react to a story: you can like it, give it a thumbs-up, or leave a comment on it. At the top, there's a button that says Subscribe so you can subscribe to a channel from any story if you haven't already. If someone leaves a comment on your story, you have to go story by story to find it; YouTube doesn't really notify you. If you're uploading a lot, you have to go through each story to see the comments.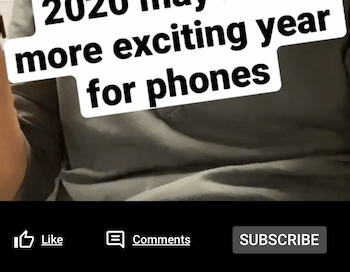 You can reply to a story comment with video but it's a public video. It gets added to your story and everybody can see both the initial comment and your reply. Evan loves the idea of responding to video with video. It's the thing that drives him nuts the most on YouTube because it's a video sharing platform and he gets tons of comments, yet he can't normally respond with a video.
Why Use YouTube Stories?
Evan says that YouTube Stories is a really unsaturated environment right now, even in the marketing space. Gary Vaynerchuk, for example, isn't using it, so if you're creating marketing content and you're trying to win on YouTube, your story could show up under Gary Vaynerchuk's video because nobody else is really creating them. Even a lot of the people who've made videos on how to do YouTube stories still aren't actually making stories themselves.
Evan's channel has 2 million subscribers and around 140,000 daily views. He's getting an average of 30,000–40,000 views per story. Some stories will pop and do more and some will tank, but 30,000–40,000 views on an average story isn't a bad result. These are also 15-second views versus 140,000 views on his videos that are 15 minutes long. Granted, 15 seconds versus 15 minutes is a totally different kind of view but it's still exposure and awareness.
Evan thinks stories may actually be more beneficial for somebody who has a low-frequency channel. He posts so many videos that he's being recommended all the time by YouTube but he thinks stories might benefit somebody who's posting one video a week or fewer because it's an easy way to get discovered and get your message out to your own audience plus new audiences. It's a great way to grow and show up against other people's channels.
A story takes 15 seconds to make. It's expected that it's less produced and more behind the scenes and authentic. It doesn't need to have the production quality you'd expect from a typical YouTube video. Evan's YouTube channel manager says the average creator sees an 8.5%+ boost in subscribers just by using stories.
Story Best Practices
One easy place to start with stories is to take highlights from your longer videos. Look at the data, see what part of the video had that audience retention spike, and then take the 15 seconds around it that make the most sense (or string a few 15-second segments together) and post that as a story. You can also post Instagram story content to YouTube to test it out, as long as it doesn't have any Instagram-only features such as voting.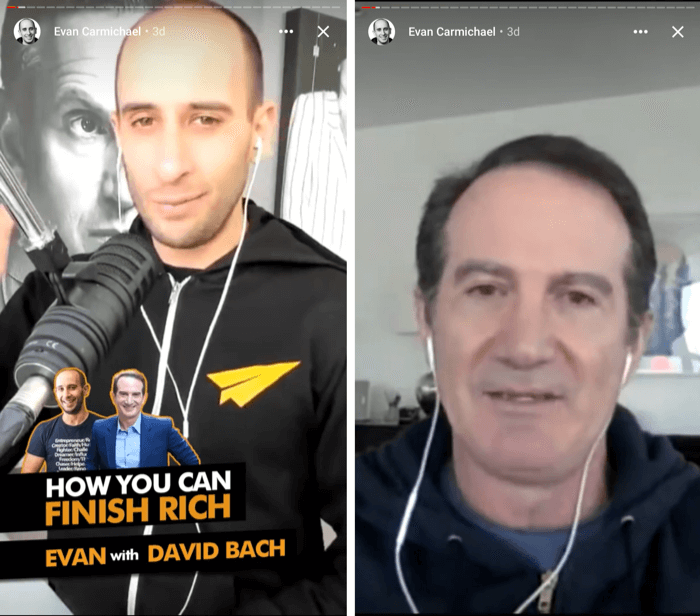 A great way to use stories to interact with your audience is to make a quick story that says, "Hey, I'm free for the next hour so let me know if you guys have any questions." The downside of this is that people may not see it until 4 days later. But people will respond and then their questions will appear on the screen.
Pick the ones you want to answer and respond to them. The lower third of the screen will display the question and you just press record to answer it. That content will live on your story for the next 7 days. It's a really easy way to create content that's expected to be a little less produced.
Evan likes using YouTube stories to tell a multi-frame story. To visualize this, Evan recently posted about his morning routine. He goes through five things every morning. In his first segment, he said, "I'm changing my morning routine. I'm going through five new things every morning." The second segment was the first part of that routine.
Each one of those five steps then became a separate post. Finally, Evan did a summary with a graphic to say, "Here are all five of them." That one concept became seven different story segments.
YouTube lets you record story segments without uploading them. This means you can upload all segments on one stream later like on Instagram. You can pull out your phone and record and then you have an option to save or post. Evan notes that if you're going to post later, though, it's probably best to just use your phone camera and not the YouTube app's camera.
Evan often uses a small microphone when he travels. He did some stories out of a Starbucks once and people complained that they couldn't hear anything he was saying. But for the most part, your phone microphone is good enough. Most story content is pretty gritty and it's meant to be. Perfect production quality isn't expected.
Stories and Live
YouTube Live doesn't publish to Stories. You can post to your story afterward to say, "Hey, I went live, go check it out," or you can do a preview to say, "I'm going to go live so go to my YouTube channel. Here's the link. I'll answer any questions you have." But YouTube doesn't post a live stream through to your story like Instagram does.
You can go live directly from the YouTube app, where it's a vertical experience similar to a story. Comments will pop up and you can answer them live. Once a live video is finished, YouTube takes a little time to process the file. When Evan is on tour, he streams for 8–12 hours a day so there's a lot of processing that happens afterward. A quick 5-minute live stream will process faster. That live stream gets put up as a video on your channel and you get to choose if you want to make it a public video, an unlisted video, or for members only.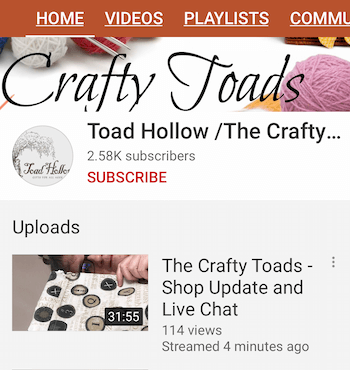 YouTube launched memberships not long ago. People can pay to be a part of your channel every month in exchange for perks and bonuses that you offer. Quite often, one of those perks or bonuses is live streams that are just for members.
Stories compete with your videos for space in the feed but they have a separate algorithm. If your stories do poorly, it doesn't impact your videos, and if your videos do poorly, it doesn't impact your story. Somebody's story is going to get shown no matter what so you may as well compete because there aren't a lot of people in that space right now. Focus mainly on how to get people to watch your next story.
Evan finds that if you upload a bunch of stories in sequence that all cover a similar theme or topic, people will want to watch the next one. He recommends trying to post a story at least once a day, just to get enough practice to become good at making them.
YouTube Community Tab
The YouTube Community tab is open to creators with at least 1,000 followers. It offers a way to connect with your audience, poll them, give them bonuses, and share behind-the-scenes content. The Community tab is only visible to your subscribers. Your posts will show up in their feeds; although, as with Facebook, only a percentage of your subscribers will get each post shown to them.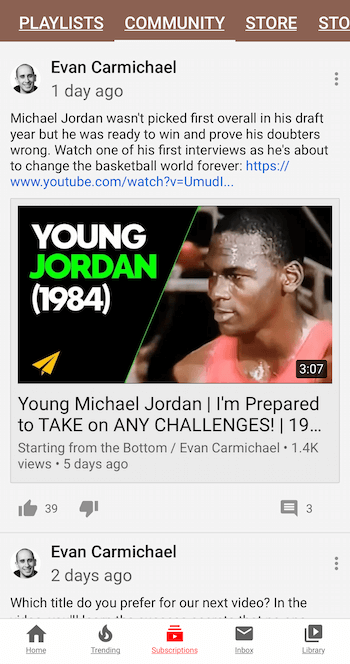 Everything posted to the Community tab remains there. You can delete content if you don't want it there anymore, but otherwise, just like a video, it's there forever. The Community tab is visible on both mobile and desktop. If you go to a channel, there's a tab across the top of the homepage that has videos, then channel playlists, and then community.
Evan loves using the Community tab to split-test video titles. For every video, Evan and his team come up with their two favorite titles: one is usually curiosity-based and the other makes a bold claim. Then Evan puts both titles out to his community to find out which one they like best.
Evan recently made a video about building wealth. One title claimed that "anyone can do it" and the other claimed that "these habits will get you rich." The first one, "anyone can do it," got 63% of the vote out of 4,400 votes. Evan would have expected the second one, the "get rich" one, to be more popular. But Evan was happy to be proven wrong by the data. Evan likes making data-driven decisions because he doesn't only want to work off of what he knows.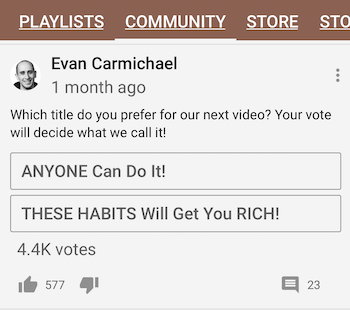 Polls are great because they're so easy. Most of the experience is from mobile so they're easy to interact with. People see these polls and then they just have to click. They're more likely just to click and vote than to spend the time to click, comment, and explain. Polls don't last very long; they're not in people's feeds for more than a day.
When Evan wants to promote a tour or his latest book, he'll put the information up on his Community tab. You can link off-site as well as to your videos, and you can have one main link that will show a preview. Evan's YouTube presence is split across 10 different channels. When he's trying to get reach on one of the other channels, he'll post that as his main link so it gets a spike in views. Evan also sometimes just shares inspiring quotes, often something he's already posted on Instagram.
Another way to use the Community tab is to share behind-the-scenes content—though Evan doesn't. Especially if your videos take a long time to make, such as with animators or songwriters, you could share the behind the scenes—the process, the lyrics, the storyboards—just to get people feeling like they're part of your journey.
The Community tab's new Members-Only feature is an interesting way to communicate with members. You don't get their email addresses and you can't DM them. The way you communicate with members is through the Community tab by posting members-only content, pictures, and live streams.
This is a great way to deliver different levels of value to your paid members with bonus content. When Evan goes live, it's often a Community tab members-only post to an unlisted live stream. The only people who can see it are paid members of his community.
Key Takeaways From This Episode:
What do you think? What are your thoughts on YouTube Stories and the YouTube Community tab? Please share your comments below.
3 Days of World-Class Training—Zero Travel!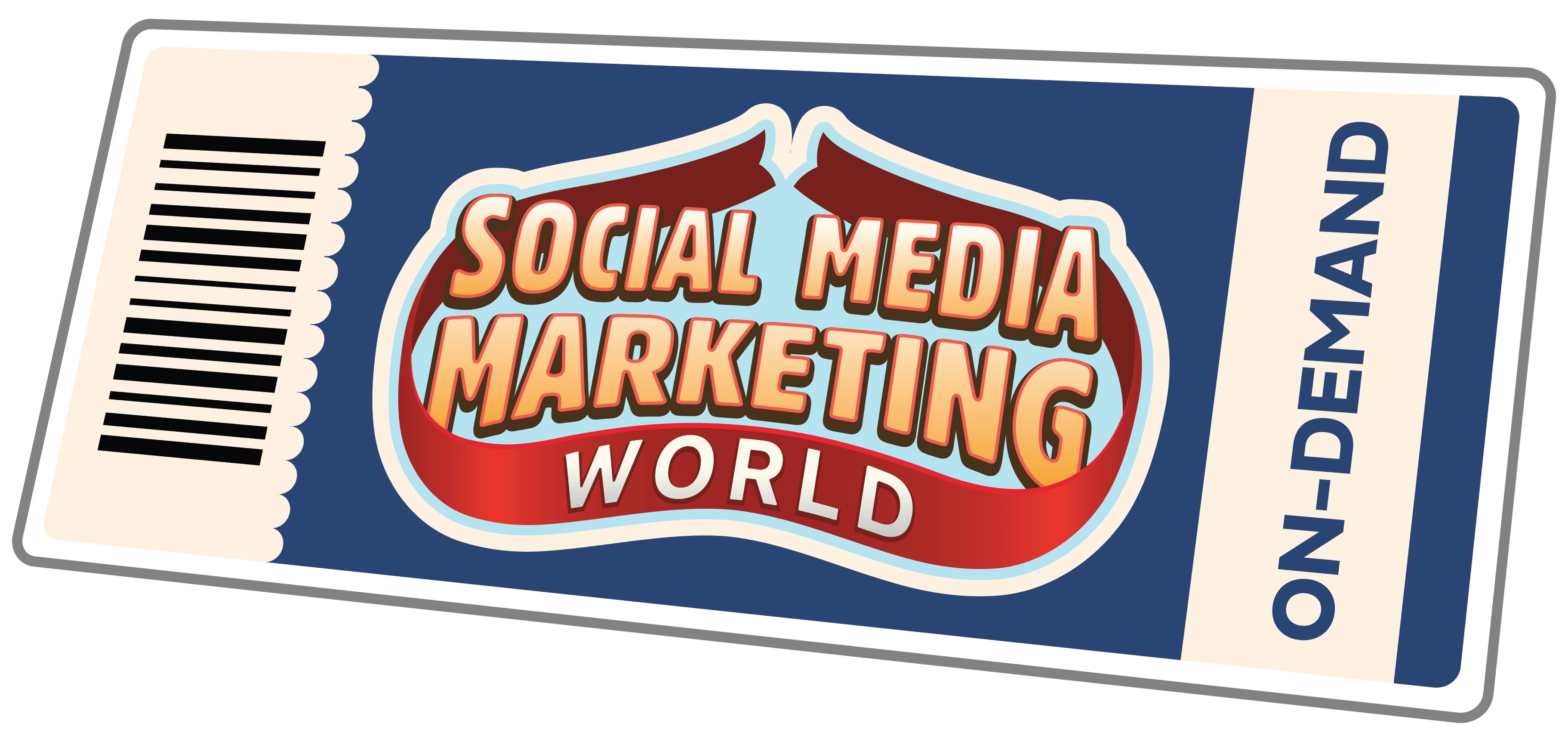 Travel to Social Media Marketing World off the table? Get all of the great content at a fraction of the price with an On-Demand ticket.

That's full access to recordings of every keynote, workshop, and session—the ones people travel thousands of miles to see. Don't wait. Get your On-Demand ticket and enjoy actionable content that you can watch anytime, anywhere.
GET YOUR ON-DEMAND TICKET NOW