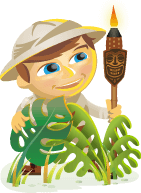 Do you want more people to talk about your brand or business?
Want to discover how to get the ball rolling?
To learn about word-of-mouth marketing, I interview Ted Wright.
More About This Show
The Social Media Marketing podcast is an on-demand talk radio show from Social Media Examiner. It's designed to help busy marketers and business owners discover what works with social media marketing.
In this episode I interview word-of-mouth marketer Ted Wright, author of the book, Fizz: Harness the Power of Word of Mouth Marketing to Drive Brand Growth. He's also the founder of Fizz, an agency that specializes in word-of-mouth marketing. His clients include Intuit, Pabst Blue Ribbon, Verizon, Intel and many others.
In this episode Ted will explore word-of-mouth marketing.
You'll discover why word-of-mouth marketing is important in the age of social media, as well as things you can do to get people talking.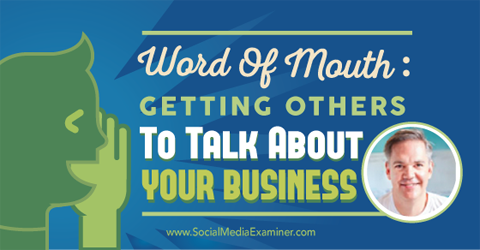 Share your feedback, read the show notes and get the links mentioned in this episode below.
Listen Now
Where to subscribe: Apple Podcast | Google Podcasts | Spotify | RSS
Here are some of the things you'll discover in this show:
Word of Mouth
How Ted became interested in word-of-mouth marketing
Ted talks about when he attended the University of Chicago School of Business in 1999. At that time the computer lab was basically a windowless cave with 20 rows of 20 computers each, Ted recalls. Early one morning working in the lab, he noticed the ambient light was blue. It was because the Netscape screen was mostly blue, and that's the site everyone used.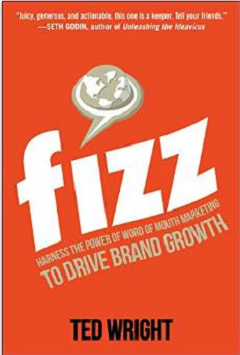 After 20 minutes or so of searching fruitlessly and getting frustrated with Netscape, somebody leaned over and suggested Ted try Google, which he did.
Ted's test search term was his mother's name, Dr. Lynette Wright, a fairly famous medical geneticist. However, since they share the same last name as the guys who invented airplanes, most search engines easily got confused.
"Google returned my mother as the second search term, instead of eight pages deep, which was the norm for other sites," Ted shares. He kept working and 20 minutes later, Ted noticed the guy next to him getting frustrated. So Ted leaned over and explained Google to him.
About four or five hours later, Ted finished working, stood up, looked around and noticed the light in the room changed from the ambient blue of Netscape to the ambient white of the Google screen.
Ted, who's always trying to figure out how things work, found that very interesting. So during his second year at the University of Chicago, he blew apart the history, math, psychology and epidemiology of word-of-mouth marketing.
After graduation, Ted decided to start his own business. That company, which he started 15 years ago, is now called Fizz.
Listen to the show to discover the unique way in which Ted watched TiVo and Google get adopted.
The importance of word-of-mouth marketing
Ted defines word-of-mouth marketing as "identifying your influencers and coming up with a story that is interesting, relevant and authentic that ladders back to qualities of your brand and then sharing that story as much as possible."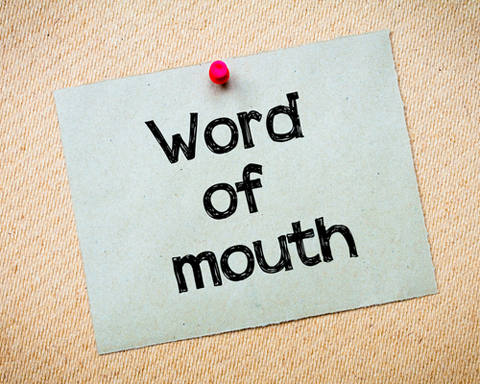 That's the first part. The second part, Ted says, is "creating for your influencers as many opportunities as you can as a brand or a company for them if they feel like it to share your brand's story with as many people as they would like to do so."
Ted shares the word-of-mouth marketing campaign he ran for Pabst Blue Ribbon (P.B.R.) with the brand manager at the time, Neal Stewart. The goal was to get more people in America to drink P.B.R.
Ted identifies the three critical components of a story being shared:
Is the story interesting to influencers so they will pick it up, study it and really understand it?
Is it relevant to influencers' audiences?
Is it authentic the way they currently understand the brand and the category in general?
With all due respect to the people who make P.B.R, Ted says, they were never going to win by talking only about taste. So they decided to focus on what's going on outside the can.
Ted explains how at the time (around 2000), most young adults who just hit drinking age were likely born in 1980 or earlier, and had a good chance of being the children of yuppies (young urban professionals). Yuppism (in the 1980s and 1990s) at its extreme is about having things just to have things. The children of yuppies appreciated these benefits while they were growing up. However, right after graduation, they rejected all of their stuff. This was happening in 2000, and became known as Hipsterism: a rejection of things and a rising importance of experience.
Therefore, Ted and Neal decided that as a brand, P.B.R. would celebrate people who were doing interesting things because they wanted to be doing them, not because they wanted to be seen doing them.
They found people who were interested in cool things such as bicycle races, hipster bartender golf tournaments and bands like Minikiss. They hired them to go to events they were going to anyway. Then if someone asked, they could talk about P.B.R. As a brand, they were the first ones to listen to people and be genuinely interested without asking for anything in return.
Fast Company recently named P.B.R. as one of the biggest turnarounds in the last 20 years.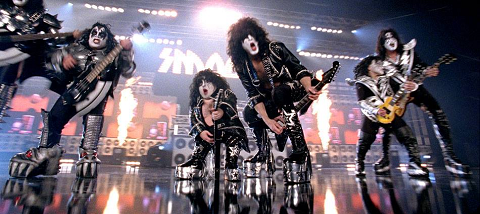 Ted does not believe this is the age of social media—he believes it's the age of conversation. In the beginning, social media made it very easy for people to understand just how much conversation was going on about many different things. For word-of-mouth marketing, all of the tools in social media are important for keeping the conversation going.
"When you get face-to-face interaction working with social media, that's when 1+1=3," Ted says. "Neither by itself works nearly as well as they do in combination."
Listen to the show to hear why Ted compares marketers to plumbers.
How to get people talking
The first thing to do is figure out your story and make sure it's interesting, relevant and authentic.
Then, Ted suggests, do what he refers to as the brunch test. You can either actually go out to brunch or just use your imagination. To do it as a mind experiment, close your eyes and pretend you're out to brunch with your significant other and two other couples: one couple you know well, the other you don't. When you start sharing your brand's story, is everyone leaning forward and asking questions or is your significant other kicking you under the table because you're boring? That is one of the tests for interesting stories.
The next thing to remember is you don't identify your influencers—your influencers identify themselves to you.
Influencers have three particular personality traits: they like to try new things because they're new, they like to share stories with their friends and they're intrinsically motivated. Because they like to share stories with friends, they're always swimming around in the sea of commercial information, looking for bits and pieces of stories or things that interest them.
On average in the United States, a person is influential in three or fewer categories. Ted says while he may be really influential for cars, he may not be influential for cell phones. So when he needs a new cell phone, he asks a friend who is an influencer.
An average word-of-mouth exchange is only 32 seconds long. So there's a lot of trust and information that's communicated. Within that, 20% of everything that is sold in the U.S. is sold solely because of that conversation.
Ted explains how to narrow down your market to find the right influencers. Next, figure out where they co-locate physically and virtually. And then figure out how you, as a brand, can be there in a way that doesn't interrupt what they're doing or intercept them. Once you come up with that activation, and you have that goal and target, those three points of the triangle comprise word-of-mouth marketing.
For example, Ted shares how he paired Bissell sweepers (which happen to be great at picking up small LEGO pieces) with a third-party vendor called The LEGO KidsFest to find LEGO parents.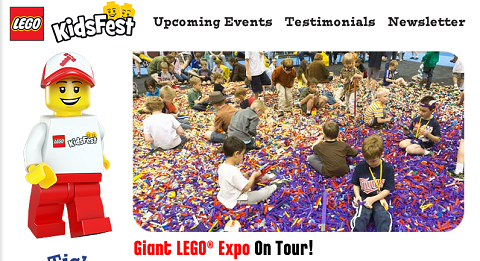 KidsFest lugs around 1.2 billion Lego bricks, goes into the secondary markets, rents out a local arena and invites parents to bring their kids to play in this huge pile of LEGO. They have about 40,000 kids in a weekend, and since only about 10% of the parents play in the LEGOs, 32,000 parents are outside watching. They put people in Bissell sweeper t-shirts and had them sweep up the pieces that flew outside of the pile, then take them out of the sweeper and throw them back into the pile.
Because 10% of any population will turn out to be influential, of the 30,000 parents present, there were at least 3,000 influencers. An influencer's story will get shared in excess of 40,000 times within that person's social network within a year. Eventually the influencer will walk over to the sweeper and ask what he or she is doing. They'll bring that story back to share with the other parents and also to the kids.
About two hours into the weekend, Ted says, in a room of 1.2 billion LEGOs, 30 kids stood in line to wait their turn to use the sweeper, pick up a piece and throw it back in the pile.
Listen to the show to discover why the people at Coca-Cola should have submitted the polar bears to the brunch test.
How to avoid common pitfalls
Ted explains word-of-mouth marketing has similar challenges as social media. Senior leadership in companies were raised in a time when broadcast advertising worked, and that was all you needed to do. That's no longer true. In the age of conversation, consumers decide when they are going to do something and how to get their information. If you don't deliver it that way, they'll find someone who does or they'll change the way they get their information.
The biggest pitfall is thinking that the speed of word-of-mouth or social media will be the same as broadcast. Broadcast's ability to actually move markets is not what it used to be. For some media, it's not working at all, which is why newspapers are either going out of business or are much smaller. Ads don't work anymore.
Marketers need to be up front with client leadership, and let them know how much time word-of-mouth marketing takes and why.
Ted says word-of-mouth marketing campaigns will see movement in the first 10 weeks and significant movement in the first 30 weeks. Plus, an entire year's worth of word-of-mouth marketing covering the whole country costs less than one flight of television ad buying time for one network show.
By the end of the first year, you'll have significant sales lift that is all very organic. That spread rate continues to increase and your marketing spend stays fairly stable.
Listen to the show to hear more of Ted's stories of how you'll know when word-of-mouth marketing is working.
Discovery of the Week
OneShot is a cool app for iOS devices. It lets you take screenshots of text and images and share them in a unique way on Twitter.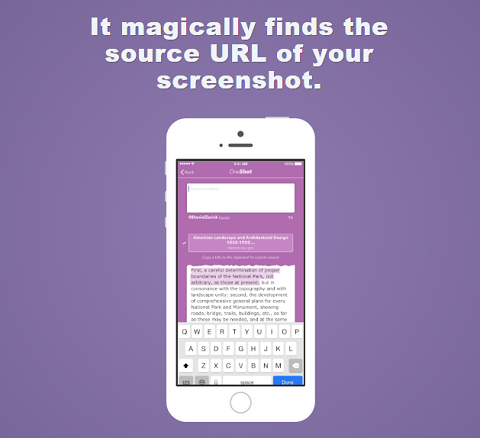 Any screenshot you've taken on the device will show up in the app when you're ready to use it. For example, if you're reading a book and want to share wisdom from it, take a screenshot of one or two sentences that really stand out.
Later, go into OneShot, select that image and then crop and highlight in the app. Select the color of the highlight and format it. Next, upload it as an image to tweet. You can even tweet directly from OneShot, so the characters in the image don't count toward your limit. OneShot also finds the URL of the source to attribute it in the tweet.
It's one part sharing tool and one part sharing/curation-helper. Anybody reading a website, blog, article or PDF who wants to share a piece of it with their social networks can use this app to get it out there, attribution included.
OneShot is a free iOS app. Find it in the iTunes store.
Listen to the show to learn more and let us know how OneShot works for you.
Listen to the show!


.
Key takeaways mentioned in this episode: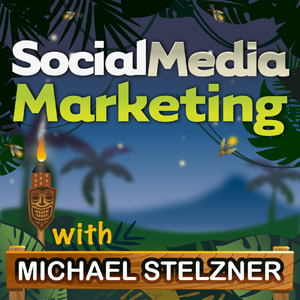 Ways to subscribe to the Social Media Marketing podcast:
How to Subscribe to this Podcast on an iPhone
Watch this quick video to learn how to subscribe on your iPhone:
.
What do you think? What are your thoughts on word-of-mouth marketing? Please leave your comments below.