Are you curious about WeChat? Wondering how to get your business in front of over a billion people on WeChat?
In this article, you'll discover how WeChat's features can help you market your business.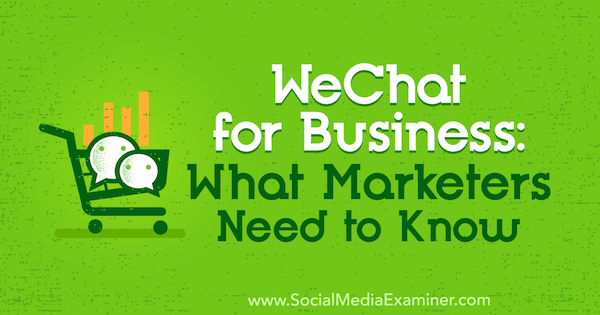 Why Marketers Should Consider WeChat
Is your business looking to raise brand awareness or drive direct customer engagement with Chinese-speaking audiences? Whether you want to enter the China market or reach out to Chinese tourists (who are considered the biggest spenders in the world), the most effective tactic is to adopt the region's most popular multi-purpose app: WeChat.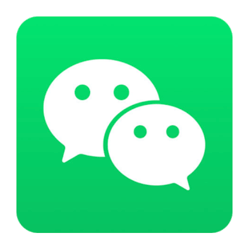 Audiences in China have no access to social media apps like WhatsApp, Facebook, Twitter, and Instagram, but they've completely embraced WeChat. Launched in 2011, the app is loved by Chinese expats, travelers, and students across the globe.
While other social media platforms might be part of your digital marketing strategy, WeChat is an application to consider as well, especially if you want to increase brand awareness and engage with your Chinese-speaking customers.
Here are three reasons why you should consider using WeChat for your business.
Massive Reach
With 1.09 billion monthly active users (70 million of whom are from outside of China), you can't ignore the massive reach of this platform. In addition to being enormously popular in China, WeChat has also penetrated the U.S. and U.K. markets and is growing at a rapid rate. The app currently supports over 20 languages and that number is expected to increase over time.
One-of-a-Kind Lifestyle Platform
Calling WeChat China's WhatsApp or Facebook would be inaccurate—it's a lot more than that. It's a one-of-a-kind lifestyle platform that has several apps rolled into one. With the ability to connect to 85,000 other apps, WeChat has formed a strong ecosystem of its own.
What started off as a messaging app has now taken over every aspect of life in China. From shopping online and paying bills to playing games and making video calls, WeChat happens to be the go-to app for almost everything. This allows marketers to gain insights from valuable consumer data, understand which life stage consumers are at, and target them with personalized communication.
Interactive Features
WeChat is constantly innovating and presenting exciting new features to connect brands and customers. One such feature is the Shake function, which lets offline businesses interact with mobile users who are nearby.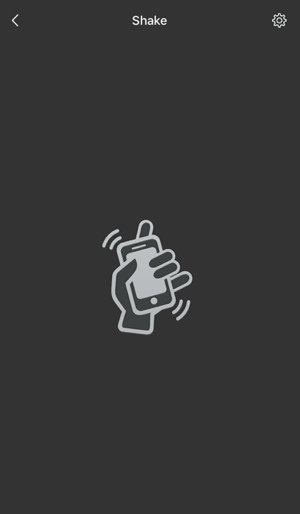 When users see the screen above, they have to physically shake their phone. By doing so, the app connects them with someone else who shook their phone at the same moment. Marketers can also make use of such a feature on WeChat.
To illustrate this, for Chinese New Year (a festive period in Asia—similar to Christmas in the West), global luxury brand Burberry sent followers a photo of a cylinder-shaped gift and encouraged them to "Shake, tap and swipe to try and open the gift."
🌟 Ready to Supercharge Your Social Marketing Strategy? 🌟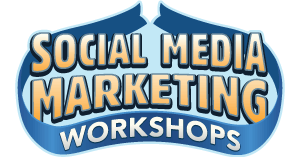 Struggling with your social marketing? You're not alone. The solution? The Social Media Marketing Workshops!

During these live 2 hour deep-dive workshops, you'll discover what's working now on Instagram, Facebook, TikTok, YouTube, and LinkedIn. Skyrocket your engagement, broaden your reach, and amplify your sales.

Become the marketing hero your company and clients need—without leaving your home!
🔥 Save $650 on an All-Access Ticket! Sale Ends Friday! 🔥
GET YOUR TICKETS NOW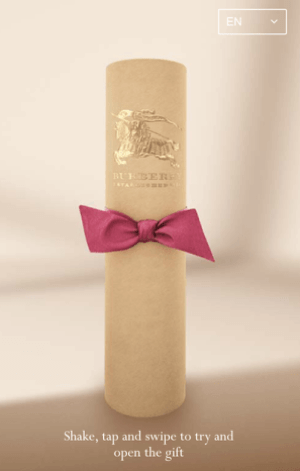 Upon doing so, they received a letter and were offered the option to send a personalized greeting to a friend. All participants also had the chance to win limited-edition Burberry Lunar New Year envelopes.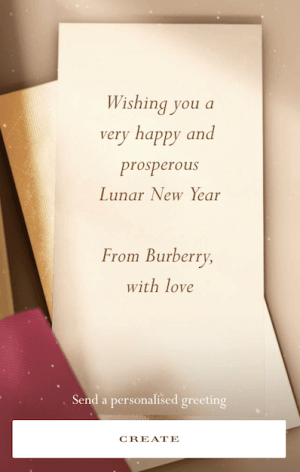 In addition to the shake function, WeChat offers other interactive features such as the use of QR codes and mini-programs.
#1: How to Set Up Your Business Profile on WeChat
Businesses can set up three types of accounts on WeChat: subscription accounts, service accounts, and enterprise accounts.
Subscription accounts (similar to Facebook pages) permit you to send only one broadcast message a day. These messages appear in the subscription folder.
Service accounts let you send up to four messages per month and offer a wide range of services such as WeChat Stores, WeChat Pay, instant customer service, and GPS among others.
Enterprise accounts are available only in China and are reserved for internal communications.
To set up a business profile, open the WeChat Official Accounts Platform page and click on Register Now. (If your registration page loads fully in Chinese, click the top-right drop-down menu next to the globe icon to select English; this will auto-translate several page fields.)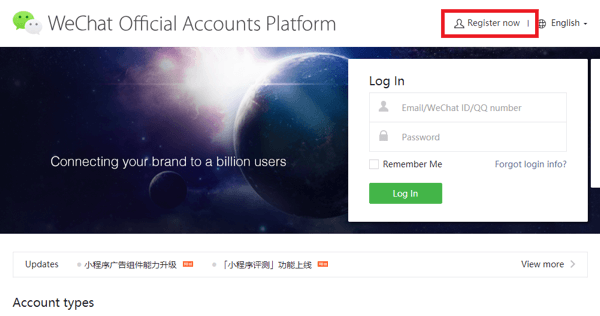 Then choose the appropriate account type for your business.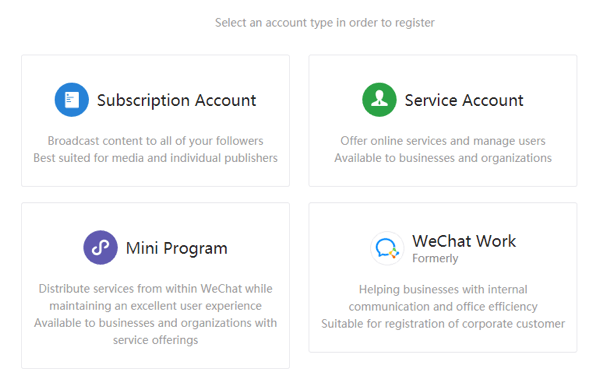 You're prompted to enter details about your company such as country, business name, email address, account administrator, etc.
Under Official Account Info, select an account name and write a short introduction for your business.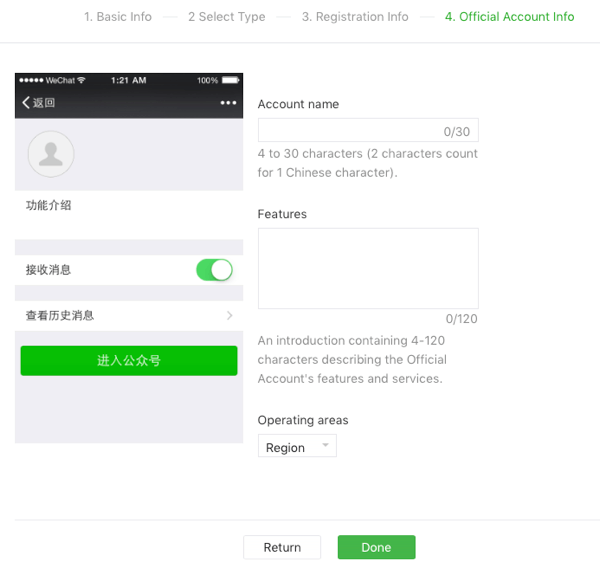 The last step is verification. You're required to submit a list of supporting documents such as a business license, signed and stamped official application letter, national ID copies, mobile phone bill, and more. Once verified, you'll have to pay a fee of $99 USD per year for your account.
#2: Use WeChat for Customer Service
When customers have questions or complaints for businesses, they're no longer likely to call or write an email. Instead, they expect a quick response, preferring social media channels over traditional ones.
Businesses are expected to be where their customers are and with WeChat being an all-in-one platform, it can also be an integral part of your customer service strategy. Here are three ways WeChat can take your customer service to the next level.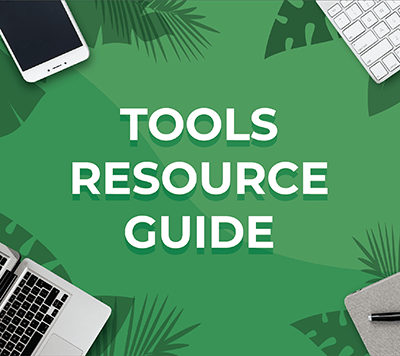 Looking for something to make your life easier?
Discover the tools we recommend to drive engagement, save you time, and boost sales across your entire marketing funnel or business.
Whether you need help planning content, organizing social posts, or developing your strategy, you'll find something for every situation.
FIND YOUR NEXT FAVORITE TOOL
Assign a Personalized Customer Service Agent
Customer service today is all about personalizing communication while connecting with customers. WeChat lets you do exactly that by allowing you to have up to 100 customer service representatives. When customers have a question or complaint, they're assigned to a representative who personally caters to their queries and concerns.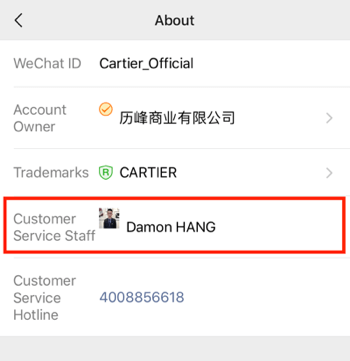 Although not a Chinese brand, KLM Royal Dutch Airlines uses WeChat to enhance their customer service. From seat selections to cancellations and bookings, users are welcome to submit all sorts of queries via WeChat.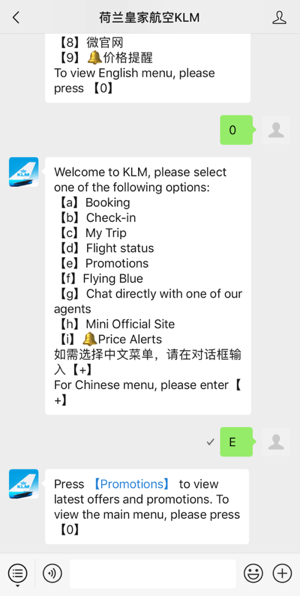 Use Automated Customer Inquiry Responses
To provide a quality customer service experience, businesses need to be responsive to their customers. One way to do that is with automated replies, similar to what you can do with Facebook Messenger.
WeChat lets you set up welcome messages that are automatically sent to users when they follow your account. The image below shows automated welcome messages sent by Coach and Burberry.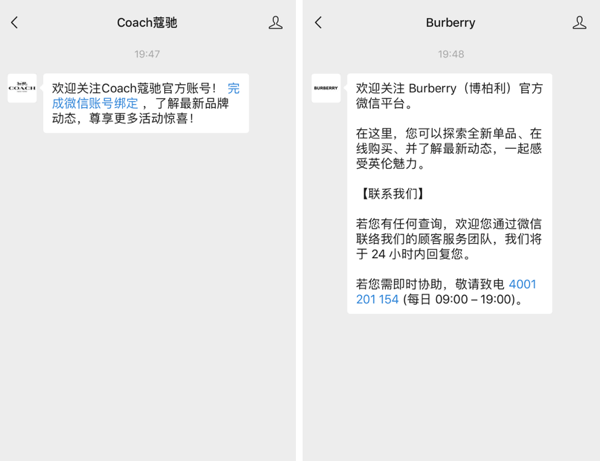 You can also set up autoreply messages, which are sent to customers immediately after receiving a message, and keyword autoreplies, which are triggered when the customer's message contains certain keywords.
Maintain a Customer History Chat Log
No customers like repeating their problems to various customer service reps within the company. By integrating WeChat with CRM, brands are able to maintain a customer history chat log and assign the previous agents to customers to offer a seamless experience.
#3: Advertise on WeChat
To get started advertising your business on WeChat, first you need a verified WeChat official account.
Once you have that in place, you need to apply for the right to advertise on the platform. Go to the admin section on your WeChat account and click on the option shown below. Upon approval, you can start setting up your first advertising campaign.

Note that businesses registered outside of China can still run ads, but the application process needs to go through a third-party agency.
Once you have your account set up, it's time to start promoting content to your target audience. Here are the three main types of WeChat advertising.
Launch Banner Ad Campaigns
Like website banners, WeChat offers banner ads that appear at the bottom of articles published by other WeChat official accounts. You can target users by gender, age, and location, and specify the types of accounts where the banner ads are displayed.
With banner ads, you can prompt audiences to follow your WeChat account, buy a product, visit your landing pages, download an app, or claim a coupon code.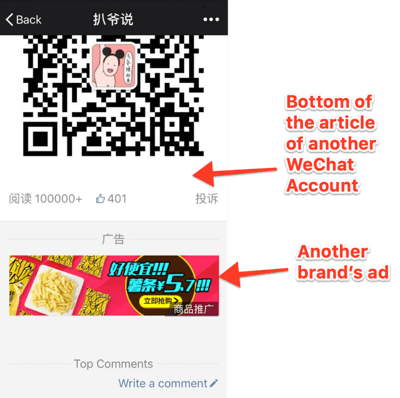 Pricing is based on either CPC (cost per click), which starts at a minimum bidding price of 0.5 RMB (about $0.07 USD) for each click, or CPM, where fees vary depending on the geographic audience.
You can choose from two types of banner ads: standard banners and Key Opinion Leader (KOL) banners.
Standard banner ads consist of the brand logo, official account name, and call to action but you have no control over the official account under which the ad is placed.
In the WeChat universe, KOLs are the equivalent of social media influencers. KOL banners require you to work with another official WeChat business account. Both you (as the advertiser) and the other WeChat official account owner need to come to an agreement on the cost per view and the number of times the ad will be shown. KOL banners are much larger and expensive.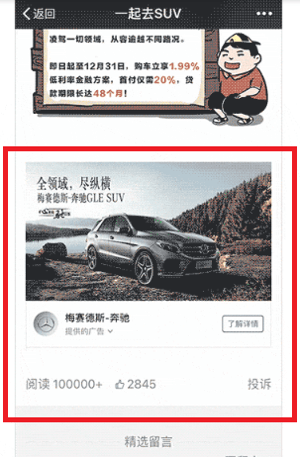 Target Users With Moments
Moments ads are similar to ads that appear in the Facebook news feed. On WeChat, they're placed in WeChat's Moments section. You can target users based on location, interest, marital status, age, gender, education, and behavior.
These ads consist of your brand logo, description, and up to six images or a video. You can insert a link in the ad that takes people to a landing page.
Note that the ad disappears after 6 hours if nobody engages with it. The more people engage with it, the higher the chances of reaching similar people.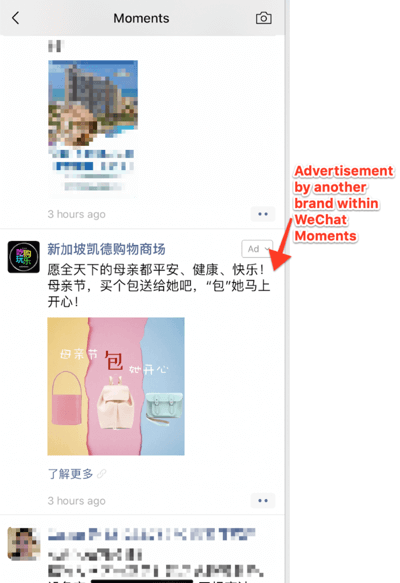 Partner With Influencers or KOLs
You need to find the right KOL for your brand—someone who has a similar target audience and is willing to talk about your business. The cost to set up the partnership depends on the popularity of the KOL.
Below is an example of a sponsored article campaign between fragrance brand Ulrich Lang New York and Yitiao, an influencer within China.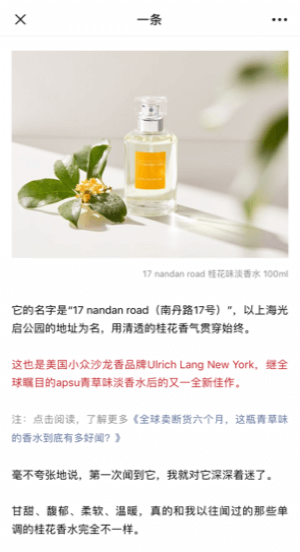 Conclusion
WeChat is a promising marketing tool for business and has great potential to deliver branded content and engage with Chinese-speaking consumers. With its growing penetration rate and various advertising vehicles, it works for many international brands as well as small- to medium-sized businesses outside of China looking to reach out to consumers there.
What do you think? Are you considering using WeChat to connect with customers in China? What questions do you have? Share your thoughts in the comments below.
More articles on social media marketing:
Get Your FREE Course: Web3 for Beginners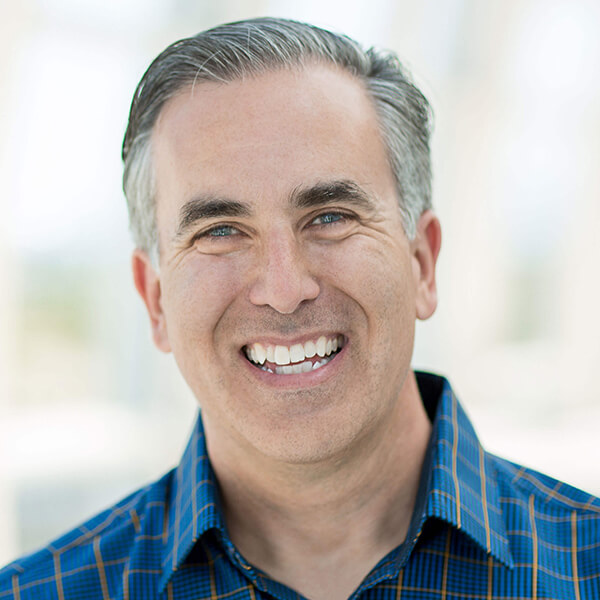 Curious about Web3, but don't know where to start or who to trust?

Introducing Web3 for Beginners, a course taught by Michael Stelzner, the founder of Social Media Examiner.

Learn the basics of Web3 and apply it to your business with this FREE comprehensive course.
CLICK HERE TO GET FREE ACCESS