Do you want more exposure on TikTok? Wondering how to tap into trending TikTok content?
In this article, you'll discover three ways to identify trending TikTok content and learn how to leverage trends to promote your business on TikTok.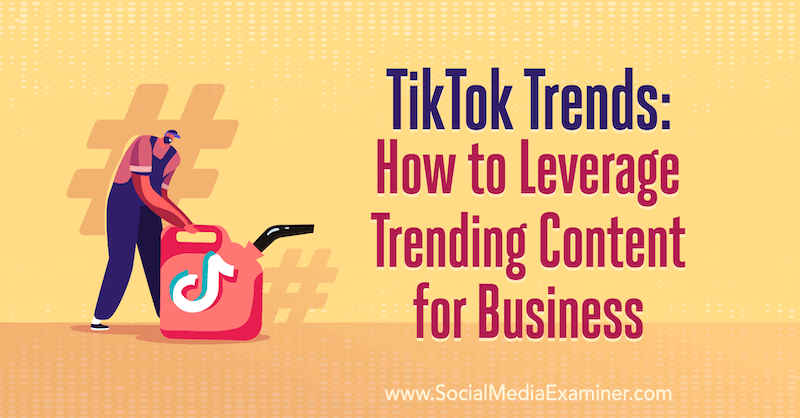 Why Businesses Should Consider TikTok
The number-one reason anyone gets on TikTok is for the organic reach. No other platform offers that amount of visibility, which is particularly attractive to businesses.
The possibility of virality is exciting and can be life-changing. You're probably familiar with the hugely popular video of TikTok user Doggface on his skateboard, chilling to Fleetwood Mac. He took a swig of cranberry juice, looked at the camera, lip-synced the lyrics, and went viral. TikTok loves real, authentic moments like that.
As a business on TikTok, though, you don't need to go viral or have hundreds of thousands of followers to be successful. You just need the right followers. As with marketing on Instagram, you don't need 10K followers and the Swipe-Up feature to make money. You just need to attract your ideal followers. The same applies to TikTok.
Let's be honest, the algorithms on Facebook, Instagram, and Twitter aren't designed to give you exposure. You're lucky to have a small percentage of your followers ever see the content you post and the shelf life of content on these platforms is mere hours. But on TikTok, it's totally different.
TikTok has publicly stated that your content has a shelf life of 90 days. You can have videos on the For You page (the main feed on TikTok) that are months old and still get comments, engagement, and followers from them.
The latest stats show that TikTok has approximately 80 million U.S. users. In the past year due to the pandemic, the platform's demographics have shifted, so if you're wondering if your target audience is on TikTok, they are. While the largest demographic age group is still 10 to 20 years, all ages are on the app.
You'll also find a wide variety of communities on TikTok, ranging from moms, cosplayers, video gamers, and anime lovers to health and fitness, finance, book, and gardening-centric groups. Every community is there.
How Leveraging TikTok Trends Can Help You Get More Exposure
TikTok is an app built on trends. As a business, leveraging trends allows you to show your personality, take advantage of the fun and entertaining side of the app, and get more exposure.
A trend is a common theme or music that's in a video that people will repeat and generally put their own spin on. Trends are popular and fun, and it's okay to do your own version of them. It's not considered copying someone's content like it would be on another platform.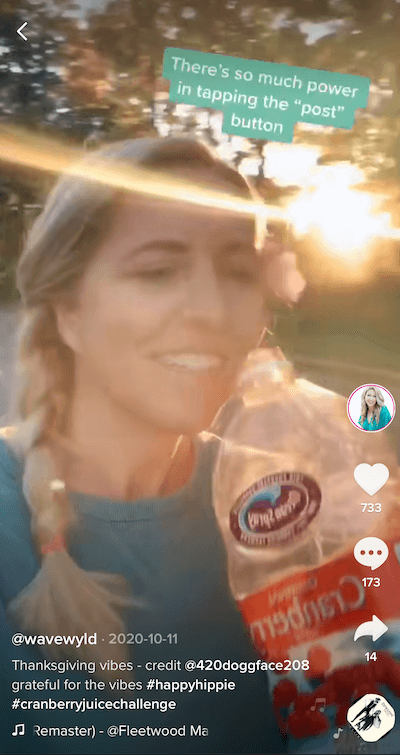 TikTok isn't just about showcasing your products or services, packaging videos, and showing the behind-the-scenes of your business. You need to relax a bit to connect with your audience. Having fun with TikTok trends shows people you don't take yourself too seriously, which is a hallmark of the culture.
The best trends for businesses are the ones you can work into your niche. For example, one recent TikTok trend is the lean back trend. To create a video around this trend, you face the camera, look up, reach out your hand toward the camera, and lip-sync the lyrics. In the text, you say something about a situation or a problem.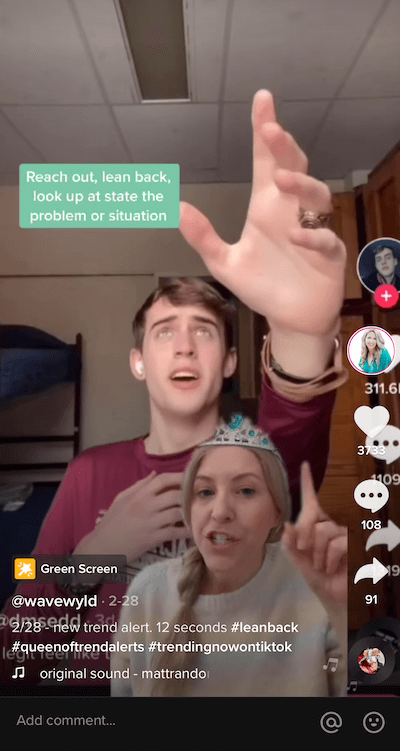 Then cut to a side view of you leaning back, similar to a limbo style of movement. In the text, you reveal a punchline of how you overcame that problem or share something that didn't let you get down. Any business—fitness, wellness, skincare, content creators, influencers, artists, and more—can incorporate a trend like this into their niche.
The TikTok algorithm doesn't really curate trends. Instead, it shows users a mix of popular and less-popular videos in their feed that are curated to the type of content they engage with. So if you keep your trend video within your niche and put your own spin on it, you can get the right kind of eyeballs.
If you create a video based on a trend and people haven't seen that trend before, they'll watch it. And watch time is an important factor for your video performance. People need to watch your videos all the way to the end.
Trends are the fastest way for you to get more exposure on the platform but you'll need to jump on those trends early if your goal is growth. Here's how to find trends on TikTok and create a video based on a trend.
#1: Look for TikTok Trends Around Current Events
The first type of trend on TikTok is hot topics. These are trends based on popular current events. The day after the Super Bowl, there was a flood of posts of people reenacting the performance by the artist The Weeknd. When there was inclement weather in Texas this winter, many videos about that went viral.
To incorporate a hot topic into your TikTok marketing, you need to tie it to your brand, mission, or values. For example, on Inauguration Day, there were a lot of posts about celebrating the historic moment of the first female and person of color vice president. So if your business is about empowering women or has a target audience of women, you could easily take that hot topic and share some commentary on it.
#2: Check the Discover Page for TikTok Trends
Another type of TikTok trend is what you see on the Discover page. These are the curated trends that TikTok updates daily. They include trending hashtags, sounds, effects, and branded trends that businesses pay to have featured. For each of those trends, you can see how many videos have been made using that trend.
To access the Discover page, tap on the magnifying glass icon at the bottom of the screen.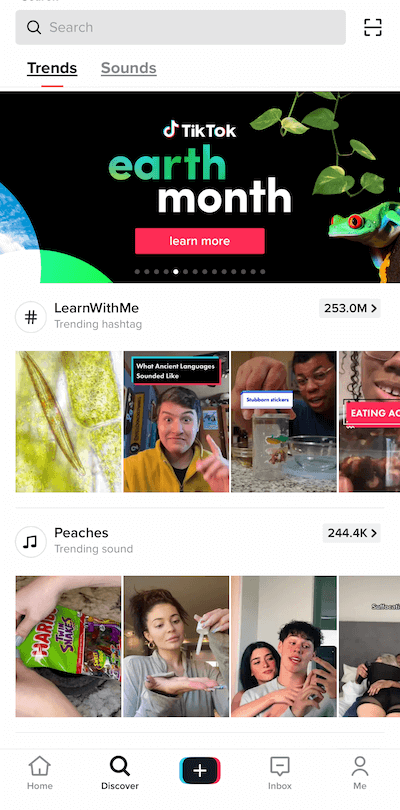 Bear in mind that once a trend hits the Discover page, it's already so popular and saturated that it probably won't last longer than 3-4 more days. People are generally starting to get tired of watching videos based on the trends you see on this page, especially if they know what the punchline is or how the video's going to end.
While the trends on the Discover page don't have a lot of staying power, they're a great way to show your followers your personality, have a little fun, and participate in the culture of the app.
#3: Spot Up-and-Coming TikTok Trends
The third type of TikTok trend is up-and-coming trends. They might have only a few thousand videos based on them but have the potential to be really popular. As you might imagine, these trends are a little trickier to find but have the biggest potential for growth.
One of the challenges with trends on TikTok is that they don't last long. They used to last about 7-10 days but now it's more like 3-5 days before people get tired of seeing them on their For You page and just scroll past them. So you want to jump on these trends early before they hit the Discover page and become too saturated.
How do you spot an early trend?
Here's the secret. Everyone's For You page is curated based on the type of content they watch and engage with. So if you engage mainly with small business TikTok, your feed will reflect that. To spot early trends, you need to see a wider variety of content than just your niche.
The solution is to create a second empty TikTok account where you don't engage with anything, follow anyone, or post anything. Just use it to scroll on the For You page. You'll see different music, dances, and content creators that you wouldn't see on your main account.
Scroll quickly through the feed and look for any repeating patterns with music, actions, or text in the video. If you hear a sound you haven't heard before or see someone lip-syncing something that seems to have a theme, tap on the sound at the bottom of the video. This takes you to a page that lists the number of videos using that sound. You can see the original date and other videos using that sound ranked by popularity.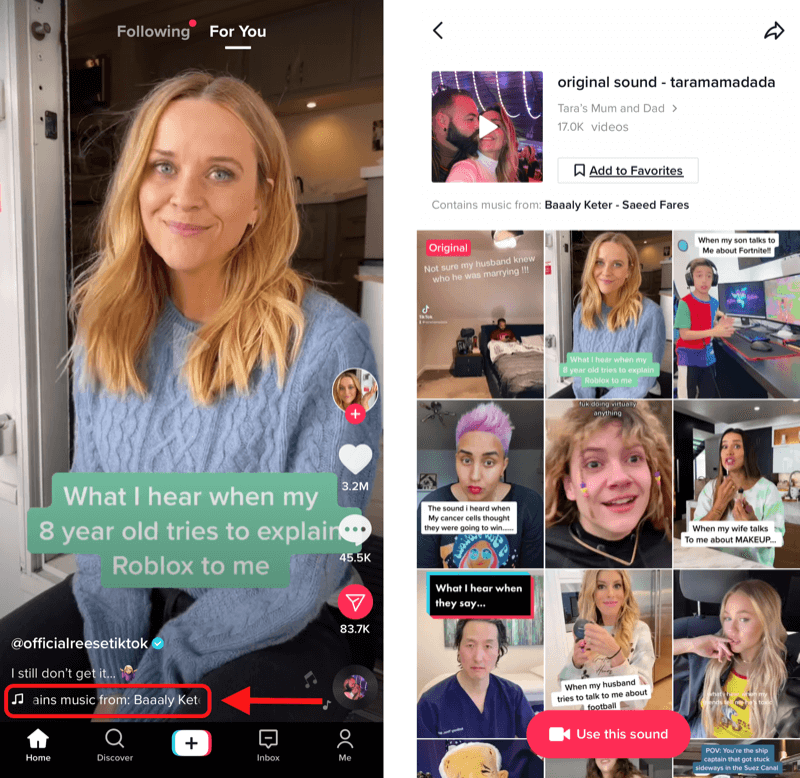 When Wave is looking for trends, she'll use the data on this page to determine whether something might become popular. She's looking for something that's less than a week old and has been used in a decent amount of videos.
If the original date of the video is more than a week or two ago, that's too old. If the sound has been used in 100,000+ videos, it's probably past its sell-by date. But if it has 2,000 or 3,000 videos, it has the potential to get more popular in the next day or so.
If Wave sees a sound with potential, she'll take a screenshot of the page and start tracking it. Sometimes, a certain sound will grow overnight by 3,000 videos, which tells her that people are liking it and it has the potential to go bigger.
Once you find a trend that could work for your account, the next step is to create your own TikTok video for that trend.
#4: Create a Video Based on a TikTok Trend
To get the best results from a trend video, you need to make it fit into your niche and brand and put your own stamp on it.
Don't create trends where you just copy something, like a dance or lip sync to an audio because those trends rarely hit the Discover page. Nobody wants to watch you copy something, especially if they've seen it numerous times and know how it ends. You have to make it unique to you to find success.
For instance, one recent trend was called "everything you ever want," which used a song from the movie The Greatest Showman. You'd lip-sync the lyrics but in the text, you'd share something you personally struggled with and overcame and leave it on an inspirational note. That was a perfect trend to make your own because you shared your story.
Another recent trend was the "I'm Bad" TikTok challenge with the Michael Jackson song "I'm Bad." You'd do a bit of a dance, and then freeze the video and transition to a black and white photo of you doing the typical Michael Jackson move where you stand on your toes. Rather than simply mimicking the dance, you want to make it something unique to you.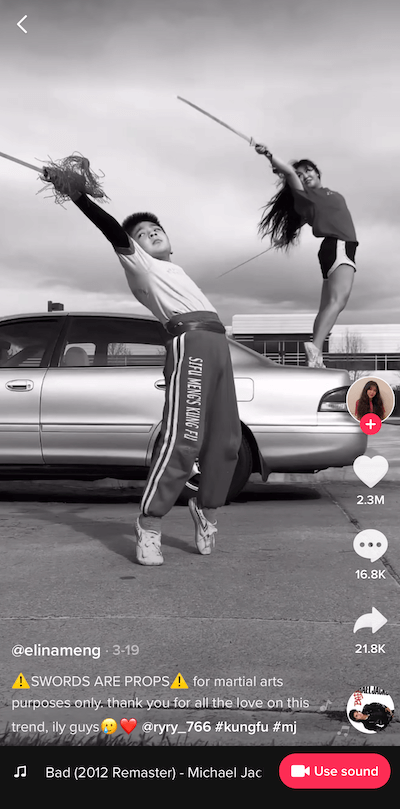 How long it will take to create a trend video depends on what's involved in the trend. If it's a point-of-view joke, you might be able to do it in 5 minutes. But other trends require more time.
Let's say you want to create a video based on The Fresh Prince of Bel-Air trend. To participate in this trend, you need to show a day in your life in 14 seconds, which is the length of the sound (the theme song). If you have lots of photos on hand that you could stitch together, it probably wouldn't take long to create a video. But if you need to collect more video and photos, it might take you a day to make it.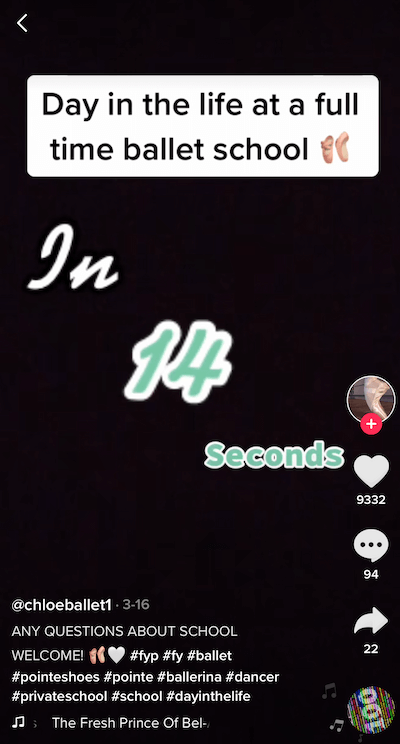 Keep in mind that there's no rule that says that you can only do a trend once. If your first video doesn't perform as well as you'd hoped, try another version of it. Brainstorm other ideas and make multiple versions. Some people do a trend 10 times and maybe one will hit and go viral.
Generally, the reasons that trend videos flop is if you jump on the trend too late, don't put your own spin on it, or don't do it well. Some trends require clean transitions, or if they require the using an effect, you have to be good at using that effect.
If your trend video doesn't work, should you delete it? Absolutely not. Wave doesn't recommend deleting videos because there are rumors that the algorithm doesn't like it when you delete your videos. It's like telling TikTok that you don't believe in your content. So if that's true, you don't want to risk getting an unhealthy account status from deleting videos.
As a final thought, remember that you don't have to do every trend that shows up on the Discover page. Just choose trends that you have ideas for, can align with your brand, and are fun. Trends should only make up about 10% of your content. The rest of your TikTok content should be offering value and building trust and authority.
Other Notes From This Episode