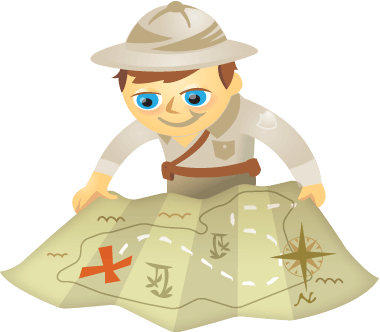 Are you listening to what people are saying about your company?
Are you responding to those comments?
The goal of social listening isn't just to hear what others are saying about you, it's to act on those discussions.
In this article you'll discover what social listening is, how it works and how responding improves communication.
What Is Social Listening?
Many social marketers think social listening is just paying attention to metrics. But metrics are just a part of it.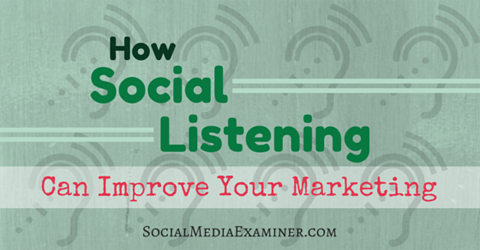 Social listening includes being aware of what people are saying about you on social media, and then responding appropriately. It's half awareness and half response—the response part is critical. Basically, social listening boils down to good communication.
Listening and responding have several important benefits. For example, you can find out how the public perceives your products and services and improve them when needed. When you take suggestions seriously, you're building stronger brand loyalty.
You can also stem negative social buzz before it escalates. By responding to feedback, you're humanizing your social voice.
Take Cues From Feedback
Consider the common model of human communication. The most important component is feedback.
Social Media Marketing Society (Ongoing Online Training)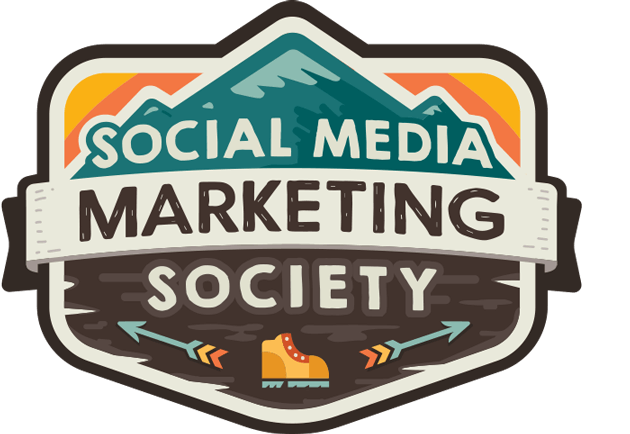 Want to gain marketing confidence and accelerate your career? Try the Society to discover new marketing ideas, improve your results, get support, and become indispensable. Join us for ongoing training, insight from pros, and a community of supportive marketers who understand you.
START YOUR TRIAL MEMBERSHIP
Take a normal conversation, for instance. Whenever two or more people interact, they customarily respond to one another's feedback.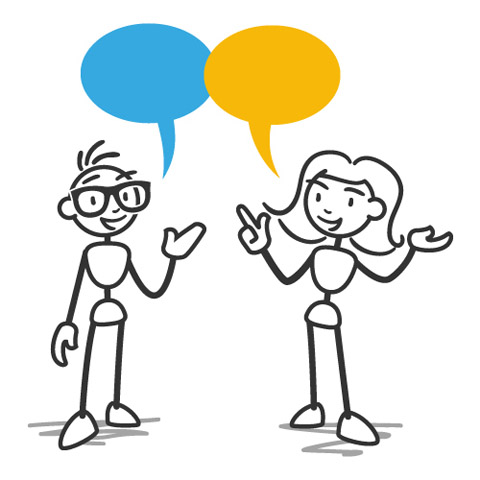 Man: "Wow. It's cold today."
Woman: "Yeah, it sure is. I think it's supposed to get below freezing tonight!"
Man: "Are you serious? I'm going to have to turn on my heat!"
That's a normal, natural conversation. The man and woman are responding to the feedback from the messages they send.
What if the conversation went like this?
Man: "Wow. It's cold today."
Woman "Yeah, it sure is. I think it's supposed to get below freezing tonight!"
Man: "I'm wearing khaki pants."
That doesn't make any sense. The man is not listening, and you can tell by his response that he's not paying attention to feedback cues.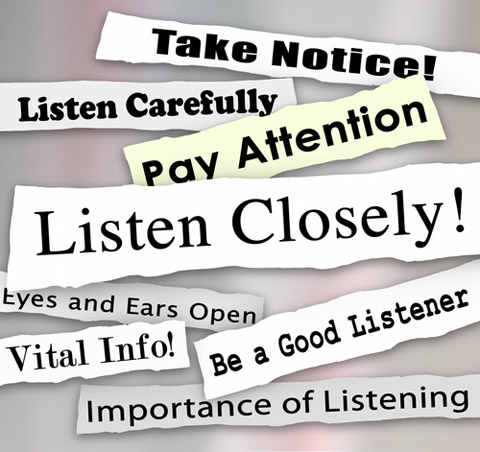 His inane comment about the color of his pants is totally unrelated to the conversation. It signals that he is oblivious to feedback, ignorant of the conversational flow and uninterested in continuing the conversation he started.
Becoming a listener takes practice, time and patience. A good listener—both in person and in social media—is a good responder.
The best listeners are also the most skilled conversationalists. They're not talking all the time; they are listening first and taking cues from others' feedback before they respond.
Become a Social Listener
Forrester's investigation into social media listening found that there are several stages of advancement in social media listening, each one progressively better.
The listener always begins by monitoring, and then builds up to deeper levels of engagement. At their most advanced level, social listeners treat each social participant as a unique marketing channel and concentrate all social components to bear upon a single point.
Put Google Analytics to Work for Your Business (Online Training)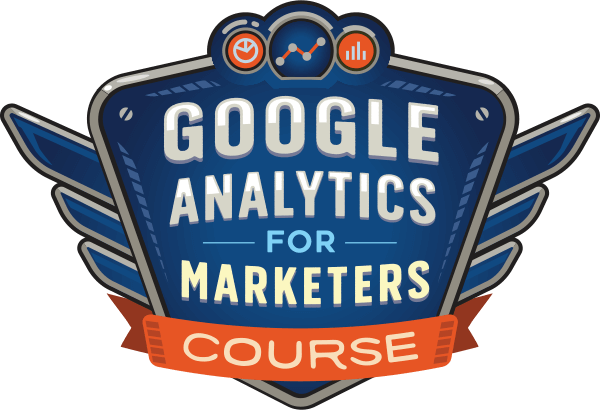 Ever thought, "there's got to be a better way" when it comes to tracking your marketing activities? Are you forced to make decisions based on limited data? With the right training, you can use Google Analytics to measure all of your marketing efforts with certainty.
You'll stop the leaks in your ad spending, justify your marketing spend, gain the confidence you need to make better marketing decisions, and know what's working at every step of the customer journey. Let the world's leading analytics pro show you the way. Check out our new Google Analytics for Marketers course from your friends at Social Media Examiner.
CLICK TO LEARN MORE: ANALYTICS TRAINING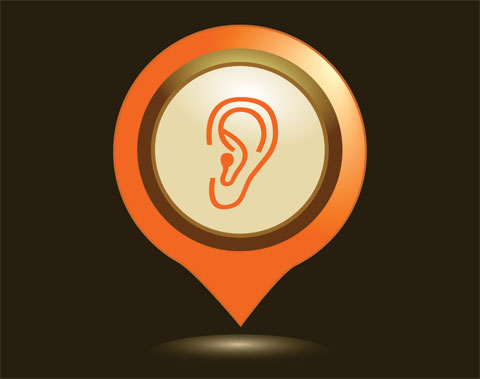 To get started as a social listener, you'll need to have the proper tools in place. Find out which ones will best serve your purposes and start using them. You can take a look at Social Media Examiner's 6 Steps to Build a Social Listening Dashboard to get started.
There are a lot of options, but you only have to select a few tools to be a successful listener. Of course, tools are great, but if you don't use them for more than metrics, you're missing out on essential conversation opportunities.
Being a listener doesn't happen simply by deciding to be one. It's critical to allocate time in your schedule (I recommend daily) to use your tools to listen and engage with your social media tribe.
Join the Conversation
Listening is one of the most essential life skills—a building block of interpersonal relationships. But it's hard work because true listening requires you to respond to every interaction—no one likes to be ignored.
As you listen to conversations, you'll likely find, as I have, that people are often asking for help. They're looking for tips about how to do something and the best way to do it. Here's an example of HubSpot helping out a customer: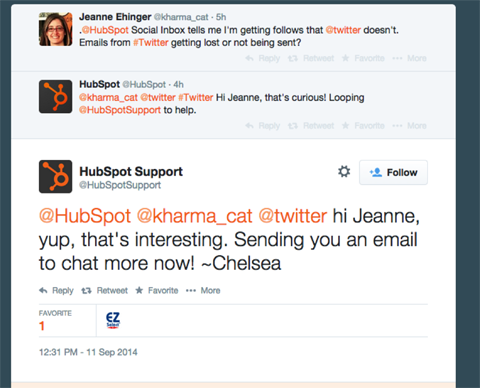 One of the best ways to show that you're listening is to refer to the social interactions you've seen. For example, you can take someone's feedback and mention it on your blog:
Kendra L. mentioned on Facebook that her Twitter feed was displaying updates from people she hadn't followed. I wanted to explain why this might be the case.
See what I did there? I specifically mentioned something that I listened to on social media, and then provided an answer others could benefit from as well. This simple action deepens the trust of users, ensuring they stay connected and engaged.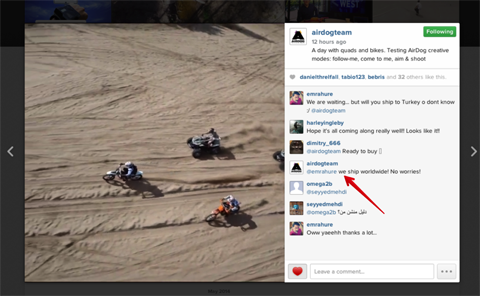 Another tactic to show that you're interested in a true conversation is to explicitly ask for feedback from your fans, followers and customers. Ask them what they think and what they want. Then respond to their feedback.
You'll likely find that listening, responding and helping isn't a one-way street. You'll receive value from your audience when they comment and provide information on something you may not know.
Over to You
If your social tactics don't include listening and responding, you could be holding yourself back from true success.
Social media marketing isn't just about publishing information and releasing updates. Gathering feedback, understanding its meaning and responding in an appropriate way enhances your brand as a whole.
Brands that are social listeners see their social media efforts explode with power. They're pulsing with interaction and expanding every day. That success starts with listening and grows with action.
What do you think? Have you set up a social listening dashboard? Are you going the extra mile and starting and responding to conversations? Leave your comments and experiences below.