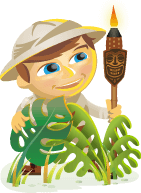 Are you active on Pinterest?
Have you thought about using Pinterest to grow your other social networks?
To discover how to drive traffic from Pinterest to other networks, I interview Natalie Jill.
More About This Show
The Social Media Marketing podcast is an on-demand talk radio show from Social Media Examiner. It's designed to help busy marketers and business owners discover what works with social media marketing.
In this episode I interview Natalie Jill, the founder of Natalie Jill Fitness, a site dedicated to health and fitness. She inspires women around the world with her videos and visual content. She's also got a unique social strategy that helped her grow 1.3 million Facebook fans and 476,000 Instagram fans.
Natalie will explore how she uses Pinterest as her secret marketing tool to build a loyal following on Facebook, Instagram, YouTube and beyond.
You'll discover how to adapt your content for Pinterest.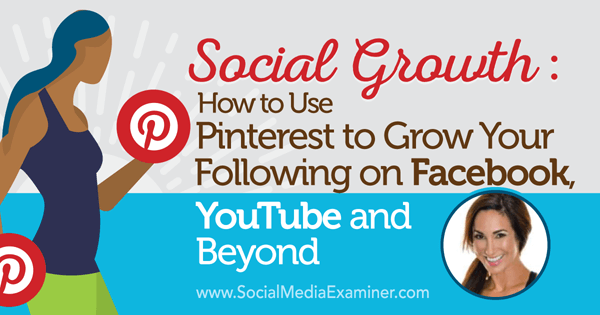 Share your feedback, read the show notes and get the links mentioned in this episode below.
Listen Now
Where to subscribe: Apple Podcasts | Google Podcasts | Spotify | YouTube Music | YouTube | Amazon Music | RSS
Here are some of the things you'll discover in this show:
Social Growth
What led Natalie to social media
Natalie says she got into social media by accident. While dealing with a lot of personal issues, she turned to Facebook to develop a support system and talk about her struggles.
She explains how sharing what she was doing to lose weight and posting pictures of food in an album called "What I Eat" developed into a downloadable ebook of her recipes. This led to her first full product, which is now called 7 Day Jump Start.
By sharing success stories of the people who bought her book and listening to what her audience was asking, Natalie's Facebook presence started to grow and her products started to take off.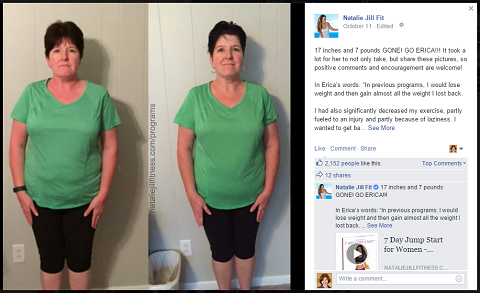 That's how Natalie Jill Fitness was born.
Listen to the show to learn what Natalie thinks makes a good salesperson.
Why Pinterest is great for marketers
Natalie initially built her business on Facebook (pre-Facebook pages) and had about 5,000 subscribers when she realized she couldn't keep everything on Facebook.
She started exploring other social media platforms like Twitter, Pinterest and Instagram. Natalie says she was looking for a social media site where she could post her content and reach more people over time. When she noticed older items getting repinned, she decided Pinterest had the content value-over-time effect she was looking for.
A year and a half ago, Natalie started deep-diving into Pinterest and says she currently has 1.3 million fans on Facebook and fewer than 50,000 followers on Pinterest (it's one of her smallest social networks). She goes on to explain why the lower Pinterest follower count doesn't matter when it comes to content shares. She also points out that Pinterest comes up in Google search, which is a huge benefit.
When Natalie noticed she was getting a lot of website traffic from Pinterest, she decided to figure out how to use Pinterest to help with her content in other places.
Natalie explains how she tested her tactic, which she calls the Pinfinity concept, starting with Facebook and a Pinterest board called "Bodyweight Exercises."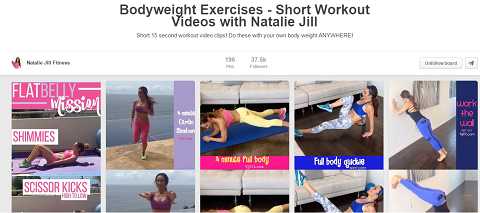 Now people searching for body, weight, exercise, workouts, fit mom, etc., find her on Google+ or on Pinterest, and they're taken back to her video on Facebook. Although there's no built-in option to pin things from Facebook, Natalie has found a way to do it.
Natalie explains why she drives traffic to social networks instead of her website.
Listen to the show to hear how many Facebook followers Natalie had before she started this experiment.
How Natalie uses Pinterest to grow her other social networks
YouTube is another example of Natalie's method at work. When she started her YouTube channel about a year and a half ago, she had a few videos but no subscribers. She shares how she's built her YouTube channel to over 100,000 subscribers, thanks to a board on Pinterest called "Printable Workout Cards."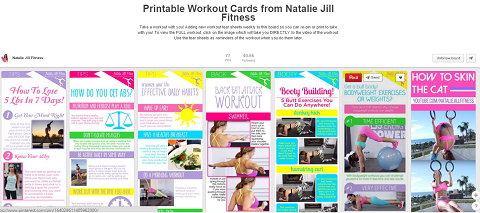 Natalie explains how to use Pinterest as a connector platform to put your content on various sites and to increase views and traffic everywhere. She also shares how she uses apps like PicMonkey to make visually appealing infographics for Pinterest.
Listen to the show to discover how Natalie has also used this tactic on Google+, Instagram and Twitter.
What makes a great pin
When you create a pin, you first need to think about what's in it for the person viewing it, Natalie says. If it's not click-worthy, share-worthy or save-worthy, you should move along and find something informative that adds value.
She explains that Pinterest likes pins that are long, skinny, easy to read and visually appealing with clear images. She says that's what stands out.
Natalie shares that lists and quick tips are great. Instead of big paragraphs, she suggests you write out bullet points that mean something.
Natalie puts most of her text on her graphics but she does use short, simple text with a "click this," "repin" or "share" call to action in her captions. She says you can also include a link there.
With Facebook, Instagram and Twitter, you have to constantly come up with new content. With Pinterest you can do one post per day or fewer, because it gets better reach all the time. Plus, you can repurpose other content and format it for Pinterest.
"Social media is a fun puzzle. If it's part of your business, you've got to treat it that way and be strategic," Natalie says. Natalie gets partnership offers, but turns down a lot of them. Her rule is it has to be something she truly believes in, that she would use and that will benefit her audience. She's also very transparent when she promotes.
For example, while Natalie doesn't do shares for shares, she will mention Chalene Johnson, because she loves her stuff, they are friends and Chalene's content is of value to her audience.
Listen to the show to hear about Natalie's upcoming book.
Discovery of the Week
Do you struggle to keep up with the latest news in your industry?  Facebook has a brand-new free app called Notify that notifies you when important news items break.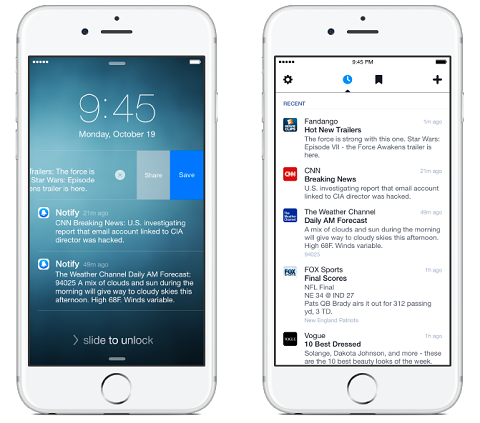 The app, currently available only for iPhone, is simple to use. Install it on your smartphone and login with your Facebook account. Then you can select the different categories you're interested in, like news and tech, and choose the publications you most want to monitor.
Now, whenever a major news item comes out, you'll get a notification on your phone. When you click on the notification, you're taken directly to the article. It's important to remember that these notifications only stay in the app for about 24 hours but you can bookmark certain kinds of stories if you want to come back and read them later.
Notify is a neat way to keep up with breaking news in your industry so you can be one of the first to report it on your social networks.
Notify is free.
Listen to the show to learn more and let us know how Facebook Notify works for you.
Other Show Mentions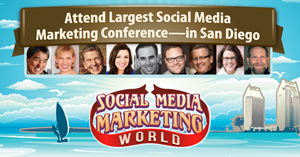 Today's show is sponsored by Social Media Marketing World 2016.
You can now sign up for Social Media Marketing World 2016. It's the world's largest social media marketing conference. By attending, you'll make connections with 100+ of the world's top social media pros (plus 3,000 of your peers) and you'll discover amazing ideas that'll transform your social media marketing. Speakers include Guy Kawasaki, Mari Smith, Michael Hyatt, Chris Brogan, Jay Baer and Michael Stelzner.
See what attendees experienced at our 2015 conference.
The event takes place in San Diego, California on April 17, 18 and 19, 2016.
Hundreds of people have already purchased their tickets and have committed to coming to this conference. If you've heard about Social Media Marketing World, and always wanted to go and connect with the leading thought leaders and soak in a lot of knowledge, visit SMMW16.com.
One of the things that's so unique about this event is the networking opportunities. Once you check in, you're given a name badge, which you get at every conference. You also get little stickers you can put on the badge that indicate your level of interest in various areas, like blogging and podcasting, or industries (for example, that you're in the educational space). As you meet various people while networking, you can look at their badges and see what areas of interest you share.
For our opening-night party, we bus you to a naval aircraft carrier. When you get there, you're handed a networking bingo card, which enables you to network as you fill out the card. The prize for the winner is a ticket to next year's conference. Plus, after and during lunch, we have tables set up so you can sit down and get to know people with common interests.
We have networking ambassadors, whose whole job is to enable you to connect with people you want to meet, and a massive networking lounge, where you can sit at tables, do podcast and video interviews, and get to know each other. We have networking power walks and runs in the morning. We do so much more than what you would experience at a typical conference. And that's one of the advantages of our event. We take networking very seriously.
We have the best pricing you will ever find going on right now. Click here to check out the speakers and the agenda and grab your early bird discount.
Listen to the show!

Key takeaways mentioned in this episode:
Learn more about the 2016 Social Media Marketing World.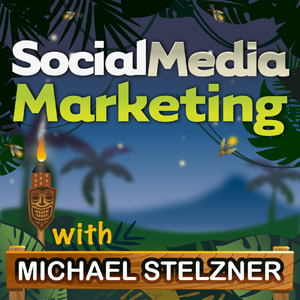 Ways to subscribe to the Social Media Marketing podcast:
What do you think? What are your thoughts on Pinterest? Please leave your comments below.