5 Things You Can do to Stay Connected After Social Media Marketing World
by Mike Ambassador Bruny
Social Media Marketing World creates so many great memories: 6 a.m. walks along the marina, playing Networking BINGO, singing Karaoke on a boat, bumping into cool people at the networking plaza and of course, the awesome content.  So what's next?
For many of us it's back to our daily routine.  The world didn't stop because we were at a conference, but I bet your world is different because of the content and contacts you made at Social Media Marketing World.
It's hard to say goodbye to newfound friends.  The good thing is, this doesn't, and shouldn't be the end of the road.  It's the beginning of a beautiful friendship…maybe.
Let's face it, we aren't going to stay in touch with every single person we met…and that's OK. Let's focus on what we can do to stay in touch with those we really want to.
Here are a couple of things you can do to keep in touch.
1. Say "Thank you," to everyone: be polite and let folks know it was nice to meet them.  The answer to when you should follow up is "24". In 24 hrs after the event and in 24 days (I know this letter is going out after that point, but it's still not too late).
Don't know what to say in those emails?  Here is a little something to prime the pump and get your natural voice going:
"Joe, it was a pleasure meeting you at SMMW.  I had a good time walking and talking with you at 6 am on Monday morning (who does that kind of thing 🙂  ).  As promised I wanted to introduce you to Sue who can assist you with your new project–I'll send an intro email shortly.  Thanks for sharing information on what you are working on and listening to me talk about my latest and greatest with conference networking.  I look forward to staying in touch and please if there is anything I can do to be of service, please don't hesitate to shoot me an email.  All the best, Ambassador Bruny"
2. Separate the wheat from the chaff:  file your new contacts in whatever system works best for you.  Don't have a system or a Customer Relationship Management (CRM) tool?
I suggest using something like Batchbook or Highrise (there are tons of choices on the market to fit your every need, but these can serve as a starting point).
You also want to make sure you connect via as many social platforms as you would like; LinkedIn and Twitter for sure.  Rapportive is a Gmail plugin that allows you to connect on social media right from the comfort of your inbox: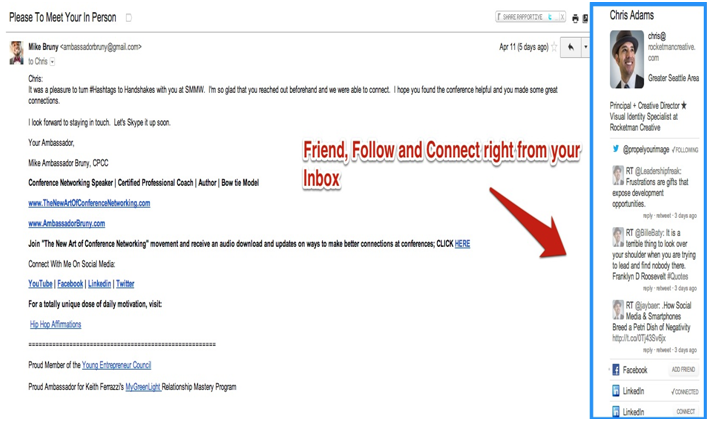 The key to staying connected is how you tag / categorize the people you meet for later follow-up.  You can add a tag in your CRM tool and / or your social media platforms that indicates where you met them, when you met them, their industry and anything else that tickles your fancy (In Facebook and Twitter you can create a list; in LinkedIn you can add a tag to your contacts.)
3. Find the right frequency: you've used tags so you can easily find your contacts when you need them, but I'd like to add a little nuance to the tagging system.  Instead of just using the usually tags (see above) I'd suggest you create Frequency Tagging.
How often would you like to stay in touch with your new friends?  The more relevant they are to your business the more you should be in touch (I suggest using monthly as the minimum amount of time to touch base).  You could have a monthly, quarterly, holiday and birthday tag.
All you have to do is check-in on those tags every so often and touch base with those who fall in the respective tag (e.g: oh look it's the beginning of the quarter, let me check my quarterly tag to see who I haven't been in touch with in a while).
4. Be a Hub:  remember what Larry Benet teaches about adding value in every interaction?  From this point forward, everything you read and every video you come across is an opportunity for you to add value to your network.
I'd like you to ask yourself the following question, "Who can benefit from what I just read / watched?"  When someone comes to mind, send a quick note letting them know that you were thinking about them and connect them to the information.  This same principle of being a hub applies to people you think should know each other–simply make the introduction.
5. Be Human: rest assured that you will misplace a business card, get swamped and just not follow-up as quickly as you would like.  Know that all hope is not lost; simply reach out and let them know you we're swamped but would still like to connect.  People will appreciate your honesty and interest in still connecting.
At the end of the day, most of the questions we have around networking and follow-up can be answered by simply being human.  If you are nervous, be nervous; if you messed up, acknowledge it and move forward.
I leave you with one last thought,
"Long after the conference has concluded, it's the connections that continue."
Mike Ambassador Bruny
P.S. I'm only a tweet away if you ever need anything @ambassadorbruny