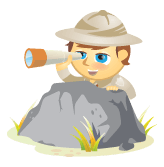 Do you want to promote your company's mission and vision to your target audience?
Are you wondering how to get the most out of your contests with social media?
In this article you'll discover how Intuit QuickBooks used social media to supercharge their Small Business Big Game contest, promoting their mission and vision to their target audience.
The Story
In July 2013, Intuit QuickBooks announced the Small Business Big Game contest. One small business would win a 30-second television commercial that would air on February 2, 2014 during the third quarter of football's biggest game, the Super Bowl.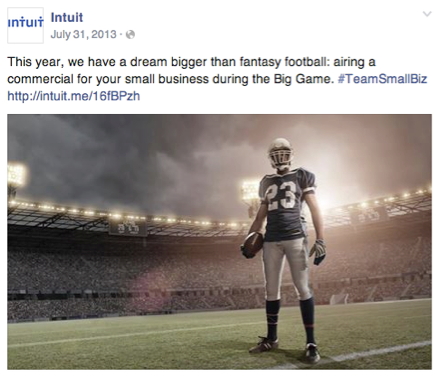 Social media was a core part of the program, built in to all aspects of the contest. As a result they generated over 13 billion impressions and 94 percent positive net sentiment over the six-month run of the contest. Here's how they did it.
Company: Intuit QuickBooks
Social Media Handles & Stats
Facebook – 228,000 Followers
Twitter – 54,800 Followers
YouTube – 3,829,978 views
LinkedIn – 66,340 Followers
🌟 Ready to Supercharge Your Social Marketing Strategy? 🌟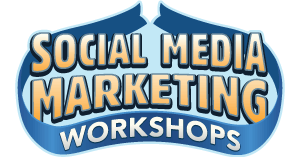 Struggling with your social marketing? You're not alone. The solution? The Social Media Marketing Workshops!

During these live 2 hour deep-dive workshops, you'll discover what's working now on Instagram, Facebook, TikTok, YouTube, and LinkedIn. Skyrocket your engagement, broaden your reach, and amplify your sales.

Become the marketing hero your company and clients need—without leaving your home!
🔥 Save $650 on an All-Access Ticket! Sale Ends Friday! 🔥
GET YOUR TICKETS NOW
Google+ – 1,964 Followers
Highlights:
– Tens of thousands of entries to Small Business Big Game contest
– 3+ million unique visitors to Small Business Big Game program page
– Averaged 1600+ mentions on social media per day throughout course of campaign
– 13+ billion impressions
– 94 percent positive net sentiment
Intuit QuickBooks is a well-established brand, existing in some form since the mid-1990s. The Small Business Big Game program was the biggest publicity effort they've ever done. "Intuit and QuickBooks have always been very dedicated to celebrating and supporting small businesses," said Alisa Alexander, Social Marketing Manager at Intuit.
The contest was designed to celebrate their customers, and their goal was to get the mission and vision of QuickBooks and Intuit in front of as many people as possible.
To do that, they incorporated social media into all aspects of the program. Here are six ways to supercharge your contest with social media.
#1: Maintain Momentum With Contest Phases
Intuit built the contest to have several phases. This gave them a way to maintain momentum and excitement from the launch until the winning entry's commercial aired on TV six months later. They used social media to promote each phase.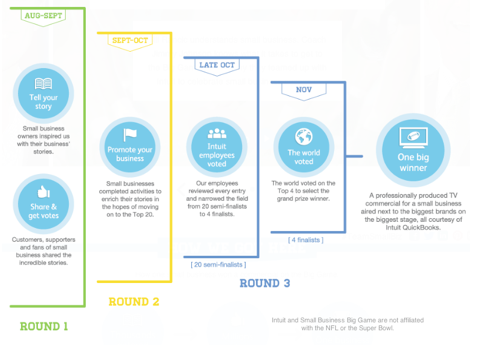 Round 1 focused on getting entries and encouraging entrants to get votes to move on to the next round. Social sharing was built in to every level, with the option to upload photos from Facebook or Instagram.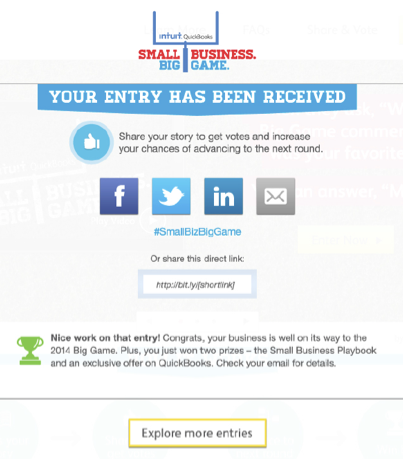 Entries with the most votes moved on to Round 2 in late September, where they completed activities online to share more about their business. A field of 20 semi-finalists were then chosen to move on to the next round.
In Round 3, in late October, Intuit employees narrowed the semi-finalists down to four finalists. Worldwide voting took place in November to select the winner, which was announced in late January. The winning commercial aired on February 2.
#2: Make Every Entrant Part of the Action
Every entrant to the Small Business Big Game contest received a Small Business Playbook e-book, and a 30-day free offer for QuickBooks online with the option to extend at a discount. Intuit also built in lots of smaller prizes along the way. "We sprinkled in smaller prizes as well so it felt accessible and everyone was getting a piece of the goodness, not just the final winners," said Alexander.
Prizes included $10 Amazon gift cards, pizza parties, autographed footballs from Jimmy Johnson, Facebook and Google advertising credits, a free year of QuickBooks Online, and $1,000 grants. Promoting the smaller prizes and announcing the winners on social media gave Intuit more opportunities to stay in front of their small business audience, and their audience more reasons to share with their own followers.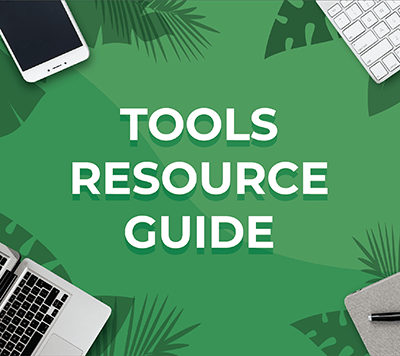 Looking for something to make your life easier?
Discover the tools we recommend to drive engagement, save you time, and boost sales across your entire marketing funnel or business.
Whether you need help planning content, organizing social posts, or developing your strategy, you'll find something for every situation.
FIND YOUR NEXT FAVORITE TOOL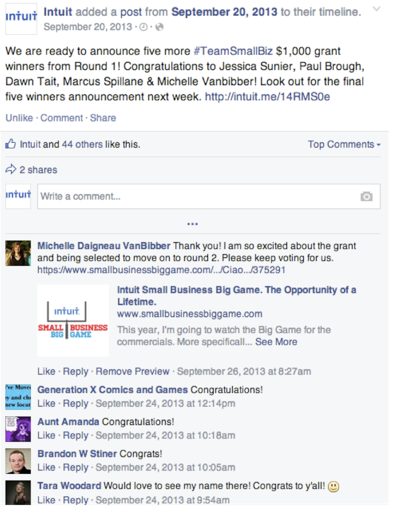 #3: Be Strategic With Paid and Organic Updates
Intuit used both organic and paid social updates to promote the contest. For example, they used organic updates for announcing winners of smaller prizes and highly engaging content such as videos.
"The paid updates were more focused on a specific goal," said Alexander. They used paid updates to focus on getting entries at the beginning of the contest and to encourage businesses in Round 2 to fill out their profiles and get more votes.
By focusing paid updates on getting more entrants at the beginning of the contest, Intuit increased the pool of people who would potentially share the more engaging content as the contest wore on.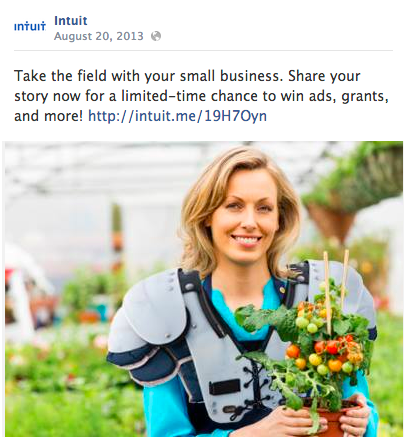 #4: Make It Easy for Entrants to Promote Themselves to Their Own Networks
Intuit gave entrants many opportunities to promote themselves and the contest to their own networks.
"One thing we did was had contestants answer questions about themselves to reflect pieces of pride," Alexander said. Some of the questions entrants answered in Round 2 to promote themselves were, "Why do they love your business?" "What's your best advice?" "What's been your proudest moment," and "What makes your business special?"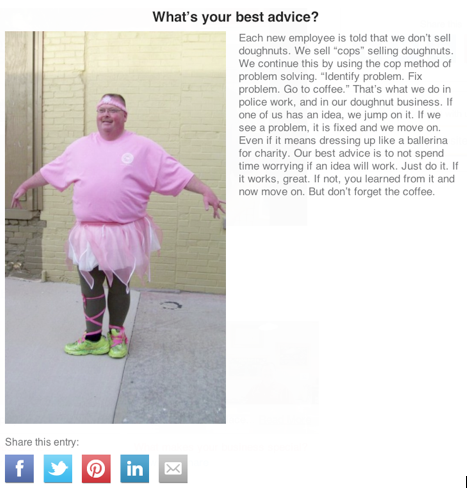 Since these pride points were part of the contest itself, they gave contestants an easy way to share their story with their networks, which in turn promoted Intuit's message of supporting small business.
Intuit gave every entrant a code snippet to generate a vote button on their own website. Finalists also got custom Facebook cover photos and a toolkit of images they could use to promote themselves any way they could.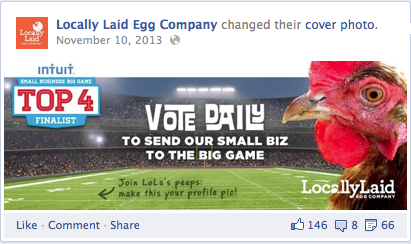 "A successful social contest won't be about your business," said Alexander. "It'll be about your customers." By giving contestants lots of easy ways to promote themselves, it in turn promoted Intuit's own mission and vision.
#5: Take Advantage of Local and Regional Ties
One phenomenon Intuit did not expect was the way contestants tapped into their local and regional communities to rally votes. One semifinalist that didn't advance to the final four even threw their support around a finalist from their region to encourage votes.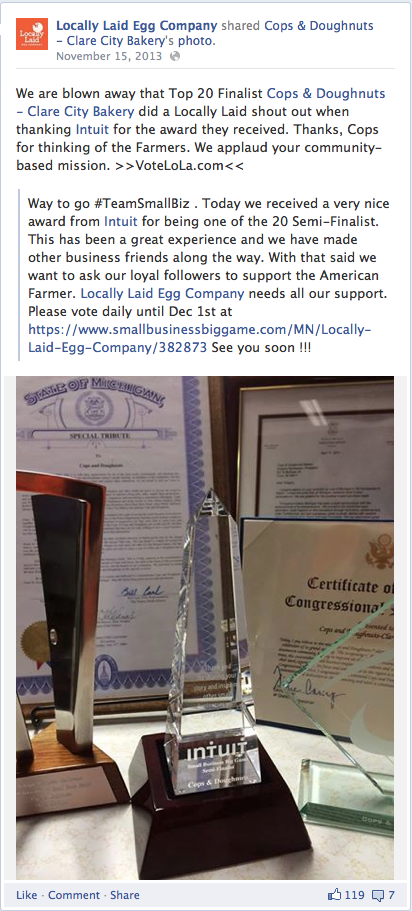 "One of the biggest learnings that would influence a program like this again was what happened organically — a really local grass-roots rallying. If we did this again we would design to tap into that more," said Alexander.
She mentioned some possible ways to do that would be to put semifinalists into brackets, categorize votes by region, or pit cities against each other to see which could get the most entrants.
#6: Follow Up After the Contest is Over
If you follow Intuit's example, you can get several more months of social media mileage out of your contest even after it's over.
Although the Small Business Big Game contest officially concluded with the airing of the winner's commercial during the Super Bowl, Intuit found creative ways to follow up with their four finalists.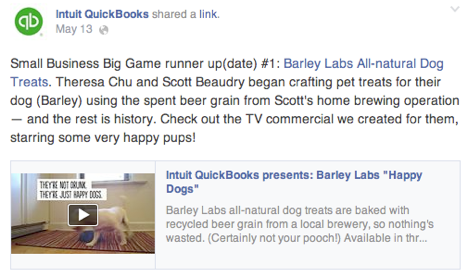 They posted several "making of" videos on YouTube about the shooting of the winning commercial. They also congratulated their winner on Facebook for a national toy award they won. Finally, in May 2014 they shot three more commercials for the remaining finalists that would run on national TV. All were opportunities to promote their message of supporting small business on social media.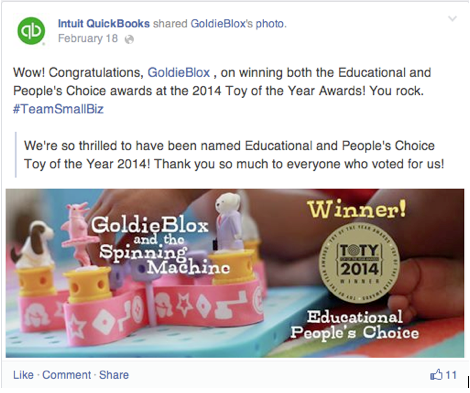 Not every company can give away a Super Bowl commercial. But every company can use social media to supercharge their contests if they are designed to promote their customers. "That's what most successful social campaigns do well," said Alexander. "They seed something and it grows organically. It's not about us; it's about small-business owners. We want them to be successful and that's how it came to life."
What do you think? Does your business run contests? How can you use social media to supercharge your contests? Include your comments and questions below.
Get Your FREE Course: Web3 for Beginners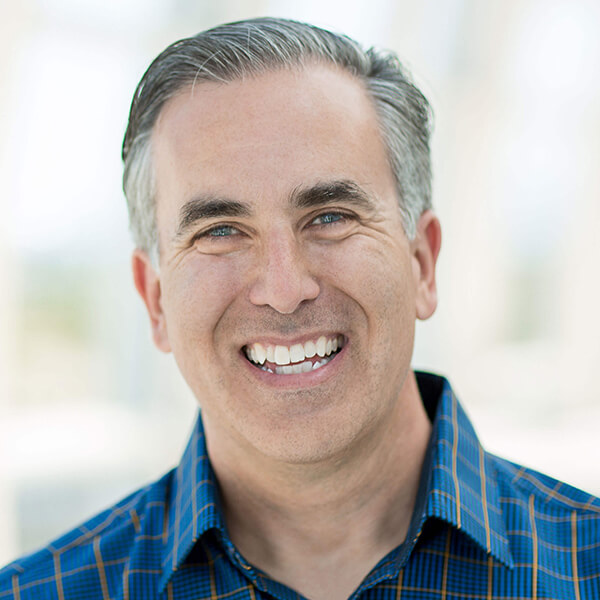 Curious about Web3, but don't know where to start or who to trust?

Introducing Web3 for Beginners, a course taught by Michael Stelzner, the founder of Social Media Examiner.

Learn the basics of Web3 and apply it to your business with this FREE comprehensive course.
CLICK HERE TO GET FREE ACCESS