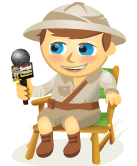 In this video I interview Cliff Ravenscraft, podcast producer and founder of Podcast Answer Man.
Cliff explains why businesses need to consider getting into podcasting and the opportunities podcasting offers.  He tells you how to share your expertise on podcasts to bring in more business.
Be sure to check out the takeaways below after you watch the video.
Here are some of the things you'll learn in this video:
What podcasting is and how businesses use podcasts
Where people listen to podcasts
How podcasting can open new business opportunities
How podcasting has changed and what this means for your audience
How to start audio podcasting
What businesses should expect to spend to start podcasting
The basic outline and format for your podcast
Tips to get people to listen to your podcast
Connect with Cliff on Twitter @gspn and check out his two websites: LearnHowToPodcast.com and PodcastAnswerMan.com.
Do you have a podcast? What tips do you have to share about podcasting? Please leave them below.