Are you thinking of launching an NFT project? Do you wish there was an easy way to get started, without working with developers?
In this article, you'll learn NFT business models and a tool that makes it simple to mint NFTs.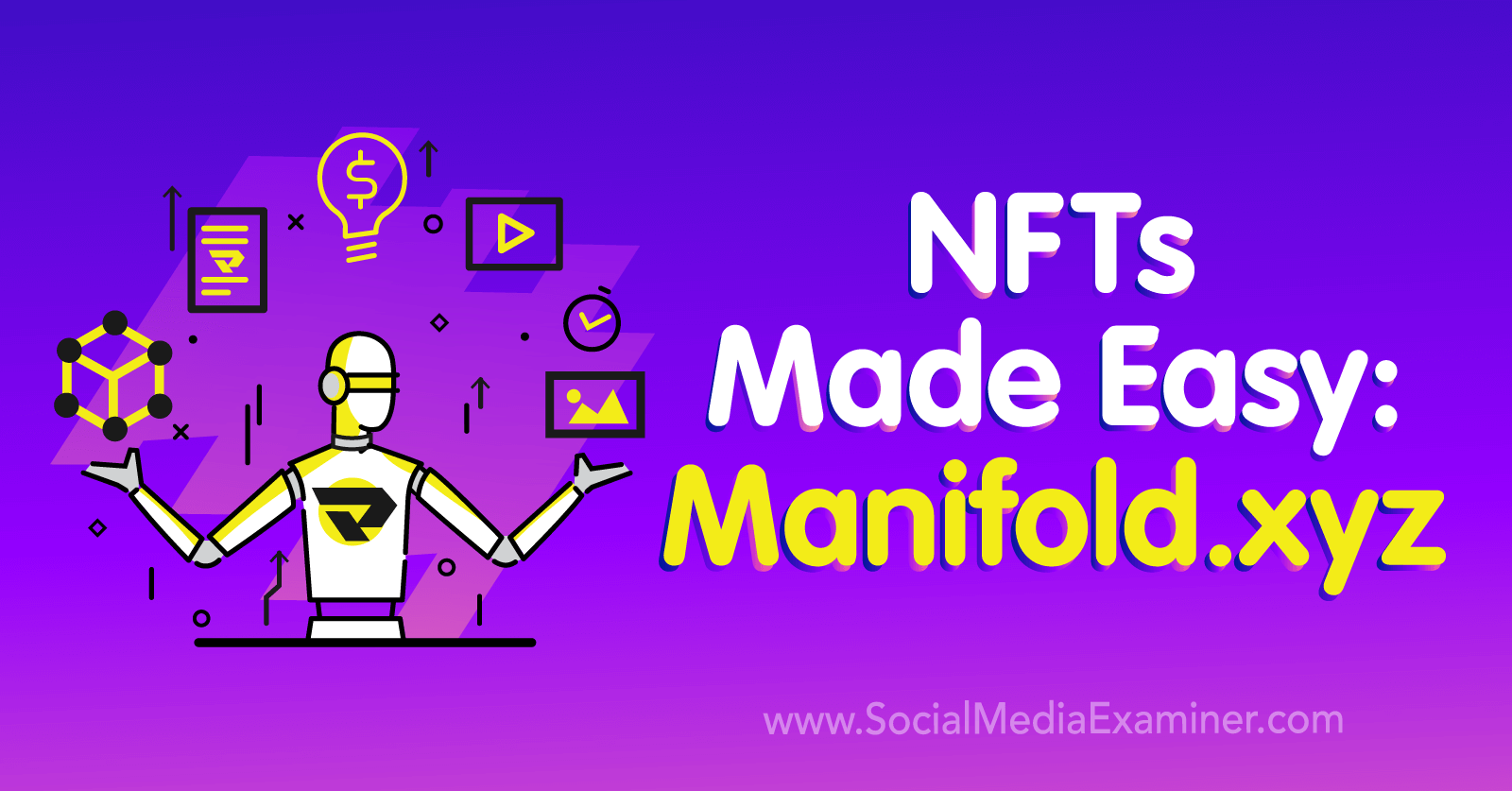 What NFT Technology Makes Possible for Businesses and Creators
Blockchain technology and NFTs unlock several powerful innovations for creators and business owners.
One of those innovations enables true ownership of digital objects. This is increasingly important as we spend more of our lives online—digital objects are becoming an extension of the real world.
As an example, in games like Roblox, kids are used to 'owning' objects in the game but they don't really own those objects and they can't sell them. If those objects were backed by NFTs, every in-game asset could be kept, sold, or traded as the owner chose.
Another benefit of NFTs is that they give creators and artists more control over the audiences they build on a platform.
Instead of Web2 platforms like Facebook owning and controlling the relationship between creators and audiences, NFTs make it possible for businesses and creators to have a direct relationship with their audience, with no third party in the middle.
This can also allow more flexibility in terms of switching platforms if a business or creator doesn't like what a platform is doing. If they choose to move their presence to another platform, they can bring their audience with them.
That's a lot of power put back into the hands of the people who matter most.
With that in mind, imagine the impact of an entire NFT project conceived and built around a brand, product, or artist's work.
The Utility of NFT Projects for Business and Creators
Whether centered on consumer goods, music, software, or a game, a product launch is something every business or creator can relate to. You're putting something out into the world and you hope people will buy it and remain interested in your brand and buy the next thing you launch.
Maintaining that customer connection is difficult. Even if you manage to get a person to follow you on social media, there's no guarantee your messaging will reach them through the flood of content in their feed.
Several brands, companies, and creators have found a solution and are executing product launches using NFTs—primarily free NFTs—meaning that the brand is paying the gas fees.
The benefit to brands and customers is both immediate and long-term.
Brands can run re-engagement campaigns anytime and be certain that they'll reach anyone who holds one of those NFTs. As the engagement campaigns continue, customers collect additional NFTs, and that brand-to-customer relationship deepens.
On the other side, customers can exchange NFTs for physical merch, entrance to VIP experiences or events, or access exclusive digital content. Or customers could burn one to receive one or more entirely new asset(s) from the brand that each has individual value.
This type of project can also be used as a way to fund product development or creative endeavors like music is on Web2 platforms such as Patreon or Kickstarter.
Manifold.xyz Makes NFTs Easy
The prospect of creating NFTs can be daunting. There's a lot to think about: smart contracts, choosing a marketplace, collection size, utility…
Manifold was designed to serve creators so it aims to simplify the entire process.
#1: Manifold's Interoperability
First, Manifold was built to interoperate with every platform in the ecosystem.
Not only do its smart contracts work across permissionless platforms such as OpenSea, Rarible, and Blur—they also work across permission platforms such as SuperRare, Foundation, and Nifty Gateway.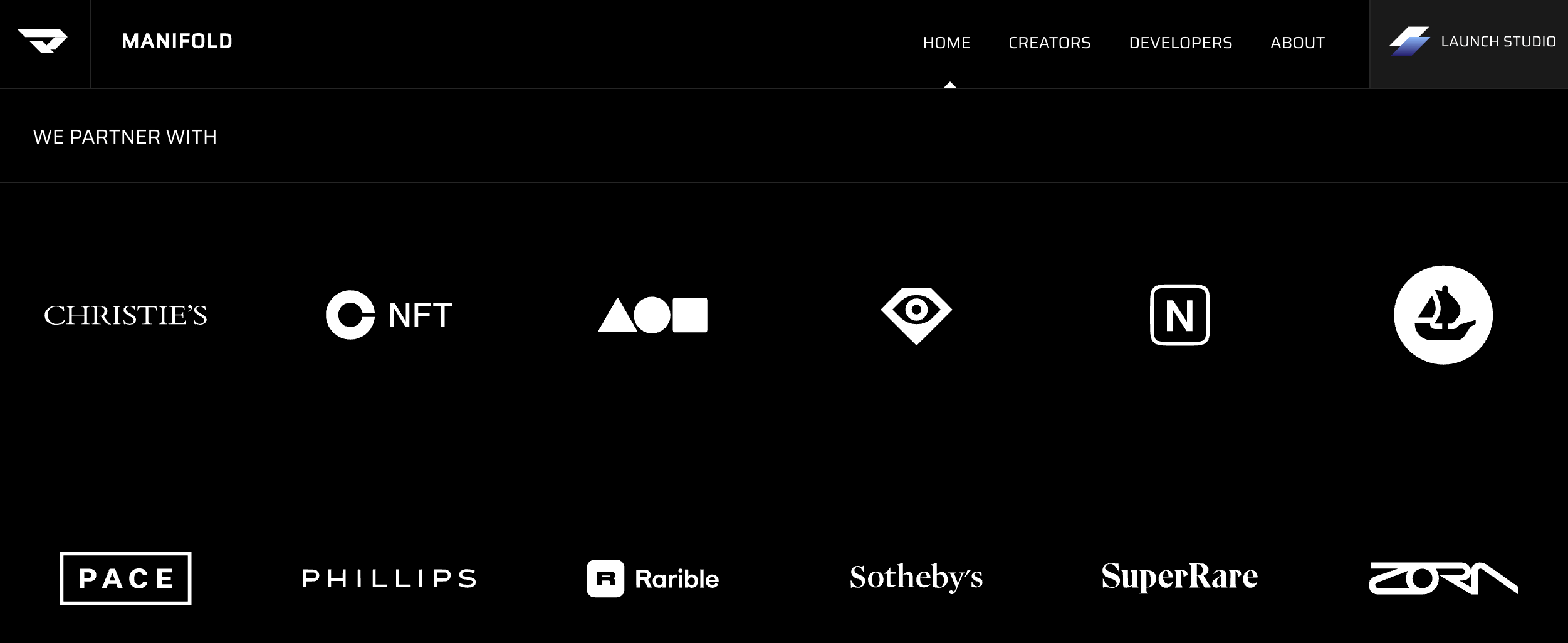 So let's talk about smart contracts.
#2: The Manifold Creator Contract
Manifold didn't align with upgradeable proxy contract patterns, which are contracts that allow the creator to change the underlying implementation of the contract at any time.
Instead, the Manifold Creator contract pattern has strong guarantees around the functionality of their contract but also gives creators a way to extend the functionality of a contract.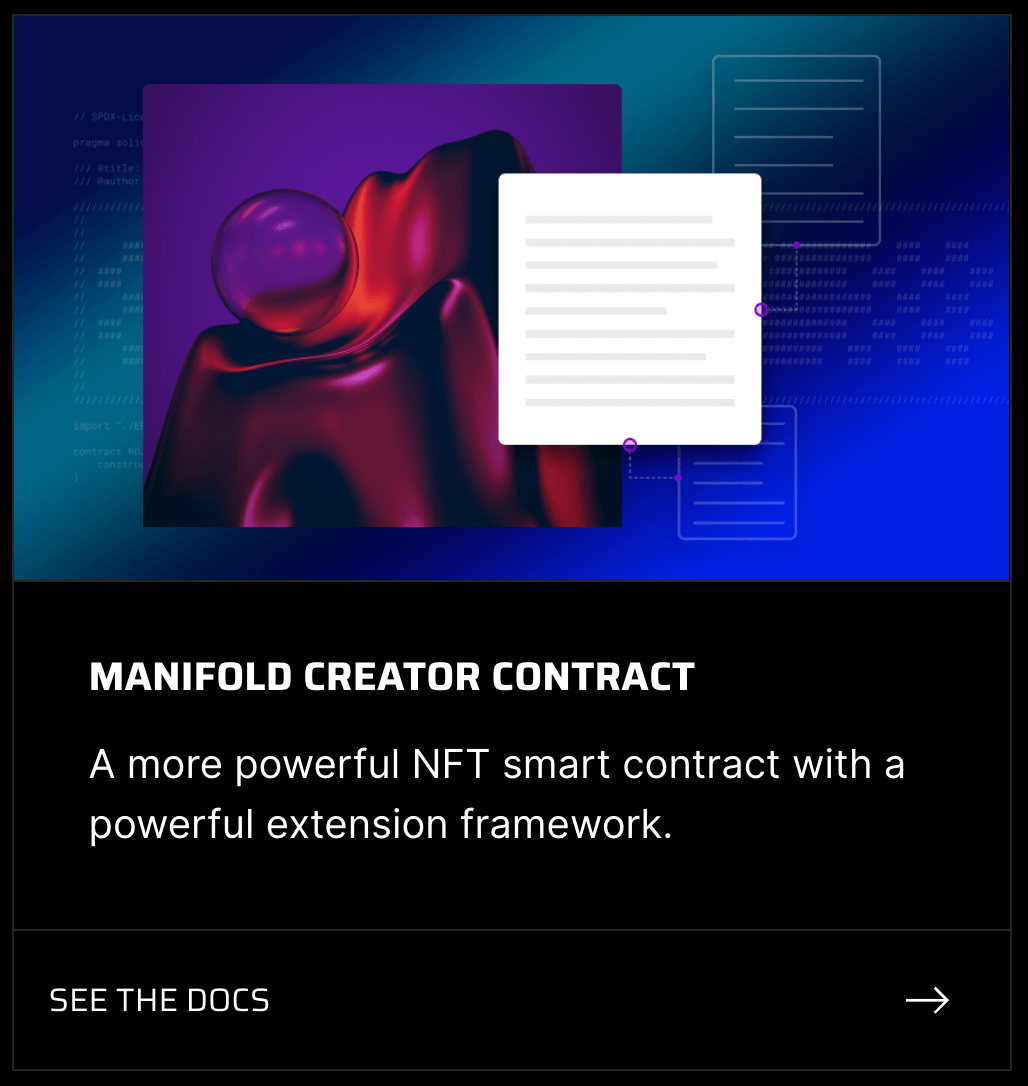 Manifold created an extension framework that allows NFT project owners to add modules or features to their original contract to create new experiences for their holders.
#3: The Manifold Open Edition Page & Claim Tool
Also known as limited edition NFTs or timed edition NFTs, open edition NFTs come in two versions: 1155 and 721.
The 1155 version is employed to release multiple, non-unique versions of an NFT. For example, an artist might release a single piece of artwork as an NFT and allow people to mint an unlimited number of them.
Because there's no limit to the number of 1155 NFTs that can be minted, they're typically affordable. The creator can sell a large number for a reasonable price and still make a living or fund a project. This version also makes it easy for creators to form an engagement point with as many people as possible so they can re-engage those people for future projects.
In 2011, Chris Torres created the Nyan Cat meme. Ten years later, he released a single version of Nyan Cat as an NFT.
Earlier this year, he used Manifold to release an open edition NFT collection called Nyan Balloon. Each NFT featured a cat and a red balloon and sold for $10-$15. He sold more than 20,000 copies.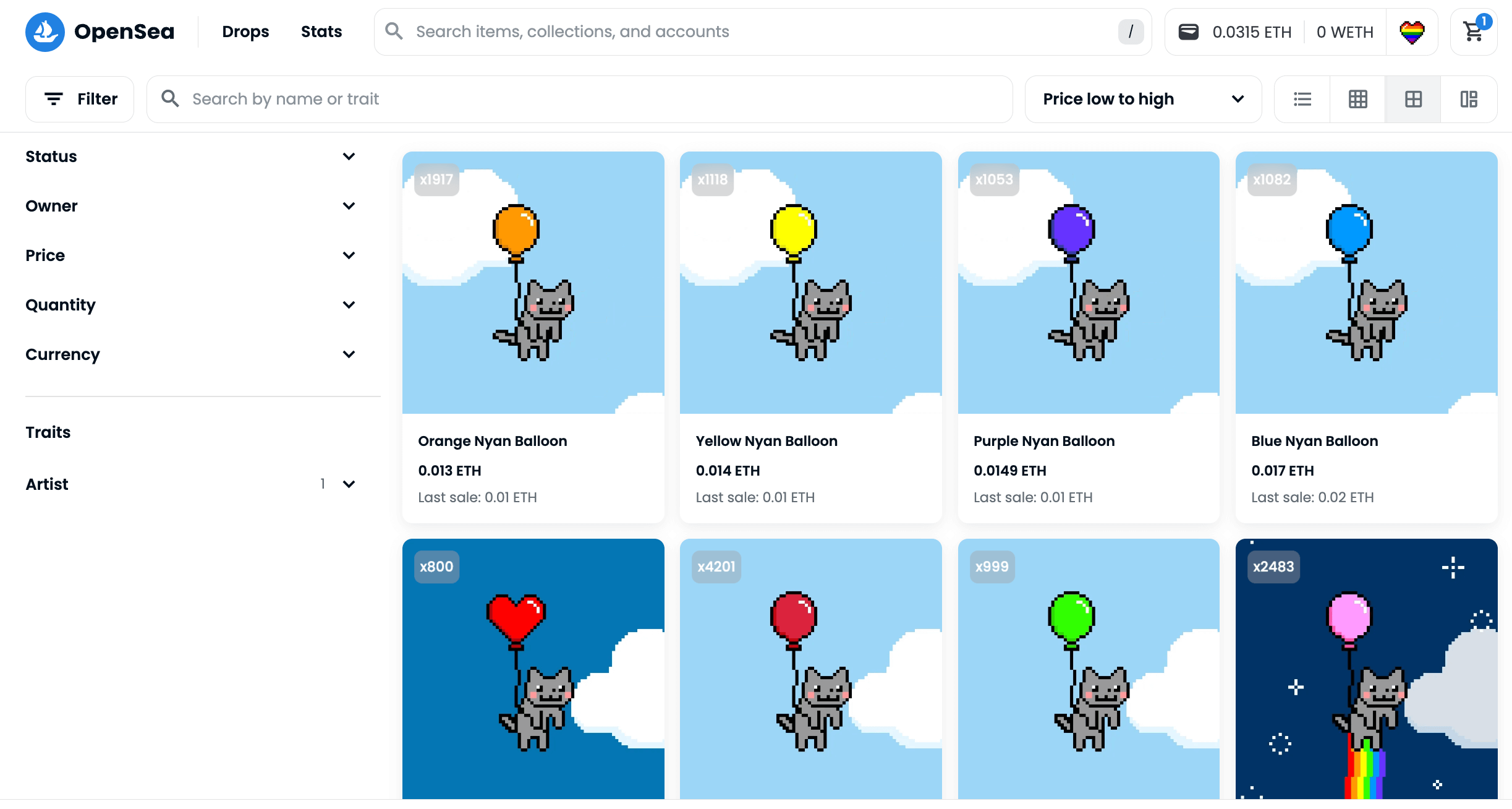 The 721 version is used to release a limited run of NFTs. For example, that same artist might release another piece of artwork and sell a series of 10 of them as numbered NFTs: 1 of 10, 2 of 10, and so on.
Because each 721 NFT is unique, the type of token lends itself to higher-priced collectibles such as fine art.
Regardless of which version is used, the mint window can be held to a specific date or time (30 days, for example), or it can stay open indefinitely. Manifold makes it easy to do either with their Claim tool.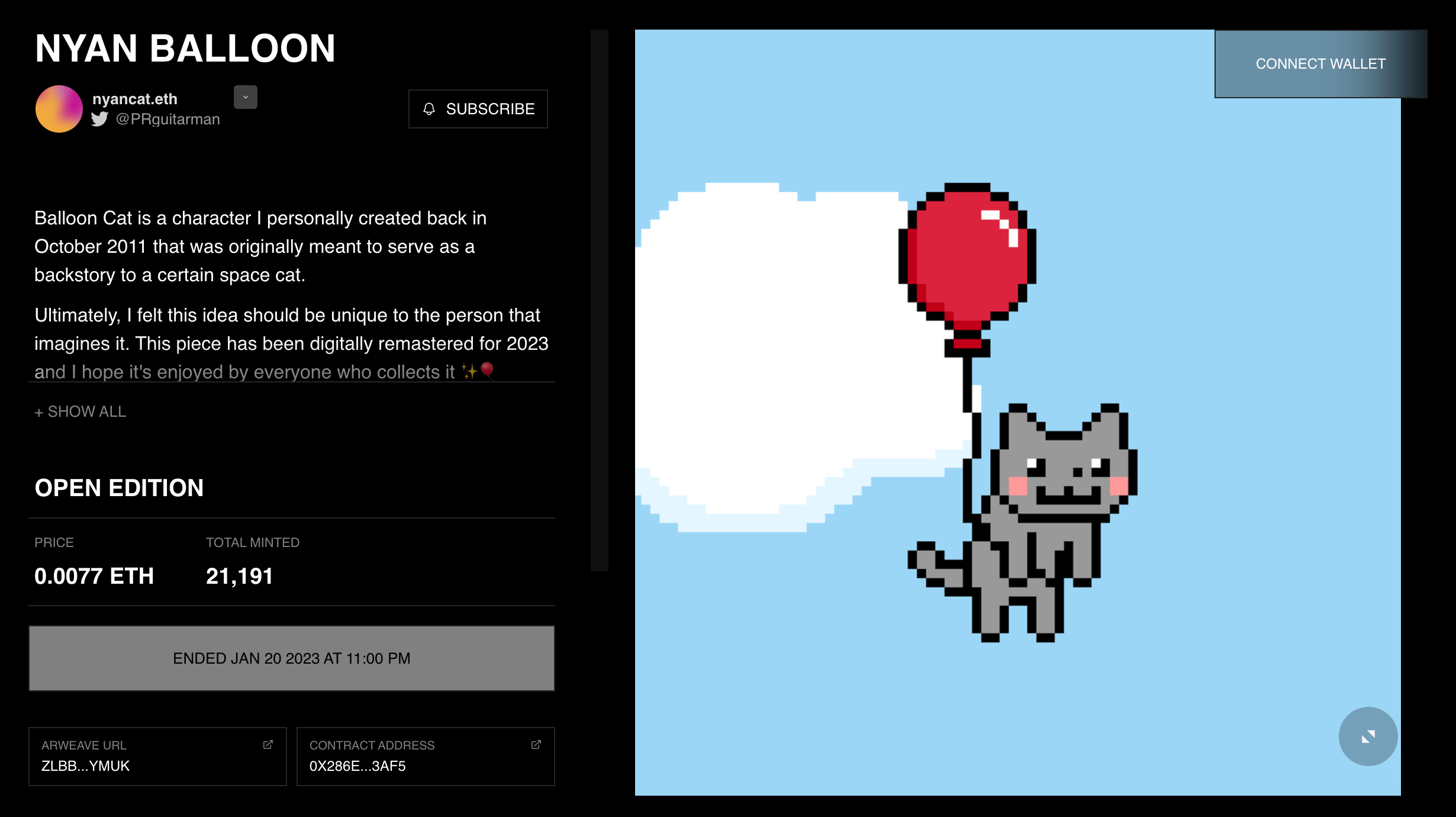 #4: The Manifold Burn Redeem App
The burn mechanic creates a secondary engagement point between a brand/creator and the holders of its NFTs.
This can work in the creator's favor on two fronts because not only are you re-engaging your holders, you can change the supply of the original release and introduce rarity.
After his initial launch, Chris Torres released new balloon colors—orange, yellow, green, blue, purple, and pink—and allowed Nyan Balloon holders to burn their original red balloon NFT to get a new color balloon. He capped it off by releasing a Nyan Balloon with a rainbow.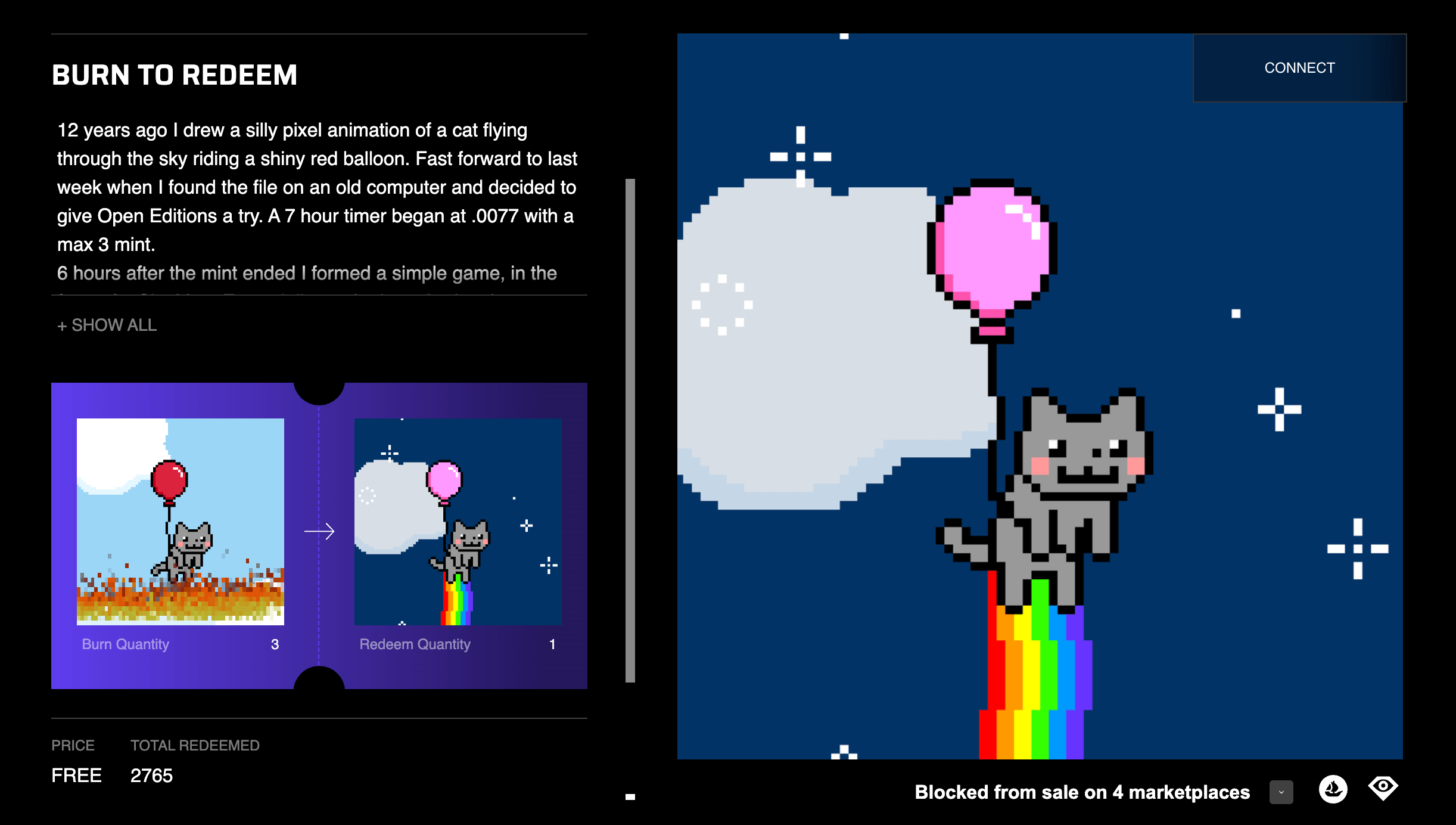 Using Manifold's Burn Redeem App, creators can specify the number of NFTs that a holder must burn to get the newer NFT.
Brands/creators can even monetize the burn mechanic. For example, the creator can give away a free open edition NFT but stipulate that the holder must pay to burn it to access the subsequent artwork.
#5: The Manifold Royalties Registry
Royalties are a very hot topic in the NFT space. The prospect of enforceable royalties is what attracted many artists and creators to this space in the first place.
The thing is, NFT royalties are enforced by NFT marketplaces and each marketplace created its own closed royalty system. If a creator wanted their royalties, the onus was on them to manually configure royalties on each and every marketplace.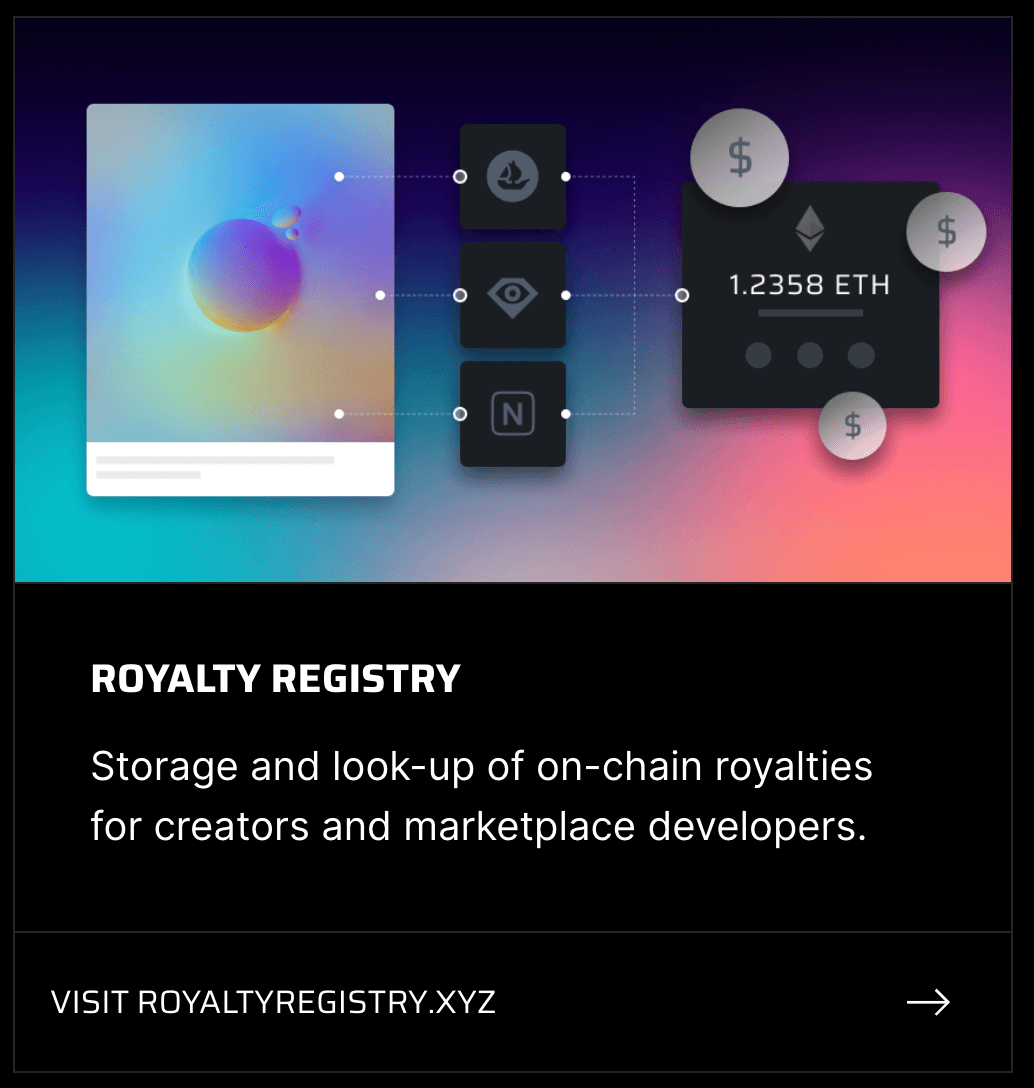 Manifold's Royalties Registry rectifies that with a solution that has been adopted by all major marketplaces. It functions as a single place for creators to define their royalties and gives developers a single source of truth for royalties.
#6: The Manifold Merch Bridge
A lot of people are using NFTs as a way to fund production, pre-sell items, or even reward loyalty. A very common use case is to let holders redeem their NFT for a physical item.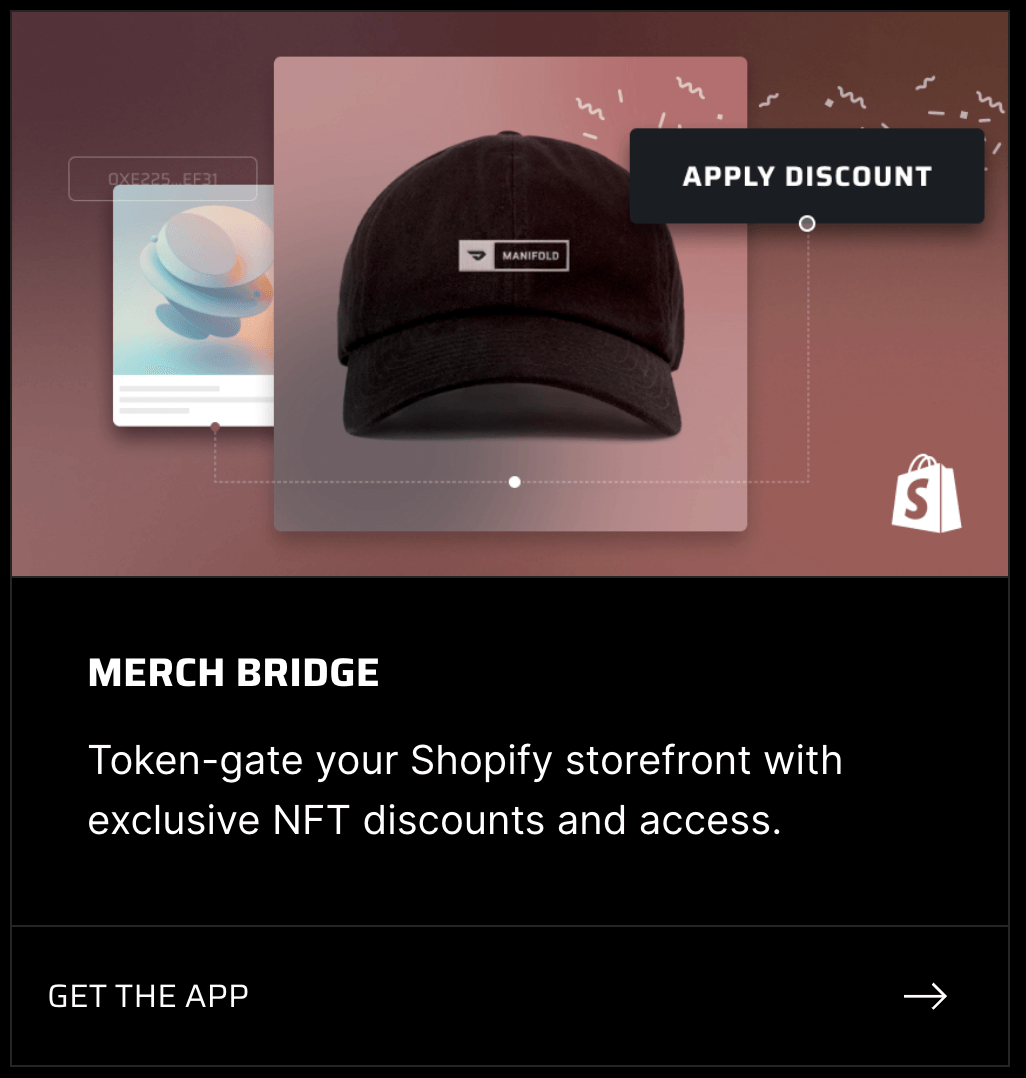 Manifold created the Merch Bridge that lets creators set up their own token-gated Shopify storefront so they can reward their NFT holders with physical merchandise they can claim or purchase.
What Does Manifold Cost?
Manifold exists to help creators thrive with the help of Web3 and blockchain technology.
Manifold is fully free for creators because it charges a nominal fee of 0.00069 ETH to collectors when they engage with a creator's collection via a Manifold app such as a Claim page and Burn Redeems.
The fee is constant and not subject to market fluctuations.
Other Notes From This Episode
Where to subscribe: Apple Podcast | Google Podcasts | Spotify | Amazon Music | RSS
✋🏽 If you enjoyed this episode of the Web3 Business Podcast, please head over to Apple Podcasts, leave a rating, write a review, and subscribe.
Disclaimer: The information provided on this website is provided solely for educational purposes and does not constitute any advice, including but not limited to, investment advice, trading advice or financial advice, and you should not treat any of the website's content as such. Social Media Examiner recommends that you independently research any information contained on this Website and that you speak with an investment professional before making any decision to purchase, trade, hold or sell cryptocurrency. Nothing herein should be treated as a recommendation to buy, sell or hold cryptocurrency. Social Media Examiner cannot guarantee the accuracy of any information listed on the website and is not responsible for any missing or wrong information. All information is provided as is and should be used at your own risk. Social Media Examiner disclaims all responsibility and liability for your use of any information found on the website.