Are you a creative person who's looking for a Web3-focused business model? Wondering how Web3 can make you less dependent on middlemen?
In this article, you'll discover how Violetta Zironi launched her music NFT collections.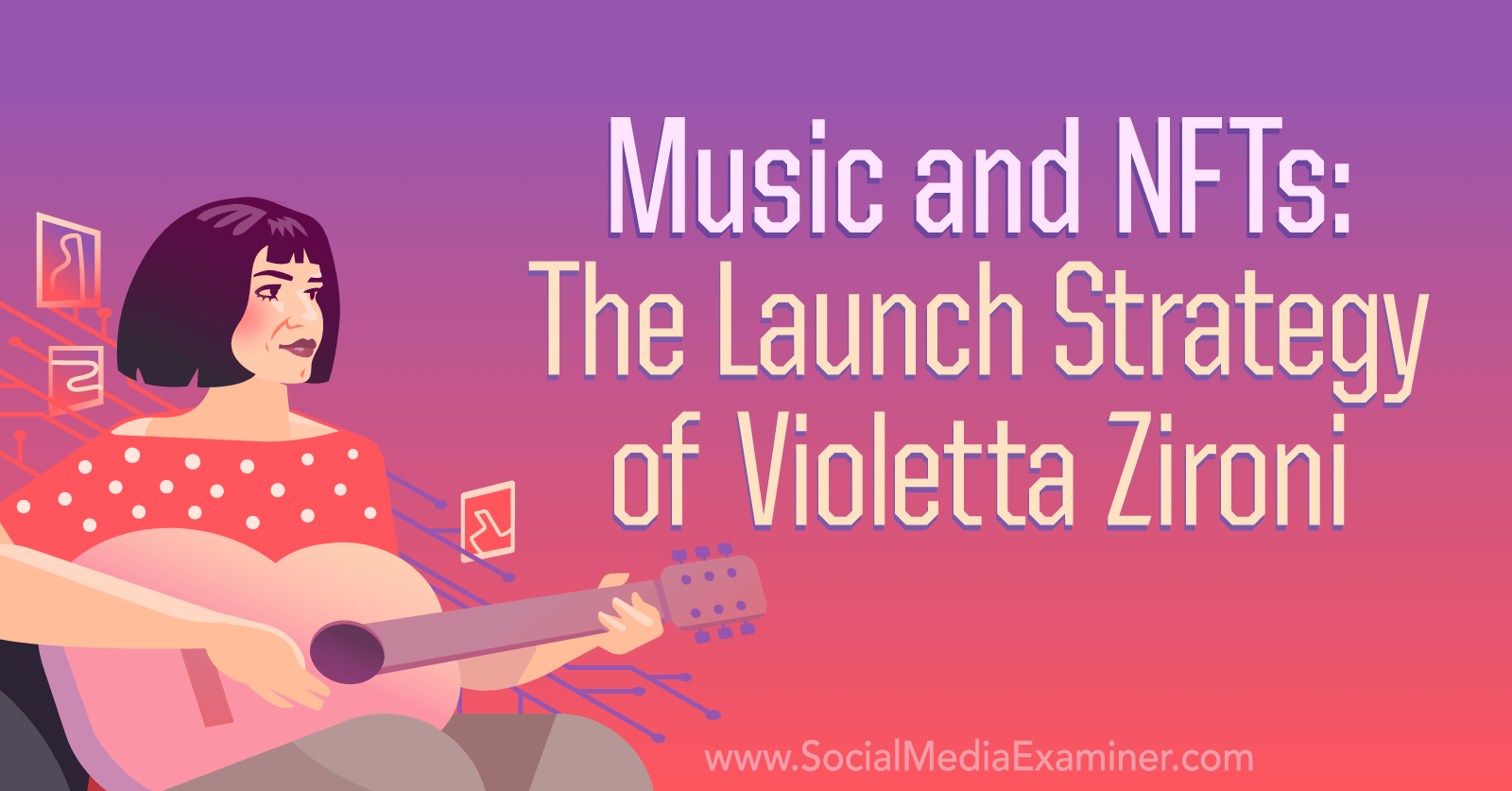 How NFTs Can Help Creators, Musicians, and Artists Make a Living
Whether you're a musician, writer, podcaster, or artist, two points make launching your creative project as an NFT collection a viable business choice: access and revenue.
The first and arguably the most valuable is that blockchain technology gives you direct access to any person who buys your work. No middleman is gatekeeping that relationship, which means you have total control over how and when you release your work.
When Violetta Zironi signed with a major record label at age 18, she thought she'd made it. But early on, she realized how lopsided the relationship was. Not only did the label take a big percentage of her earnings; she didn't have a say in her artistic or business decisions that affected her livelihood. If she didn't do what the label wanted, they threatened to shelve her without releasing her from her contract. And shelve her they did, until Violetta found a way to get out of the deal.
Violetta went on to pursue a career as an independent artist for 8 years. She was able to make a modest living while writing the music she wanted to write and playing the shows she wanted to play.
Then the pandemic hit and live performances, her main source of income, were out of the equation.
About a year ago, she discovered she could release her music as NFTs. She was inspired by musicians like Dyl and Domino, and partnered with Nifty Sax to launch her first musical NFT collection in April 2022 with 15 editions of Handmade Songs priced at .1 ETH each, followed by a one-of-one music video that sold for 4 ETH.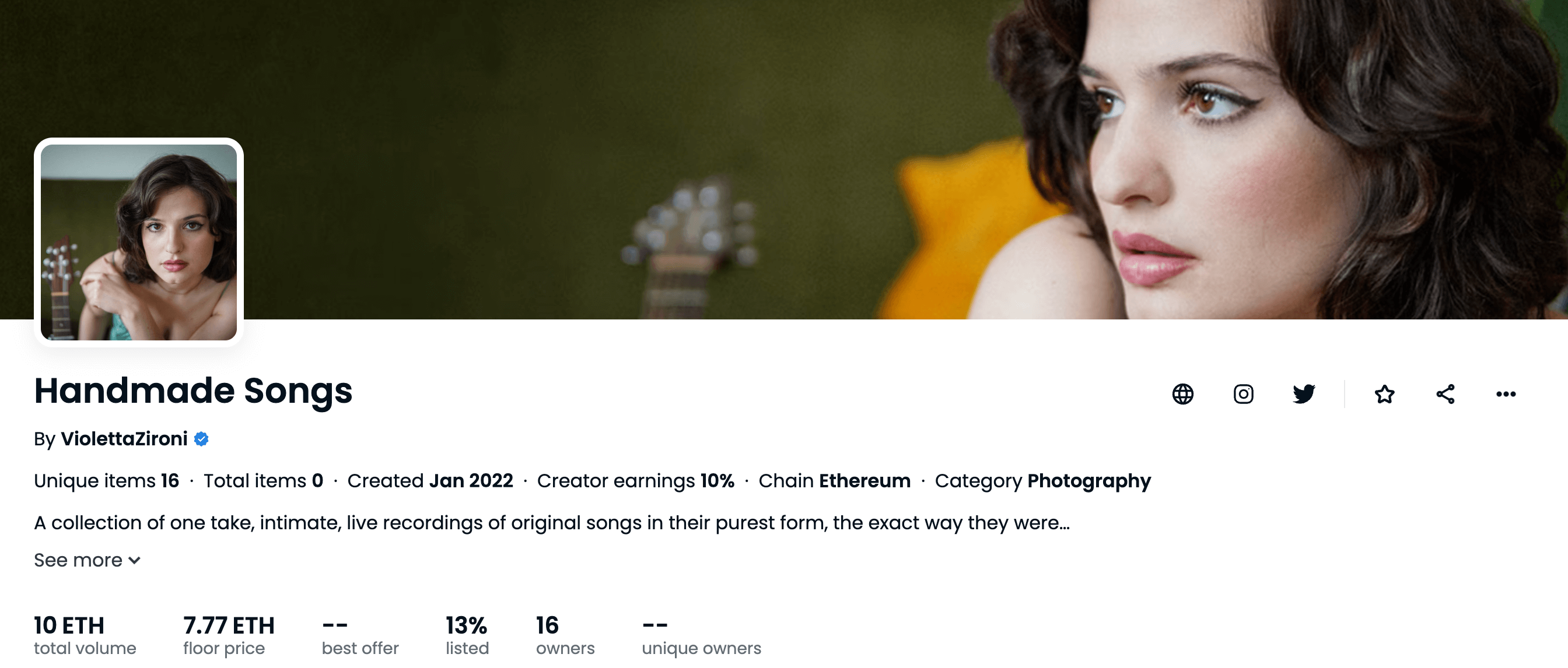 She has since released the Moonshot collection and Another Life collection.
What's the revenue look like? A single NFT mint of .1 ETH earned Violetta the same as 27K streams on Spotify or approximately $1,800.
#1: How to Attract a Loyal Fanbase for Your Music NFT Collection
The term community is commonly heard when people talk about any Web3 project. There's a reason for that, especially in the context of music projects.
You'll need a community of loyal fans to support yourself. Because if you don't have fans, who buys your music?
How many fans do you need? It's not a game of numbers. Be genuine in who you are and generous with your time and you'll gather 1,000 true fans who love what you do and how you do it. Twitter Spaces can help you get there.
Twitter Spaces Strategy
Violetta spent more than 3,000 hours on Twitter Spaces consistently over the course of a year. Often, when she raised her hand to ask a question, people would notice she was a singer. They would ask what she, as a singer, was doing in that space, and invite her to sing something.
As word spread, people invited her to entertain during mint parties, launch days, and other events, giving her much-needed exposure to the type of people who understood what she was trying to do.
Performing at these events quickly became a way for her to bring value to others, and those same people came through for her during her own launch.
After only 3 weeks of that first year, Violetta was advised to start her own space so she settled into the following strategy…
She hosts the Moonshots NFT space Monday through Friday, at 2 p.m. Eastern for an average of 70 people from all over the world, many of whom are regulars. She spends the balance of those days in others' spaces and continues to bring value to redirect people who enjoy her work to her own space.
Today, Violetta has more than 64K followers on Twitter and she continues to nurture those relationships during her daily Moonshot NFT space.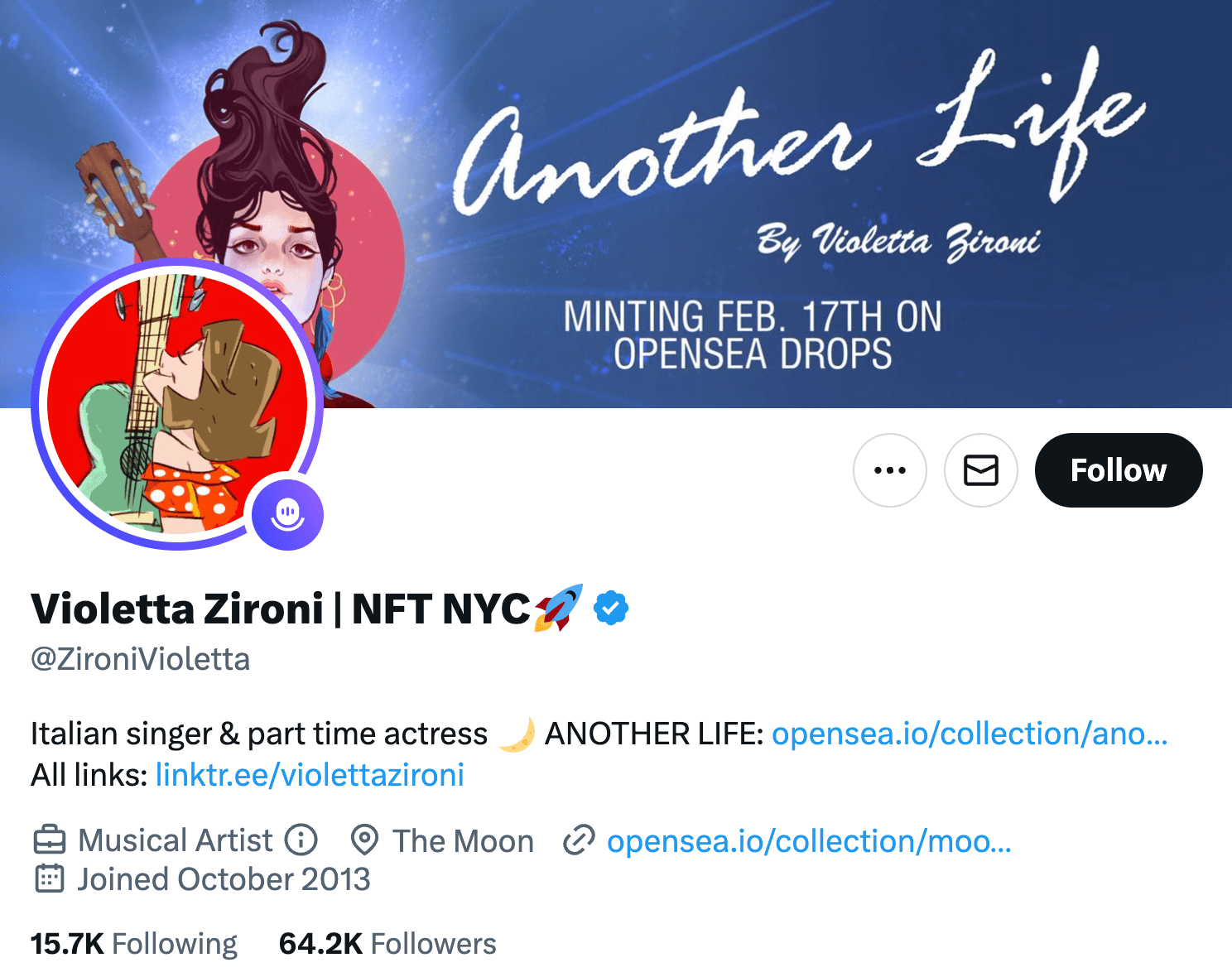 Using Twitter Spaces takes a lot of time but the value of that time investment will come back to you in unmatched fan loyalty.
#2: How to Build Value Into Your First Music NFTs
Utility is another common term in the NFT space. It's central to establishing the value of your NFTs. Think of utility as the perks or rewards someone gets if they own your music NFT.
Say your album is made of five songs. You can release multiple NFTs of a single song with unique artwork and let each fan choose to purchase the song with the artwork they like best.
Maybe those holders also get access to a weekly or monthly private show on Zoom, or you give them the right to use the music from their NFT in their own projects or podcasts.
If you incorporate a limited number of NFTs with rare artwork, you can sell them for a bit more and reward those holders with a free vinyl record.
Perhaps you reward top-tier fans who collect a complete set of your songs by purchasing a series of rare NFTs with lifetime access to your live concerts.
Utility is limited only by your imagination and what you know your fans will value.
For example, a small number of Violetta's collectors hold a series of NFTs that make them part of a group that meets with her every Sunday: the 9 Frames Council. The structure is informal, and while Violetta has the final say on her project, if every member of the council votes a proposal down she's not likely to pursue it.
One big play with utility that will benefit both you and your initial music NFT holders is to reward them with new music NFTs from your next collection.
Violetta recognized the importance of the people who first joined her community and invested in her music NFTs: they made it possible for her to make a second album of songs called Another Life.
So she decided that everyone who held an NFT from her first collection would receive a free NFT from her second collection, and anyone who held rare NFTs would receive two NFTs. Not only were her engaged fans delighted by the airdrop but also fans who had forgotten they were part of her project were reminded and re-engaged.
#3: Launching a Second Music NFT Collection
Violetta decided the Another Life collection would contain 5,200 NFTs.

For the airdrop, 2,571 NFTs were allocated to her initial collection holders and 400 were allocated to the 9 Frames Council community treasury and are used only to reward the outstanding efforts of community members or fund future needs of the community.
That left just a bit fewer than 2,500 NFTs to sell.
Because she wasn't quite ready to release her music and the art, she used a staggered launch strategy that spread pre-sales over a few months by selling what were basically stand-in NFT passes in lots of 500.
In November, she sold out 500 at .06 ETH each in 20 minutes. In December, she sold out 500 more at .08 ETH each in less than 10 hours.
The balance of the NFTs was sold on OpenSea using the Drops feature via a three-tiered release: a pre-sale, a controlled public mint for a small number of wallets, and the public mint.
Violetta minted the final 10% of NFTs to her own personal treasury so she could move forward with the art reveal and execute her airdrops. This move also protected the floor price of the collection.
#4: Pre-Launch Marketing: POAPs and Collabs
One key feature of the launch was a guaranteed pre-sale allow list that let collectors mint an NFT for .09 ETH instead of the standard mint price of .1 ETH.
To qualify for a spot on the guaranteed allow list, anyone who attended Violetta's spaces could collect digital moments minted using proof of attendance protocol (POAPs).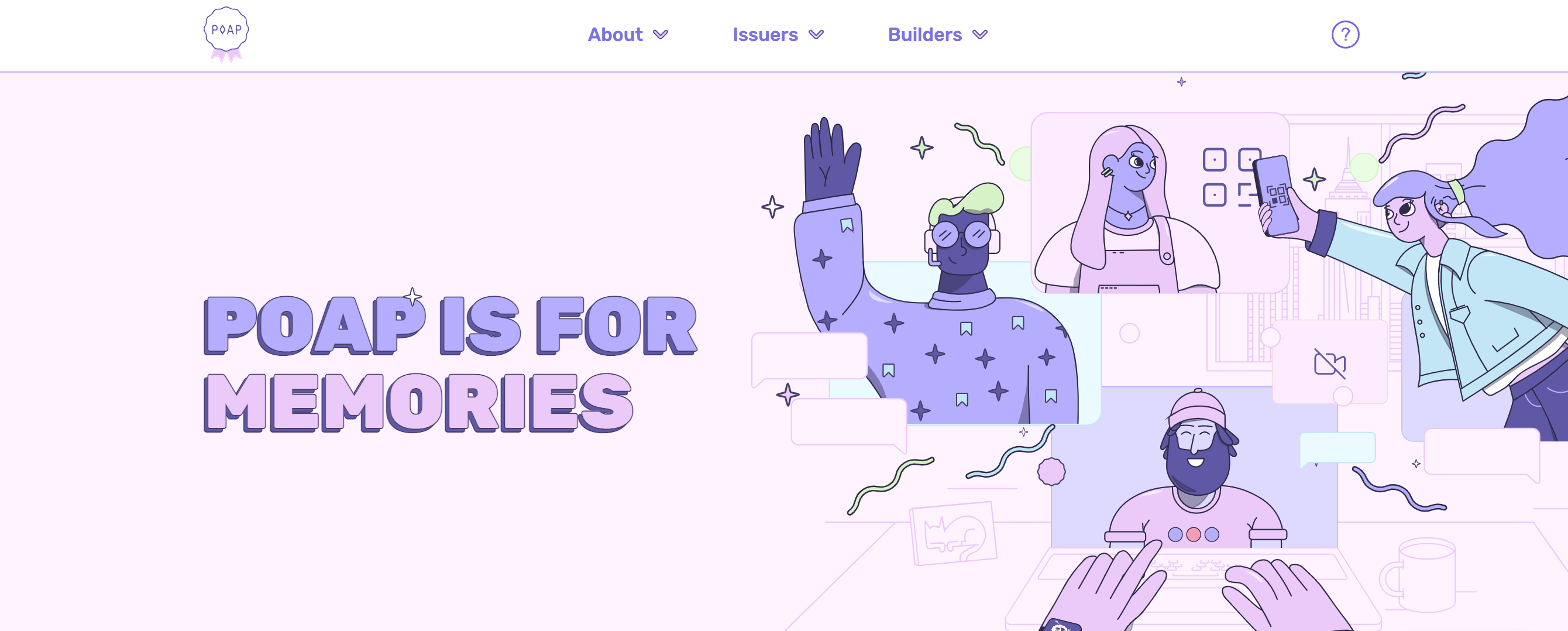 POAPs are set up prior to your event and minted within a specific timeframe using a specific access word that's given during the event. Violetta minted her POAPs in 15-minute windows and used a leaderboard to track who collected the most POAPs.
By gating the guaranteed allow list with POAPs, Violetta helped ensure that the people who won those spots weren't just around for the hype. People who heard her story, listened to her music, saw the art, and experienced the existing community were more likely to become true fans.
Violetta also used collabs with approximately 100 communities to market and build anticipation for her collection. Each community team she partnered with received a small number of non-guaranteed allow list spots they could raffle off to their members.
Raffle winners didn't receive a discounted mint and if the supply of allocated NFTs ran out, they were out of luck. BUT… raffle winners had the option to upgrade to a guaranteed discount and mint by combining their win with POAPs they could collect by attending the daily Moonshots NFT spaces.
As part of the collab, Violetta would also drop into each community's Discord or Twitter space to answer questions, play a few songs, and offer the POAPs that let raffle winners upgrade to the guaranteed allow list.
Other Notes From This Episode
Where to subscribe: Apple Podcast | Google Podcasts | Spotify | Amazon Music | RSS
✋🏽 If you enjoyed this episode of the Web3 Business Podcast, please head over to Apple Podcasts, leave a rating, write a review, and subscribe.
Disclaimer: The information provided on this website is provided solely for educational purposes and does not constitute any advice, including but not limited to, investment advice, trading advice or financial advice, and you should not treat any of the website's content as such. Social Media Examiner recommends that you independently research any information contained on this Website and that you speak with an investment professional before making any decision to purchase, trade, hold or sell cryptocurrency. Nothing herein should be treated as a recommendation to buy, sell or hold cryptocurrency. Social Media Examiner cannot guarantee the accuracy of any information listed on the website and is not responsible for any missing or wrong information. All information is provided as is and should be used at your own risk. Social Media Examiner disclaims all responsibility and liability for your use of any information found on the website.