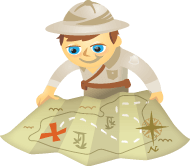 When Michael Stelzner started using social media to market his business, he focused exclusively on Twitter. "My first attempt at using Facebook for business was a big flop. I was pretty convinced I could just use Twitter for business."
Stelzner is a well-known white paper writer, author of the book Writing White Papers: How to Capture Readers and Keep Them Engaged and founder of Social Media Examiner.
But he literally had to be dragged kicking and screaming onto Facebook.
"I thought it was just for college kids," Stelzner says. Then a friend he respected invited him to join, so he did.
But within a short period of time, he stopped updating his Facebook page. "I spent a lot of time on Facebook and frankly accomplished little. At least on Twitter I knew I could strictly talk business."
So he just fed his Twitter updates into his Facebook profile and fan page. "All along I was treating my Facebook page like Twitter. I thought that by simply posting updates I would build a loyal following."
Things changed when Mari Smith showed him the right way to use Facebook.

Watch the above video to learn more about Stelzner's Facebook story.
Create a Facebook Page
Armed with that knowledge, he created the Social Media Examiner Facebook page in March 2010. By July of the same year, the page broke the 12,000-fan mark.
"And these folks are active," he says. "They post questions, support each other, reply to our questions and promote our articles. A vibrant community was building right before my eyes. Almost overnight, Facebook quickly became the number-one source of traffic on Social Media Examiner."
You may have heard that Facebook is one of the most cost-effective ways of advertising on social media. "Nowhere else can you target users as surgically as you can on Facebook [and] you can do it for a fraction of the cost of the same targeting on other Internet properties and offline outlets," write Mari Smith and Chris Treadaway in their book, Facebook Marketing an Hour a Day.
Build a Community on Facebook
But according to Stelzner, Facebook marketing isn't just about placing ads on people's pages. He compares Facebook to the Social Media Examiner site. People can comment on the articles, others can respond to those comments and everyone who goes to the site can see all these comments. "FaceBook is like the comment section of our blog taken to an extreme."
"Facebook has 500 million users," he says. "That means that your customers are already on Facebook – a huge percentage of them. And they're on there almost every day. I've heard that 250 million people are on Facebook every single day."
And a recent Nielsen study found that those 500 million people are spending an average of 7 hours a month on Facebook. But they only spend 2 hours a month on Google, Yahoo, AOL, and MSN.
Your Guide to the Future of Business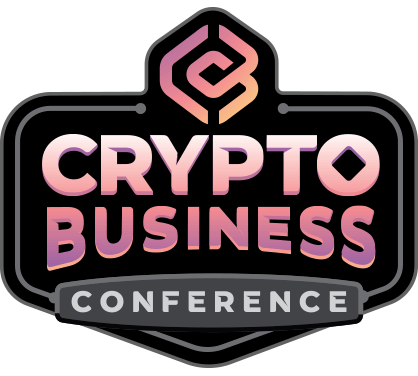 The Web3 renaissance opens up new opportunities for entrepreneurs, creators, and marketers who are ready to embrace the changes. But, who can you trust?

Introducing the Crypto Business Conference; a premium event for anyone who wants to learn how to put Web3 to work for their business.

Join us in sunny San Diego, California, for the first-ever crypto conference for business pioneers…not finance and tech nerds. You'll get actionable, business-building ideas from proven innovators—without all the techie jargon.
CLAIM YOUR SEAT
Launch Social Projects Faster and Easier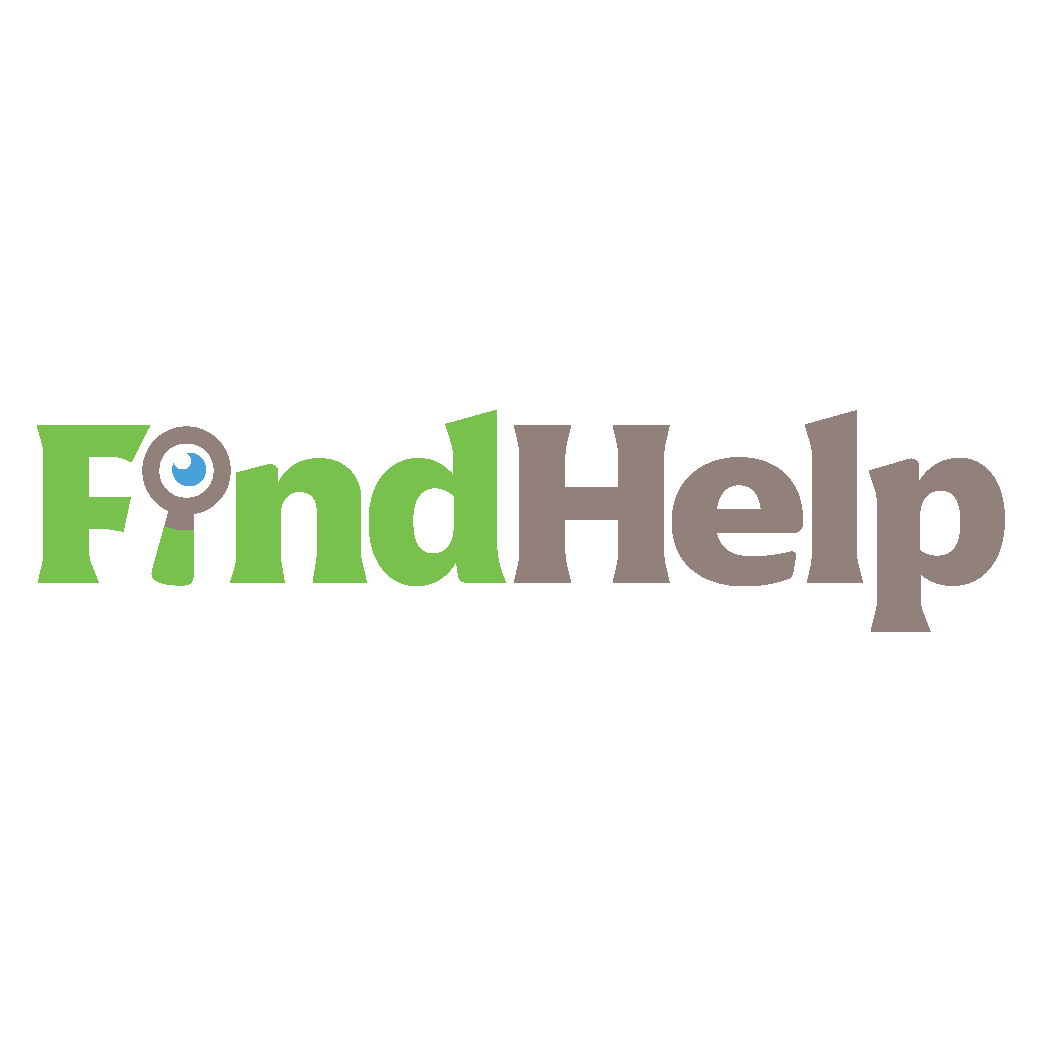 Looking for a content creator, campaign manager, or strategist for your social channels or a special project?

Find the right expert for even the most complicated project or campaign in just a few clicks with our new FindHelp marketplace. You'll have more time to focus on other areas of your business without sacrificing your social presence. Browse highly qualified Facebook and Instagram experts today.
FIND HELP TODAY
"If people are already on Facebook and they're already spending an enormous amount of time there," Stelzner says, "then how can you get them to notice you? That's where the marketing comes in."
And that's why Stelzner created Facebook Success Summit 2010.
16 Facebook Lessons From 22 Top Experts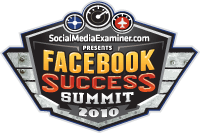 Scheduled throughout the entire month of October 2010, the summit was designed to give you all the tips and techniques you need to master Facebook for business use. You will receive 16 hours of training from 22 Facebook experts. They'll cover everything from setting up Facebook pages to growing an active fan base.
And because this conference is online, you can attend the sessions in the privacy of your home or office. For a fraction of the cost of a traditional conference. No airports, rental cars, hotel rooms or expensive restaurants. All you need is a computer, computer speakers, and a high-speed Internet connection.
When you register, you'll receive an email with a link to a website and your login information. At the appropriate times, just go to the website and login. That's it!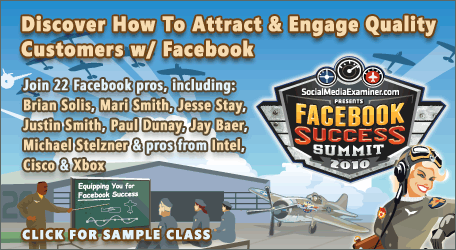 Just look at some of the speakers you will hear:
Mari Smith and Chris Treadaway, authors of Facebook Marketing: An Hour a Day
Brian Solis, author of Engage!
Paul Dunay and Richard Krueger, authors of Facebook Marketing for Dummies
Jesse Stay, author of I'm on Facebook, Now What? and FBML Essentials
Justin Smith, founder of Inside Facebook and author of Facebook Marketing Bible
You will also hear how companies are implementing their Facebook marketing campaigns, including Microsoft Xbox, Intel, SAP, Cisco and the Washington Redskins.
These social media pros—the world's leading Facebook experts—will be your personal trainers during October 2010. They will teach you everything you need to know to successfully market your business on Facebook. You'll learn how to:
Develop a Facebook marketing strategy
Customize your Facebook page
Start a Facebook advertising campaign
Create a community around your product or service
Optimize your News Feed to take advantage of viral marketing
Use Facebook analytics and apps
"The marketer's job has changed from creating and pushing messages to one that requires listening, engaging, and reacting to potential and current customer needs," says Erik Qualman in his book Socialnomics. "Consumers are looking to peers for recommendations on products, services, health issues, and more via social media. Today, 76% rely on what others say, while 15% rely on advertising."
And Facebook is the biggest social network in the world.
So are you ready to dump traditional, interruptive, "in-your-face" advertising in favor of social media marketing? And can we please stop calling it an "advertising campaign" and start calling it "customer engagement"?
Your customers and competitors are on Facebook – isn't it time you joined them?  Click here for summit details.
If you don't agree, read these articles on Social Media Examiner:
If you DO agree, grab your place in line for this first-ever online Facebook marketing conference. Their online venue holds 2,500 attendees (and their last event sold out)!
Curious about NFTs, DAOs, and Web3?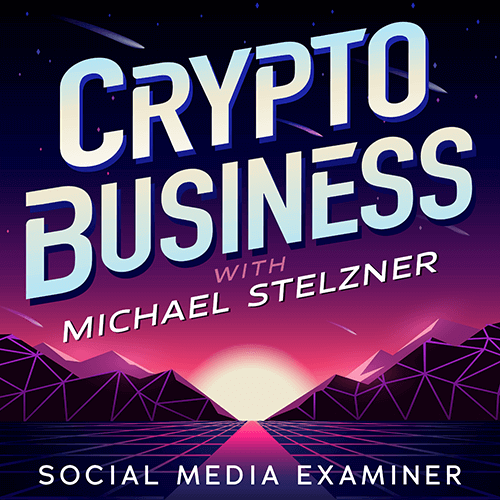 Follow the Crypto Business podcast to find out how NFTs, social tokens, DAOs (and so much more) will affect your business in the near future.

Every Friday, host Michael Stelzner interviews leading industry experts about what works right now in Web3 and what to expect in the future, so you can prepare your business for the shift, even if you're a total newbie.
FOLLOW THE SHOW