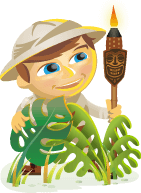 Do you want to stay on top of the latest marketing trends?
Looking to tap into the next big trend?
To explore marketing trends, I interview Rohit Bhargava.
More About This Show
The Social Media Marketing podcast is an on-demand talk radio show from Social Media Examiner. It's designed to help busy marketers and business owners discover what works with social media marketing.
In this episode I interview Rohit Bhargava, the author of Personality Not Included and Likeonomics. He's also the founder and CEO of the Influential Marketing Group. His latest book is Non-Obvious: How to Think Different, Curate Ideas and Predict the Future.
In this episode Rohit explores why trends matter to marketers and reveals a few trends.
You'll discover what makes something a trend.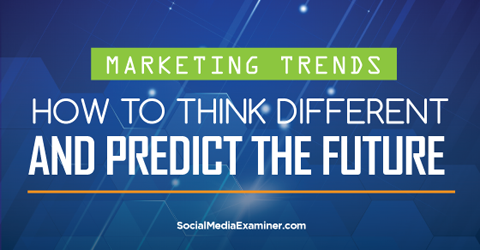 Share your feedback, read the show notes and get the links mentioned in this episode below.
Listen Now
Where to subscribe: Apple Podcast | Google Podcasts | Spotify | RSS
Here are some of the things you'll discover in this show:
Marketing Trends
How Rohit became interested in trends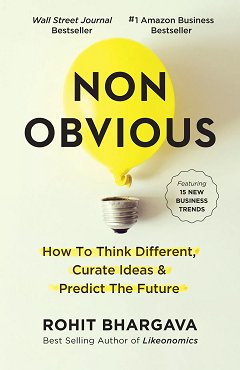 Rohit spent many years working at marketing agencies and frequently crossed industries. For example, he'd work for a toothbrush brand in the morning and an enterprise data client in the afternoon. This is how he started making connections among industries and began thinking about trends. Rohit started writing trend reports in 2011.
Rohit's experience includes working with Leo Burnett in Australia and Ogilvy in the United States. He did digital strategy and even worked on Intel's first social media guidelines.
One of the biggest problems, Rohit explains, is a lot of trends are self-serving. "Imagine I have a company that sells hammers, and then I declare 2015 the year of hammers," he laughs. "How convenient is that?"
People declare trends based on whatever they sell so it helps them, but what they point to isn't actually a trend.
Rohit considers a trend to be an observation about the accelerating present. That means there are signs of something already happening that will become more important. A trend will either change the way consumers make decisions or change the way companies structure their business models or how they do business.
Listen to the show to discover one of the biggest mistakes many trend writers make.
Why marketers should care about trends
The biggest benefit to knowing about trends, Rohit explains, is to know when to pivot. The term pivot is frequently used improperly. For example, if someone sells bicycles and then becomes a coffee shop, it's not a pivot, it's a completely new business.
An actual pivot was seen when BMW, in addition to making cars, decided to start a program called DriveNow in which they rent electric cars. They're tapping into the trend of the sharing and collaborative economy, and experimenting with their business model. BMW is saying we still make super high-quality cars, but we now distribute them in different ways: we sell, lease and rent them.
That's smart, Rohit says. It's the way to look at something that's happening in the marketplace and see how it affects your business.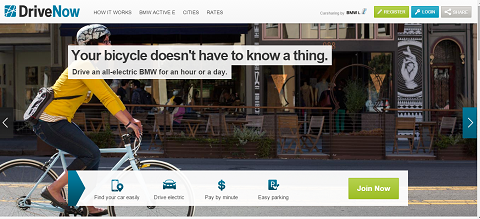 Marketers need to be on the lookout for trends and pivot accordingly, but also understand trends that are already happening.
Listen to the show to learn about Rohit's haystack method and the difference between trend curating and trendspotting.
Glanceable content
The trend of glanceable content is a reaction to our shrinking attention spans, Rohit explains. There's material out there, like BuzzFeed headlines, that tantalize us so much we can't help clicking on them.
But that alone doesn't make it a trend.
This idea of the shrinking attention span leads to innovation in unexpected places. There's a team of MIT researchers working on studies of glance behavior: how fast can we read something in a situation when we need to consume it quickly? For example, to find the optimal font to use for a car's dashboard, they tested different fonts on microseconds of response time.
While that type of research is happening, there are a lot of people in the world of content marketing talking about new ways to create content that's highly consumable and highly valuable. It's creating new models where we can connect with content in a different way.
We typically consume news in a sort of detached and journalistic way with no bias and no personality. However, there is a hugely popular daily email, called The Skimm, which is a daily digest of the news along with personality. They put the news people need to know every day into a more consumable format.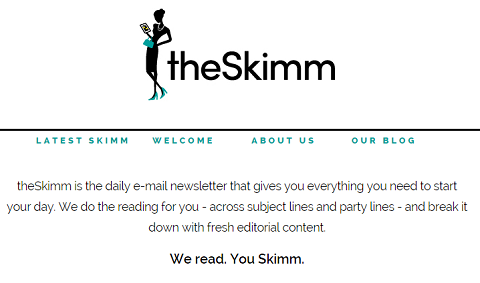 The lesson for marketers is this: If content is glanceable, then the headline becomes even more important. We need to apply the same discipline of writing catchy email headlines to all forms of media.
Listen to the show to find out what sets Rohit's book apart.
Unperfection
Another trend is unperfection, which is based on this idea that we love things that show human vulnerability and are not completely perfect. We prefer them, in fact. It's across just about every area we might consume.
For example, Rohit says, there's the popularity of cartoon bad-guy heroes like Shrek and Megamind. These heroes are imperfect, yet capture our hearts. There's also the ugly Christmas sweater phenomenon that's taken off and no one can explain why.
Remember that being imperfect is different from being broken. A typo is broken. That's not something people appreciate.
A McDonald's Egg White McMuffin, which looks like it was cooked by humans (as opposed to the regular Egg McMuffin that looks like it's a perfect hockey puck) is a little more authentic and a little more human. McDonald's could have made the egg white version look like a perfect hockey puck also. They chose not to, strategically.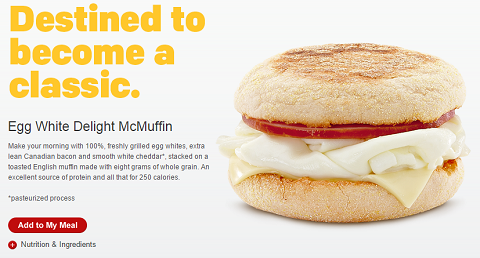 Listen to the show to discover why people connect with unpolished content.
The reluctant marketer trend
Rohit believes this trend was inspired by the fact that there are many top marketing leaders who are wondering if chief marketing officer accurately describes the value they bring to their organization. There was a panel a year a half ago in which CMOs suggested so many different titles instead of CMO that it became the subject of the recap article in AdAge. They wanted to be known as chief value creation officers, chief customer officers, chief innovation officers. All of these titles were broader, and reflected more than just marketing.
That alone, Rohit says, doesn't make it a trend. Yet, when you put it together with the fact that content marketers want to be less promotional and more useful, it shifts the role of marketing away from being copy-style marketing to something more valuable.
Great marketers who are rethinking their role in the enterprise right now may be a little bit reluctant to say that marketing is going to be the thing, first and foremost, because they are thinking about marketing in a broader way.
Listen to the show to hear thoughts on video trends.
What marketers might learn from Rohit's book
Rohit has been doing his trend report for five years. In Non-Obvious, which is a full-length book instead of a visual SlideShare (which he has done in his previous reports), he takes people behind the process he uses to identify trends. He also shares how people can do that for themselves. It's practical and inspirational, he says.
Listen to the show to hear other ways this book helps marketers.
Discovery of the Week
Do you want or need to grow your email list? If you don't, you should.
At Social Media Examiner, our email list is a key business metric. As of this recording, we have more than 350,000 subscribers we email every day with our content. We've worked with OptinMonster for the last 7 months, and have added 95,000 email subscribers to our list since then. It's amazing.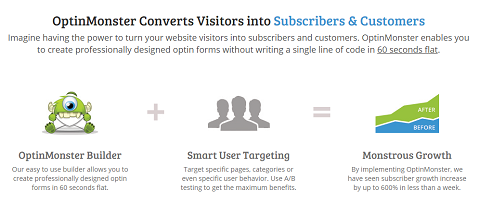 This is how we use OptinMonster.
If a reader starts to leave SocialMediaExaminer.com, as they get to the top of the browser, up pops an opt-in box that asks, "Do you want to get a copy of our free industry report?" Seven percent of the people who see that box enter their name and subscribe.
A few OptinMonster features include exit intent technology (as mentioned above), attention-getting effects for the box (swing, wiggle, shake) and an outstanding mobile option. You can also do split testing using this technology. Run as many split tests as you want, for as long as you want and analyze the differences. It fully integrates with services like AWeber.
Visit the special Social Media Examiner OptinMonster link to check it out.
Listen to the show to learn more and let us know how OptinMonster works for you.
Listen to the show!

.
Key takeaways mentioned in this episode: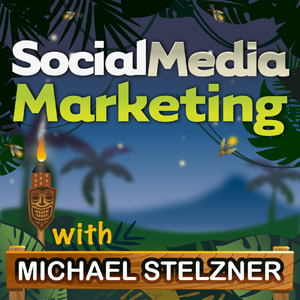 Ways to subscribe to the Social Media Marketing podcast:
How to Subscribe to this Podcast on an iPhone
Watch this quick video to learn how to subscribe on your iPhone:
.
What do you think? What are your thoughts on marketing trends? Please leave your comments below.