Are you up to date on changes from LinkedIn? Wondering which LinkedIn updates are important to marketers?
In this article, we explore LinkedIn changes that affect your marketing.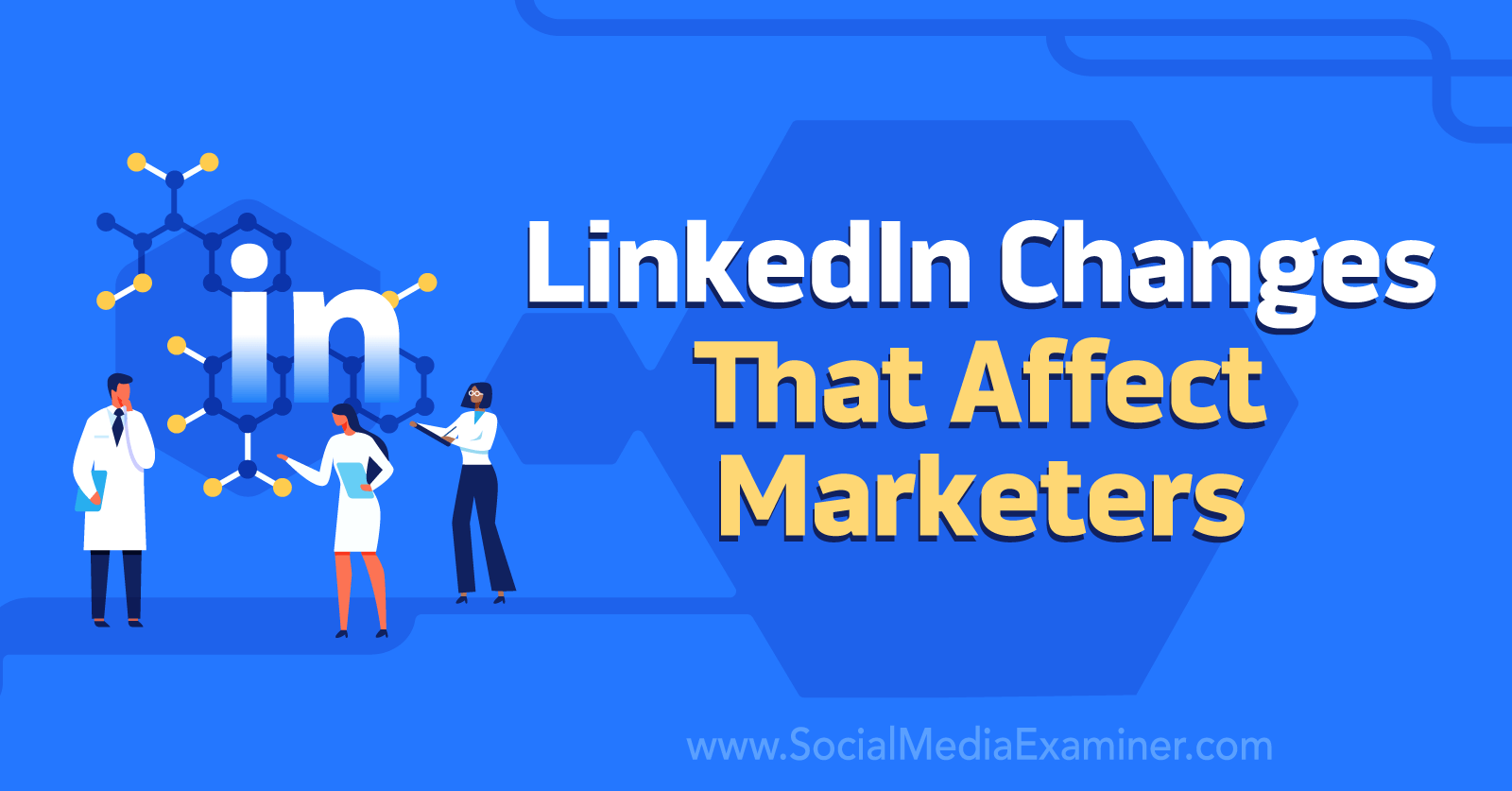 #1: LinkedIn Algorithm
LinkedIn has recently updated its algorithm to further their vision to create an authentic, relationship-based platform.
Our Take: Here are a few changes users will see on their feeds…
First, if you engage often with certain creators, you'll see more of their content. On the creator or marketer side, this means consistently interacting with your top fans to ensure they see your posts repeatedly. Alternatively, post reach will likely decrease for those who only broadcast without engaging.
Second, LinkedIn wants to connect people within 1-2 degrees of each other, mimicking real-world networks. So if Jerry engages with someone's post, LinkedIn may show it to Judy since he and she collaborated on this show.
Third, LinkedIn focuses on existing connections and weighs commenting highly to determine the relevance of content surfaced to users. Frequent posting and commenting is the key for reach for your content.
Finally, generic hashtags are less important now and have taken a back seat to hashtags that foster community, like branded event tags.
#2: LinkedIn Search Features
Brand Partnerships Search
LinkedIn has enhanced their search features to better surface branded content partnerships. Users can search for Brand Partnership posts within the LinkedIn Ad Library.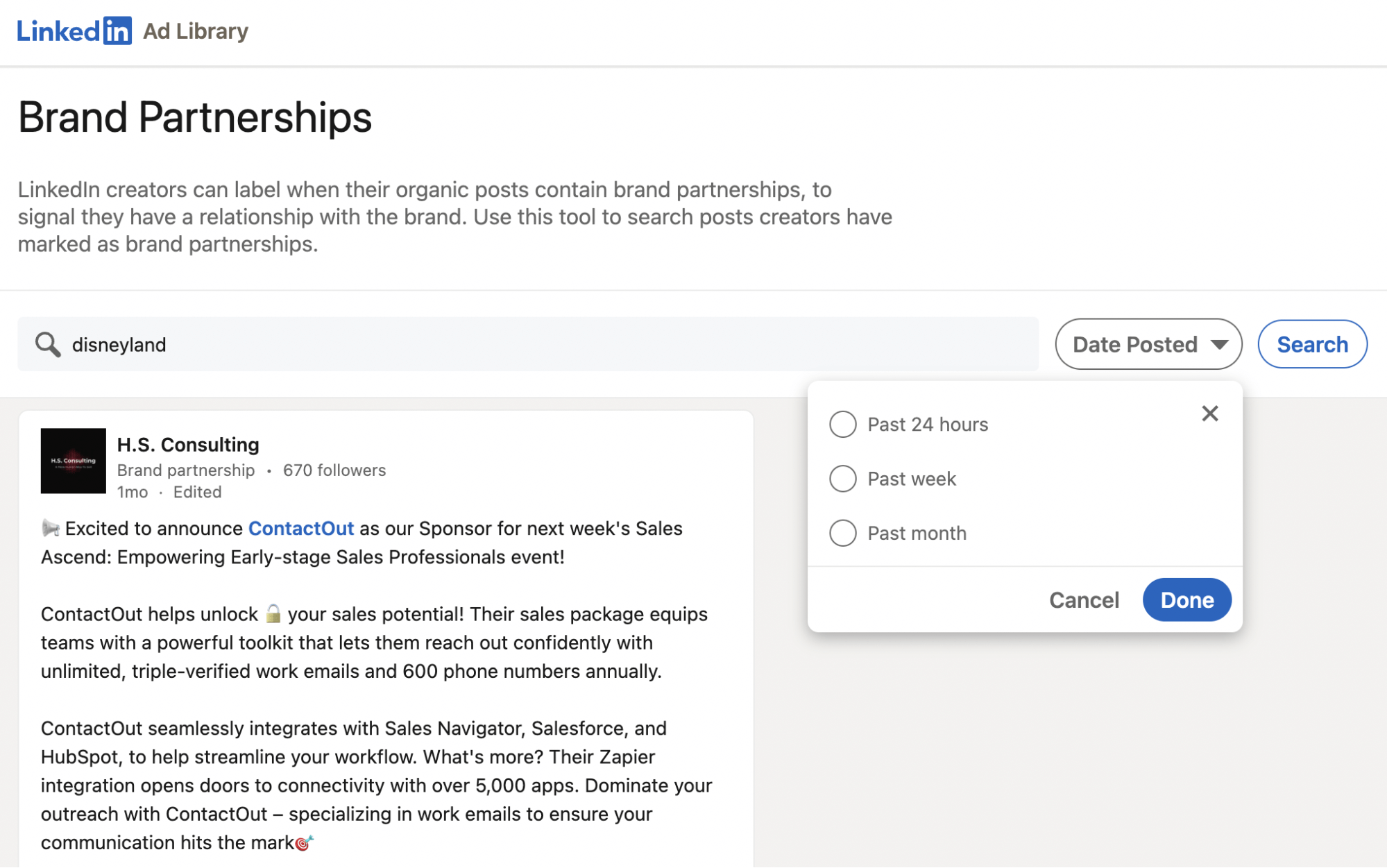 Our Take: This new functionality helps brands and creators. For brands, it enables researching what partnerships competitors are forming and identifying potential creators to work with. Overall, the improved search gives brands inspiration to identify effective partnerships and supports creators in charging fair rates.
LinkedIn Sales Navigator: AI-Assisted Search
LinkedIn's AI-assisted search in Sales Navigator uses conversational prompts and AI to automatically select the right filters to identify leads and ideal prospects.
For example, sellers can search for "marketing decision makers at LinkedIn on the East Coast with a 2nd degree connection". The AI understands the prompt and filters results accordingly.
This saves time and uncovers better leads. It also provides prompt recommendations to find warm connections, like past customers at new companies.
LinkedIn Sales Navigator: Account IQ
LinkedIn launched Account IQ in Sales Navigator to simplify account research. It uses AI to gather information from various sources and create an easy to digest account summary so sales people can intelligently engage prospects.
With one click, sellers get key insights from public filings, financials, workforce trends, and leadership priorities. This consolidates research into a single view instead of searching across multiple sites.
The goal is to provide a one-stop shop to understand accounts. This enables sellers to quickly absorb relevant insights so they can have effective conversations with buyers. Overall, Account IQ aims to streamline research and prepare sellers to engage prospects.
Our Take: These might be the features that get us to pay for Sales Navigator! We're excited about the extended possibilities, such as showing past customers who switched jobs can uncover promising leads.
#3: LinkedIn Login Security
LinkedIn recently announced they are adding support for passkeys, a new standard for creating more secure passwordless login credentials. Passkeys use public key cryptography to verify a user's identity without passwords.
Our Take: While we don't totally understand how passkeys work, we agree they will help make LinkedIn accounts more secure. The stronger security can sometimes make logging in more difficult but the trade off is worth it when compared to the potential damage your professional reputation can suffer if your account or that of your client is hacked.
Where to find the podcast: Apple Podcasts | Google Podcasts | Spotify | Amazon Music | RSS
✋🏽 If you enjoyed this episode of the Social Media Marketing Talk Show, please head over to Apple Podcasts, leave a rating, write a review, and subscribe.
---
Stay Up-to-Date: Get New Marketing Articles Delivered to You!
Don't miss out on upcoming social media marketing insights and strategies! Sign up to receive notifications when we publish new articles on Social Media Examiner. Our expertly crafted content will help you stay ahead of the curve and drive results for your business. Click the link below to sign up now and receive our annual report!