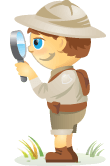 What if there was an online place where you could lend a helping hand, connect with peers and get help?
What if that place was free?
Well, I have good news! Social Media Examiner is proud to introduce Social Media Examiner's Networking Clubs.
Keep reading to learn more about the Networking Clubs and how you can get in.
Why Networking Clubs?
The social media marketplace has matured to the point where it needs a gathering place, a water hole, a virtual hangout where people can share ideas and connect.
More than 450,000 people visit Social Media Examiner each month.  But there isn't really a place for folks like you to engage.
Yes, we have our Facebook wall with 71,000 fans.  However, we don't really have a way for those fans to interact.  Plus, after a few days, whatever activity occurred on the wall is pretty much buried forever.
Our industry needed something different.
So I got a crazy idea…  Why not hire some of the best developers I could find and build something powerful and new?
After months of hard work, I'm happy to reveal Social Media Examiner's Networking Clubs.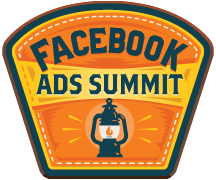 Get Facebook Ads Training—Online!
The Facebook Ads Summit is ideal for any marketer who wants to better understand the latest Facebook ads strategies and improve their testing and analysis. The world's top Facebook ads experts show you their proven techniques. The Facebook Ads Summit is a live online training event from your friends at Social Media Examiner.
CLICK HERE TO LEARN MORE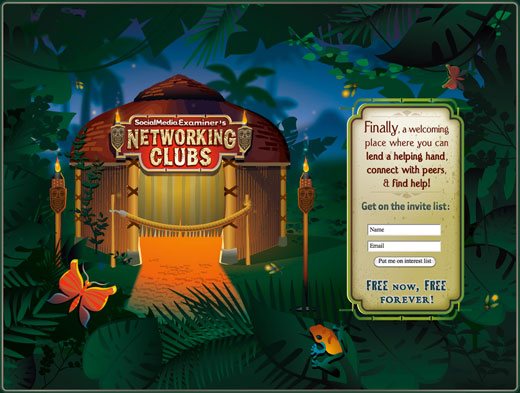 Here is a screen shot of the interest page for Social Media Examiner's Networking Clubs
What Are the Networking Clubs?
I think the best way to explain the Networking Clubs is for me to simply show you.
Watch this video for a sneak peak into the clubs!
Social Media Examiner's Networking Clubs are a place where marketers and business owners can help others, network with peers and get their questions answered about social media.
And here's the cool part. It's free now and FREE FOREVER.
How Can You Get In?
We're currently accepting folks into our private beta site. We're looking for people who want to test out our new baby.  We expect to go live to the public in early 2012.
The first 500 people to get on our interest list will gain access to the Networking Clubs within 24 hours. The remaining will be let in over time.
CLICK HERE if you want to get on the interest list for Social Media Examiner's Networking Clubs.
Remember this will always be free and it's gonna be a fun ride!!
What do you think? Share your thoughts and comments in the box below.