Do people DM your business on Instagram? Wish you could automate your responses to your followers and customers?
In this article, you'll learn how to use Instagram direct messaging automation to streamline business communications on Instagram.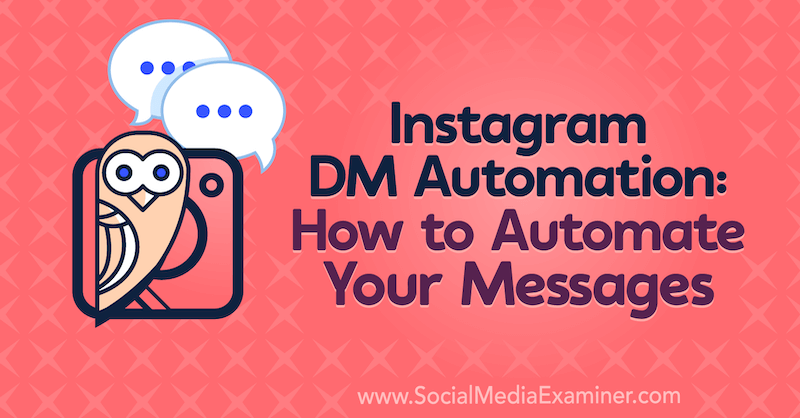 Why Instagram DM Automation Is a Game-Changer
If your business is inundated with messages on Instagram, you're not alone. Instagram users send over 400 million messages to businesses every day. They're replying to stories, inquiring about products, wanting to know more about how to work together, and so on. And while businesses are receiving these kinds of messages 24 hours a day, they're typically only answering DMs for a couple of hours a day.
Filtering all of the different types of DMs is also a big challenge. If you get a large number of messages, it's easy to miss an important one (like a product inquiry) among all of the story tags and mentions. When that happens, you could potentially lose a sale.
Instagram is a buyers' platform after all. Eighty-one percent of people on Instagram search for products and services and they want to buy. Because the algorithm, ads, and Explore pages are so good at showing people what they want to see, it's only a matter of time before somebody sees a competitor's product, DMs them, receives a fast response, and now they've bought from your competitor instead of you.
With Instagram DM automation, you can respond to customers and prospects immediately. And you'll be able to generate revenue and leads from Instagram in a way that wasn't possible through just the organic feed.
If your business isn't at the stage where you're getting a lot of organic DMs, you can start generating more messages and take advantage of automation. With DM automation, you can trigger a message with a specific word you want people to send to you. That word triggers the automation and increases the number of DMs that come in.
Instagram DM automation is slowly rolling out right now. Even if you don't have access yet, it's still worth planning your strategy so you'll be ready when you do get it.
#1:  Instagram DM Automation vs. Messenger Bots
There are a few major differences between Instagram DM automation and what's available with Messenger bots.
For starters, the audience on Instagram is half a billion people smaller than the Messenger audience. Additionally, the message formats on Instagram are much simpler. With Messenger, you can create a gallery (which looks similar to a carousel on an Instagram post), share GIFs, and do all sorts of sophisticated integrations. A lot of that complexity hasn't yet been introduced to Instagram automation.
Another difference is how people can opt in. Because Messenger is its own platform, you have a unique link that somebody can visit on desktop or mobile that sends them to a chat with your Facebook page. That's not the case with Instagram. People have to start a DM conversation by saying they want to message you, either from your Instagram profile or a story.
While there are technically only those two ways for people to opt into an Instagram DM conversation, there are more than eight ways with Messenger, including a QR code leading to your page link, the direct link, or a chat widget on a website page.
One final difference to note about Messenger and Instagram DM automation is how you can follow up with people. There have been changes in Messenger policies centered around when and how you can follow up. This has led to a lot of confusion and misconceptions about Messenger bots that have caused some businesses to stop using them as much.
With Instagram, you only have a 24-hour window to engage with somebody from their last interaction. If somebody messaged your business profile on Instagram and you messaged them back, you have 24 hours from the last time they engaged with you to follow up with them. Once that window expires, you can't message that person again unless they re-engage with you first.
While this works the same way with Messenger, Messenger has other ways you can start the conversation again that are both free and paid. Instagram doesn't.
Without getting too technical, there are the one-time notification or message tags on Messenger that allow you to send messages. For example, if you register somebody for a webinar or they say they want to get webinar reminders leading up to the event in Messenger, you can send outbound messages to them for free anytime you want leading up to the event, as long as they fall under that category of a reminder.
Messenger explicitly states a few use cases in their policies for which you can send follow-up messages. But their goal is to protect the integrity of the platform. They don't want marketers spamming people and not considering what interactions people have had with them before.
#2: Get Started With Instagram DM Automation
If you're interested in pursuing Instagram DM automation for your business, the first thing you need to do is make sure you have access to it. If you don't, at least plan what you're going to do as soon as you get it.
The best way to find out is to sign up for a tool like ManyChat, Chatfuel, or MobileMonkey. All three allow you to build Messenger bots and now Instagram DM automation as well.
Once you have access to Instagram automation, there are a few things you'll want to set up right away to start to test it.
First, run a simple story test to a keyword for either lead gen or direct sales. A story is the best way to run it because 50% of Instagram DMs start from a story.
Second, you can use icebreakers—the little bubbles that show up when you first message a business—to start automating the responses that come in. Your icebreakers will prompt the user with common questions people might ask your business.
In the same way we talked about focusing on marketing, sales, and support, you could have three relevant buttons appear when somebody is going to start an Instagram DM conversation with you. One might say something like, "Here's a free lead magnet." For sales, another one could say, "Here's a discount code" or "Book an appointment with us." This will allow you to see what people are clicking on and how they're behaving in the channel.
To explore some different applications for how marketers can use Instagram DM automation, we're going to look at three areas of a business: marketing, sales, and support.
#3: Instagram DM Automation for Lead Gen
Instagram DM automation for lead gen is the easiest way to generate ROI immediately.
To understand how this can work, let's say the user journey starts with someone seeing your Instagram story. In that story, you use the poll feature to ask your audience if they're experiencing any challenges or problems for which you provide a solution. Your question should put the user in the right mindset for then taking advantage of something you're about to offer them.
The last story in this sequence is where you include the call to action. But instead of telling people to swipe up to get your download, podcast, or discount code, you tell them to DM you with a specific trigger word. For example, if you're an eCommerce store offering a discount code for a Mother's Day promo, you could say, "If you want to get a 15% discount code, message us the word 'mother' or 'mom'."
As soon as someone sends you that message, they'll receive an instant reply from your business, triggering a conversation. If it's a discount code, you might ask for the user's email first and capture that in the message. Then you could say, "Here's your coupon code", and put them into an email abandonment cart sequence.
Currently, there's no way to put someone's email address automatically into the conversation like you can with Messenger. On Instagram, you literally just need to ask them, "What's your best email?" and the user will type it in. You can also check if that's a valid email or if they typed "skip" or something like that.
The buttons people will see in Instagram's automation are also a little different from Messenger. With Messenger, you have two options. You can use up to three vertically stacked square buttons or more bubble-like buttons that users swipe to the right and left.
Instagram only has bubble-type buttons so having those in the conversation to guide somebody is much more effective than asking them to type something at each stage. If you're trying to guide someone through lead qualification, a product recommendation quiz, or something where they need to give you some information, it's much easier for the user to click on the options than type something in.
#4: Instagram DM Automation for Selling
Now let's talk about how you can use Instagram DM automation for selling.
For business models that jump right into the sales process—such as info commerce, software, services, and real estate and insurance agents—you can offer anything from a free quote to a product quiz that ends with a discount code (after you recommend your best product). You'd start the conversation by qualifying them from the beginning, especially if this person is already aware of the solution you offer.
You can ask them for as much information as you want up front to accomplish two things.
First, you might need information from them to be able to provide a free quote or something of that sort. You could ask them to answer questions by choosing prefilled buttons or by typing in their information.
Or you could just make it super-quick by asking for their email and then giving them the discount code. With lower-ticket items, that's the best approach—just give them the information they need to make a purchase. Then during that 24-hour period, you can set some follow-up messages to trigger.
But if it's a high-ticket sale or requires a human to come in and close, you can create a handoff system. Your Instagram bot could qualify somebody by asking a few questions. Then when it gets to the point of the sale, you could have your sales or support team jump in to finish off the conversation. The chatbot automation will be paused at this point. It'll just be the human on the business side talking to the other human—the lead—to close the sale.
Then after the sale is complete, the chatbot can take over again so if the customer messages you again in the future, the chatbot will pick up.
You can set this all up within one tool. For example, ManyChat can accomplish all of these use cases and track everything. It will allow you to create some sort of high-ticket or handoff sales system and act as a CRM. Or if you want to ping a channel like Slack when a lead needs help, you can create that integration pretty easily as well with a third-party tool like Zapier.
Case Study: Mindvalley
One company that has had a lot of success with this strategy is Mindvalley, a personal development company. Their business model is online courses that push human and personal development forward and they offer hundreds of products in many different languages. They have about 1.4 million followers on Instagram and get anywhere between 20 to 40,000 people watching each of their stories.
Mindvalley uses a webinar model as their primary way to get people into their products and Instagram is one of their main lead gen sources. When they run launches, they drive people from Instagram stories, posts, and links in bio to the free masterclass registration. From there, their masterclass, email sequences, and Messenger bot system are all built to sell people into that program.
Instead of telling people to swipe up on an Instagram story to register for their free masterclass, they tell them to DM a specific word ("Energy" for example). When someone does that, they confirm they're interested in the class and the automation proceeds to help them register immediately. The experience is something like, "Thanks for your interest in this class. Are you still interested in learning about XYZ?"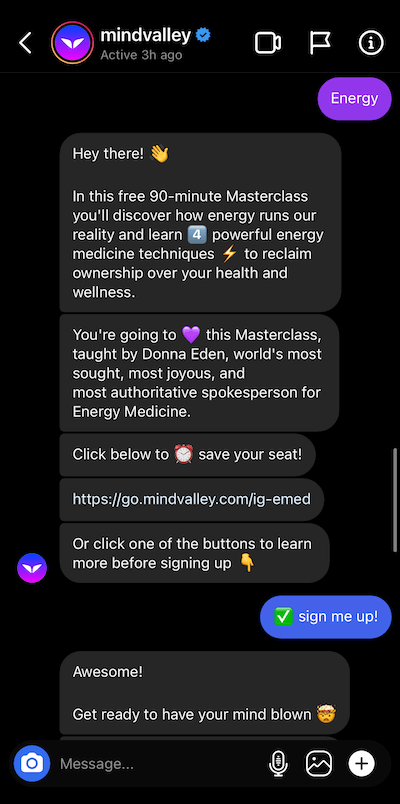 They lead people through the conversation by helping them understand more about the offer before they go to it, and at each step of the way, people can go and register for that class.
For example, if somebody opts in by typing the keyword, they get a message that says, "Ready to sign up or do you want to learn more?" If they want to sign up, they actually go to the masterclass registration website page.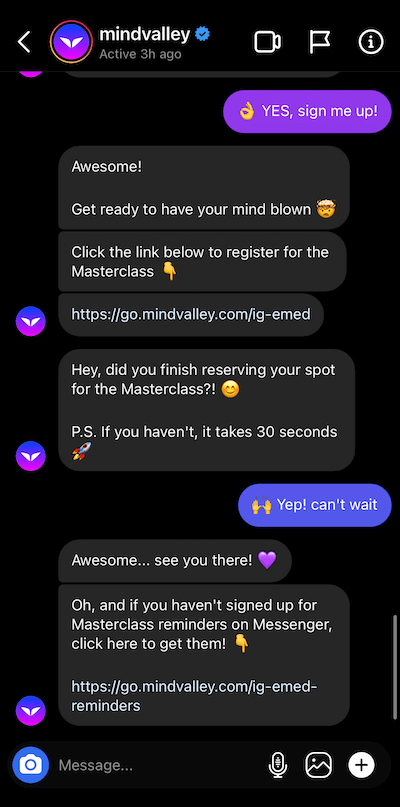 If they say they want to learn more first, they'll get the main takeaways from the class, learn who the instructor is, and any other FAQs that people would typically ask a human before signing up for the class.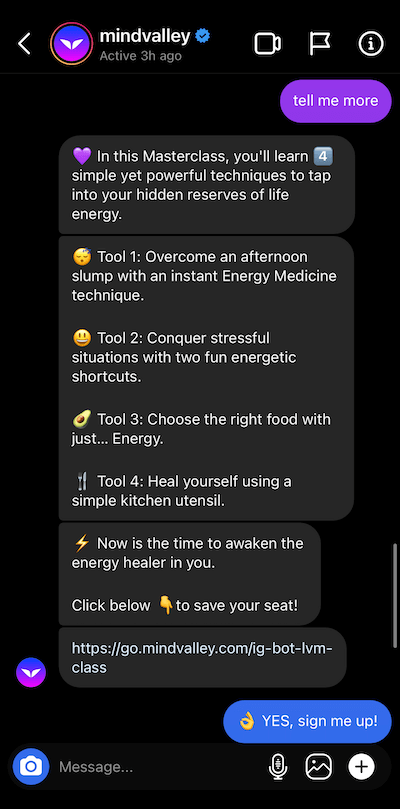 #5: Instagram DM Automation for Customer Support
The third use case for Instagram DM automation is support messages.
Because many businesses can only allocate a few people and hours a day to respond to their Instagram DMs, people might have to wait up to 23 hours for a response. With Instagram DM automation, however, you can give somebody a response instantly—and elevate any conversations that aren't automated.
When Mindvalley automated their Instagram DMs, they found that only about 10% of their support messages needed to be elevated. They can track this with a system that was built for Messenger and now replicated for Instagram. When they answer somebody's question via automation, the immediate follow-up question is, "Did that help you find your next step?" or "Did that answer your question?" The user can then answer yes or no.
There's also a bit of artificial intelligence and natural language processing that's able to tell them the sentiment of somebody's message.
Other Notes From This Episode