Is your Instagram engagement falling day by day? Could you be making mistakes that turn your followers off?
In this article, you'll discover a proven strategy to help you get more engagement on Instagram and stop making potentially dangerous posting mistakes.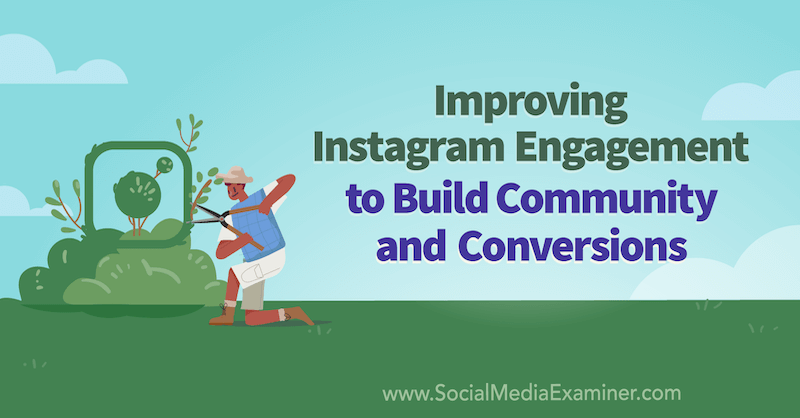 Why Instagram Engagement Is a Priority
Engagement is the act of taking the time to have a genuine conversation with your community.
Engagement has always been an important metric for measuring success on any social media platform, but as people become increasingly reliant on social media for connection, creating Instagram engagement has become a top priority. In part, this is because Gen Z is leaning further toward genuine connection with businesses and brands than ever before, and Gen Z is coming to the forefront of audiences and consumers.
This means that you can't rely solely on posting content that invites your community to like, save, and comment. Rather, you need to spark your community into a conversation.
And a conversation is a two-way street. Essentially, when your community does take the time to like, save, or comment on your Instagram post, you'll need to respond to them to get the conversation started.
Use the following advice to put the power of Instagram engagement to work for you today.
3 Instagram Engagement Mistakes to Avoid
The first mistake a lot of businesses make when it comes to social media marketing is not understanding who their audience is before they try to spark that conversation.
By understanding who you're talking to, you're able to ask and answer questions that will help the conversation continue, rather than accidentally leading it to a dead end or a lull. Just as with in-person conversations, a lull on social media can leave both parties confused and unsure what to do next—or even end the conversation abruptly.
The second mistake is tagging or @mentioning people in posts or comments just to grab their attention when there's no prior relationship. It can make you look bad or spammy. And if you're trying to get someone to notice you, the last thing you want them to do is to block you for filling up their notifications with irrelevant content. Reserve tagging other creators or brands within your post unless you know they'd truly appreciate seeing your post.
And third, if the comments you leave on others' posts are spammy and intended to drive people to purchase from you or check out your own post, then you risk getting blocked altogether.
If you ensure the comment you leave is relevant both to the creator's post and yourself, both you and the other creator can benefit in multiple ways. Not only does the comment help associate your name with the other creator's content, solidifying your place within that community and bringing positive attention to you and your brand, but it also helps boost the other creator's content with Instagram's algorithm. That's a win-win situation for both of you.
Pro Tip: The longer and more valuable your comment is on another creator's post, the more likely your comment will get pinned to the top of the post. As creators on Instagram, we can pin up to three comments at the top of our posts, driving engagement and conversation to those three comments.
As you might expect, having your comment pinned to the top of a post will drive attention to you and your brand.
#1: How to Set Up Your Instagram Bio to Invite Engagement
You have 33 characters for your name and another 150 characters in your bio with which to convince someone to follow your content because you can help them do something, show them something, or otherwise bring value to their life or business.
You want your name and bio on Instagram to be clear and concise. Anyone who visits your profile should know immediately what it is you do and what they're going to get out of your content.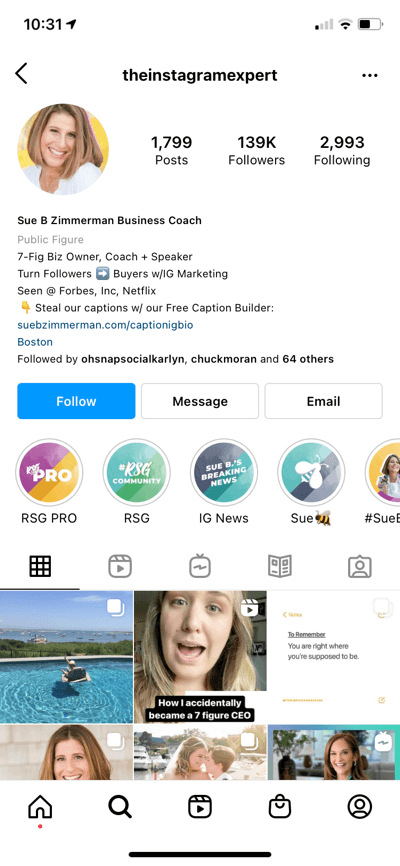 From there, whether you're posting a photo to your Instagram feed, your story, a short video to your Instagram Reels, a product to your shop, a live video, or a longer video to your IGTV, you want to make sure that you fulfill the promise you've made in your bio.
Here are some tips to increase Instagram engagement by feature or post type.
#2: How to Increase Instagram Feed Post Engagement
People constantly ask, "When is the best time to post on Instagram?" The most important span of an Instagram post's lifetime is the first hour after that post is published. This is when you want to rack up as much engagement as possible because that has the most influence over where that post lands within Instagram's algorithm.
The best time to post on Instagram is the time of day during which you can spend an hour cultivating engagement on your post. There are a few ways you can do this.
You can find the initial people who have already liked your post within that first hour and send them a private message along with a question and a link back to your post to spark a conversation. This essentially leads them back to your post to answer your question right there as a comment.
You could send your post as a private message to up to 50 people and ask for their thoughts. Remember to make sure the 50 people you send your post to would actually appreciate seeing the post because it's relevant to them.
Once someone has commented on your post, your response can either include a question and invite further conversation or a request to further the conversation.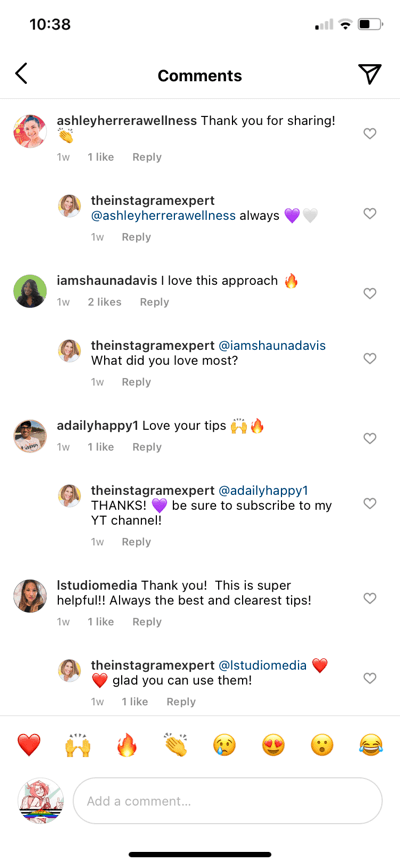 For example, if someone left a nice but vague comment like "I love this," you can respond to that comment with something along the lines of "Great! I'm so glad you found this valuable. Do you mind tagging three of your friends who might also need to hear this?"
#3: How to Improve Instagram Stories Engagement
Of course, most of your viewers on your Instagram Stories are going to be people who already follow you. This is because stories no longer show up on major hashtags the way they used to, and there's no real mechanism for discovering new stories.
However, you can still tag other creators onto your Instagram story. When you do this, they'll receive a message that you mentioned them in your story, along with the option to share your story. This is a great way to help get your name and story in front of a new audience, particularly if your story is relevant to the creator you tagged. And you can tag up to 10 accounts this way, increasing your chances of being shared.
Additionally, while hashtags aren't quite as effective on Instagram Stories as they once were, using geotags can get your business noticed if the location you tag is relevant to your post.
#4: How to Cultivate Instagram DM Engagement
Instagram Direct Messages is still one of the favorite features of a lot of business owners for connecting with and contacting their community. And since Instagram added saved Quick Replies, it's become even easier to qualify and respond to a stream of incoming messages.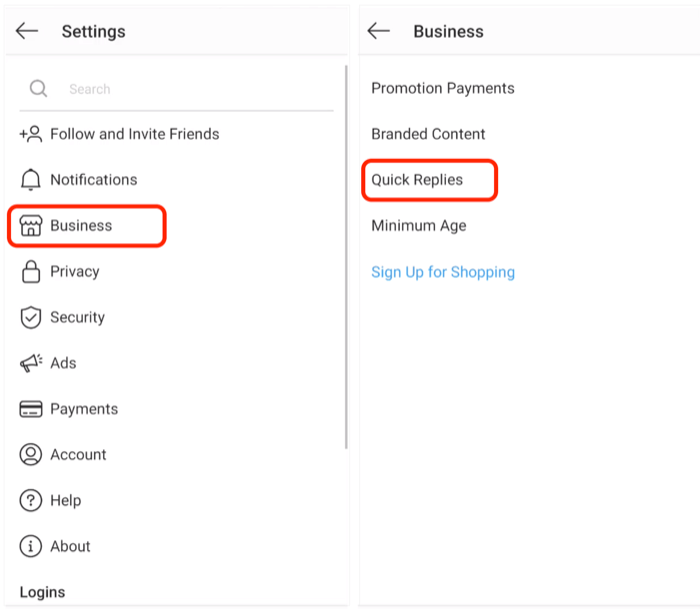 Of course, as always, the goal is to spark a conversation and create a back-and-forth exchange. Responding to your direct messages with another question is a great way to keep the conversation going.
You can also really help your brand stand out by responding to messages with an audio or video message.
#5: How to Optimize IGTV Posts for Engagement
IGTV is Instagram's answer to long-form video content. Once you set up your IGTV, it's like having your own television channel on which your community can engage. People can comment on your IGTV videos and respond to comments just as they can on other areas of Instagram. The primary difference here is that with IGTV, no matter the size of your community, you can include a link out to another website.
In addition to that, you can use other areas of Instagram to link to your IGTV, including Instagram Stories, even if you don't yet have the 10,000 followers that Instagram requires to access the Swipe-Up and Link features in your stories. In this way, Instagram really is a community portal first and foremost.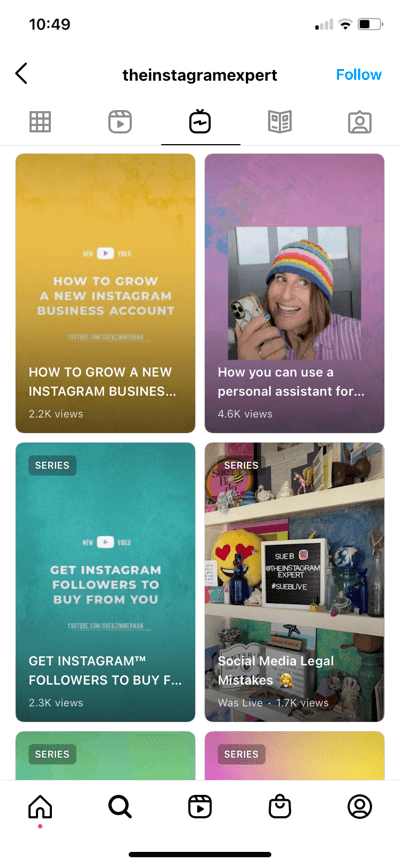 You can even load your Instagram live videos into your IGTV. If your live video was less than 10 minutes long, download and save the video to your mobile device first so you can trim, clean up, and optimize it before uploading it to your IGTV channel. If your live video is longer than 10 minutes, you'll have the option to upload it directly to IGTV, but you'll want to make sure that your thumbnail and optimization are ready to go because you won't have the option to download and edit the video beforehand.
Just as with other areas of Instagram, when someone comments on one of your videos inside IGTV, you want to be sure to respond to them in a timely manner so you can spark a conversation.
#6: How to Develop Engaging Instagram Live Content
Just like going live on other platforms, a lot of creators view engagement on Instagram Live as a matter of responding to comments. And that is one way to get engagement.
Another trick to increase engagement is to use the Q&A sticker to invite your audience to ask questions in a slightly more formal manner. It's easier to keep up with and read than trying to read the scrolling comments.
The bonus to Instagram Live is that you can go live with up to three other people. Every time you bring a new guest into your live, their followers receive a notification, bringing new engagement to your Instagram live and putting you in front of a new audience.
Instagram lives are also very easy to find. They're at the top of the screen when you open the app, near where the Instagram stories are, but at the beginning of the line so they show up on the very front screen.
#7: How to Build Instagram Reels Engagement
Last but not least, let's talk about getting engagement on Instagram Reels. Instagram Reels is one of the newest features on Instagram. They're short-form videos meant to inspire creativity and collaboration. And, once again, they're teeming with opportunities to connect with new people and engage with your community.
Engagement on Instagram Reels works very similarly to the traditional view of engagement: The more comments you get on a reel, the more Instagram will push it out, and you'll get more views on that reel and some of your other reels. Of course, you should be creating content that's relevant to the audience you're trying to attract so the views and comments you receive are relevant, not random.
Additionally, continue cultivating the conversation by responding, or at the very least hearting, any comments left on your Instagram reels.
Other Notes From This Episode