Have you noticed a drop in your Facebook or Instagram ad performance? Could your campaign structure or targeting be at fault?
In this article, you'll discover how to align your Facebook and Instagram ad strategy with Meta's algorithms for better campaign results.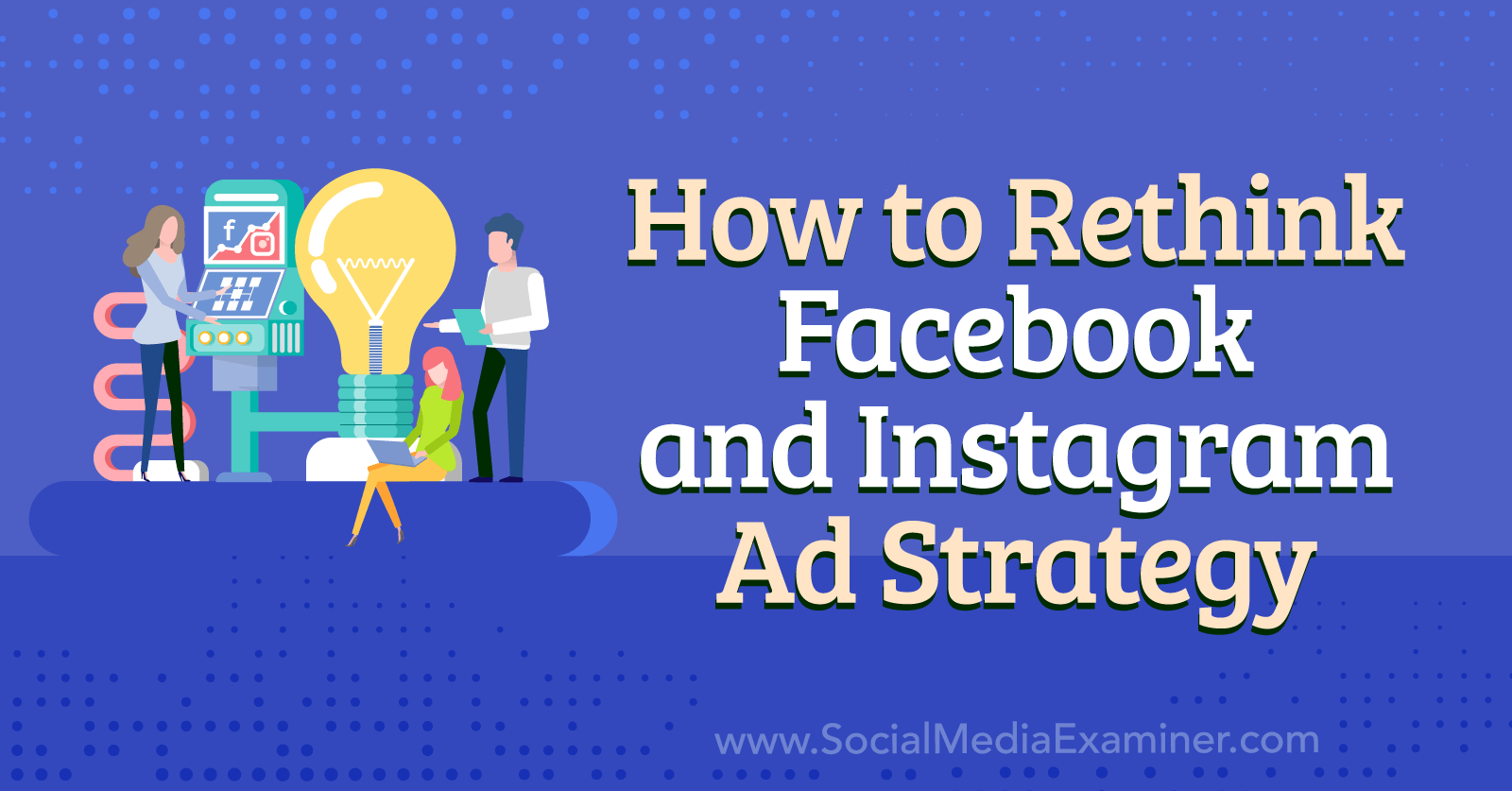 Why Paid Social Is Important to Marketers Today
Paid social occupies a unique niche for marketers. It combines the precision targeting of advertising with the relaxed, customer-focused attitude of social media.
Most important, when someone logs into their socials, they're already in a discovery mindset. They're ready to see new content popping up in their feed, often from new and unexpected accounts. That puts them in the perfect frame of mind to hear about your brand.
Social media advertising has been a valuable channel for eCommerce for some time. What's different now is that paid social is overtaking organic social media in terms of value to entrepreneurs.
There are two reasons why this is happening right now.
Organic Reach Has Changed
An organic social media presence is table stakes for any business. If you're running a business, you're on social media.
But you need a very different strategy today from the tactics that worked 5 years ago.
Then, entrepreneurs focused on creating amazing content to build an organic presence. They used paid ads limited to attracting new followers and then retained them through unmissable organic content.
However, organic reach has plummeted in the last few years. The average organic reach for a business account is under 2%.

Now you have to pay Facebook and Instagram to get your content seen at all, whether by followers or new leads.
So paid social is no longer about gaining followers. Your goal is views and impressions. You'll need paid social to attract followers and retain them with content.
Privacy Rules Have Changed
The GDPR. The CCPA. The end of third-party cookies. The end of user tracking in iOS. The last couple of years has been a perfect storm for online advertisers. Privacy regulations are stricter, users are less willing to share data, and ad targeting has lost some of its old precision.
Let's take just one of those changes as an example to see how big the impact has been on advertising.
Back when it was an opt-out tracking system, 80% of iOS users allowed their browser activity on Apple devices to be tracked. But in 2020, Apple began releasing a series of privacy updates and device tracking switched to an opt-in system.
The result? Less than 40% of iOS users now permit device tracking. Facebook and Instagram lost almost half of the user data they had regularly collected from Apple devices. This means their advertising algorithms lost some of their accuracy.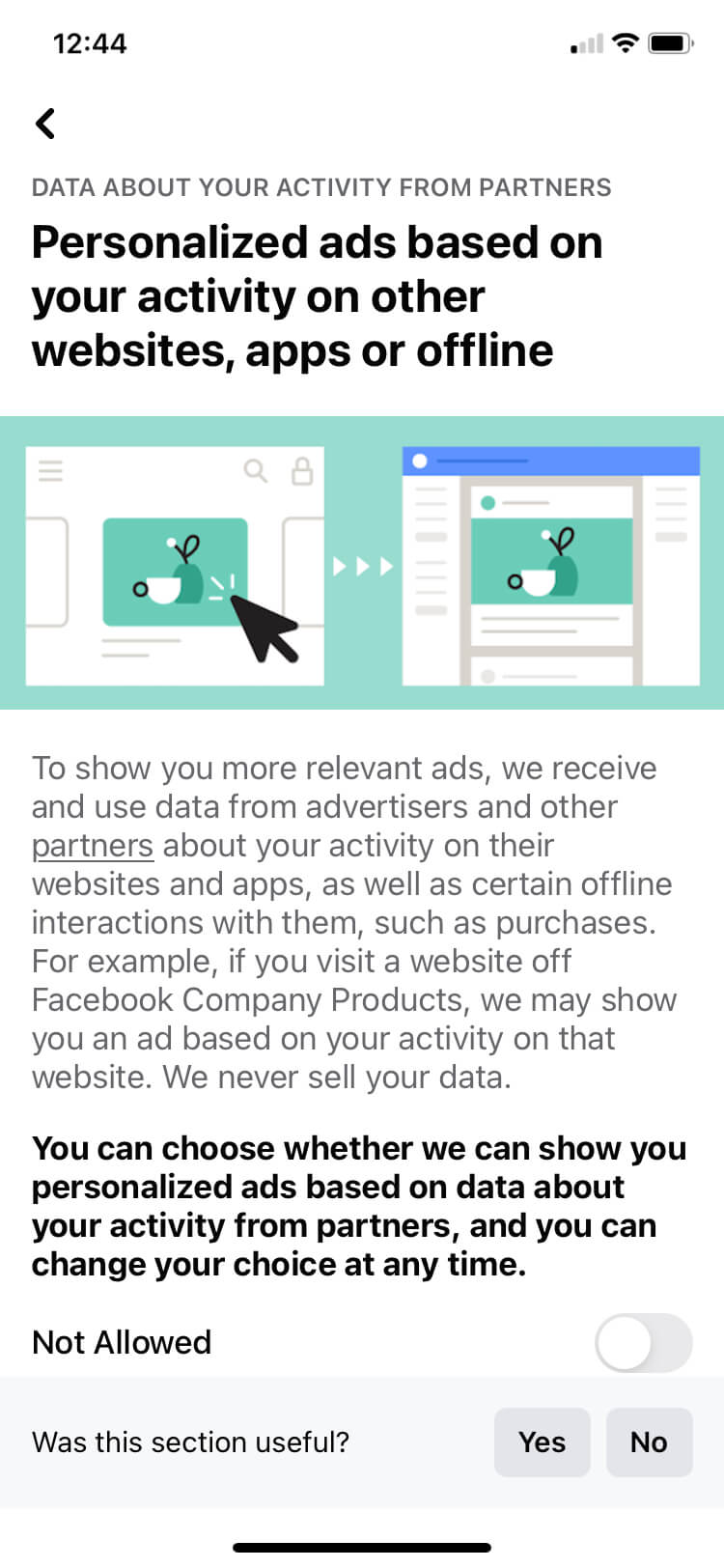 But let's not catastrophize here. Meta is still one of the biggest online data collectors on the planet. (Quite possibly the biggest—it's hard to tell.) You can still use extremely sophisticated targeting for your paid social campaigns. As the social networks adapt to the new, privacy-driven reality, you can expect targeting to begin to improve again.
It's not just external factors that have caused the pivot to paid social.
Facebook and Instagram have also been changing their approach to business accounts internally. Their recommended strategies for paid social also look very different from a few years ago.
Understanding Meta's Evolving Recommended Ad Strategies
In the past, it was easy to surface content organically and most marketers used paid social to reach new followers. The social networks recommended a strategy to match: create lots of audiences and use them to scale horizontally.
"Horizontal scaling" meant building one audience and optimizing it with a few ad campaigns. Once it was up and running independently, you would build another, slightly different audience, and begin the optimization process again. The goal was to have lots of overlapping audiences so you could target potential new followers over and over again.
That doesn't work anymore for a few reasons:
Audience saturation. People got sick of seeing the same ads from the same companies over and over again. After a certain point, horizontal scaling became counterproductive.
Audience fragmentation. Marketers spent a lot of time trying to identify tiny differences between audience segments. This meant you had to put a lot of effort into designing new audiences and customizing ad creative for them.
Limited targeting. Audience fragmentation and micro-targeting were more effective when Meta had the data to match. But now that paid social has become slightly less precise, it's more effective to build broad audiences.
Unnecessary costs. One other problem with fragmented audiences was that you ended up paying for lots of different campaigns. That was OK when ad costs were low and there was plenty of inventory to go around. But now that the ad market is more crowded, you're just wasting money by bidding against yourself. Choose a few core audiences and focus your spending on them.
The new strategy for ads on Facebook and Instagram is to create broad audiences and test a range of creative on them. It's designed to simultaneously accommodate changes in data privacy and mitigate increased ad costs.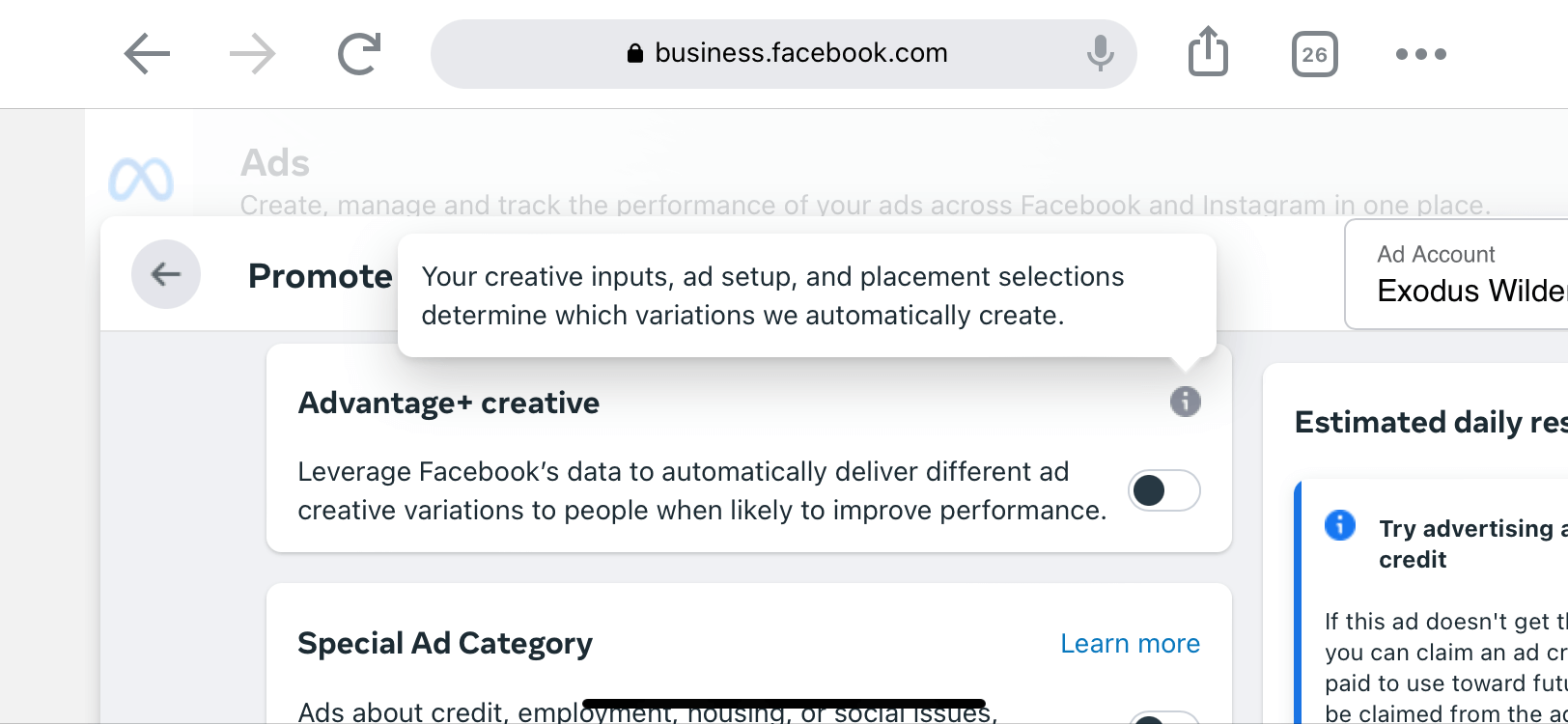 However, you don't want to go too far the other way either. If your audiences are too general, it's harder to test different ad creative and draw meaningful conclusions. And the situation may change again.
The cost per thousand impressions (CPM) on Facebook fell by 14% in the last quarter, after years of rapidly rising costs. Overall, ad rates have fallen from 2021 to 2022. The competition for ad inventory has slowed.
What does that mean for eCommerce marketers on the platform? This might be a good time to reinvest in Facebook and Instagram ads while costs are temporarily low. Use the lower rates to test broad—but still clearly defined—audiences, and experiment with new targeting tactics.
What to Include in Your Facebook Ad Strategy or Instagram Ad Strategy
We've talked about how Facebook and Instagram ads are changing. We've talked about trends, privacy policies, and costs. We've talked about how marketers can adapt to the new way of doing things.
But we haven't yet gone into detail about what exactly goes into a paid social strategy. There are three key elements to bear in mind:
Data signals to keep your strategy well-informed and up to date.
Goals to organize your campaigns and target audiences.
Ad creative: the content that puts your strategy into practice.
#1: Collect as Many Data Signals as Possible
The Meta empire is built on data. Social networks like Instagram and Facebook collect data and make it possible for advertisers to leverage that information.
But the data is only valuable if you tell Meta which information to collect and how to use it. If you collect the wrong data or not enough data, then the ad algorithms on Facebook and Instagram won't be able to optimize for you.
There are two ways to collect information about your eCommerce audience and use it on Facebook or Instagram:
Most eCommerce marketers are already familiar with the Facebook pixel. Once the pixel is installed on your website, Facebook can collect information about all of the traffic to your website. It can also track events—any action that people take on the site, from viewing content to adding items to checkout to making purchases.
The Conversions API adds to the pixel's data. The Facebook pixel is less effective than it used to be because it's now blocked by some ad blockers. The Conversions API is less comprehensive. It can only see specific conversion events, not all of the activity on your website, but it can get past ad blockers.
In other words, Conversions API is Meta's answer to changing privacy standards. It respects user privacy by only collecting first-party data from your website. You can also customize the API to choose which data Facebook uses to match conversions on your site to user profiles on Facebook. For example, you could use names and emails to identify conversions, or you could restrict the API to only use names.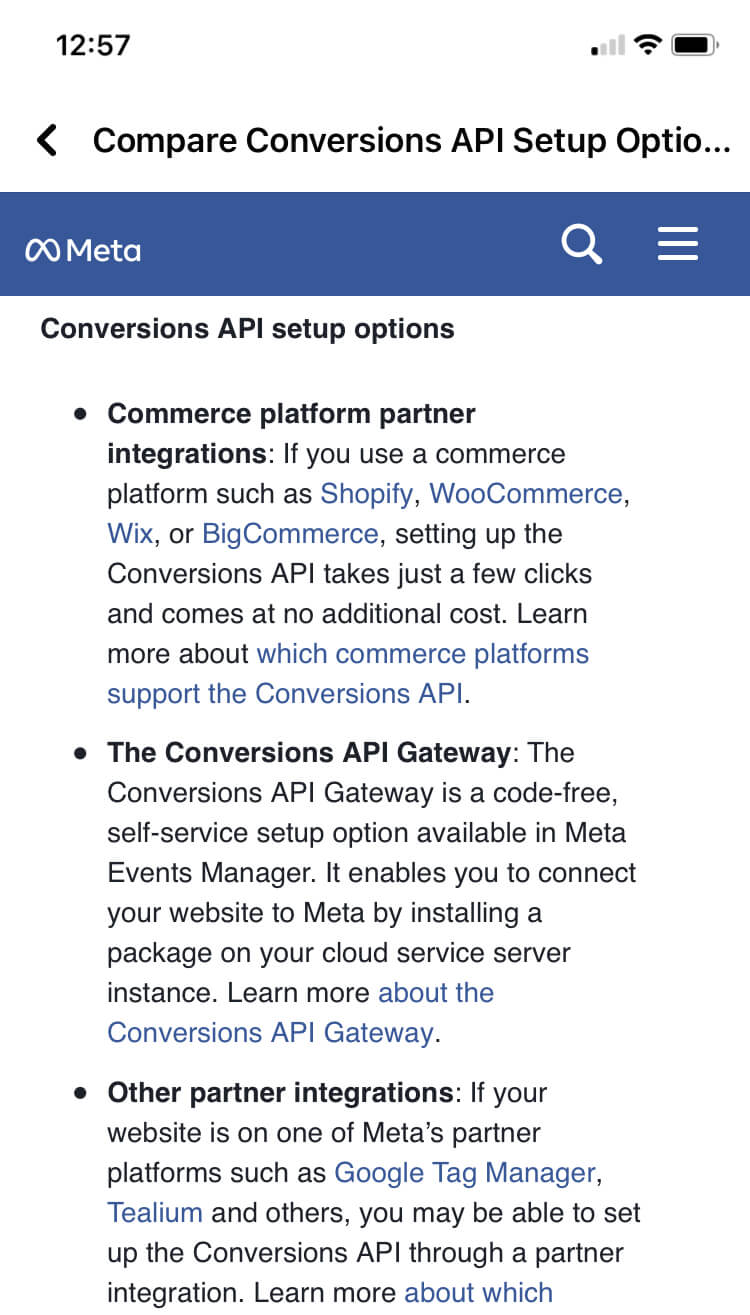 eCommerce marketers who use the Conversions API get better results at a lower cost because their data is more complete. Both the pixel and the Conversions API work together to identify events and track audiences without duplicating data or raising privacy concerns.
A word of caution here. The Conversions API is trickier to set up than the pixel. However, if you're using an eCommerce platform such as Shopify or WooCommerce, they'll guide you through the process step by step.
#2: Segment Paid Ad Strategy by Goals
The key to any successful eCommerce business is having clear goals. In fact, it's the key to any successful business, period!
You're going to use goals to break down your paid social strategy into elements that are easy to set up, track, and optimize.
This has two benefits: first, you can see where your ad spend has the most impact. Second, it helps the ad algorithms help you.
Here are some basic ways to divide your paid social strategy based on goals:
Campaigns. In Business Manager or the Meta Business Suite, you can set up Facebook ads and Instagram ads for specific campaigns. For example, you might have different campaigns for different products or seasonal sales. These are different sales goals that need different creative, audiences, and ad placement.
Audiences. Every ad within a campaign can be assigned a different audience. For example, you might create separate ads to target new leads versus retargeting a custom audience of loyal customers.
Targeting. You can target different audiences based on their interests, or lookalike audiences. It's a good idea to separate interest-based audiences from lookalike audiences so you can test different ad creative and move your budget around.
We talked earlier about creating broad audiences so you could get maximum reach for minimum spend. That's still a good idea. None of these audiences should be especially small or narrow.

However, we still recommend dividing your paid social strategy into different campaigns, audiences, and targeting types. This is so you can instantly understand metrics and move ad spend to where it will be most effective.
#3: Fine Tune Your Ad Creative
Ad creative is one of the most important levers you have to control the ad algorithm. In fact, according to Facebook, ad creative alone is responsible for about 58%-60% of your ad campaigns' performance.
So let's set some ground rules for your ad creative. These rules won't guarantee success, but when combined with accurate data signals and clear goals, the right ad creative will supercharge your business on Facebook and Instagram.
Aim for a minimum of 3-5 ads per campaign. This gives the algorithm enough information to optimize, without becoming overwhelming.
Mix different ad formats within campaigns to find out which audiences prefer which formats. For example, you might find that carousel ads are great for conversions but less good for discovery.
Create emotional video ads. Videos are hugely popular on social media. With the right emotional hook, they can also reduce the number of touchpoints needed for a purchase from 10 to 2.
Design your video ads for vertical, sound-off watching. Keep videos short and sweet. The ideal is 10-15 seconds. Use visual hints and subtitles to make your message crystal-clear.
Beyond those general rules, you'll also find that different advertising goals require different creative. Remember how you're going to divide your ad campaigns on Facebook and Instagram based on their goals? Now you're going to add the creative to match each goal.
For prospecting ads, be as creative as possible. The first time someone sees your brand, it will be harder to get their attention. So use every trick you can to make an impression: bright visuals, testimonials from an authority figure, whatever it takes.
For retargeting ads, focus on rational messaging over attention-grabbing content. People are already open to buying for your brand; they just need a little more persuasion. Offer discounts, highlight exclusive features, and share more information about key decision-making aspects such as your return policy.
Whichever audience you're targeting, remember: the goal on Facebook and Instagram is no longer to get followers. The goal is to use Facebook advertising or Instagram advertising to get your content in front of more people in your target audience. Then your ad content will lead people toward a conversion.
Other Notes From This Episode
Where to subscribe: Apple Podcasts | Google Podcasts | Spotify | YouTube Music | YouTube | Amazon Music | RSS
✋🏽 If you enjoyed this episode of the Social Media Marketing podcast, please head over to Apple Podcasts, leave a rating, write a review, and subscribe.
---
Stay Up-to-Date: Get New Marketing Articles Delivered to You!
Don't miss out on upcoming social media marketing insights and strategies! Sign up to receive notifications when we publish new articles on Social Media Examiner. Our expertly crafted content will help you stay ahead of the curve and drive results for your business. Click the link below to sign up now and receive our annual report!