Do you create video content for Facebook? Wondering how to allow others to advertise during your videos?
In this article, you'll learn how to monetize your Facebook video content with Facebook ad breaks.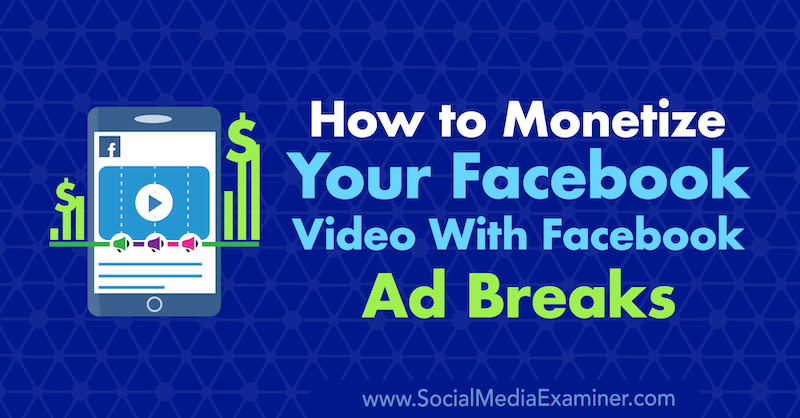 What Are Facebook Ad Breaks?
Facebook ad breaks allow you to monetize your Facebook video content. Ad breaks are short ads (in the form of pre-roll, mid-roll, and image ads) inserted at natural breaks in your eligible video content. The feature has been around for a little over a year and users were slow to adopt it at first. But now, quite a few Facebook pages are earning 4–5 figures in revenue from ad breaks.

To check your page's eligibility for ad breaks, go to the Join Ad Breaks page.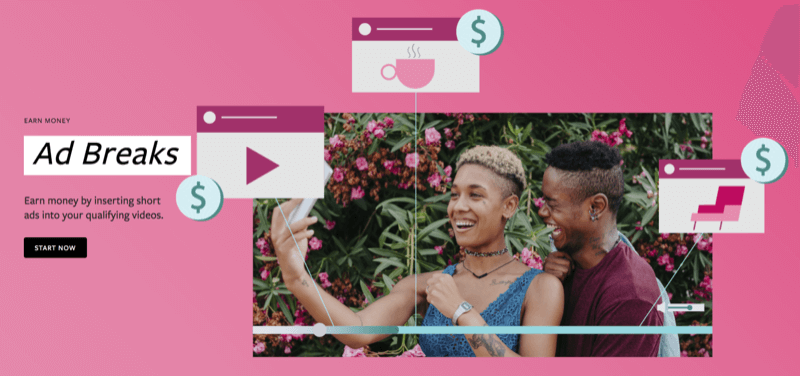 If your page is eligible, you'll see a message to this effect right away.

If you see a message that your page isn't eligible for Facebook ad breaks yet, this means you need to meet some additional requirements to qualify. Here are the requirements for Facebook monetization:
Your page must comply with Facebook's Partner Monetization Policies that are centered around community standards, copyright enforcement, authenticity, and engagement.
You must reside in one of the eligible countries and post content in one of the eligible languages. Don't get discouraged if your country isn't on the list yet; the list of eligible countries is growing fairly fast. Note: this requirement may have been removed from some pages in the last month.
You must publish content on your business page (not your personal profile). Facebook's public documentation specifies that a page must have at least 10,000 fans. Note: Facebook appears to be testing a 1,000 fan minimum in some regions.
Your page must have reached one of these milestones in the past 60 days: 15,000 engagements; 180,000 minutes viewed across all of your videos; or 30,000 1-minute views on 3-minute+ videos.
You must be at least 18 years old.
The eligibility check will highlight specific areas to focus on while working toward monetization. For example, you may need to work on the strategy to increase video views. Scroll to the bottom of this article for tips to help you reach eligibility for Facebook ad breaks.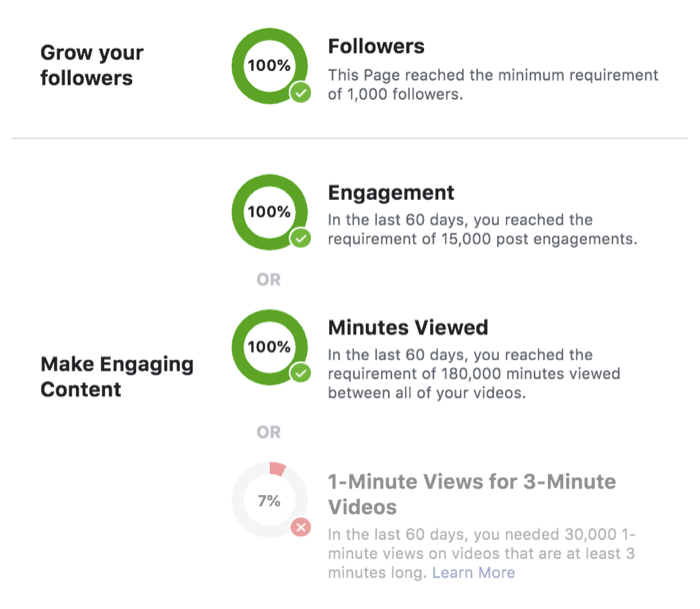 If your page is eligible for Facebook ad breaks, here's how to get started monetizing videos that are at least 3 minutes long.
#1: Submit Your Facebook Page for Facebook Ad Breaks Approval
You can set up and easily manage Facebook ad breaks via Facebook Creator Studio. Start by choosing the eligible page you want to monetize. Then click the Monetization tab in the left navigation and carefully review and accept the monetization terms and conditions.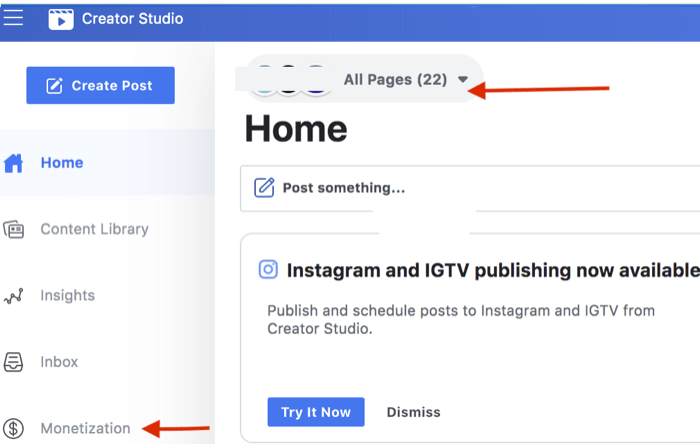 Next, choose your forms of receiving earnings and select a payment account. You can enable the automatic placement of ads in your videos published in the last 30 days.
Once you've finalized your page setup, the approval process is typically quite fast.
#2: Control Where Facebook Ad Breaks Appear in Your Video Content
Facebook lets you choose the placement of ad breaks at the page or video level. You can make this selection when setting up monetization or later in monetization settings. These are your options:
Allow Facebook to automatically insert ads where there's a natural 1- to 2-second pause in your content (recommended).
Manually control where Facebook inserts ad breaks. The best practice for this option is to check the box that allows Facebook to adjust the ad break point by 10 seconds. This will optimize your viewers' experience.
#3: Create Facebook Videos Optimized for Facebook Ad Breaks Monetization
If you opted for the page-level monetization option, every video you publish on Facebook will automatically go through the content review process. This review starts the moment your video is published. You may even earn limited revenue from it while the video is still in the review phase.
Facebook reviews best-performing (or higher "velocity") videos first and determines performance by the number of views in the first minutes after the video is published. A video that gets 25 views in the first 10 minutes is considered high velocity. This video will get a higher priority for review compared to a video that takes 30 minutes to get the same 25 views.
The review process can take up to 48 hours but typically it's much faster. The status of each video is displayed on the Ad Breaks tab.

After the video has been reviewed, the status will change to one of the icons shown below. If your video is flagged as "Limited/No Monetization," you'll have an opportunity for a one-time appeal.

Keep in mind that not all 3-minute videos will qualify for monetization. Carefully review Facebook's Content Monetization Policies and incorporate them into your video strategy.
Here are some tips to help:
Establish a Theme and Align Content With Your Niche
Start with a clear definition of your niche and audience persona, and think about ways to affect people, evoke feelings, and solve problems with your video content.
Once you've developed a theme and style, create a storyboard. Be sure to include the hook in the first 3–5 minutes of the video. Also incorporate short, entertaining branded/personal intros in each of your videos.
Always include a call to action but be careful of engagement bait (incentivizing people to click, share, or like your post). For the video thumbnails, minimize the use of text if you plan to boost your content.
Avoid videos that have a static image, a slide with a text overlay, or looping clips. Create videos that capture motion, screenshares, or live interaction. All you need to get started creating monetizable Facebook videos is a smartphone, a simple tripod, and a basic video editing tool.
Create Original Facebook Videos
Protecting creator copyright is one of Facebook's top priorities. The platform doesn't allow monetization on shared videos or videos repurposed from other sources (e.g., downloaded from YouTube). Create original content that's aligned with your audience and their core issues. Videos that spark a conversation with your audience via comments and interactions will get a higher organic ranking.
Note that if you purchase a video or use videos covered by Creative Commons license, you run a risk of violating Facebook's Content Monetization Policies. You can collaborate with the creator of a viral video on YouTube as long as you share credit and monetization payout. Facebook explicitly calls out many popular video formats as ineligible for monetization.
#4: Review Your Facebook Ad Breaks Revenue
To view your video stats in Facebook Creator Studio, click the Monetization tab and then Insights. You may notice that Facebook views are somewhat higher than YouTube views; this is due to Facebook's built-in viral functionality. If you produce engaging video content that users want to share, you'll get credit for watched minutes.
The Insights tab will highlight your top-earning videos, percentage of 3-minute+ videos, and more.

You can also see a breakdown of your 1-minute video views and estimated earnings at the individual video level. To do this, go to Monetization > Ad Breaks.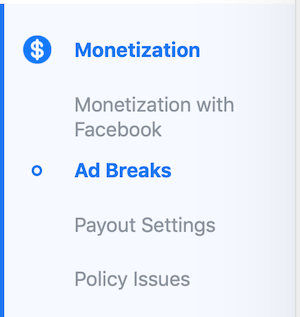 Click on the green dollar sign (which appears next to each video) to see the next level of details, such as ad impressions and CPM.

Your payout depends on two factors:
Ad CPM (cost per thousand)
Ad impressions
While ad impressions are driven by 1-minute views, they're not the same. One-minute views coming from ineligible countries won't get monetized even if your video is approved for monetization; therefore, these aren't included in your ad impressions.
The geographic location of 1-minute views also determines the CPM. It's typically higher if viewers are located in the U.S. ($2–$3) and lower if they're in southeast Asia ($1 or less).
Use this formula to determine how much you'll get paid:
(Ad Impressions x Ad CPM) / 1,000 = $ Earnings
For instance, if you have 3,500 ad impressions and an ad CPM of $2.50, your earnings are $8.75.
(3,500 x $2.50) / 1,000 = $8.75
Facebook will pay you monthly (on or around the 18th of the month). You need to make at least $100 in ad breaks revenue to receive the payout.
Conclusion
Facebook ad monetization is a much-awaited opportunity for video creators. With a bit of focused effort, you can get your page to qualify for Facebook ad breaks so you can start earning supplemental income from your video content.
More articles on Facebook video marketing: