Want more people to watch your videos on YouTube? Wondering how to structure a YouTube video that keeps viewers engaged?
In this article, you'll discover how to keep people watching YouTube videos to the end.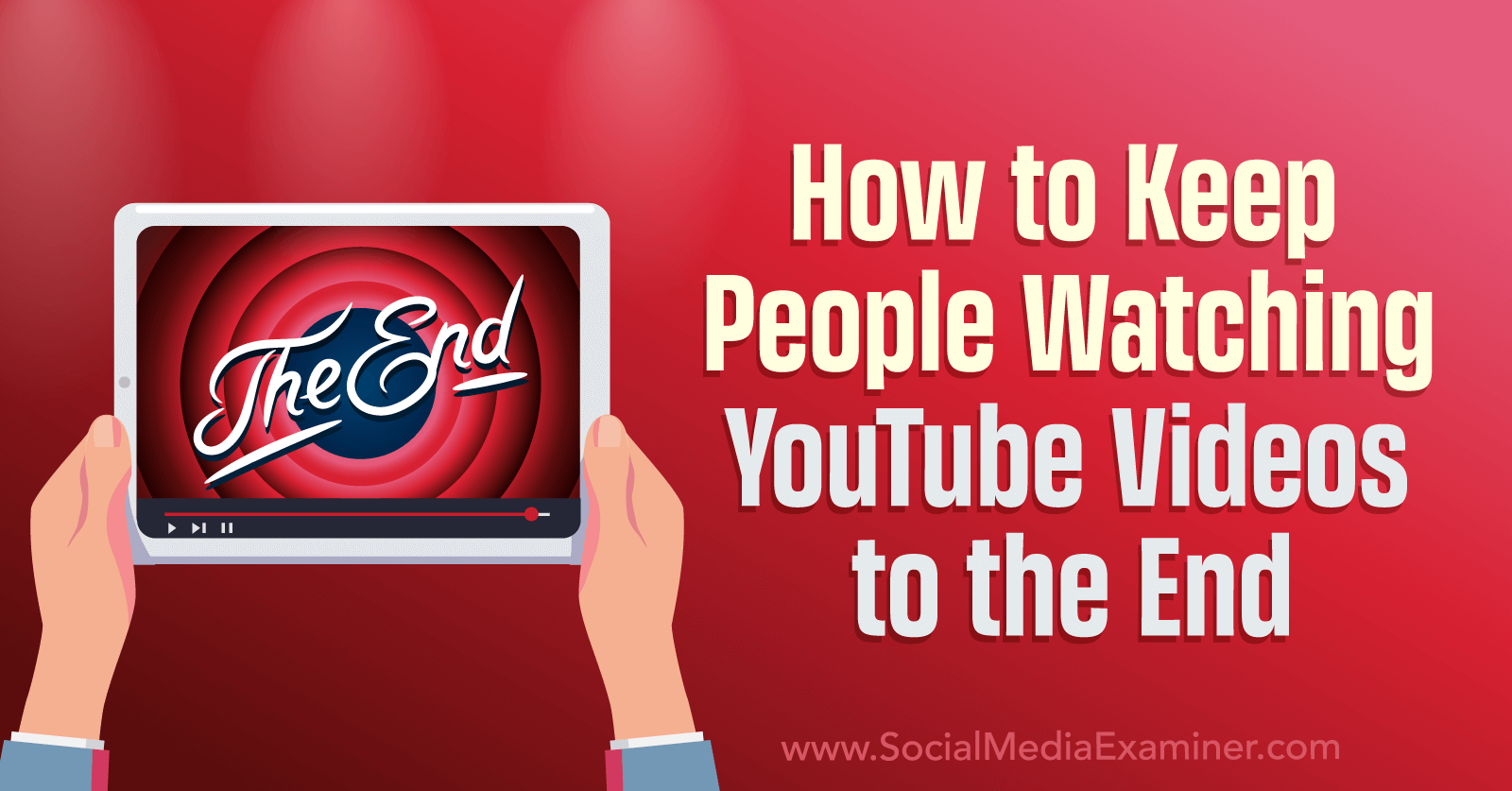 Why You Should Create Long-Form, Engaging YouTube Content
Social media marketing is all about building relationships with your audience. You want to project a relatable image and tell stories that are meaningful to potential customers.
Long-form video content gives you the space to tell those stories and build those relationships. The proof is in the results: short-form creators on platforms like TikTok struggle to acquire follower counts that match their viewing figures, but on YouTube, you can gain followers from a single upload.
Posting content on YouTube also gives you an unmatched level of reach. It's called the second-biggest search engine for a reason! The algorithm is designed to surface relevant and interesting content for viewers, which means that your in-depth videos can get an organic boost.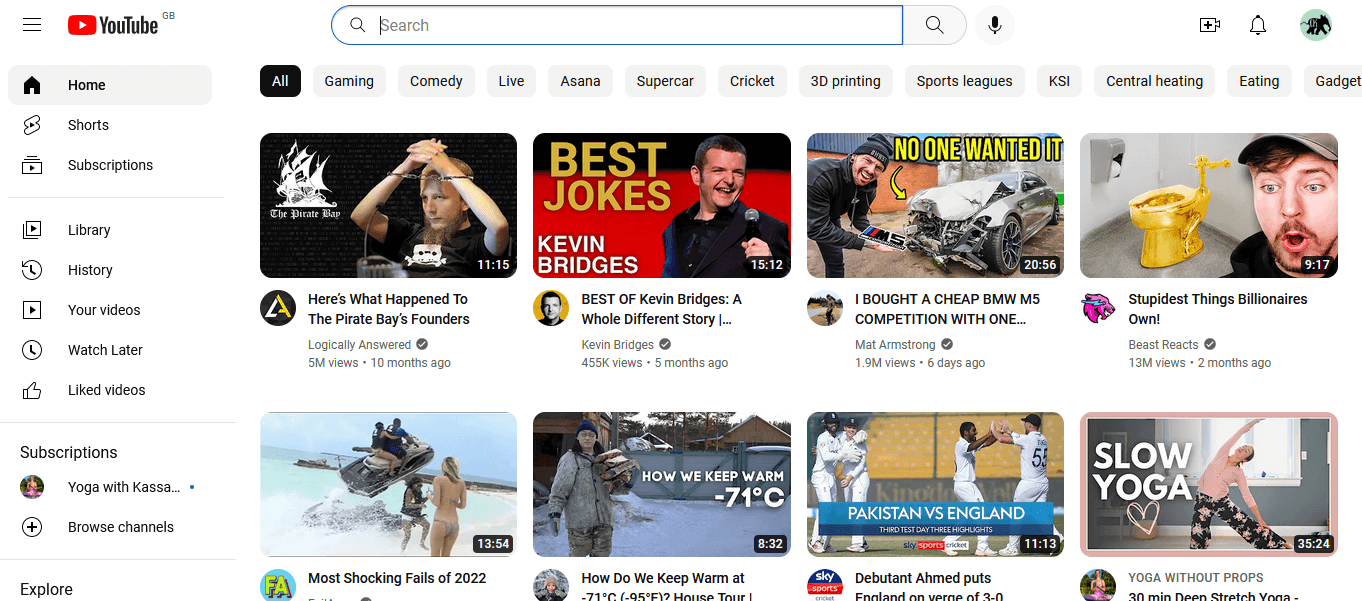 Finally, YouTube is almost unique among social networks in how it pays you to post. You can join the YouTube partnership program if you have at least 1,000 subscribers and 4,000 hours of watch time. You can monetize even faster if you work with brand sponsorships.
But in the end, all of these benefits of long-form video content depend on one thing: retention.
People must want to watch—and keep watching—your videos. Retention is what makes space for your brand story, sends the right signals to the YouTube algorithm, and enables you to earn money from your content.
In this guide, we'll look at how to improve watch time on your YouTube videos through video structure and retention tricks.
How to Structure Your Videos for Maximum Watch Time
The most successful YouTube videos have four compelling elements:
A title and thumbnail that viewers just have to click on.
An opening hook that keeps people watching through those crucial first seconds.
A well-structured story that keeps viewers engaged.
A high-stakes situation that gives viewers a reason to watch.
A snappy ending with a desired action for viewers to take.
Let's break those elements down, one by one.
#1: Titles and Thumbnails to Keep People Watching YouTube Videos to The End
The video title and thumbnail are the first things your viewers will see.
So why do most YouTube creators make them last?
Before you storyboard and record your videos, start by thinking of an unmissable title and thumbnail. There are two advantages to this:
You're seeing things from your audience's perspective.
You can confirm whether people are interested in the title and thumbnail before you spend time creating the content to match.
For example, if your brand has a private Facebook group or Discord server for loyal followers, you could share the thumbnail there and ask them what they think. Are they interested in the topic? Does the title grab them? What would they expect to see in the video?
Then you can use those answers to focus on the most popular video titles and make sure the content delivers on its promise.
If you follow this method, you'll create "legitbait": content that's as attractive as clickbait but offers a whole lot more value.
This video from popular science YouTuber Veritasium talks about clickbait versus quality content.
#2: Hooks to Keep People Watching YouTube Videos to The End
Once you have the perfect title and thumbnail, it's time to record the actual content of the video.
Every video has to start with a hook: the first few seconds that get viewers' attention and make them feel like they have to watch what's next. They've clicked on your video… now persuade them to stick around.
Hooks can be emotional or informational. For example, you could reel viewers in with:
A pain point they can relate to
A risky situation that has them on the edge of their seats
A benefit that they want to get
Information or advice that could make their lives easier
When you've thought of the hook, use it right away. Don't waste time at the start of your videos by waffling about your day or trying to build suspense. Get straight to the good stuff!
Videos from Mr Beast, the most popular individual creator on YouTube, always get into the action within the first 10 seconds.
#3: Storyboards to Keep People Watching YouTube Videos to The End
Once you've set up the hook for your video, you can get into the meat of the content. You're going to deliver on the promise of the hook but you're also going to break it down into different points to keep things interesting.
For example, if you're filming a video with business tips, break them down into a numbered list. If you're showing how to use a product, break it down into easy steps to follow. Add jokes and change camera angles to keep things interesting.
There are lots of different tools out there for planning and storyboarding content. Notion is popular with many YouTubers.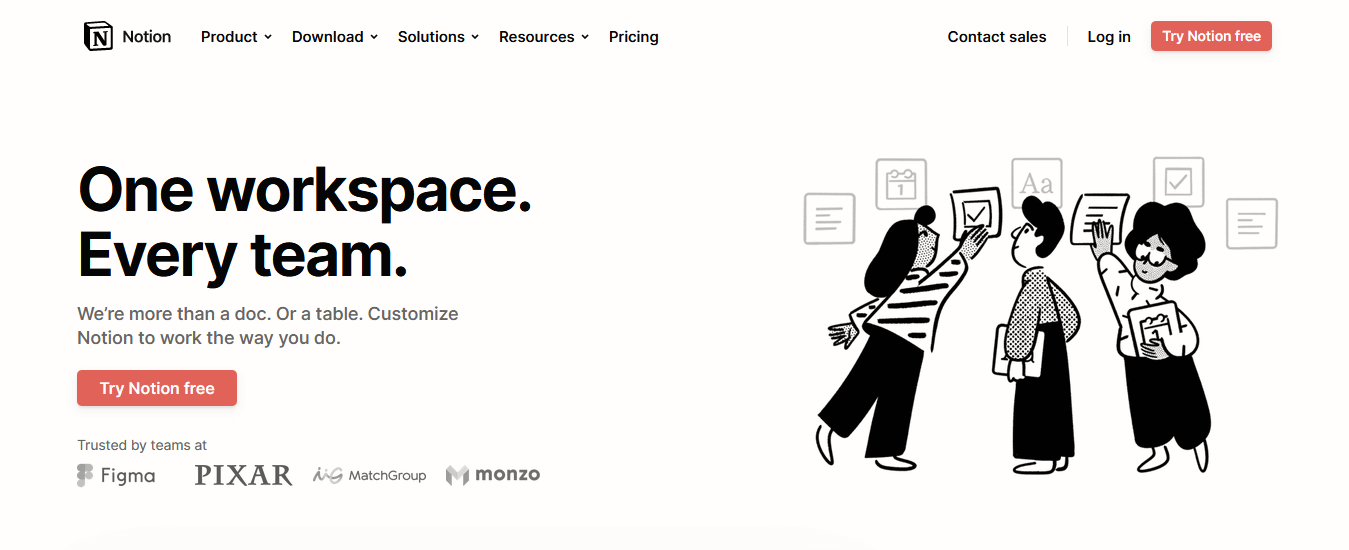 Creators such as Thomas Frank have even created Notion templates for content storyboarding.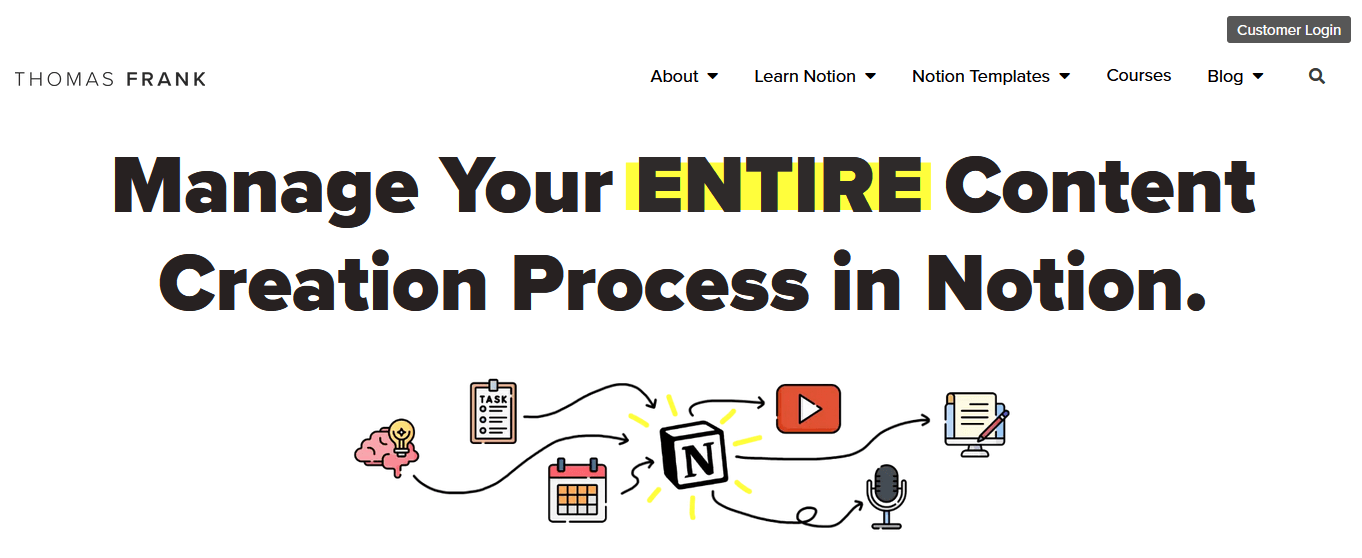 Whatever planning tools you use, the most important thing to remember is show, don't tell.
A video where you patiently explain what's going to happen, then get to the action, will lose viewers almost instantly. Instead, it's better to explain what's happening as you go along so the action starts immediately and viewers keep watching because they want to understand more.
#4: Using High Stakes to Keep People Watching YouTube Videos to The End
What else does your video need? Stakes!
You might have the most valuable information, useful product, or relatable stories in the world. But what really keeps viewers watching is the stakes.
Here's how it works: you set up a challenge or situation at the start of the video. Then viewers want to see what happens next. Will you achieve the impossible target, meet the deadline, overcome the setback, win the gamble?
This video from Deep Pocket Monster is really about craft projects but the stakes—trying to make an impossible trick shot—are what made it a viral hit.
High stakes like this are another emotional hook that keeps viewers interested and increases your retention rates. People will watch the video all the way through just because they want to know whether you made it or not.
It's worth noting that you don't always have to film videos where you're successful. A meaningful failure or an unexpected twist can also be satisfying for viewers. It all depends on what your overall message is.
#5: Ending With a Desired Action to Keep People Watching YouTube Videos to The End
Now for the most important part of the video. The end.
This is where you finally convert your loyal followers. What do you want them to do?
For some videos, you'll have a specific call to action: visit this website, download a lead magnet, or join a mailing list, for example.
But for most videos, when we're talking about retention and storytelling, you have one goal: get people to watch more. This will improve your watch time statistics and send signals to the YouTube algorithm that your videos are worth recommending.
You can use the end card on your videos to link to other relevant clips. Make sure you pick links that will be valuable and engaging for your audience. You can also cross-link videos through links in the description for extra impact.
This video from Foundr uses the video description and end cards to recommend further watching, as well as guide viewers to a lead magnet.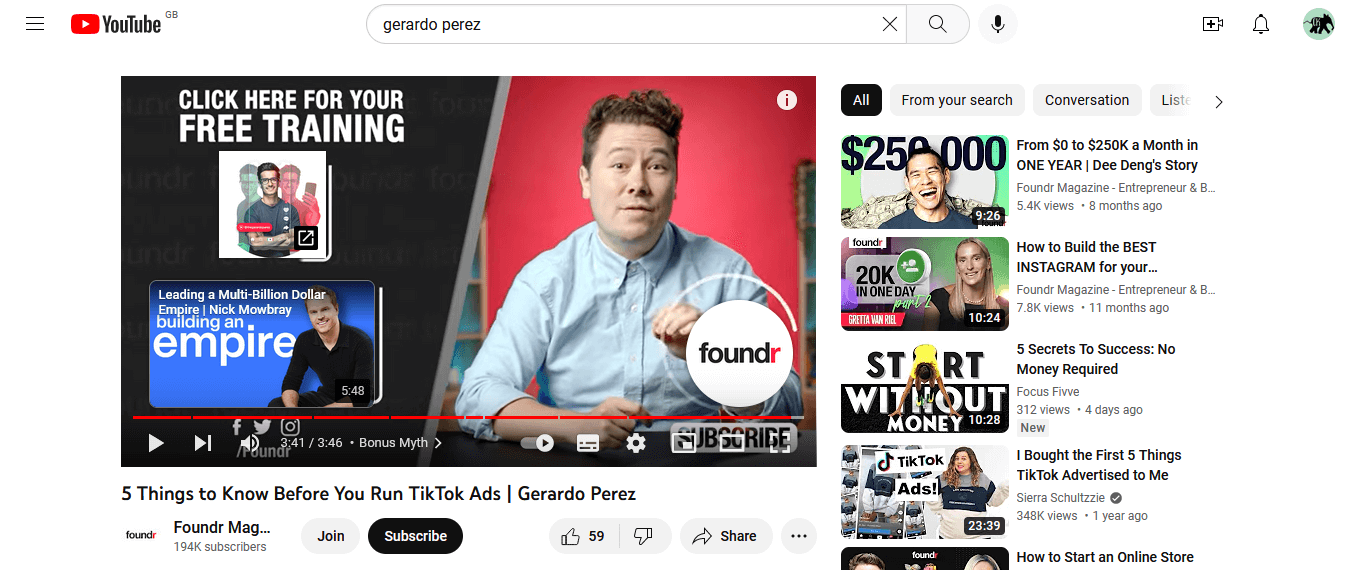 Regardless of whether someone clicks on another video or navigates somewhere else, you want them to watch your original video all the way to the end. Retention is still the most crucial metric.
Here are some ways to increase your retention, even in the final seconds of a video:
Don't let people know the video is ending. If you wind down the action or start saying goodbye, people will quickly lose interest. Instead, end the video suddenly, and leave them wanting more!
Add a "gush": a small clip of just a few seconds that comes after the main content. This could be a blooper, one last callback to a joke, or a final secret tip. Use gushes consistently, and you'll train your audience to always watch videos to the end.
This video from business coach Marley Jaxx ends with a 10-second blooper reel.
Tips and Tricks to Improve Viewer Retention
Now you know how to plan an engaging video from hook to gush. But before we go, here are just a few extra tips and tricks to increase your viewer retention.
Understanding Retention
There's a lot of data on YouTube about retention and watch time, and you can use it to your advantage. Understanding when and why people stop watching can transform your content.
Start with your own videos. YouTube creates detailed retention graphs for all your content and it's worth taking the time to study them in detail.
Ask yourself:
When do people stop watching? What's happening in the video at that moment?
When do people rewatch a section of the video? Is it because the content is especially engaging, or because the content is unclear?
Which of your videos have the best retention? Which videos have the worst? How is their content different?
If you don't yet have much data from your own YouTube channel, you can still learn from others.
Here's how: YouTube shows a simplified retention graph on the progress bar of each video. When you hover over the video progress bar, you'll see the retention graph pop up above the progress bar.
In this viral video about keeping a grocery-store lobster as a pet, you can see that the retention graph spikes whenever the lobster appears on screen.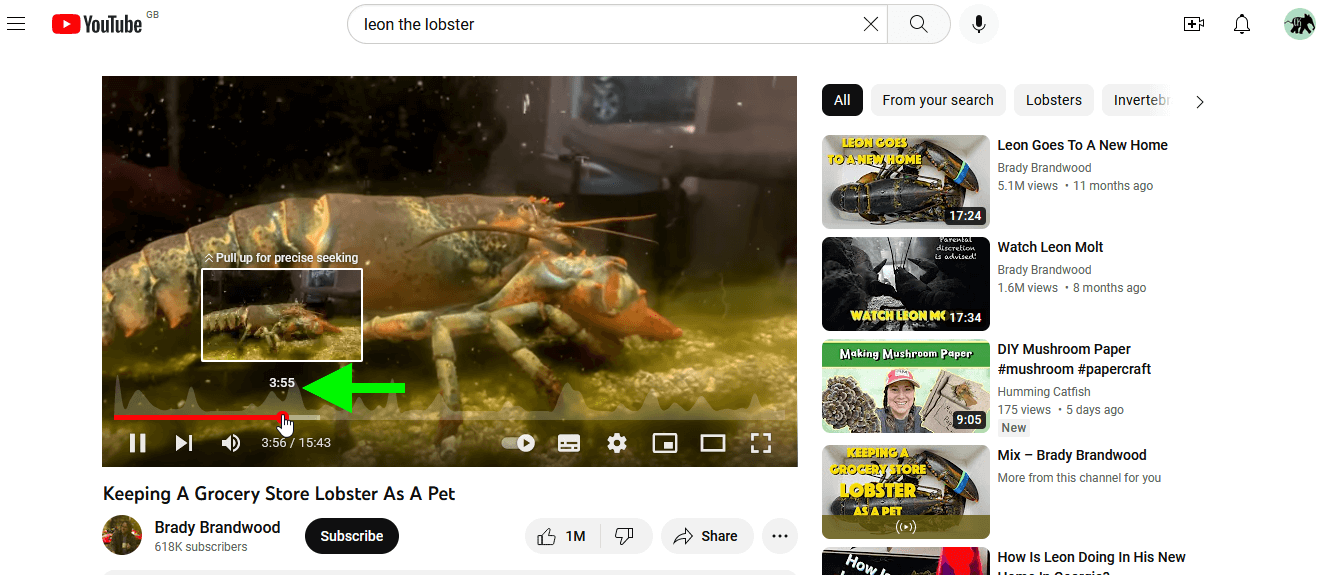 This information isn't precise; after all, it's a miniature image of a simplified graph. But it gives you a clear enough view to see how viewers' interest rises and falls over the course of a video.
Choose videos from your competitors or other YouTube creators in your niche. Analyze their retention graphs to find out what content works for them and what doesn't. This will give you a head start on your own content creation.
Use Pattern Interrupts
It's an unfortunate truth that our attention spans are getting shorter. Even though viewers still value long-form content, they've got used to short-form videos that tell a whole story in 30 seconds or less.
That changes how we film long-form video content. You'll need to include regular pattern interrupts to break up the action and recapture viewers' attention.
Here are just a few ways to grab attention with pattern interrupts:
Change camera angle, perspective, or filming location at least every 30 seconds.
If you're filming a list of points, film each point on the list in a different location.
Caption key points and moments in the video.
Add timers and countdowns on tasks to create a sense of urgency.
Break up the action by filming products in slow motion, then going back to normal speed for the rest of the video.
Use callbacks. If a notable feature, joke, or character appears in your video, refer to them again throughout the clip to create an additional story arc.
Open loops. Flag a problem or ask a question early in the video but don't resolve it straight away. Viewers will keep watching to find the solution and see you close the loop.
These tactics will keep viewers on the edge of their seats and their attention on your video content.
Other Notes From This Episode
Where to subscribe: Apple Podcast | Google Podcasts | Spotify | RSS
✋🏽 If you enjoyed this episode of the Social Media Marketing podcast, please head over to Apple Podcasts, leave a rating, write a review, and subscribe.
---
Stay Up-to-Date: Get New Marketing Articles Delivered to You!
Don't miss out on upcoming social media marketing insights and strategies! Sign up to receive notifications when we publish new articles on Social Media Examiner. Our expertly crafted content will help you stay ahead of the curve and drive results for your business. Click the link below to sign up now and receive our annual report!