Has your YouTube channel growth stalled out? Looking for advice to pinpoint where you're going wrong?
In this article, you'll learn common mistakes marketers make and what to do instead. You'll also discover some overlooked metrics that can help you grow faster.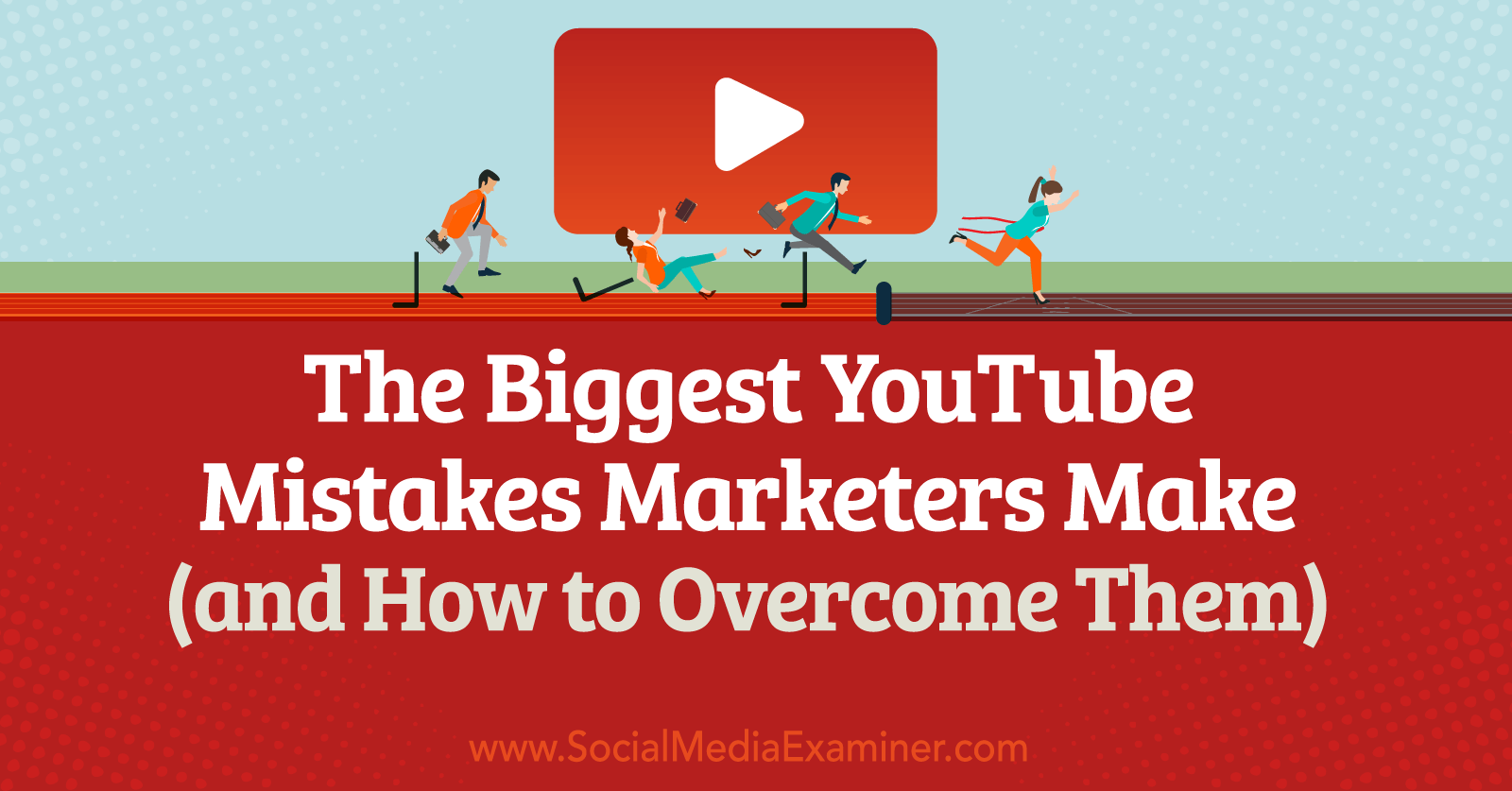 YouTube: The Best-Kept Secret in Social Media
Unlike other social networks, YouTube rarely makes headlines. It's often overlooked by marketers, entrepreneurs, and creators.
But while the video-sharing site keeps a relatively low profile, it has a lot to offer. Did you know…
YouTube is the second-largest search engine in the world. And it's owned by the largest search engine in the world—Google.
It offers a unique combination of file hosting, fine-grained analytics, and monetization tools… for free.
In 2021, advertisers spent more on YouTube than any other social network. There's so much demand that ads are now included in all videos—even those from channels that are too small for creators to monetize.
The most common mistake that marketers make on YouTube is underestimating the size of the opportunity. But we also see people missing out when they fail to focus on organic content, obsess over the wrong metrics, or take a short-term view of the platform.
In this guide, you'll learn how to avoid those errors and turn your YouTube channel into a powerhouse of growth.
The Three Ws of Creating Content on YouTube
Whether you're just setting up a new channel or you've been vlogging for years, every piece of organic content you create should answer the three Ws.
What is the content about?
Who is the audience?
Why should they watch your content?
Those are really the only points you need to worry about. If you're producing engaging, relevant content for your audience, then YouTube will do the heavy lifting for you in terms of increasing reach.
We'll also look at which metrics to track so you can check whether your content is adequately answering the three Ws.
How Does the YouTube Algorithm Work?
Like most social networks in 2022, YouTube is built with machine learning. There's a complex computing system behind the website that scans content, watches how people engage with it, and chooses which content to surface for different users.
The YouTube algorithm is specifically designed to get people to watch and keep them watching. In other words, it's optimized for the most exciting and engaging videos.
So if you can create content people enjoy, you're going to earn a lot of free, organic reach.
Paid Ads Versus Organic Content
You can still pay to promote content on YouTube; however, you need to think about your goals here.
If you want instant, short-term reach, then paying to promote a video could help you.
If you want growing, long-term reach, then you need to focus on organic strategy instead.
Here's why:
YouTube uses information about how many people watch your video and how long they watch to decide whether it's interesting. If the content is interesting and lots of people watch it, then it gets recommended to more people. It's a virtuous feedback loop.
But when you pay to promote a video, that paid engagement gets counted separately. Yes, you might get 100,000 views from a promoted post. But none of those views will feed back into the algorithm. YouTube still has no information on whether people organically like the content so it won't recommend your video to more viewers. Those paid-for views are a short-term fix.
Why Content Lasts Longer on YouTube
Organic strategy on YouTube is all about the long term. That's partly because content has a much longer shelf life on the video sharing site.
Think about your posts on Instagram, TikTok, or Facebook. How long before engagement dries up on an individual post? A couple of days? Hours, even?
On YouTube, a video clip can remain popular for literally years. You get a lot more bang for your buck.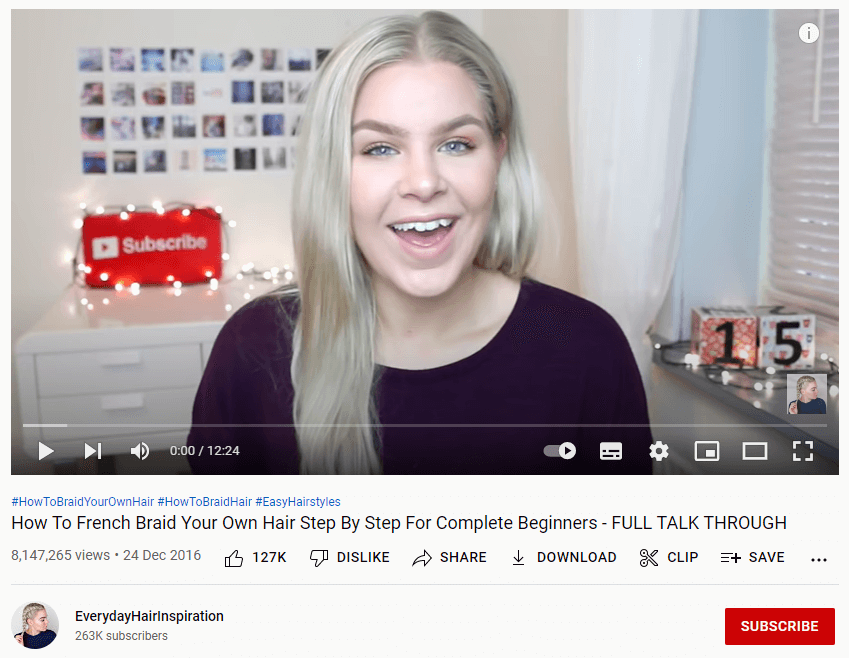 And there's one other benefit, too. If your content connects with people, then YouTube doesn't just recommend that specific video to more viewers. It also shows people other videos from your channel.
If you have a deep back catalog of videos to share, then the YouTube algorithm has more material to work with. You want to keep content around on YouTube so there's more for people to discover and explore.
How to Create Interesting YouTube Content
Let's be very clear: engaging video content isn't the same as made-for-TV video ads. Remember, YouTube is a social network. That means people are interested in content that speaks to them and that they can interact with.
When content marketing on YouTube fails, it's often because marketers didn't think enough about the people watching their videos.
People go to YouTube for education, entertainment, and social connection. They want to have a conversation. They want to solve a problem.
So your videos should address those needs, instead of ticking off your own business goals and brand talking points. Focus on conversations, interviews, and how-to videos, rather than product presentations or the hard sell.
If you're having trouble thinking of topics, YouTube also offers a topic search and suggestion tool as part of its analytics panel.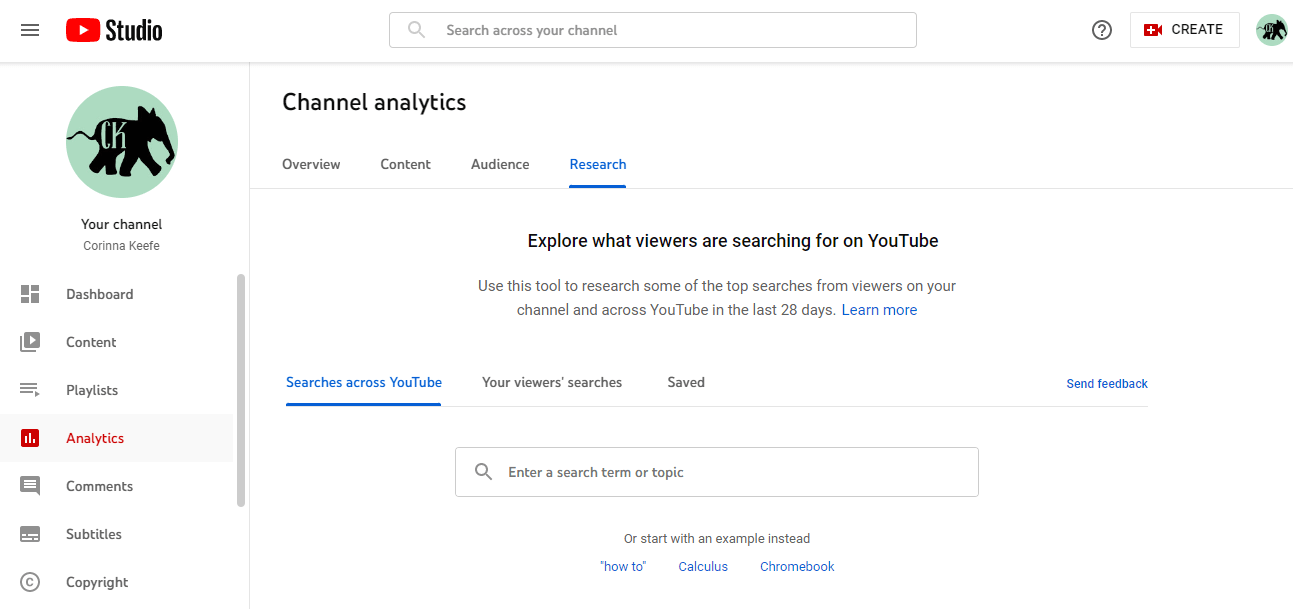 One more way to create organic content on YouTube is to collaborate with influencers and creators. You can benefit from their reach and popularity to reach more people and soften your sales message.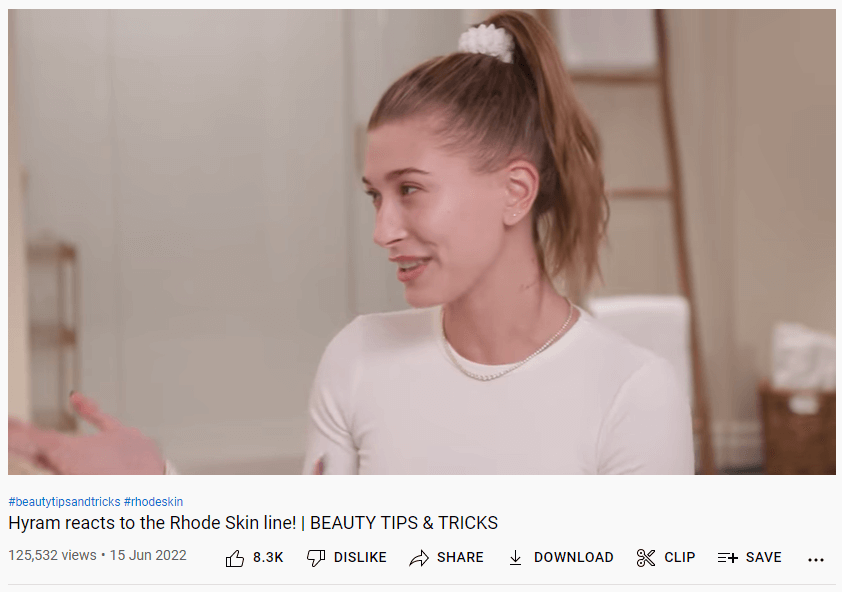 As we discussed above, some marketers struggle to create branded content that isn't just from the viewpoint of their brand. When you work with an influencer or creator, you bypass this problem. They'll share their insights and perspectives, which happen to mention your brand, in a way that viewers can relate to.
How to Use YouTube Analytics
YouTube provides the best analytics of any social platform, full stop.
It's just what you'd expect from the company that brought you Google Analytics, with its almost overwhelming display of data. YouTube offers similarly fine-grained metrics. You can control and filter data down to an incredibly specific level.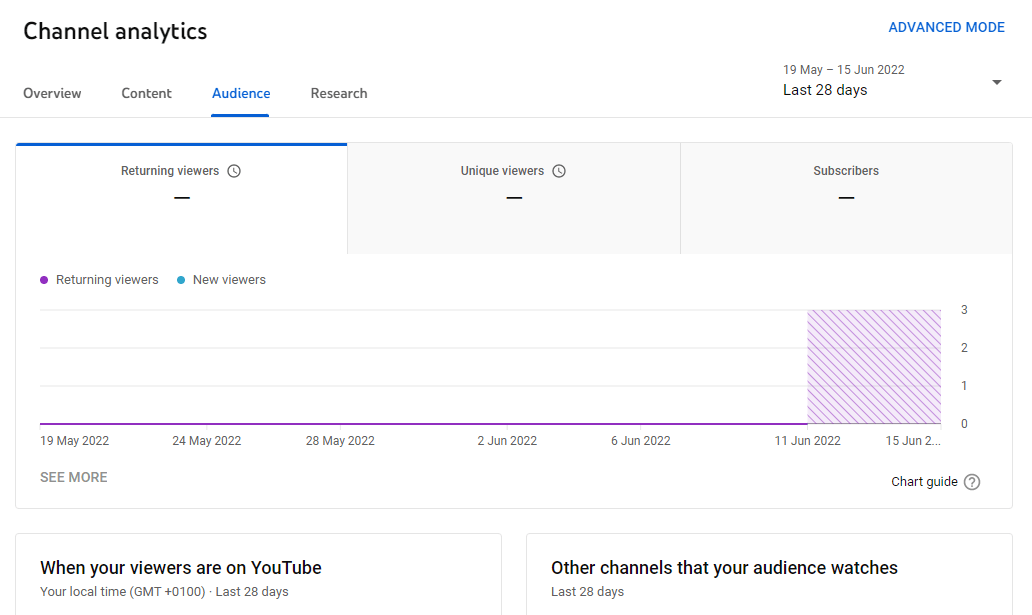 This leaves us with just one problem: when there's so much data to review, where do you start?
What Are the Key Metrics for Marketers?
When you log into YouTube analytics, you'll see a lot of options. Fortunately, there are just a few that we'll focus on for now.
Click-through rate (CTR). How many people are clicking to view your video from the thumbnail?
Average view percentage (AVP). How much of each video do people watch? Are they bouncing after 10 seconds or sticking around until the end?
Average view duration (AVD). This is slightly different from view percentage. If you post longer content, then you might have a high AVD but lower AVP, for example.
Unique viewers. Find out how many individual people are watching your videos.
Average views per viewer. Find out if people are rewatching your videos. This is a very strong indicator of good content.
If your content consistently gets high click-through rates, view percentages, view durations, unique viewers, and views per viewer, then the YouTube algorithm gets a strong signal that people like the content. More people will see it show up in their recommendations and your channel will grow fast.
Remember that the algorithm uses all of these data points to reach a conclusion so it's OK if not every video scores highly in every metric.
For example, a specialist tutorial might have a low number of unique viewers but a very high number of views per viewer. That's still good news for the algorithm.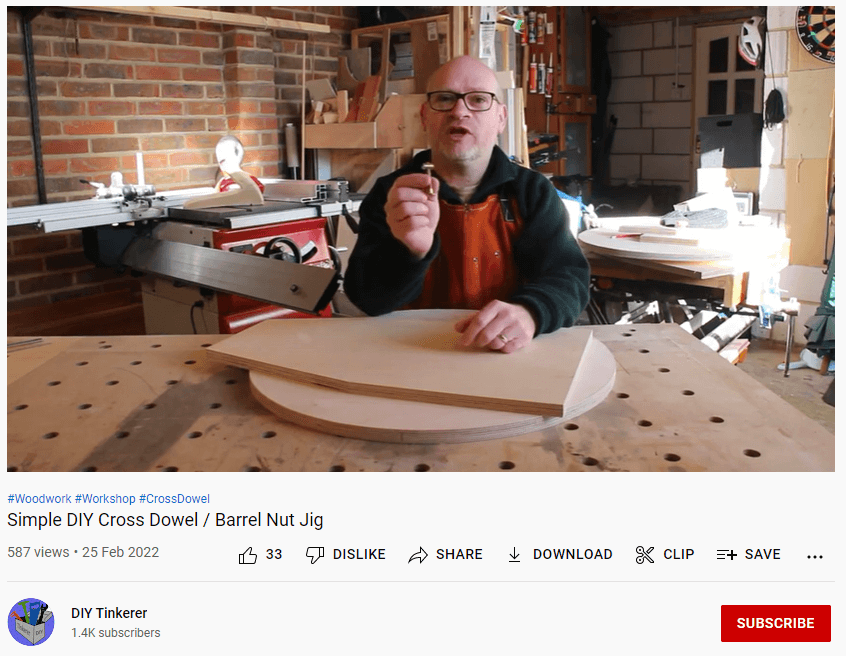 There are other metrics that indicate viewer satisfaction, too. If someone subscribes to your channel, looks through your playlists, or shares your videos online, then chances are that they like your content.
But if you're only going to focus on one aspect of your analytics, focus on impressions. That's the strongest indicator of your channel reaching more viewers.
Nothing's ever simple with YouTube analytics. When we say "impressions," that includes a number of different metrics. And impressions can come from a very wide range of sources.
So what does YouTube count as an impression?
Direct views of your video (for example, by clicking a link to the video).
Views of your video thumbnail in search results.
Views of your video thumbnail in targeted recommendations while people are browsing the app.
Views of your video thumbnail in recommendations at the end of another video.
Views of your video thumbnail in the sidebar of suggested videos.
More than 70% of daily views on YouTube come from browsing, end-of-video recommendations, and the suggestion sidebar. That's why working with the algorithm is so important: it's responsible for the vast majority of video views.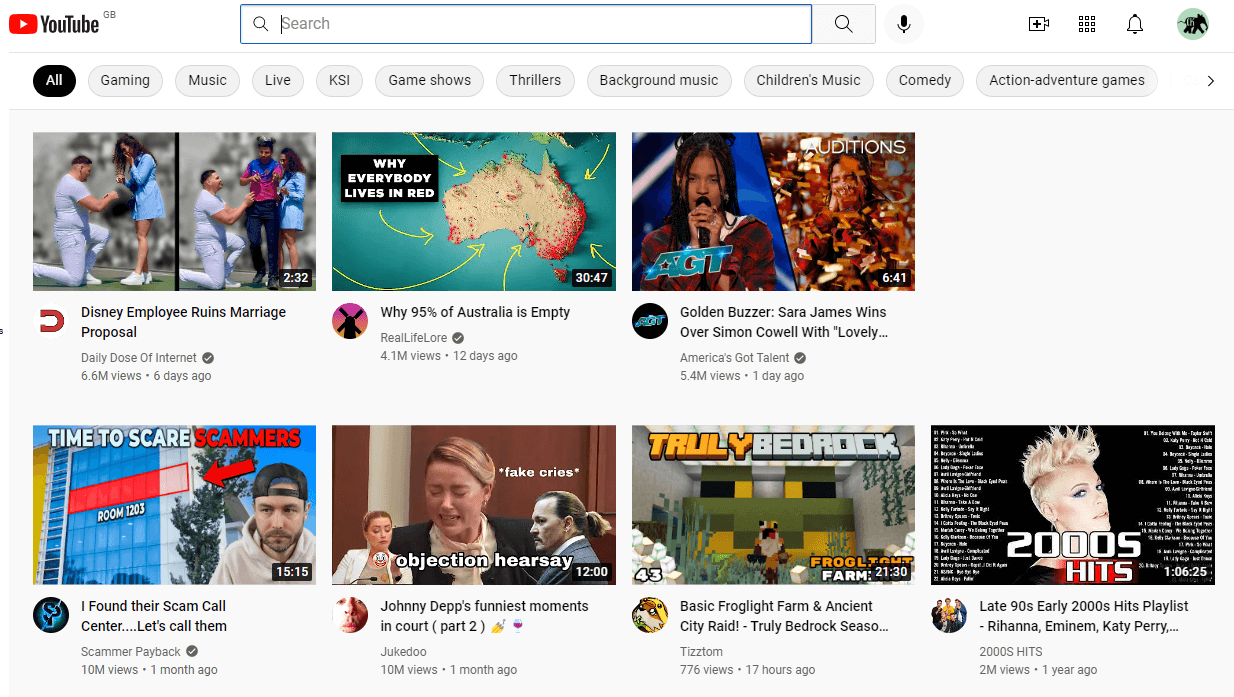 The Missing Metric: "Momentum"
As comprehensive as YouTube analytics are… there's one thing missing.
How do you predict whether a video will be successful?
As we've seen, content can stick around on YouTube for a long time. However, if a clip is going to go viral, then the best predictor is a strong click-through rate in the first 30 minutes to 2 hours after a video is posted.
If a video gets lots of engagement in that crucial 2-hour window, then it's likely to perform very well. Unfortunately, YouTube doesn't measure this kind of momentum. The smallest timeframe available in YouTube analytics is 1 day—not hours.
It's worth checking your momentum manually, however. If you see that a video isn't getting traction, then it's time to review the title and thumbnail. Identify how to appeal to more viewers and that video could still be a hit.
Don't Compare Your Metrics to Other Channels
There are a lot of very successful people on YouTube. They have thousands or even millions of viewers. Their content reliably gets clicks, shares, and comments.
So what does that mean for you?
Well… nothing.
If you want to grow your channel, then you're competing with yourself. Don't worry about what other people's metrics look like.
Focus on increasing your impressions, click-through rates, and view duration for every new video you post. Growth will follow.
What to Do When Your Videos Aren't Getting Traction
Maybe you think you've tried everything but your channel still isn't growing.
It's time to think about the three Ts.
Topic. Does each video have a clear subject matter? Is it subject matter that people actually care about?
Thumbnail. Is the thumbnail clear, colorful, and attention-grabbing? If it's too bland or too busy, then viewers may switch off.
Title. The title of each video should build excitement and let people know exactly what they're watching. Vague or clinical titles will perform poorly.

Never forget: You're competing against a lot of other channels for viewers' interest.
Yes, we've said that you shouldn't worry about other people's metrics. But you should worry about their content.
Make sure that you know exactly who you're sharing content for, according to the three Ws. And then check that you're making that content easy to discover with the three Ts.
Other Notes From This Episode
Where to subscribe: Apple Podcasts | Google Podcasts | Spotify | YouTube Music | YouTube | Amazon Music | RSS
✋🏽 If you enjoyed this episode of the Social Media Marketing podcast, please head over to Apple Podcasts, leave a rating, write a review, and subscribe.
---
Stay Up-to-Date: Get New Marketing Articles Delivered to You!
Don't miss out on upcoming social media marketing insights and strategies! Sign up to receive notifications when we publish new articles on Social Media Examiner. Our expertly crafted content will help you stay ahead of the curve and drive results for your business. Click the link below to sign up now and receive our annual report!