Looking for a way to accelerate your Web3 project growth? Wondering how to partner with notable brands and projects in Web3?
In this article, you'll discover how to create brand partnerships from a Web3 perspective.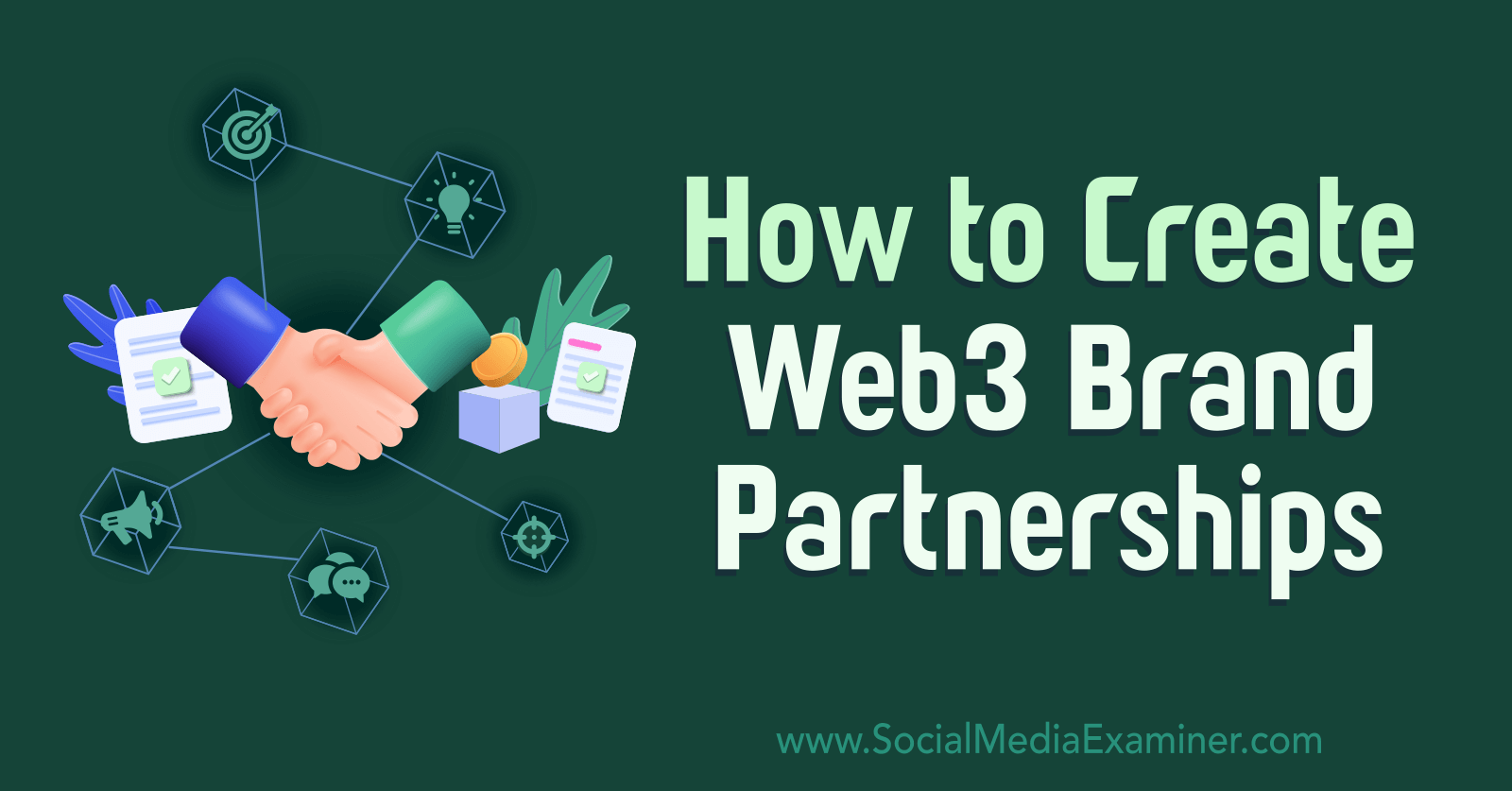 Why Strategic Partnerships Are Important in Web3
Strategic partnerships are essential for a variety of reasons. Three reasons top the list.
First, when a recognized brand or business partners with you, it lends legitimacy to your project, thereby building and magnifying your brand's equity at an accelerated pace.
Second, strategic partnerships also naturally increase your brand's reach. Whether you're partnering with a Web2 or Web3 firm, tapping into its audience will connect you with new people.
Third, partnering with another company gives you access to its knowledge, staffing, and financial resources, so you'll often be able to do work beyond your scope.
Why don't more businesses explore the partnership angle?
Sometimes it's about ego. People don't think they need help.
Others don't consider their business big enough to attract viable and valuable partnerships. But here's the thing… every Web3 project starts small; that's the whole point.
The right strategic partnership can be a massive accelerant for both parties. Here's how to get started…
A Strategic Web3 Partnership Strategy: The PPP Model
The Prepare, Partnerships, Press (PPP) strategy accomplishes three significant things:
It positions you in such a way that people are already curious about you, so you attract potential partners.
It allows you to successfully target and launch new initiatives with other brands.
It allows you to equip other people to talk about your partnerships for you.
#1: Prepare for Web3 Brand Partnerships
The preparation stage is about developing the creative and branding that communicates your story— the lore that will make people notice and care about your Web3 company.
Aaron Ahmadi of Probably Nothing is far from creative; he handles the partnership and operations part of the business. His partner Jeremy is the creative brain behind the brand. You'll need creatives on your team for this if you're not creative.
The first thing to articulate is what you're trying to accomplish in a single sentence. For example, Probably A Label, a Web3 record label project of Probably Nothing, "helps artists rewrite their stories using the power of digital collectibles." You can expand on this to tell your story engagingly and excitingly on your website, but you need this one sentence to move forward with the PPP model.
The next things to articulate are the ideas, concepts, and convictions that will shape your brand— the messaging you want to deliver.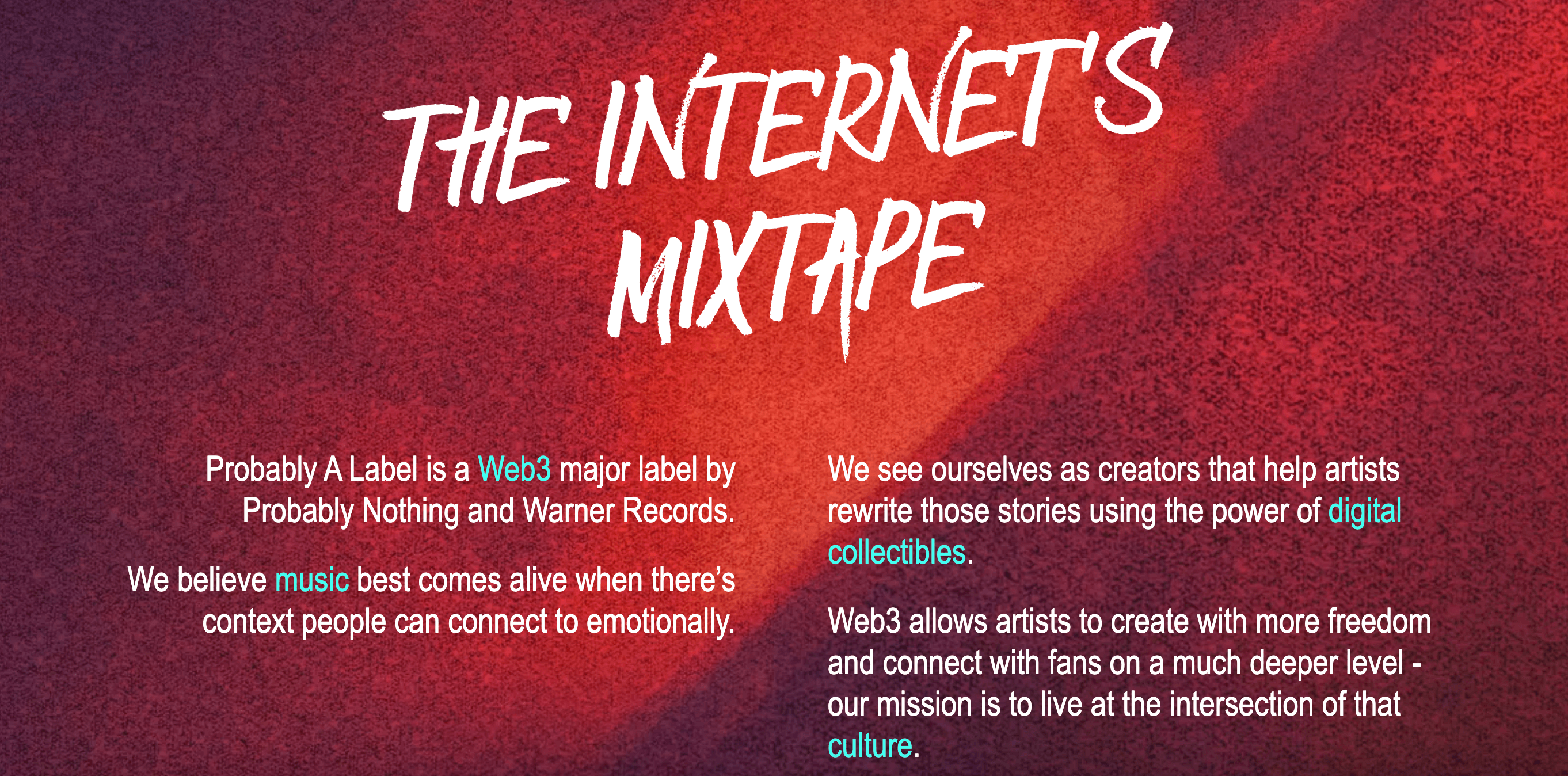 Probably A Label believes "music best comes alive when there's context people can connect to emotionally," and the company exists to help artists rewrite stories using the power of digital collectibles.
Regardless of your business concept, ensure your story and convictions are straightforward, and everyone on your team is aligned with them. Then solidify that messaging by repeating it in your marketing, emails, social media profiles, and Twitter Spaces, and everywhere you can.
You can initiate contact with prospective partners when your story makes sense and is crystal-clear.
#2: Partnerships
Outreach with a plan will get you somewhere. Begin by creating a wishlist of Web2 and Web3 brands you want to work with.
Include all the brands that make sense to you, regardless of size or market share. You'll begin with small partnerships and gradually achieve enough brand equity to approach larger targets.
This process will take longer with Web2 brands, but you can aim higher with Web3 brands in a shorter period of time for two reasons. First, the space is extremely small right now. Second, more prominent Web3 brands are relatively open to partnerships as long as the prospective partner is openly doxxed, has done a Web3 project or two, and has a proposal that makes sense for their brand.
After you've compiled a list, you'll figure out how to connect with each brand. Hitting up a primary Twitter account with millions of followers will fail. You have to get to the right person.
How to Find Partnership Contacts
One of the more practical methods for finding decision-makers is to look for news releases about Web2 brands entering Web3 based on proclamations made by somebody high up in the company. That's the person you're looking for.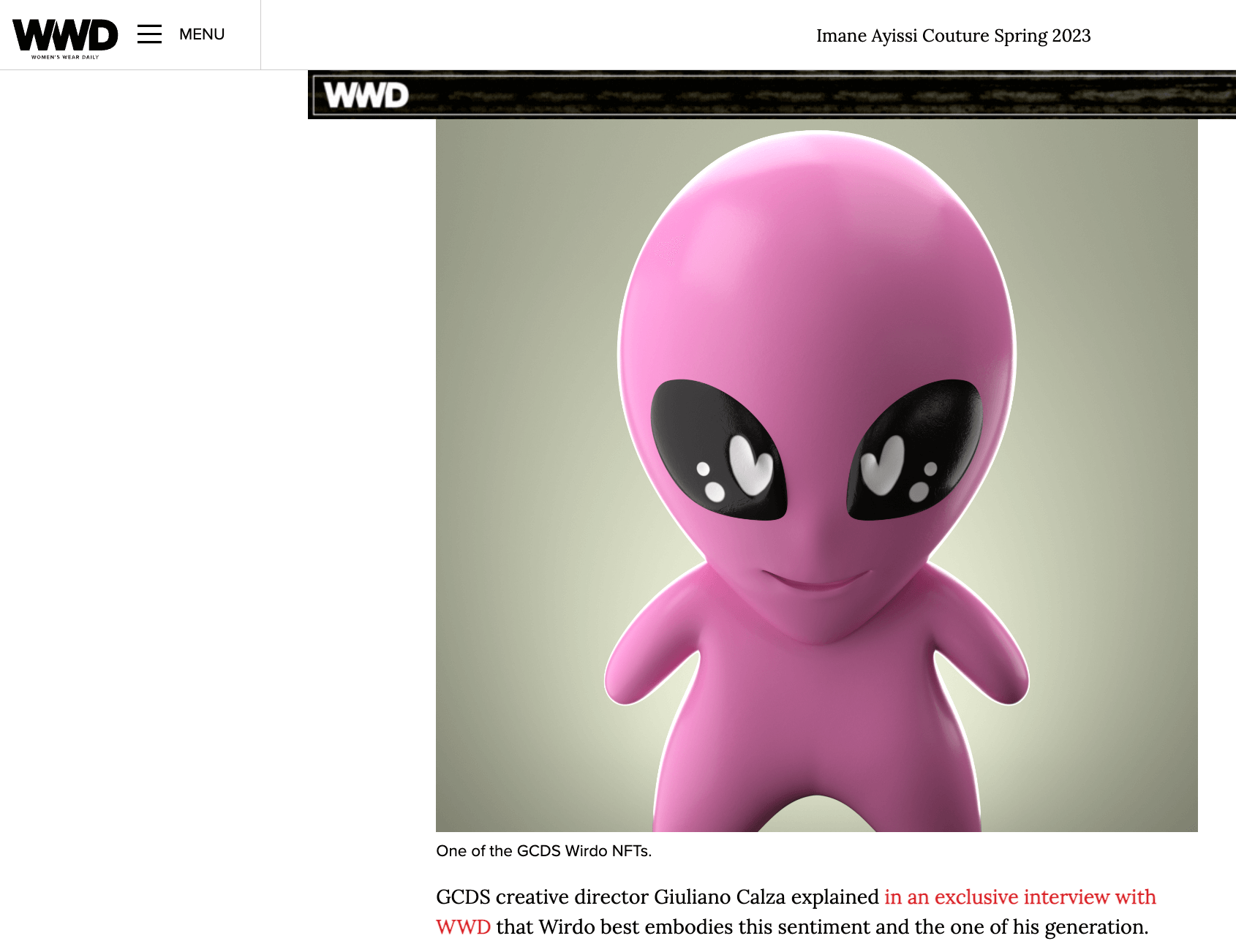 Suppose the company is large and the decision maker is too high up in the corporate structure. You'll want to look for people in three departments: partnerships, business development, and marketing.
Marketing might handle all three of these areas if the company is smaller.
How to Connect and Build Rapport With Partnership Contacts
Now you can find and reach out to these contacts. LinkedIn and Twitter are the most accessible platforms to use for this. Before you start:
Ensure your digital presence is in order and supports your legitimacy.
Use an actual photo of yourself, include your company in your bio, and have a history of sharing news and engaging on the platform.
In short, look like a human.
Then, follow that person and invest time engaging with their content beyond surface Likes or Shares. Leave thoughtful comments to show you understand what they've written and that you have critical thoughts about it. Alternatively, you can share their content, including your thoughts, and tag them in your own post.
As you invest time into forging these connections into relationships, the people you want to work with may follow you back on social media. As more of these people follow you, others in their networks will see the mutual follows, and you'll benefit from that affinity if you ever propose a partnership to them.
How to Develop Partnership Contact Relationships
The last thing you want to do is overwhelm a decision-maker with so many ideas that they pass you off to someone on their team.
Instead, ask your prospective partner for a discovery or filtering call so you can each become more acquainted with each other's brands. Keep it real, human, and friendly.
Begin by expressing your interest in something they've done. "Hey, _____. Loved your article about X OR excited about the launch of X you guys are doing, " and so on.
Then, quickly and concisely share what your brand is doing. "We're about to launch X with Brand _____." This provides a layer of legitimacy because you immediately show that your brand is working with a third brand – leveraging that company's brand equity.
Close by asking for a call. "I think there are a lot of cool ways we could work with each other, too. Would you be down to have a conversation soon?"
This first call's ultimate goal is to learn their needs, what their brand is trying to accomplish, and where their company is headed with Web3 in general. As part of this process, you want to echo your own story but customize your messaging to mesh with the partner you're pitching.
Use what you learn to develop one or two rich partnership concepts that make sense into a creative brief, presentation deck, or another asset.
Each concept should clearly communicate each brand's value and how you can collaborate in a cool or unique way to build and bring value to both brands equally. Try to answer the following questions:
Why should they work with you?
What's in it for them?
What do you have that they would love to leverage?
Why do you want to work with them?
What's in it for you?
What do they have that you want to leverage?
Now, you're ready to ask for a second call to formally pitch your concepts. When both parties have agreed on all elements of the partnership, you can spread the word.
#3: Press for Web3 Brand Partnerships
Before you approach media, it's strongly suggested that you develop a media kit that will be used by both parties to present unified messaging. Include a co-written press release, images, videos, photographs, and quotes from both brands.
The depth of participation in and control exercised over media relations will vary significantly based on the partner you're working with. Some will give you the creative lead, and some will ask that you stick to using a single vetted paragraph. Either is fine, but you'll need to clarify to avoid issues as you move forward with media outreach.
How to Find Press Contacts
First, develop a realistic list of media outlets and press you want to get in contact with. If you've had zero press before this, featuring in a significant Web2 entity such as The New York Times isn't likely to happen for a while. However, Web3 has several niche media properties you can approach; for example, Cointelegraph, Decrypt, NFTgators, NFT Now, NFT Evening, NFTCulture, and Hypemoon.
Once you've identified your media and press outlets, find out who the writers and editors are.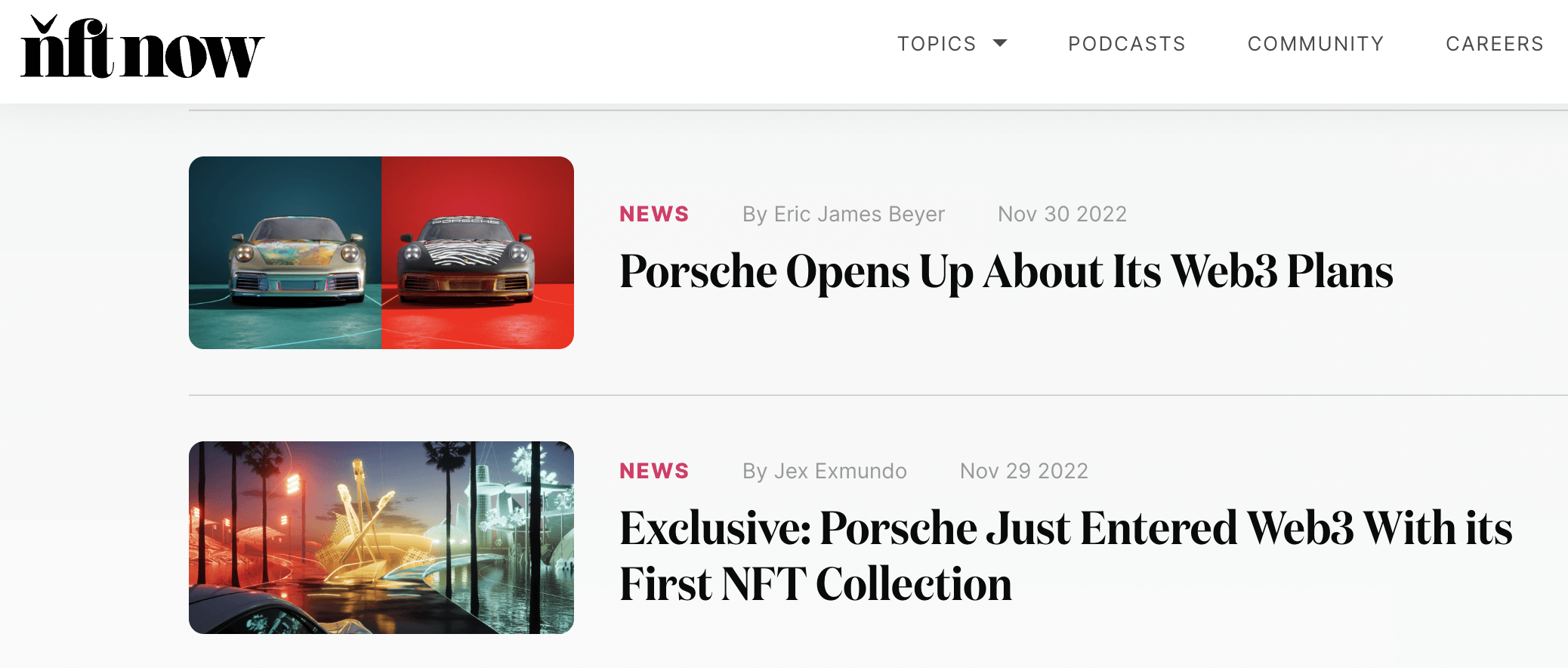 Study what each of these people does so that you match your outreach to the outlets and people most likely to cover the type of news you want to share. Otherwise, you're wasting everyone's time.
Do they write only about currency or fashion NFTs? Does your partnership mesh with their area of focus?
How to Connect With and Pitch Press Contacts
This process closely mirrors connecting with partnership contacts.
When you're ready to reach out, begin by expressing your interest in something they've written.
Then, quickly drop the brand names in your partnership, leveraging the more significant partner's brand equity to showcase authority and draw interest in your news. "Brand A and Brand B are partnering to…"
Close with, "I'd love to chat to tell you more about it."
How to Share Your Story With Press Contacts
This is where the preparation in step one and your media kit comes back into play. Your story needs to be concrete by this point so that it can easily be told in an illustrative way.
Media writers will ask who you are and how your brand evolved. They'll want you to tell them why the two brands are working together. Then, they'll want to know what you're doing, why it's noteworthy for them and their audience, and why it makes a difference.
As you share your story, tell it from an angle that will captivate readers. Use layperson's terms, give the writer a good hook, and spell the story out.
If your pitch develops into a feature, the writer may reach out for additional assets such as photos, videos, or further details. This is another reason to create a media kit before approaching the media and press.
Pro Tip: Some outlets might insist on an exclusive or embargo, meaning they will be the only source to break the story. Consider the media outlet's reputation, size, and reach before you agree to these terms.
Other Notes From This Episode
Where to subscribe: Apple Podcast | Google Podcasts | Spotify | Amazon Music | RSS
✋🏽 If you enjoyed this episode of the Web3 Business Podcast, please head over to Apple Podcasts, leave a rating, write a review, and subscribe.
Disclaimer: The information provided on this website is provided solely for educational purposes and does not constitute any advice, including but not limited to, investment advice, trading advice or financial advice, and you should not treat any of the website's content as such. Social Media Examiner recommends that you independently research any information contained on this Website and that you speak with an investment professional before making any decision to purchase, trade, hold or sell cryptocurrency. Nothing herein should be treated as a recommendation to buy, sell or hold cryptocurrency. Social Media Examiner cannot guarantee the accuracy of any information listed on the website and is not responsible for any missing or wrong information. All information is provided as is and should be used at your own risk. Social Media Examiner disclaims all responsibility and liability for your use of any information found on the website.