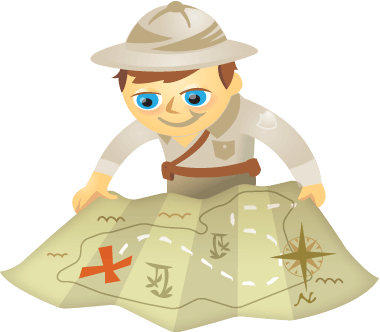 Do you want more exposure for your blog content?
Have you thought about cross-posting your blog content on Medium?
Republishing your WordPress blog posts on Medium gives your business another incredible source of traffic to your site.
In this article, you'll discover how to automatically publish your WordPress blog posts on Medium.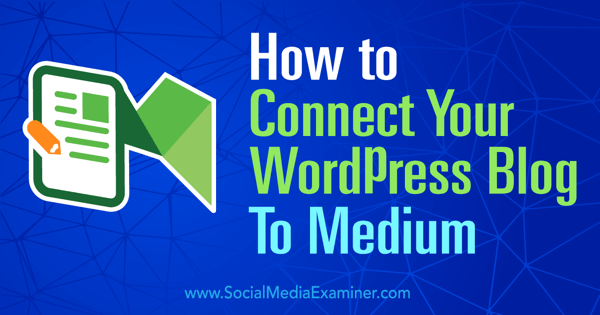 #1: Install the Medium Plugin on Your WordPress Blog
The Medium plugin for WordPress lets you republish your old blog posts or publish new blog posts automatically from WordPress to Medium. It saves you the time and hassle of manually copying and pasting each of your blog posts onto Medium.
Once you have the Medium plugin installed on WordPress, it takes just one click to republish your content.
To get started, go to your WordPress dashboard. It should follow this format: https://mysite.com/wp-admin/. In the left menu, click Plugins and type "Medium" in the search bar. The Medium plugin for WordPress should appear at the top of the search results.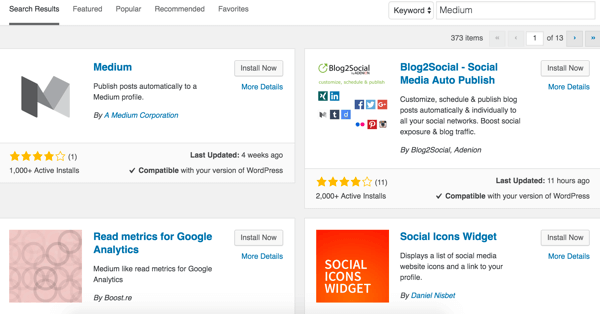 Click Install Now to install the plugin.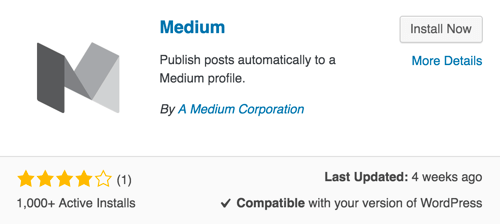 Next, click the Activate Plugin link.
Social Media Marketing Society (Ongoing Online Training)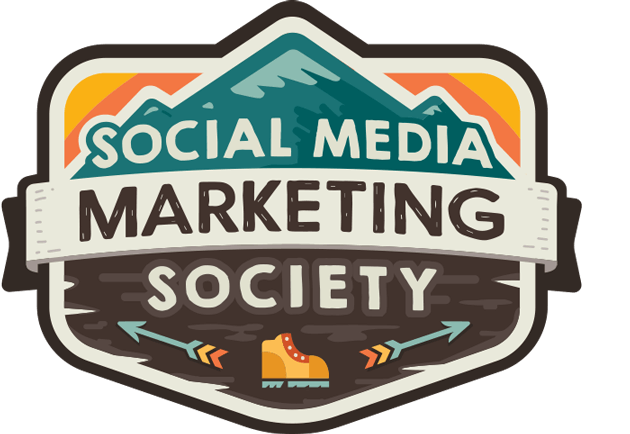 Want to gain marketing confidence and accelerate your career? Try the Society to discover new marketing ideas, improve your results, get support, and become indispensable. Join us for ongoing training, insight from pros, and a community of supportive marketers who understand you.
START YOUR TRIAL MEMBERSHIP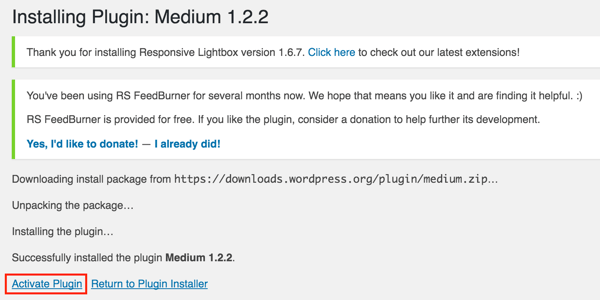 Once the plugin is activated, go to the Users section of your WordPress admin dashboard and click on your profile. Scroll down to Medium and find the Integration Token field, which is blank initially.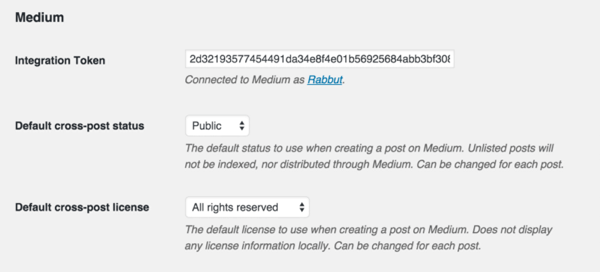 Open a new window and go to your Medium settings. If you don't have a Medium account, you'll need to create one.
Scroll down until you see the Integration Tokens section.

Click in the Enter a Description for Your Token field and type in a description (for example, "Medium WP Plugin for [your site]"). Then click Get Integration Token to generate an alphanumeric code.
On your WordPress profile page, copy and paste this code in the Integration Token field under Medium.

Once you update your profile, your Medium account will be synced with your WordPress blog.
#2: Republish Your WordPress Blog Post on Medium
Now it's time to republish your old blog content. In WordPress, open one of your old blog posts in Edit mode.

By default, the Medium plugin cross-post setting is None, meaning anything you post or update on WordPress won't be published on Medium.

To change the cross-post setting, click the Edit link in the Medium plugin box and select Public. Click OK to save your changes.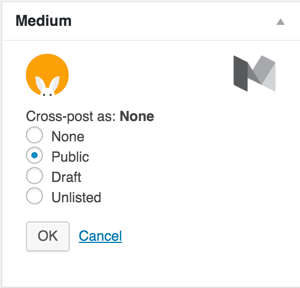 Next, you'll need to click Update to save the changes to your post. Note: Make sure everything in your post is finalized before you click Update. That's because once updated, any further edits you make in WordPress won't show up on Medium.
Put Google Analytics to Work for Your Business (Online Training)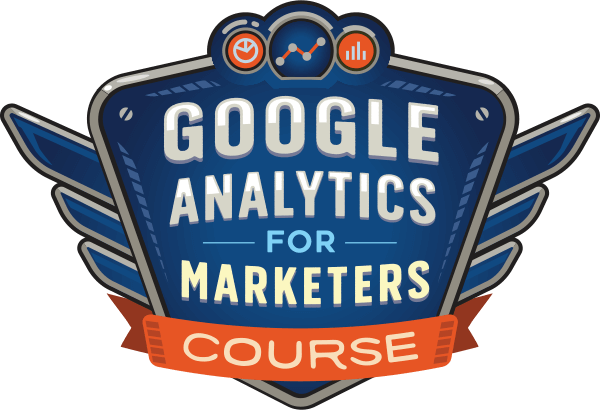 Ever thought, "there's got to be a better way" when it comes to tracking your marketing activities? Are you forced to make decisions based on limited data? With the right training, you can use Google Analytics to measure all of your marketing efforts with certainty.
You'll stop the leaks in your ad spending, justify your marketing spend, gain the confidence you need to make better marketing decisions, and know what's working at every step of the customer journey. Let the world's leading analytics pro show you the way. Check out our new Google Analytics for Marketers course from your friends at Social Media Examiner.
CLICK TO LEARN MORE: ANALYTICS TRAINING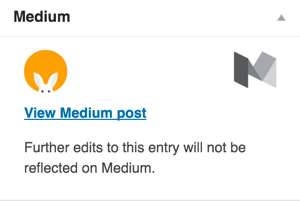 Once you click Update, your WordPress post will be automatically published under your Medium profile, which can be seen by everyone.
#3: Customize the Plugin Settings for Future Posts
In WordPress, go to the Users section in the left menu, click on your profile, and scroll down to Medium to see the default settings for the plugin. This is where you can change the options for cross-posting your WordPress posts.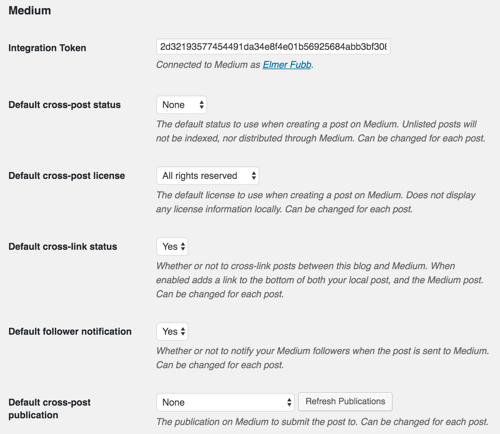 Here's a rundown of your options for each of these settings.
Default Cross-post Status
You can set your cross-post setting to one of these options: None, Public, Draft, or Unlisted.
Choose Public to publish your post publicly on Medium. This is ideal for text-only posts. Note: The hero image and some graphs and charts don't transfer over. Remember to add them to your cross-linked post on Medium if you're in a time crunch and just want to push out as many posts as you can.

Choose Draft to transfer your WordPress post as a draft on Medium. This is a good option if you care about the layout of your blog post, as Medium gives you some unique text options that WordPress doesn't have.
Choose Unlisted to publish a blog post that can be seen only by those who have the link. Unlisted posts won't show up on Medium's public pages (the homepage or your profile).
Note: You can only republish 10 posts per day.
Default Cross-post License
This will set the license for each post. Choose All Rights Reserved so others can't copy, distribute, or use your work without your permission. Choose CC 4.0 BY licenses if you want to allow people to use your content for non-commercial purposes if they give you credit.

Default Cross-link Status
This is a pretty useful feature that will show that you've cross-linked your content. If set to Yes, it will display a link at the bottom of your WordPress post saying the post was published on Medium.

Similarly, it will display a link at the bottom of your Medium post that points back to your original WordPress post.

Default Follower Notification
This lets you choose whether you want to notify your Medium followers when your post gets published to Medium.

Default Cross-post Publication
If you own a Medium publication, you can submit and republish your WordPress posts to your publication.

After you make changes to your settings, remember to update your profile!
Wrap Up
Considering that over 60 million visitors come to Medium every month to read valuable content, Medium provides the perfect opportunity to attract visitors based on your blog content. If done right, you can get a ton more subscribers, users, or customers, depending on your goals.
Remember, the more value your content provides, the more likely that people will be interested in your business. That's why the Medium plugin for WordPress is such a useful tool to put your WordPress posts in front of an engaged audience.
What do you think? Will you consider cross-posting to Medium with the WordPress plugin? Please share your thoughts in the comments below.