Is your business using TikTok? Wondering how to advertise on TikTok?
In this article, you'll learn how to create TikTok ads to promote your products or services.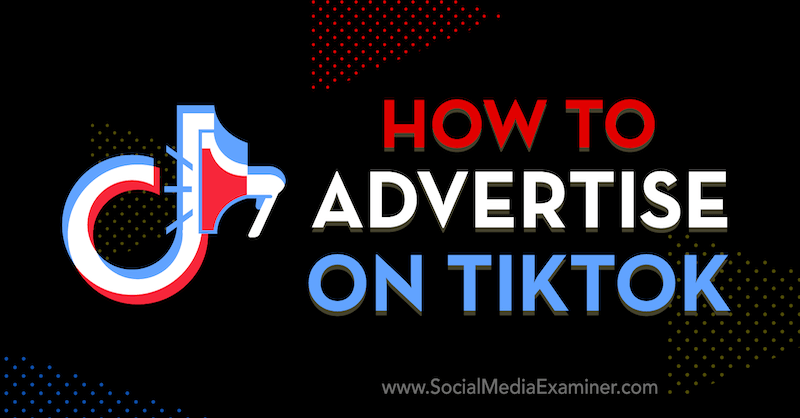 Are TikTok Ads Right for Your Business?
With more than 500 million active users worldwide, TikTok presents an enormous opportunity to advertisers. Not only has TikTok surpassed Twitter and Snapchat in popularity but it's also less saturated with ads than its older counterparts. The visual app—which allows users to edit and share 15-second videos with built-in filters, effects, and music—has truly shaken up the marketing world with its unprecedented virality.
In early 2019, the app launched a beta version of its ads offering. Since then, big names like Grubhub, Nike, Fenty Beauty, and Apple Music have used TikTok ads to promote products in unique, visually compelling campaigns. With advanced targeting and unique ad creation features, the TikTok Ads platform is unlike many of its predecessors. When used effectively, it can help you tap into one of the most lucrative pools of users.
However, not every business is positioned to benefit from TikTok's unique offering. Before investing your time and effort into TikTok advertising, here are two questions you need to ask yourself to determine if this ad platform is right for your business.
What Is the Target Demographic for Your Business?
If younger people are one of the primary audiences for your business, TikTok ads could be a worthwhile investment for you. With 66% of TikTok's users younger than 30 (41% are ages 16–24), this isn't the right platform for businesses that cater to older audiences.
To visualize this, a significant number of trending videos on TikTok relate to youth-oriented topics, such as school and homework.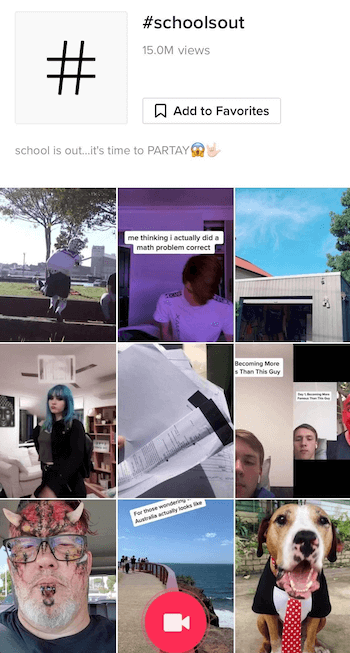 However, it's worth noting that while TikTok's current audience is predominantly young, social networks do tend to be adopted by younger audiences first, and then make their mark on older demographics. So it might still be worthwhile to learn more about the platform to stay ahead of the curve, even if TikTok isn't the right fit for your business at this stage.
Do You Have the Budget to Advertise on TikTok?
While larger businesses like Nike, Disney, and Grubhub have swiftly taken to advertising on TikTok to drive huge impressions, TikTok ads might be less affordable for smaller businesses.
Because ads on the platform are new and rare, they come at premium costs that start at an average of $10 per CPM and can go up to $300,000 total budget for larger campaigns. Moreover, TikTok campaigns require a minimum investment of $500 so they might not be a great fit for your business if you're looking for more affordable and predictable advertising options.
If you decide TikTok ads are a worthy investment for your business, here's how to get started.
#1: Create a TikTok Ads Account
To create your first ad campaign, visit the TikTok Ads home page and click on the Create an Ad button.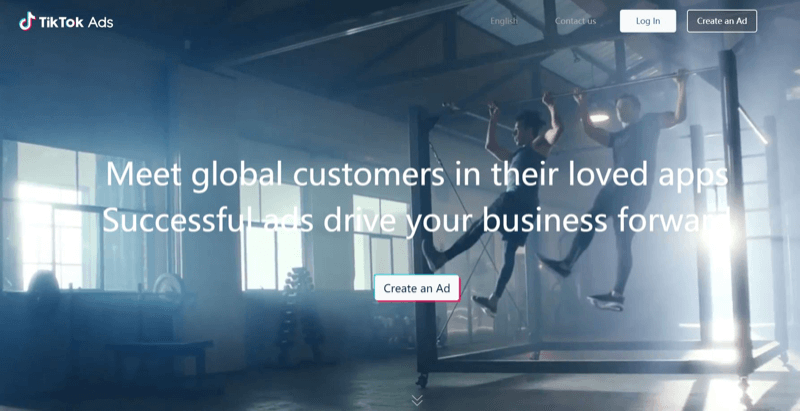 3 Days of World-Class Training—Zero Travel!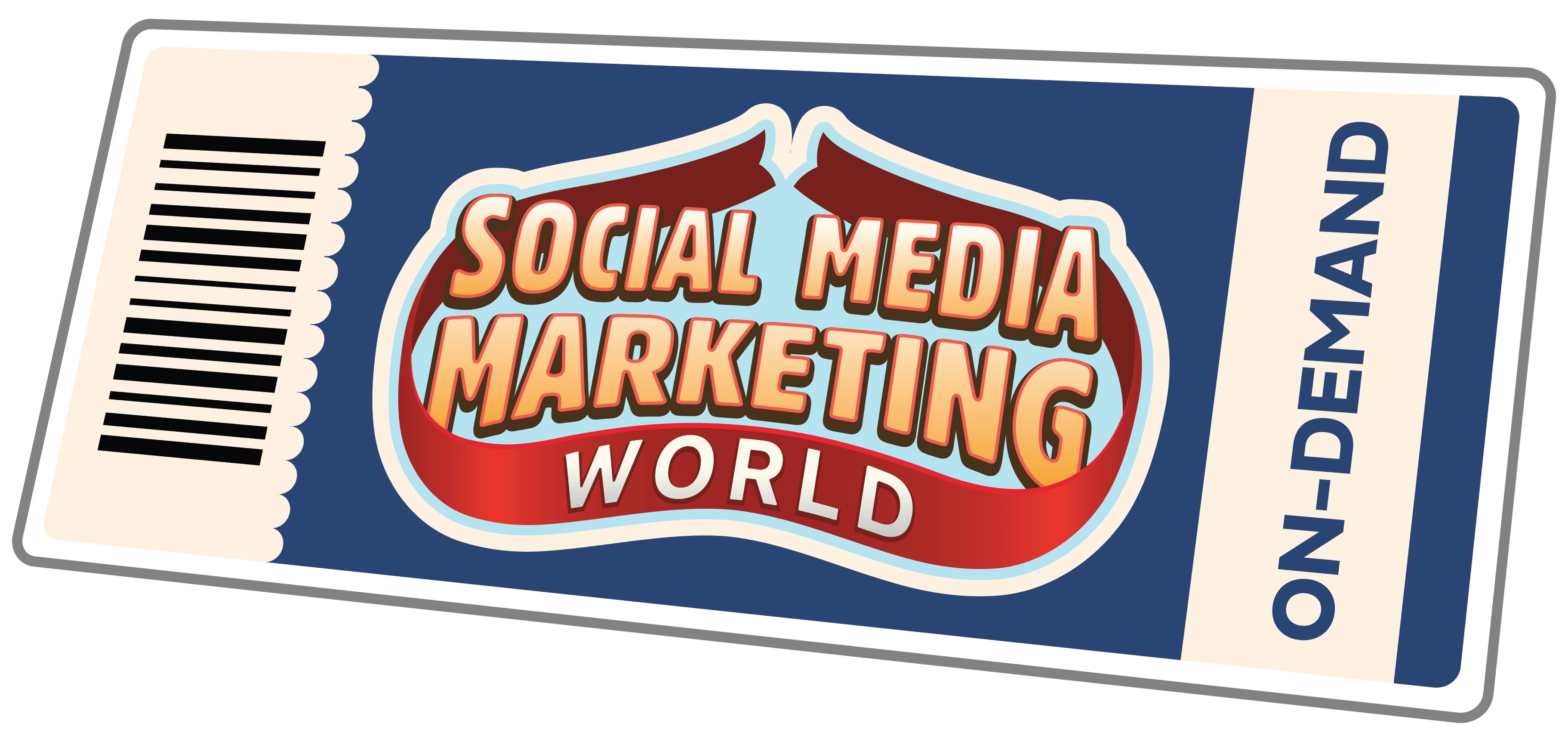 Travel to Social Media Marketing World off the table? Get all of the great content at a fraction of the price with an On-Demand ticket.

That's full access to recordings of every keynote, workshop, and session—the ones people travel thousands of miles to see. Don't wait. Get your On-Demand ticket and enjoy actionable content that you can watch anytime, anywhere.
GET YOUR ON-DEMAND TICKET NOW
Because TikTok Ads is still in beta, the process of setting up ads isn't entirely online yet. When you click the button, a form pops up requesting details to set up your account. After you submit this information, a representative will get in touch with you to set up your TikTok Ads account.
It can take up to 48 hours to receive your account. Once you do, the process for creating ads is relatively straightforward.
#2: Create a TikTok Ad Campaign
In the TikTok Ads dashboard, click the Campaign tab at the top of the page and then click the Create button.

Next, choose a campaign objective, which is the primary goal of your ad. As of this writing, you can choose from three options: Traffic, Conversions, and App Install.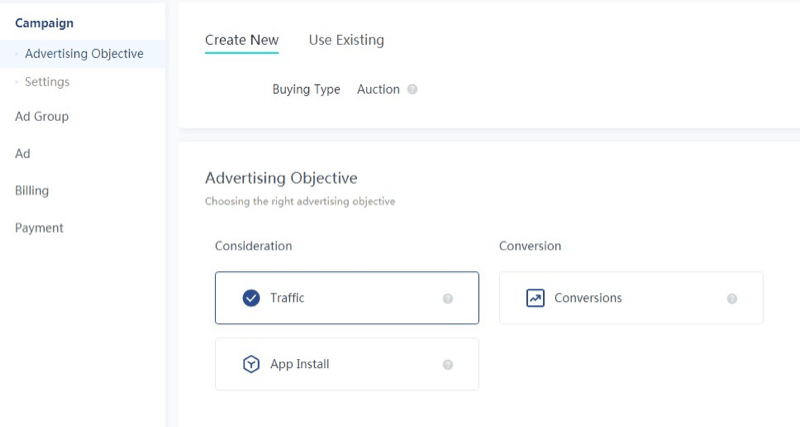 To set your budget at the campaign level, select either the Daily Budget or Total Budget option under Settings. Note that both the daily budget and total budget must be at least $500.

#3: Set Your TikTok Ad Placements, Details, and Targeting
The next step is to create an ad group for your campaign and choose your placements and targeting.
One of the most useful features of the TikTok Ads dashboard is that it lets you select the exact platforms you'd like to run your ads on. These include not only TikTok but also its entire family of apps like Vigo Video (India only), BuzzVideo, News Republic, and others.
There's also an option for automatic placements, where TikTok determines where your ad would perform best and places it there.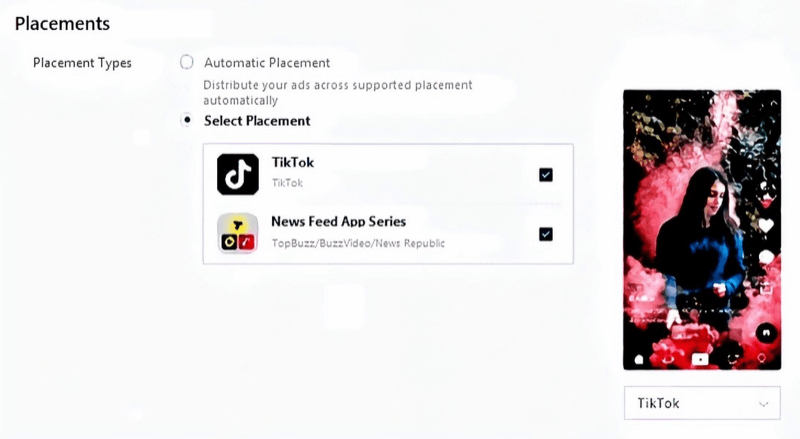 Once you've selected your preferred placements, follow the prompts to enter all of the details necessary to start running your ad, including any relevant URLs, display names, images, and categories. You can also select up to 20 keywords to describe your website or app, which will then be used to match your products with the right audience.
The Targeting section lets you define the target audience for your ads. Set parameters for location, age, gender, languages, interests, devices, and more to attract the right audience for your ads.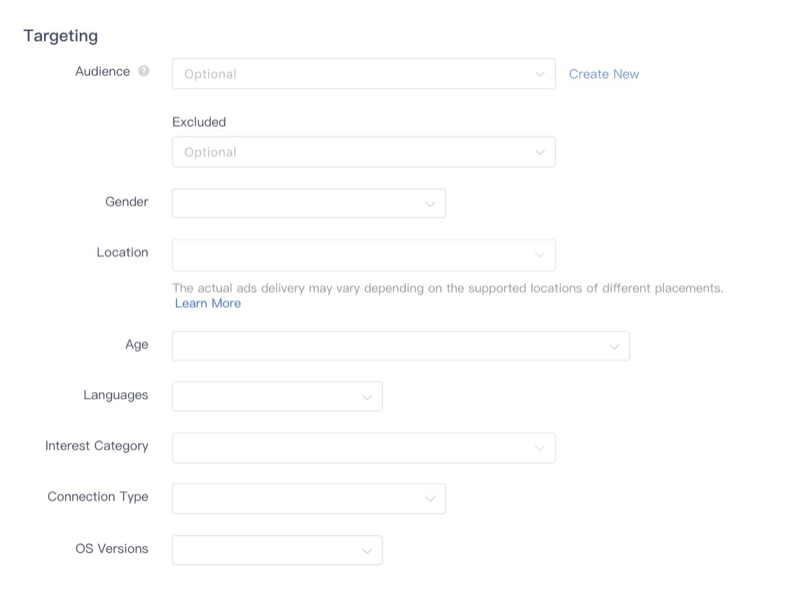 If you have a specific group of people in mind to target on TikTok, you can create a custom audience by uploading the IDs of existing TikTok users. Simply upload the IDs as a CSV, TXT, or ZIP file.
#4: Control Your TikTok Ad Spend, Duration, and Goals
Now you're ready to choose a budget, schedule, and goal for your TikTok ads.
Set a Budget and Schedule
In the Budget & Schedule section, set the budget for the ad group. You can choose either a daily budget (the amount you're willing to spend each day) or a total budget (the total amount you're willing to spend for the duration of the schedule). Note that there's a $50 minimum for the daily budget and total budget at the ad group level. Editor's Note: At the time of this writing, the minimum daily budget at the ad group level was quoted as $50 USD (as shown in the screenshot below). Current help files for TikTok Ads now quote the minimum daily budget at the ad group level as $20 USD.
Also choose the scheduled duration for your ads. Dayparting allows you to select specific times of the day or week on which to run your ad.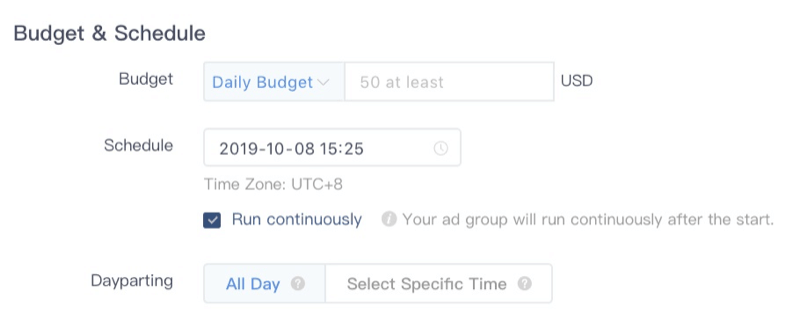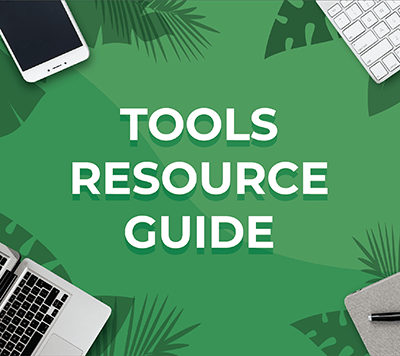 Looking for something to make your life easier?
Discover the tools we recommend to drive engagement, save you time, and boost sales across your entire marketing funnel or business.
Whether you need help planning content, organizing social posts, or developing your strategy, you'll find something for every situation.
FIND YOUR NEXT FAVORITE TOOL
Choose a Pacing Option
Next, set the pacing of your budget, which determines the speed at which your budget will be spent. The Standard delivery option spaces out your budget evenly across the duration of the campaign, while the Accelerate option spends the budget as fast as possible during the scheduled time.
Select Your Optimization Goal
Your optimization goal reflects the key metric you're hoping to achieve with your campaign. You can choose to optimize your ad group for Conversion, Click, or Impression and your bidding will be optimized based on the goal you select.
If you choose Conversion as your goal, your ad will be served to the people who are most likely to convert for your product or service. To track all of the actions that signify a conversion (for instance, app downloads or form submissions), create conversion events by clicking Library and selecting Conversions.
From here, decide whether you want to set up conversion tracking for app installs or certain elements of your landing page via pixel.
To create an app install conversion, type in a name for your conversion event, enter the link to your app in Google Play or the App Store, and select a tracking partner to start measuring conversions from your ad.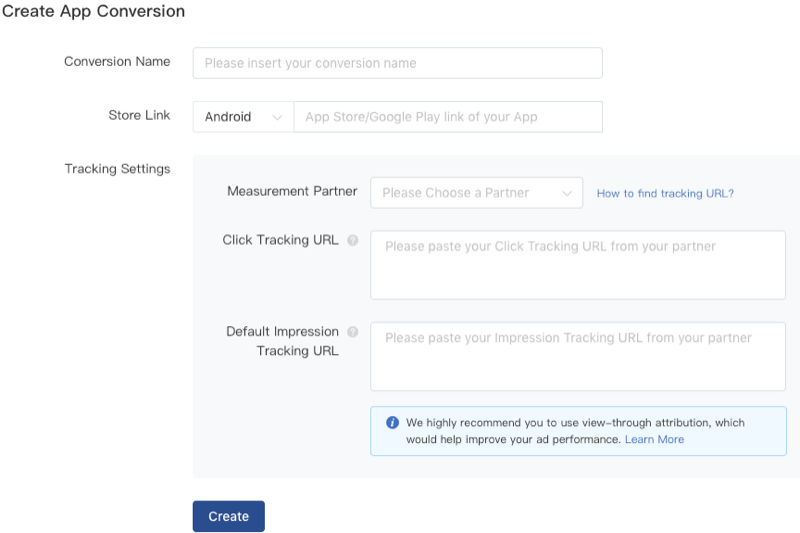 Conversion goals are priced using the oCPC (optimization cost per click) bidding method, which ensures your ads will be displayed to the users who are most likely to perform your expected actions. With oCPC, you bid on the individual conversion cost you expect, but then pay by CPC (cost per click). TikTok Ads automatically adjusts bids based on your bid settings, drawing the cost of your campaign close to your target price.
If you select Click as the overarching goal for your ad group, you'll be billed on a CPC basis, with your ad being optimized to drive as many clicks as possible.
Finally, if you set Impression as your goal, your ad will be billed on a CPM (cost per mille) basis, which denotes the price of a thousand impressions.
Turn Smart Optimization On or Off
TikTok offers an option called Smart Optimization, and if it's enabled, your bidding will be constantly adjusted and optimized to increase conversions. If you choose Click or Impression as your goal, it's best to switch off Smart Optimization.
#5: Design Your Ad Using TikTok's Video Creation Kit
When it comes to designing the creative assets for your ad, the process is fairly straightforward. TikTok ads can be horizontal, vertical, or square videos and images. The best thing about the ads platform is a tool called the Video Creation Kit, which provides video and image templates you customize using your existing images. It also comes with 300+ options for free background music.
TikTok currently allows the following ad types: brand takeovers, in-feed ads, and hashtag challenges.
Brand Takeovers
A brand takeover ad will appear instantly when a user opens TikTok. The ad can then be redirected to an internal or external link—either another video on TikTok or an external website or app. Currently, this ad type is limited to one advertiser per day.
Food delivery app Grubhub ran a video brand takeover ad earlier this year:
Think this is the first real ad campaign I've seen on @tiktok_us. @kerrymflynn pic.twitter.com/zt3JcSYCz0

— 👻 Chris Horror-har 👻 (@ChrisHarihar) January 26, 2019
In-Feed Ads
In-feed ads are native ads placed either at the bottom of organic TikTok videos or in the feed as part of the video queue, depending on the type of product. These ads also redirect to your website or app. On average, they cost $10 per CPM, making them a more affordable option than brand takeovers.
Here's an ad for an app that appeared when scrolling through videos on the platform: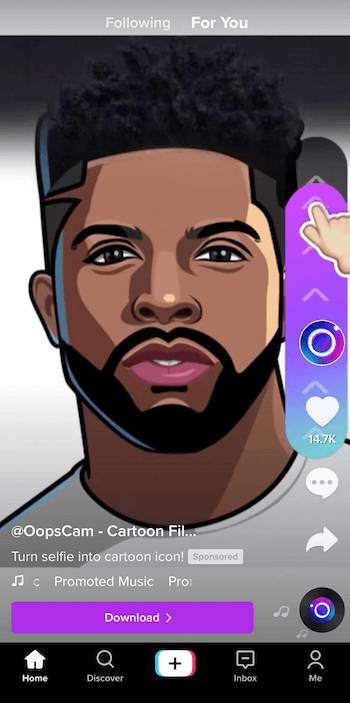 Hashtag Challenges
You can partner with TikTok's marketing team to create a sponsored hashtag challenge that encourages users to share content on TikTok on your brand's behalf. Challenges generally last for 6 days.
#6: Optimize Your TikTok Ad
When creating a brand takeover or in-app display ad, ensure you use high-resolution images because the ad's visuals will take over the user's entire screen and be highly visible.
Focus on only one call to action (CTA) to make the most of your redirect link. To illustrate, if you ask users to download your app and access a coupon code through your website, you might confuse some viewers by redirecting them to your app's download screen.
For the ad copy, note that TikTok ads provide very little space to explain anything with words. Ad descriptions are limited to 80 English characters so if you're selling a more complex product or service, incorporate words into your display creative using the Video Creation Kit.
Because all ad descriptions appear at the bottom of the screen, be sure to place your key creative elements in the middle of the screen to avoid congestion.
As with most ad formats, it's best to experiment with a range of targeting options and creative elements before narrowing your ad down to the most successful combinations of elements.
Pro Tip: In addition to the Video Creation Kit, take advantage of the other built-in ad tools. At the ad group level, the Automated Creative Optimization tool (shown in action below) lets you upload up to 10 images or 5 videos, 5 ad texts, and 1 CTA and will then combine your creative assets into multiple ads. It will test a variety of these ads throughout your campaign and ultimately present the best possible combination to your target audience.
The Landing Page to Video tool will capture high-quality image material from any landing page URL you feed into it and then combine these images with music to automatically generate video ads.
Conclusion
Thanks to a comprehensive offering of design and automation tools, TikTok ads are easy to set up and master. As it stands, the most challenging aspect of advertising on the platform seems to be the lack of guidance available due to how new the platform is. The step-by-step guide above will help you navigate the interface and get up and running in no time.
More articles on TikTok marketing:
Get Your FREE Course: Web3 for Beginners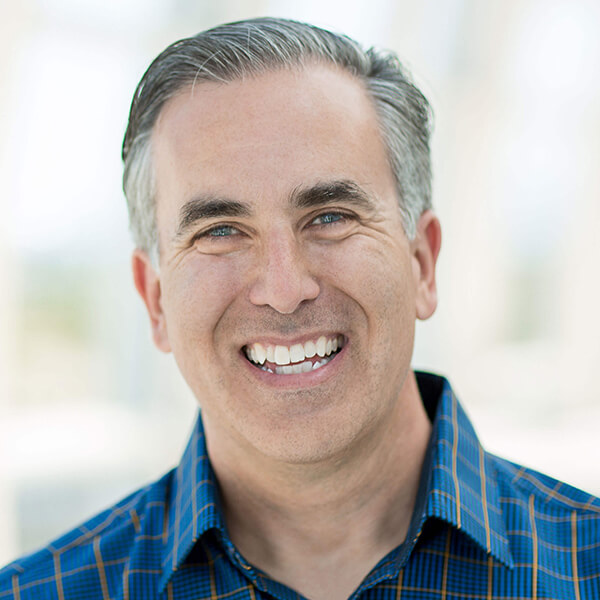 Curious about Web3, but don't know where to start or who to trust?

Introducing Web3 for Beginners, a course taught by Michael Stelzner, the founder of Social Media Examiner.

Learn the basics of Web3 and apply it to your business with this FREE comprehensive course.
CLICK HERE TO GET FREE ACCESS