Wondering how to integrate Web3 into your business? Curious about decentralized email newsletters?
In this article, we'll explore how a media company is using Web3.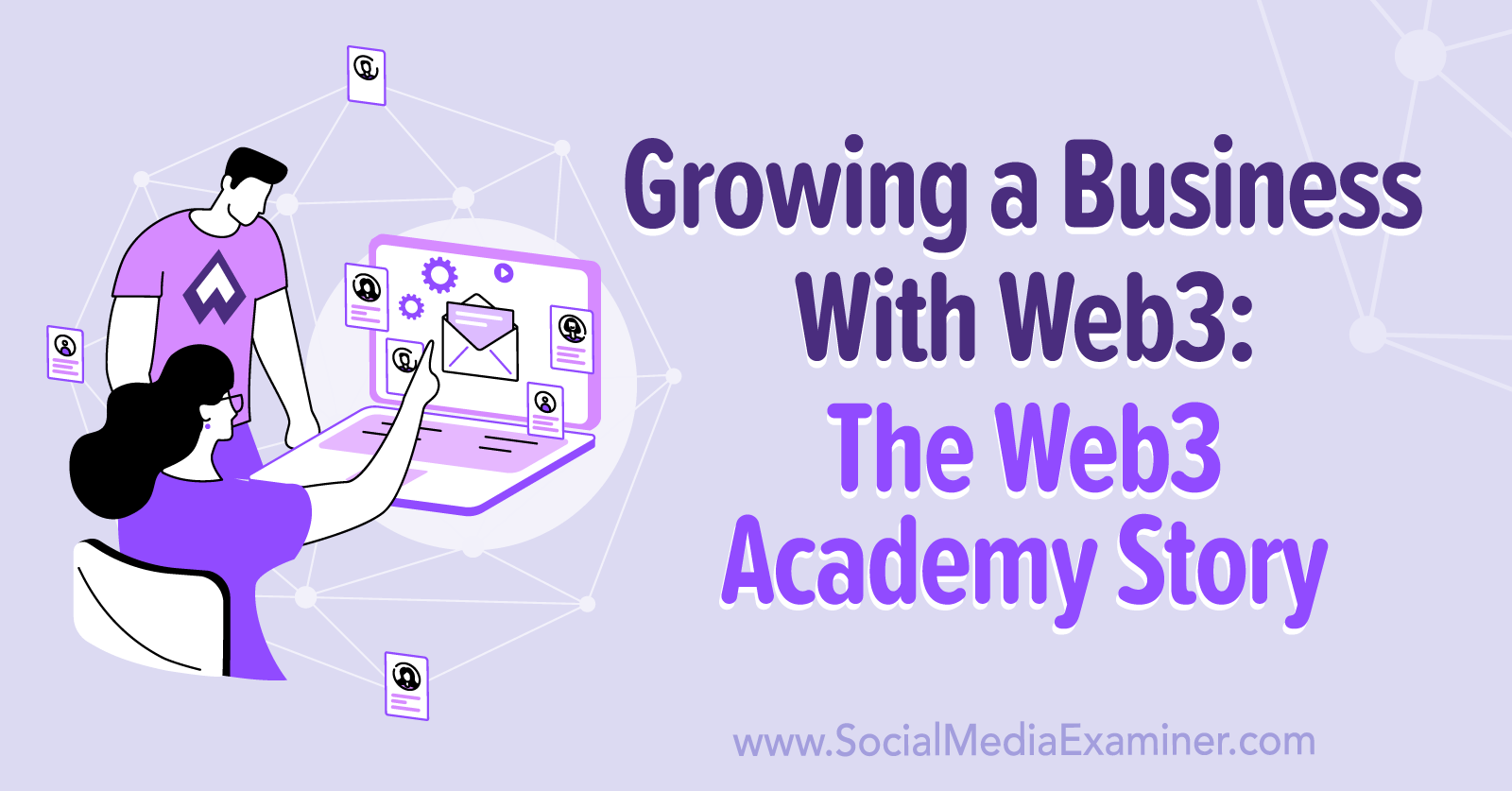 Web3: How Blockchain, AI, and the Metaverse Are Transforming Business
Emerging technologies are ushering in a new era of business and society. Blockchain, artificial intelligence (AI), and the metaverse are coming together under the banner of "Web3" to fundamentally reshape the internet and our daily lives.
Businesses across all industries are having to adapt to this new landscape. While speculative activities like NFT flipping grab headlines, the real impacts of Web3 will be more profound. Blockchain technology is set to transform business models by enabling new levels of transparency, security, and decentralization. AI will allow businesses to deliver hyper-personalized and optimized experiences. And the metaverse promises more immersive social connections and shopping.
Together, these technologies will change how we work, socialize, and conduct business. Companies that want to survive and thrive need to understand how Web3 will impact their operations, products, and customers. The jobs of tomorrow may look very different thanks to blockchain-verified credentials and AI-assisted roles. Shopping in the metaverse could become commonplace. And socializing may increasingly happen in virtual spaces.
Rather than getting caught up in the hype cycles, businesses need to focus on the tangible impacts. They should ask themselves questions like: How can blockchain improve trust and visibility across our supply chain? How can we use AI to better serve our customers? What business opportunities does the metaverse open up?
The companies that intelligently embrace Web3 will shape the future. Those that ignore it risk being left behind. This emerging landscape presents challenges but also tremendous opportunities to reinvent business and society. Companies that want to lead the next era of the internet would be wise to start exploring these technologies today.
Web3 Academy's goal is to help both Web3 natives and Web2 migrants understand how emerging technologies will change how we live, work, socialize, and conduct business.

#1: Web3 Academy's Target Audience
The core target audience for Web3 Academy is people interested in technology and where it is heading. This includes builders, founders, developers, and investors who want to understand new innovations like blockchain.
If you're interested in technology and you wanna know where the future's going, that's what Web3 Academy is covering. Around 25% of their audience are developers, with the rest a mix of founders, entrepreneurs, and technophiles.
#2: The Launch and Early Journey of Web3 Academy
In February 2022, right as Russia invaded Ukraine, Kyle Reidhead and his partners launched Web3 Academy – a new media company focused on blockchain technology and the opportunities of Web3. It was a chaotic time globally and also a turbulent time in crypto markets.
After massive hype and speculative price increases in 2021, crypto markets had already started turning bearish. However, the extent of the downturn was not yet clear. So Web3 Academy entered a world where many people were still highly optimistic about soaring crypto prices and profitable NFT flipping.
As a media business, Web3 Academy quickly realized the industry's heavy reliance on hype and speculation. In a bear market, interest plummeted along with prices. "You couldn't really do the news and the media stuff that was all about hype because there was no hype left," said Reidhead. Parts of the business that were crypto-centric struggled as speculators fled the space.
However, Web3 Academy had focused from the start on the technology's real-world impacts beyond speculation. This editorial strategy allowed it to retain an audience despite fading hype. It explored innovations happening even during the bear market that did not rely on hype or prices.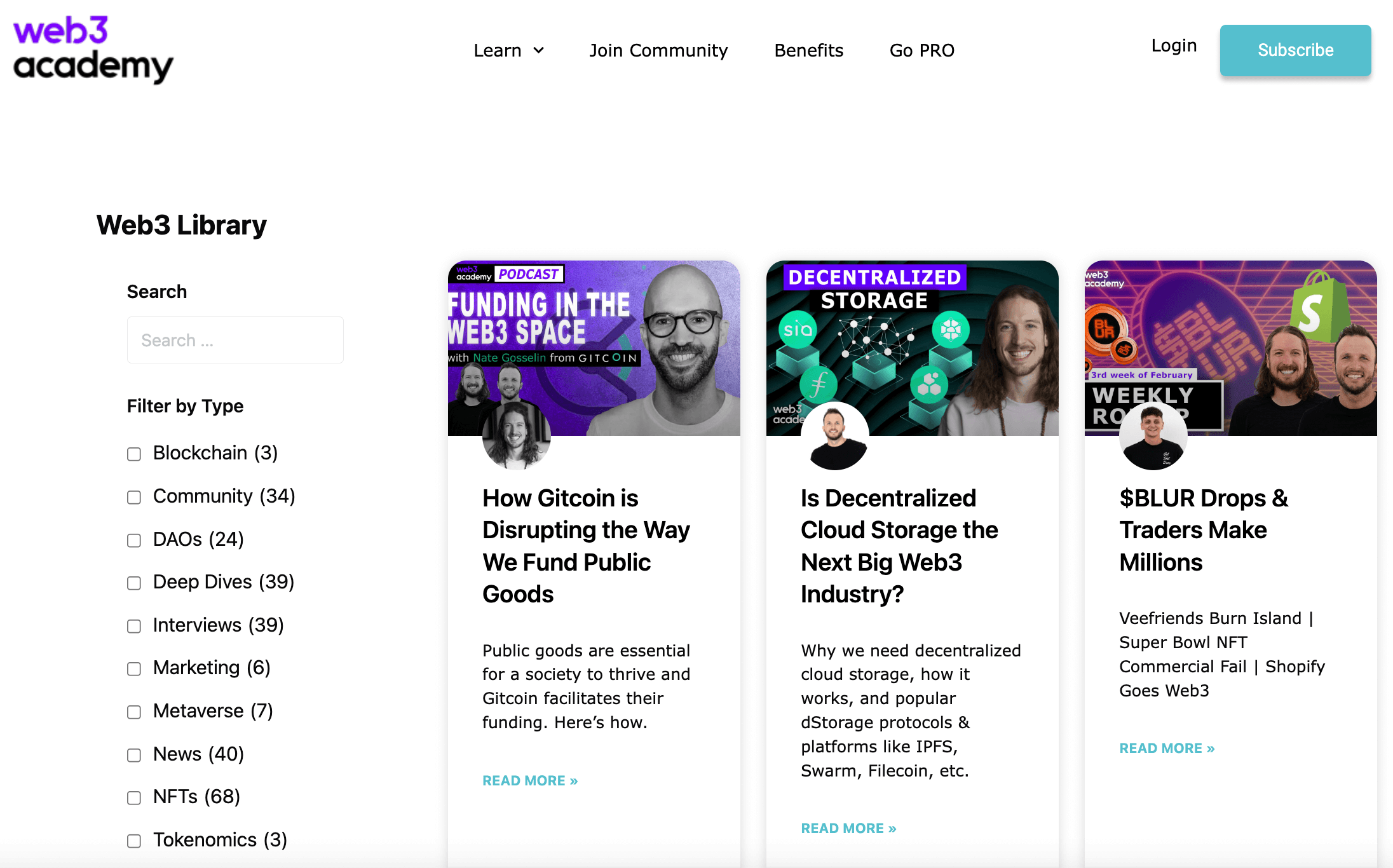 By avoiding short-term cheerleading, Web3 Academy achieved steady audience growth. Reidhead believes the bear market made Web3 companies focus on creating real utility rather than chasing quick speculative wins. This discipline will benefit the industry in the long-run.
The dramatic swings of the crypto industry highlight why substantiative coverage matters more than hype. Web3 Academy was launched during market mania, but survived the comedown by sticking to its core vision. This will help anchor the company, and the industry, for sustainable growth driven by real-world adoption rather than speculation.
#3: Web3 Academy's Business Model
To serve its audience, Web3 Academy employs a diverse business model leveraging various digital media formats. This includes:
Free newsletter covering Web3 news
Premium "Pro" newsletter with in-depth analysis
Web3 Academy podcast
Sponsorships
Web3 courses
The free newsletter shares the top Web3 developments weekly. For hardcore enthusiasts, the "Pro" newsletter provides data-driven reports on blockchain trends. The Web3 Academy podcast dives deeper on topics through interviews.
These digital mediums are monetized through sponsorships, premium subscriptions, and Web3 training courses. Courses educate on blockchain fundamentals and Web3 investing strategies beyond speculation.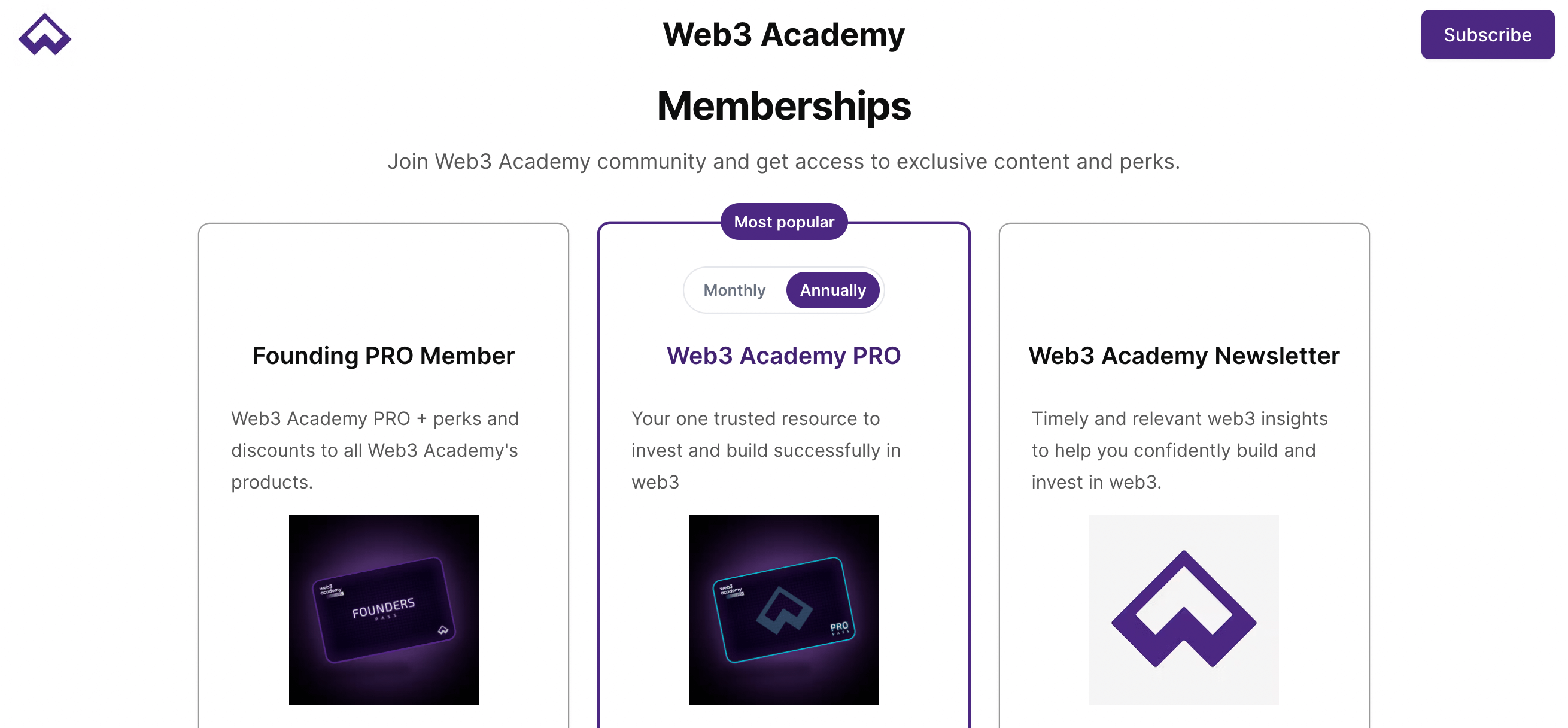 The breadth of the business model is required, as different audience segments prefer consuming information via different mediums, and Web3 Academy aims to reach people through their preferred format.
This multi-channel strategy supported by diversified revenue streams provides stability. Web3 Academy can weather industry volatility by delivering value through various means. Its focus on educating beyond hype sustains relevance even amidst shifting crypto prices.
Leveraging NFTs to Improve the Newsletter Experiences
While Web3 Academy started off using traditional newsletter platforms, they quickly realized the potential of integrating blockchain technology. Specifically, they began leveraging NFTs to provide new benefits to their paying subscribers.
Web2 systems like Stripe subscriptions were limited in what additional experiences they could deliver. However, by associating an NFT with their premium subscriptions, new possibilities emerged.
This works by airdropping a specialized "Soulbound" NFT to the wallet of any premium subscriber. This non-transferrable NFT acts as their membership receipt and unlocks perks across different platforms.
Thanks to services like Guild and Collab Land that can check wallet contents, the NFT gives subscribers access to private Discord channels, discounts on Web3 Academy's website, and other benefits. This utility has increased subscriber retention by improving the member experience.
Transitioning to Paragraph
Based on the success of using NFTs to improve subscriptions, Web3 Academy wanted to expand the role of blockchain technology in their newsletters. So they migrated from Substack to a new platform called Paragraph that has Web3 features baked in.
Paragraph allows subscribers to link their crypto wallets to their account. This means newsletters can be delivered directly to a user's wallet via XMTP messaging. And instead of just sharing or liking articles, readers can now instantly "collect" them by minting the articles as NFTs in their wallet.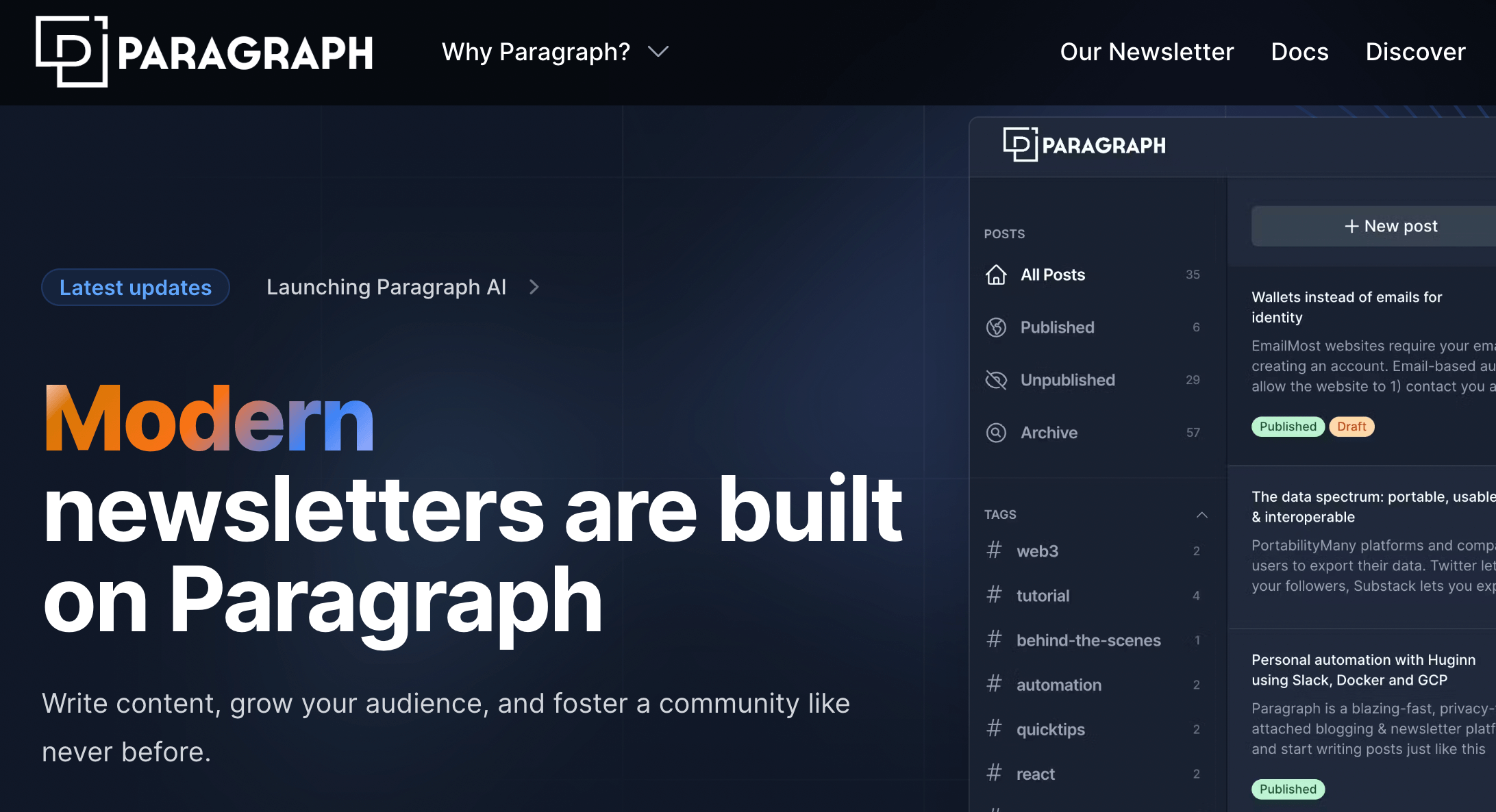 This process turns articles into interoperable digital assets. Web3 Academy can then reward readers who collect their content with exclusive benefits across platforms. Paragraph also associates every subscription with an NFT, allowing instant access without manual steps.
By moving to Paragraph, Web3 Academy can leverage blockchain to deliver a more engaging and integrated experience for their subscribers. While still easy for web2 users, connecting a wallet unlocks next-level newsletter features. The NFT-enabled model provides new ways to incentivize and reward readership while giving readers ownership of content.
#4: Leveraging Web3 for Next-Generation Podcasting and Video
Emerging Web3 platforms offer new opportunities for podcasters and video creators to engage their audiences and monetize their content. While centralized providers like Spotify and YouTube dominate today, decentralized alternatives are gaining momentum.
One Web3 platform showing promise for digital media is Lens Protocol. Lens allows users to post content like photos, videos, and podcasts while retaining ownership rights through blockchain technology. This content can then be "collected" by fans, similar to liking or bookmarking but with more benefits.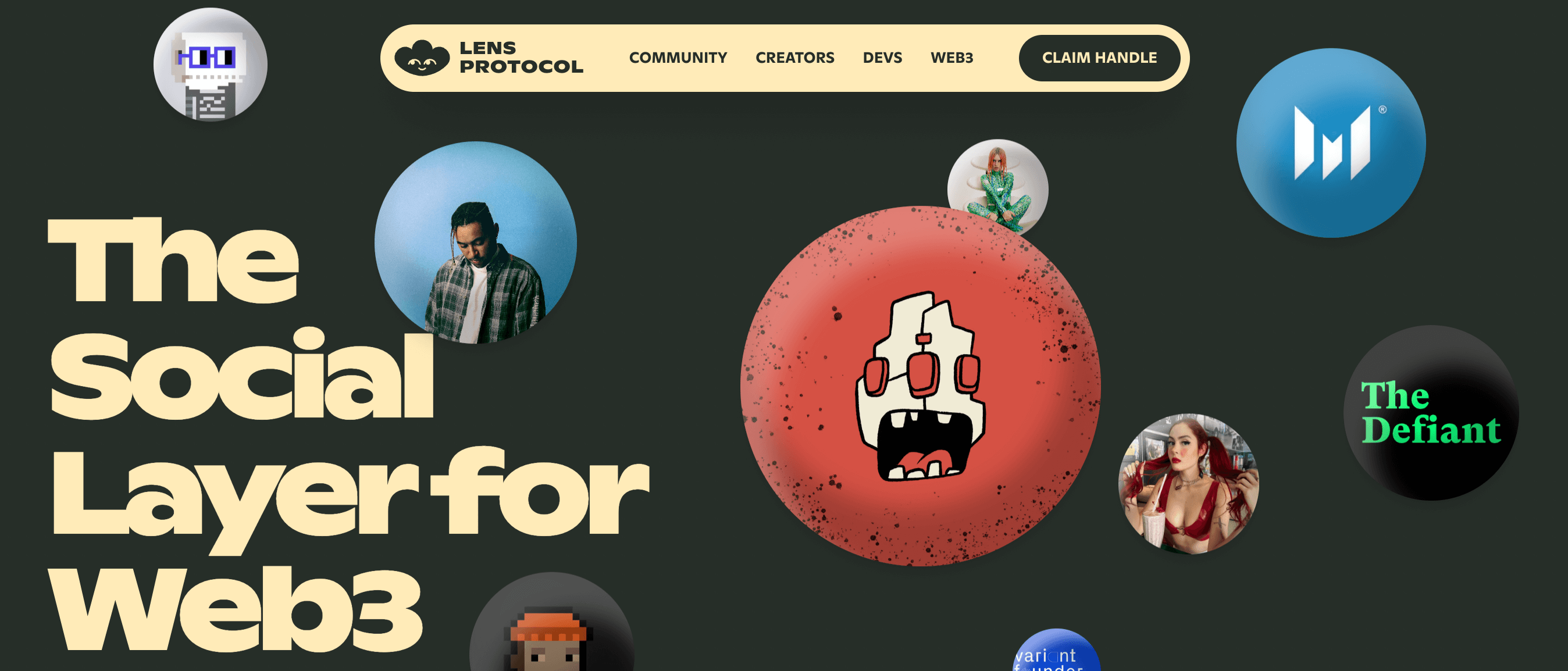 Collecting content on Lens mints it as an NFT in the fan's crypto wallet. Creators can gate community access, airdrops, or other perks based on what content a fan has collected. This gives creators much more flexibility to incentivize engagement than web2 social media.
For video, collecting provides a transparent way to attribute remixes or shares back to the original creator. Any future monetization flowing back to the source. This could evolve into a new participatory culture where fans become collaborators in value creation.
Podcasting may also move on-chain, with platforms like Pods leveraging blockchain to track listens and engagement. Listeners could collect episodes and creators reward loyal fans with exclusive content or experiences. Instead of centralized platforms, podcasts may exist on decentralized, interoperable networks.
While still early days, Web3 shows potential for putting more control and ownership into the hands of digital creators. Rather than platform middlemen reaping most of the value, the fans and talent creating culture could share more equitably in the upside. As blockchain technology advances, expect platforms like Lens Protocol to provide the rails for the next generation of digital media.
#5: What needs to happen for mass Web3 Adoption
While crypto and NFTs have exploded in popularity recently, mainstream adoption is still limited. Most people do not yet have a crypto wallet or understand blockchain technology. However, several key developments could drive broader adoption in the coming years.
Currently, most Web3 platforms are niche and complicated to use. For crypto and NFTs to achieve mass market adoption, the user experience must become much simpler. Crypto projects need to abstract away blockchain complexities so products feel intuitive.
Upgrades like auto-bridging tokens or gasless transactions will be needed to make self-custody wallets frictionless. And creators will need to focus less on speculative assets and more on usable utilities for their users.
Big social platforms introducing crypto utilities could also catalyze adoption. Reddit is rolling out Community Points on the blockchain. This would incentivize content creation via crypto token rewards. If successful, it could demonstrate crypto use-cases at scale.
Regulatory clarity will also be important for companies and individuals to embrace crypto with confidence. Governments still need to provide clearer guardrails without stifling innovation. But thoughtful regulation could validate crypto as the next evolution of finance and technology.
Finally, ordinary people need a compelling reason to try crypto themselves. NFT profile pictures or music services have potential to delight consumers and pull them into Web3. The combination of ease-of-use and exciting real-world utility will be key to crossing the chasm to mainstream adoption.
How AI Will Help Drive Web3 Adoption
Artificial intelligence is advancing rapidly, with tools like ChatGPT able to generate persuasive text, code, and more. This also means AI can automate the creation of fake content like deepfake videos, songs, and news articles.
Web3 solutions like blockchain provide a remedy to AI's potential misinformation epidemic. Blockchain creates a tamper-proof, decentralized record of ownership and origin for content. By minting creative work as NFTs, artists can reliably verify authenticity.
For example, when an AI-generated Drake song went viral but confused platforms, blockchain would have let Drake authenticate his official releases. Artists could be spared endless battles against AI impersonators by leveraging blockchain verification.
AI makes verifying content origin more crucial than ever. But its impacts go beyond just authentication. AI-recommended content and experiences will help onboard new Web3 users. AI algorithms can filter the firehose of information into relevant insights.
On the creator side, AI will assist with content generation, community management, and identifying opportunities. But creators will still control distribution and audience ownership through Web3 platforms.
Ultimately, AI acts as rocket fuel for Web3 adoption. It will supercharge content while blockchain provides the checks and balances. Together, they can solve problems like discovering new artists and maintaining transparency. The creative possibilities are endless for this powerful combination enabling both creation and credibility.
Other Notes From This Episode
Where to subscribe: Apple Podcast | Google Podcasts | Spotify | Amazon Music | RSS
✋🏽 If you enjoyed this episode of the Web3 Business Podcast, please head over to Apple Podcasts, leave a rating, write a review, and subscribe.
Disclaimer: The information provided on this website is provided solely for educational purposes and does not constitute any advice, including but not limited to, investment advice, trading advice or financial advice, and you should not treat any of the website's content as such. Social Media Examiner recommends that you independently research any information contained on this Website and that you speak with an investment professional before making any decision to purchase, trade, hold or sell cryptocurrency. Nothing herein should be treated as a recommendation to buy, sell or hold cryptocurrency. Social Media Examiner cannot guarantee the accuracy of any information listed on the website and is not responsible for any missing or wrong information. All information is provided as is and should be used at your own risk. Social Media Examiner disclaims all responsibility and liability for your use of any information found on the website.