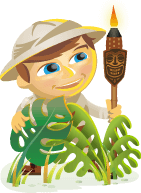 Wondering how creators succeed with video on Facebook Watch? Curious how it compares to other social media video?
To explore what marketers can learn from a successful Facebook Watch creator, I interview Rachel Farnsworth.
More About This Show
The Social Media Marketing podcast is designed to help busy marketers, business owners, and creators discover what works with social media marketing.
In this episode, I interview Rachel Farnsworth, a Facebook video expert. She's the founder of the Stay At Home Chef and author of the book, Slow Cooker Cooking. Her Facebook Watch show, Recipes, has more than 4 million subscribers.
Rachel explains how her experience with Facebook Watch compares to videos on her Facebook page and YouTube channel.
You'll also discover tips for measuring Facebook video performance and running ads on Facebook Watch.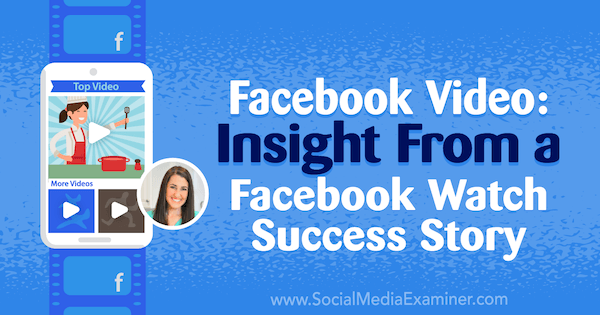 Share your feedback, read the show notes, and get the links mentioned in this episode below.
Listen Now
Where to subscribe: Apple Podcasts | Google Podcasts | Spotify | YouTube Music | YouTube | Amazon Music | RSS
Here are some of the things you'll discover in this show:
Video Success With Facebook Watch
Rachel's Story
In 2008, when Rachel became a stay-at-home mom, she started a blog. She didn't love being a stay-at-home mom. She was bored and yearned for connection. On her blog, she shared recipes for friends and family because she loves cooking. In 2012, after she had her last child, she started trying to make money from her blog. At that point, her goal was to cover the grocery bill.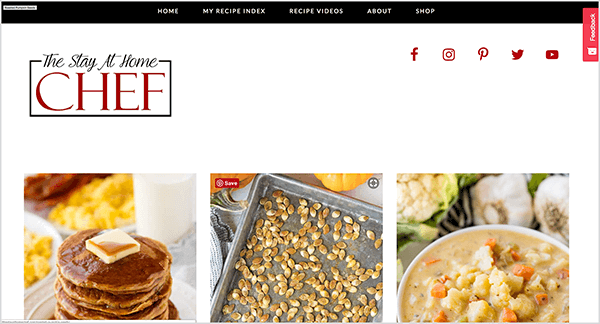 Rachel's husband, who's a software engineer, suggested she make video part of her business because he believed video was the future of the internet. Although Rachel didn't watch a lot of online video at the time, she decided to try making some videos and putting them on YouTube.
Rachel says her first videos were terrible. She didn't edit them, so viewers saw her turn on the camera and walk around in front of it. Everything was in real time. She quickly realized her videos weren't good, deleted those initial attempts, and began practicing offline. She experimented with new styles that showed only the food and not her face, but at that point, she still wasn't proud of her work.
In 2016, BuzzFeed launched Tasty, which performed well and helped Rachel see the possibilities in what she was already doing. She started honing her craft with her own style and improved the quality of her videos. She also started a video business, making original videos for the Facebook pages of other online creators.
Making videos for other Facebook pages was a tremendous learning experience. In 6 months, Rachel made about 1,000 top-down, hands-only cooking videos. After working with about 100 different pages on Facebook, she developed a keen sense for what succeeds on Facebook and what doesn't.
With an understanding of how to create videos and what works on Facebook, Rachel returned to creating her own videos in October 2016. In less than 3 months, she went from 52,000 to 1 million followers. For these videos, she chose content from her blog that would translate well to video. Her first video, a 60-second homemade rolls recipe, is still among her most viewed videos.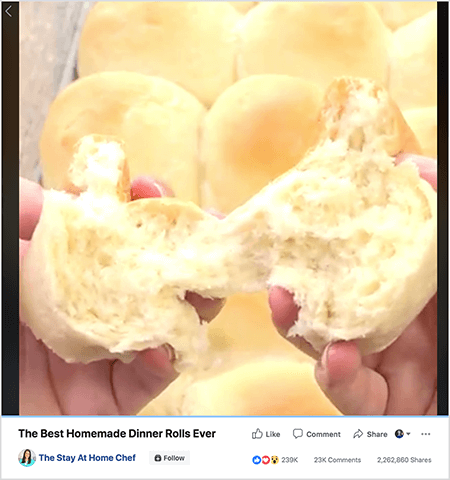 When Facebook announced Watch in June 2017, Rachel learned everything she could about it. She talked to everyone she knew who might be connected to Facebook Watch about their experiences with it. When Facebook came to Salt Lake City, where Rachel lives, they invited top YouTube creators in the area, who suggested Facebook invite Rachel, too.
At that time, Rachel's YouTube channel had about 150,000 subscribers, so it was a legitimate YouTube channel but not a major component of her business. After meeting with Facebook, Rachel pursued a Watch page by sending emails and following Facebook employees on LinkedIn. She says she pushed the limit to break into Facebook Watch.
Rachel launched her Facebook Watch page, Recipes, on February 26, 2018. Because Watch is a search-based platform, Rachel named her page based on the number-one search term for her content. At the time, Watch was still in beta testing. However, the time and effort Rachel invested in Facebook Watch has been worthwhile because it took off.
Listen to the show to hear my thoughts on the name Rachel chose for her Facebook Watch page.
Rachel's Experience With Facebook Watch
Rachel's Facebook Watch page has been one of the more successful on the Watch platform. Her page currently has 4.6 million followers. On a single day, her highest reach for one post has been 27.5 million people. However, on any given day, the views for Rachel's Facebook Watch videos can swing significantly.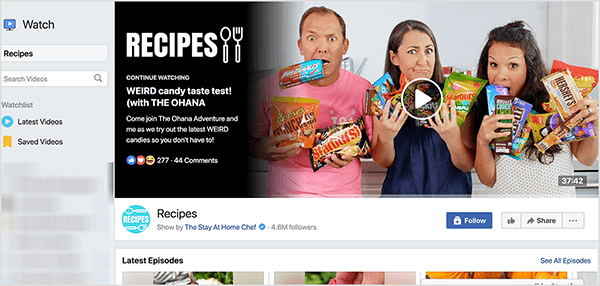 Rachel says these metrics have large variations because she entered the platform at the end of alpha and beginning of beta testing. However, she does see videos get millions of views within 24 hours on the Watch platform. Also, because Facebook Watch is constantly tweaking things, the views are terrible sometimes, but when they're good, they're really good.
Rachel shares other examples of the extraordinary views on Facebook Watch. She helped a friend start a Watch page a few months ago, and that page had 98.8 million views for one post in one day. Rachel also saw a friend go from zero to 1 million followers in 7 days.
However, a Facebook Watch page doesn't guarantee success. Many creators' and media companies' Watch pages have failed or not done so well. In other words, the pages that are successful are wildly successful, but Rachel finds that success requires an incredible amount of work. When you focus only on the big success stories, a Watch page seems like a magic wand, but it isn't.
Behind the scenes, Rachel says performing well on Facebook Watch is something like bushwhacking through the jungle in search of El Dorado. Because Facebook Watch is a new platform with new goals for Facebook, the algorithm is constantly changing.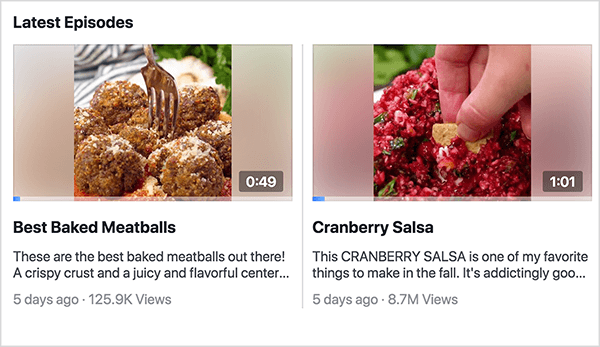 In response, Rachel needs to constantly test the algorithm and collaborate with other people who are also testing it. They share knowledge to figure out how to leverage the algorithm as creators and adjust their strategies to go in the same direction as Facebook.
Listen to the show to hear my thoughts about how Rachel's topic is compatible with the Facebook ecosystem.
Facebook Watch Versus YouTube and Facebook Page Video
Given that most people won't get a Facebook Watch page anytime soon, I ask Rachel what she thinks about video on YouTube versus Facebook.
Rachel says YouTube and Facebook are two very different platforms. Great content on YouTube typically doesn't translate to Facebook and vice versa. YouTube is about purposeful watching, whereas Facebook is a disruptive watching experience. The choice depends on your content and your demographic. However, some people are able to bridge both worlds.
The disruptive experience on Facebook is about grabbing someone's attention in the first 3-5 seconds and holding that attention with a fast-paced format. The length of your video isn't necessarily a factor. For example, a 3- to 5-minute video, which is long for Facebook, can still be a disruptive experience. If your video can get people to stop scrolling, you'll succeed big on Facebook.
Captions are also important on Facebook video. Rachel always provides captions so that people don't have to turn on the sound. Many people watch video on the go, while their baby takes a nap, or when they're in the bathroom at work. They don't want to watch with the sound on.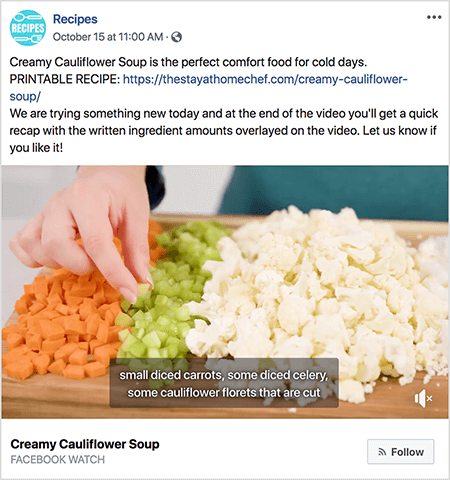 Since Rachel switched from posting videos on her Facebook page to posting on Watch, her viewer retention rates have greatly improved. On average, about 35% of her viewers watch to the end or near the end of her videos. That retention rate is strong for a Facebook video.
Rachel believes several different factors contribute to the improved retention rates on Watch compared to her page. People tend to use Watch when they have time to watch video, whereas they often don't when they're scrolling through the Facebook news feed. Notifications are another factor. Watch continues to experiment with and change notifications and who gets notified.
However, Rachel's viewer retention on YouTube is still higher than on Facebook Watch. I note that The Journey has much higher retention rates on YouTube. About 50%-60% of YouTube viewers watch The Journey all the way to the end, but that's unheard of for Social Media Examiner on our Facebook page.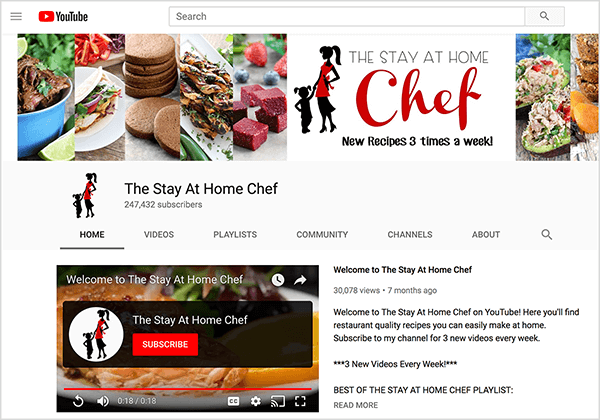 Rachel says people see YouTube as a place to sit down and watch video, but they don't think of Facebook that way. Facebook is trying to change that perception, though. Recently, she has seen Facebook Watch launch upcoming shows much like fall TV premieres, with ads, press releases, and show lineups.
Long-term, Facebook Watch won't necessarily translate to TV, but the shows could become a hybrid of internet video and TV shows that we haven't seen yet.
Listen to the show to hear my thoughts on the advantages of Facebook versus YouTube video.
What Is a Facebook Watch Page?
The difference between a Facebook page and a Facebook Watch page is a little confusing because they look similar. Facebook Watch is a separate platform that for now lives on the Facebook platform.
However, signs suggest Facebook is beginning to offer Watch as a separate app that could appear on smart TVs alongside Netflix, Hulu, and Amazon Prime Video. Rachel recently saw an ad promoting this option that said, "Watch this show on the Facebook Watch app on your TV." (At the time of this interview, the app wasn't available on her TV.)
For now, episodic content and seasons distinguish Watch from a regular Facebook page. On a Watch page, you can organize videos into seasons like a TV show. You can also stream live video and organize those videos into episodes. Rachel posts episodes, but because her content is evergreen, she doesn't organize episodes into seasons. It's an option that you don't have to use.
Rachel does a live episode of her show almost every week. When you go live from a Watch page, the functionality is similar to a regular page except you have the extra option to make a live video as an episode. Another difference is that the reach for her live show on Watch is outstanding—much better than it was before Watch.
On some regular pages, Facebook allows you to make episodes, too. Content that fits Facebook's criteria and performs well might get pulled into Watch; then you can adjust your regular page to look like a video page. However, when Rachel tried this option, she found it wasn't the same as Watch.
Watch is great for Rachel because her Recipes show has its own page that's connected to her main business page on Facebook.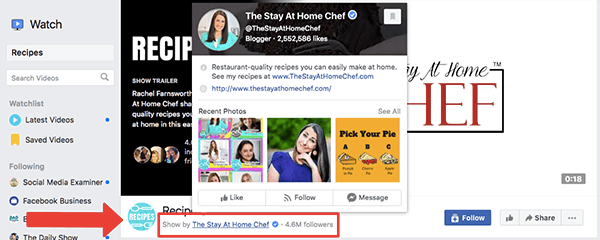 When she publishes a video to her Watch page, she can simultaneously publish to her Facebook page, too. For people who have big pages, this feature is important, because you don't have to grow a whole new audience for your show.
However, Rachel was surprised to find that her page fans didn't necessarily move over to Watch and follow her show.
Listen to the show to hear my thoughts about a Facebook Watch app.
Tips for Creating Facebook Video
Although Rachel now posts her videos via Facebook Watch instead of her regular page, the video content is largely the same. She publishes seven videos per week, which include both recipes and her live show. Since she moved to Watch, she pushes her content a little more and makes sure at least three of her weekly videos are at least 3 minutes long so they're eligible for ad breaks.
When Rachel does a live show, she casts to all of her pages at the same time. She uses vMix, a third-party application that you set up with the stream keys for all of the profiles where you want to stream. After the software is set up, you can simply go live on Facebook. She doesn't schedule live videos at all.
The live show is a random variety show. For live video, Rachel hardly ever cooks. On her more successful live shows, she chats with her fans. Taste tests are another fan favorite.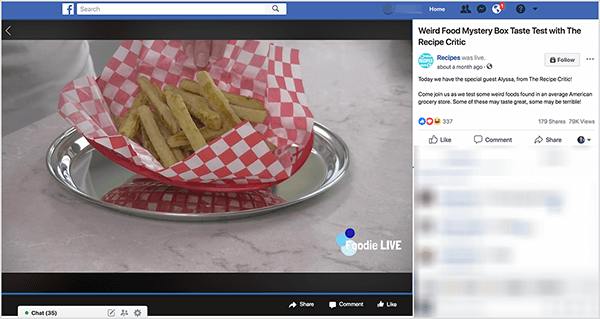 However, just because a certain approach to video has worked for Rachel doesn't mean you should follow it like a formula. Rachel encourages everyone to experiment. One format that works isn't the only way to do Facebook video. In fact, because it's a disruptive atmosphere, you need to focus on finding a better way.
Instead of a formula for video content, Rachel shares general tips for working with the Facebook audience and algorithm. First, avoid logos and text at the beginning of your videos. These branding elements are distractions that lose your audience. Instead, focus on engaging viewers the whole time. To disrupt someone's scrolling, your video needs to give them a reason to keep watching.
Rachel also avoids asking people to share her videos. Facebook's artificial intelligence can read and hear your content, and she's concerned that the algorithm will punish terminology that suggests a share isn't an organic experience.
Listen to the show to hear Rachel and me discuss how Facebook's transcription feature indicates it's listening to your audio.
Which Facebook Video Metrics Matter?
Although Rachel mentioned watch time and retention earlier, she tries to ignore those numbers because they can be depressing. She's also not sure those metrics are accurately reported based on her Facebook experience. To understand whether her video is working within the algorithm, she focuses on weekly reach. It's a great indicator of how your page is doing.
Facebook promotes this metric as well. In your analytics, the default is a week. Also, Facebook constantly highlights your page's weekly reach on your home screen and in your news feed. (Another place to check your metrics is the new Facebook Creator Studio, which continues to get new features. Rachel has been checking it out since June.)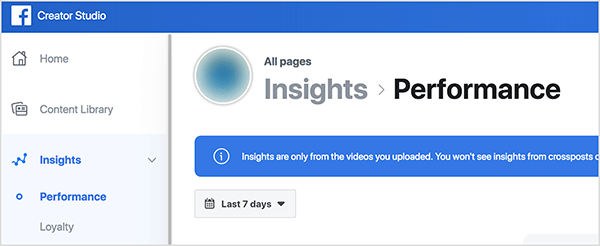 Rachel looks at engagement metrics but feels the way they're reported is a little confusing. Instead of overall engagement, Rachel focuses on engagement on individual posts. She's active in the comments because she wants to hear viewers' feedback, listen to what they're saying, and see whether they're really engaging with the content. She looks for true community and engagement.
Rachel focuses on engagement because she wants people to connect with her brand and because Facebook values this engagement. In her recipe videos, she encourages this engagement with tips and tricks she knows will interest her audience. She might cut an onion in a new way. Or she'll open both ends of a can of tomato paste and push out the contents from one end.
I mention that at the end of The Journey, two clips play to remind viewers of certain sections of the video and I ask a question like "What's more important for you, planning or acting?" This tactic seems to get people talking in the comments. Rachel likes this idea and says she asks questions in the text portion of her videos.
Listen to the show to hear about the wide range of watch times for Social Media Examiner video.
How Marketers Can Leverage Facebook Watch
Currently, Watch advertising is an underutilized opportunity, and Rachel believes any marketer should be jumping at the chance to advertise on Facebook Watch. Ad breaks on Watch are in their infancy, much like YouTube ads 6 years ago. Facebook ad breaks are currently available in six different languages and 26 different countries (and more continue to roll out).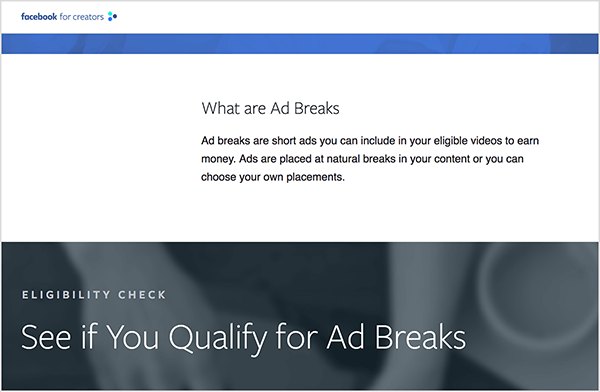 Although ad breaks are open to the public, Facebook is strict about who's eligible for Facebook Watch ad breaks. Your page must have at least 10,000 followers. Also, you need to post videos that are at least 3 minutes long, and in the last 60 days, have had 30,000 1-minute views on those videos. Facebook provides a tool that checks your Facebook page's eligibility for ad breaks.
If you're eligible, you can advertise through video ads on Facebook and take advantage of being on Facebook Watch pages, which are really pushing ad breaks. Currently, viewers can't skip the ads, they're short (about 15-20 seconds), and they're for branding (although Rachel has heard clickable ads might be in the works). The ad breaks appear mid-roll.
Facebook Watch is testing all sorts of options for these ads, including placements. Occasionally, you see a pre-roll ad that isn't skippable. You might also see overlay ads. Watch is also testing ad length and whether to let creators choose placements or optimize placement for individual viewers itself. Because Facebook Watch ads are still new, the options are always changing.
The upshot is that if you place an ad inside a video, put it inside a video on the Watch platform because those videos have the potential to reach a much larger audience. Although Facebook Watch has received some flak in the press, Rachel finds it to be an incredibly promising platform. In fact, lots of creators see a future on Watch, which makes it a good place to advertise.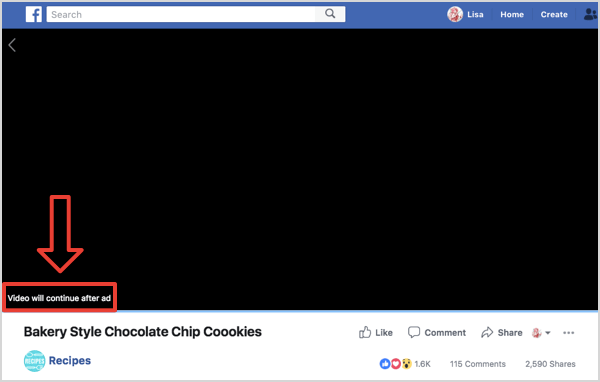 Rachel has invested a lot in the future of Facebook Watch and she thinks it could become a hybrid of Netflix, Hulu, or Amazon video mixed with super-consumption. Compared to IGTV (Instagram TV), Rachel thinks Facebook Watch has a much stronger future because Watch has been more exclusive about who can share content.
Although the difficulty of getting on Facebook Watch frustrates lots of creators, this exclusivity is part of its strength. You can get a Facebook Watch page by invitation only, and it's incredibly difficult. Although not all of the content Facebook has selected for Watch has done well, the people at Facebook seem committed to figuring out what works.
For creators who are interested in Watch, a new program called LaunchPad might help. Although an application to LaunchPad isn't an application for Watch, Rachel knows people who've gotten Watch pages because they participated in the LaunchPad program. Facebook is using LaunchPad to get in touch with creators and figure out what they're doing with their content.
Listen to the show to hear about my efforts to get on Facebook Watch.
Discovery of the Week
With Vimeo Stock Video, you can find high-end stock video that's easy to use with Vimeo's other popular tools and membership plans.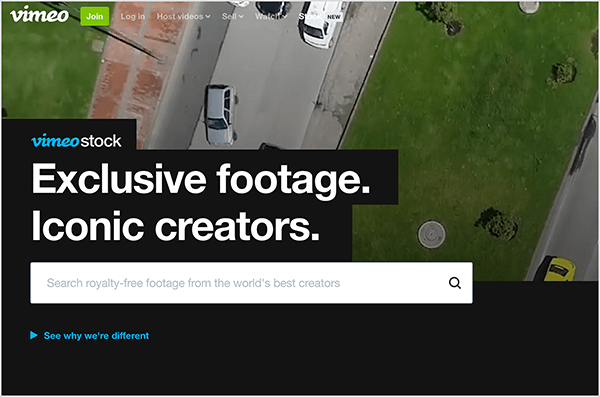 This stock library is great for finding B-roll footage that often plays during a voiceover or transition. The library includes a lot of aerial shots, establishing shots, motion graphics, and travel-related footage. You can find stunning video that's royalty free and could make your video stand out compared to the stock most people use. If you want high-resolution video, 4K footage is available, too.
If you already have a Vimeo membership for reviewing and hosting video, using its stock video services creates a seamless workflow. You don't need to visit other stock video places, download the footage, and then upload it to Vimeo. The stock footage is simply there.
Vimeo Stock Video offers HD video clips starting at $79 and 4K video clips starting at $199. With a membership plan, which start at $12 per month, you get a 20% discount on clips.
Listen to the show to learn more and let us know how Vimeo Stock Video works for you.
Key takeaways from this episode:
What do you think? What are your thoughts on Facebook Watch and Facebook page video? Please share your comments below.