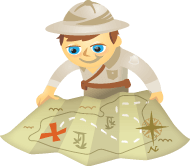 Want to increase your Facebook fan engagement?
Have you considered adding games to your Facebook page?
Facebook games engage people's competitive nature and can grow your brand's reach.
This article shows you how to use games in your Facebook marketing.
#1: Fan Photo of the Week
If you want to get people interested in your fan page, make your fans a part of your social marketing strategy. People love to see their names in lights, so give them that chance with a Facebook photo of the week contest.
The great thing about this type of contest is that it's easy to implement. Just ask your fans to submit a picture based on a theme you choose, then judge the photos and select a winner. When you've chosen a winner, showcase the fan and his or her picture on your cover image or highlight the photo in a status update.
The winner gets bragging rights and will probably want to share the excitement with friends. When the winner shares with his or her friends, your page goes out into their news feed and introduces you to a new audience. That can lead to a jump in viral reach.
Walmart is particularly good at this. They ask fans to submit a photo via a tab on their Facebook page, which means fans have to go to the Walmart Facebook page and engage by clicking through to the app.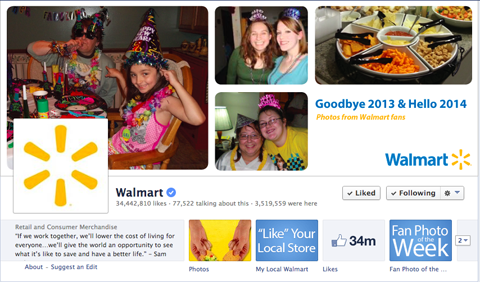 The app form is quick and easy to fill out, so fans are more likely to enter. After they enter, Walmart judges the pictures and chooses a winner. The fan who wins is featured in the Walmart Facebook cover photo.
Walmart could add more incentive by offering small rewards or discounts based on how many times a person has entered the contest.
Tips to make your own fan photo of the week contest: 
Add a more competitive level to the contest by letting the public vote for their favorite photo to win. This encourages even more people to engage with your Facebook page.
Set up levels of fan photo achievements, like a badge, to reward the most active participants and encourage repeat entries.
Give a shout-out to contest winners by profiling their images, names and stories as an update. It's very likely the winner will share it with friends and create an even larger viral reach for your page.
Use a third-party app on Facebook to make voting easy (and to collect more data from entrants).
#2: Fan Photo Showdowns
Photo showdowns are similar to fan photos of the week. Both ask fans to submit photos, but the difference is that showdowns allow other fans and friends to vote. The winners move on to the next level.
Amazon hosted a Gladiator Showdown on Facebook where entrants competed for a 10-day trip to Italy to run in the Rome Marathon.
🌟 Ready to Supercharge Your Social Marketing Strategy? 🌟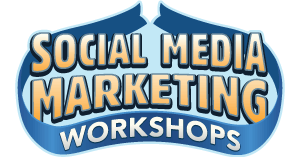 Struggling with your social marketing? You're not alone. The solution? The Social Media Marketing Workshops!

During these live 2 hour deep-dive workshops, you'll discover what's working now on Instagram, Facebook, TikTok, YouTube, and LinkedIn. Skyrocket your engagement, broaden your reach, and amplify your sales.

Become the marketing hero your company and clients need—without leaving your home!
🔥 Save $670 on an All-Access Ticket! Sale Ends Tuesday! 🔥
GET YOUR TICKETS NOW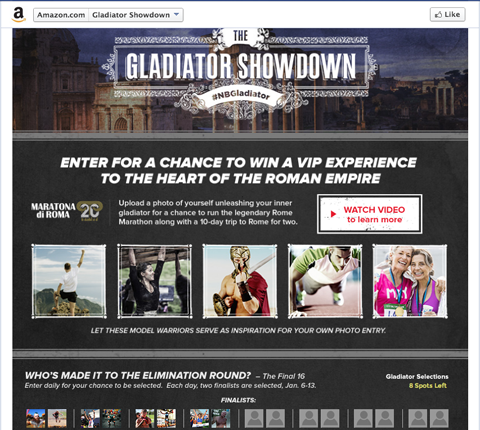 Each day, fans uploaded their best gladiator-themed photos and Amazon chose the winner to move to the next round. When the final 16 entries had been chosen, fans and friends had one week to vote for their favorite photo.

Tips to make your own fan photo showdown:
Create a fun, competitive theme with elimination levels.
Make your contest time-sensitive to encourage fans to come back regularly to check their progress.
Capitalize on popular events such as March Madness, Wimbledon and the Super Bowl.
Host the contest directly on Facebook, and cross-promote it through all of your social and traditional marketing channels.
#3: Leaderboards
Incorporating a leaderboard into your game or contest is socially motivating because it publicly shows where each person (or team) is positioned and who is winning. Fans can track a person's (or team's) talent, votes, number of game plays and more.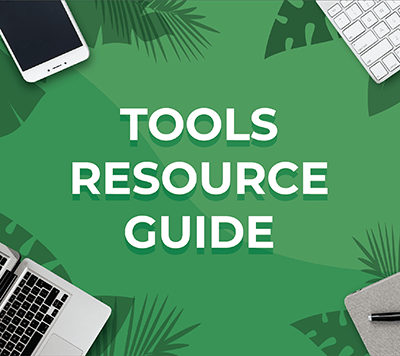 Looking for something to make your life easier?
Discover the tools we recommend to drive engagement, save you time, and boost sales across your entire marketing funnel or business.
Whether you need help planning content, organizing social posts, or developing your strategy, you'll find something for every situation.
FIND YOUR NEXT FAVORITE TOOL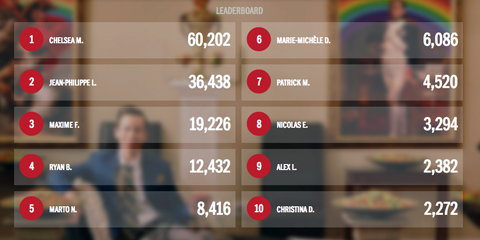 Skittles hosted a "Pyramid Scheme" leaderboard competition with a prize of one million Skittles. They asked fans to share the Skittles promotional video and gave one virtual candy for every share (fans could share as many times as they liked). Skittles upped the ante by also giving the original fan a candy for every share their friends posted as well.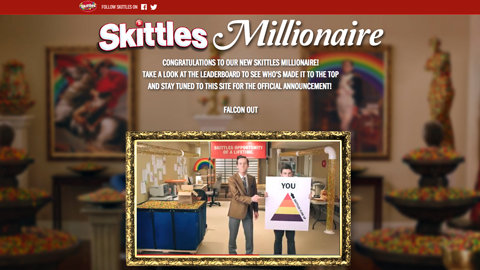 Tips to make your own leaderboard competition:
Use a third-party game app to create your board, such as Badgeville, Gigya or Scirra.
Host your contest directly on a Facebook landing page.
Make sure the contest has a low barrier to entry. The easier it is to enter, the more entrants you'll have.
Include a social sharing element, such as bonus points based on shares, to spread your marketing reach.
#4: Addictive Single-Player Games
A single-player game can add stickiness to your Facebook page—it makes fans want to keep coming back for more. The trick to building an addictive Facebook game is to make it easy to play, yet challenging enough to hold your fans' interest.
When designing your game, it's a good idea to develop multiple levels that are progressively challenging. A well-designed game keeps your fans motivated to keep playing and reach the next level.
If you really want to get your fans interested in your game, give them monetary incentive such as level-related discounts or brand-related prizes.
Buffalo Wild Wings created an addictive single-player game called Protect the Football. The design reflects their brand: Your character is a buffalo that has to jump from platform to platform while collecting game day–related items for bonus points, and avoiding game day distractions like laundry.
Players get additional bonus points by sharing the game with friends and weekly top scorers win prizes.
If you do check out this game, it could cost you hours of your day. Don't say I didn't warn you.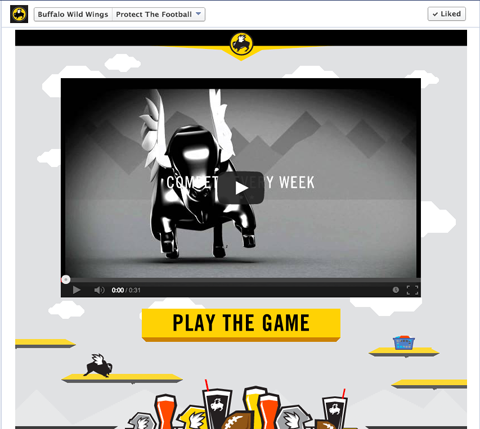 Tips to make an addictive single-player game:
Make your game simple but challenging. Let players level up to encourage them to come back for more.
Review Facebook's best practices for successful mobile games, such as making your game easy to share and play with Facebook friends.
Create your own game through the Facebook Games Developer Center or outsource it to a game developer.
#5: Socially Shared Games
Single-player games are fun, but sometimes fans want to test their skill against others. With a social game, players can compete against friends or anyone in the world.
The coveted prize is generally bragging rights of being the champion among their peers, so it's likely your fans will come back to check the leaderboard and try for the highest score.
Red Bull is known for its social games. The Facebook page links to hundreds of video games that fans can play on both desktop and mobile devices. Red Bull even co-hosts live global gaming tournaments.
Most of the Red Bull games can be played as single- or multi-player. Players get credits for successfully referring friends to join the game.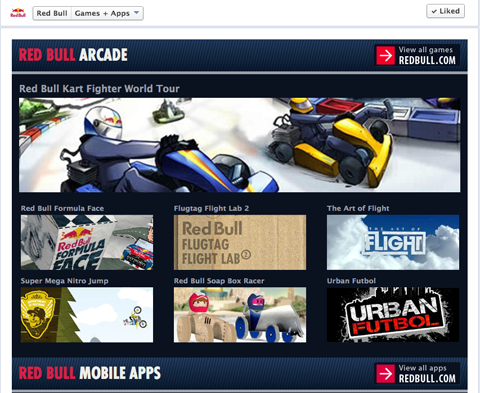 Tips for adding socially shared games to your Facebook page:
Develop games that can be played by both single and multiple players.
Give referral incentives such as game credits, free products or public bragging rights.
Highlight the top scorers in an update.
Promote your game with mobile Facebook ads for apps.
Your Turn
Don't just stop with one of these ideas; combine them to shake things up and pique interest. For example, use a leaderboard with a single- or double-player game.
As a social marketer, one of your goals on Facebook is brand engagement and loyalty. You want to be top of mind when they're ready to buy something. Adding a gaming element to your Facebook marketing can be an effective way to increase your organic and viral engagement and reach that goal.
What do you think? Do you use games on Facebook? What kinds of games have you used? What are your successes? Share your tips and comments below.
Get Your FREE Course: Web3 for Beginners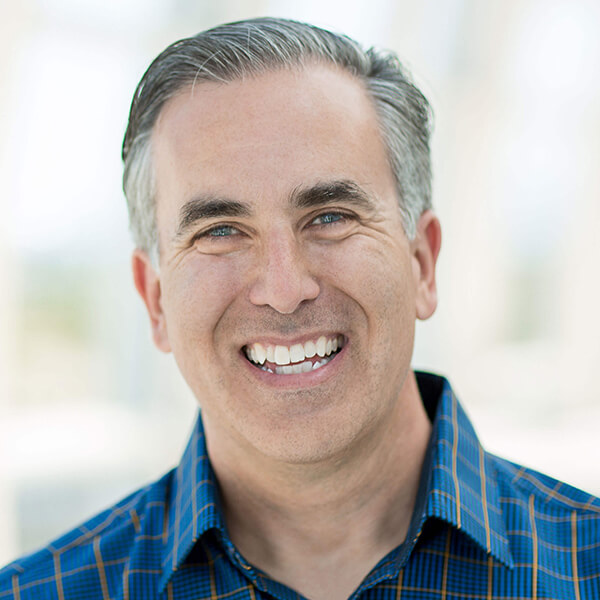 Curious about Web3, but don't know where to start or who to trust?

Introducing Web3 for Beginners, a course taught by Michael Stelzner, the founder of Social Media Examiner.

Learn the basics of Web3 and apply it to your business with this FREE comprehensive course.
CLICK HERE TO GET FREE ACCESS