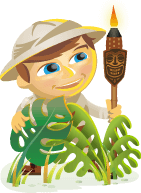 Do you advertise on Facebook?
Are your ads converting?
To explore how to better use Facebook ads to reach leads and customers, I interview Zach Spuckler.
More About This Show
The Social Media Marketing podcast is an on-demand talk radio show from Social Media Examiner. It's designed to help busy marketers and business owners discover what works with social media marketing.
In this episode, I interview Zach Spuckler, a Facebook ads expert and host of the Heart, Soul & Hustle podcast, a show about generating more leads, sales, and conversions. His course is called Rock Your FB Ads.
Zach shares his framework for building leads with Facebook ads.
You'll discover mistakes many marketers make with Facebook ads.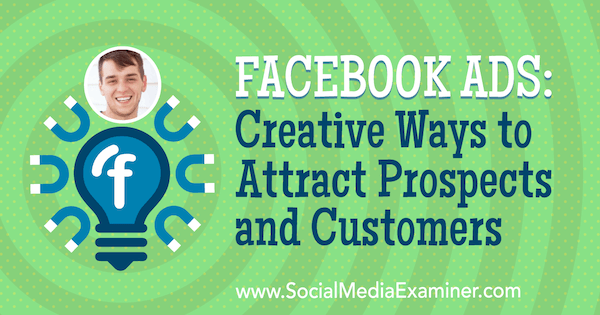 Share your feedback, read the show notes, and get the links mentioned in this episode below.
Listen Now
Where to subscribe: Apple Podcast | Google Podcasts | Spotify | RSS
Here are some of the things you'll discover in this show:
Facebook Ads
Zach's Story
Over the last 10 years, Zach has dabbled in most forms of online marketing, including affiliate marketing, direct sales, website flipping, consulting, and Facebook ads.
About two and a half years ago, Zach was running a successful vegan food blog called The No Fuss Vegan as a hobby while working a job and studying for a master's degree. As the blog grew, the hours of work that Zach put into developing recipes, and styling and shooting photos for his blog left him feeling burnt out. He liked what he was doing but he didn't love it.
Zach took three months off to explore what work made him happy and realized it was marketing. He loved testing his ads, and messaging and building his list. That's when he launched Heart, Soul & Hustle. When Zach started this business, he was committed to a foundational principle: Instead of teaching people theories that worked, his teaching would be grounded in what he had learned through experience.
His first digital course came out a few months later. He had been doing one-on-one Facebook ad management using Periscope for promotion. Zach did a Periscope at Starbucks, saying, "I can't really teach you how to make a million dollars. I'm not a six-figure coach. But I have gotten my income up to about $1,000 a week on Periscope. Is that something you want to learn about?" He set up a PayPal button in real time and did about $1,200 in sales.
That's when everything started to come together. Zach realized he could own his expertise without faking it. He could be fully transparent and show people what he was doing at his current level, and that approach would resonate with people.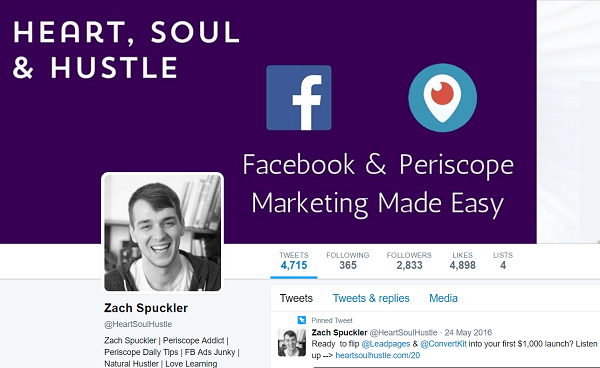 Zach's passion has always been ads, and his intention when he started the company was to create a Facebook ads course. However, everybody wanted to learn about live streaming, so he tabled the ads program in response to his market. However, he still launched the program a year later and has had a blast testing everything with Facebook ads such as Messenger, retargeting, and Facebook Live.
About a year ago, Zach realized he had become a total workaholic and could use Facebook advertising to help him do the heavy lifting. He scaled up his ad spend and hired an ads manager. Although Zach emphasizes that ads don't do all of the work, his ads nevertheless work for him whether or not he can show up on a particular day.
Today, hundreds of people take Zach's courses. His company does launches with thousands of people, they have incredible affiliates, and they've been affiliates. Investing in advertising has opened so many doors that he can't help but get excited about it.
Listen to the show to hear about Zach's earliest experience working online.
Facebook Ad Mistakes
The market has been evolving but marketers aren't all keeping pace. A few years ago, you could run a Facebook ad to a sales page and make money. You could even run ads directly to a checkout page. But back then, most Facebook users didn't realize that a sponsored post in the news feed was an advertisement. Today, users understand what ads and sponsored posts are, and feel that marketers are invading the news feed.
Marketers aren't evolving with users' increased sophistication. They're still relying on old-school methods. For example, marketers still run ads to an opt-in page and act like they have no plans to sell the user anything. They behave like they just want to give you a free workbook. Consumers are catching on.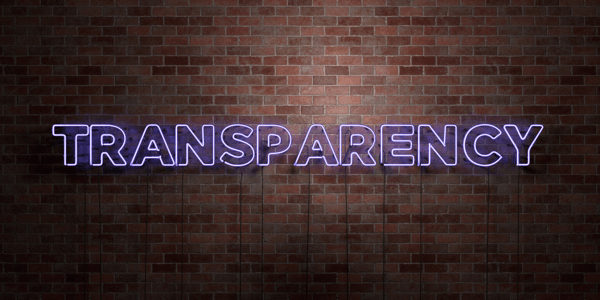 To reach today's Facebook users, you need to do a couple of things. First of all, differentiate yourself. Almost anyone in any industry has a checklist, workbook, or free webinar, so find a way to stand out. Second, acknowledge market sophistication. Instead of hiding your intentions in ads, be up front with people. Let them know it's a funnel and you're trying to sell your paid program. Transparency is having its heyday.
Another common mistake is copying other companies' ads without knowing whether those ads work. The barrier to entry has gotten so low with Facebook ads that people see something and assume it works. They go wrong when, for instance, they see a Facebook ad from DigitalMarketer and decide to run an ad just like it. Companies spend anywhere from $100 to $1,000 on ads that don't convert. And people copy those ads anyway.
Listen to the show to hear more about market sophistication.
Ad Metrics
You need to monitor two sets of Facebook advertising metrics. Start with the raw ad metrics, especially if you're offering something for free. These metrics, such as conversion cost, click-through rate, and so on, are ones you can measure without doing any analysis.
First, make sure your ad is reaching people on Facebook. If Facebook isn't pushing out your ad, your audience might be too small. Or Facebook's frequent updates, which have lately been happening on weekends, can cause glitches in your ads. So if you set up an ad on the weekend and Facebook doesn't pick it up, you may need to set up the ad again. When all else fails, reach out to Facebook support.
Next, see if people are clicking your ad. You want at least a 1% to 1.5% click-through rate. With a 1% click-through rate, 1 out of every 100 people who see your ad visit the landing page.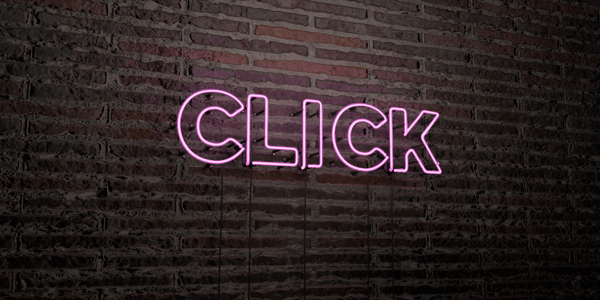 Finally, check your landing page conversion rate. On a free offer, make sure you're converting between 30% and 40%.
When Zach begins looking at running a profitable campaign (instead of one for a free offer), he focuses on a different set of metrics.
First, keep an eye on cost per lead (CPL). Keep in mind that you won't know what the CPL is until you start spending money to run your ads. Every industry is different, and generally speaking, B2B leads cost more to acquire than B2C leads.
Second is earnings per lead. You need to know the value of your leads. If your product or service costs $500 and converts at 2%, that means for every 100 leads, you sell two and make $1,000. When you crunch the numbers (that is, $1,000/100 leads), you see that you earn $10 for every lead. As long as your CPL is lower than the value of your lead, you'll make money.
Zach emphasizes that it's okay to feel ecstatic or have knots in your stomach or however you feel about your ad performance. But don't use those feelings to make decisions about your ads.
Instead, focus on the CPL and lead value metrics. For example, Zach ran a ton of Facebook ads for a recent affiliate launch. They spent more money than any of the affiliates in the promo and placed in the top three. However, Zach did very little work compared to the other participants; instead, he watched and trusted his metrics.
Although these metrics aren't perfect, they're still a sound basis for making business decisions. Most people get caught up in how much they spend per lead.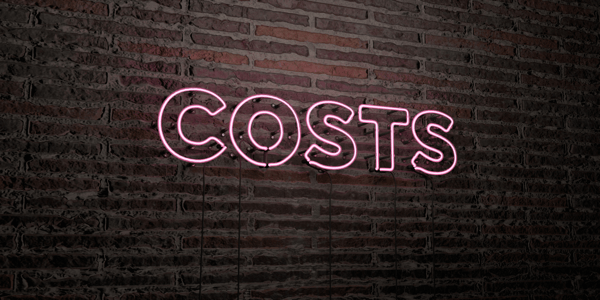 When you look at the internal cost and earning metrics, you shift from the solopreneur mindset of "I need to spend $10 and make as much as I can" to the business mindset of "I'm not looking at spending money; I'm looking at lead acquisition cost and customer acquisition value." These hardcore numbers are the ones that matter in a brick-and-mortar or Fortune 500 company, although the metrics are adjusted for the online marketing space.
Listen to the show to find out more about why you shouldn't send cold traffic to an offer.
Zach's Lead-Building Framework
Zach developed his lead-building framework in response to users' increased sophistication about ads. That is, the lead-building framework addresses the fact that customers don't want to provide their name and email in their first interaction with you. However, after you build a quality lead through the framework, you can collect names and emails, and those contacts are more qualified leads than you could collect otherwise.
Zach also developed this framework because he felt marketers were focusing too much on list-building and not lead generation. The lead-building framework is a way to bring a qualified lead (someone who is excited about your product and interested in you) into your business. Zach knows people whose lists are a fraction of his list's size but who make more money, as well as people with lists 10 times larger who make less. It's not about the list. It's about the leads.
When Zach has a specific purpose for generating leads, he relies on this framework and often lowers the cost per lead in the process.
The first step is doing a 5- to 10-minute Facebook Live video. Because Facebook Live is hot right now, you get more reach and engagement with a live video. Also, Facebook Live requires minimal commitment and it's in the highest consumed format (video). Last but not least, Facebook Live tears down the wall between you and your audience, which is important because today's more sophisticated Facebook user values transparency.
In a Facebook live video, Zach provides one key point of value. Rather than giving as much as you can, focus on a single a tip such as an industry secret that makes money for you and your clients, or gets results.
Share a link to a long-form, high-value blog post. Don't send this audience to a short, simple post. Zach develops a 5,000- to 8,000-word blog post and hires a copyeditor to edit it. The post is such a huge focus, Zach doesn't create more than one per month.
Zach shows a link to the blog post during his Facebook live video. After the video, Facebook allows you to turn your live audience into a targetable audience, so you can also show an ad for the blog post to people who watched your Facebook live but didn't click the blog post link. 
Most people (especially marketers) who do a Facebook live share a link to an opt-in or product, not a blog post. Zach says the blog post works better at this point, because the blog post link doesn't require your audience to do any additional work, builds trust, and helps you stand out.
In the blog post, ask leads to sign up for a content upgrade. To get the upgrade, leads need to visit a separate signup page and provide their names and email addresses. Although the two qualifying steps (Facebook live and a blog post) take time, Zach emphasizes that whoever joins the list knows who you are and has interacted with and digested your content.
To clarify how the content upgrade works, Zach refers to a blog post called, How to Get Your First 1,000 Subscribers. In this post, the content upgrade is a list-building checklist for the first 90 days. So the blog post is the free version and the checklist will help users expedite their results or get next-level steps. The content upgrade is designed to collect a name and email, but also to expand on the content.
Those who don't sign up for the content upgrade see retargeting ads, just like those who watched the Facebook live and didn't go to the blog.
Zach gets cheeky with his ads, saying something like, "Hey, I noticed you read that blog post, but you didn't get the worksheet. Do you not like free stuff?" You can do retargeting ads with text or video. He adds that Jill and Josh Stanton of Screw the Nine to Five do a fantastic job with cheeky ads, too. That tone reflects their branding.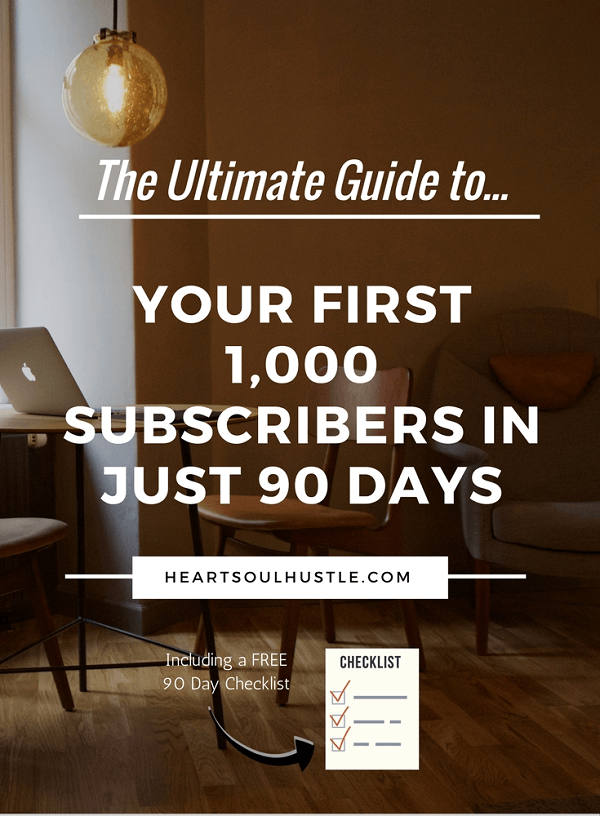 I ask Zach to elaborate on the cost of the retargeting ads. Zach says the retargeting ads are typically more economical than simply running an ad to a signup page, as marketers typically do. But you might spend more when you start, and see the cost go down as you continue using the framework.
With the extra steps in his framework, you have more elements to optimize. For example, you might not find great targets for your Facebook live, so getting the right audience might be a little expensive. Then you may need to retool the blog post ad so that people click it. After you optimize those steps, your lead cost should go down.
When you're thinking about the cost, Zach also stresses that you're not building a list anymore. You're bringing in qualified leads. Someone who just wants a free workbook is incredibly different from a lead who saw you on Facebook Live, loved your tips, clicked to read the blog post, and signed up for your content upgrade.
If you follow the framework correctly, you should bring in higher-value leads. Your earnings per lead should go up even though your cost goes up. Remember that any lead cost that's less than a lead earning is a good lead cost.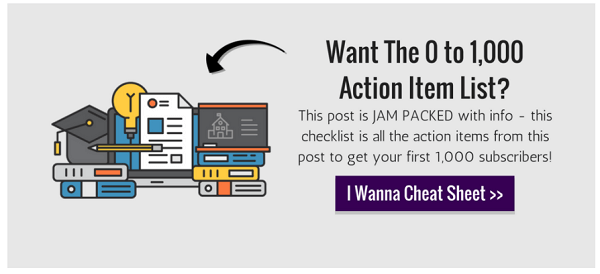 Send sales or warm-up emails to people who sign up for your list. After Zach gets someone's email address with the content upgrade, he starts a simple sales sequence (an email funnel) or a warm-up sequence.
A sales sequence lasts for about two weeks. Subscribers receive five or six emails that offer a little more value and tell subscribers about a related product.
Zach and his team use a warm-up sequence when they don't have a product related to the content upgrade or they're preparing for a launch. For example, when building up to an affiliate promotion, they did a Facebook live that drove people to a blog post and content upgrade. Then once a week for four to six weeks before the launch, they sent a piece of high-value content related to the product.
Both of these tactics work effectively. The key is to warm up your audience first. Add value, tell your audience about what you have to sell, and get them excited about the prospect of working with you. It's a total shift in the way people think about marketing.
Listen to the show to hear the social-sharing side benefits of the lead-building framework.
Discovery of the Week
Bynd is a time-saving mobile app for social media monitoring. In this one app, you can create curated feeds for Twitter, Facebook, Instagram, YouTube, and other social networks.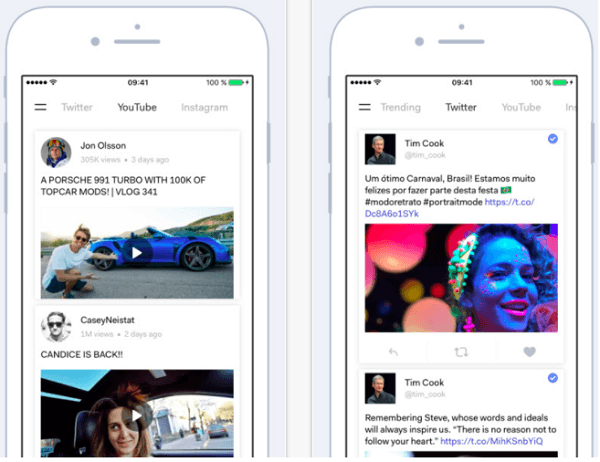 To start using the app, sign in with the services you want to check and choose whom you want to see from each social platform. It's like creating a VIP list for each platform so you don't miss posts from the people you want to follow closely.
At the top of the app, you can switch among the social networks you follow. Simply tap their names.
Bynd is currently available for iOS and an Android version will be released Q3 2017. You can try the app starting with the free version and then pay to unlock more social networks or pay $2.99 for the premium version, which gives you instant access to everything.
Listen to the show to learn more and let us know how Bynd works for you.
Listen to the show!

Where to subscribe: Apple Podcast | Google Podcasts | Spotify | RSS
Key takeaways mentioned in this episode:
What do you think? What are your thoughts on Facebook ads? Please leave your comments below.