Are you about to enter the world of Web3? Are you looking for marketing strategy ideas?
In this article, you'll learn why you need a different approach to marketing in Web3 and discover proven ideas that work.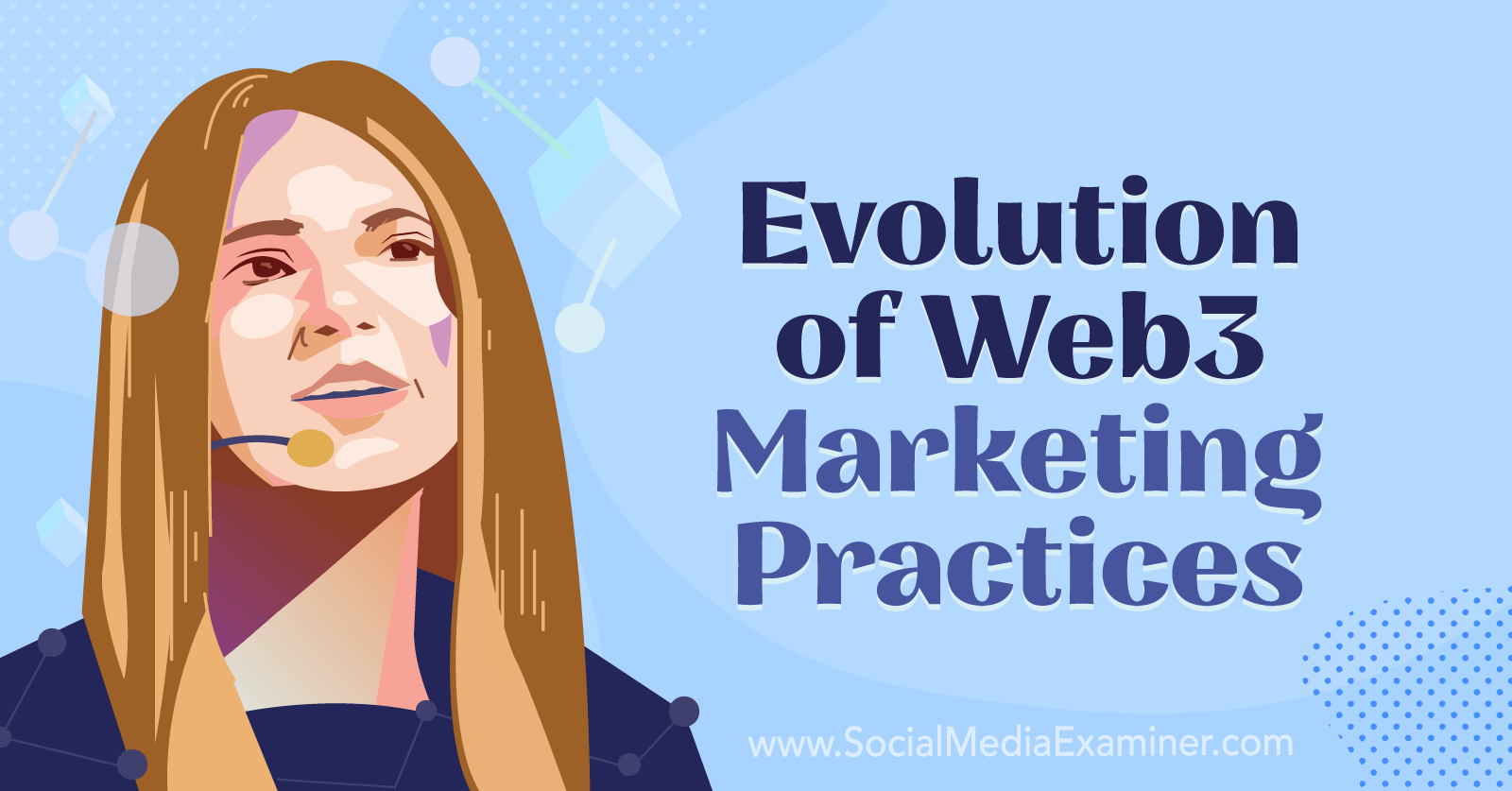 Why Should a Business Consider Integrating Web3?
The answer to why a business should consider adopting Web3 concepts and principles has several layers, starting with the benefits.
The Blockchain Is a CRM
The blockchain isn't simply a custom relationship management (CRM) system. It's the strongest CRM and customer retargeting system in existence because a person's buying behavior is recorded and publicly available on chain.
While Facebook, Instagram, or Twitter allow you to remarket to someone's potential buying behavior based on their identity, the blockchain lets you do the opposite. You may not know someone's identity but you absolutely know what matters: their actual buying behavior.
How does that benefit a business? Say your business sells NFTs (non-fungible tokens) to a group of people who keep those NFTs in their wallets. When your next NFT collection drops, you can reward that group of people by making your collection available only to those wallets.
NFTs Generate Revenue as Non-Cannibalistic Product Lines
Since 2009, we've seen the movement of financial assets from fiat currency (the currency of Web2) into cryptocurrency (the currency of Web3). Now, we're seeing the movement of a new type of asset class from Web2 into Web3; that asset class is built on rights and IP as opposed to currency.
A business can unlock the value and liquidity from the rights and IP assets they already own by translating them into NFTs and selling them in Web3.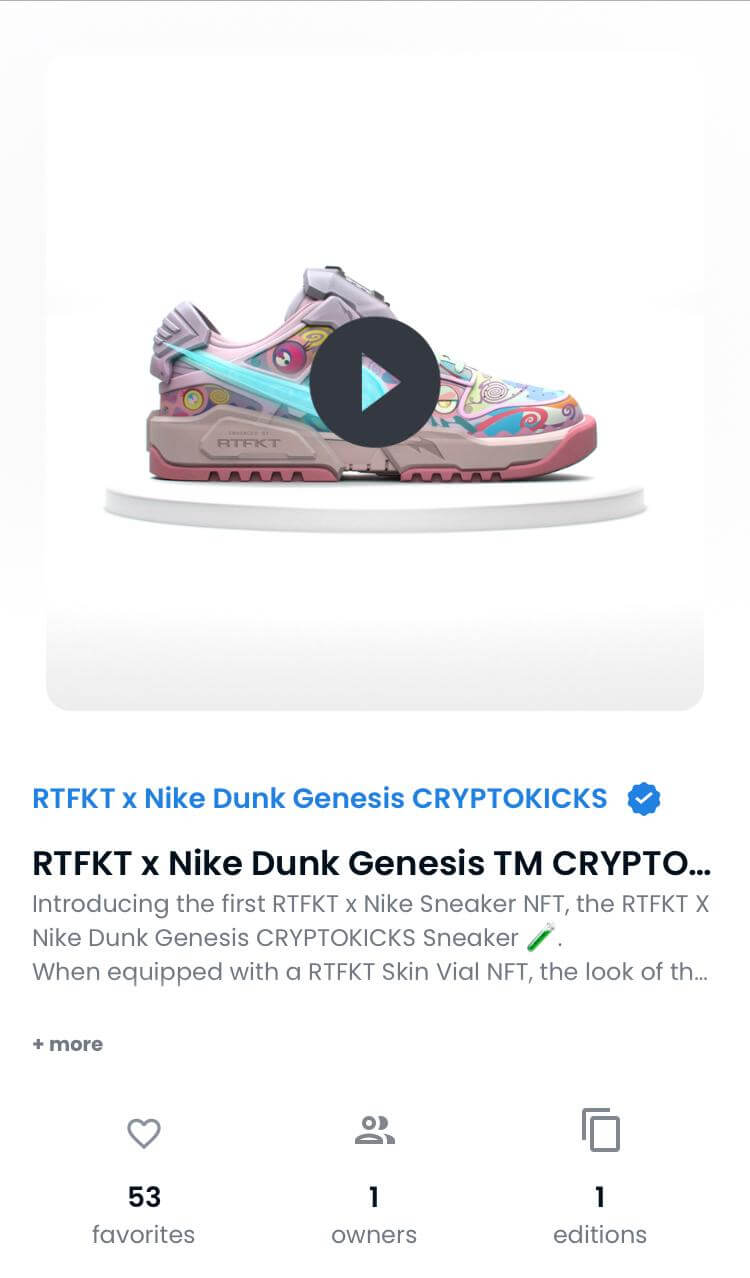 By developing and selling NFTs, a business creates a new stream of revenue from a product line that doesn't negatively impact any existing product lines and presents several advantages:
NFTs have no supply chain so availability is instantly globally.
There are no up-front costs like those associated with physical products.
The product's form is unlimited because an NFT isn't subject to the laws of gravity.
Here's an analogy swapping NFTs for stickers. Imagine you own the IP for Disney princesses in a world where stickers haven't been invented. As soon as stickers are invented, you can create a new product line by selling stickers featuring Disney princesses without cannibalizing any of your existing Disney princess merchandise lines.
What if My Customer Audience Doesn't Understand Web3, Crypto, or NFTs Yet?
Today, very few people understand how the internet actually works but we all use it.
We all know how to use a light switch to turn on a light but most of us couldn't recreate a light bulb or an electrical socket.
In the same way the internet and electric light have become commonplace in everyday life, people are going to end up using Web3 artifacts and the blockchain without ever understanding how the blockchain itself works.
The key for businesses right now is to create a user experience that seamlessly onboards its customers to Web3 by presenting deliberate UX choices that create progressive decentralization and meet customers at every step of their journey.
Mojito (an API platform and dashboard for launching and growing NFT marketplaces) makes that seamless onboarding possible with a gradually custodial wallet.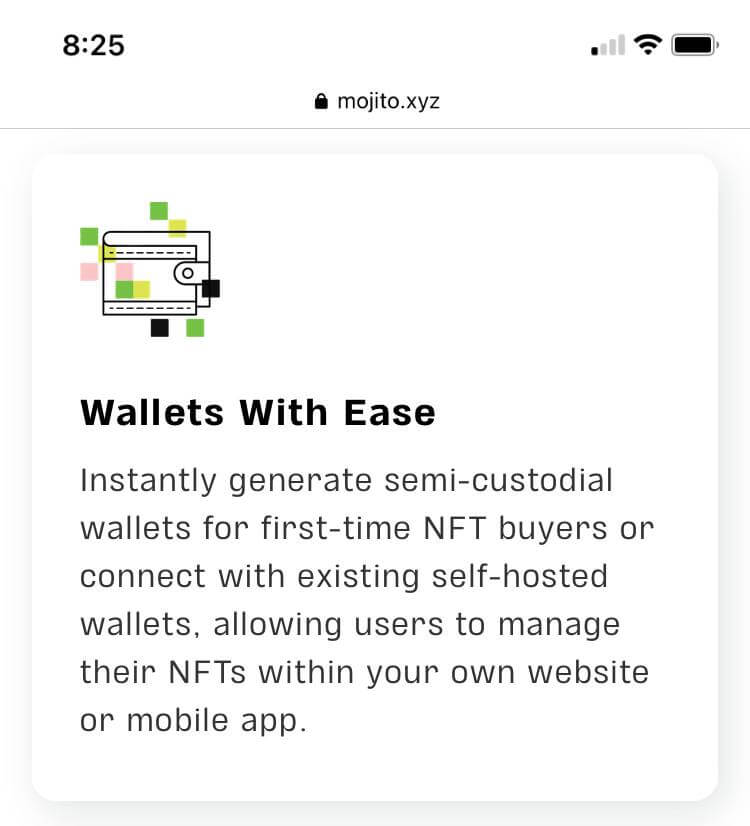 Here's how it works:
The moment that someone buys an NFT from your business, that NFT goes into a crypto wallet.
If the customer already has a wallet, the NFT is delivered there. If the customer (someone new to Web3) doesn't have a wallet, they're served with a wallet at the time of purchase without ever having to handle the private key.
As the customer becomes more educated about Web3 and wants a self-sovereign wallet, they choose to take custody of the wallet from you and become custodian of that wallet in their own right.
How Does Marketing in Web3 Differ From Marketing in Web2?
There's a paradigm shift happening with business models right now.
In Web2 and traditional business models, there are three categories of entities involved: the company that makes the product, the consumer who buys the product, and the investors who benefit from the success and sale of the product.
In Web3, the categories of company, consumer, and investor collapse into a single economically aligned category of stakeholders called community.
When a Web3 NFT project is designed correctly, every stakeholder in the community is incentivized to work together to build and develop your project, evangelize (market) the project, and grow the community. In fact, most of the Discord communities for NFT projects are moderated by passionate members of the community rather than the people who conceptualized the project in the first place.
If these concepts sound familiar, it's because these things are already happening in Web2. Every day, people cooperatively build in open source ecosystems, people evangelize for products via referral marketing programs, and loyal customers create communities on social media to celebrate the brands and products they love.
Web3 simply accelerates the process and these things happen concurrently.
Community Rewards Are Central to Project Success
When people discover, use, join, and evangelize a new Web3 project, they expect to be rewarded somewhere down the line because they're active participants. Retroactive distribution, proof of attendance tokens, and token-gated merchandise make this easily achievable.
Retroactive Distribution
Retroactive distribution is the perfect mechanism to reward the people who believed in your project from the beginning.
Ethereum Name Service (ENS) is similar to Domain Name Service, but ENS sells .eth domains; i.e. amanda.eth, lisa.eth, and so on. ENS rewarded their users with a token valued in accordance with how each person used their product.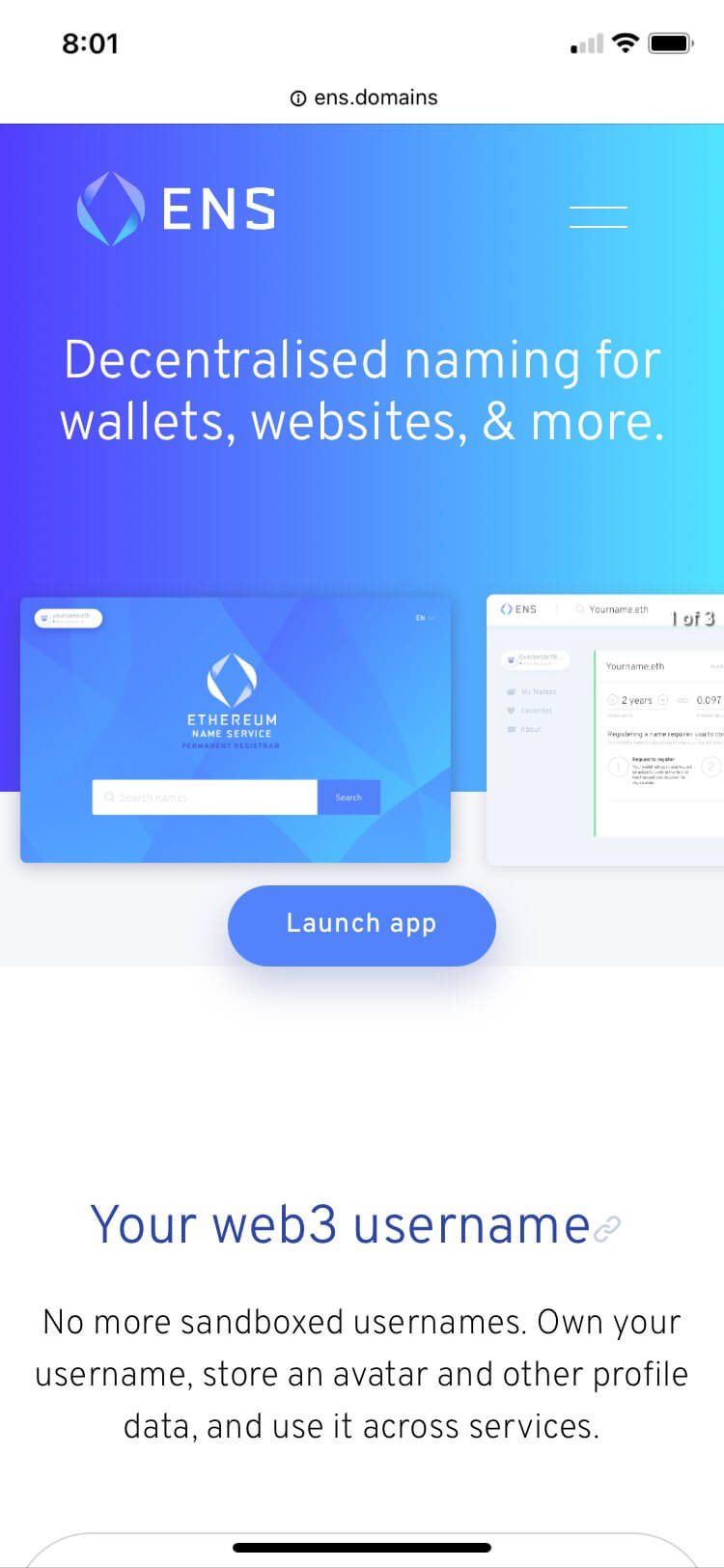 Proof of Attendance and Token-Gated Merchandise
Lyrical Lemonade, a music brand with an established YouTube audience, gave away a free claimable to people who attended an in real life (IRL) event. Those NFTs are now multi-year passes to the festival, and holding one unlocks token-gated merchandise. This allows the community that loves the event to claim a reward based on something that they already love.
The Milwaukee Bucks releases NFTs to the fans in the membership program. Those NFTs give members access to a VIP viewing area at games and discounts on merchandise.
Siloed Marketing Evolves to Self-Marketing Systems
The self-marketing system is similar to the ambassador or referral programs common in Web2. The evolution being that in Web3, those ambassadors aren't kept at arm's length; they're part of the community.
When Ethereum was first brought to market, there wasn't a centralized marketing department pushing out all of the collateral, messaging, and information. Rather, a host of different meetup organizers in different cities around the world were given what they needed to run cohesive meetup groups. Every meetup around the world used the same logo and imagery, and discussed the same roster of projects coming onto the Ethereum blockchain.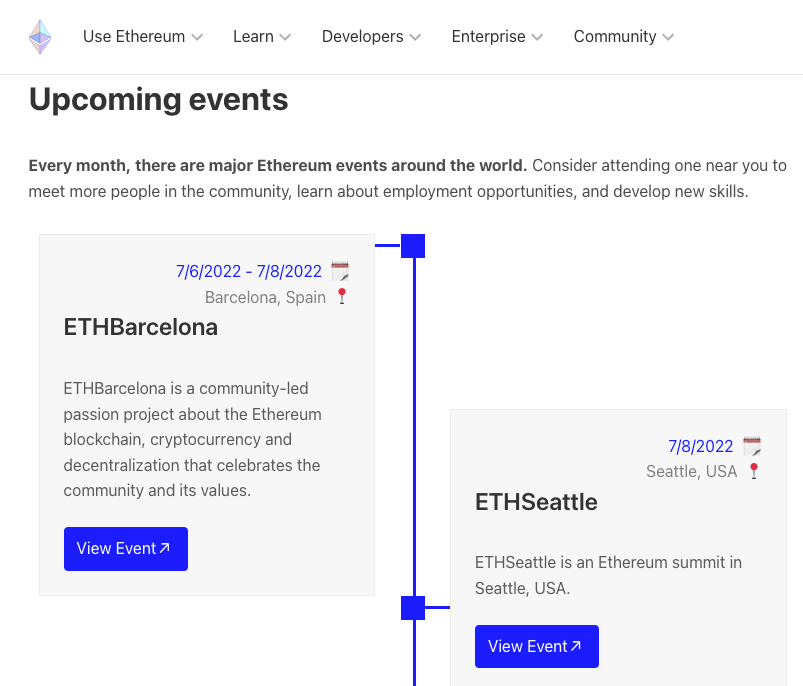 By organizing the project's community into a network, delegating trust and custodianship of the Ethereum brand name to its community, and arming that community with everything it needed to evangelize, the team fed a grassroots movement that achieved far more than the team could have on its own.
To succeed in Web3, you have to put the community at the wheel.
Serving Audiences Across Web2 and Web3
If people in Web2 already know of or are fans of your brand when you begin to integrate with Web3 and sell NFTs, chances are high that your project will attract a mix of people from Web2 and Web3.
You need to meet both audiences where they are most comfortable to bridge both audiences to your project.
For the Web3 natives, those platforms are Twitter and Discord. Twitter is where they get top-of-funnel information and Discord is where they go deep and start participating in a project. You'll want your content on Twitter and Discord to be attuned to those needs and desires.
Your Web2-native audience will likely be using Instagram or possibly Facebook for top-of-funnel information. If you're taking people from these platforms (or even from your email list) to Discord, you need to prepare them for what to expect. The actual setup of your Discord server plays a huge role in how well your Web2 natives receive Discord. Many NFT communities designed for getting women into the crypto space (like Astro Girls or Crypto Coven) do this well. They're good at segmenting their Discord so new members are clear on what the rules are, what they can do in each chat, why there are different chats, and so on.
Working With Web3 Influencers
Most genuine Web3 communities will view a paid influencer shilling the community or the platform as inauthentic.
What's really important is to find spokespeople who genuinely love the product.
This can be done really well; for example, Adidas and Prada did a great job partnering with G Money and Bored Ape Yacht Club.
What doesn't work, what rubs the real core of the market wrong is paying an influencer to speak about your Web3 project.
If you're genuinely interested in partnering with Web3 native influencers and brands, there are some great podcasts to help you find people to follow:
The Defiant by Cami Russo
NFT Now with Matt Medved and Alejandro Navia
Bankless with David Hoffman
Overpriced JPEGs with Carly Riley
The more of those people you follow on crypto Twitter, the easier it is for the algorithm to do its thing and serve you more of that content. You can also join some actual NFT communities and some Discord servers. Get to know the people and the moderators.
When you find someone who feels like they'd be a good fit, reach out to them person to person. DM them on Twitter and ask, "Is this a project you're interested in?" If they genuinely want to be part of the project and its community, it's possible they'll also talk about that project publicly.
How Sotheby's Entered Web3
Mojito was built to enable companies to sell NFTs on their own websites rather than via third-party marketplaces. Companies Like Sotheby's.
Sotheby's, founded as the first auction house in 1744, was working with a third-party NFT marketplace but wanted to sell NFTs on its own website in the same way they sell Sotheby's handbags or Sotheby's wines.
If you google Sotheby's metaverse, you'll enter a website powered by Mojito, which enables Sotheby's to sell NFTs with the built-in capabilities required by a regulated enterprise such as tax assessment, customer retargeting, and other functions.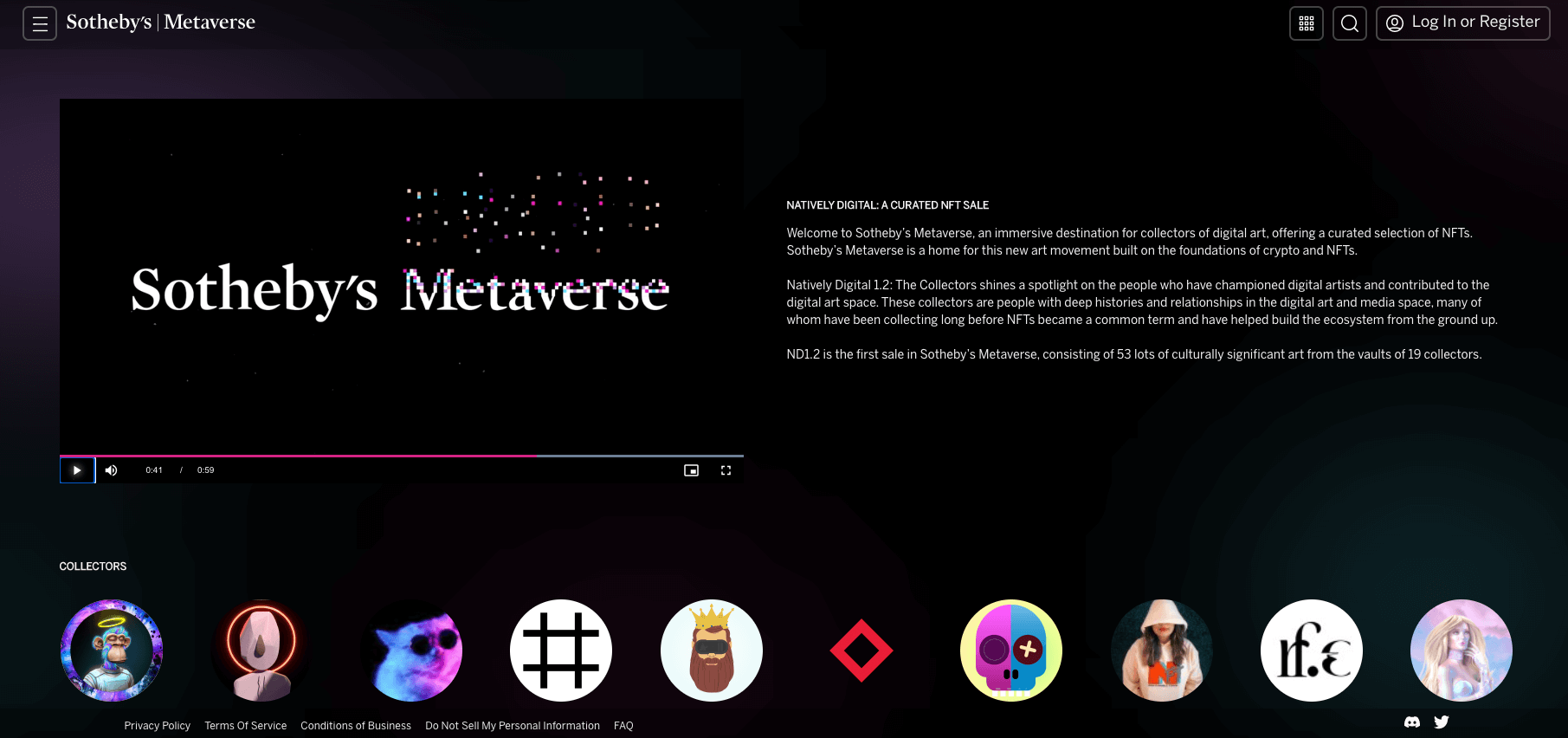 The reception was extraordinary. Within just a few months, Sotheby's had done $100 million in sales on the platform. They were listed in the Forbes Blockchain 50 and as one of the Time100 Most Influential Companies.
Today, there's a lookalike version of the Sotheby's New York City auction house in a Decentraland metaverse. People enter, watch auctions, and bid on items from there. In fact, recent sales have had more people participating from the metaverse than from the physical New York location.
That's a powerful demonstration of the metaverse's place as a new location for commerce.
Other Notes From This Episode
Where to subscribe: Apple Podcast | Google Podcasts | Spotify | Amazon Music | RSS
✋🏽 If you enjoyed this episode of the Crypto Business podcast, please head over to Apple Podcasts, leave a rating, write a review, and subscribe.
Disclaimer: The information provided on this website is provided solely for educational purposes and does not constitute any advice, including but not limited to, investment advice, trading advice or financial advice, and you should not treat any of the website's content as such. Social Media Examiner recommends that you independently research any information contained on this Website and that you speak with an investment professional before making any decision to purchase, trade, hold or sell cryptocurrency. Nothing herein should be treated as a recommendation to buy, sell or hold cryptocurrency. Social Media Examiner cannot guarantee the accuracy of any information listed on the website and is not responsible for any missing or wrong information. All information is provided as is and should be used at your own risk. Social Media Examiner disclaims all responsibility and liability for your use of any information found on the website.