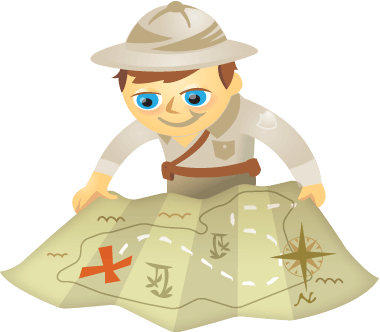 Are you involved with influencer marketing campaigns?
Do you know how to meet disclosure and compliance requirements?
By following a few simple guidelines, you can maintain transparency while producing brand-sponsored content that engages consumers.
In this article you'll discover how to make sure your content meets Federal Trade Commission (FTC), Food and Drug Administration (FDA) and Google requirements.
What Compliance Means for You
In September 2014 the FTC sent warning letters to more than 60 companies as part of what it called Operation Full Disclosure. While the warnings focused on print and broadcast advertisements, the move signaled that the commission may start regulating more companies on all media that it finds to be out of compliance with accepted standards and practices.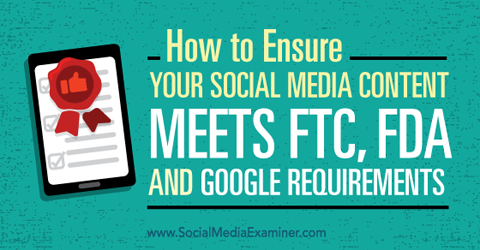 Listen to this article:
Where to subscribe: Apple Podcast | Google Podcasts | Spotify | RSS
Take note of this positioning, especially when it comes to your digital advertising on social channels. The FTC issued updated guidance on .com Disclosures in March 2013, and gave its clearest direction yet in June 2015 for endorsement disclosures in its What People Are Asking FAQ page. Many see this as a necessary step of enforcement by the commission.
While the FTC monitors compliance with truth-in-advertising laws, your company must also work to stay abreast of regulations from other agencies and organizations (such as the FDA and Google) when producing compensated content. Compliance with these regulations ultimately falls on the sponsor rather than the content producer. Consequently, if you're working with bloggers or YouTube video bloggers, you must have audit mechanisms in place to ensure those producing content on your behalf maintain compliance.
Compliance, however, is not as difficult as it might seem. The following simple tips will help you keep your content compliant without making it stiff or unappealing to the consumer.
#1: FTC: Disclose Clearly and Conspicuously
The FTC really has only one guideline when it comes to disclosure: Disclose early, clearly and conspicuously.
Get Everything You Need to Become A Better Marketer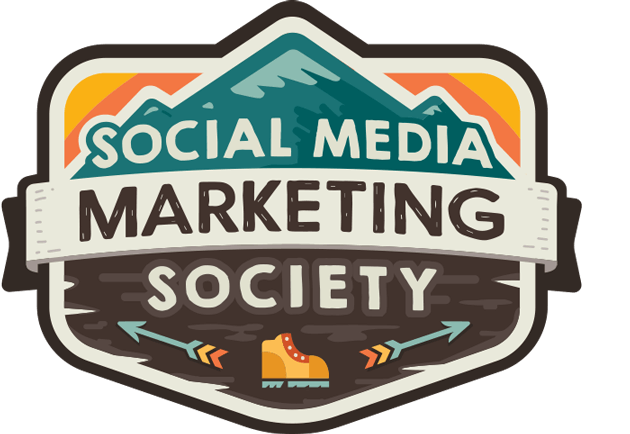 Looking for a one-stop-shop for marketing greatness? Try the Social Media Marketing Society to boost results and become a better marketer through deep-dive training and an always-on community of marketers. The path to better marketing begins in the Society.
START YOUR TRIAL TODAY
When you publish blog posts, you should include a simple, clear and easy-to-find disclosure near the top of the post right below the title, as seen in this Almost Supermom post.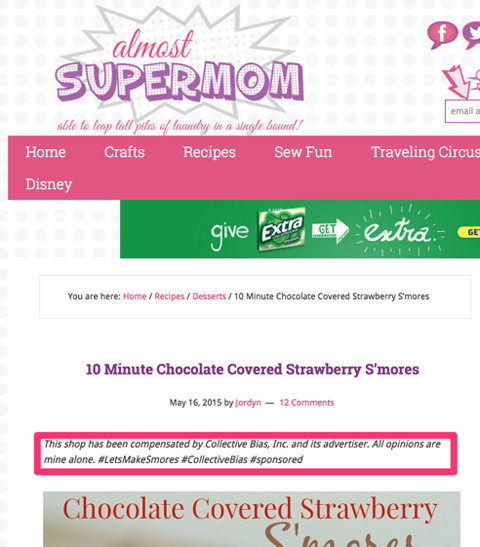 If you record or broadcast video content, it should at minimum have a clear and conspicuous disclosure right at the beginning. While not mandated, the FTC says disclosures that appear regularly throughout the video would be even better.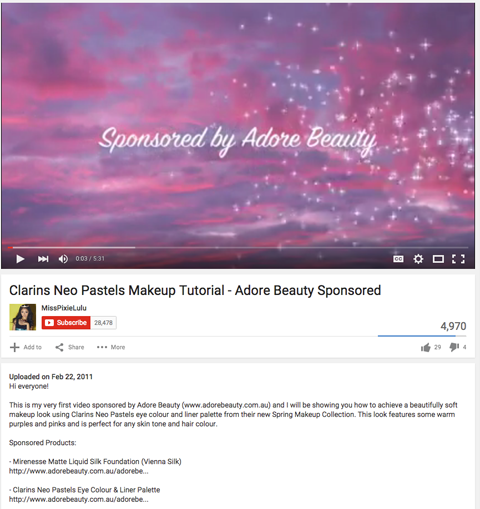 While the FTC also does not mandate specific wording of disclosures, it still requires disclosures, even in the shortest form of media. On Twitter, for example, include #ad in a tweet or "Ad:" at the beginning of your tweet. It's the safest way to comply when using short-form content.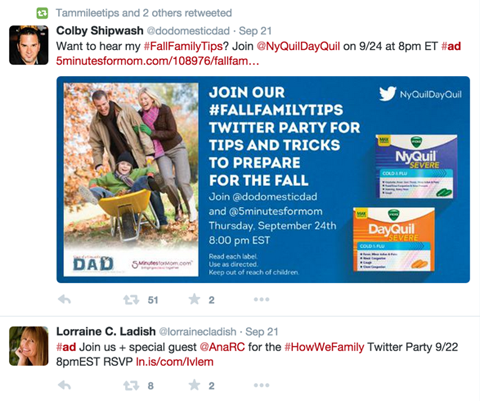 While some companies worry that these disclosures will impact their content's authenticity, disclosure statements actually have the opposite effect. Used appropriately, disclosures note the influence that compensation may have on the person producing the content.
Put Google Analytics to Work for Your Business (Online Training)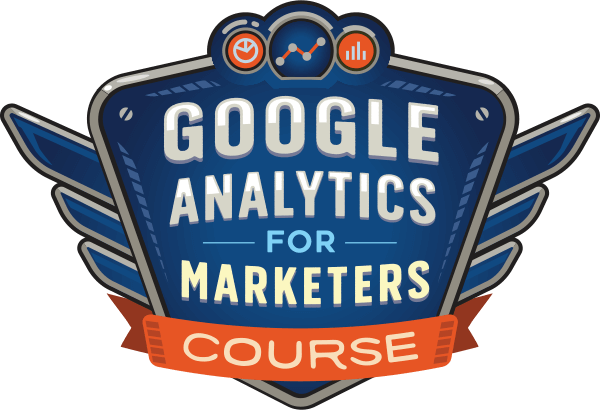 Ever thought, "there's got to be a better way" when it comes to tracking your marketing activities? Are you forced to make decisions based on limited data? With the right training, you can use Google Analytics to measure all of your marketing efforts with certainty.
You'll stop the leaks in your ad spending, justify your marketing spend, gain the confidence you need to make better marketing decisions, and know what's working at every step of the customer journey. Let the world's leading analytics pro show you the way. Check out our new Google Analytics for Marketers course from your friends at Social Media Examiner.
CLICK TO LEARN MORE: ANALYTICS TRAINING
However, savvy readers recognize that compensated content is an effective way for creators to fund the creation of content. And ethical bloggers will only accept compensation for content their readers want to consume in the first place.
#2: Google: Use NoFollow Tags for Links in Sponsored Posts
Google, the arbiter of all things search, has worked for years to keep compensated content from unduly affecting search rankings. To that end, you should ensure all of the links in a compensated blog post contain NoFollow tags. This designation tells Google's algorithm to ignore those links when calculating page rank for the links' target pages.
You can insert this link manually by adding rel="nofollow" in the HTML code. The result looks like this:

Many online publishing systems make this easier with plugins that manage the tagging process automatically. A search for "NoFollow" in the WordPress plugin library yielded 298 results.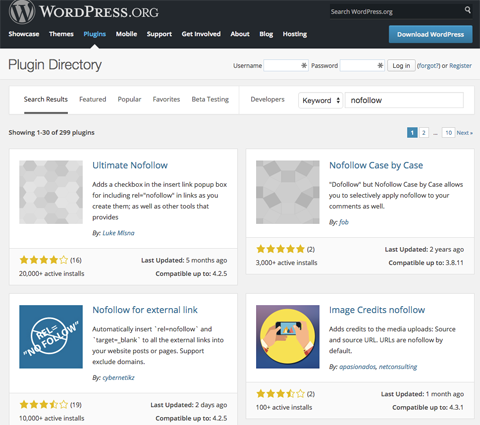 When you contract with influencers to product content on your behalf, be sure to require NoFollow links in your set of initial instructions.
#3: FDA: Discuss On-Label Benefits and Potential Side Effects
To protect consumer health, the FDA has created strict regulations for the claims that brands are allowed to make for prescription and over-the-counter (OTC) products.
You can clearly see the effect of these regulations in the lengthy listing of potential side effects in drug commercials on TV and in print ads. In much the same way that the spirit of traditional advertising laws still apply to new social media, these traditional FDA regulations still govern emerging media.
Kim Kardashian illustrated this in a recent Instagram post for morning sickness medication Diclegis.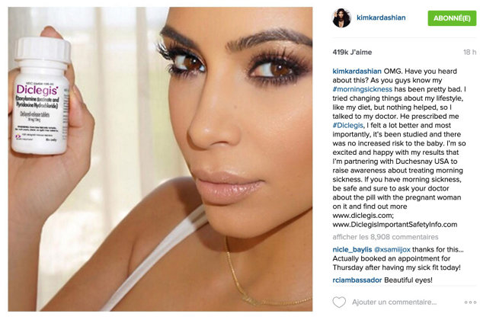 A paid promoter for Diclegis, Kardashian failed to include the required list of potential side effects. Even though Kardashian posted a link to safety information provided by the manufacturer, the FDA found that Kardashian's post "misleadingly fails to provide material information about the consequences that may result from the use of the drug and suggests that it is safer than has been demonstrated."
Consequently, Kardashian had to remove the first post and replace it with a corrective ad that was in line with FDA guidance.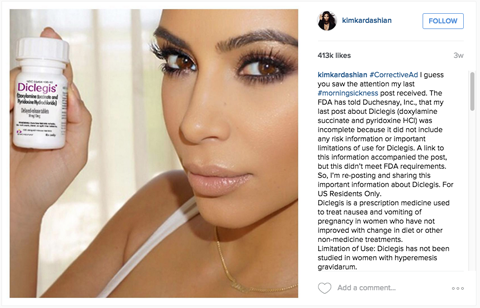 The limited space for medical claims and warnings on social media platforms like Twitter presents special challenges to pharmaceutical brands.
If you're a pharmaceutical brand and you find your contracted influencers cannot adequately discuss on-label benefits and potential side effects on a given platform, you should most likely avoid that platform in favor of one more accommodating to your message. An appropriate platform will give you enough space to discuss the product brand name, its proper medical name, on-label benefits and potential side effects.
For these reasons, blog posts and long-form videos hold the most potential for pharmaceutical brands.
Conclusion
Overall, you should embrace and maintain transparency in your sponsorship of content on social platforms. Transparency in all content is critical to maintaining your readers' and followers' trust.
In the end, loyal readers and consumers alike appreciate knowing about any sponsorship tied to content, and agree that appropriate disclosures preserve authenticity in the resulting content.
What do you think? How does your company comply with the requirements of regulatory bodies? Please share your thoughts in the comments below.