Thinking of starting your own social token? Looking for creative ways to use creator coins to develop loyal customers?
In this article, you'll discover what creator coins are, why they're important, and how to incorporate them into your business.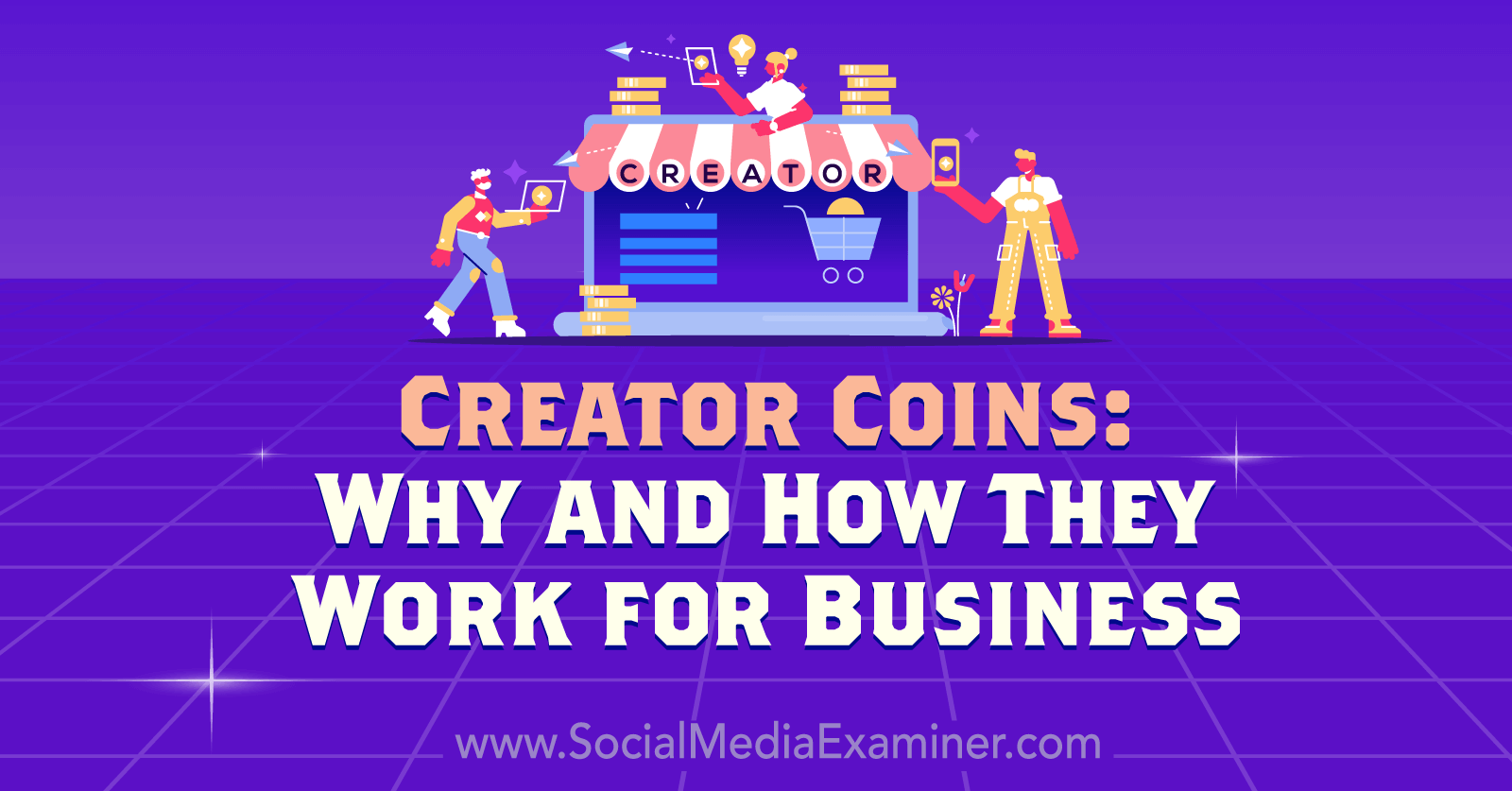 Why Launch a Creator Coin for Your Business?
There are a few reasons your business may want to take a look at developing creator coins and starting your own economy centered around your community.
One reason is that getting approved to start a creator coin, as of right now, puts a stamp of approval on your community and your creator economy built around that community.
Creator coin platforms like Rally.io (which we'll use as an example in this article) have an application process where anyone who wants to start a creator economy needs to share certain information about the community they have, as well as the one they're building. Rally.io then reviews the application before deciding whether your community will help strengthen their community of creators.
So just getting your creator economy approved helps establish trust and credibility with the audience you're trying to build.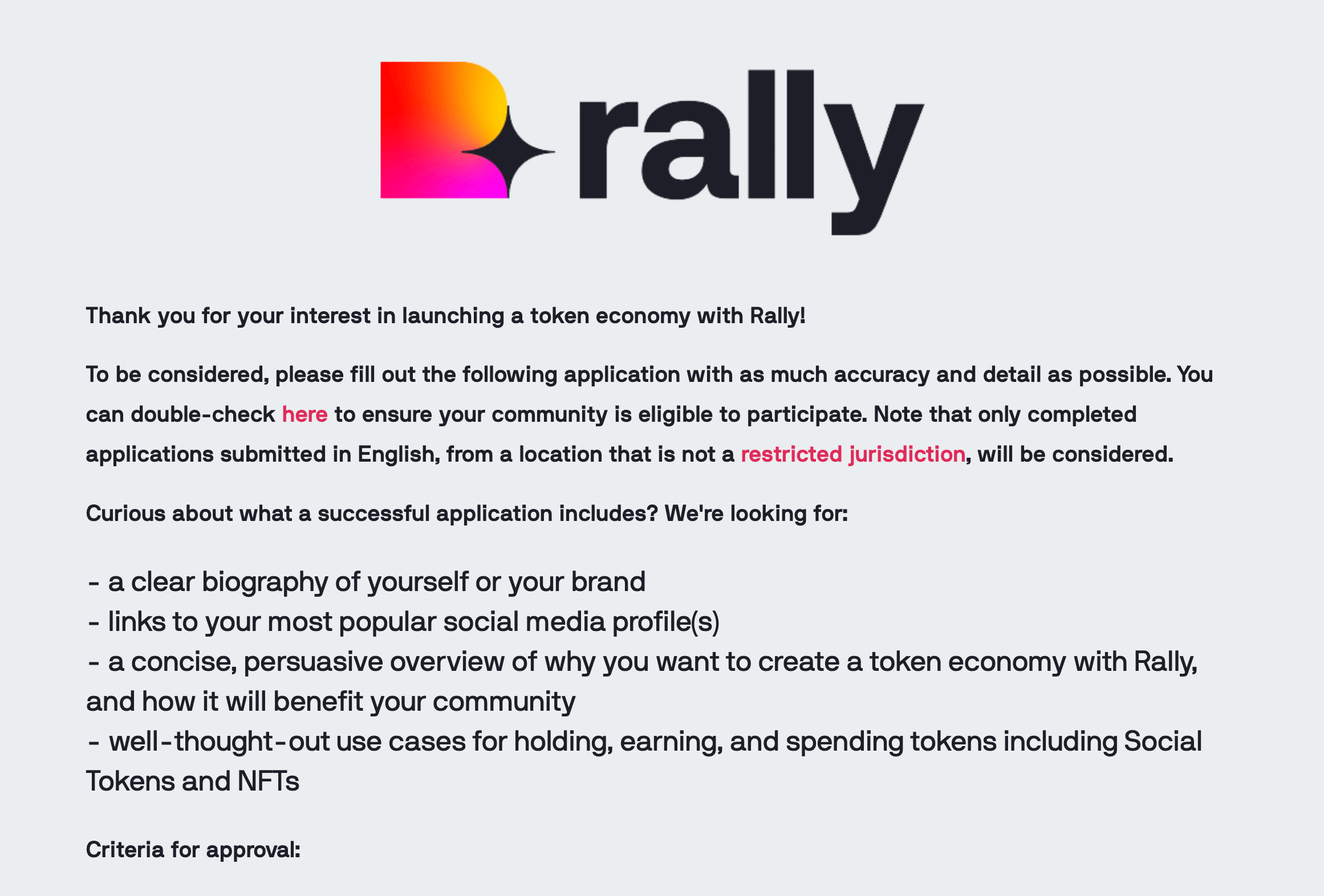 Additionally, having your own coin gives you certain flexibilities that you don't have using traditional fiat.
When you launch a creator coin, the platform you use to build it is just as invested as you are in its success. For example, Rally will start you off with a large chunk of your own coin that has real-world value. People can check the current value of your coin to see how much each coin is worth on a given day.
And because you start with a large quantity of it, you can use your coin right away to provide real-world value for your community. You can reward people with coins for taking different actions such as answering a question after listening to a particular episode of your podcast or attending your in-person event.
Anytime someone can be rewarded for doing things that involve supporting a creator they already love, that helps strengthen the connection. This in turn strengthens the community and builds even more loyalty.
How Creator Coins Differ From Other Cryptocurrencies
Cryptocurrencies such as bitcoin and ethereum are available and tradable on traditional platforms. Buyers can go to Coinbase or Crypto.com or many other platforms, and buy, sell, and trade their cryptocurrencies on those platforms.
And they don't have to stick to the same platform. Someone can go to Coinbase to purchase bitcoin and then go to Crypto.com a few months later to sell their bitcoin. Everything's connected and everything works basically the same way, no matter which platform you go to.
Creator coins, on the other hand, are an enclosed currency. They aren't tradable on all of the traditional platforms. In fact, the only place they're tradable is on the platform where the business created those coins. For example, $BOLD coin is only available for trading on the Rally.io platform.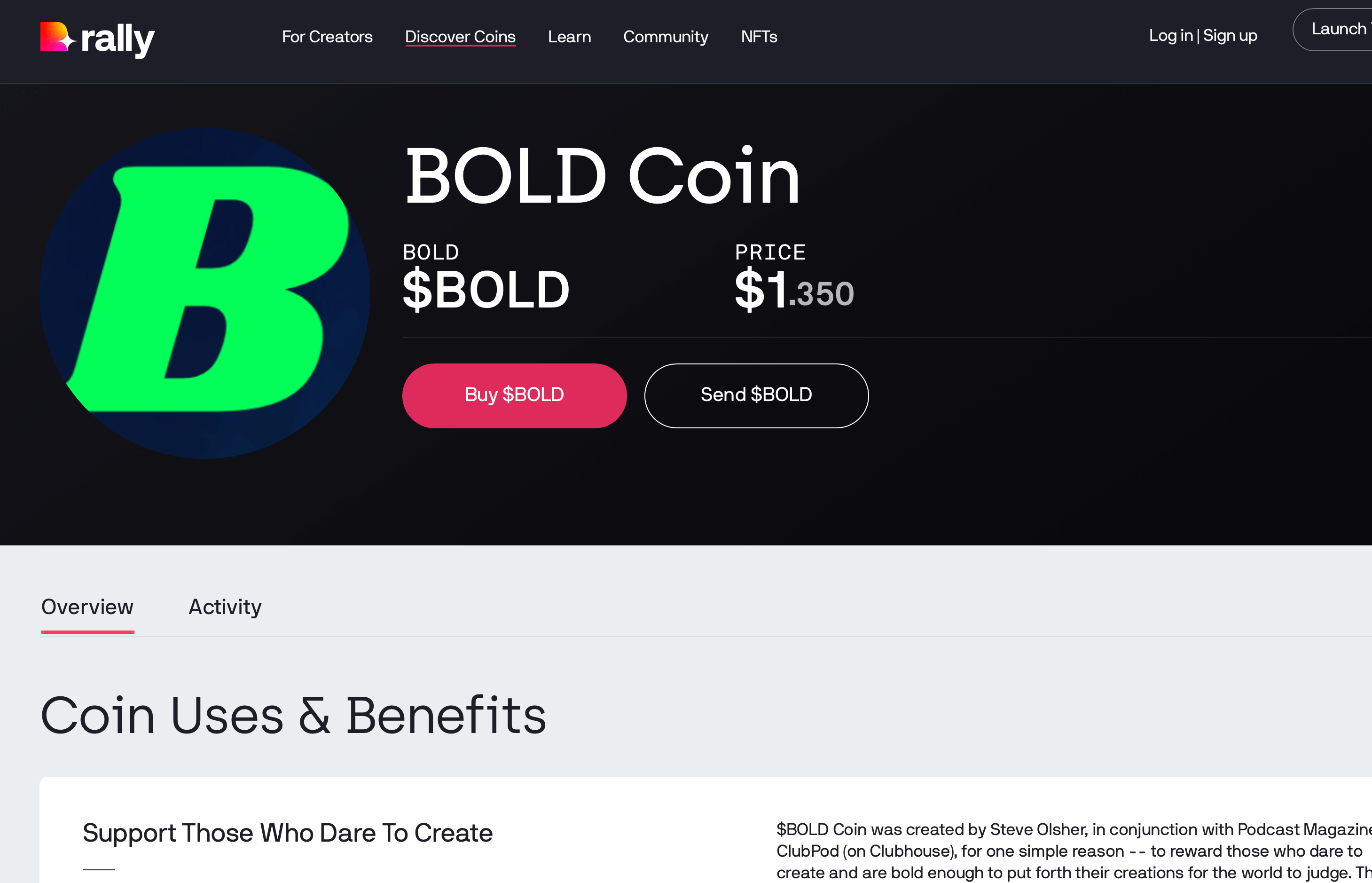 This doesn't mean you can't liquidate creator coins though. Someone can go to your platform on Rally.io, purchase your creator coins, hold them for a bit, and take advantage of the benefits you've laid out for them to receive from these coins. Then they can go back to that same platform to trade for other coins, support a new creator, make a purchase from one of your offerings, or even sell them back and trade them in for the rally coins.
And the nice thing about Rally is that while the creator coins available through Rally are not tradable anywhere else, the rally coins are tradable elsewhere. So if you're holding a creator coin that you want to liquidate, you could head over to Rally.io and trade for rally coins. Then head over to another platform such as Coinbase and trade your rally coins for something else.
How the Value of Creator Coins Is Determined
Another major difference between creator coins and other cryptocurrencies is how the value of those tokens is determined.
With cryptocurrency, in most cases, there's a clear, defined understanding of how many of those tokens exist based on the smart code of the currency. For example, with bitcoin, because it's in the smart contract (the code that governs Bitcoin), the maximum number of bitcoin that can ever be mined is 21 million.
So because cryptocurrency has a finite number of tokens available, the value goes up or down depending on where the trades are happening. When there are more buyers trying to get their hands on bitcoin and holding onto that bitcoin, there fewer bitcoin available to be purchased, and so the value goes up.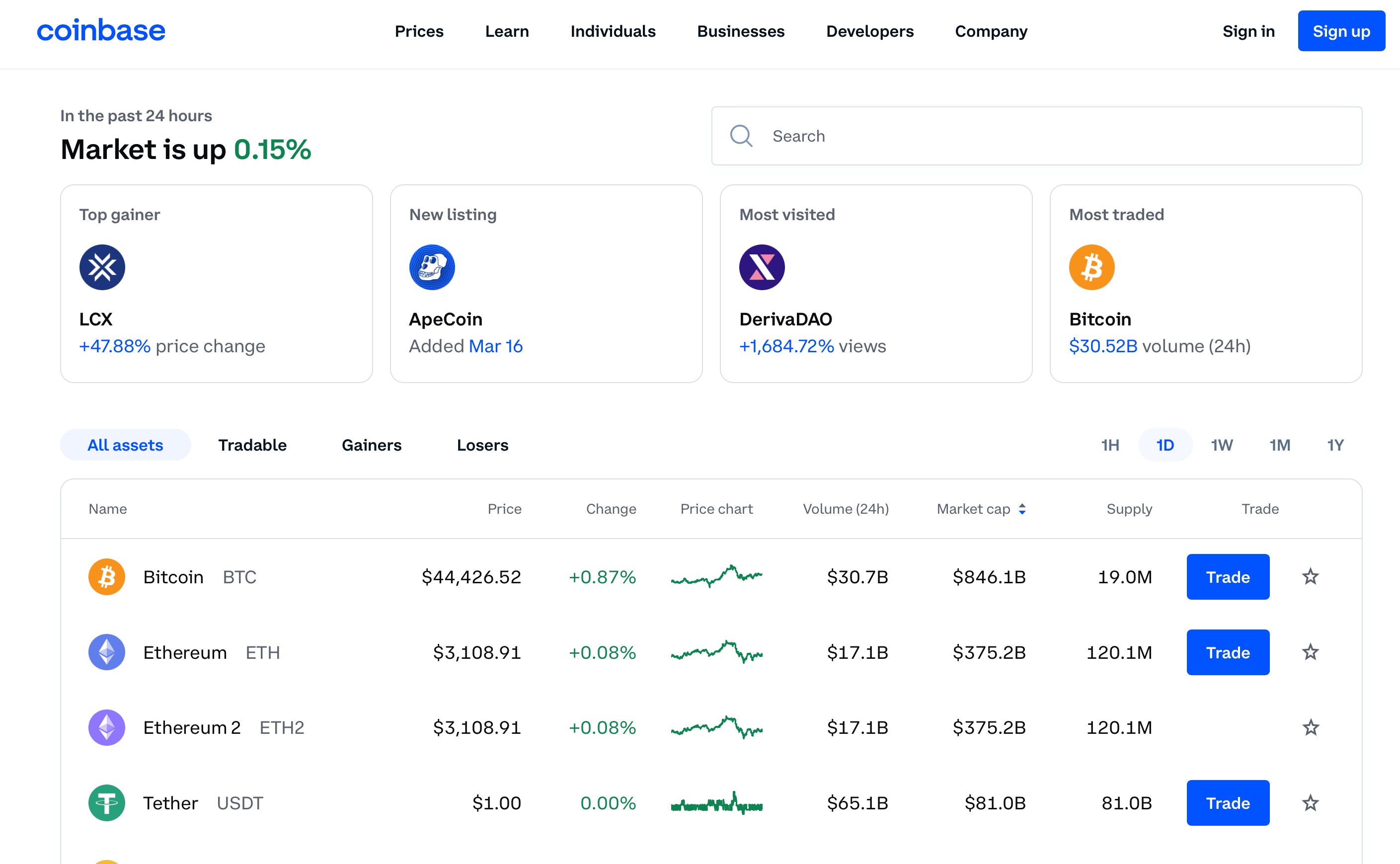 When people are selling their bitcoin, placing more bitcoin out into the market, the value goes down. This is pretty much how the value is determined for every cryptocurrency: The more buyers you have, the higher the value, while the more sellers you have, the lower the value.
Now, if you flip over to creator coins, the value is determined and extracted a little differently. First of all, there's no maximum number of creator coins in existence. The code used to create your coins doesn't set a limit.
But there's also no minimum number of coins created either. You, as the creator, start with a certain number of your own coin. And as such, you can help determine the value of your coin by hanging onto it or selling it to buyers. As people begin purchasing and holding your creator coins, the value will go up. That part is similar to how other cryptocurrencies work.
However, when someone sells your creator coin or trades it for another coin on the platform, it's essentially burnt off. It's not returned to the market to be tradable. And therefore, the value of creator coins is driven much more by how many people have minted that coin and are still holding on to that coin rather than selling it off or trading it for another coin.
If you have more people buying the coin, then more coins are being minted. At that point, the price will continue to go up.
So for example, if you have 100,000 people in your community and each person buys 10 of your creator coins, you would have 1 million of your creator coins in circulation and the value of those coins would be pretty high. As long as those 100,000 people continue to hold onto your coins, then every time someone new joins your community and purchases one of your coins, the value would climb higher. But as soon as someone sells off those creator coins, the value would go down.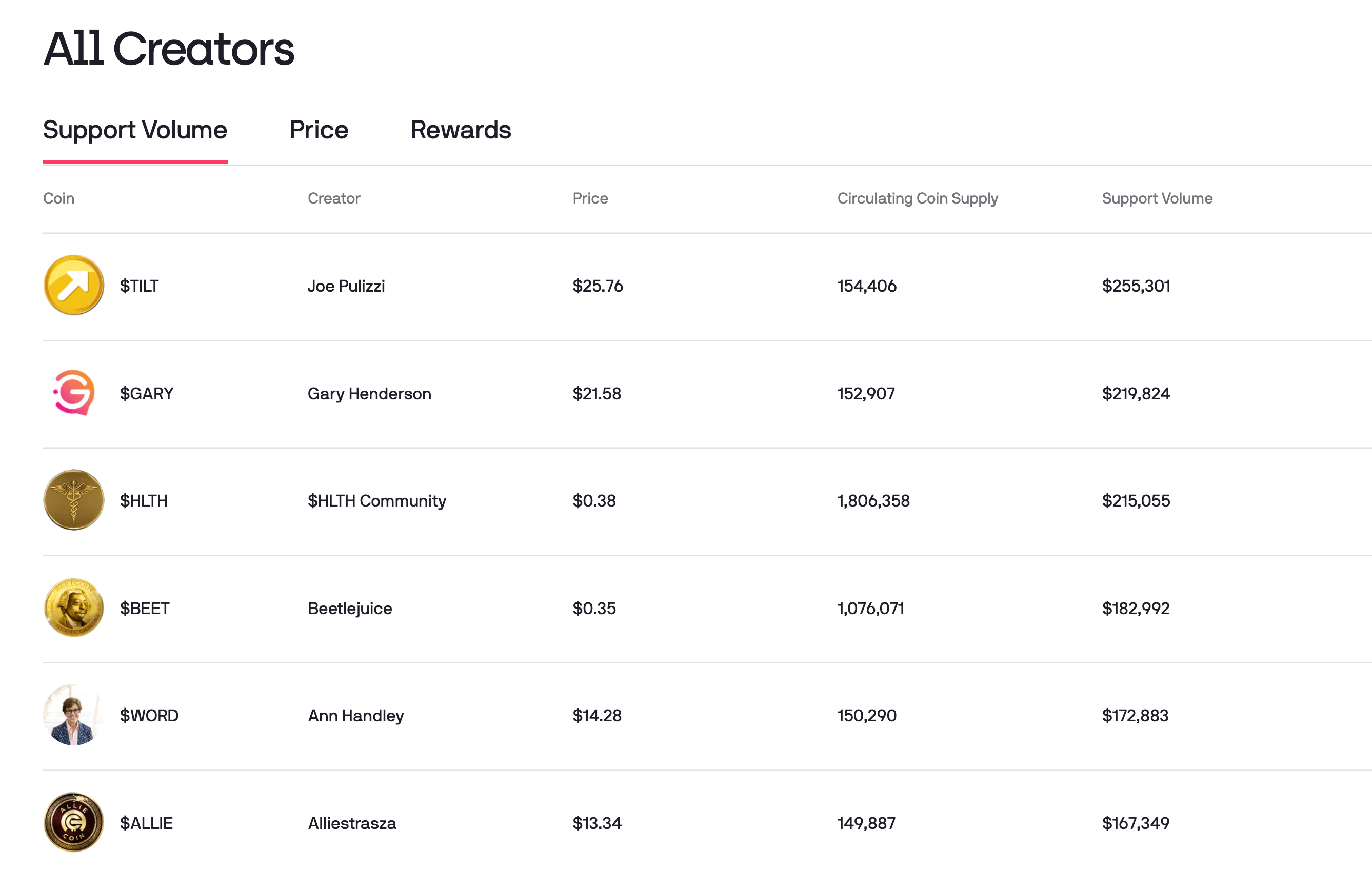 This also means that the value of your coin is going to be a direct reflection of how you work with your community and whether you can incentivize them to either purchase and mint more of your coins or hold onto and use those coins to buy your products, programs, and other services.
At least if they're spending the coins and sending them to you in exchange for these other products and services, you can be the biggest predictor of the value of that coin. In addition, you'll continue receiving benefits that coin holders on the Rally platform receive.
How to Incorporate a Creator Coin Into Your Business
If you want to offer a creator coin for your community, there's a three-part framework you can follow that's built on 3 Cs: content, community, and currency.
Content
By now, every business understands the value and importance of creating content for their community. The more content you create, the more you grow your following and email list and the more you're able to build your influence over your community.
At the end of the day, content equals influence. And today that's truer than ever before.
And once you release your creator coin, that doesn't remove the importance of creating content. In fact, having a creator coin actually increases the value of any content that you put out for your community.
Community
The content that you're releasing consistently helps create the second part of this framework, which is the community. These are the people who watch your videos, read your blogs, listen to your podcast episodes, and so on. And if you're releasing content consistently, these people are also the ones who've come to know, like, and trust you. Therefore, they ultimately want to be a part of your world.
We mentioned earlier that people who are incentivized and rewarded for doing something they were already doing and supporting a creator they already loved creates a deeper level of loyalty. When you release a creator coin, people are being given the chance to buy into and own a piece of your community for themselves, and they can help determine what the value of that community will mean to them.
Currency
Finally, releasing creator coins provides a currency that your community can use to gain access to various levels of the community and rewards and other such benefits. You can also allow your community members to use your coins to purchase your products and services. And by doing this, you help promote the value of your creator coin by incentivizing people to use it as currency instead of trading it off to be burnt out of existence.

If you really want to dig into more advanced things that you can do with your creator coins, you can use a third-party API such as Bonfire to help track how long people are holding your creator coins.
If you do this, not only can you reward people for how many of your coins they are holding but you can also reward people for how long they've held those coins. This can mean access to yet another exclusive tier, new chatrooms inside your Discord server, or even access to your higher-ticket offers.
Again, because of the way the value of creator coins is determined, finding ways to incentivize your community to hold onto those coins, rather than trading them off or liquidating them, helps drive that value up. This, in turn, continues to drive the value of your community up as it drives the value of your coin up.
So it all becomes very circular: You release your content, you attract your community, you now have products, programs, and services that you can sell or incentivize your community to get them involved with using your currency.
Other Notes From This Episode
Where to subscribe: Apple Podcast | Google Podcasts | Spotify | Amazon Music | RSS
✋🏽 If you enjoyed this episode of the Crypto Business podcast, please head over to Apple Podcasts, leave a rating, write a review, and subscribe.
Disclaimer: The information provided on this website is provided solely for educational purposes and does not constitute any advice, including but not limited to, investment advice, trading advice or financial advice, and you should not treat any of the website's content as such. Social Media Examiner recommends that you independently research any information contained on this Website and that you speak with an investment professional before making any decision to purchase, trade, hold or sell cryptocurrency. Nothing herein should be treated as a recommendation to buy, sell or hold cryptocurrency. Social Media Examiner cannot guarantee the accuracy of any information listed on the website and is not responsible for any missing or wrong information. All information is provided as is and should be used at your own risk. Social Media Examiner disclaims all responsibility and liability for your use of any information found on the website.