Thinking of partnering with other businesses to create Branded Content on Instagram? Wondering how to get started?
In this article, you'll discover how to set up, create, and analyze branded content posts on Instagram.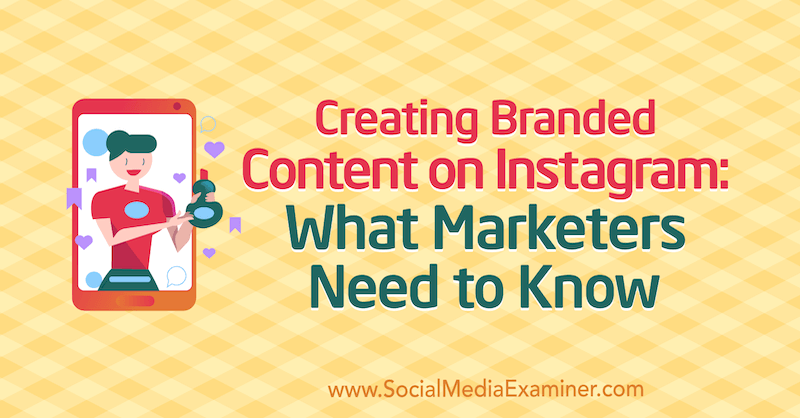 What Is Branded Content on Instagram?
Branded content posts were first introduced on Facebook and have now moved over to Instagram too. But while the feature is still limited on Facebook, Branded Content is now available for all Instagram accounts to use. And both Instagram feed posts and story posts are eligible for Branded Content.
You may see posts on Instagram that say "Paid Partnership with [company name]." These posts are branded content.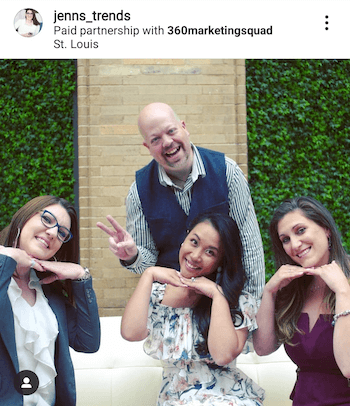 Instagram defines branded content as "a creator or publisher's content that features or is influenced by a business partner for an exchange of value (for example, where the business partner has paid the creator or publisher)."
While this definition may sound confusing, essentially it says if a brand has compensated another account (usually an influencer, celebrity, or another creator) for the content in that post, they're disclosing that compensation publicly through the use of branded content.
To illustrate, if a company partners with an influencer and pays that influencer a set fee to post a specific number of Instagram posts in exchange for that money, they are "branded partners" and the influencer would post the content on Instagram, listing the company as the partner via Branded Content.
It's important to note that this isn't an elective feature. Instagram policies "require creators and publishers to tag business partners in their branded content posts when there's an exchange of value between a creator or publisher and a business partner." This is meant to provide transparency when influencers and creators are posting content for which they've been compensated.
You can find out more about Instagram's Branded Content here. And you can learn more about the policies for branded content on Instagram and Facebook here.
Branded content isn't the same as an ad and doesn't indicate that any payment has been made to Instagram to promote that post. At this time, branded content posts aren't even eligible for promotion through Instagram. If the content creator allows your business to promote the post, and the post meets the ad format requirements, you can set up an ad via Ads Manager. For steps on how to do this, follow the instructions here.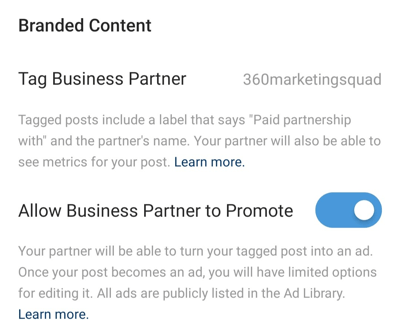 #1: Approve or Request Instagram Branded Content Partnerships
Instagram accounts by default require approval for tagging in branded content. If you're planning to collaborate with an Instagram account for branded content, you need to provide that account with access to do so or change your account to remove the requirement for approvals.
To access branded content approvals, go to your Instagram profile on the mobile app and click on the 3-line button in the top-right corner.
The Conference You've Been Waiting For
As a small business marketer, you can probably only pick one or two events to attend each year. Get back into the game with an unbeatable conference experience and expert training at Social Media Marketing World in sunny San Diego, California—from your friends at Social Media Examiner.
🔥🔥 As a valued reader, you can save $300 if you act now! Sale Ends Friday!
CLICK HERE TO LEARN MORE
Select Settings from the menu and then tap on Business.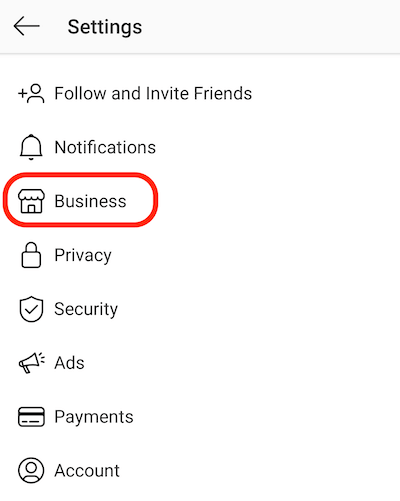 On the next screen, tap on Branded Content.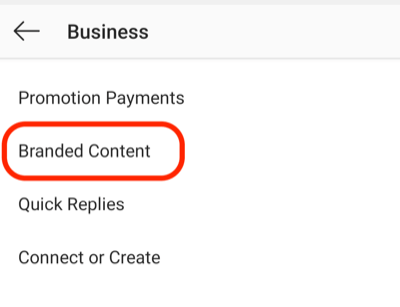 On the Branded Content Approvals screen, you can toggle the Require Approvals button to enable or disable this feature. For most organizations, you'll likely want to leave this option enabled because it ensures other accounts aren't recklessly claiming they're partnered with you.
Tap on Approved Accounts to go through the process of adding an Instagram account that you want to partner with.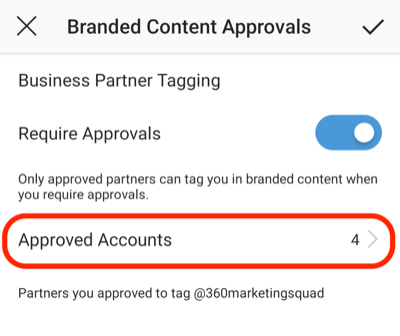 Once you tap on Approved Accounts, you're taken to the following screen where you can search for any Instagram account. Type the name of the account and click on the "search for [name]" to pull up a list of relevant accounts. Tap on the account you wish to partner with.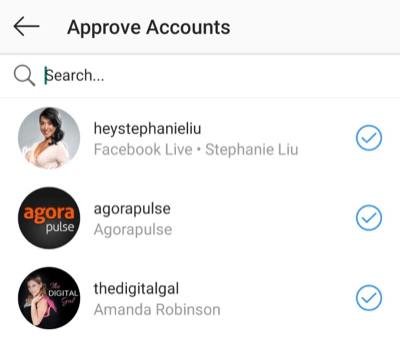 Tap the arrow to return to the previous screen where you can save your changes, adding the accounts as approved partners. Once you've approved an account, that account will be able to immediately create content and tag you as the partner. If you want to tag a brand in your content, that account will have to follow these steps to provide you with approval.
#2: Set Up Brand Collabs Manager
One of the added benefits to running branded content posts is the ability of both accounts to see insights into the posts' performance. The only way for the tagged account to see any insights, however, is to set up your Brand Collabs Manager account to view tagged content.
To set up Brand Collabs Manager, start by going to www.facebook.com/collabsmanager/start.
The page defaults to Apply as a Creator; however, Instagram business profiles need to click on Join as an Advertiser at the top right of the screen to begin the setup process.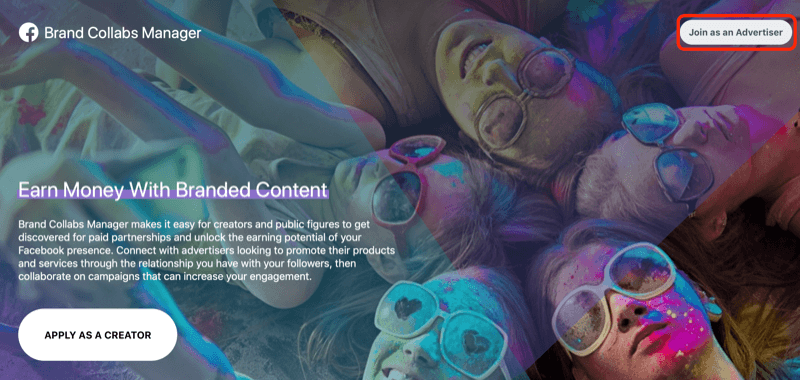 Once you click to apply as an advertiser, you're taken to a screen with a list of Facebook page accounts that are eligible for Brand Collabs Manager. Select the Facebook page that's connected to your Instagram account. Then enter your email address and accept the terms of service.
Your application is quickly reviewed and you're taken to the Brand Collabs Manager dashboard.
Note: If you don't have your Instagram account connected to a Facebook page, you can still use branded content (tagging or being tagged), but you won't be able to view insights as a tagged post.
After your Facebook page is connected to Brand Collabs Manager, you can access it in the future from your Facebook page. To do this, go to your Facebook page from the desktop or internet browser and click on Settings in the top-right corner.
Then click on Branded Content from the left menu list.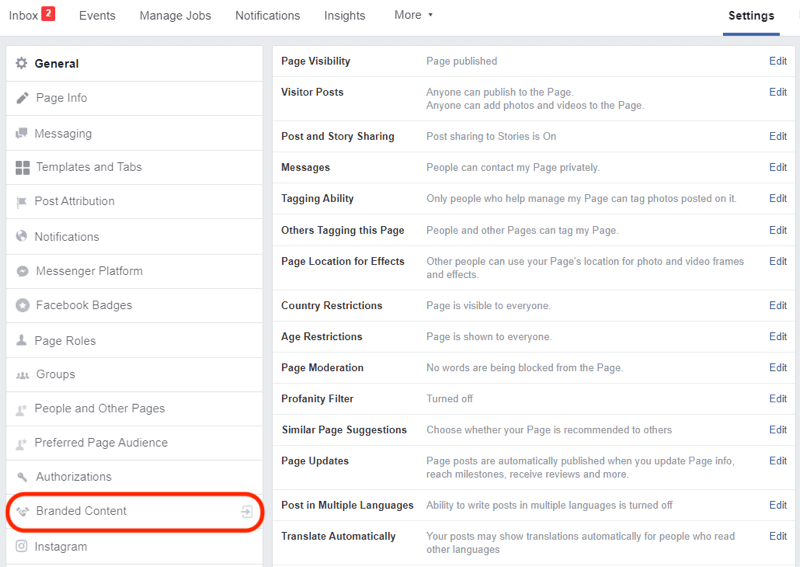 #3: Tag a Business Partner Account With Branded Content in an Instagram Feed Post
Now that you have the foundational components set up for Instagram Branded Content, you're ready to start tagging brands in your content!
Create your Instagram post as you normally would. Upload your image or video (or multiples for a carousel) to Instagram and add your caption, tags, and location as needed.
Before posting to Instagram, add your Branded Content partner. To do this, tap on Advanced Settings at the bottom of the upload screen.
On the next screen, tap on Tag Business Partner. Note that the first time you do this, Instagram will take you through a couple of prompts to explain Branded Content.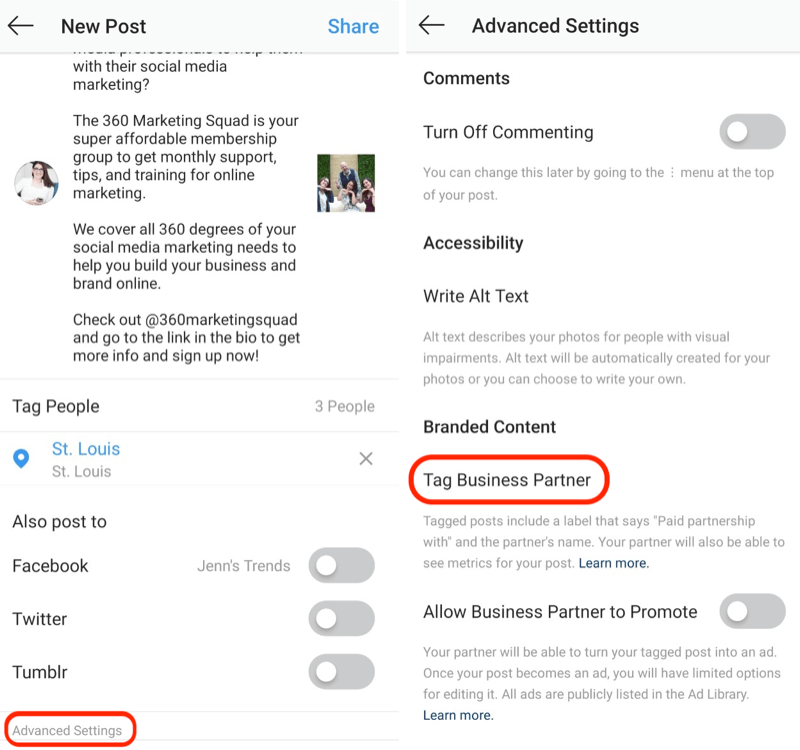 In the search bar, type in the name of the account to partner with. Select the account from the list of available accounts (there may be more than one) by tapping on it.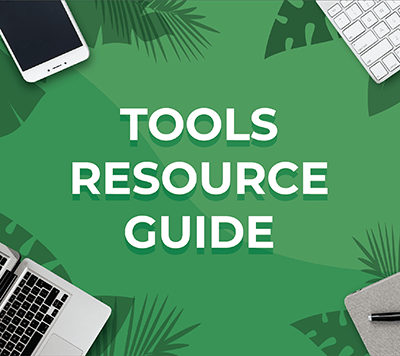 Looking for something to make your life easier?
Discover the tools we recommend to drive engagement, save you time, and boost sales across your entire marketing funnel or business.
Whether you need help planning content, organizing social posts, or developing your strategy, you'll find something for every situation.
FIND YOUR NEXT FAVORITE TOOL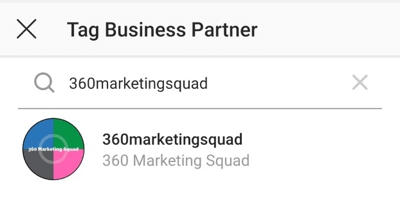 Next, you'll return to the Advanced Settings page and see the account listed as the branded partner. If you want to allow your partner the option to promote the post, you can enable that option on this screen before exiting.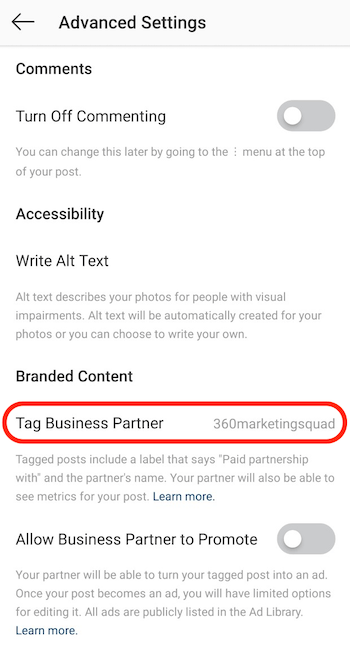 Once you've tagged a branded content partner, you'll no longer have the option to automatically post your Instagram post to Facebook or other sites.
Finish uploading your Instagram post as normal and you'll see "Paid Partnership with [name]" at the top.
#4: Tag a Business Partner Account With Branded Content in Instagram Stories
Similar to the feed posts, you can tag accounts as branded partners in your Instagram stories.
Create your Instagram story as normal, including any text or stickers you wish to use. Note that actionable features like @mentions, tags, and stickers will mean that the tagged partner can't promote the story as an ad.
To add the Branded Content partner to your story, tap on the chain link icon at the top of the story post. Then tap on Tag Business Partner.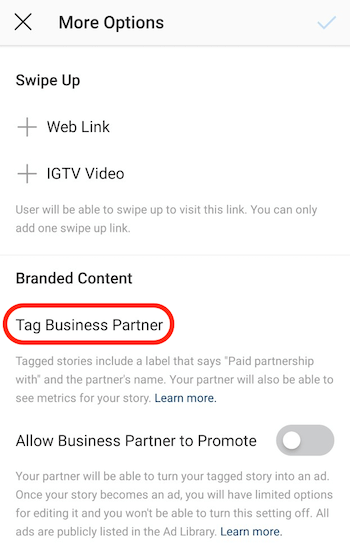 Next, follow these steps from the branded partner screens to add your partner.
First, type the name of the account into the search bar. Then select the account from the list of names (there may be more than one). Only accounts eligible for tagging will appear in bold font. Grayed-out accounts aren't eligible for tagging.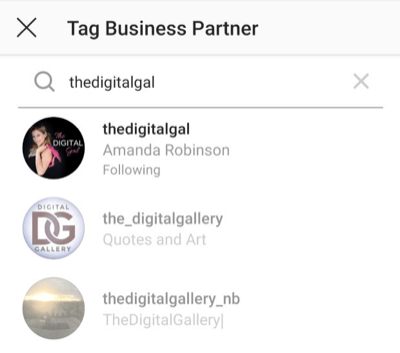 After selecting the account to tag, you return to the link options page where you'll see the name of the account listed as the tagged business partner.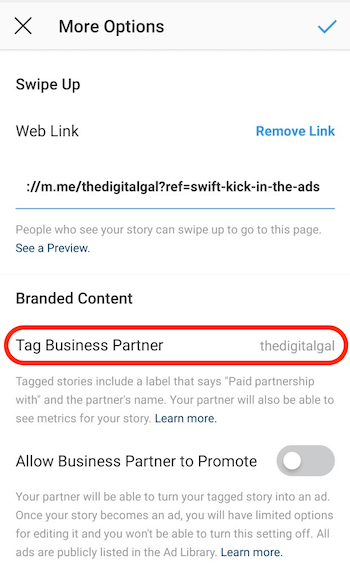 Finish editing your story and upload it as normal to your account. You'll notice the "Paid Partnership with [name]" at the top of the story.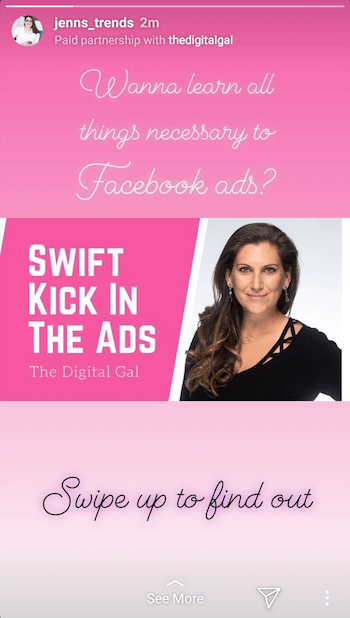 Review Instagram Branded Content Posts Your Account Is Tagged In
If you've been tagged as an Instagram Branded Content partner, you'll receive a notification in Instagram.
When you go to your Notifications tab on Instagram, you'll see a section at the top of the page labeled "Branded Content," as well as a notification alert for how many tags you've received.
Tapping on the Branded Content notification will take you to the next screen where you can see who tagged you and what content was tagged.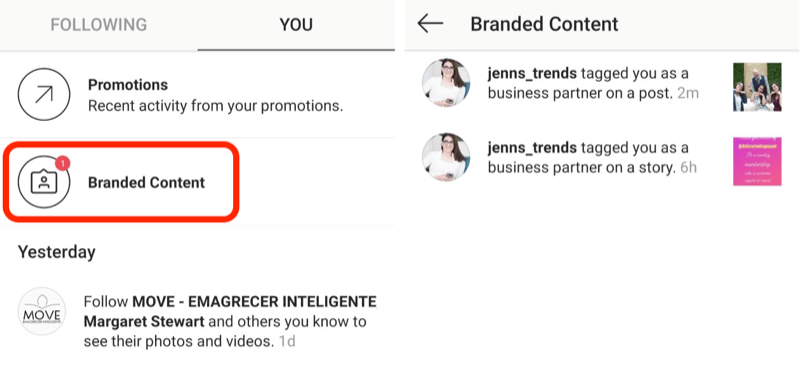 You can tap through from the notification to view the content you've been tagged in. On an Instagram feed post, tap on the three-dot button in the upper-right corner of the post for options including reporting the post, removing yourself from the post if you believe it was tagged inappropriately, copying the link to share, or sharing the post to your story or a DM.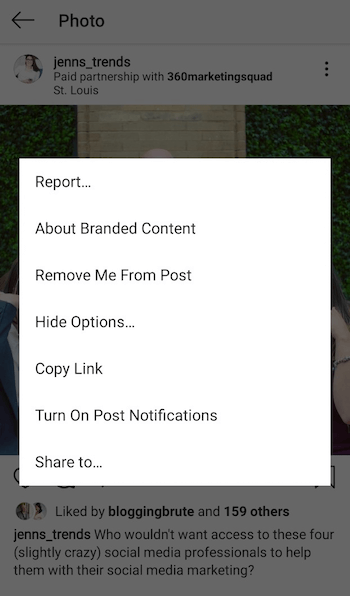 Similarly, in Stories, you can tap on the three-dot button at the bottom of the story to access the option to remove yourself from the post. If you do remove yourself from a branded content post as the tagged partner, you'll no longer be able to view insights on that post.
Instagram Insights for Branded Content
Once you've published or been tagged in Instagram branded content, here's how to access your insights.
How to Review Insights for Branded Content You Created
If you're the one who created a branded content post, you'll see all of your insights and post details just as you would on any other post. For a feed post, tap on the View Insights button directly beneath the image or video of your post. For a story post, tap on the Seen By button in the bottom-left corner of your story and then go to the graph icon to view the post's performance.
How to Review Insights for Branded Content You're Tagged In
If you've been tagged as the branded partner in a post on Instagram, you need to use Facebook Brand Collabs Manager to view any post insights. You can't see any post performance details within Instagram.
To access Brand Collabs Manager, follow the steps mentioned in the section above. Once in Brand Collabs Manager, navigate to the Insights tab.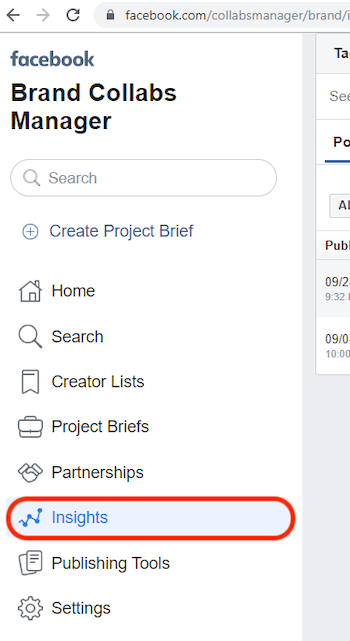 You'll see two tabs at the top, one for Tagged Posts and one for Published Posts.
The Tagged Posts tab shows any Instagram posts, stories, or feed posts you've been tagged in. You'll see the information related to the date the post was published, the account that created the content, the post preview, and some basic metrics on the post's performance.

The details on the post include overall reach (not impressions) and how many taps forward and taps backward the post received. This is very limited detail on the post's performance.
As you can see in this example, the story post included a swipe-up link and two clickable @mentions. The story creator can view how many taps or website clicks that story generated but the account tagged in the post doesn't have access to that data from Brand Collabs Manager.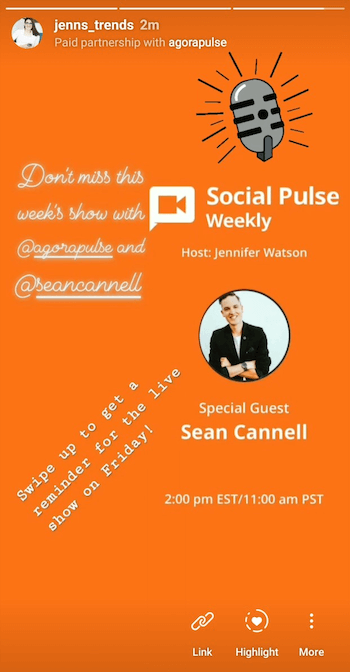 Additionally, the story insights for tagged partners are only available in Brand Collabs Manager for 14 days.
For a feed post, the tagged partner can see simple insights, which include post reach, post clicks, and the number of reactions, comments, and shares.
Conclusion
Now that the branded content feature is available to all Instagram users, if you're creating content for which you've been compensated (or if you're compensating people for content), make sure you're using this tool and staying in compliance with Instagram's policies.
And while the tool is relatively easy to use and does offer transparency to your audience, the insights leave much to be desired. If you're the tagged business partner, make sure that the creator sends you screenshots of the post's performance from their account, showing details of clicks, taps, impressions, and more so you can accurately track your ROI on those collaborative efforts.
What do you think? Have you used the Instagram Branded Content tool yet? Are you going to give it a try after reading this? Please share your thoughts or tips in the comments below.
More articles on Instagram marketing:
Get Your FREE Course: Web3 for Beginners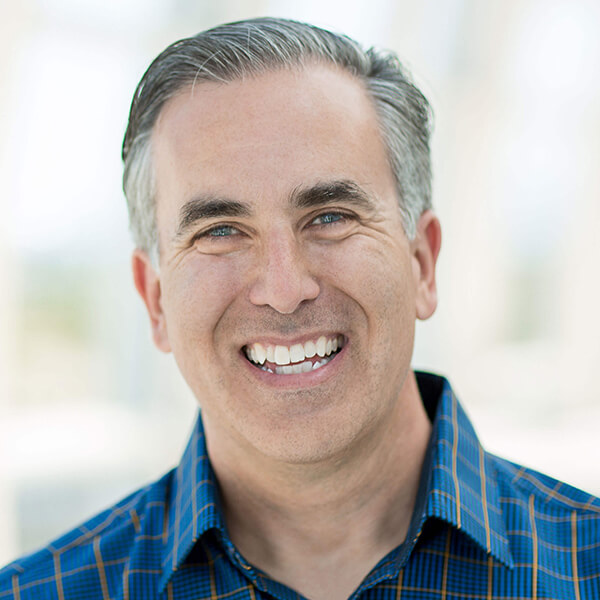 Curious about Web3, but don't know where to start or who to trust?

Introducing Web3 for Beginners, a course taught by Michael Stelzner, the founder of Social Media Examiner.

Learn the basics of Web3 and apply it to your business with this FREE comprehensive course.
CLICK HERE TO GET FREE ACCESS