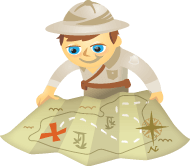 Are you thinking of starting a podcast?
Have you considered using Google Hangouts On Air?
Your podcasts don't have to stop with basic audio files. Google Hangouts On Air offer ways to create audio, video and better SEO.
In this article you'll discover how to create more dynamic podcasts using the built-in features of Google Hangouts On Air.
Why Podcasts With Google Hangouts On Air?
Traditionally, interview-based podcasts are done via Skype using either eCamm's Skype Call Recorder on a Mac or Pamela for Skype on a PC. Both are stable programs with good sound quality and the option to record video. These tools work just fine, but what if you could up your game?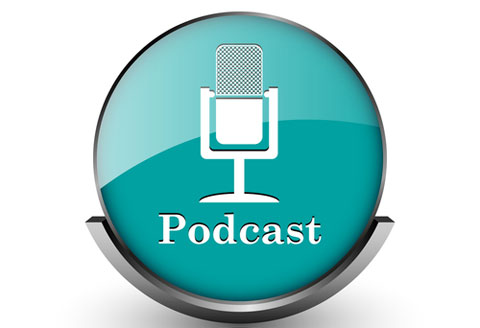 Google Hangouts On Air are a progressive form of content marketing. They're live events hosted on Google+ that simultaneously stream to and record on YouTube.
The feature that separates Hangouts On Air from a pre-recorded Skype call is the live audience (but the video option and enhanced SEO opportunities don't hurt either). When I started using Google Hangouts On Air for my podcasts, I had a 108% increase in month-to-month downloads (not counting YouTube views).
Conducting a live online interview brings a new element to your podcasts—you have people watching, commenting and asking questions in real time. The result is a much more valuable and interesting experience for your audience.
#1: Set Up and Host a Google Hangout On Air
To use Google Hangouts On Air, you have to connect a Google+ account with the YouTube channel where the video will live. Go to your YouTube account and click the Settings menu and choose Connect to Google+.
The video below has full instructions for connecting Google+ and YouTube.
https://www.youtube.com/watch?v=k_rFHZkaC7E
To create a new Google Hangout On Air, go to your Google+ home screen, click the menu drop-down and choose Hangouts.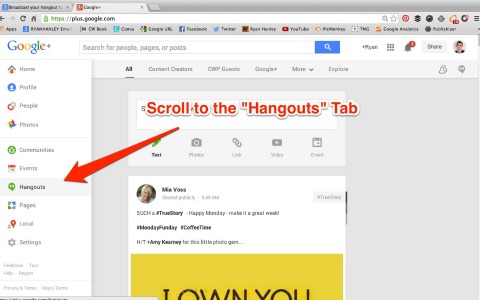 On the Hangouts page, scroll down and click the Start a Hangout On Air button.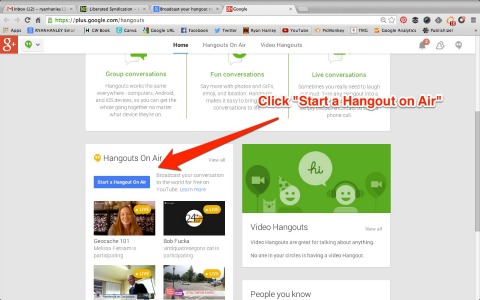 In the pop-up, give your Hangout On Air a title and description, choose whether to start the Hangout now or schedule it for later and choose your audience.
An important note about choosing your audience: Unless you only want a select group of people to be able to attend your Hangout On Air, always add Public to the audience box.
For the purposes of this article, I'm going to assume you chose to start a Hangout On Air now and can see the Hangout On Air capture screen. You should see yourself and any guests you've invited on the show.
At this point you are NOT recording. To begin recording, click the Start Broadcast button, then click Go Live.
The On Air sign will light up yellow, but it may take a few seconds. You're now recording and anyone watching your show can see and hear you.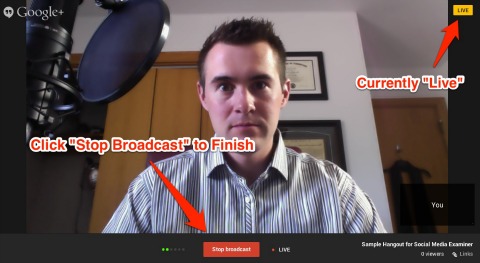 To end your Hangout On Air and stop recording, click the Stop Broadcast button. Give the system a few seconds, and then verify that the On Air sign is turned off and reads Off Air. When you see that, you're off the air and the audience can no longer see you.
#2: Download and Export the MP4 File
During your Hangout On Air, YouTube recorded your whole show. To see and download it, log into your YouTube account and click Video Manager to see a list of all of your YouTube videos. Click Menu next to the video thumbnail and choose Download MP4.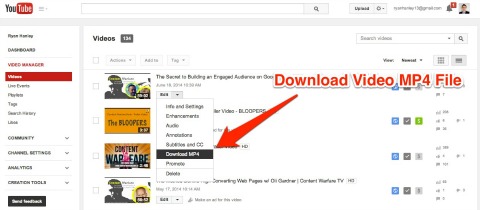 You may not see your Hangout On Air in your YouTube list right away. Depending on the overall number of videos being uploaded to YouTube, it can take up to half an hour for your Hangout On Air video to show up.
YouTube recorded your Hangout On Air as an MP4, but you need to export it and save it as an MP3 file for your podcast. Luckily that's pretty easy—you just need an audio editing tool. I use Audacity to create my final podcast. It's free, easy to use and has versions for both Mac and PC.
When you open your MP4 file in Audacity, it automatically strips out the Hangout On Air video and leaves you with just the audio file. At this point you can add your bumpers and any introductory audio you've recorded.
When everything is ready, save it as an MP3 file, upload it to your host and distribute it to all major podcast directories.
#3: Share Video and Podcast Show Notes in a Blog Post
Here's where you tie your podcast back your Google Hangout On Air. Because YouTube recorded your event, you can embed the video version of your Hangout On Air in a blog post and include show notes.
Including the video and show notes on your blog gives your audience another option for finding and consuming your content. The purpose of show notes is to give your podcast listeners a place to find the resources you mentioned during an episode.
If you're using WordPress, download the Yoast Video SEO Plugin so you can include Google authorship, as well as tag your post as a rich media source. Both help your show notes show up higher in search results pages.
Where to Go From Here
There's definitely work involved in converting your Google Hangouts On Air to a podcast episode, but the reward is a much more dynamic show.
Here's the best part: Very few people are converting their Google Hangouts On Air into podcasts, let alone taking advantage of the additional resource options. The market is wide open. Now's your chance to make your mark and grow your audience.
What do you think? Have you used Google Hangouts On Air to create a podcast? Do you have additional tools and resources to recommend? Share your comments below.
Podcast Icon Metallic Internet Button photo from Shutterstock.