Wondering what's involved in building a Web3-based business? Want to learn from a successful entrepreneur?
In this article, you'll discover how Tom Bilyeu is building Impact Theory.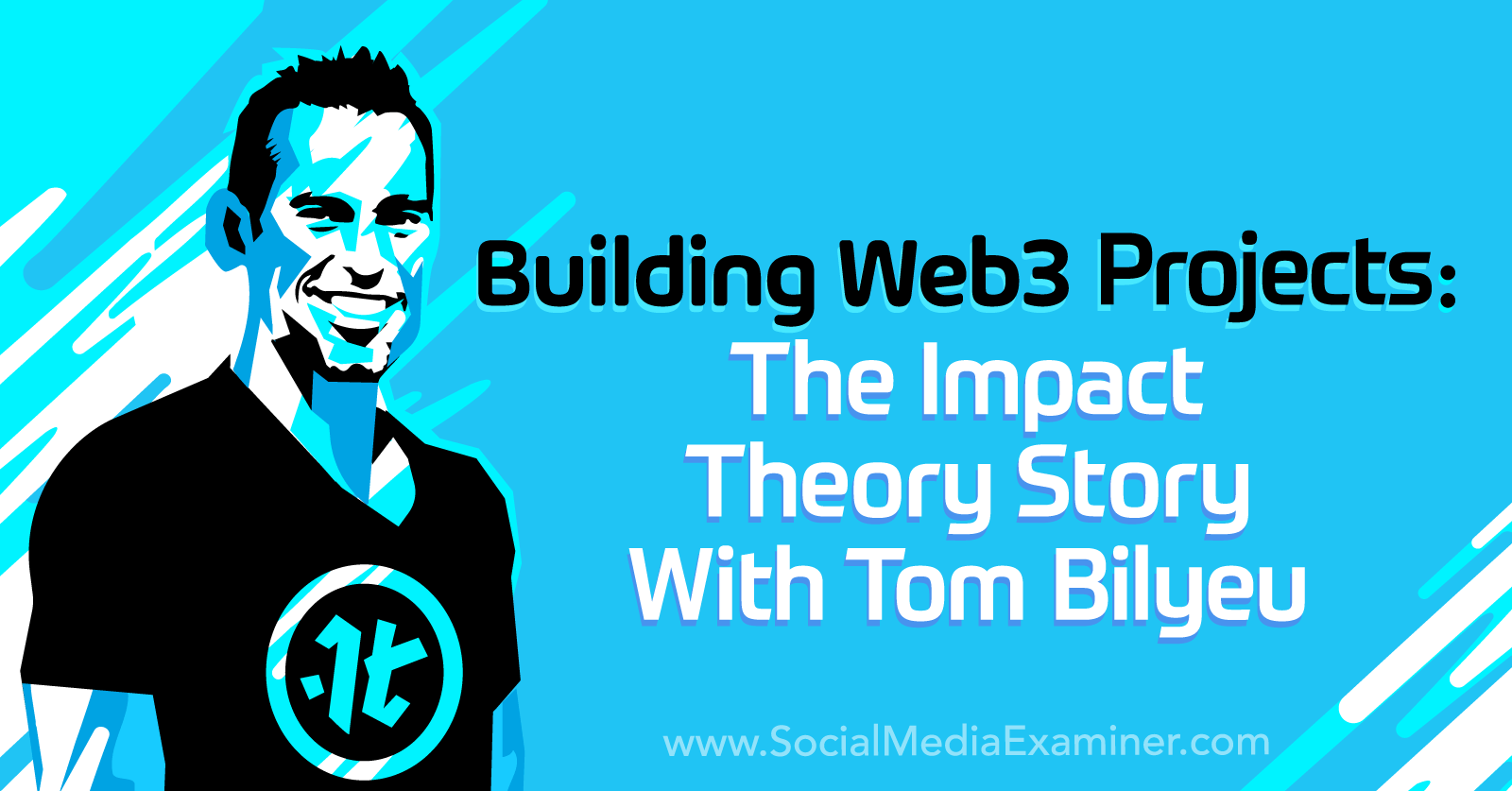 Web3: The Opportunity In Scarcity and Irreversible Transactions
Many things we value as humans have specific properties that are wrapped up in two ideas: scarcity and irreversible transactions.
Scarcity matters because it's used to anchor people to the idea that a specific thing, such as gold, matters and has value.
Irreversible transactions matter because they create a send of fragility in permanence. For example, if you buy a limited edition sweatshirt and then stain it, you cannot take that action back. Your sweatshirt will forever show that stain. If you burn that sweatshirt, it's gone, and there's no getting it back.
Web3 and the blockchain introduce irreversible transactions and the laws of physics to the virtual world. This is a paradigm shift the likes of which we've not seen before, and it gives value to digital goods. You can use this technology to create a cryptocurrency, but there are many other applications.
Before you envision building anything in Web3, you need to understand the technology and what it makes possible. Then, you can build toward that possibility.
Here are some guiding points to get you started on your Web3 journey…
#1: Act on Disruption
Risk is involved when you embrace disruption, and getting the timing wrong is possible. But if you have the foresight to recognize when disruption creates opportunity, and you can capitalize on those moments when they present themselves, the rewards can be exponential.
For example, Tom Bilyeu has always wanted to work in storytelling, so he started in business to control access to resources that would enable him to tell the kind of stories he wanted to tell.
The journey involved multiple companies over 15 years but ultimately ended up with the founding of Impact Theory in 2016. and a mission "to pull people out of the Matrix, at scale, by giving them an empowering mindset…by creating the best-in-class entertainment and educational content."
Five years ago, he realized blockchain technology would birth an entirely new form of entertainment; borderless entertainment. He also knew consumer adoption was necessary before using that technology in business, so he waited for the shift. Then, about two years ago, he recognized VeeFriends as a business use case that moved NFTs from aspiration to reality.
Within 72 hours, he had pivoted Impact Theory Studio to a Web3 company. On October 6, 2021, they launched the Impact Theory Founder's Key NFT collection.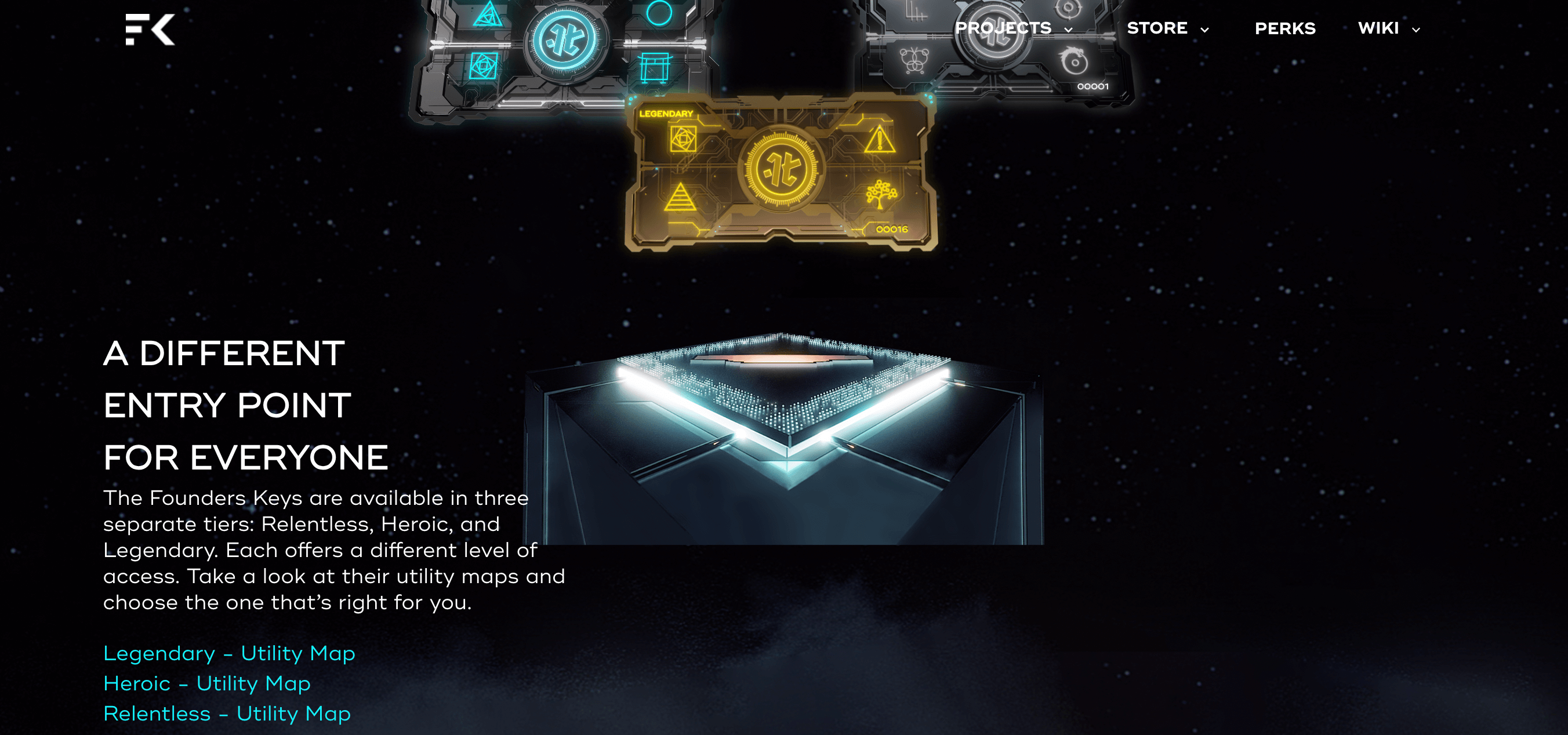 Today, the company is working on Project Kyzen. This borderless entertainment experience combines AI and blockchain and is "designed to be customized and interacted with, both online and in real life. Items you collect in Kyzen are stored on the blockchain, serving as the key to unlock the mysteries of Kyzen."
The Founder's Key NFT Collection
Can you imagine hearing Walt Disney pitching the building of an entertainment empire based on animated films and walking out of that pitch owning a single celluloid from Steamboat Willie?
The original vision for Impact Theory was to build the next Disney. To reward those who believed in that vision early on, Tom wanted to create something that worked like a key to unlock future experiences that haven't even been ideated yet. Because nobody can see beyond three years when technologies are changing and evolving as quickly as they are right now.
Founder's Key NFTs launched with three tiers. Each was designed to appeal to people who understood that the token's value is derived by holding it and accessing its utility versus wanting to flip it for monetary gain.
The Kyzen Project
Kyzen's story centers on a hub– a multiverse that is filled with a quantum-foam-like medium called the Array, which is populated with unique universes. Players will learn more about how the Kyzen multiverse works as the story unfolds.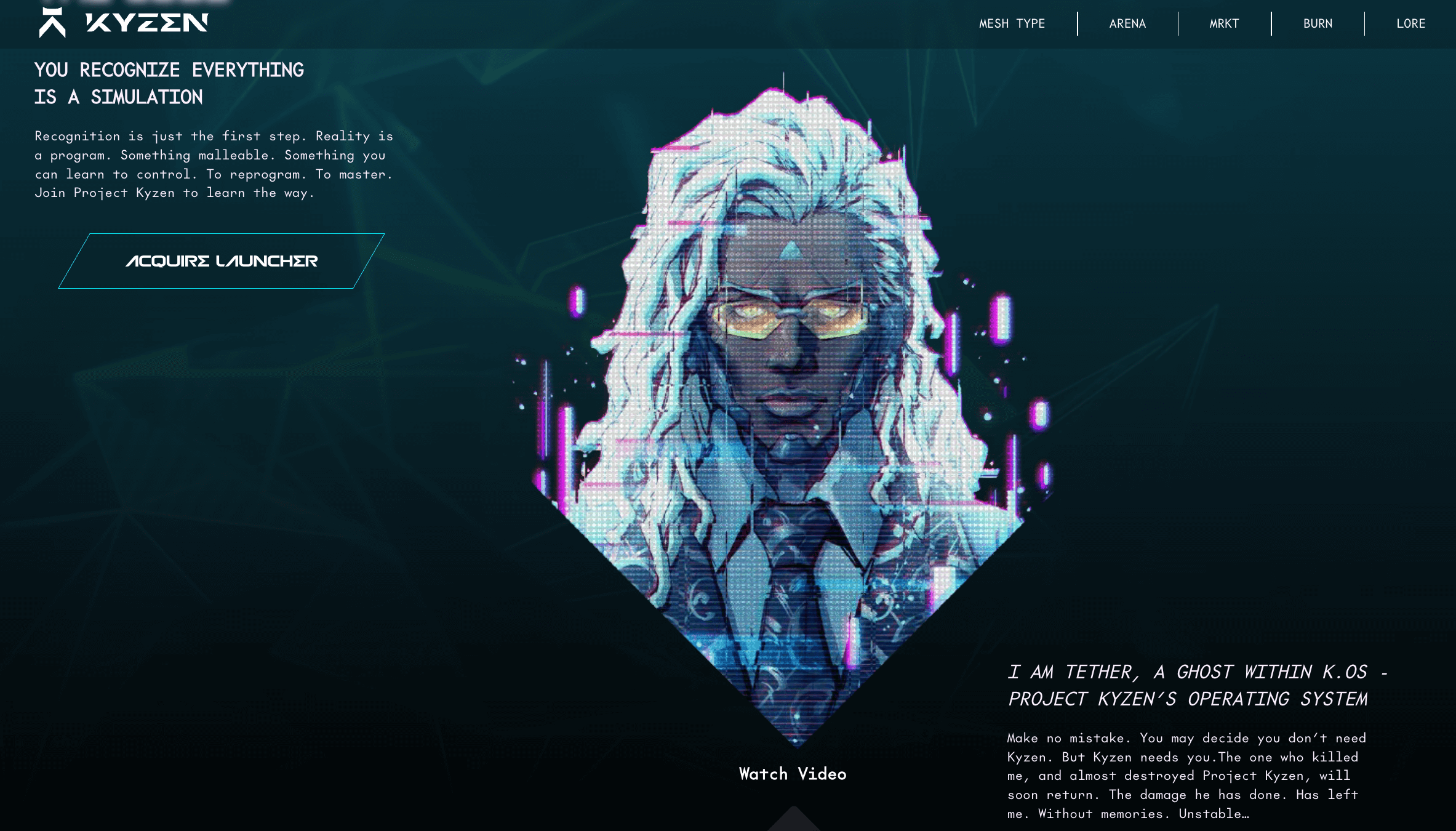 Each character PFP NFT holder gets to define their corner or Instance of the multiverse through their own expression of character and lore. In some aspects of gameplay, they'll also be able to create their own maps. Additionally, once the SEC rules on how they will regulate Web3, creators will be able to monetize within the game.
If you want to experience Kyzen right now, you can build your character with an avatar engine with 40k assets.
#2: Build a Product People Want
Monetization and decentralization are attractive features of Web3, but they can't be the central focus of your Web3 project.
The blockchain makes something possible that wasn't possible before. AI makes something possible that wasn't possible before. AI and the blockchain combined make many new and different things possible.
The core of your project has to be a product that is different and better than what consumers have now. If your product is better, you won't need to convince anyone to buy it. They'll buy it because it's better.
Tom's company recognized the opportunity to create a different and better entertainment experience: borderless entertainment. Borderless entertainment has three traits that leverage blockchain and AI.
First, the borderless entertainment experience transitions seamlessly from the game world to the real world and back again. Wherever your digital assets go, the gaming experience can follow if you give the game that access.
For example, if you own a Merry Modz NFT character, you could watch a video experience that features your character and is unique to you when you are near a specific Christmas tree in the real world.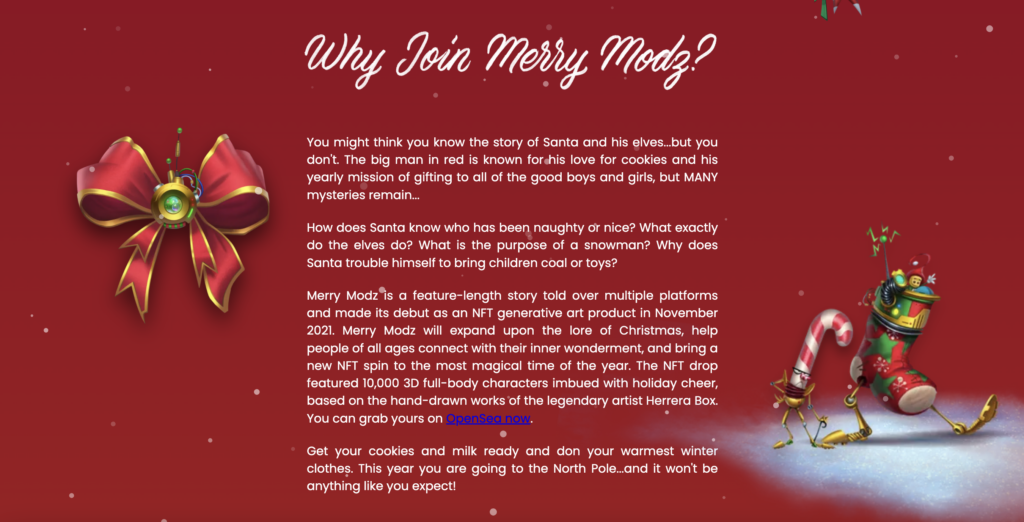 Second, borderless entertainment gaming worlds are highly tailored to you by your choices.
Third, borderless entertainment gaming worlds are quickly moving toward becoming rich, living worlds. Soon, AI will allow you to build relationships with in-game AI characters who are as real to you as the people in your real life. Because the game has true memory, those characters remember you and past interactions with you. Furthermore, AR will allow you to take the gaming experience beyond the confines of a console or a computer into the real world.
These three things combined create a radical departure from the gaming experiences people know now. Tom believes people will find it far more interesting and, therefore, worth buying into.
Pro Tip: If game development is part of your project or product, and you need to learn about game dev, and you have the capital, Tom suggests buying a game development company rather than trying to build your own team in-house.
#3: Serve Your End Users
Exclusivity can be a valuable attribute of your Web3 experience if you're a luxury brand. However, if you want to create something that attracts, engages, and retains masses of paying customers, you'll need to build something that embraces and includes those end users.
Don't build something that centers on an advertising scheme. Instead, infuse your product with empowerment and strive to improve your users' lives.
Another aspect of the user experience to remember is that the vast majority of humanity does not know or care about what Web3 is, nor should you make them care. Most people don't know what TCP/IP means or what HTTPS means, but they use Amazon, Netflix, and Uber daily to improve their lives.
So build your Web3 product and promote it without force-feeding people with education about decentralization, hot wallets, or self-custody, and price it so people can afford to participate.
At the time of this interview, a Kyzen NFT could be purchased for about $6.
#4: Explore Partnerships
Partnering with a group or company that is philosophically aligned with your company or is building something similar to what you're making is an incredibly powerful way to bring two audiences together and draw new eyeballs to your project.
From a marketing standpoint, that audience boost is critically important.
From a user's perspective, partnerships that yield interoperability will literally be game-changing because they will put operational standards in place that remove the friction between experiences. If you want to, you will be able to play Kyzen as your Cool Cat, for example.
However, for that type of interoperability to happen at scale will require partnerships between prominent players such as Unity, Unreal Engine, Apple, and Meta, a company investing heavily in the tech.
Other Notes From This Episode
Where to subscribe: Apple Podcast | Google Podcasts | Spotify | Amazon Music | RSS
✋🏽 If you enjoyed this episode of the Web3 Business Podcast, please head over to Apple Podcasts, leave a rating, write a review, and subscribe.
Disclaimer: The information provided on this website is provided solely for educational purposes and does not constitute any advice, including but not limited to, investment advice, trading advice or financial advice, and you should not treat any of the website's content as such. Social Media Examiner recommends that you independently research any information contained on this Website and that you speak with an investment professional before making any decision to purchase, trade, hold or sell cryptocurrency. Nothing herein should be treated as a recommendation to buy, sell or hold cryptocurrency. Social Media Examiner cannot guarantee the accuracy of any information listed on the website and is not responsible for any missing or wrong information. All information is provided as is and should be used at your own risk. Social Media Examiner disclaims all responsibility and liability for your use of any information found on the website.