Want to become more valuable to your fans and followers? Join me (Social Media Examiner Founder, Michael Stelzner), as I share wisdom from 10 years of running Social Media Examiner.
To share how I've grown Social Media Examiner, I recorded a special episode of the Social Media Marketing Podcast.
You'll learn how collaborating with others accelerated our growth, why we keep the marketing light, and what types of content make us a valuable resource for others.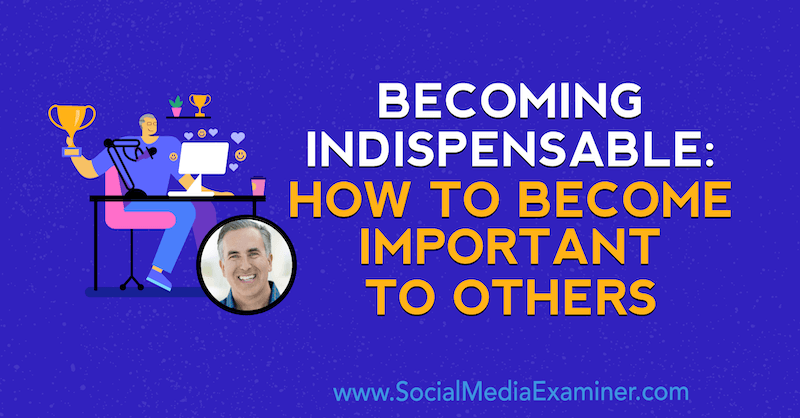 Why I Recorded This Episode
This is not a podcast I was planning on recording.
A few months back, I asked our audience on Facebook what I should talk about for Social Media Examiner's 10th anniversary, which was on October 12, 2019. A lot of people came up with a lot of creative ideas. But I don't like to come on and talk about myself and my achievements. So I scrapped the whole idea of doing a 10-year special podcast episode and I scheduled a guest as usual.
But when our guest needed to postpone, I decided it was an opportunity to tell our story in a way that would be relevant for other people building their businesses.
I'm going to talk about how to become indispensable, vital to other people, by sharing my story of how I built Social Media Examiner. I hope that you'll pick up some tidbits that will help you model some of these things in your business.
In the Beginning
Before I started Social Media Examiner, I was a successful writer and speaker. I had written a book, had a lot of very big-name clients, and made good money. But it was a rat race—and, frankly, it didn't fill me up. I didn't get a lot of joy out of it. I had been doing it for a long, long time, and I felt like I needed something different.
Then, in 2008, someone asked me if I was on Facebook. I said, "Wait, isn't that just for college kids?" I realized it wasn't, and then I dove in headfirst. I created my personal Facebook account and started looking at all of the friends in my network who were already on Facebook. I studied them and tried to understand what they were doing and tried to wrap my head around this thing called Facebook.
And then an opportunity popped into my head. An experiment. I've since learned that all new opportunities, ventures, or future companies that you're thinking about starting are best positioned both in your head and among your colleagues and friends as "experiments."
Why? Because an experiment might fail and that's okay. Because when you experiment, it's just a test. And if it doesn't work, then you try another experiment. And if it does work, then you can decide to continue with that particular experiment. And that was really a good way for me to mentally frame what I was about to do because I was about to go down a totally different path.
The Conference You've Been Waiting For
As a small business marketer, you can probably only pick one or two events to attend each year. Get an unbeatable conference experience and expert training at Social Media Marketing World in sunny San Diego, California—from your friends at Social Media Examiner.
🔥 As a valued reader, you can save $830 if you act now! Sale Ends Friday! 🔥
CLICK HERE TO LEARN MORE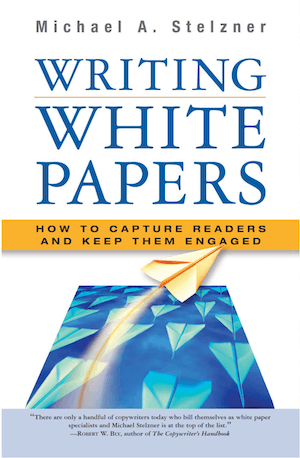 Prior to doing this experiment, I had been front-and-center in everything that I did. I'd started a blog called "Michael Stelzner is Writing White Papers" and I'd written a book on the same topic. I had become an "expert" in this space that I was known for.
With this new experiment, I was going to be the puppet master behind the scenes. I wasn't going to be front and center. I was definitely going to be a player, but I wasn't going to be the player. It wasn't going to be all about me.
My peers told me that I was making a mistake, that my personal brand would suffer because I wasn't putting myself in front. And you'll learn how I handled that a little bit later. But I frankly didn't care because I was building something much bigger than just me.
I would later read Seth Godin's book, Linchpin, and realize what I'd done. Per Seth: "If you are deliberately trying to create a future that feels safe, you will willfully ignore the future that is likely. If you're trying to play it safe, there's a good chance you may not get where you want to go."
Another quote from his book: "The only way to get what you're worth is to stand out, to exert emotional labor, and to be seen as indispensable. And to produce interactions that organizations and people care deeply about."
What Seth is saying here is that if you want to stand out, you need to figure out how to be indispensable in such a way that people and companies care deeply about whatever it is that you're doing.
I had no idea that 10 years after starting this experiment, more than 85 million people would have read what I was about to create, or that there would be more than 20 million downloads on my weekly podcast (hint: you're listening to it!).
This is the story of what I did. I hope that you draw some inspiration and life lessons from this story for your future, whatever it is you choose to do. The experiment that became Social Media Examiner officially began on October 12, 2009. But we have to roll the clock back to March 2009 to talk about the work that led up to Social Media Examiner's inevitable launch.
The Social Media Marketing Industry Report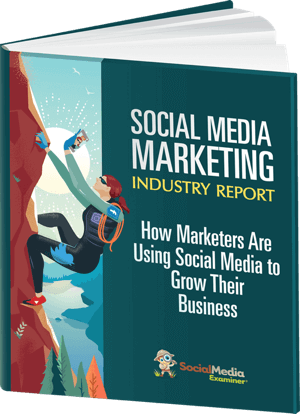 In March 2009, I released the first ever Social Media Marketing Industry Report.
I had surveyed 900 people, mostly people who were in my white paper audience, and I had also leveraged some of my friends who had social audiences and asked them to share the survey link. The output of that survey was a 26-page report called The Social Media Marketing Industry Report. And it went completely viral.
It didn't even live on Social Media Examiner because there wasn't a Social Media Examiner yet. Everybody was talking about it in hundreds of comments. Many people said, "This is the first time I've ever heard anyone refer to us as 'The Social Media Marketing Industry.'" No one had used those four words together before.
People loved the phrase; they began to say to themselves, "Yeah, we're an industry." And that report became a catalyst for an online event that I launched in May 2009 called the Social Media Success Summit.
The Social Media Success Summit
The theme of the Social Media Success Summit was a person on a horse racing across the wild west, kind of a desert motif.
It was going to be an online event, and I recruited some people with whom you're going to be familiar to speak: Brian Clark from Copyblogger, Chris Garrett (who co-authored a book with Darren Rowse called ProBlogger), Ann Handley from MarketingProfs, Mari Smith, Denise Wakeman, Gary Vaynerchuk, and Jason Alba (who was a big deal on LinkedIn back then).
I had really leveraged all of my relationships. I was decently well-known in the blogging community by Brian Clark and Chris Garrett. Ann Handley knew who I was because I had spoken on white papers at her events. Denise Wakeman introduced me to Mari Smith at a local event in San Diego when I was first learning about social media. Mari introduced me to Gary Vaynerchuk, who was known as "the Wine Library TV guy" back in the day.
I can't remember exactly how I met Jason, but I remember he was in town for an event and I went down to the hotel where he was staying, and we hung out and just talked for a couple of hours. So I had recruited people I thought were the leading experts at the time to do this online event.
A little side story for Gary Vaynerchuk: Mari told me that Gary was a really big deal but his wife was about to have a baby, so he said he couldn't do the event. I moved the event earlier so that Gary could do it. Even back in 2009, Gary preferred to be interviewed, not to prepare a presentation, so I interviewed Gary all about social media.
The Social Media Success Summit was a huge success. It was the biggest launch I'd ever done for anything. Prior to that, everything I'd done was about writing and copywriting.
By the end of May, I knew that I was on to something. In July 2009, I was able to secure the domain socialmediaexaminer.com. I freaked out, thinking the San Francisco Examiner was going to come after me so I trademarked it early. I just assumed they owned the name "Examiner." Luckily, nothing ever happened.
Launching the Social Media Examiner Website
I remember having dinner sometime in summer 2009 with Mari Smith, Denise Wakeman, and Irene O'Leary, who had worked for me back in the day. We were celebrating the success of this online event that we'd all done, just all having a grand time, and I threw across the table, "What do you think about starting a multi-author blog?"
Honestly, the reaction from everyone at the table was, "Does the world need another blog?" I tabled the idea. I wasn't really sure what was going to happen.
Along the way, I had met other people in the blogging space. And as a result of some of the work that I had been doing with the Industry Report, I had landed some major speaking gigs at marketing events. Two events in particular, BlogWorld and MarketingProfs B2B Summit, were within a couple of days of each other.
They both wanted me to speak about the report: how I'd done the survey, what the results of the survey were, what all the marketing elements of it were. I thought to myself, "lf I'm going to go to these two events, in front of a captive audience, we should launch this thing literally within days of me arriving, or days before."
So I went back to Mari and Denise, and I'd looped in Chris Garrett on this as well, and I gave them a juicy incentive to be part of this. I said, "What I'd like you all to do is just write one blog post a month, and I will write one too, and we'll use this to promote the next Social Media Success Summit, which is going to be in spring 2010." And they said yes.
Since it was really motivated by the fact that I was going to be speaking at those two events, we rushed to get this thing launched on October 12, 2009.
I went to the MarketingProfs event with a little flip camera. Jason Falls had been instrumental in helping secure a speaking slot for me at MarketingProfs, and he told me whom I needed to speak with and interview, including Chris Brogan and Steve Rubell.
I had someone helping me put together interview questions and helping corral people for me and bringing them to the camera so I could interview them. She had just left the Tony Robbins organization and she was working for me temporarily to help bridge the gap. That person was Amy Porterfield.
It was a really fun experience because here I was, this guy walking around with a microphone in hand with a flag on it that says, "Social Media Examiner," and nobody even knew what Social Media Examiner was. I walked up to the Technorati booth—they're not around anymore—and I said, "Hi, I'm Michael Stelzner with Social Media Examiner. I would love to interview your CEO."
And the lady who was working at the booth said, "Social Media Examiner? Hold on a second." She pulled up the website and looked at it. And then she went to the CEO, Richard Jalichandra, and said, "Richard, this is Michael Stelzner from Social Media Examiner, a very reputable publication. I would love for you to do an interview with him."
We were only days old. But we had built a really nice-looking website that looked like it had been around forever. That was one of the things I had going for me: I looked professional. I was wearing a tie, and I think I was wearing a suit. Nobody else was doing that. (I later realized that the culture in social is very casual, which I love and embrace today.)
I interviewed all of these people, just asking them the most basic questions because I was a rookie and I didn't know anything else. Frankly, nobody really knew anything back then. I captured all of these videos and then I decided to bring a camera crew with me to BlogWorld.
I met Jay Baer, Michael Brito, and a couple of other people. Jay came up to me after my session and he said it was one of the best presentations he'd ever seen. I don't know if he was just trying to make me feel good but I thought that was really cool. Jay was in a lab coat and he was one of a few people who had been selected to lead these table talks at this event, where people could just sit down and talk and ask questions. So I sat and I talked and listened.
Later on, I would ask Jay, who's a great writer, "Hey, would you be interested in writing for Social Media Examiner? I think your stuff is so amazing, I would love to offer you a monthly column." And he said, "Sure, why not?"
The very first article that Jay ever wrote for us was in January 2010 and it was titled, "11 Mind-Blowing Reasons Your Business Needs Facebook." This was back when there were only 350 million people on Facebook—only 100 million in America—which sounds like a lot but is very small compared to what it is today.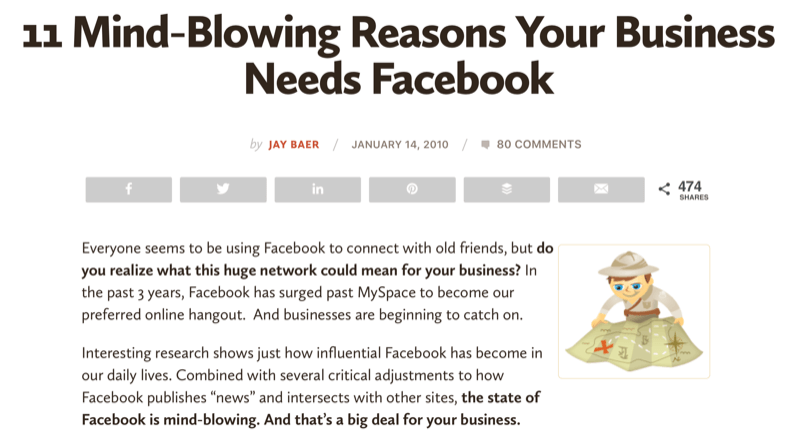 I realized that I was going to be getting these speaking gigs in the future. I accelerated the desire to get that website launched. Then I went out there and I interviewed a lot of these speakers who were already on stage, who I knew had already prepared a message.
It was very easy for me to just wait for them patiently, pull them to the side, and do a little on-camera interview with them because I was the only person at the event that even had a legit camera guy with me. And then I slowly released this content over time, which was a key part of my strategy.
Giving People What They Want
I was the very first person who had ever interviewed many of these people on camera. They'd never had the opportunity to have what felt like a "television" kind of experience before. And they were very excited about the opportunity. They didn't take it lightly. As a matter of fact, many of them would end up linking to it or embedding it on their websites for years to come because they were proud of how professional they looked.
I had tapped into what these experts wanted: exposure. They wanted to be in front of an audience that could assist them in whatever their goals were.
I reached out to friends like Casey Hibbard, who wrote the book on case studies. She agreed to write case studies for quite a long time—success stories, if you will, on people who were doing great things inside of the social media world. Writing for Social Media Examiner helped her become a little bit more well-known and it allowed her to share stories of other people and the amazing things they were doing.
I also knew what my audience of marketers wanted: knowledge. They wanted to understand more about this crazy world that they were about to enter. I essentially brought together the experts and the marketers and it was a win for everyone.
I was able to get people to teach what they'd learned in these online conferences that would eventually fuel and fund all of what we're doing on Social Media Examiner.
Because I was a blogger before I started Social Media Examiner, I was also able to ask a lot of my blogging friends to come write for the movement. And it really was a movement because there was nothing for sale in the beginning. There were no ads, no commercials, nothing for sale at all. While in the back of my mind, this was eventually going to be used to sell something, none of that was there when we launched Social Media Examiner.
By the end of the first full year of Social Media Examiner, we had launched research studies, like the Industry Report. We were publishing articles every single day. We were releasing weekly video interviews that I captured while I was at conferences.
And we were also doing online training virtually three different times a year. For example, a Facebook Summit, a Social Media Summit, and even a Copywriting Summit because I still had a little bit of writer inside of me. In that first year, we had more than a million people read our blog. And almost all of the traffic back then came from social sharing: mostly Twitter, plus a little bit of Facebook.
Next Steps
After that first year, I realized that people were really digging what we were creating. But I knew that what some had told me earlier—"Hey, it's a mistake to have your brand not be your name"—was true. Nobody knew who I was. They knew what Social Media Examiner was, but they had no clue who I was.
I knew I needed to do something dramatic. And that's when I decided to write my second book. David Meerman Scott introduced me to his contact inside John Wiley & Sons, and I wrote my second book, titled Launch.
Writing "Launch" and The Elevation Principle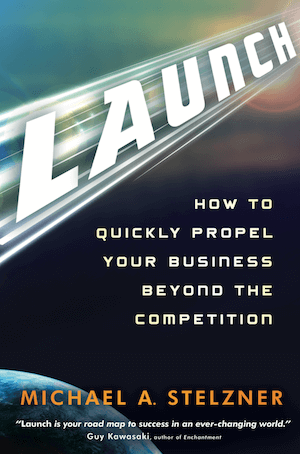 In the process of writing that book, I had to wrap my brain around how I had successfully done this twice. In two different industries, the white paper industry and the social media marketing industry, I had become the person—I had developed the brand—that everyone looked to.
As I spent a lot of time working on Launch, I realized that I had come up with a concept, which I call the Elevation Principle. The Elevation Principle is a very simple formula: great content, plus other people, minus marketing messages, equals growth.
Great content is material people want to consume: a podcast, an article, a video, whatever. The "plus other people" element means collaborating, which is key to what I did with Social Media Examiner and even with my white paper business.
The idea here is that content that only comes from you is only going to go so far. But great content with other people… Imagine the relationships that you could build, imagine if those people eventually become the undisputed kings and queens of the world that you're in, and think of all of the great stuff you can do collaboratively with those other people.
That's what I did: I helped these people get a bigger platform. I helped these people get exposure. And as a result, great stuff happened.
So great content, plus other people, minus marketing messages. Now, this is the part that was hard for people to understand, especially marketers.
When I started Social Media Examiner, there was no marketing message anywhere on the website. The marketing message is kind of like the flaps on the airplane when you come in for a landing: when those flaps go up, you slow down a lot, and you can't go as fast. But when those flaps are down, which means no marketing, you can accelerate your growth quite a bit because people will see your content as content instead of seeing it as marketing.
And that's the last thing you want anyone to do. You don't want them to look at your content and say, "This is someone trying to sell me something." Instead, you want them to look at your content and say, "This is so good, I want to consume it, I want to share it." That sharing component was so essential, and still is.
Great content, plus other people, minus marketing messages, equals growth. That's the concept that I talked about in my second book, Launch, and that's the concept that's helped accelerate the growth of Social Media Examiner.
The Social Media Marketing Podcast
A couple of years in, I finally decided, "All right, writing alone isn't going to be enough." I knew I needed to try something completely different.
Attention Agency Owners, Brand Marketers, and Consultants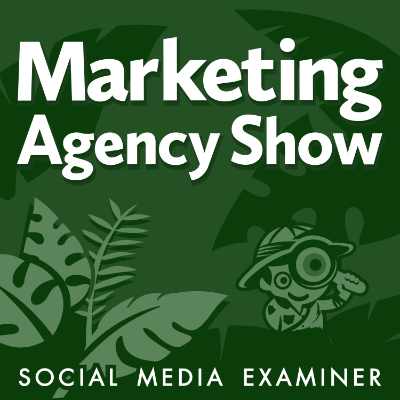 Introducing the Marketing Agency Show–our newest podcast designed to explore the struggles of agency marketers.

Join show host and agency owner, Brooke Sellas, as she interviews agency marketers and digs deep into their biggest challenges. Explore topics like navigating rough economic times, leveraging AI, service diversification, client acquisition, and much more.

Just pull up your favorite podcast app, search for Marketing Agency Show and start listening. Or click the button below for more information.
CLICK HERE FOR THE DETAILS
I noticed a lot of people I respected like Pat Flynn and Cliff Ravenscraft were crushing it with podcasts. I had met each of them at different versions of NMX/BlogWorld. I've now been in a mastermind with Cliff and Pat for years, by the way, and they're very close friends.
I thought to myself, "This podcasting thing, it seems to be finally blowing up." Because I'd heard about it, I'd tried it before, but it just never really went anywhere. Again, it was an experiment. I didn't know if it was going to work. I was convinced it could work because I'd seen what it had done for Pat Flynn with the Smart Passive Income Podcast. And the podcast turned out to be a much bigger thing than I ever expected.
Cliff was known back then as the Podcast Answer Man, and he was doing private one-on-one coaching and consulting. I went to Cliff and said, "I want to be your best student." I hired him to teach me how to do a podcast.
I knew that one of my special skills was interviewing people. When I was a writer I would interview engineers and all sorts of people, and I was pretty good at extracting knowledge and asking questions that got them to open up. I'd done it on camera for Social Media Examiner for many years.
Cliff taught me how to do podcasting and we launched the very first episode of the Social Media Marketing Podcast on August 10, 2012. Mari Smith was my very first guest. It took off pretty quickly.
I was very strategic when I launched the podcast. I was just as strategic as when I launched Social Media Examiner because I had something up my sleeve. I knew that I was going to launch a physical event for the very first time, and I knew I needed something powerful to increase the likelihood that I could get people to that event.
At this point, I had developed a lot of relationships with a lot of people over the years. I had gone to a lot of events. I'd had a lot of these people speak at my online event.
I launched the podcast and I specifically interviewed people who I knew would likely be speaking at that physical event. I encouraged all of my email subscribers to check out the podcast and subscribe and to listen to me interview these experts, the very experts that they would see in person if they came to Social Media Marketing World. And I did it every single week.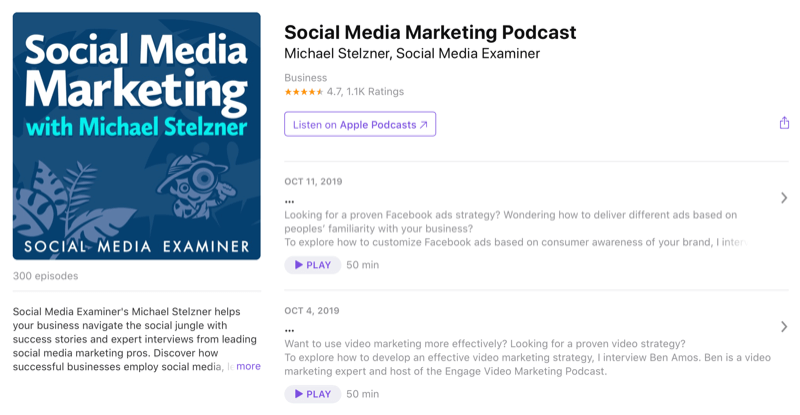 In my mind, it was just going to be a thing to promote the conference, in the same way that Social Media Examiner was going to be a thing to promote the online summits. I didn't want to have to pay Google or Facebook to get in front of an audience. I wanted to be like a media company: I wanted to own my audience, to nurture and develop an audience that I could ultimately decide to market to.
That was one of the key premises to everything that I was doing: why go to another media entity, when you can become the media entity? At this point, I had a pretty powerful written media entity, but I hadn't tapped the audio entity until I started the podcast. The thing took off and it was huge. At events, instead of saying, "I love your blog," everybody was saying, "I love your podcast! Love, love, love your podcast."
Social Media Marketing World
In spring 2013, we decided to branch out offline and expand into physical events. I got my inspiration a year earlier in Cleveland at Joe Pulizzi's very first Content Marketing World.
I had persuaded Joe to put me on the keynote stage alongside Brian Clark to talk about blogging. I was pretty well-known as a content guy because of my white paper industry experience, and Brian Clark was also pretty well-known.
I'll never forget seeing Joe wander by with not a care in the world, no stress at all. And I said to him, "Joe, why are you not freaking out? You're putting on this huge event with like 400 people, and you don't seem to have a care in the world." And he said, "Mike, do you know there are professionals who can take care of the operation side of this and handle all the details?" I said, "Are you kidding me?"
And of course, I started thinking to myself, "Oh, my gosh, I think I'm going to do an event. I think I'm going to do an event. I think I'm going to do an event." It wasn't until I saw it that I realized I could ever do something like this.
I hired some people locally to help me build Social Media Marketing World, and it was a huge success. We had 1,100 people there the very first year, which exceeded all of our expectations. It was in a hotel in San Diego and we had just the most glorious time ever.
We're going into our eighth year, and we're a much bigger event now. In 2019, I think we had 4,700 people. It's been a crazy ride to see how big the physical conference has become.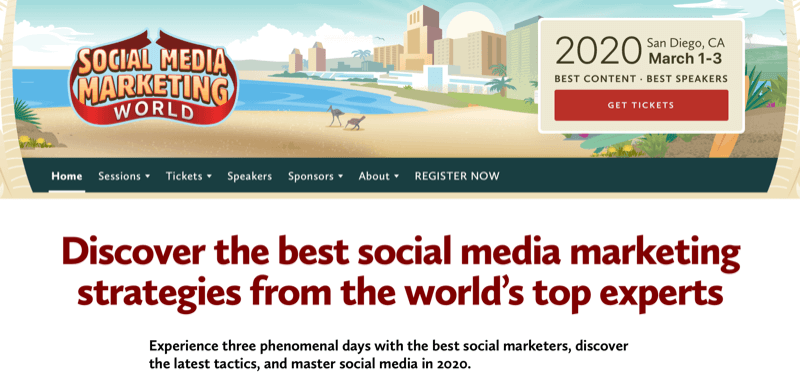 And it's kind of funny how it had come full circle because it was me going to events that built the connections that allowed me to get the video interviews and allowed me to get the people to speak at my events and helped me to get the people on my podcast.
It was that event experience that was the catalyst for my developing a media company, and ultimately, my own very successful event. Social Media Marketing World has become an event that's so big that it would fuel and fund most of what we would do.
The next leg of the stool after the podcast was the physical public speaking. At this point, I had a popular blog and podcast, and a physical event that was (in its first year) perhaps one of the bigger independent marketing events not funded by a monster corporation.
Then… I had a distraction.
MyKidsAdventures.com
I thought to myself, "All right, since you've done this twice, why not do it a third time?" On the stage at Social Media Marketing World, I decided to show a video announcing the launch of yet another initiative that had nothing to do with social media: mykidsadventures.com.
Mykidsadventures.com was based on the simple premise that we live in a digital age. Kids are distracted and parents don't have a lot of time, but we want to do fun activities with our kids in our home, backyard, and the great outdoors. The goal was to have these activities be non-digital fun things whenever possible because I sensed that digital addiction was a huge problem.
I invested $300,000 into this project, hired some full-time people… and shut it down a year later. I realized it was a monster distraction, and that I needed to stay focused on what I was best at, which was this marketing thing. I learned a lot along the way.
As a matter of fact, mykidsadventures.com is still live—and a lot of the activities, because they're non-digital, are just as valuable today as they were back in 2013. If you're a busy parent who wants to do fun things with your kids, go check it out.
The Social Media Marketing Talk Show
At this point, we had gotten really good at audio content, written content, and physical events, but what we weren't so good at was video. When we started Social Media Examiner, we had lots of video because I was going to lots of events. But right around 2013, we just didn't do it as much.
In 2015, the opportunity arose for us to do something completely different in video, via a platform known as Blab. Now some of you are wondering, "What the heck is Blab?" And others are thinking, "I miss Blab."
Blab was a technology/platform that allowed you to get up to four people live—Brady Bunch-style—talking to each other. You could also have an audience chatting on the side while you were doing a show.
A lot of people got started in live video because of Blab. It wasn't because of Meerkat, Facebook Live, or any of the other platforms that came out. It allowed people to do what they previously had been doing with Google Hangouts On Air, where nobody was watching. With Blab, it was super-engaging, easy, and fun.
That Blab show we started in 2015 was yet another "experiment." We didn't know what would become of it; it was just fun. We would get people like Joel Comm on our show, and we would talk about whatever the hottest new tech was.
That show eventually went from one platform to another platform to another because technology was just going out of business faster than you could possibly imagine. In 2017, we took the recordings of that live show and we started our second podcast. We still have that show today: it's now called the Social Media Marketing Talk Show and it's hosted on Crowdcast.

We have a decent number of people, about 5,000 people a week, who listen to that podcast and 100 or so people per week tune into the live taping. In the beginning, it was simulcast live on every conceivable platform there was. Now, we just record it live on Crowdcast and release the audio as a podcast every Saturday.
"The Journey"
In late 2017, we decided to try something else that was completely different. We started a docuseries called The Journey, which was about Social Media Marketing World. This was a real documentary: we had Mitch from our team filming the stuff that was happening in the office in preparation for Social Media Marketing World and editing it down into episodes.
The goal was that if people watched how we marketed Social Media Marketing World, they would begin to understand that we're just like them: we make mistakes and we struggle. The hope was that they would say, "These marketers are just like me; I want to go to Social Media Marketing World." And, indeed, that did happen.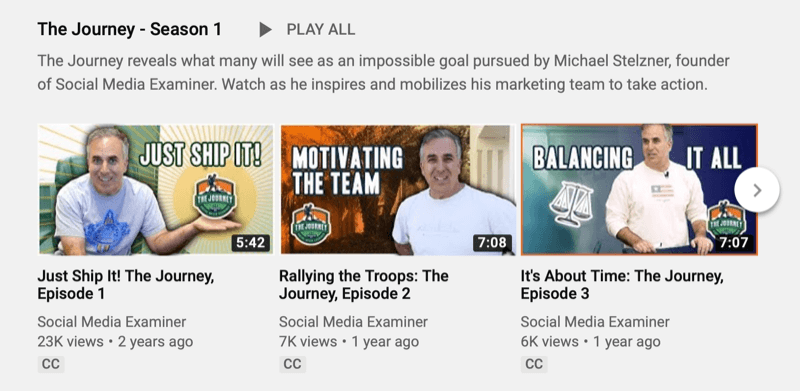 It was outrageously difficult to do because anybody who's ever done documentaries knows that when you're recording a live documentary, you're also trying to find the story. I have a new appreciation for people who do these reality shows like Survivor.
I actually had a chance to meet with one of the co-executive producers of Survivor to get a little behind-the-scenes insight on how he did it, which is a fascinating story. I have a lot of appreciation for that because they don't know what the story is when they're filming. They just kind of have to find the story. And that's exactly what we did with our docuseries, which you can find on our YouTube channel.
It was a great run; it was a lot of fun. It's the good, the bad, and the ugly of everything going on inside of Social Media Examiner. We did two seasons of the series with more than 20 episodes per season.
I would go to lots of other events and people would ask me, "Hey, are you filming The Journey?" A lot of people watched it. The actual numbers were anywhere from as few as 1,500 views per episode up to as many as 20,000+ views per episode. But it wasn't easy to get people to watch the entire series; that's part of the reason we canceled it.
When we went from the live show—I was originally the host of the live show and then Eric Fisher took that over—to the docuseries, we really were just dipping our toes into video. We were trying live video and produced video. It was definitely getting people to know, like, and trust us more.
Social Media Examiner on YouTube
In 2019, we decided to go all-in on YouTube at a level we've never done before. After doing a lot of experimentation with native video on all platforms, we've realized that YouTube holds the biggest opportunity for us. People watch videos for much longer on YouTube than they do on any other platform and our new goal is to establish a loyal base of people who learn by watching video.
At this point, we've captured the readers, we've captured the listeners (that's you guys!), but we really haven't captured the watchers. So we decided to produce two original videos every week in perpetuity on our YouTube channel. I took Mitch, the head of our video division, with me to VidCon, and I interviewed 11 people. That was our first wave, going back to interviewing people, which was something I knew I was good at.
The second wave was to bring people into the studio—people like Mari Smith, Jenn Herman, Rick Mulready, and many others—to record tutorials on specific things in social media that people are interested in learning. We did a lot of research and that's a new part of our strategy.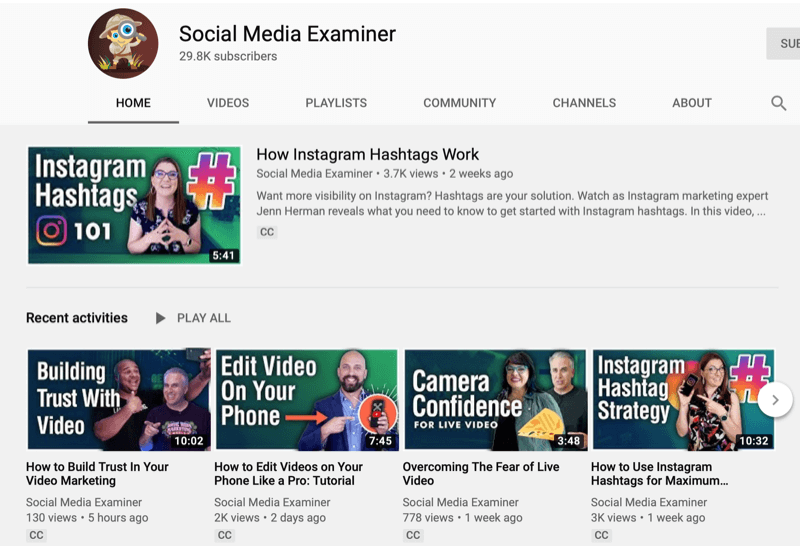 Now, we've finally gotten the video channel pretty strong along with the written channel, the audio channel, and of course, the live events.
I'm not suggesting to you that you should do all of these different channels. But one of the things I've learned is that people learn differently. Some people, like me, love to learn by listening. Other people like you might love to learn by reading, and yet other people might love to learn by watching. We're excited now that we've finally gotten this all figured out.
Applying These Principles to Your Business
So that's the story that brings us up to the present. Now what I'd like to do is sew it all together and talk about what it means for you.
The Importance of Showing Up: To be perceived as super-important or indispensable to any particular audience, you need to constantly keep showing up. And that was something we did at Social Media Examiner. We made sure no matter what, every single week, there was always this podcast available to you. We made sure no matter what, every single day, there was always an article available to those who wanted to read.
I think that was the key: keeping the quality and the quantity going at the same time. That's really important.
Content With Purpose: The other side of consistency is what kind of content is it? In our case, we knew that we wanted to make content that empowered marketers to be better at their job. Remember how crazy it was in the early days of social media? There was an explosion of innovation on all of the social platforms. New platforms were coming out of the woodwork, there was just constant stuff going on and constant change. Our job was to make sure we were there.
Internally, we refer to ourselves as the "trail guides" of the ever-changing social media jungle. So you're in your Jeep, and we're telling you, "Don't go down that path; go down this path," or "Stop here and check this out." That's what we are and what we're all about. And that's what allowed us to become valuable and indispensable to so many different people over the years.
Create Value: If you want to become important in the minds of other people, you need to create content that they find super-valuable. Think about the content that you consume, that you find exceptionally valuable.
What is it about that content that makes you want to listen, read, or watch it every time new stuff comes out? How can you apply what you're learning from other people's content to the creation of your own content? Because your real goal here is to become some sort of a media entity, if you will, even if it's solely as a blogger, a podcaster, or a YouTuber.
Work Well With Others: Ideally, figure out a way to create this valuable content in collaboration with other people. Why? Because when you work with other people, it accelerates your growth. And, fascinatingly enough, when you work with other people, some of their awesome sauce gets rubbed off on you. I don't know how else to say it. But people impute the wisdom on you when you're interacting with them.
And the key to working with other people is to make it a win-win. It's got to be good for your audience and it's got to be good for the other person. You've got to figure out a way to make it a win for both.
Show, Don't Sell: You also need to keep the marketing for your content light. The more you market, the less people are going to like it, and the less people will find it indispensable. But when you keep it light, they'll tell their friends about it. They'll tell everyone about it. They'll tell their boss about it. They'll love the work that you're doing. And the key to marketing is to establish that know, like, and trust factor. If you can get that "like" to a "love," and they really know you, when they're ready to buy, it'll be very, very easy for you to sell.
Key thing: Focus on important content, in collaboration with others, and keep the marketing light. You never know; you might just become the most valuable resource in the industry that you're in. And when you have that, you won't have to pay others to be in front of their audience. Just imagine what you could accomplish with that!
Are You Indispensable?
Think about yourself and your business. Are you creating content that doesn't have a commercial, that is super-valuable, and isn't overly promotional? If you're doing that for your audience, are you getting encouraging feedback from them that tells you you're heading in the right direction? If you are, then you're becoming indispensable to people.
If you ever want to run an experiment, you know you're ultimately indispensable when you decide to go dark for a week and people start freaking out and contacting you. Of course, we would never do that… but that's how you know.
Discovery of the Week
deprocrastination is a Chrome browser plugin that can help turn your browser into a productivity machine. It's one part time-tracker and one part site-blocker.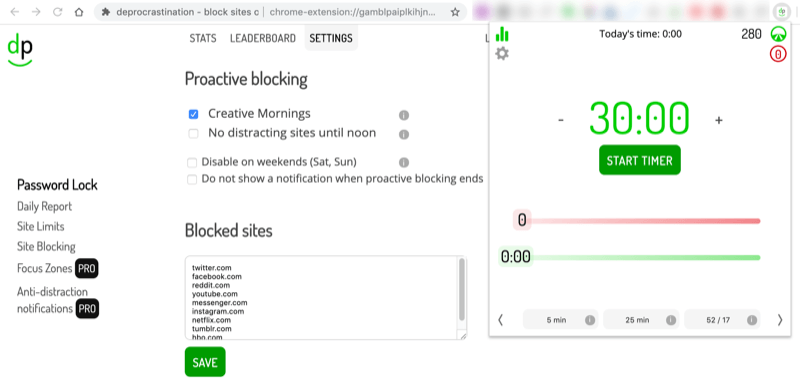 Need to keep your head down and work on a project for 2 hours? deprocrastination can make sure you don't wind up going down any Twitter rabbit holes (unless, of course, that's part of your job, as it is for many of us).
You can block designated pages for set amounts of time or simply track how many times a day you're visiting certain sites. The paid version even includes data visualizations of what days and times you're utilizing certain websites and apps.
The deprocrastination plugin is free as a Chrome browser plugin.
Key Takeaways From This Episode:
What do you think? What are your thoughts on becoming indispensable? Please share your comments below.
3 Days of World-Class Training—Zero Travel!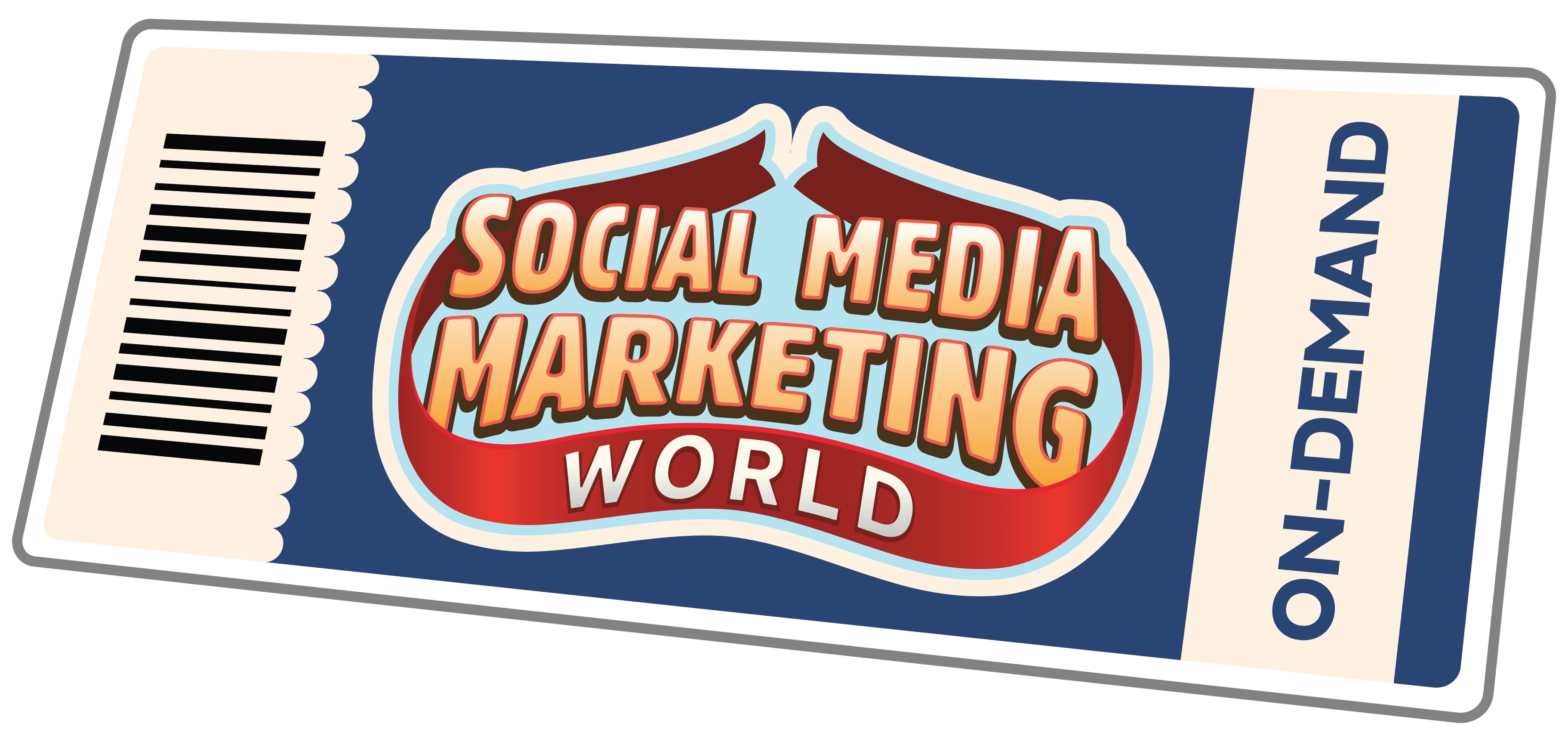 Travel to Social Media Marketing World off the table? Get all of the great content at a fraction of the price with an On-Demand ticket.

That's full access to recordings of every keynote, workshop, and session—the ones people travel thousands of miles to see. Don't wait. Get your On-Demand ticket and enjoy actionable content that you can watch anytime, anywhere.
GET YOUR ON-DEMAND TICKET NOW