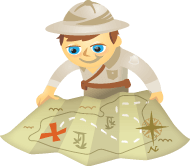 Have you noticed less interaction on your Facebook page in the last few months?
Getting your updates to appear in the coveted news feed is more challenging than ever.
I don't have answers as to how the elusive Facebook algorithm works.
What I do have are some suggestions on how to ensure that your page posts are being seen by your fans to give your page the maximum visibility.
UPDATE: Be sure to check out the new Facebook Pages for more up-to-date information. Facebook rolled out the new Timeline design to Business Pages after this article was published.
#1: Train Your Audience to Watch for Your Content
You want to make sure you are delivering good content so that your audience won't want to miss a thing. The best way to do this is to work toward building super fans. Use these Facebook marketing strategies.
When you are delivering good content, interacting and building a community, your fans will come to your page on their own when they haven't seen your posts. Be consistent with your posts (i.e., posting every day at 10 am, for example). Then your fans will know when they are missing something and come seek you out.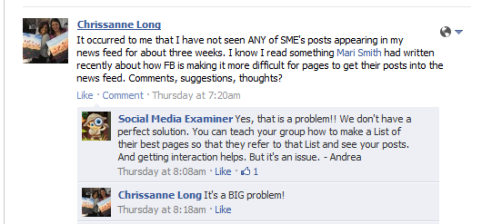 But then what? You can't expect your audience always to come to you. That's why you must take the next step.
#2: Educate Your Audience to Highlight Your Stories in Their News Feed
The good news is that Facebook pages are showing up in the news feed. People have a choice when viewing posts to highlight the story. When someone highlights a story, it indicates to Facebook that the person wants to see more stories like that one.
When a story has been highlighted, there is a little blue triangle in the upper-left corner of the story. Facebook typically chooses which stories to highlight based on past interactions, so getting more engagement (post likes, comments and shares) can also help indicate to Facebook that your page posts are important to a user.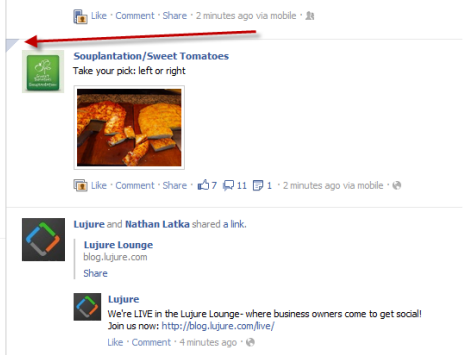 You can encourage highlighting by telling your audience to highlight your post so that they continue to see your posts. You won't get any statistics about how many people actually do highlight your post, but you may get instant feedback and a better chance of showing up in the news feed!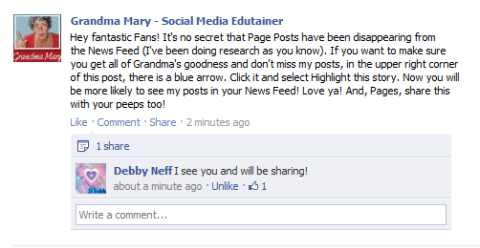 Notice how you can highlight a story by clicking on the blue arrow in the upper-right corner of a post that has not been highlighted.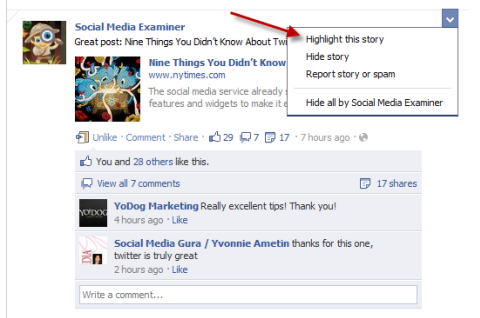 Highlighting a story may be a good start to increasing your visibility, but there are other steps you can take to ensure it.
#3: Tell Your Audience to Create a Favorite Pages List
Again, make sure your audience knows that pages aren't showing up in the news feed as often. If you are delivering good content and building relationships, your audience will want to stay in contact with you.
🌟 Ready to Supercharge Your Social Marketing Strategy? 🌟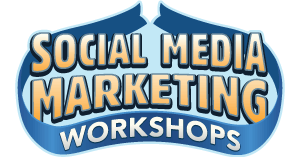 Struggling with your social marketing? You're not alone. The solution? The Social Media Marketing Workshops!

During these live 2 hour deep-dive workshops, you'll discover what's working now on Instagram, Facebook, TikTok, YouTube, and LinkedIn. Skyrocket your engagement, broaden your reach, and amplify your sales.

Become the marketing hero your company and clients need—without leaving your home!
🔥 Save $670 on an All-Access Ticket! Sale Ends Tuesday! 🔥
GET YOUR TICKETS NOW
A way to ensure that people always see your posts is to have your fans put your page on a special "favorite pages" list. You will have to educate your audience how to create this list (sharing this post with them would be an easy way to accomplish this goal!).
The easiest way to create the favorite pages list is to follow these steps: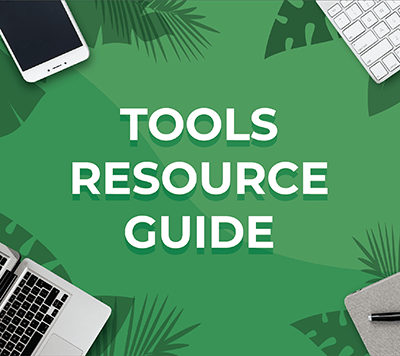 Looking for something to make your life easier?
Discover the tools we recommend to drive engagement, save you time, and boost sales across your entire marketing funnel or business.
Whether you need help planning content, organizing social posts, or developing your strategy, you'll find something for every situation.
FIND YOUR NEXT FAVORITE TOOL
Go to your Lists on the left sidebar of your home page and click More.
Click Create a List in the upper-right corner.

Create your new list.

Enter the name of your list in the pop-up box (you can call it "Favorite Pages" or "Tech Pages" or whatever makes sense for the pages that you will be adding to this list). Click Create.
On the right side, you can type in the names of the pages you want to add in the search box. But the easiest way is to click the drop-down menu Manage List and select Add/Remove Friends.

Select Add/Remove Friends.

All of your friends are now showing in the pop-up box, but in order to see pages as well, you need to select Pages from the drop-down menu in the upper-left corner of the pop-up box. Now you can easily select the pages you wantto be on this list.

Find the pages you want to add to the list by selecting Pages.
After you have created your list, all you have to do to see all of your favorite page updates is to click on the Favorite Page list (or whatever you titled your list) on the left sidebar under the Lists heading. You can also make this a Favorite item so it's always showing at the top of your left sidebar as shown in this screenshot.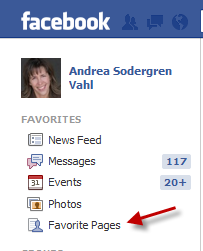 To add a list to your favorites, navigate to your lists by clicking More next to the lists on the left sidebar and navigating to the list name. Click on the pencil icon and then select Add to Favorites.

#4: Leverage the Facebook Subscribe Button
Because personal profile posts are being shown more in the news feed, you may want to start using your personal profile more for business. Facebook terms state that you aren't supposed to "use your personal profile for commercial gain" as shown under their Statement of Rights and Responsibilities, point #4.  But you can talk about your business! Direct people to your blog posts, give helpful tips and talk about what events you are participating in.
If you are worried about privacy, the Facebook privacy settings have gotten better so you can control who sees each update. Your customers want to connect with you personally on Facebook (not just via your Facebook page) and the Subscribe button will give them that personal connection.
If you are the face of your company, or are networking and connecting with people, leverage the Subscribe button by enabling it. Find out more about the Subscribe button in our post here.
Mari Smith recently included similar posts on her Facebook page and her Facebook timeline. Her post to her personal profile got almost 4 times as much engagement (comments, shares and likes). To be fair, she does have almost twice as many subscribers (113,000) as fans (60,628) but that in itself is amazing as she has had her Facebook page up for years but her Subscribe button open for less than a year.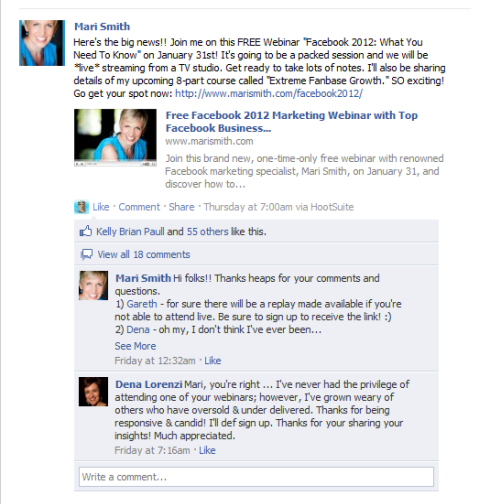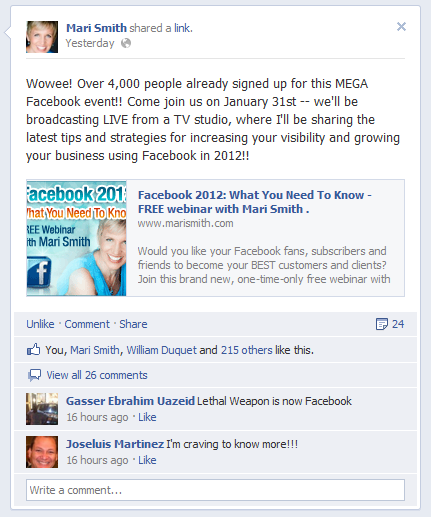 One other powerful part of the Subscribe button is that Facebook is giving suggestions of whom to subscribe to within Facebook. Navigate around and you will see these suggestions in the upper-left corner of certain pages. Yet another way you can gain exposure with a new audience!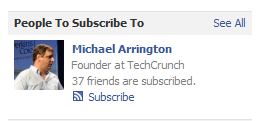 I hope these four suggestions give you some new ideas on how to gain visibility for your business with both your Facebook page and by adding your Facebook profile into your marketing strategy.
How about you? What do you think about the decreased exposure of Facebook page posts? Have you found your interaction has gone down or stayed about the same? Leave your questions and comments in the box below.
Get Your FREE Course: Web3 for Beginners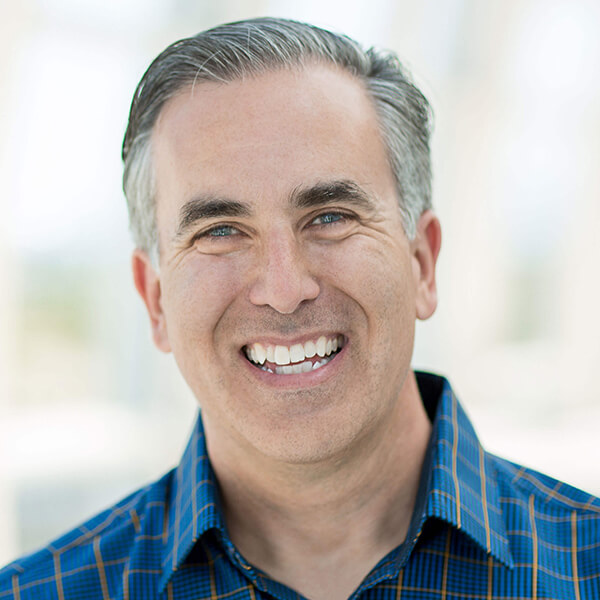 Curious about Web3, but don't know where to start or who to trust?

Introducing Web3 for Beginners, a course taught by Michael Stelzner, the founder of Social Media Examiner.

Learn the basics of Web3 and apply it to your business with this FREE comprehensive course.
CLICK HERE TO GET FREE ACCESS