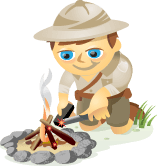 Managing, monitoring and updating Twitter accounts takes time and effort. Especially if you're looking after multiple accounts.
You definitely need a great app on your side to make things as simple and easy as possible.
Today I want to examine the best web-based third-party Twitter clients available.
Let's take a look at what they have to offer and what's missing.
#1: HootSuite
Like most social media dashboards, HootSuite uses a simple column layout. The light color scheme makes it easy on the eye and helps links and menu buttons to stand out.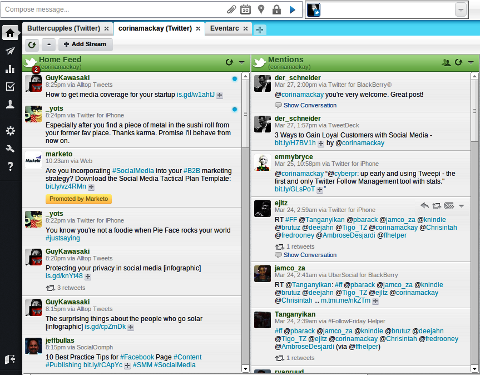 Options for different-sized columns give the user control over the look and feel of the dashboard.

The Compose box for new updates finds a nice balance in HootSuite. It never disappears completely, so it's not difficult to find, and yet it remains compact until clicked.
Creating, scheduling and sending updates are a breeze with HootSuite. My only issue with the Compose box is that the profile pictures are quite small and in a separate drop-down box, which makes it fairly easy to forget to check which account you are using.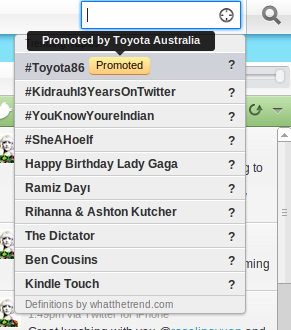 Powered by What the Trend, HootSuite automatically shows the latest trending topics on Twitter when you click inside the Search box. Searching for a keyword or user will produce a pop-up box showing the results stream. From here you can save the stream to your dashboard or search for other topics.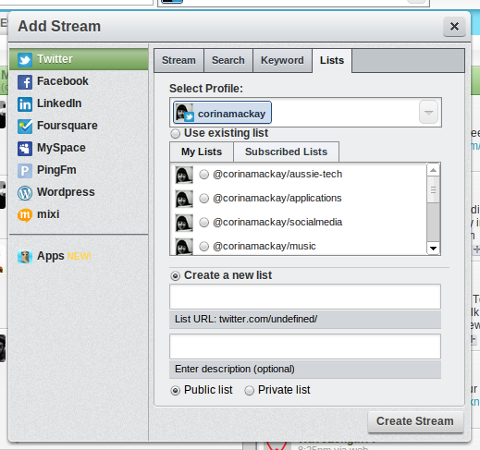 HootSuite's Twitter list integration is excellent, allowing you to create new lists and follow those you have already set up.
Most of these features are similar—if not the same—as those offered by the other apps discussed here. HootSuite's real standout features are the ability to easily share accounts with other team members and set up various tabs. The ability to create reports and have them sent to you automatically also makes this a great tool for monitoring business accounts.
Killer feature: Tabs. It's almost like having multiple HootSuite accounts set up within the dashboard. Each tab can have different columns and searches that are saved to your HootSuite account.
Biggest flaw: Design. While HootSuite doesn't look bad, the design is ordinary compared to TweetDeck and Seesmic. With so many unique features, I would use it exclusively if it looked better.
#2: Seesmic
One app I can't stay away from despite its flaws is Seesmic. The design isn't perfect, but it makes a nice change from the busy, boxy look of HootSuite. The color scheme is almost the same, although Seesmic does offer a dark option as well.
The Conference You've Been Waiting For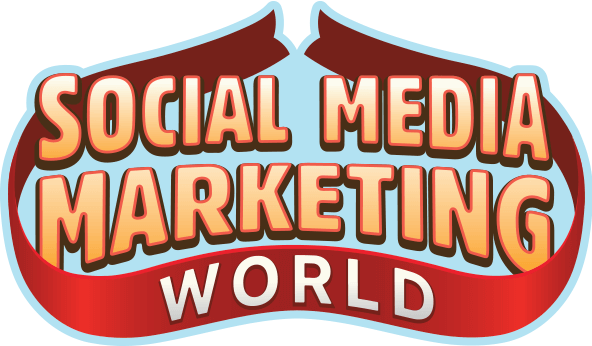 As a small business marketer, you can probably only pick one or two events to attend each year. Get back into the game with an unbeatable conference experience and expert training at Social Media Marketing World in sunny San Diego, California—from your friends at Social Media Examiner.
🔥🔥 As a valued reader, you can save $670 if you act now! Sale Ends Friday!
CLICK HERE TO LEARN MORE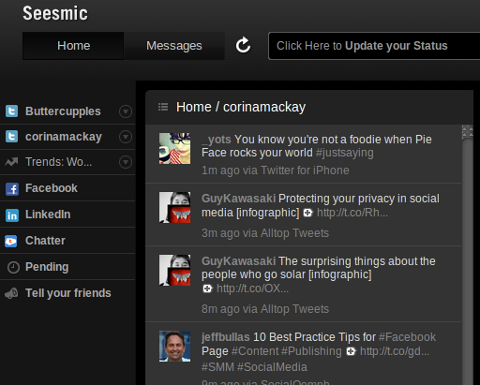 Many social media accounts can be connected to Seesmic, but this platform is best used for managing just one or two. A quick way to switch between accounts like HootSuite's tab feature would improve the user experience.

Killer feature: Design. Color scheme options, rounded edges, better spacing around columns and less clutter across the top of the dashboard make Seesmic more pleasant to use.
Biggest flaw: Lacks features like tabs and analytics, which would make it a more robust option.
#3: TweetDeck
With Twitter's acquisition of TweetDeck, several things have changed—some better, some not so much.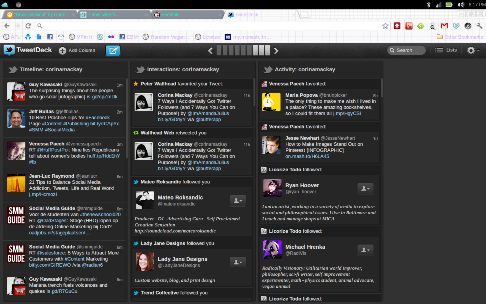 The blank space in the screenshot above is one of the "not so much" changes. One of the better-known social media dashboards, and preferred by many Twitter power users, TweetDeck has sadly taken a huge step backwards with its most recent update. Column-sizing issues are a real downer in this version.
On the upside, the addition of two new column types is very handy. The Interactions column shows not only mentions of your Twitter handle, but also retweets of your updates, users who follow you and users who favorite your tweets.
Get Expert Social Media Marketing Training from the Pros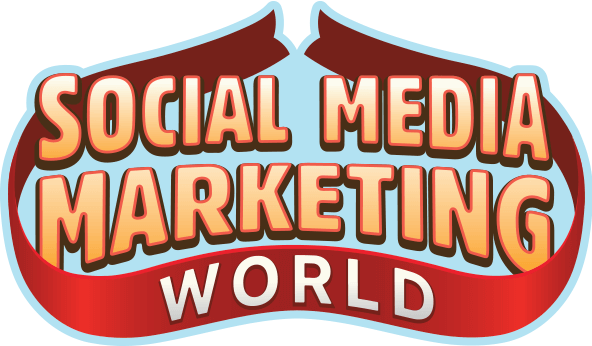 Want to get ahead of the competition and learn how to diversify your social marketing strategy?
Learn from the industry's most trusted experts, rub elbows with other smart marketers, and take your marketing to the next level during this 3-day event in sunny San Diego, California.
CLICK TO LEARN MORE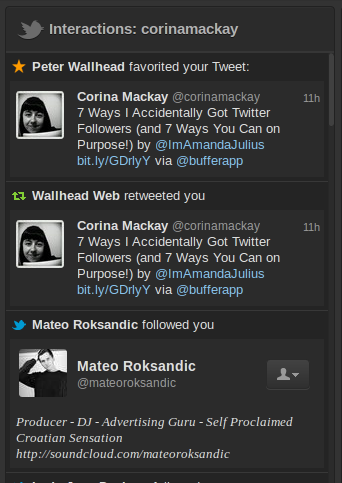 The Activity column includes actions from users who you follow. When they follow other users, add them to lists or favorite tweets, this will all show up here.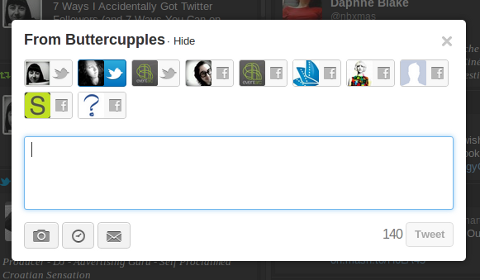 Although hidden behind a single button above TweetDeck's columns, the bright blue square makes the Update box stand out so you won't miss it. The box has a simple layout, similar to both Seesmic and HootSuite, although it's bigger and includes larger profile pictures. Clicking the profile pictures also changes the "from" statement at the top of the update box, making it very clear which account you are using.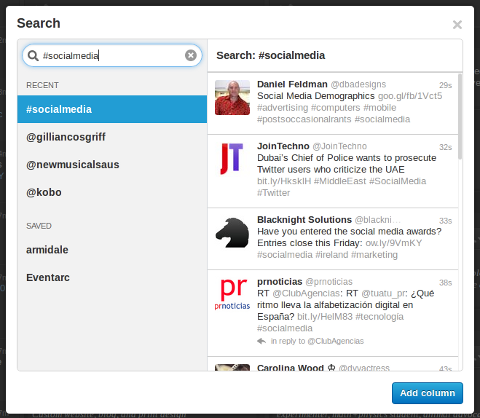 Without tabs or a similar feature, TweetDeck requires a lot of scrolling to see all of your columns. The column buttons across the top of the dashboard make this a lot easier, though. When you hover over one of the column buttons, its title will be shown, allowing you to quickly find and jump to particular columns. This is one feature I'd love to see other dashboard apps integrate.

Killer feature: New Update box. When managing multiple accounts, the easier it is to send off (or schedule) a quick update and ensure it's being sent from the right account is imperative. TweetDeck has the most user-friendly update process.
Biggest flaw: Lack of features needed to manage multiple accounts. More than two accounts will make a mess of your TweetDeck dashboard. Especially if you are monitoring hashtags, lists and searches, as well as general account activity.
#4: Twimbow
An up-and-comer in the field of social media dashboards is Twimbow. With a focus on colors and heavy on unique features, users of Android Twitter client Twicca will love this one.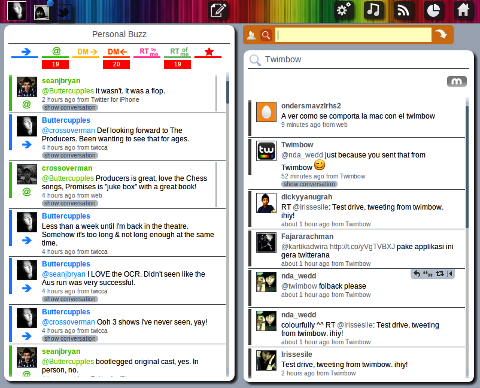 Twimbow's feature list is impressive, and it offers the user a lot of control over the personalization of the dashboard. Color-coding is preset but adjustable, as are the items that show up in the Personal Buzz column (shown on the left in the screenshot above). With just a click, the user can select (or deselect) any type of activity within the Personal Buzz stream to show only what's relevant.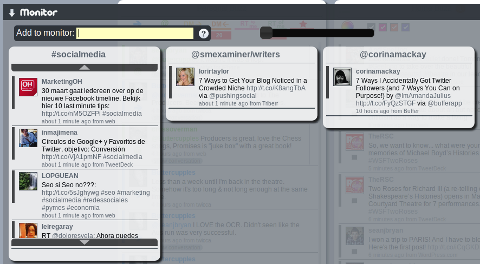 In the monitor, the user can add any kind of column: lists, searches, hashtag streams or even particular user streams. These columns can be moved with a drag-and-drop motion to fit the user's needs. When not in use, the monitor is shown by a grey bar across the bottom of the dashboard.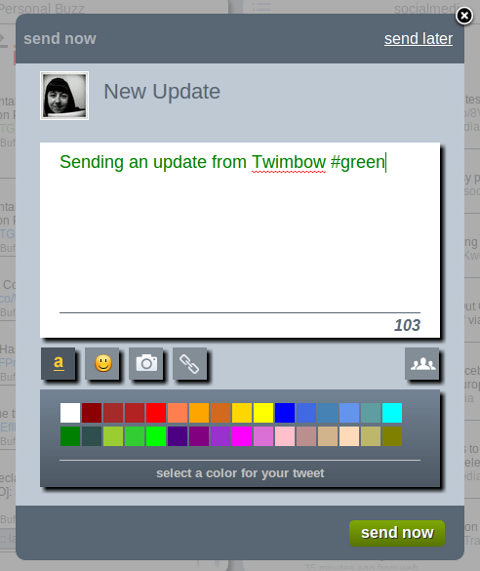 Twimbow's unique features really make it stand out as a great personal dashboard. The color-coding options (applicable to update types, specific users or whole user lists) could make it a useful tool for monitoring business accounts or related updates as well. Of course, color schemes are available—more than any other dashboard I've used.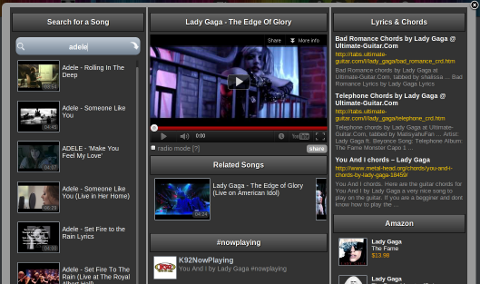 With the music player, you can listen not only to your favorite songs, but also turn on the radio feature to create a playlist of related tracks, see tweets tagged #nowplaying that mention the artist you're listening to, share the songs on Twitter and track down a copy of the CD online.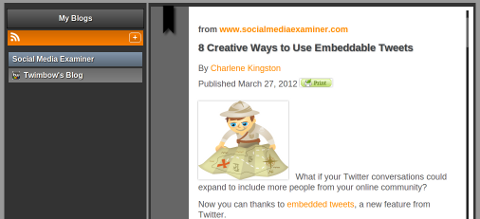 Browsing Twimbow's top RSS feeds or adding your personal favorites will make the built-in RSS reader a handy tool for discovering great content to share.
Killer feature: Personalization. Color themes, color-coding, drag-and-drop columns, built-in RSS feeds and a music player. Impressed yet?
Biggest flaw: Hiding the monitor. Although the option to keep the monitor out of the way is great, not being able to have more columns in the main view makes it hard to manage multiple accounts from this dashboard.
Every app has its benefits and flaws, and of course these are just my opinions. I'd love to hear your thoughts, though. Last time I wrote about Twitter apps, the majority of our readers were waiting for something to trump HootSuite.
What do you think? Are you using HootSuite or one of these others? Or something else? Let us know in the comments section below.
Curious about NFTs, DAOs, and Web3?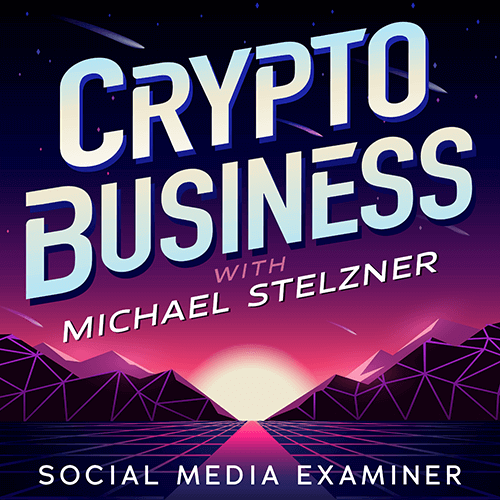 Follow the Crypto Business podcast to find out how NFTs, social tokens, DAOs (and so much more) will affect your business in the near future.

Every Friday, host Michael Stelzner interviews leading industry experts about what works right now in Web3 and what to expect in the future, so you can prepare your business for the shift, even if you're a total newbie.
FOLLOW THE SHOW