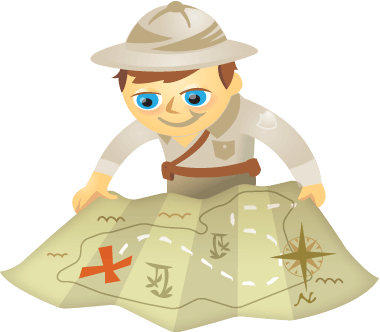 Want to use Facebook Live for more exposure?
Looking for ideas to help you broadcast more often?
In this article, you'll discover three creative ways to use Facebook Live.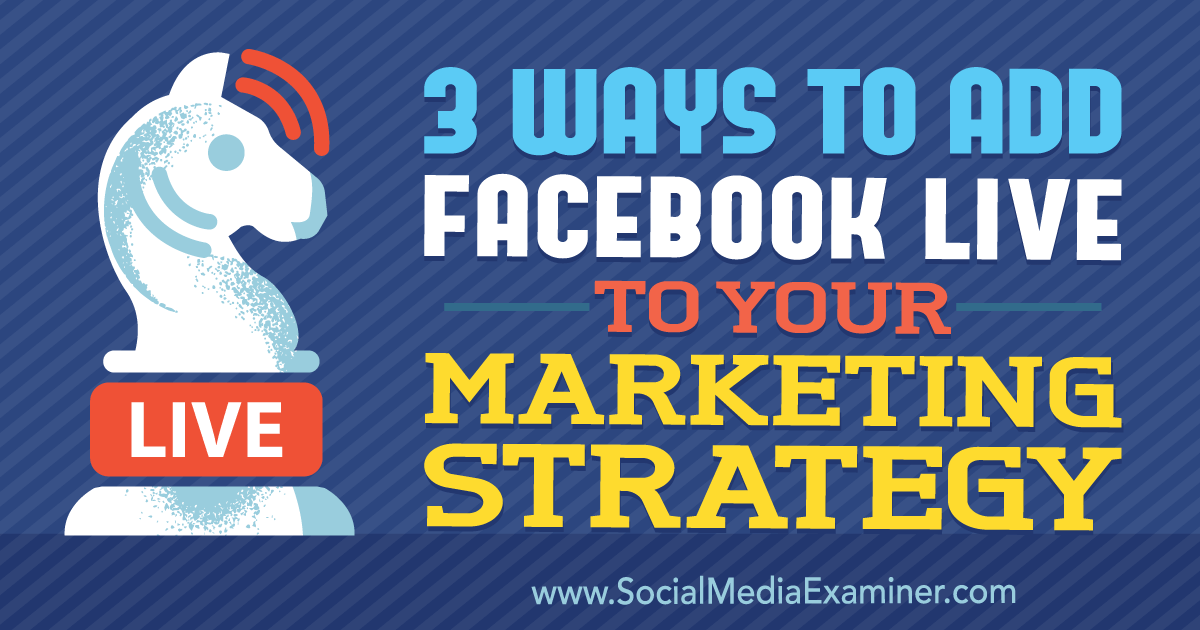 #1: Join Forces With an Influencer in Your Field
Co-marketing is one of a marketer's strongest tools. By teaming up with another company or influencer, you can increase your exposure to potential customers.
How do you achieve this with Facebook Live? By identifying a key thought leader in the same or similar area as your business and featuring him or her in a Facebook Live broadcast.
In their beautiful test kitchen, Food & Wine Magazine hosted a Facebook Live video of chef Marcela Valladolid creating a dish from her new cookbook. The live broadcast allowed Food & Wine to engage with tons of potential new readers and Valladolid got publicity for her cookbook, which appeared at the beginning of the video.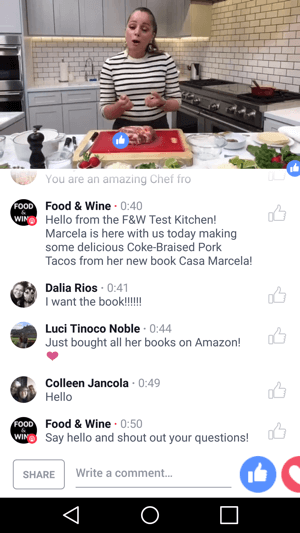 To use this tactic in your Facebook Live marketing, locate a co-marketing partner, ideally a thought leader or influencer whom people will recognize and you expect will be good on camera (remember, you want this to be entertaining).
Next, identify a topic you want this person to speak about or demonstrate. If you run a gym, for example, find a local fitness personality to show a quick exercise sequence. If your business is in home contracting, work with another professional in a complementary area to create a quick home improvement DIY video. The key to co-marketing is creating a mutually beneficial relationship.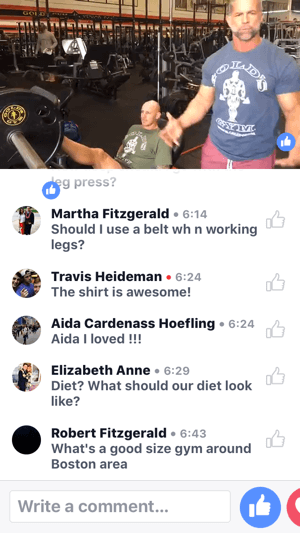 During the broadcast, as Food & Wine did, stay involved with your audience to answer live questions either on air or in the comments section. Make sure to mention the audience member by name when you answer questions in the comments (a Facebook-recommended best practice).
Social Media Marketing Society (Ongoing Online Training)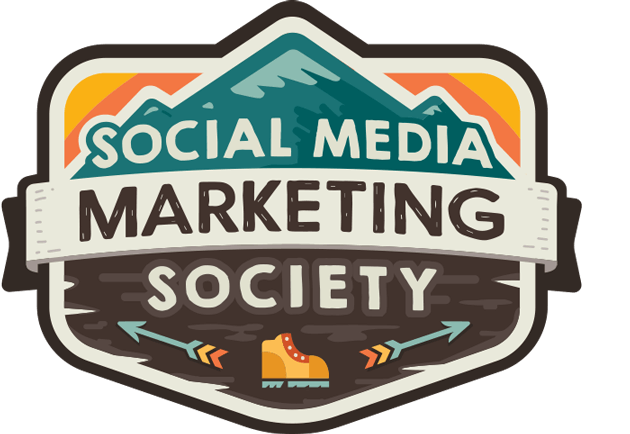 Want to gain marketing confidence and accelerate your career? Try the Society to discover new marketing ideas, improve your results, get support, and become indispensable. Join us for ongoing training, insight from pros, and a community of supportive marketers who understand you.
START YOUR TRIAL MEMBERSHIP
Takeaway: Facebook Live is a great vehicle to further your co-marketing efforts. Select a business partner to work with and create a live video to move toward your respective marketing goals.
#2: Take Your Audience Places They Can't Go
Journalists and news outlets help people experience events and news stories they can't be part of in real life. Facebook Live takes this to another level by allowing everyday people to see through the eyes of other people who broadcast.
The New York Times frequently airs Facebook Live broadcasts, and in one example they live-streamed their TimesTalks event, featuring musician Roger Waters. The Times encouraged viewers to submit questions for Waters during the broadcast.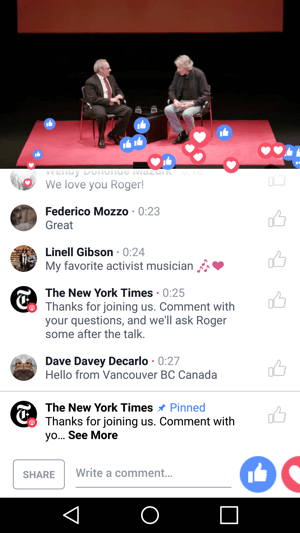 To use this tactic for your business, go live at your own industry event or a conference your customers and partners would be interested in. Be sure to promote your broadcast early and often to ensure people know when you'll be going live.
Put Google Analytics to Work for Your Business (Online Training)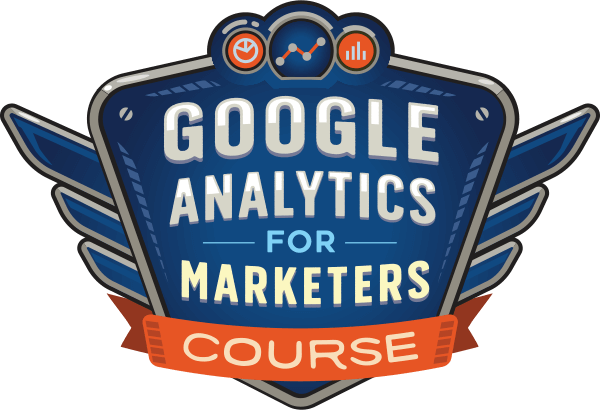 Ever thought, "there's got to be a better way" when it comes to tracking your marketing activities? Are you forced to make decisions based on limited data? With the right training, you can use Google Analytics to measure all of your marketing efforts with certainty.
You'll stop the leaks in your ad spending, justify your marketing spend, gain the confidence you need to make better marketing decisions, and know what's working at every step of the customer journey. Let the world's leading analytics pro show you the way. Check out our new Google Analytics for Marketers course from your friends at Social Media Examiner.
CLICK TO LEARN MORE: ANALYTICS TRAINING
It might seem counterintuitive to broadcast a lengthy event, but Facebook recommends longer broadcasts because they give users more chances to discover your content. You can broadcast in segments as long as four hours.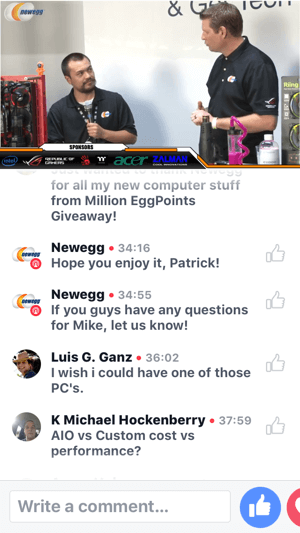 To engage your audience, encourage questions in the comments and answer those questions if there's a Q&A session. Keep a steady video image by investing in a mobile phone tripod.
Takeaway: Going live at your own industry event or conference session is a great way to give something valuable to your extended audience, exposing them to a moment they wouldn't be able to experience otherwise.
#3: Host a Recurring Talk Show
Facebook Live doesn't have to be a one-person show. You can run talk show-like live sessions for your business to cover key topics in your industry and engage your users. Creating a talk show with two or three co-workers takes the pressure off of one person, is more engaging for viewers, and can help strengthen customer relationships by increasing familiarity.
Refinery29, an online fashion and lifestyle publisher, hosts The Mention, a talk show on Facebook Live that covers entertainment, current events, and other topics. The video below had received around 49,000 views at the time this article was written.
Airing a talk show like Refinery29's takes a little planning, but it isn't impossible to pull off. Weeks before you intend to broadcast, select your talk show hosts, identify key topics, and then plan each show as far in advance as possible.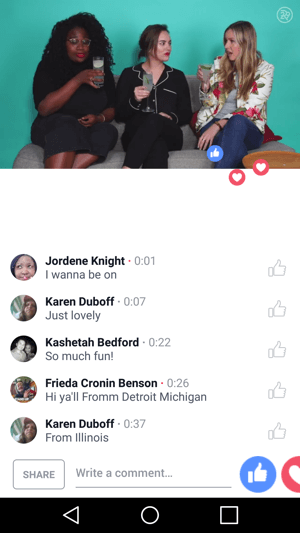 What subjects will you address? Will you have guests? Will each episode follow a similar format? Don't plan every detail because you may be able to engage your audience further by soliciting suggestions for future episodes.
Entice your viewers to follow you to stay tuned into the series and offer incentives to watch. For example, answer some questions the following week or hint that viewers will get a special discount or surprise gift.
Also, it's a good idea to select one person to monitor the comments for each live broadcast and answer them via a mobile device or on air. This person could be a member of your talk show group or someone off-camera. For the actual recording of your Facebook Live video, consider using a computer and an app such as Wirecast or OBS Studio for a more professional look.
Takeaway: The more the merrier! With a Facebook Live talk show broadcast, you can engage your audience and keep them coming back for more content, which over time can bond them closer to your brand.
Bonus Tip: Involve Your Audience in the Broadcast
There's a variety of ways you can get your audience involved and participating in your Facebook Live broadcast. Here are a few tactics you might try:
If your business is a non-profit, run a live donation drive, frequently asking for contributions and updating users regularly with progress toward your goal.
Interview a customer or industry thought leader using audience questions.
Get viewer opinions on your product in a Facebook Live broadcast and then share how you used that feedback in another broadcast.
Whatever you do, make your audience feel like they're part of the broadcast.
Conclusion
Facebook Live, launched in 2015, is still a relatively new addition to the social media marketer's arsenal, and plenty of businesses are still unsure how best to use it to their advantage. You can learn tons of great Facebook Live lessons from the original expert content creators: publishers.
What do you think? What ideas will you try in your live video broadcasts? What tips can you offer? Please share your thoughts in the comments below.