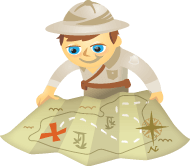 Is your Instagram marketing working? Wondering if you're making mistakes that could hurt you?
In this article, we asked some of today's top Instagram marketers to share common mistakes they see and how to avoid them.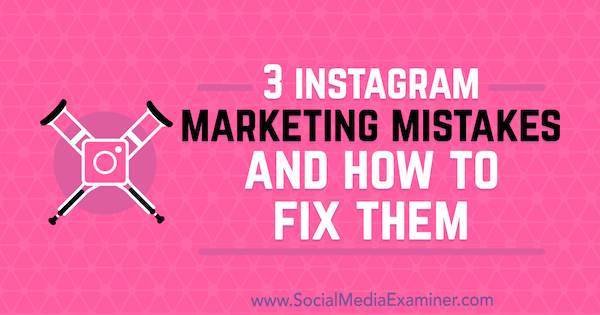 #1: Using Instagram Hashtags Incorrectly

In 2018, Instagram finally allowed hashtags in a profile's bio description to be clickable from mobile devices.
The mistake many people made was to dump a bunch of hashtags into their Instagram bio in the same way they would in a Twitter bio. There are a few reasons why this isn't a good idea.
First, the hashtags in your Instagram bio don't have any impact on Instagram search results. What this means is that if someone searches for a keyword on Instagram, your bio (and any hashtags you've added there) won't show up in search results. The only fields that Instagram search scans are the Name and Username fields.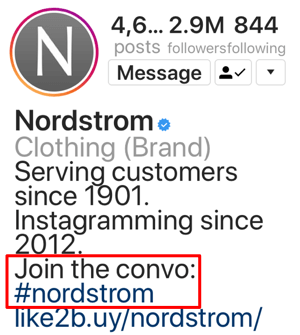 Second, if you use popular Instagram hashtags or hashtags that lead to other people's content, you're sending visitors away from your own content. To illustrate, if you're a photographer and use #Photography in your bio, when people click on that hashtag, they're leaving your profile to go to a gallery of millions of other posts unrelated to you. There's no good reason to send people away from your bio this way.
Third, a list of hashtags in an Instagram bio looks amateurish and will often discourage new followers.
To avoid these issues, don't put hashtags in your bio. The exception to this would be to use a single branded hashtag that leads to content related to your brand or business and augments what people see about you on Instagram.
Jenn Herman, a social media consultant, speaker, and globally recognized Instagram expert, is the author of Instagram for Business for Dummies.
#2: Posting Without a Content Strategy

I see too many people make the mistake of posting random content that doesn't align with their strategy.
Rather than posting randomly or making a guess as to what content your audience is after, you should lean into your data to guide your strategy.
To do this, dig into your Instagram Analytics. Begin by scrolling through your past content. You want to compare and analyze your audience's response to the type of media (post vs. video), the topics (business vs. entertainment), and outcomes (promotional vs. nurturing).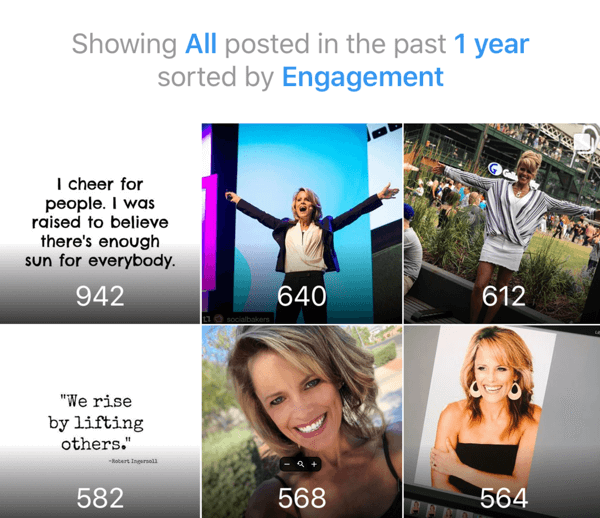 Get Expert Social Media Marketing Training from the Pros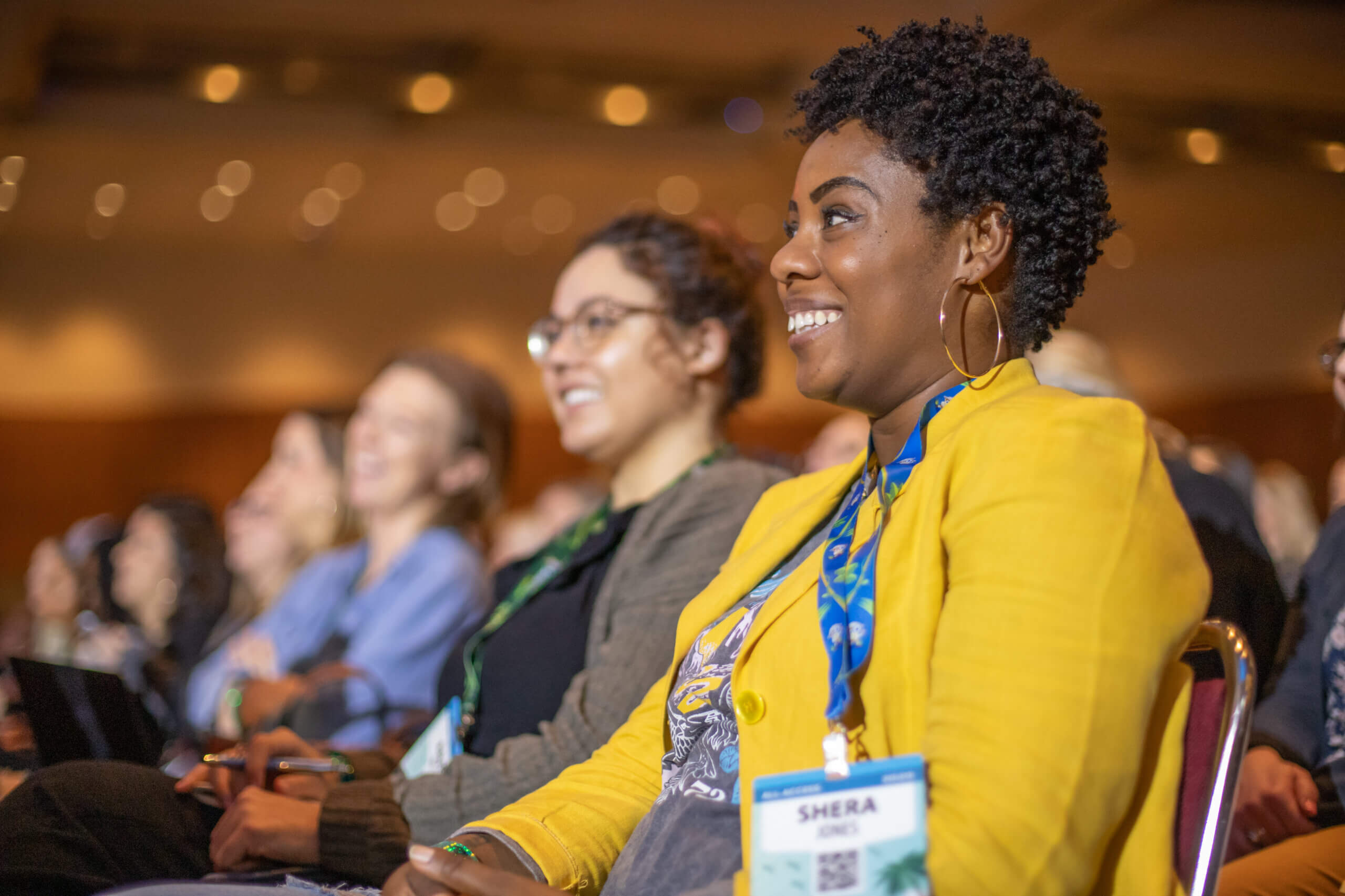 Want to get ahead of the competition or learn how to diversify your strategy?
Learn from dozens of the industry's most trusted experts, rub elbows with other smart marketers, and take your marketing to the next level during this 3-day event in sunny San Diego, CA.
CLICK TO LEARN MORE
You're looking for a common thread:
What visual content is your audience engaging with already?
What topics have struck a chord?
What's the commonality? Is there a specific filter, background, or style your audience seems to prefer?
Once you identify what's working, you can translate those successful posts into additional pieces of visual content that use the same elements.
To visualize this, let's imagine you're a nutritional coach and your Instagram Analytics data reveals that your audience loves health and fitness tips that show them how to eat right without starving, giving up meals, or never eating out.
You could write a blog post on healthy ways to love what you eat and still lose weight. Then, rather than creating a bunch of one-off or random pieces of content for Instagram, take the one part of the blog that aligns with your analytics findings and turn that into a variety of visual pieces.
Here, you can see how Laurie Christine King used what she learned from her blog's Google Analytics data and her Instagram Analytics to tie into new media for Instagram content.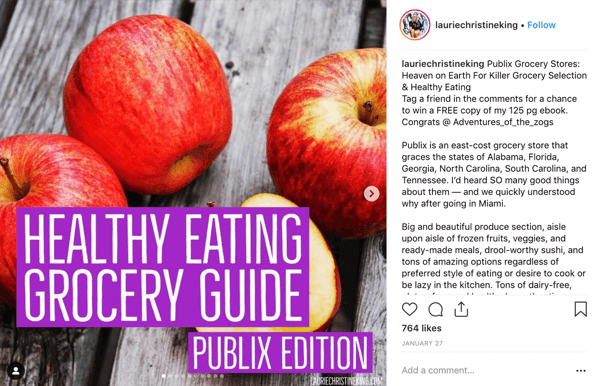 The key to this tactic is focusing on the benefit, the solution, and the transformation your audience will feel.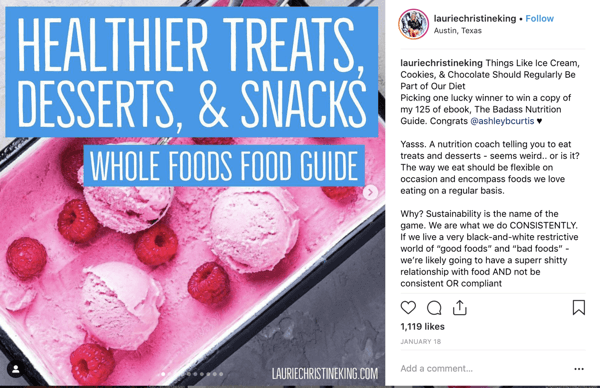 Rather than guessing, you're looking at data to tell the story, guide your strategy, and grow your audience through a focused visual strategy.
Rebekah Radice is the founder of RadiantLA, an international keynote speaker, and the author of Social Media Mastery: A Comprehensive Guide to Strategic Growth.
Experience Social Media Marketing World Without the Travel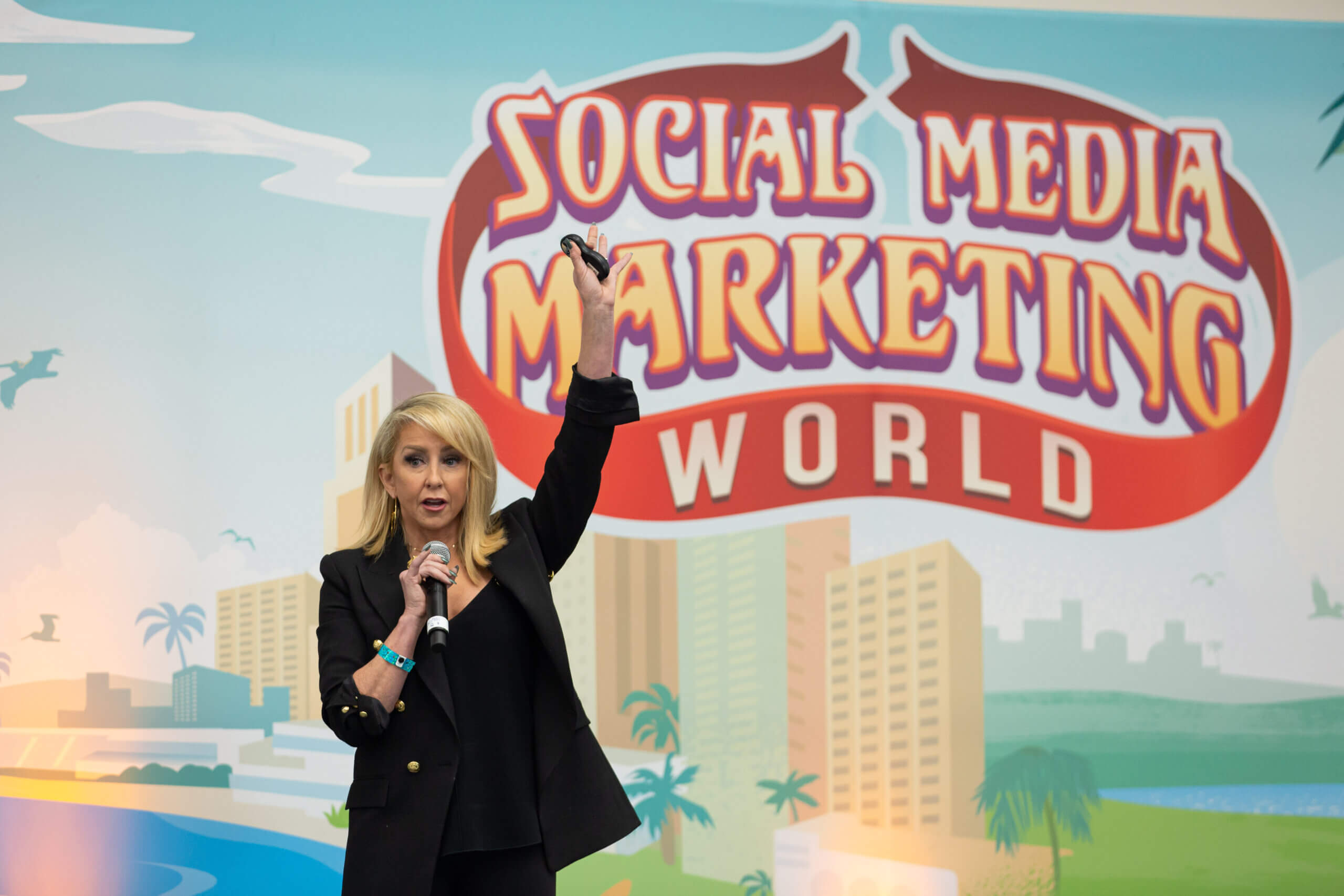 Imagine learning from the world's top social marketing pros without ever leaving your home or office.
Attend Social Media Marketing World virtually with an On-Demand Ticket. Watch all the sessions, keynotes, and workshops when and where you want! You'll walk away with real business-building ideas without having to deal with the stress or expense of travel.
CLICK TO LEARN MORE
#3: Prioritizing Growth Over Engagement

People tend to think that if they can just get more followers, they'll have more customers. But are you converting the followers you already have into customers?
The answer isn't more followers. The answer is to double down on your current audience and serve them well to convert your current followers into customers. You need to go deep, not wide.
What I mean is that you need to deeply understand why your current followers are following you.
So how do you go deep? You talk to your followers. Respond to every comment, have a conversation with everyone in your DMs, and follow up on every poll response.
And if you're saying, "Jasmine, I would talk but no one is talking to me," my questions then become:
How many comments have you left on others' accounts?
How many DMs have you sent just to give a little Instagram love?
I believe in the 10X rule. If you want one comment, leave 10 comments on others' posts. If you want a DM, send 10 DMs.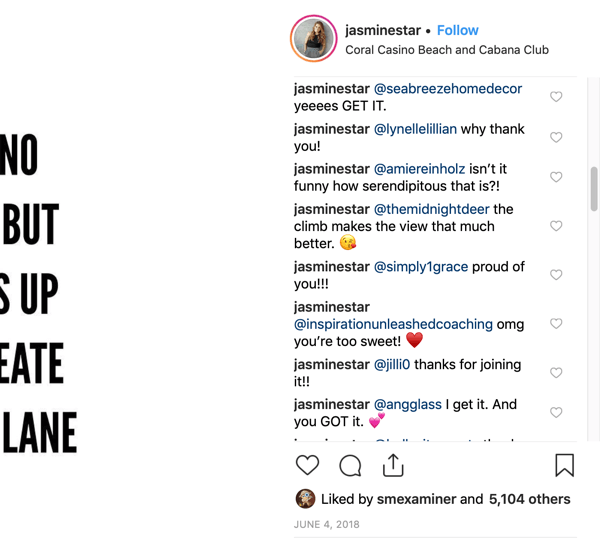 When you engage with your followers, then you understand them. When you understand them, you know how to talk to them. And when you talk to them, you know how to help them.
My friend, we aren't in the business of business, we're in the business of serving people so their lives change.
The next time you think you need more customers, please don't be persuaded to think you need more followers. Instead, have deep, meaningful conversations with your current audience and solve their problems in a way that resonates with them.
In a sea of others offering the same service or product as you, you'll be the only choice for your audience because you understand them differently than the others do, you talk to them differently, and you help them differently.
Jasmine Star, an internationally recognized photographer, leveraged Instagram to build a six-figure business in her first year.
Bonus: Relying on Automation
People are automating Instagram like it's another "thing" to do. They schedule everything and then forget to reply to comments—which is moving them away from the engagement that makes Instagram truly special.
Yes, having great visuals is valuable and scheduling posts is helpful, but the magic in social media marketing is in the conversations.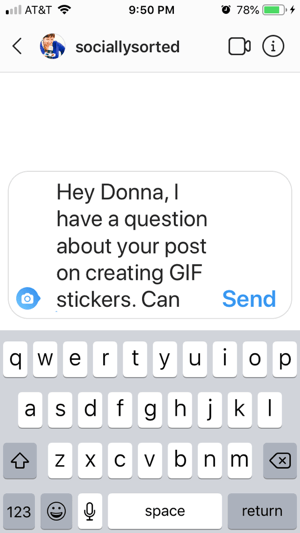 This is especially true on Instagram where it's easy for you and your followers to connect with each other in the DMs.
Here are a few things you can do to put the focus back on Instagram engagement:
Ask questions and invite people's input. If you want a more engaged following, engage! Make it clear that you're happy to chat with people in the DMs. You can learn a lot from your ideal customer via these conversations.
Make your followers feel special by delivering Instagram-only content. Rather than sharing repurposed content from your other marketing channels, give your audience a first look at something, a sneak peek, a reveal, or a coupon code just for your Instagram story viewers.
Reply to every comment and message. If it's a legitimate comment on your Instagram feed or story, then reply as soon as possible. Get into the habit of checking your DMs a couple of times a day to be responsive. It might seem like a lot of work, but people are looking for connection and they'll value (and remember) the few seconds it takes you to respond.
As soon as marketers treat Instagram less like a way to sell and more like a place to build relationships, they can start to tap into the power of connections with their followers… who are more likely to become customers and repeat customers when they get to know the people behind the brand!
Donna Moritz, a sought-after speaker and trainer, is an Australian visual content strategist and founder of the award-winning blog, Socially Sorted.
Conclusion
Instagram marketing is constantly changing. What you think should work today can be proven wrong tomorrow. It's easy to make marketing decisions that take you down the wrong path.
What do you think? What mistakes do you see Instagram marketers making? Please share your thoughts in the comments below.
More articles on Instagram marketing:
Experience The World's Largest Social Media Conference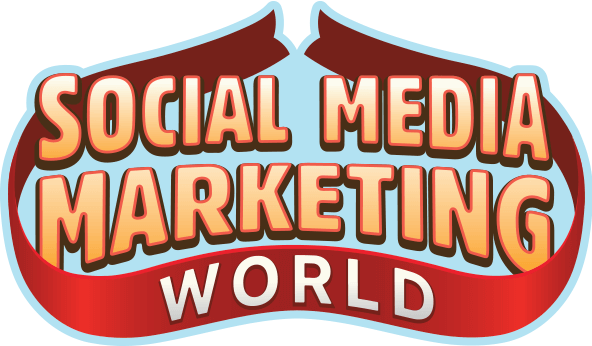 Quality marketing training, actionable takeaways, and beneficial connections—that's just a fraction of what you can expect at Social Media Marketing World! Join thousands of smart marketers in sunny San Diego this spring and level up your marketing.
🔥 Sale ends Friday! 🔥
GET TICKETS NOW