Having trouble getting your Facebook or Instagram ads approved? Could your choice of words be the problem?
In this article, you'll learn the 17 types of words to avoid when you advertise across Meta platforms and you'll discover what to say instead.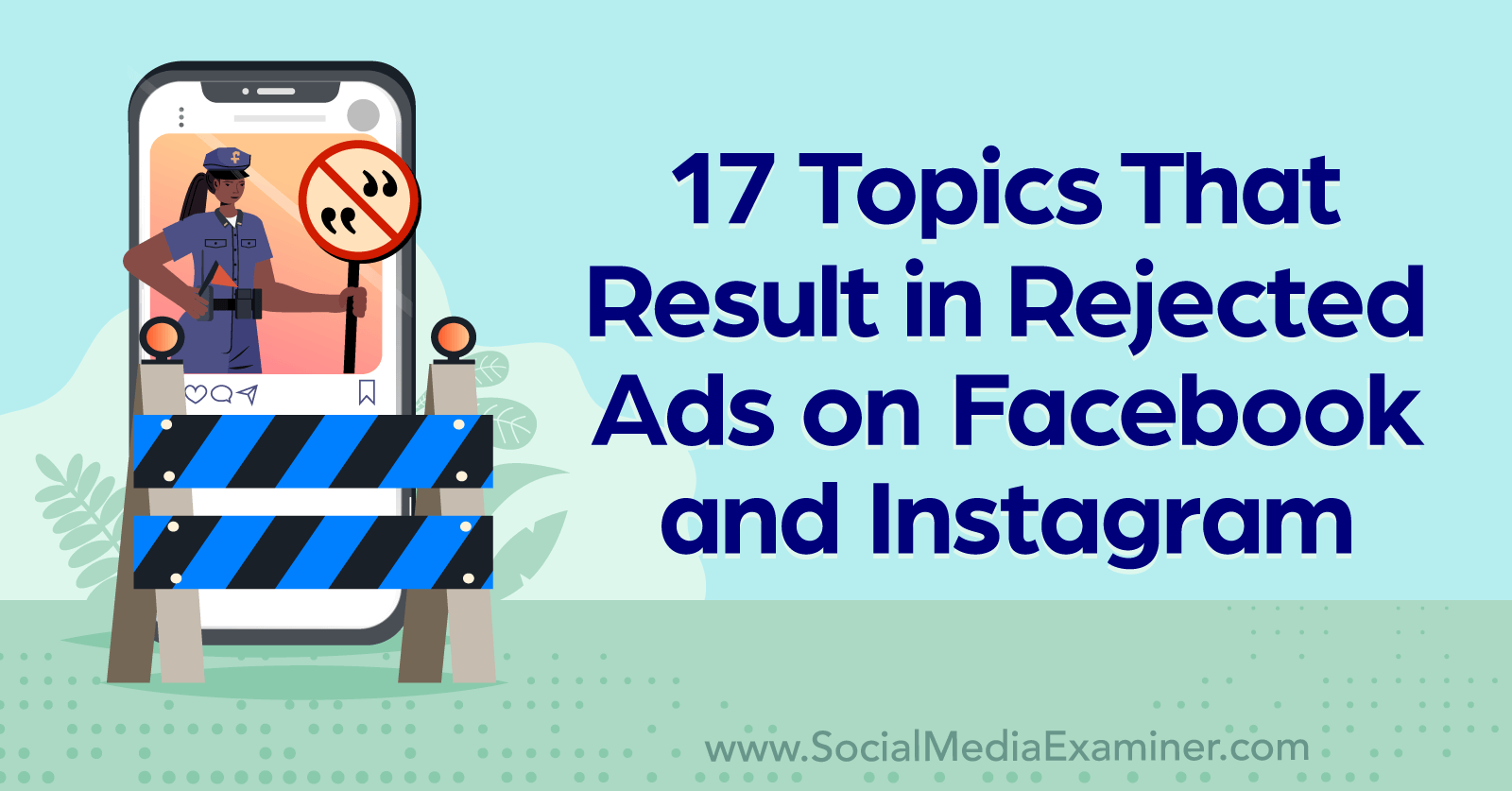 What Happens When Your Facebook Ad Copy Uses Prohibited Words
When you first publish a Facebook ad or an Instagram ad, it immediately goes into Meta's review queue. In most cases, this is an automated ad review process that's complete within 24 hours. But occasionally—such as during the busy holiday advertising season—it can take longer.
If Meta's initial review detects an issue, your ad will display a Rejected status. You can sort by rejected ads in Ads Manager but it's often easier to find and resolve issues from Meta's Account Quality dashboard, which you can access via Business Suite.
On your Account Quality dashboard, look for the Ad Accounts section. This tab displays ad account status and highlights any rejected ads. Select any ad account to see more details or address an issue.

Here, you can see policy violation details and even sort by issues. For example, your rejected ad might contain prohibited content such as a Grammar and Profanity violation. From here, you can take a look at the ad and identify the issue. If you don't believe the ad violates Meta's advertising policies, you can click to send another ad review request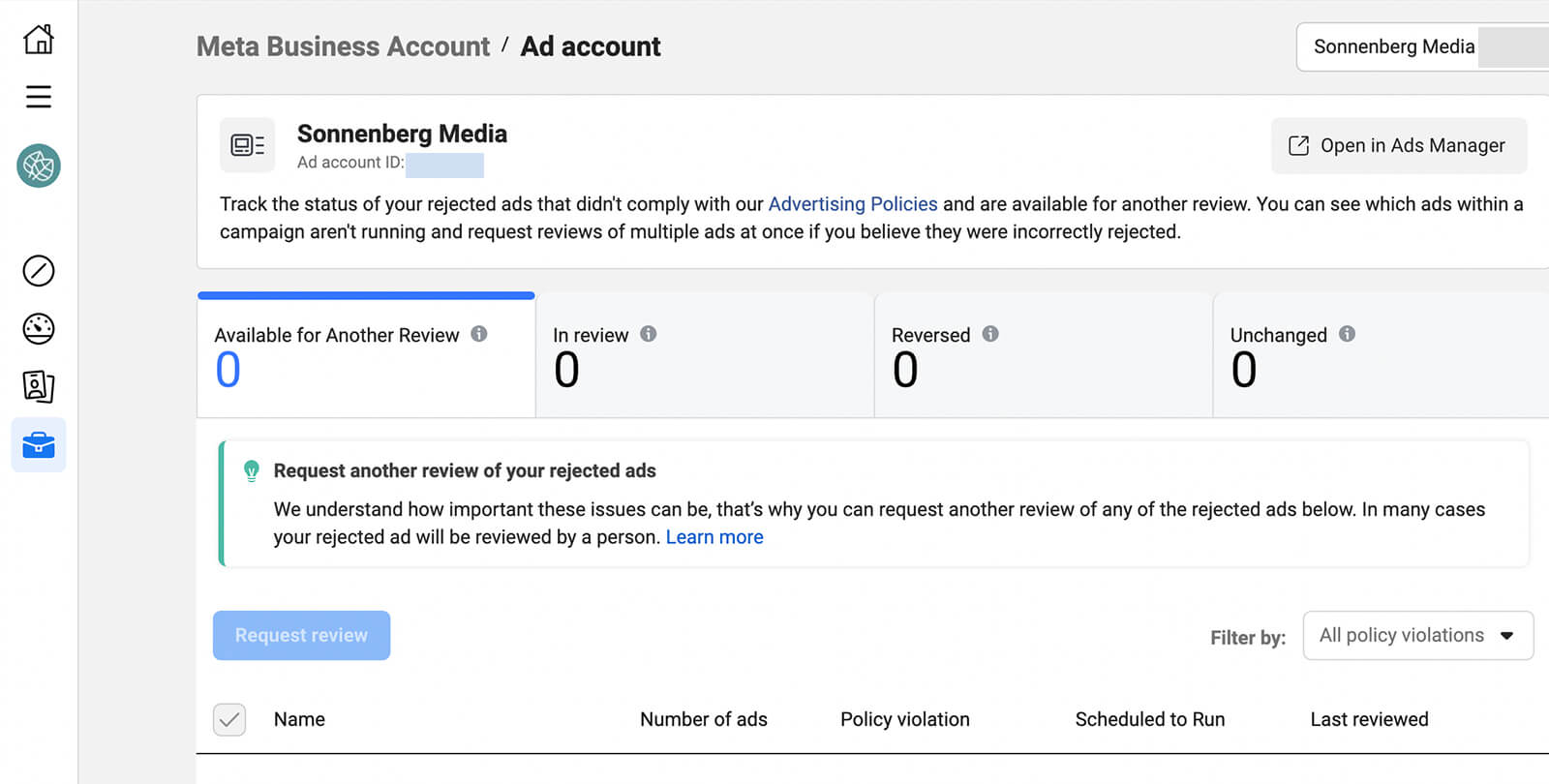 If you can understand how your ad copy violates Meta's policies, you can either edit the existing rejected Facebook ad or duplicate it and resolve the issues using the tips below. When you publish the edited or new ad, it will automatically go back into Meta's ad review queue.
If your ad passes Meta's review process, it might continue running without any further issues. But if it includes any of the prohibited words detailed below, it could get rejected later. Meta spot-checks ads periodically for various reasons, including negative feedback, and this spot check could result in rejected Facebook ads.
To avoid lengthy review processes or delayed campaign launches when you're creating ads, it's best to make sure follow Meta's policies from the very beginning. That way, you can help your campaign run smoothly, avoid an unnecessary negative impact on your ads, and create the best possible experience for your target audience.
One common theme ties together many of the words and phrases that Meta prohibits in ads: they relate to personal attributes. Meta disallows personal attributes in ad copy, as they can come across as invasive or make users feel targeted.
Yet not all of Meta's prohibited words and phrases relate to personal attributes. Others pertain to social and political issues, sensational content, and third-party brands. Let's take a closer look at each category and review some alternatives to help you avoid having your Instagram ads or Facebook ads rejected.
#1: First Names
On many marketing channels like email or text, using customers' first names is a great way to add a personal touch. But when you advertise on Meta platforms, this level of personalization isn't allowed.
Don't say, "Pat, get custom stationery with your name on it!" Instead, tell your audience about your services without targeting them individually. For example, you might say something like, "We make custom stationery featuring your name."
#2: Religious Affiliations
Like age and race, religion is a perfectly acceptable topic for ad copy as long as it doesn't come across as too personal. So you should avoid saying things like, "Make connections with other Christian parents." Instead, remove the personal element and say something like, "Meet Christian parents here."
The Conference You've Been Waiting For
As a small business marketer, you can probably only pick one or two events to attend each year. Get back into the game with an unbeatable conference experience and expert training at Social Media Marketing World in sunny San Diego, California—from your friends at Social Media Examiner.
🔥🔥 As a valued reader, you can save $300 if you act now! Sale Ends Wednesday!
CLICK HERE TO LEARN MORE
For example, the @youthfamilyaa Facebook ad below promotes a youth and family programming initiative for Jewish learners. Rather than highlighting individual attributes of prospective students or parents, the ad copy focuses on the services that the program offers.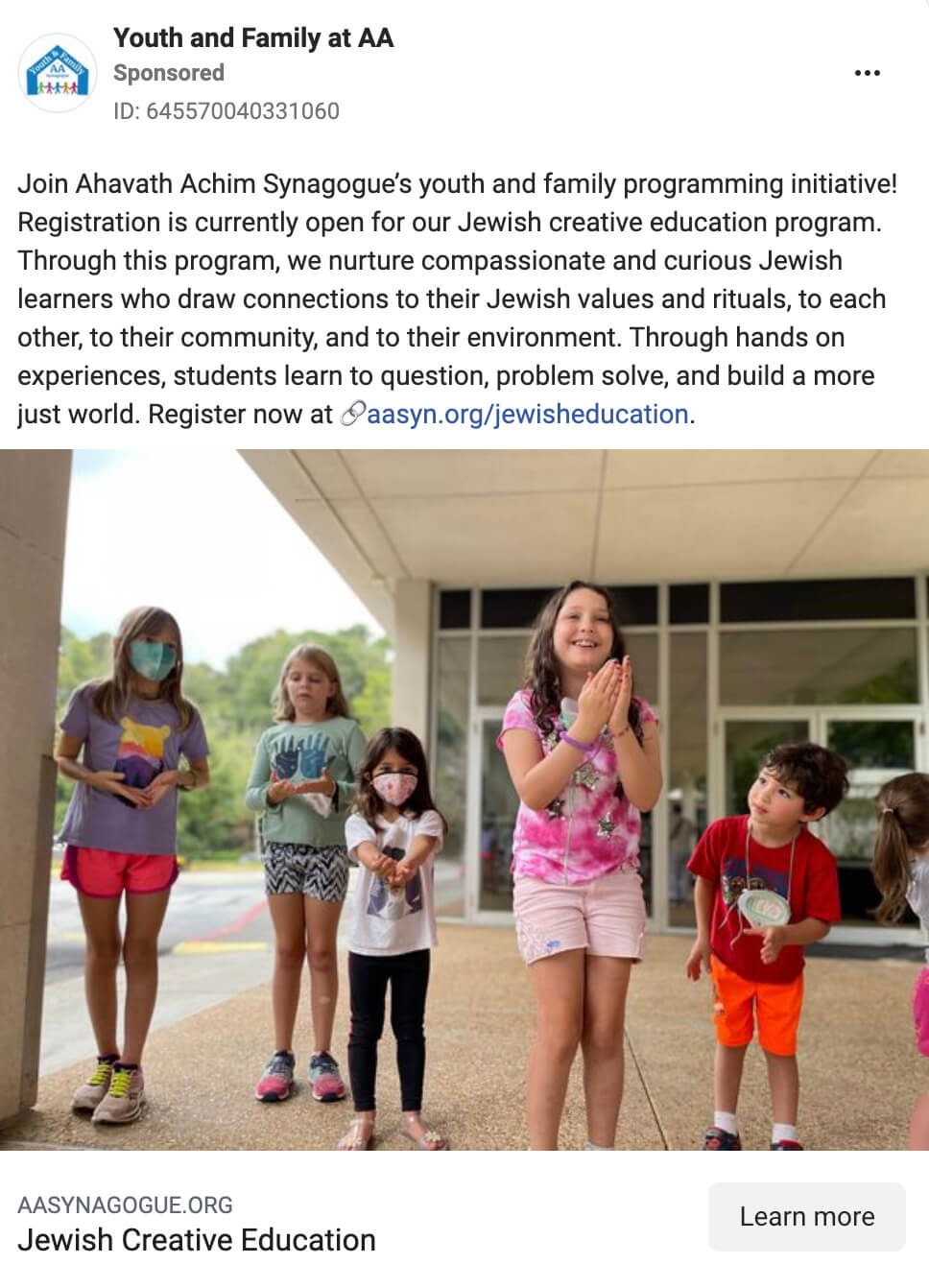 #3: Ages
Meta won't flag mentions of age in ad copy. But the ad can't imply that the person reading the ad is a certain age or in a specific age group. That means you can't things like, "Meet up with other teens" or "Now that you're in your 40s, you need this product."
To use this type of language without getting your ad flagged, take the personal element out of the copy. For example, you can encourage your audience to "Meet seniors" and then use demographic targeting to ensure your ad is relevant.
#4: Racial Descriptions
Along the same lines, it's okay to mention certain races or ethnicities in Facebook ads, especially if you're targeting people who identify with a specific group. But it's important to talk about race in a neutral way.
For example, you can't say, "Meet fellow Hispanic business owners near you." But you could rework the ad copy to say something like, "Connect with Hispanic business owners."
#5: Gender Identities
If you want to reach people with a certain gender identity, avoid calling them out in the ad copy. Don't ask overly personal questions like, "Are you rethinking your gender identity?" Instead, make your ad copy more inclusive. You might encourage your audience to "Join a weekly meetup for nonbinary folks."
For example, the @TransLifeline Facebook ad below aims to raise awareness during Transgender Day of Visibility. The ad uses inclusive language like, "celebrate our community" and "ALL people," rather than speaking directly to the audience's gender identity.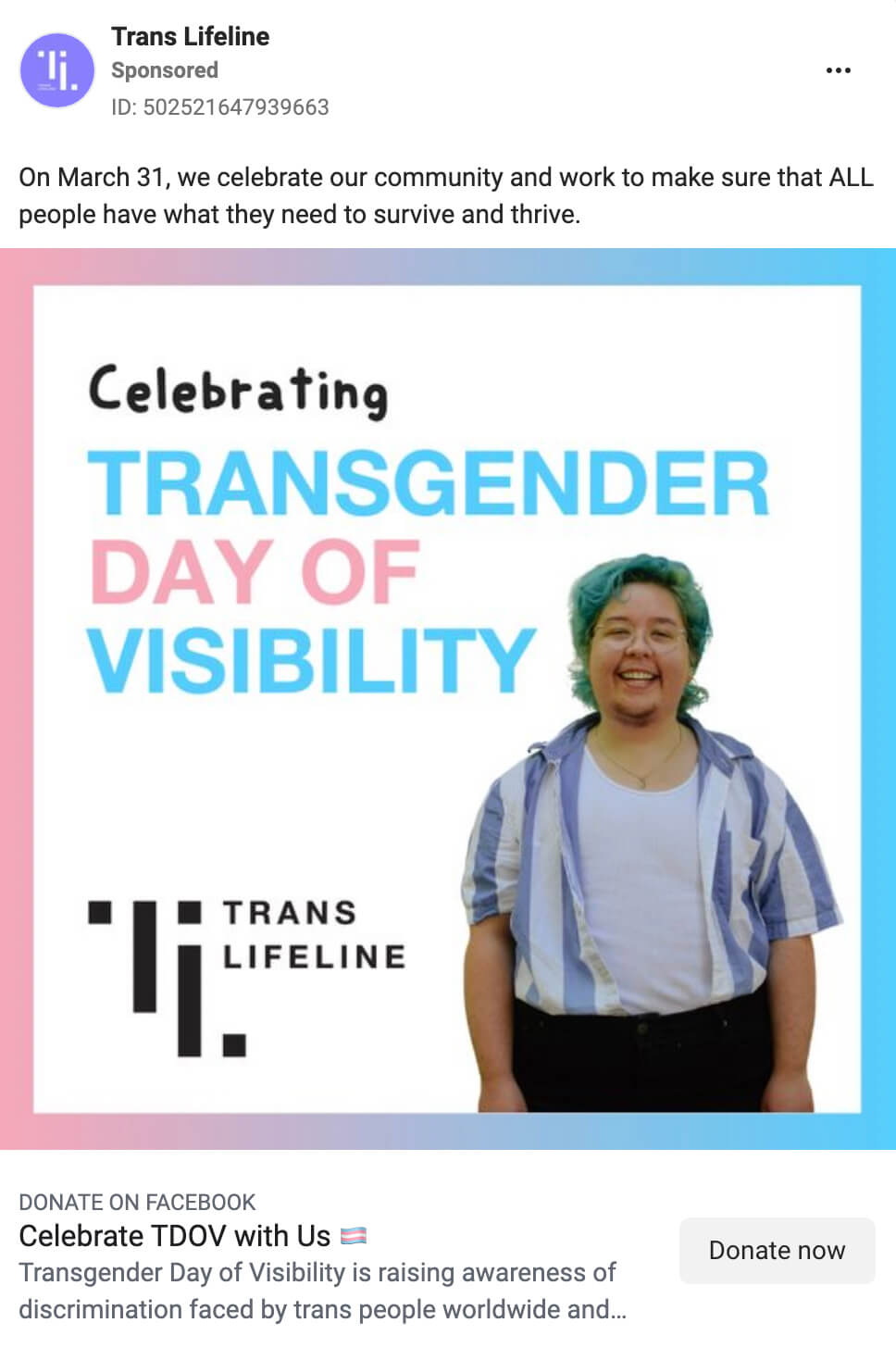 #6: Sexual Orientations
The same rule applies when advertising to prospects who have certain sexual orientations. Don't say anything overly personal like, "Are you looking to connect with other lesbians?" Instead, replace your copy with something like, "Meet lesbians at our newly renovated club."
#7: Mental Health and Physical Disabilities
If you want to help people who are dealing with mental health issues or physical disabilities, it's essential not to imply that you know what they're dealing with. For example, your ad copy shouldn't say anything overly personal like, "Dealing with depression?"
Instead, focus on the products and services that you're offering without suggesting that they're a good fit for the audience you're targeting. For example, you can say something like, "We specialize in treating depression."
For example, the @mymindbloom Facebook ad below highlights a treatment for depression and anxiety. However, the ad copy focuses on defining the treatment and sharing what past clients have achieved rather than speaking to the target audience's mental health.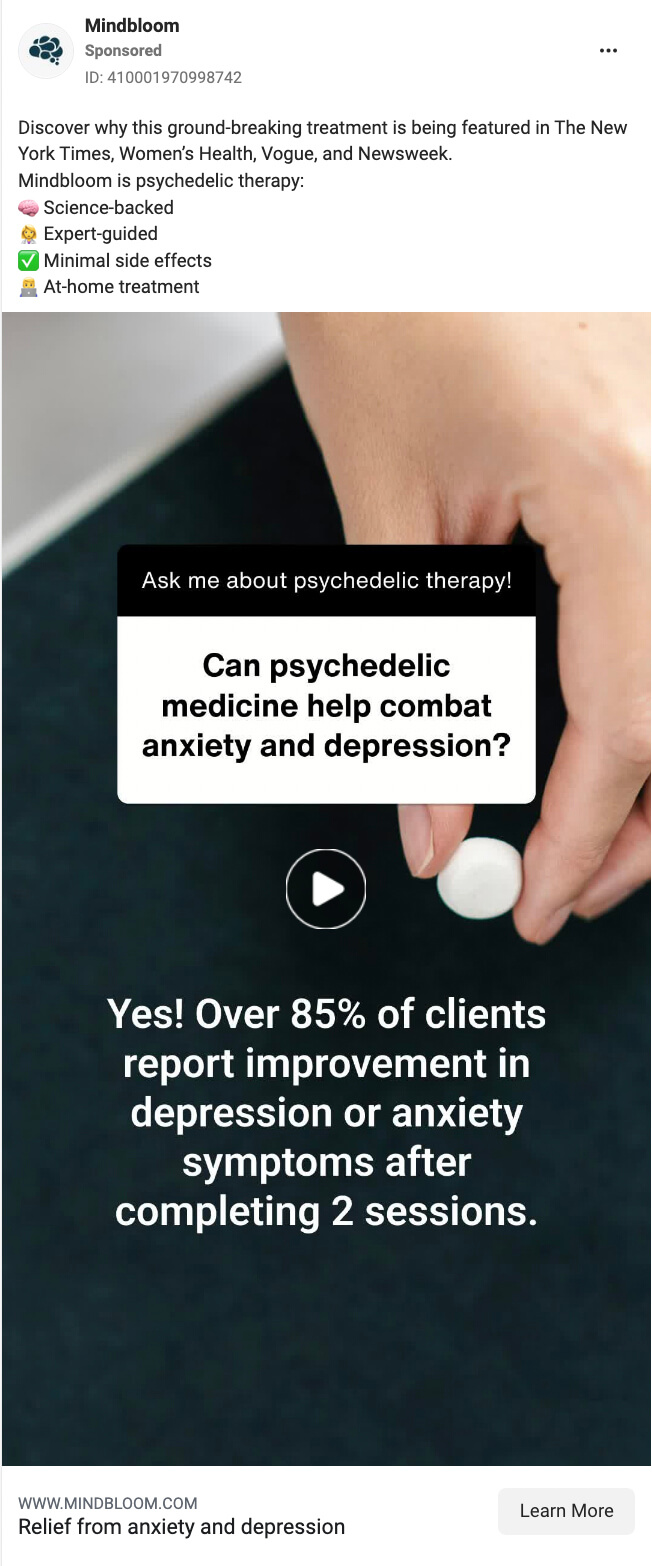 #8: Financial Status
Meta doesn't prohibit advertisers from promoting products and services that address financial difficulties. But you can't imply that you know your target audience's financial status. For example, you can't say, "Are you planning to file for bankruptcy?"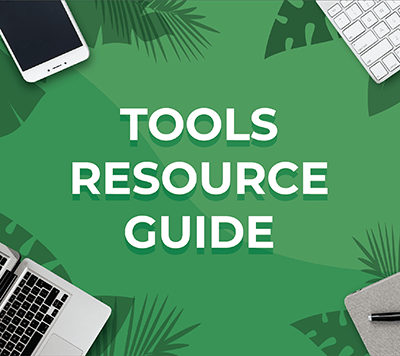 Looking for something to make your life easier?
Discover the tools we recommend to drive engagement, save you time, and boost sales across your entire marketing funnel or business.
Whether you need help planning content, organizing social posts, or developing your strategy, you'll find something for every situation.
FIND YOUR NEXT FAVORITE TOOL
Instead, focus on the products and services your organization offers. For example, you can use copy like, "Our financial products are designed for dealing with debt." In some cases, you may also need to declare a special category for your ad. See below for details.
For example, the @887debt Facebook ad below shares an educational resource related to bankruptcy. The ad copy avoids using "you" language so it won't imply knowledge of the target audience's financial status.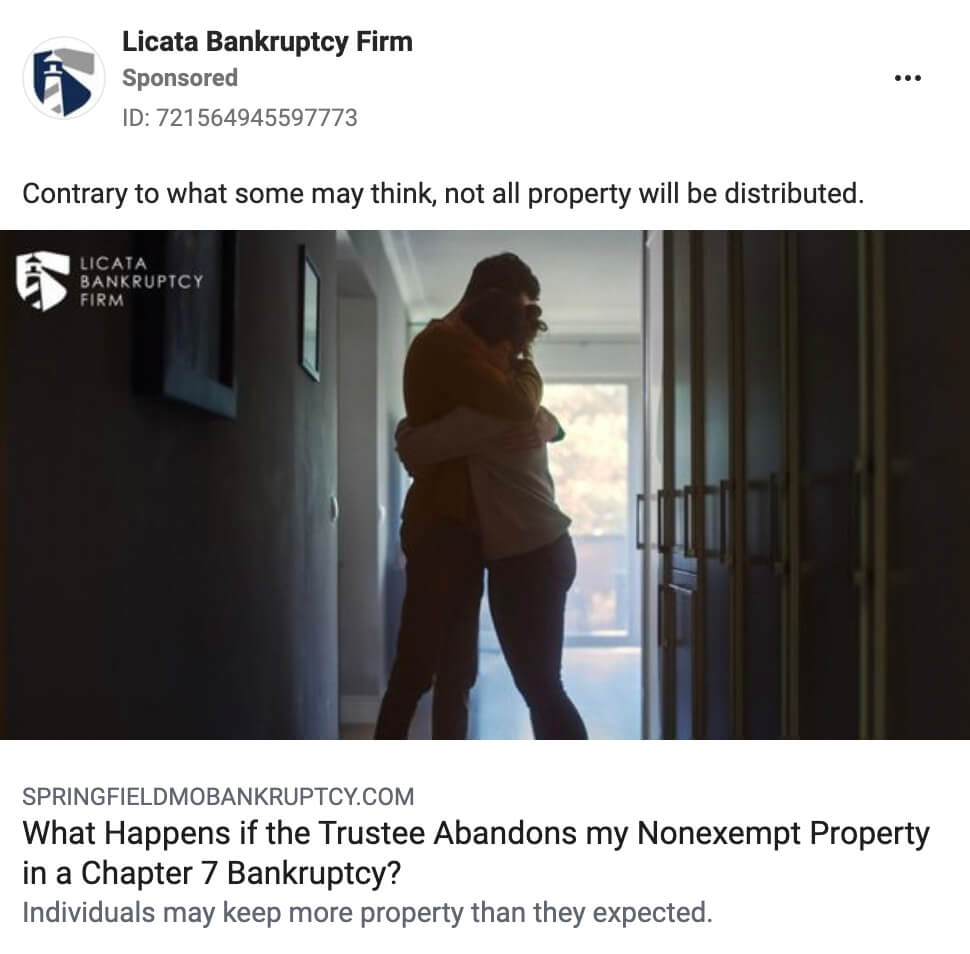 #9: Criminal Records or History
Even if you offer services geared toward people with criminal records, it's critical not to imply knowledge of their status. Never say something like, "We've helped lots of other convicted felons like you."
Use the guidelines above for writing about financial status and focus on the service you offer instead of the customer you're targeting. For example, your ad might say, "Our services are designed for moving past any prior offenses."
For example, the @safeandjustmi Facebook ad below shares information about criminal record legislation. The ad copy discusses how the legislation may affect people with criminal records, explaining that it "offers individuals a chance to clear their record," rather than speaking directly to the target audience.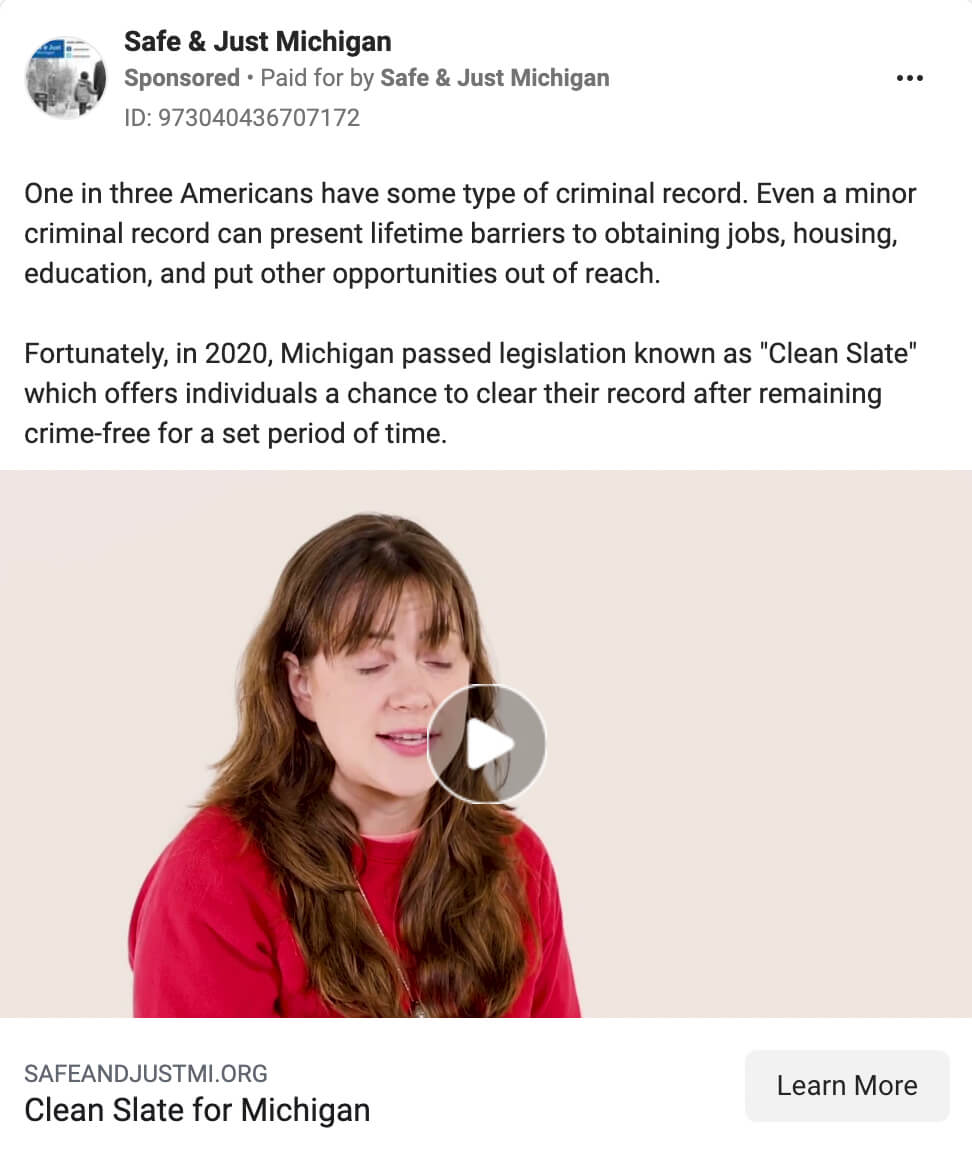 #10: Voting Status
If you represent a political organization, a community group, or an elected candidate, you may want to encourage constituents to vote. While you can certainly do that, you can't suggest that you know whether an individual has registered or voted.
Avoid saying things like, "You haven't registered in Los Angeles County yet. Don't miss your chance!" Instead, encourage your audience to get the information they need to vote. You can use language like, "Get details about voter registration."
For example, the @nycvotes Facebook ad below encourages residents to vote in a New York City primary. The ad encourages the voter to "get all the information you need" and avoids highlighting individual behaviors or personal attributes.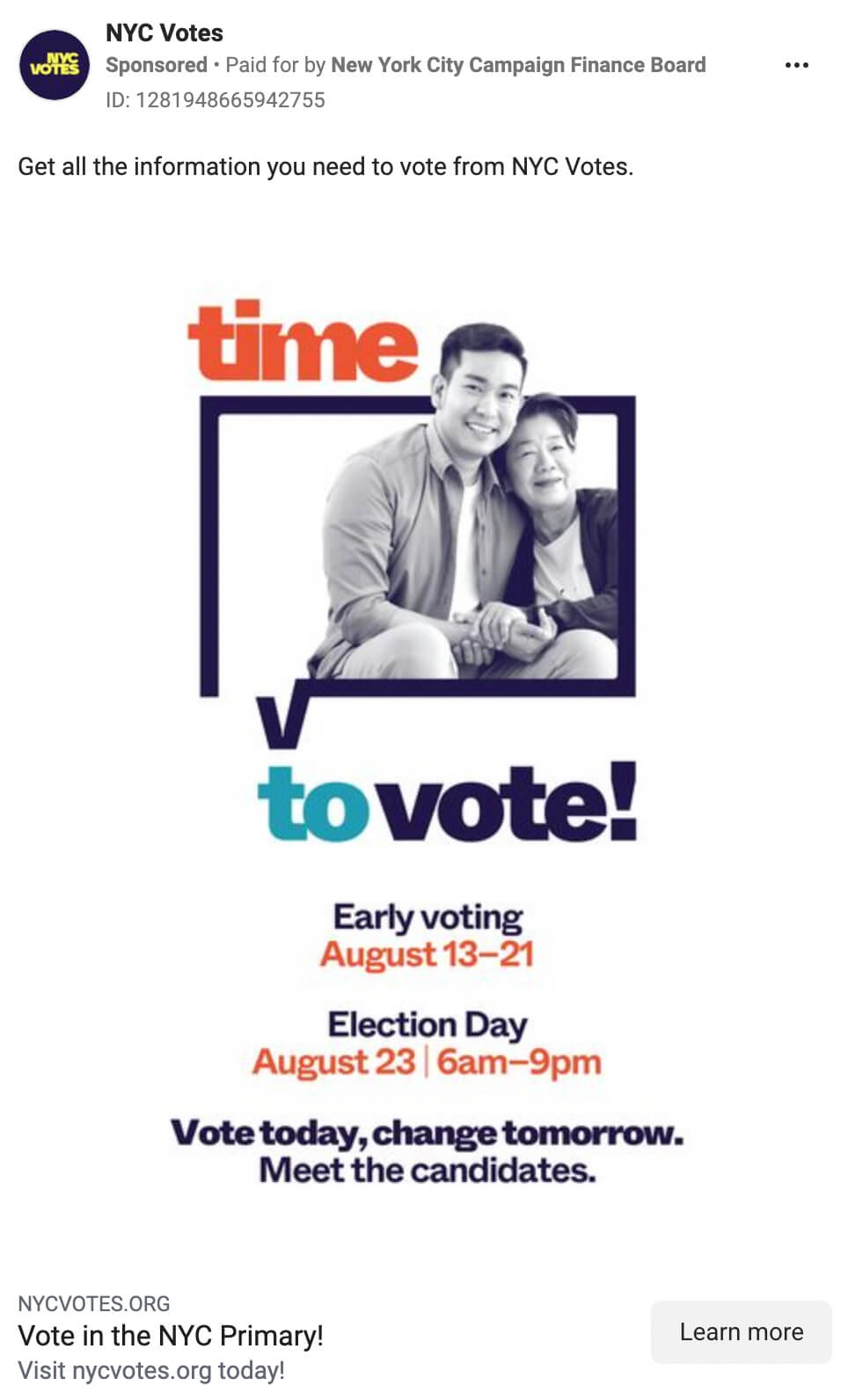 #11: Trade Union Memberships
Whether you want to reach out to people who already belong to a union or people who aren't yet members, it's important to avoid implying either status. Don't say, "Having issues with your union rep?"
Instead, make your ad copy as inclusive as possible by using something like, "Our union has proudly supported members since 1990." For example, the @chicagolabor Facebook ad below focuses on the trade union's history and mission, rather than the target audience's membership.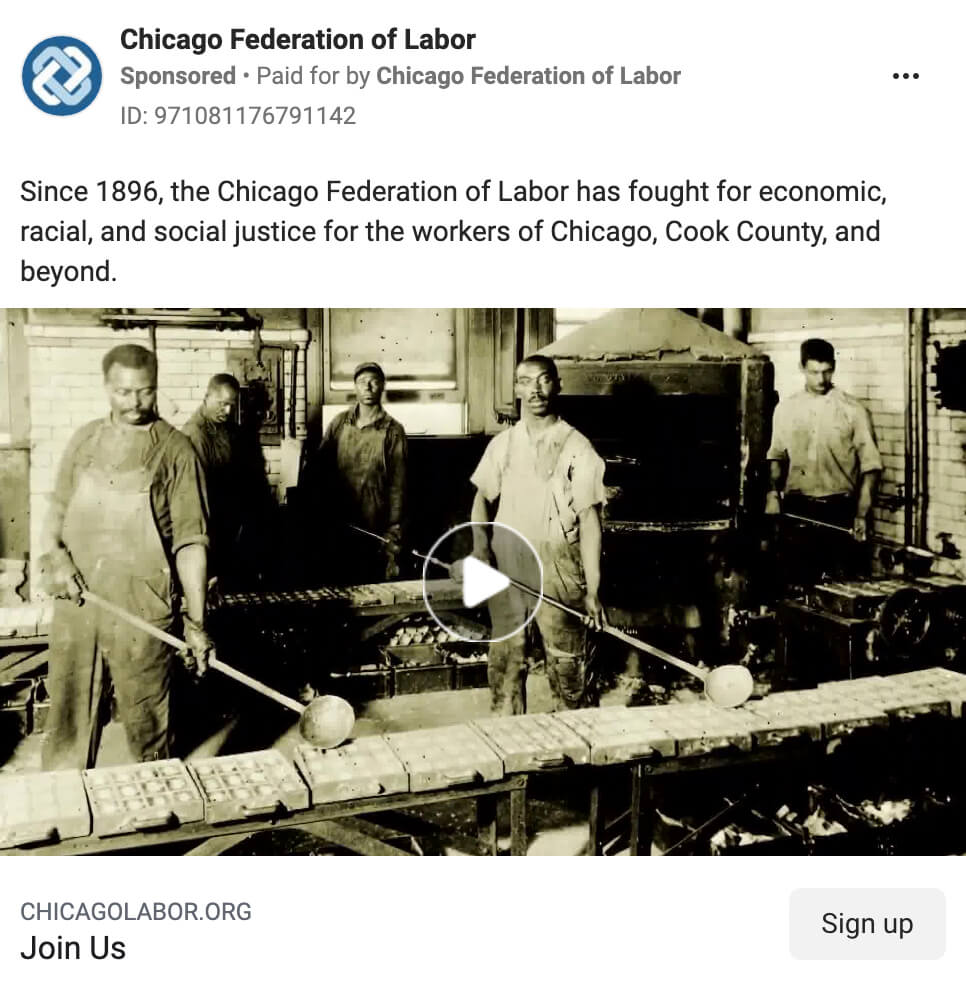 #12: Outright or Implied Profanity
If it aligns with your target audience, you can certainly use profanity in organic content on your Facebook page. But Meta doesn't allow profanity in paid content, even if it would appeal to your target audience or reinforce your message.
If your ad copy includes profanity, it's best to remove it and rework your message. Don't attempt to mask the words by replacing select letters with symbols, as Meta doesn't allow implied profanity in ads.
#13: Social and Political Issues
If your organization isn't authorized to run ads on social and political topics, your copy can't mention social and political issues—ranging from local elections to climate change. To run ads on these topics, you have to complete an authorization process first.
Once you complete the authorization process, you'll need to indicate that your campaign is related to one of Meta's special ad categories, namely Social Issues, Elections, or Politics. When you publish your campaign, the ads automatically run with a disclaimer.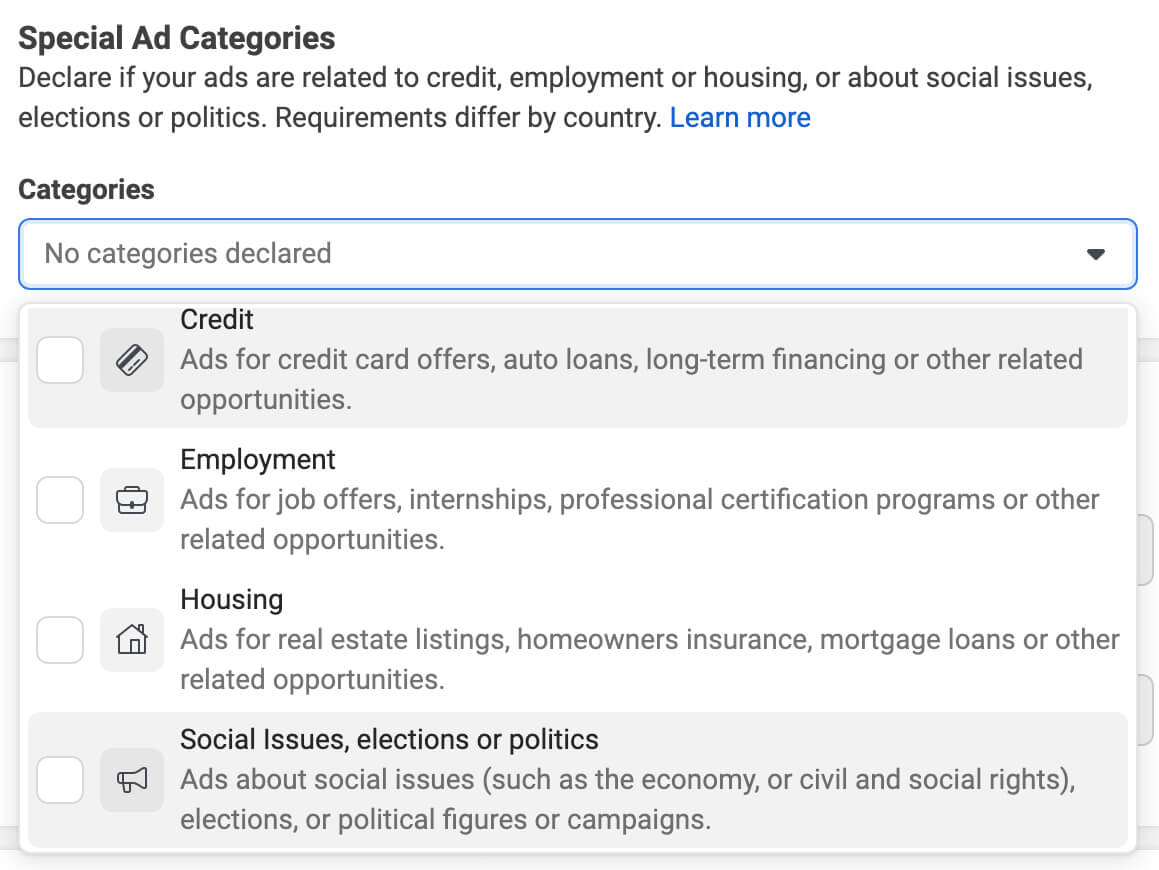 For example, @c3climate Facebook ad below highlights changes that individuals can make to address the effects of climate change. Because it touches on a social and political topic, the ad uses Meta's special ad categories and features a disclaimer that allows users to identify the advertiser.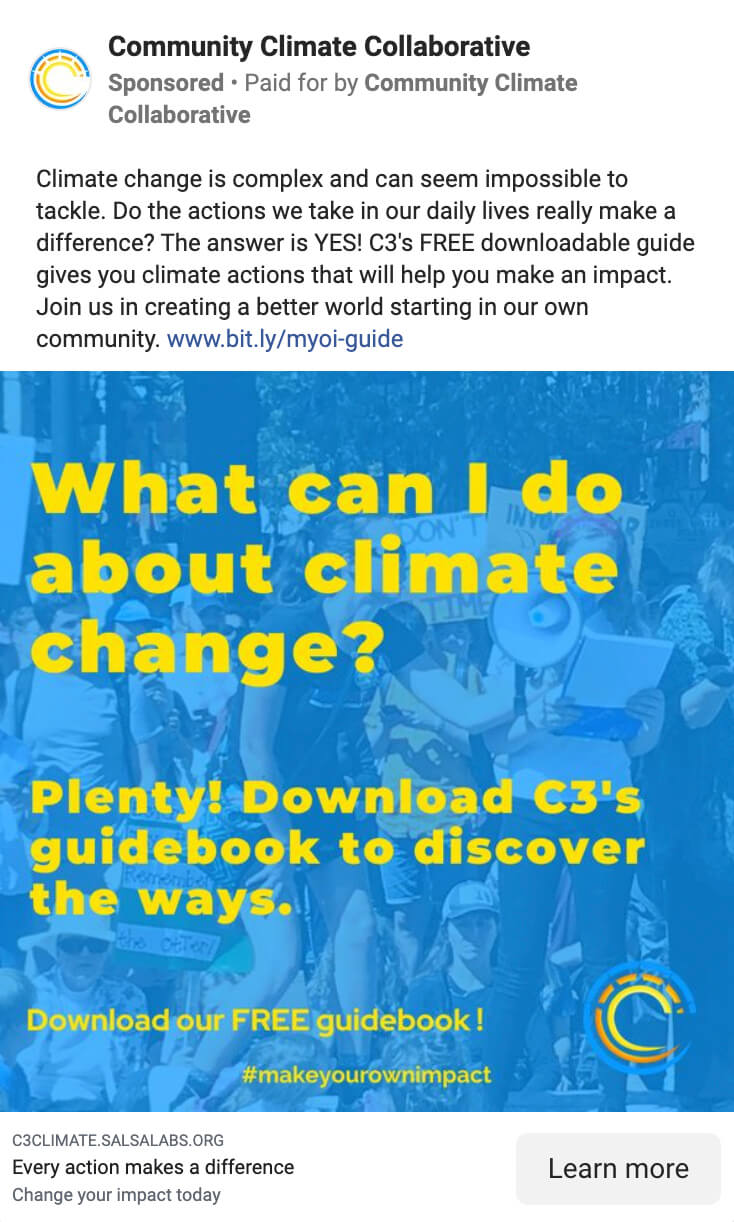 Completing Meta's authorization process and adding a disclaimer can prevent social and political ads from getting flagged. But it's important to note that in some cases, ads highlighting political and social issues are completely prohibited. If the copy in your ad exploits these issues for commercial gain, Meta deems it controversial content, which isn't allowed in ads.
#14: Misleading Claims
When you promote a product or service, it's tempting to showcase a best-case scenario. Although you can certainly tell prospective customers how they can benefit from your products and services, you can't make misleading claims that set unrealistic expectations about the results customers should expect or the timeframe they should plan to commit.
In addition, ad copy can't include misinformation or statements that third-party fact-checkers can debunk. For specifics, it's helpful to review the Facebook Community Standards, which apply to paid and organic copy.
Before publishing ads, it's always a good idea to review any claims or statistics in your copy. If you can't prove the claims or if they're demonstrably false, remove them from the ad copy and use another tactic to promote your brand.
#15: Meta Brand Names
Do you want to promote content or destinations on Facebook, Instagram, or other Meta properties? In your ad copy, you can mention Meta brands. But the platform's policies permit advertisers to use brand names in a limited way only.
That means you can use Meta brand names to clarify the destination of the ad. For example, you can state that the ad promotes a Facebook group or an Instagram account. But you can't make Meta properties the focus of the ad copy.
It's also important to use the Meta brand names correctly without altering their appearance in the text. That means you shouldn't change the font or text size or make brand names lowercase in your ad copy.
#16: Third-Party Content
Although Meta allows advertisers to mention Facebook in certain circumstances, take care when calling out other companies or their products. Meta prohibits advertisers from violating third-party trademarks and other intellectual property rights, which include brand names and trademarked product names that belong to other companies.
Do you want to highlight how compatible your product is with another well-known service? If you don't have explicit permission to mention the third-party company or offering, consider stating the company's industry or one of its defining characteristics, and then let your audience fill in the blanks.
#17: Bad Grammar
Even as an experienced marketer, you might miss a misspelling or punctuation error in your ad copy. Although it's always a good idea to avoid these mistakes, Meta is more concerned about deliberate grammar and punctuation issues.
That's why your ad copy should avoid bad grammar, improper capitalization, and excessive punctuation. For example, you can capitalize the first letter of every word in your ad copy. But you can't capitalize alternating or random letters. You should also avoid using accented letters when they aren't necessary.
Conclusion
Meta's automated review process doesn't always get ad rejections right. But to run campaigns and appeal mistakenly flagged ads successfully, it's essential to know what the platform allows and how to create ads that help you reach your goals.
---
Stay Up-to-Date: Get New Marketing Articles Delivered to You!
Don't miss out on upcoming social media marketing insights and strategies! Sign up to receive notifications when we publish new articles on Social Media Examiner. Our expertly crafted content will help you stay ahead of the curve and drive results for your business. Click the link below to sign up now and receive our annual report!
Get Your FREE Course: Web3 for Beginners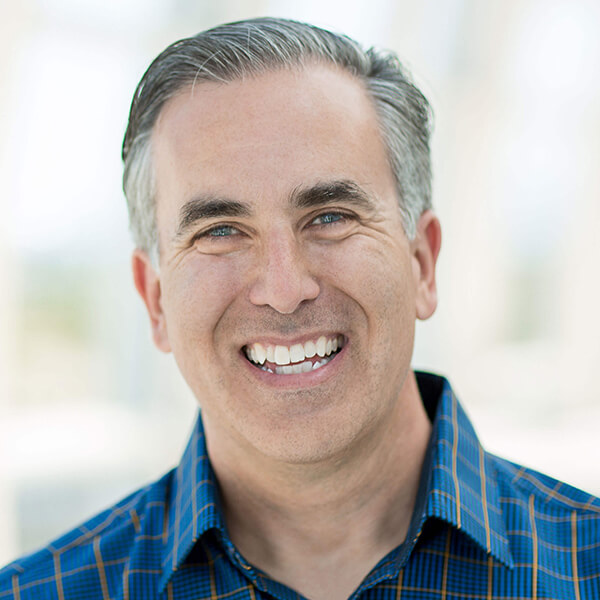 Curious about Web3, but don't know where to start or who to trust?

Introducing Web3 for Beginners, a course taught by Michael Stelzner, the founder of Social Media Examiner.

Learn the basics of Web3 and apply it to your business with this FREE comprehensive course.
CLICK HERE TO GET FREE ACCESS