A destination like no other…
Social Media Marketing World takes place in what's known as "America's Finest City," San Diego, California.  The conference is held at the waterfront San Diego Convention Center.
Watch this video to learn more about what to do in San Diego.
And for those seeking extreme adventures, watch this…
With 70 miles of pristine beaches, a dazzling array of world-class family attractions and its idyllic climate, San Diego promises a truly remarkable experience for everyone.
San Diego enjoys beautiful weather year-round with an average daily temperature of 70.5° F (21.4° C).
Travel Planning

Social Media Marketing World kicks off on Wednesday, March 22, 2017 (afternoon workshops begin at 12pm) and ends the evening of Friday, March 24 (schedule).  Many attendees plan to stay a few days extra and make a vacation out of their stay.
Event Venue
The San Diego Convention Center is located at 111 W. Harbor Dr., San Diego, CA 92101.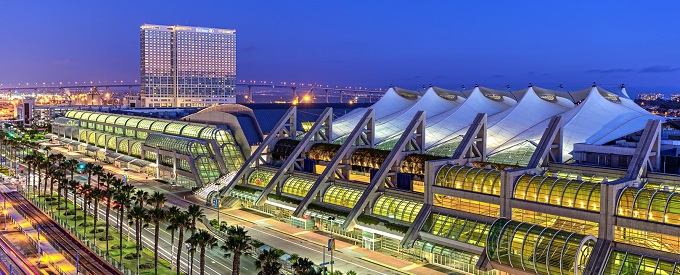 Hotels
Click here for lodging options.
Airport
The San Diego International Airport (airport code SAN), also referred to as Lindbergh Field, is conveniently located just 10 minutes from the San Diego Convention Center.  The airport is serviced by 22 major and commuter airlines. Flying into San Diego, visitors get a bird's-eye view of Balboa Park, downtown and the San Diego Bay on their descent into San Diego International Airport.
When to Arrive
Please plan to arrive at the San Diego International Airport on Tuesday March 21, 2017 or early on Wednesday March 22, 2017. Workshops start at 12pm PST and the opening-night Networking Party on-board the USS Midway aircraft carrier starts at 7:00pm. This party is included with your event registration. Click here for the full event schedule.
When to Depart
The Social Media Marketing World conference officially ends on Friday, March 24, 2017 at 6pm PDT. Click here for the full event schedule. Many attendees stay a few extra days to tour San Diego.
Traveling From Outside the United States?
If you are traveling internationally (including Canada and Mexico), you must present a valid machine-readable passport at the U.S. port of entry to enter the U.S. Please plan in advance to make this process as smooth as possible. You should check your passport expiration date to ensure you have ample time to get the required documents you need. Your passport must be valid for 6 months from your day of arrival.  For more details on travel into the United States, please click on this link: http://travel.state.gov.
If you need a VISA letter, you must first purchase your ticket to the conference. Once you've done that, please send an email to: world@socialmediaexaminer.com and we will send you details of what we need to provide you with a VISA letter.
Ground Transportation From San Diego International Airport
On-demand taxis:
Lyft: Don't worry about getting to your hotel, we've got you covered! Take a Lyft ride from the airport, and receive 30% off of your ride. Enter code SMMW17 in 'promos' to redeem. Available to all new and existing users!
Shuttles: At the airport, the shuttle access area is across the street from the baggage pickup area.  Our event hotels do NOT provide airport shuttle service; however, it is only a 10-minute drive. Here are some transportation options you may choose to reserve in advance:
Taxis: San Diego's taxi service is a great way to get around and see the sights without having to be in the driver's seat. Many companies provide taxicab service at San Diego International Airport. If you need a taxi, simply follow the signs leading to the Transportation Plazas. A Transportation Coordinator will place you with the first available taxi, unless you specify a particular taxicab company. The estimated taxi fare to/from the airport and hotel is $15.00 US (one way). All major credit cards are accepted upon request, but please ask up front as many drivers prefer cash. The following are taxicab companies frequently used by travelers:
Airport Yellow Cab of San Diego: 619-234-6161
San Diego Cab: 800-368-2947 / 619-226-8294
USA Cab:  619-231-1144
Public transportation: There are a number of public transportation services available to you at any given time. Please visit the San Diego Airport Public Transportation Information Page for information on the following:
Amtrak and Coaster
Metro bus
Trolley service
Car rental: San Diego car rentals offer a convenient means of transportation during your stay. Click here for more information on car rentals. Keep in mind the hotel parking rates noted below.
Parking: Parking at the San Diego Convention Center is currently $15.00 per day. Check with your hotel for current rates.
Click here for hotel details or to book your stay at the guaranteed best rate.
Driving Directions to the San Diego Convention Center San Diego
The event venue is located at 111 W. Harbor Drive, San Diego, CA 92101.
Map:
.
Home | Agenda | Networking | Speakers | Travel | Hotel/Venue | About | FAQ | REGISTER