Networking like no other event…
This is the event where you'll make priceless professional connections.
As a social media marketer, you know the value of networking.
We designed this event to enable you to connect with your peers in a way that's simply not possible online.
Now this is networking!
Here's what took place in 2016:
Structured networking after keynote speeches and lunch.  You're provided four scheduled daytime opportunities to get to know the people you connect with via social networks—up close and personal.  No need to skip presentations to network; we built these breaks into the schedule.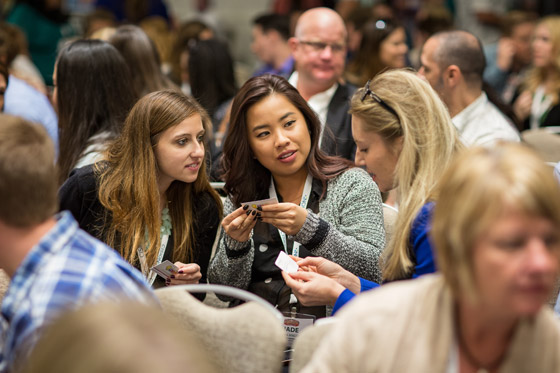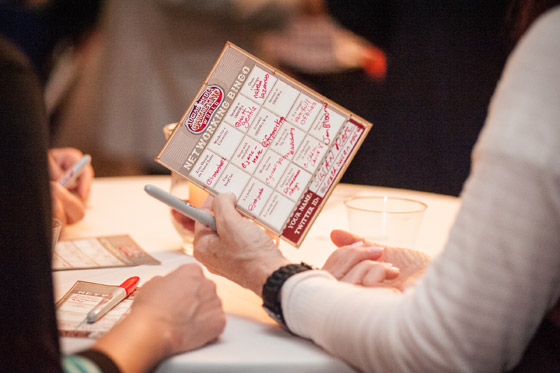 Table Talks: We provide dedicated tables for you to meet for lunch and talk about topics of interest.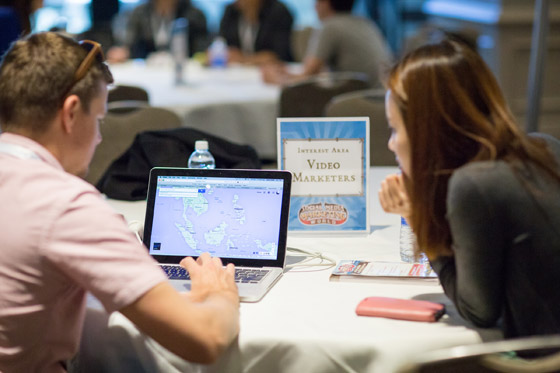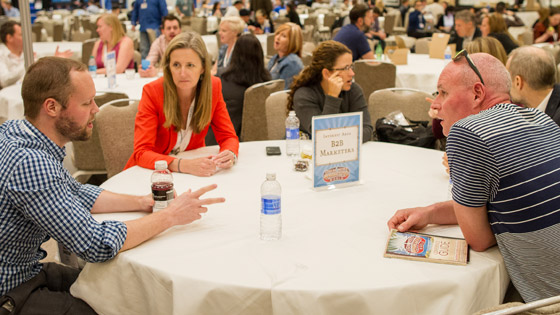 Networking Plaza: Want a place to sit and talk? Thinking about doing some video interviews? Our Networking Plaza is a large centrally located space where you can do some serious networking—on your schedule.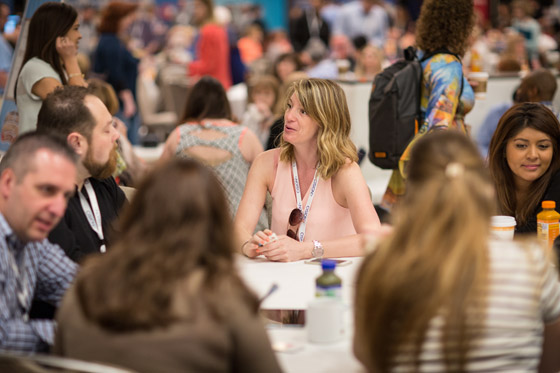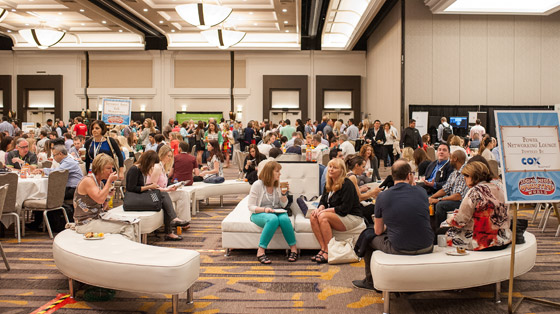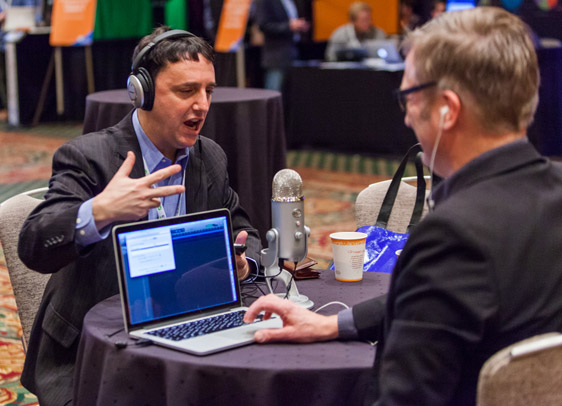 Networking Power Walks (and runs): Join the early-risers for a morning stroll (or run) while you make new connections.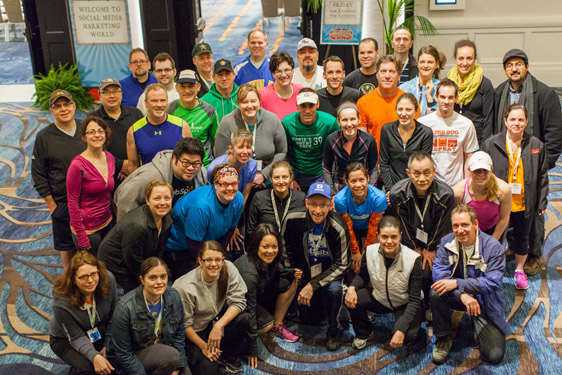 Name Badge Interest Stickers: We provide interest stickers on your name badge to help facilitate networking.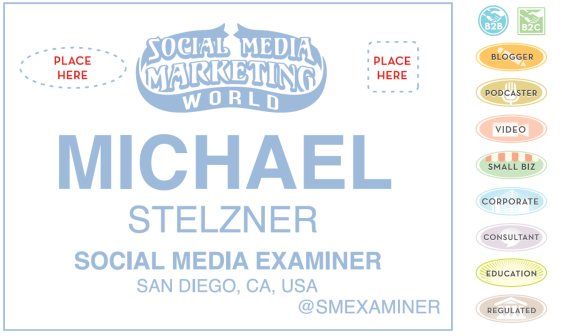 Networking Ambassadors: We have dedicated staff to help you make the connections you want to make!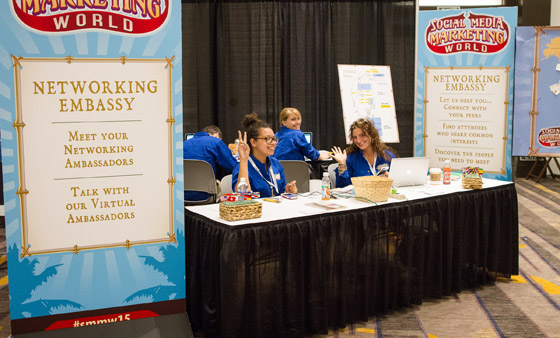 But wait, there's more:
Opening-Night Networking Party: USS Midway Aircraft Carrier
Kick off Social Media Marketing World 2016 in style with an exclusive event aboard a Naval aircraft carrier—the USS Midway—the world's largest ship until 1955!
Watch this quick video about the opening-night party.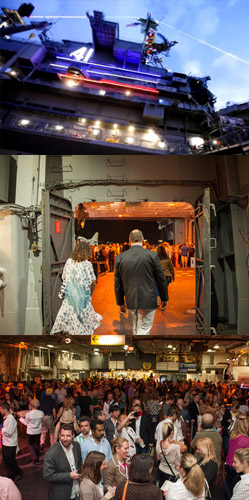 On April 17th, you'll network with the top social media pros surrounded by warplanes.
Enjoy a once-in-a-lifetime networking opportunity as you experience giant hangar bays, view San Diego from the 4-acre flight deck, fly flight simulators and explore this massive ship.
Enjoy food, warplanes and conversation at our opening-night networking party.
This party is designed for networking. The moment you enter the ship, you'll be handed our Networking Bingo card, which makes it very easy for you to quickly meet other people.
In addition to food and live music, you can also take part in flight simulators and be toured into the belly of the aircraft carrier by retired military personnel.
It's a short walk from the event venue (and we'll provide shuttles) to the USS Midway where you'll join 3,000 of your peers for an unforgettable experience.
San Diego Bay Networking Cruise
And for something completely different, you'll join 1000 social media marketers for an evening cruise of San Diego Bay on April 18th! This is an experience you'll never forget.


Spend an enjoyable evening touring San Diego Bay and making new connections.
Set sail aboard the largest charter yacht in Southern California for the exclusive Social Media Marketing World private San Diego Bay Networking Cruise.
The Inspiration Hornblower stretches 222 feet with 3 decks. Enjoy the magnificent views of downtown San Diego from the open-air sky deck or from the wall-to-wall windows in two lower decks.
Join us for a one-of-a-kind networking event that will include Social Karaoke with a live band! There will also be craft beer tasting hosted by one of San Diego's top craft breweries.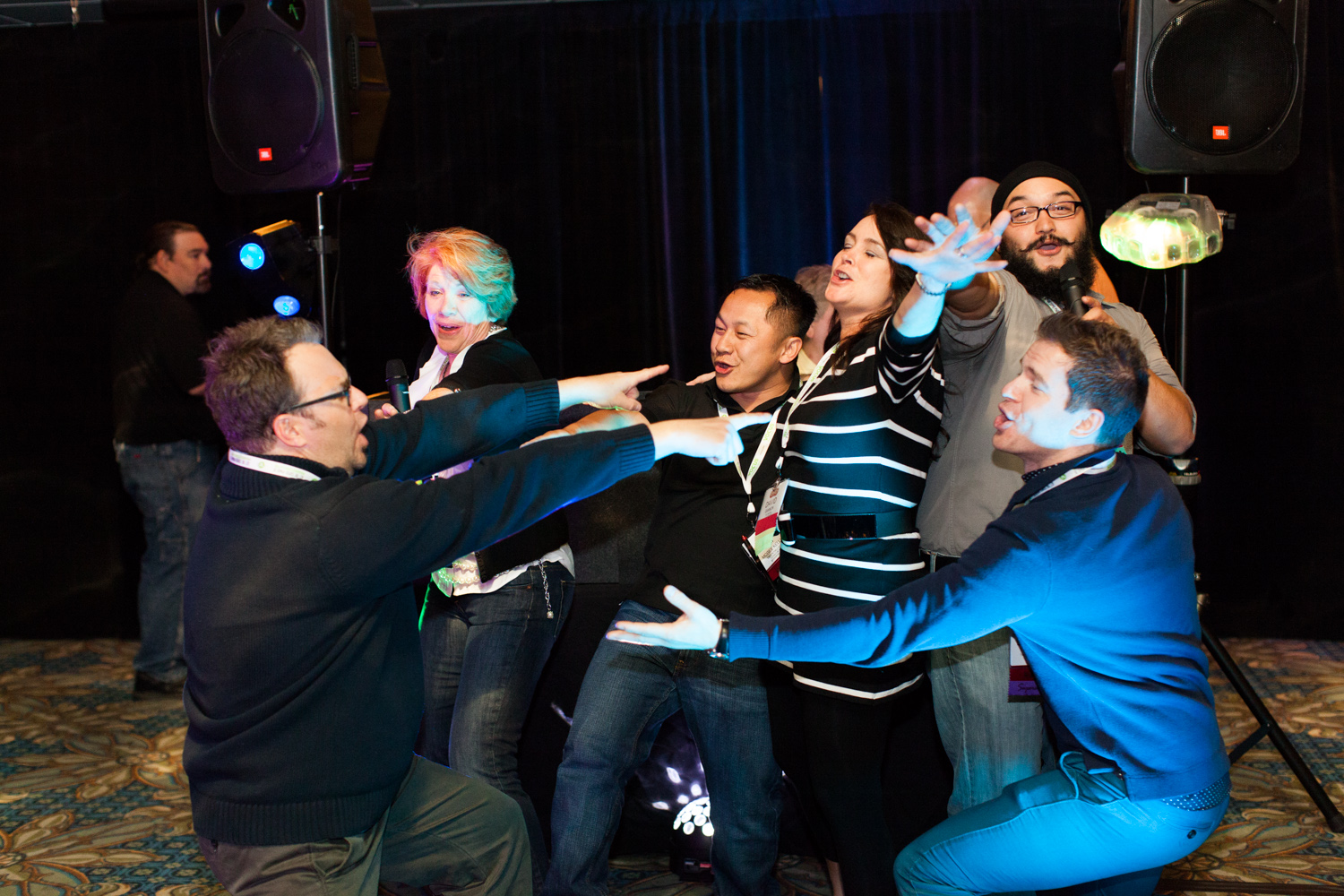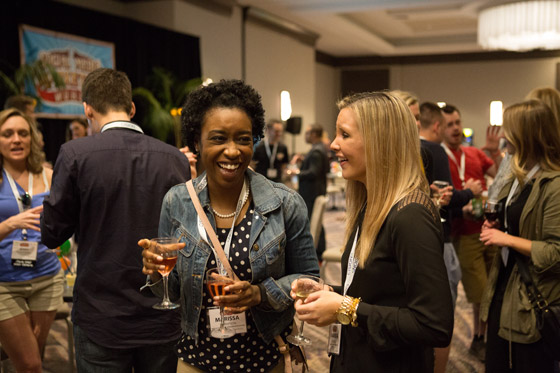 Boarding takes place at the Seaport Village Pier (a short 8-minute walk from the Marriott) and begins at 8:30pm (near the Carousel) and remains docked for the first 90 minutes. The ship departs at 10:00pm and returns by 11:30pm. Your confirmed conference registration provides you exclusive access to this event. You must be wearing your name badge to get on the ship. NOTE: The ship has a maximum capacity of 1000 people.
.
Home | Agenda | Networking | Speakers | Travel | Hotel/Venue | About | FAQ | REGISTER