Take in rich sessions and network with the world's top social media marketers
Imagine this: A conference that offers outstanding content infused with a truly social experience.
In a few words, that explains Social Media Marketing World.
You'll experience a unique event that brings you carefully recruited experts who live and breathe social media marketing every day. Only the best.
See what others have to say about Social Media Marketing World.
2016 presenters included many of the top social media marketers you've come to admire online along with marketers from major brands, including Google, Walmart, BMW, IBM, Campbell Soup Company, HP, OtterBox, BMC Software, the San Diego Chargers, Adobe, Tyson Foods, Cisco, HSN, Citrix, Experian, Hyatt Hotels, SAP, Air New Zealand, Priceline, Cox Business, the San Diego Zoo, Humana, Atmel, Constant Contact, Dell, Avery Dennison and more.
Photos from our last event (click to zoom in):
We also appreciate your desire to connect with your peers.
You'll enjoy extensive networking opportunities—from dedicated networking after keynotes and lunches to our opening-night networking party aboard an aircraft carrier and our second night networking party featuring the world-famous Social Karaoke.
You get it all with your ticket to Social Media Marketing World!
Amazing Content to Inspire You
You'll choose from 100+ expert-led sessions and workshops in multiple social media marketing tracks (you get access to all):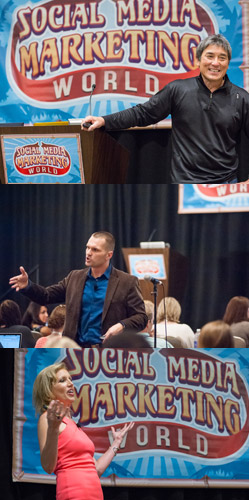 Workshops: Take in up to six 90-minute workshops focused on content creation and business development. You'll refine your written, spoken, visual and video skills and pick up ideas to take your business to the next level. We've also included a workshop on networking so you can make the most of your networking opportunities.
Social Tactics Track: Find out the best and newest ways to market your business with social media. Pick up actionable tips to improve your marketing with Facebook, LinkedIn, Twitter, Instagram, Pinterest, Snapchat, Periscope, YouTube, Blab and visual marketing.
Social Strategy Track: Discover new strategies that will draw ideal customers to your business. You'll soak in sessions on social strategy, the psychology of social media and much more.
Content Marketing Track: See how successful bloggers, podcasters and YouTubers build and maintain content that their customers love to share. You'll discover how to leverage content to sell, how to move people to action and tips for excelling at blogging, podcasting, live video and video marketing.
Measurement Track: Discover how leading experts track, measure and analyze what really works with social media. You'll finally be able to prove your social activities are working and find better ways to measure and calculate ROI!
Corporate Social Track: Pick up actionable ways to deal with crisis management, employee advocacy, social selling and real-time marketing. You'll understand how your peers manage the unique demands of the corporate world while pushing the envelope with social media marketing.
Social Customer Service Track: Learn how other companies are maximizing their social customer service teams to be their best marketing assets. You'll discover how to turn haters into fans and how to identify and train employees to provide outstanding social care.
Recordings Included!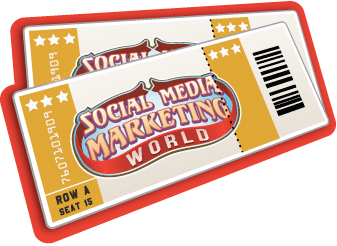 Can't make all the Social Media Marketing World sessions you want to?
What if you could catch ALL 100+ conference sessions and workshops at your convenience—without the need to replicate yourself? The good news is now you can!
As an attendee, you'll get full access to the recordings of EVERY session and workshop. Yes, every keynote, all the panels and each great session will be at your fingertips to study after the conference.
You'll have 12-month access to online recordings of everything. You can watch playbacks from your computer, tablet or smartphone at your leisure. In addition, we'll provide audio MP3 files so you can listen to the sessions while you are on the go!
Schedule at a Glance
Here's an overview of the 2017 schedule (note: all times are Pacific Daylight Time):
Wednesday, March 22, 2017
11am to 8pm: Early check-in (workshops only from 11am-1pm)
1pm to 4:30pm: Workshops (these pre-event workshops are included with your ticket price and are available on a first come, first served basis)
7pm to 11pm: Opening-night Networking Party on the USS Midway aircraft carrier
Thursday, March 23, 2017
6am: Power networking walk
7am to 8am: Check-in
7am to 8am: Coffee, muffins and networking
8am: Event kickoff and keynote
9:30am: Networking and refreshments
10:30am to 12:15pm: Track sessions
12:15pm to 2pm: Lunch and networking
1:00pm to 4:45pm: Workshops
2:00pm to 4:45pm: Track sessions
5pm: Keynote
6:30pm: Evening break
8:30pm to 11:30pm: Networking Party (Details TBD)
Friday, March 24, 2017
6am: Power networking walk
7:00am to 8:30am: Continental breakfast and networking
8:30am: Keynote
9:30am: Networking and refreshments
10:15am to 12pm: Track sessions
12pm to 1:30pm: Lunch and networking
12:45 to 4:15pm: Workshops
1:30pm to 4:15pm: Track sessions
4:30pm: Keynote
5:30pm: Event ends
Sessions Overview

Below you will find an overview of all sessions and workshops from Social Media Marketing World 2016.

KEYNOTE: Social Media Marketing in 2016: What the Newest Research Reveals
By Michael Stelzner
Topic: Trends


KEYNOTE: Testing, Hustling and Outrageous Transparency in the Digital Age
With Gary Vaynerchuk, hosted by Marcus Sheridan
Topic: Transparency



KEYNOTE: Live Video: Why the Future of Marketing Is Going Live
Instructors: Joel Comm with Mari Smith, Shaan Puri and Kim Garst
Topic: Live Video

KEYNOTE: Breakthrough Growth Ideas: How Marketers Can Truly Fly
By Mark Schaefer
Topic: Growth
How Companies are Succeeding With Facebook: 7 Power Tips
By Mari Smith
Topic: Facebook Marketing

How to Grow Your Email List With Facebook Ads, On a Budget
By Amy Porterfield
Topic: Facebook Marketing

How to Create an Evergreen Facebook Ads Campaign That Keeps on Working
By Jon Loomer
Topic: Facebook Marketing

Getting Started With Facebook Ads
By Andrea Vahl
Topic: Facebook Marketing
How to Create a System for Organic Facebook Growth
By Holly Homer
Topic: Facebook Marketing

How to Double Your ROI With Facebook Video Ads
By Rick Mulready
Topic: Facebook Marketing

How to Use Facebook Notes and Facebook Instant Articles
By Christian Karasiewicz
Topic: Facebook Marketing

How to Use Facebook Groups to Build a Highly Engaged Community
By Pauline Stockhausen
Topic: Facebook Marketing





How Leading Brands Get Gigantic Results With Facebook: A Panel Discussion
By Brian Carter with Carmyn Howe (Humana), Dave Peck (PayPal), Jonathan Leake (DirectBuy Inc.) and Amy Barton (Intel)
Topic: Facebook Marketing

How to Create the Data-Driven Customer Journey
By Christopher Penn

Topic: Analytics


Facebook ROI: Tracking Your Marketing From Beginning to End
By Dennis Yu and Mark Lack
Topic: Analytics

Measure, Manage and Attribute: Practical Social Media Analytics
By Ian Lurie
Topic: Analytics




How to Create an Analytics Dashboard for Real World Marketing Problems: A Panel Discussion
By Christopher Penn with Maria Saltz (Adobe), Susan Beebe (Tyson Foods), Louis Gray (Google) and Justin Levy (Citrix)
Topic: Analytics

How to Use Google+ Collections to Serve Highly Targeted Content
By Martin Shervington
Topic: Google+ Marketing

Unicorn Poop: How to Use YouTube to Create and Sell Your Products and Services
By Derral Eves
Topic: YouTube Marketing
How to Use YouTube to Grow Your Email List
By Steve Dotto
Topic: YouTube Marketing

How to Use Video to Build Your Brand Authority
By Amy Schmittauer
Topic: YouTube Marketing

7 Practical Ways to Boost Engagement and Build Community on Your YouTube Videos
By Tim Schmoyer
Topic: YouTube Marketing

10 Proven Ways to Leverage Crowdsourcing for Successful Video Content
By Marty Baker
Topic: Video Marketing

Workshop: Advanced Video Marketing: How to Create Powerful Video Remarketing Campaigns
By Derral Eves
Topic: Video Marketing

Workshop: Video Composition 101: How to Master Lighting, Sound, Equipment and More
By Levi Bethune
Topic: Video Marketing

Workshop: How to Create Videos on Your Mobile Device Your Audience Will Watch and Share
By Monique Johnson
Topic: Video Marketing
5 Ways to Use Visual Content to Drive Traffic, Shares, and Sales to Products and Services
By Donna Moritz 
Topic: Visual Marketing

How to Create an Unforgettable Brand Through Visual Marketing
By Rebekah Radice
Topic: Visual Marketing

Workshop: How to Supercharge Your Social Media Visuals With Canva
By Lisa Larson-Kelley
Topic: Visual Marketing

Workshop: How to Design and Employ Visual Content for Your Blog Post
By Peg Fitzpatrick
Topic: Visual Marketing

Workshop: How Marketers Can Create Amazing Photos With Just a Smartphone
By Jessica Howell
Topic: Visual Marketing

How to Use Blab.im to Create Your Own Live Video Show
By Joel Comm
Topic: Live Video

Everything You Need to Know to Get Started on Periscope
By Kim Garst
Topic: Live Video

How to Know if Your Business Should Get Into Live Video
By Brian Fanzo
Topic: Live Video

How to Profit From Periscope and Launch Your Next Product Successfully – LIVE!!!
By Chris Ducker
Topic: Live Video

How to Use Facebook Live to Market Your Business
By Lou Mongello
Topic: Live Video





How Brands are Telling Stories on Periscope: A Panel Discussion
By Vincenzo Landino with Michael Delgado (Experian), Ursula Ringham (SAP), Artie Beavis (Atmel Corporation) and Adam Rucker (Southwest Airlines)
Topic: Live Video

Snapchat Fundamentals: How to Get Started on Snapchat for Business
By Carlos Gil (BMC Software)
Topic: Snapchat Marketing

How to Create a Winning Strategy on Snapchat for Business
By Shaun McBride
Topic: Snapchat Marketing




Snapchat Marketing: How Businesses are Connecting With Millennials: A Panel Discussion
By Carlos Gil (BMC Software) with Joel Price (Chargers), Shaun Ayala (Best Buy), Shaun McBride and Callan Green (L'Oreal)
Topic: Snapchat Marketing

How to Create Experiences That Inspire People to Share
By Brian Solis
Topic: Corporate Social

How to Get People to Consume Your Content in a Noisy World
By Bryan Kramer
Topic: Corporate Social




How Big Brands are Using Social Influencers to Gain Massive Reach: A Panel Discussion
By Jay Baer with Karianne Stinson (Priceline), Matt See (HSN) and Martin Jones (Cox)
Topic: Corporate Social + Influencer Marketing


How to Get the Most Out of Your Social Media Agency: A Panel Discussion
By Tyler Anderson with Mitch Joel, Lee Odden and Jessika Phillips
Topic: Corporate Social




Employee Advocacy: How to Effectively Engage Your Workforce on Social Media: A Panel Discussion
By Bryan Kramer with Amber Armstrong (IBM), Andrew Cutler (BMW) and Shane McLaughlin (Walmart)
Topic: Corporate Social



How to Organize Cross Functional Marketing Across the Business: A Panel Discussion
By Bernie Borges with Konnie Brown (Dell) James Moat (Avery Dennison) and Sandy Carter (IBM)
Topic: Corporate Social




How to Thrive and Not Just Survive Your Next Crisis Management Situation: A Panel Discussion
By Fiona Birch with Justin Levy (Citrix), Cassie Roma (Air New Zealand) and Umang Shah (Campbell's Soup Co.)
Topic: Corporate Social

How to Perfect Your Personal Marketing: Insider Tips on Social Media and More
By Guy Kawasaki
Topic: Social Strategy

Strategies and Secrets for Business Growth in the Age of Distractions
By Chris Brogan
Topic: Social Strategy

The New Age of Influencer Marketing: How Businesses are Fast Tracking Success
By Shaan Puri
Topic: Social Strategy

How to Establish Yourself as a Thought Leader
By Dorie Clark
Topic: Social Strategy

Influencer Marketing Playbook: How to Identify, Qualify and Recruit Effective Influencers
By Lee Odden
Topic: Social Strategy

How to Build a Large Following That Attracts the Mainstream Media
By Lewis Howes
TOPIC: Social Strategy

How to Achieve Social Media Customer Service Success: A 5 Step Plan
By Jay Baer
Topic: Social Customer Service
How to Create a World Class Social Care Program: 8 Building Blocks
By Dan Gingiss
Topic: Social Customer Service

How to Use Twitter for Customer Service: Best Practices
By Jeff Lesser
Topic: Social Customer Service

How to Use Facebook Messenger as a Social Care Outpost
By Bryan Hurren (Facebook)
Topic: Social Customer Service




How to Manage Your Online Review Presence to Grow Your Business: A Panel Discussion
By Martin Shervington with Tyler Anderson, Kari Embree (Green Flash Brewing Co.), Jacob Sapochnick and Daniel Lemin
Topic: Social Customer Service




How Businesses are Building World Class Customer Service: A Panel Discussion
By Dan Gingiss with Jessica Mack (OtterBox), Kriti Kapoor (Hewlett Packard), Laurie Meacham (JetBlue) and Whitney Drake (GM)
Topic: Social Customer Service
9 Essential Tools for Every Social Media Marketer's Toolbox
By Ian Cleary
Topic: Social Tools 

Workshop: How to Set Up and Run a Mastermind That Will Transform Your Business and Life
By Dan Miller
Topic: Business Building

Workshop: Procrastinate on Purpose: 5 Permissions to Multiply Your Time
By Rory Vaden
Topic: Business Building

Workshop: How to Design, Build and Grow an Insanely Profitable Marketing Consulting Practice
By John Jantsch
Topic: Agency Building

Workshop: Heroic Public Speaking: How to Give the Best Presentations of Your Life
By Michael Port
Topic: Speaking


How to Get Speaking Opportunities at Social Media Examiner Events
By Michael Stelzner and Phil Mershon
TOPIC: Social Media Speaking

Workshop: Conference Networking for Introverts
By Mike Bruny
Topic: Networking

Workshop: How to be Authentic With Audio and Video
By David H. Lawrence XVII
Topic: Podcasting & Video
Workshop: Creating a Blueprint for Your Future Podcast
By Cliff Ravenscraft
Topic: Podcasting

Workshop: How to Write Copy That Sells (Without Being Sleazy)
By Ray Edwards
Topic: Content Creation
Workshop: How to Create Quality Blog Posts Quickly and Consistently
By Heidi Cohen
Topic:  Content Creation

Workshop: The Business of Story: How to Craft and Tell Compelling Brand Stories That Sell
By Park Howell
Topic: Business Storytelling




Brand Storytelling: How to Leverage the Power of Story to Grow Your Business: A Panel Discussion
By Park Howell with Kathy Klotz-Guest, Tim Washer (Cisco) and Ron Ploof
TOPIC: Business Storytelling

How to Drive Traffic With Pinterest's Interests and Visual Discovery Tool
By Vincent Ng
Topic: Pinterest Marketing
Re-purposing With Results: 5 Ways to Share Your Content on Pinterest


By Jeff Sieh
Topic: Pinterest Marketing
How to Turn Pins Into Customers and Profit With Pinterest
By Natalie Jill
Topic: Pinterest Marketing




How Brands are Optimizing Their Pinterest Marketing to Get Significant Results: A Panel Discussion
By Amy Locurto with Azure Collier (Constant Contact), Umang Shah (Campbell's Soup Company) and Tori Tait (The Grommet)
Topic: Pinterest Marketing

How to Make Your Images Stand Out on Instagram
By Peg Fitzpatrick
Topic: Instagram Marketing

How to Use Instagram's Direct Message Feature to Grow Your Audience and Close Business
By Sue B. Zimmerman
Topic: Instagram Marketing



How to Run a Contest Effectively on Instagram to Grow Your Audience
By Jenn Herman
Topic: Instagram Marketing

How to Rapidly Grow Your Instagram Following and Your Email List
By Nathan Chan
Topic: Instagram Marketing




How Brands Use Instagram to Tell Visually Compelling Stories: A Panel Discussion
By Sue B. Zimmerman with Matt Rozen (Adobe), Jenn Beening (San Diego Zoo) and Calli Cholodenko
Topic: Instagram Marketing
How to Unleash Twitter's Marketing Power: 5 Insider Tips
By Neal Schaffer
Topic: Twitter Marketing

How to Use Twitter Cards to Massively Grow Your Audience
By Madalyn Sklar
TOPIC: Twitter Marketing

10 Tools & Techniques to Boost Your Twitter Productivity & Success
By Ian Anderson Gray
Topic: Twitter Marketing





Twitter Marketing: How Big Brands Get Even Bigger Results: A Panel Discussion
By Brian Carter with Juntae DeLane (University of Southern California), Lauren Harper (Oracle), Aggie Nixon-Kirschner (Marriott) and Mikey Kilun (House of Blues & Live Nation)
Topic: Twitter Marketing
How to Connect and Engage Your Prospects on LinkedIn
By Viveka von Rosen
Topic: LinkedIn Marketing
How to Create a Content Marketing Tactical Plan for LinkedIn


By Alexandra Rynne and Jason Miller
Topic: LinkedIn Marketing
9 Advanced LinkedIn Profile Tactics to Boost Your Visibility

and Grow Your Influence
By Stephanie Sammons
Topic: LinkedIn Marketing

How to Use LinkedIn Publisher to Build Trust and Establish Your Authority
By Melonie Dodaro
Topic: LinkedIn Marketing

Content Marketing for Small Businesses: 6 Steps to Create a Massive Audience
By Joe Pulizzi
Topic: Content Marketing
Good Content vs. Good Enough Content: A Fight for Sore Eyes
By Ann Handley
Topic: Content Marketing

7 Qualities of Outrageously Successful Companies Using Content Marketing
By Marcus Sheridan
Topic: Content Marketing 
The Secret to Highly Contagious Content
By Zach King
Topic: Content Marketing

Content-Driven Experiences: How to Create the Show That Never Closes
By Robert Rose
Topic: Content Marketing


Is There a Future for Content Marketing? A Panel Discussion
Moderated by Mitch Joel, with Michael Stelzner and Mark Schaefer
Topic: Content Marketing
How to Develop and Sell Products to Your Blog Customers
By Michael Hyatt
Topic: Blogging
How to Turn Casual Readers and Listeners Into a Loyal Community
By Darren Rowse
Topic: Blogging

How to Optimize, Segment and Deliver Content to Your Most Valuable Customers
By Pat Flynn
Topic: Blogging

7 Blogging Tools to Improve Your Process and Results
By Syed Balkhi
Topic: Blogging

How to Grow Your Authority, Audience and Email List With Podcasting
By John Lee Dumas
Topic: Podcasting
How to Turn Your Podcast Into a Content Marketing Machine


By Paul Colligan
Topic: Podcasting

How to Optimize Your Podcast for Search Engines and iTunes
By Daniel J. Lewis
Topic: Podcasting




Passion to Profit: How to Build Your Business and Brand Through Podcasting: A Panel Discussion
By Lou Mongello with Chris Ducker, Lauren Gaggioli and Pat Flynn
Topic: Podcasting

Home | Agenda | Networking | Speakers | Travel | Hotel/Venue | About | FAQ | REGISTER