Take in rich sessions and network with the world's top social media marketers
Imagine this: A conference that offers outstanding content infused with a truly social experience.
In a few words, that explains Social Media Marketing World.
You'll experience a unique event that brings you carefully recruited experts who live and breathe social media marketing every day. Only the best.

See what others have to say about Social Media Marketing World.
Your presenters include many of the top social media marketers you've come to admire online along with marketers from major brands. Past events have included marketers from brands such as Microsoft, Disney, IBM, Honda/Acura, Whole Foods, Cisco, Marriott, Century 21, Intel, Western Union, KLM, the San Diego Chargers, Tyson Foods, LinkedIn, Adobe, BMC Software, Citrix, Discover, Cox Business, Symantec, Universal Resorts and the Boston Celtics.
We also appreciate your desire to connect with your peers.
You'll enjoy extensive networking opportunities—from dedicated networking after keynotes and lunches to our opening-night networking party aboard an aircraft carrier and our Social Beach networking party.
You get it all with your ticket to Social Media Marketing World!
Photos from Social Media Marketing World
Place mouse over images and click right arrow to see more.
Amazing Content to Inspire You
You'll choose from 100+ expert-led sessions and workshops in multiple social media marketing tracks (you get access to all):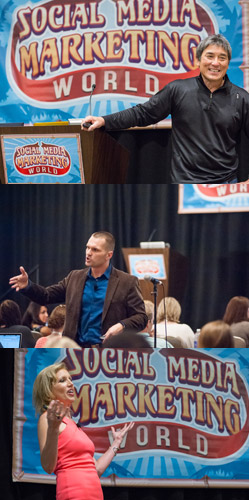 Workshops: Take in up to seven 90-minute workshops focused on content creation and business development. You'll refine your written, spoken, visual and video skills and pick up ideas to take your business to the next level. We've also included two workshops on networking so you can make the most of your networking opportunities.
Social Tactics Track: Find out the best and newest ways to market your business with social media. Pick up actionable tips to improve your marketing with Facebook, LinkedIn, Twitter, Google+, Instagram, Pinterest, visual marketing and SlideShare.
Social Strategy Track: Discover new strategies that will draw ideal customers to your business. You'll soak in sessions on social strategy, the psychology of social media and much more.
Content Marketing Track: See how successful bloggers, podcasters and YouTubers build and maintain content that their customers love to share. You'll discover how to leverage content to sell, how to move people to action and tips for excelling at blogging, podcasting, live casting and video marketing.
Measurement Track: Discover how leading experts track, measure and analyze what really works with social media. You'll finally be able to prove your social activities are working and find better ways to measure and calculate ROI!
Corporate Social Track: Pick up actionable ways to deal with crisis management, employee advocacy, social selling and real-time marketing. You'll understand how your peers manage the unique demands of the corporate world while pushing the envelope with social media marketing.
Social Customer Service Track: Learn how other companies are maximizing their social customer service teams to be their best marketing tools. You'll discover how to turn haters into fans and how to identify and train employees to provide outstanding social care.
Recordings Included!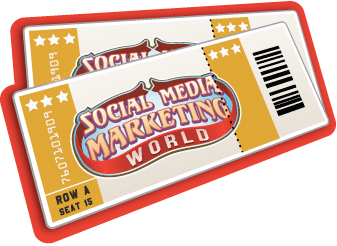 Can't make all the Social Media Marketing World sessions you want to?
What if you could catch ALL 100+ conference sessions and workshops at your convenience—without the need to replicate yourself? The good news is now you can!
As an attendee, you'll get full access to the recordings of EVERY session and workshop. Yes, every keynote, all the panels and each great session will be at your fingertips to study after the conference.
You'll have 12-month access to online recordings of everything. You can watch playbacks from your computer, tablet or smartphone at your leisure. In addition, we'll provide audio MP3 files so you can listen to the sessions while you are on the go!
Schedule at a Glance
Here's an overview of the schedule (note: all times are Pacific Daylight Time):
Sunday, April 17, 2016
12pm to 7pm: Early check-in
1pm to 4:30pm: Workshops (these pre-event workshops are included with your ticket price and are available on a first come, first served basis)
7pm to 11pm: Opening-night Networking Party on the USS Midway aircraft carrier
Monday, April 18, 2016
6am to 8am: Check-in
6am: Power networking walk
7am to 8am: Coffee, muffins and networking
8am: Event kickoff and keynote
9:30am: Networking and refreshments
10:30am to 12:15pm: Track sessions
12:15pm to 2pm: Lunch and networking
1:00pm to 4:45pm: Workshops
2:00pm to 4:45pm: Track sessions
5pm: Keynote
6:15pm: Evening break
6:30pm to 8pm: Workshops
8:30pm to 11:30pm: Networking event
Tuesday, April 19, 2016
6am: Power networking walk
7:30am to 8:30am: Continental breakfast and networking
8:30am: Keynote
9:30am: Networking and refreshments
10:15am to 12pm: Track sessions
12pm to 1:30pm: Lunch and networking
12:45 to 4:15pm: Workshops
1:30pm to 4:15pm: Track sessions
4:30pm: Keynote
5:30pm: Event ends
Session Details Coming Soon…

Home | Agenda | Networking | Speakers | Travel | Hotel/Venue | About | FAQ | REGISTER